Melissa Majchrzak/NBAE via Getty Images
ANALYST
PREDICTION
J.A. Adande
ESPN.com

NORTHWEST: 2 | WEST: 5 They'll never be Stockton and Malone, but Deron Williams and Carlos Boozer can be the best point guard/power forward combo in the league today. Anything the Jazz get from Andrei Kirilenko has to be viewed as a bonus.
Greg Anthony
ESPN.com
NORTHWEST: 2 | WEST: 6 Shooting guard is one big question. What's going to happen to AK-47 is another. They're coming off an amazing season, with rising expectations for this one, but the loss of Derek Fisher will be big.
Jon
Barry
ESPN.com

NORTHWEST: 2 | WEST: 5 Expectations could be a little too high after last season's run to the West finals. It was a terrific season for Utah. I rank Deron Williams as the third-best point guard in the game, behind Nash and Kidd.
Chris
Broussard
ESPN Mag

NORTHWEST: 1 | WEST: 4 If Ronnie Brewer's preseason play is an indication of what's to come, the Jazz could join the hallowed threesome of San Antonio, Phoenix and Dallas as legitimate title contenders. If Andrei Kirilenko can return to form, even better.
Ric
Bucher
ESPN Mag

NORTHWEST: 1 | WEST: 4 Andrei Kirilenko being unhappy isn't nearly as much of a setback as losing Derek Fisher for good (and goodwill) and Matt Harpring indefinitely. Ronnie Brewer has to be a factor for them to come anywhere close to last season's success.
Chad
Ford
ESPN.com

NORTHWEST: 1 | WEST: 4 They have a chance to be better this season. Deron Williams continues to mature. Andrei Kirilenko looked great in the European championships. And Ronnie Brewer could give the Jazz an athletic slasher and dangerous defender.
Jemele
Hill
ESPN.com

NORTHWEST: 1 | WEST: 4 Deron Williams will have a superstar season to reinforce his superstar playoffs. His elite play will compensate for the Andrei Kirilenko drama. This team is going to be nasty in the playoffs (again).
John
Hollinger
ESPN.com

NORTHWEST: 2 | WEST: 6 Is AK happy? Does it matter? He didn't do jack last season and the Jazz still made it to the conference finals. With the Williams-Boozer combo coming into its own, expect another 50-win season.
Chris
Sheridan
ESPN.com

NORTHWEST: 1 | WEST: 3 Anyone else who believes Ronnie Brewer is the key to the season, raise your hand. OK, OK. Andrei Kirilenko's mental state might edge Brewer, but getting production out of the shooting guard spot is the only thing keeping them from being a legitimate contender for the Finals.
Marc
Stein ESPN.com

NORTHWEST: 1 | WEST: 4 There's been too much turmoil here for a team coming off a Cinderella run to the West finals. But there's also too much talent for the Jazz to slip too far. They'll repeat as Northwest champs and claim a top-four seed again.


TOTAL NORTHWEST: 1.4 | Standings West: 4.5 | Standings
Team Strength: The Frontcourt
Size matters, as they say, and Utah has some of the best. Carlos Boozer and Mehmet Okur both made the All-Star team last season, and while the latter nomination was a massive stretch, they've both more than justified the big free agent contracts the Jazz gave them in the summer of 2004. What's nice is that they complement each other so well -- Okur's ability to play outside allows Boozer room to operate in the low blocks, while Okur's size and physical post defense let Boozer avoid some of the tougher matchups at that end. The strength doesn't end there. Paul Millsap ranked second only to Brandon Roy in player efficiency rating among rookies last season, and on a team with a lesser frontcourt would have been starting. He has an incredible nose for the ball and is one of the best per-minute rebounders in basketball. Behind him Jarron Collins and Kyrylo Fesenko are useful 7-footers, and of course several of the Jazz wing players are capable of playing up front -- most notably Andrei Kirilenko and Matt Harpring. •
John Hollinger's complete Jazz forecast


STARTERS
ANALYSIS
Deron Williams
Point Guard
6-3 | 205
Best part about playing on Team USA? Studying under Jason Kidd.
Ronnie Brewer
Shooting Guard
6-7 | 218
Seven pounds of muscle should give him the strength to grab this spot.
Andrei Kirilenko
Small Forward
6-9 | 227
If he and Sloan can make up, there's hope for Utah -- and Brad and Angie.
Carlos Boozer
Power Forward
6-9 | 266
So consistent, you forget he's there. If only that were an excuse for his D.
Mehmet Okur
Center
6-11 | 263
Became a dad in March -- and his scoring fell 3.5 ppg. It's called a nanny.
ESPN The Magazine's NBA Preview hits newsstands October 24.
Matt Harpring
Player efficiency rating
projection: 13.44
vs. NBA avg.:

-1.56


Jazz profiles

Scouting report: Harpring is one of the league's most physical defenders and had the seventh-highest rate of fouls per minute among small forwards.
But physical D is his only remedy. Quicker wings zoom past him en route to the basket unless he gets the benefit of the doubt from officials calling things loose.
Harpring's physicality helps him off the ball. He's great at winning hand fights with defenders to knock them off balance and then springing free for a layup or short jumper, and he's also a good shooter coming off pin-downs. It helps that Utah's motion offense is tailor-made for his game, giving him plenty of opportunities to cut free.
2007-08 outlook: Harpring underwent offseason knee surgery, which wouldn't be a big deal except for all the other offseason knee surgeries he's had. He's already at about the limit of acceptable foot speed for an NBA wing player, so if he loses anything on top of that, he'll be instant toast at the defensive end.
However, his offensive game is unlikely to suffer much. Harpring's game has been predicated on his unusual combination of superior strength and constant motion, with little or no one-on-one play.
His past four seasons have been remarkably similar, and his role and production are both unlikely to diminish much in the coming season.
If you got some quality time with your team's GM (like those lucky dudes from 3 Shades of Blue), what would you ask?
PCA of BasketballJohn.com:
Questions for Kevin O'Connor: What are the chances of a reality show featuring Kyrylo Fesenko?
Does Memo drink Dimes on the bench?
Do Boozer and Ronnie Price talk about The Dunk?
If the Jazz win 55, Jerry for COY?
Morris Almond: Hornacek 2.0 or poet laureate?
• TrueHoop, ESPN's NBA blog
---
Chad Ford's NBA Dish: '07-08 Preview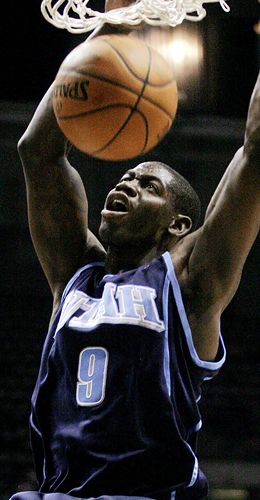 AP Photo/Darren Hauck
Ronnie Brewer can score, but is he really a "shooting" guard? He had zero 3s last season.

Jerry Sloan
Experience: 22 years
Record: 1,035-689
Playoffs: 87-88
NBA titles: 0
Coach's profile
Andrei Kirilenko and Ronnie Brewer can do a better job this season filling the holes at the wing positions, and Sloan will work to ensure that it happens. Sloan knows a confident Brewer/Kirilenko combination on the wings gives his Jazz team more ability on the defensive end, where they struggled much of last season.
• David Thorpe, Scouts Inc.
Sleeper: Paul Millsap
Millsap is capable of putting up solid, fantasy-relevant numbers, and with question marks (Kirilenko) and injury liabilities (Boozer) in front of him, playing time will be there for the taking. He could be Boozer with the blocks if Carlos succumbs to injury.
Bust: Carlos Boozer
Does anyone else actually think Boozer can stay healthy two seasons in a row? And he doesn't block shots, a fact that might go overlooked by some.
• Northwest Preview | Fantasy Hoops