AP Photos/Matt Cilley
ANALYST
PREDICTION
J.A.
Adande
ESPN.com

NORTHWEST: 1 | WEST: 4 They get it, even if no one else seems to recognize it, so they'll be overlooked once again. Only the Spurs have won more Western Conference playoff games the past two seasons.
Jon
Barry
ESPN.com

NORTHWEST: 1 | WEST: 4 Basically, this is the same team as last season's. Can another year of experience help them get through? Which Kirilenko will we get?
Chris
Broussard
ESPN Mag

NORTHWEST: 1 | WEST: 4 Assuming Boozer's late-season collapse wasn't a sign of things to come, the key could be Ronnie Brewer. The Jazz are nice everywhere else. If Brewer can build on last year's success, his athleticism could take Utah to the next level.
Ric
Bucher
ESPN Mag

NORTHWEST: 1 | WEST: 3 Deron Williams came back from China with the first championship of his life and hungry for more. As long as their potential eight FAs-to-be aren't already looking elsewhere, they're a big-man shot-blocker from title contention.
Chad
Ford
ESPN.com

NORTHWEST: 1 | WEST: 2 With Carlos Boozer and Mehmet Okur set to hit free agency next summer, there should be a sense of urgency in Utah. If Deron Williams and Ronnie Brewer improve and Andrei Kirilenko shows up, they could surprise the Lakers.
Jemele
Hill
ESPN.com

NORTHWEST: 1 | WEST: 3 Even though the Jazz are one of the deepest teams in the NBA,, Deron Williams needs to have an MVP-like season for Utah to win the West. The Jazz also need to be locked into securing home-court advantage in the playoffs from day one.
John
Hollinger
ESPN.com

NORTHWEST: 1 | WEST: 1 Utah? Yes, Utah. The West's top point-differential squad returns everybody, they're all in their 20s and they've had enough time together to jell. Crazy depth means they'll be able to handle the grind, and good luck beating them with their playoff home-court advantage.
Jalen
Rose
ESPN.com

NORTHWEST: 1 | WEST: 3 Sloan sets the tone (crazy he has never won Coach of the Year). Williams (points, assists) and Boozer (points and rebounds) are both 20/10 guys. AK will guard multiple spots and needs to be in it emotionally. Okur makes big shots.
Chris
Sheridan
ESPN.com

NORTHWEST: 1 | WEST: 3 It's time to produce or move on for Mehmet Okur and Carlos Boozer, who can both opt out of their contracts after this season. Another 54- to 57-win season would seem to be in the offing. If Kobe goes down, they can vault to No. 1.
Marc
Stein ESPN.com

NORTHWEST: 1 | WEST: 4 Northwest Division supremacy still clearly belongs to the Jazz. This season, though, they'll also be hearing constant questions about an uncertain future thanks to Boozer's forthcoming free agency. Could be a factor.


TOTAL NORTHWEST: 1.0 | Standings WEST: 3.0 | Standings
Team Strength: Interior scoring
This team is a layup machine, plain and simple. Williams is among the best point guards in basketball and always delivers it to the right spot, and starters Carlos Boozer, Andrei Kirilenko and Ronnie Brewer are all outstanding finishers around the basket.
Additionally, Utah's offensive system is an unorthodox one by NBA standards, relying heavily on off-ball screening and cutting to get players open near the rim for short-range shots. It produces lots of layups and free throws, especially for players like Brewer and Matt Harpring who excel at moving without the ball -- Deron Williams will always find them, and Kirilenko is a good passer too.
Off the bench, the Jazz don't lose a lot in this regard. I mentioned Harpring above, but Paul Millsap is also very effective around the basket, and Ronnie Price, the backup at point guard, is a good finisher when he gets to the rim. With layups coming in waves, the Jazz don't need a whole lot of shooting to be among the league's elite offenses.
Sleeper: Kosta Koufos
According to the Deseret News, Koufos, the 7-footer from Ohio State, could carve out some time behind Okur or even Boozer.
Bust: Paul Millsap
As the same Deseret News article notes, if Koufos is the first choice to spell Boozer, Millsap could lose minutes.
ESPN The Magazine: How Do You Know ...
... These guys don't have real estate agents on speed dial?

It's no secret that Boozer, whose off-season home is in Miami, would love to shorten his commute. Three other key players -- Okur, Kyle Korver and Paul Millsap -- can opt out. Eight in all could walk. Here's why that matters: The team has no shot if it repeats as the worst defensive FG% of any playoff team in the West. But contracts are made on offensive stats. If that's where they put their focus, EnergySolutions Arena will have neither.
ESPN The Magazine's NBA Preview hits stands October 22. For more, go to espnthemag.com.
Jazz down one, 9.2 seconds to play, must-win game. What's the play?
When the season is on the line, the question shouldn't be, "Who do you want taking the last shot?" It should be, "Who wants to take that shot?"
Deron Williams is that man. The best play for the Jazz isn't a set out-of-bounds play. It's to inbound the ball to Williams and let him create the winning shot. By not letting the defense set up, Williams has the advantage. He can drive for the layup, kick it back out, or fake the drive and knock down the cross-over, step-back jumper. But either way, he's already beaten you.
---
Chad Ford's NBA Dish: '08-09 Preview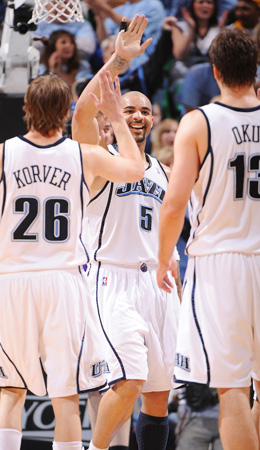 Andrew D. Bernstein/NBAE/Getty Images
The stellar play of Boozer, the marksmanship of Korver, and the steady play of Okur were key components to Utah's '07-08 surge.

Jerry Sloan
Experience: 23 years
Record: 1,089-717
Playoffs: 93-94
NBA titles: 0
Coach's profile
Jerry Sloan knows he has a team built to contend for a title, and so does his team. But to do so, Utah must play smarter and better overall defense. While Sloan has always preached exceedingly tough defense to go along with his precision passing and screening offense, the defense has been too physical and results in far too many fouls.
With a championship in their sights, Jazz players should pay close attention to the fine line between competing hard and fouling. Sloan may also look to create more energy from their bench play.