AP Photo/Evan Vucci
ANALYST
PREDICTION
J.A. Adande
ESPN.com

SOUTHEAST: 3 | EAST: 9 Yeah, they're emphasizing defense this season. But that just serves as a reminder that playing D doesn't come naturally to this group, especially now that the frontcourt's thinner with Etan Thomas out.
Greg Anthony
ESPN.com
SOUTHEAST: 1 | EAST: 4 Losing Etan Thomas is big. This team can be really scary if it improves defensively. Depth is a question, and the team will need DeShawn Stevenson to keep developing. Even without proven depth on the front line, this is still the class of the division.
Jon
Barry
ESPN.com

SOUTHEAST: 2 | EAST: 8 A team that will have regular-season success but not the pieces to move deep into the playoffs. Offensively, they feature guys who can take over games.
Chris
Broussard
ESPN Mag

SOUTHEAST: 1 | EAST: 4 Only injuries kept the Wizards from battling for the East's best record last season. At full strength, they'll turn the game into a track meet and be among the most exciting teams in the league. Not enough inside to contend for the conference crown, but tailor-made for the spoiler's role.
Ric
Bucher
ESPN Mag

SOUTHEAST: 1 | EAST: 4 Can Andray Blatche stay out of harm's way long enough to be a factor at PF? The preseason indicates a strong maybe. If so, they've easily got enough to win the division.
Chad
Ford
ESPN.com

SOUTHEAST: 3 | EAST: 10 Not predicting doom and gloom yet. Gilbert Arenas, Caron Butler and Antawn Jamison are all potent scorers. But a weak supporting cast and no defense put them on the playoff bubble.
Jemele
Hill
ESPN.com

SOUTHEAST: 3 | EAST: 9 I've got to go with what is, rather than what could be. What I've seen is too much fun 'n' gun and not enough bump 'n' grind. Until this team wholly commits to defense, they'll be behind the other emerging teams.
John
Hollinger
ESPN.com

SOUTHEAST: 5 | EAST: 13 Realize this: Last season, before Arenas' injury, was the absolute best-case scenario -- everyone was healthy and making shots, and after 73 games they'd outscored their opponents by a grand total of six points.
Chris
Sheridan
ESPN.com

SOUTHEAST: 1 | EAST: 2 Is it fair to call them a sleeper team after they won the division last season? I expect big improvement from Andray Blatche and Darius Songaila, and if Gilbert Arenas' knee can hold up through 82 games, I see them challenging for the top record in the East.
Marc
Stein ESPN.com

SOUTHEAST: 2 | EAST: 6 They didn't get any deeper or bigger in the offseason. So their season depends on good health for their three aces (Arenas, Jamison and Butler) and how the first two respond to being in a contract year.


TOTAL SOUTHEAST: 2.2 | Standings EAST: 6.9 | Standings
Team Strength: Midrange Shooting
Obviously Washington can score on you in all kinds of ways, but from 15-to-20 feet this might be the best team in basketball. Caron Butler is uncanny from this distance, ripping in line drives while totally ignoring whatever hands might be in his face, and Antawn Jamison is extremely accurate from there too -- especially when he can get matched up on a bigger player and force him to give chase around the perimeter. In the backcourt, Gilbert Arenas rarely pulls up from this distance but is good from pretty much anywhere. Forgotten starter DeShawn Stevenson is very good from this range as well, much more so than his 3-point stats would have you believe. And some of the big guys off the pine can stroke it too. Darius Songaila and the newly arrived Oleksiy Pecherov are both strong 17-foot shooters, while Andray Blatche has shown a nice touch that should only continue to improve. This strength goes hand in hand with the low turnover ratio of last season. Thanks to all those jump shooters, the Wizards don't need to put the ball in harm's way in order to get off a good shot, and so the risk of turning it over is much less. •
John Hollinger's complete Wizards forecast


STARTERS
ANALYSIS
Gilbert Arenas
Point Guard
6-4 | 215
New body? New knee? New 'tude? Same ol' Hibachi.
DeShawn Stevenson
Shooting Guard
6-5 | 218
Subtly key pickup last year offers value on D.
Caron Butler
Small Forward
6-7 | 228
Best season feels like first of many.
Antawn Jamison
Power Forward
6-9 | 235
Still has that floater working, but would boxing out kill him?
Brendan Haywood
Center
7-0 | 263
Finally has job to himself. Translation: nowhere to hide.
ESPN The Magazine's NBA Preview hits newsstands October 24.
DeShawn Stevenson
Player efficiency rating
projection: 11.85
vs. NBA avg.:

-3.15


Wizards profiles

Scouting report: Stevenson is a good ballhandler and an above-average athlete, but he's proven surprisingly unable to get to the basket as a pro. He tends to lean on his jumper, especially going to his right, and tends to fade back unnecessarily on his shot. While he increased the 3-point tries a year ago, he still needs increase the percentage a lot more, as he remains way too fond of 18-footers from the right corner when he could just as easily spot up four feet farther back and get an extra point out of it.
Defensively, Stevenson isn't an ace, but he's the closest thing the Wizards have to one. He has good size and strength, moves his feet, and was one of the few players on the team that actually seemed to take an interest in stopping the opponent. He's also proven extremely durable, playing the full 82 for a second straight season.
2007-08 outlook: Stevenson will have the same role but a better bankroll, agreeing to a four-year, $15 million deal to stay in Washington. His defense is good enough that he's an adequate stopgap starter, but he's more valuable on this team than most others because nobody else can guard good wing players.
Nonetheless, he has a chance to increase his profile further if he can improve the 3-point stroke. If not, it seems inevitable that he'll drift into a bench role where his offensive shortcomings won't be so draining, although it may not be for another year or two.
If you got some quality time with your team's GM (like those lucky dudes from 3 Shades of Blue), what would you ask?
Wizznutzz:
Questions I would ask Ernie Grunfeld: 1. Why did you ban GWiz from showering with the players? 2. Who could eat more pot pies in 15 minutes: you or Mitch Kupchak? 3. Do you need a special license to drive the team bus? 4. Do the doctors know when Brendan Haywood will regain full use of his hands? 5. When you sign one more player from the Eastern Bloc, will you get a buyback? 6. We bought a pair of your game-worn shorts on eBay. We take turns wearing them when we watch the Wizards on the big screens at Circuit City because it makes us feel closer to the action. That's not a question. We just thought you'd like to know. •
TrueHoop, ESPN's NBA blog
Chad Ford's NBA Dish: '07-08 Preview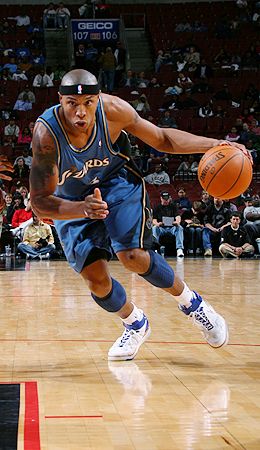 Jesse D. Garrabrant/NBAE via Getty Images
From 18 feet and in, few forwards are more effective than Washington's Caron Butler.

Eddie Jordan
Experience: 6 years
Record: 186-239
Playoffs: 6-14
NBA titles: 0
Coach's profile
If only Eddie Jordan had to worry about improving last season's woeful defense, and developing talents like Andray Blatche and perhaps rookie Nick Young. But sometimes the best player is also the most difficult to coach, and Gilbert Arenas sounds unhappy. Now, that is what Jordan must be most concerned with, likely at the expense of other improvements. Any missteps before the New Year could significantly impact the rest of the season, so Jordan has to get Arenas on board quickly.
• David Thorpe, Scouts Inc.
Sleeper: Andray Blatche
Blatche's enterprising nightlife may make him an easy joke for hoops columnists at the moment, but behind all the personal mishaps lurks double-double potential.
Bust: Brendan Haywood
Haywood will tease fantasy owners (and Ernie Grunfeld) with a few nice lines here and there before making his annual descent to the realm of "perpetually disappointing."
• Southeast Preview | Fantasy Hoops