Jesse D. Garrabrant/NBAE/Getty Images
ANALYST
PREDICTION
J.A.
Adande
ESPN.com

SOUTHEAST: 4 | EAST: 10 In the past 12 months, the ratio of Gilbert Arenas knee surgeries to Wizards playoff wins is 3:2. Best-case scenario: they get to the postseason for their annual loss to Cleveland.
Jon
Barry
ESPN.com

SOUTHEAST: 2 | EAST: 8 No Haywood for four months -- that'll hurt. When Arenas comes back, joining Butler and Jamison should be good enough to get them back in the playoffs.
Chris
Broussard
ESPN Mag

SOUTHEAST: 4 | EAST: 9 The Wiz can't catch a break. No pun intended. Abe Pollin's roster couldn't walk through the airport without getting hurt. Even the most optimistic Arenas fan has to wonder if Agent Zero will ever be the same.
Ric
Bucher
ESPN Mag

SOUTHEAST: 5 | EAST: 12 The NBA version of Groundhog Day: Always dangerous, always sidetracked by injuries.
Chad
Ford
ESPN.com

SOUTHEAST: 5 | EAST: 12 Until Gilbert Arenas proves that he's going to be healthy, I just have a hard time believing in the Wizards. Caron Butler and Antawn Jamison are good, but it's tough to get excited about anyone else on this roster.
Jemele
Hill
ESPN.com

SOUTHEAST: 3 | EAST: 8 Gilbert Arenas' knees have held the team hostage. Caron Butler and Antawn Jamison fill in more than adequately. But once again, this team is nothing more than an eventual first-round victim.
John
Hollinger
ESPN.com

SOUTHEAST: 4 | EAST: 11 'Zards are rapidly running out of players; already Gilbert Arenas and Brendan Haywood will miss big chunks of the year and Antawn Jamison is hurting. They persevered a year ago behind Caron Butler and some halfway-promising kids, but they're in a tougher neighborhood now.
Jalen
Rose
ESPN.com

SOUTHEAST: 3 | EAST: 8 Eddie Jordan has done a great job of keeping this team together and keeping his system operating. This year multiple players have the injury bug. If Butler, Arenas and Jamison are healthy come playoff time, they can play spoiler.
Chris
Sheridan
ESPN.com

SOUTHEAST: 3 | EAST: 8 Biggest bummer of the start of the '08 season is that we'll be without Gilbert Arenas. At least we still have his blog before he rejoins the Wiz and leads their late push into the eight spot.
Marc
Stein ESPN.com

SOUTHEAST: 2 | EAST: 7 It does no good to talk about what the Wiz are capable of when they're at full strength if this team never is healthy. Especially when the injuries (Arenas and Haywood) are already starting to pile up.


TOTAL SOUTHEAST: 3.5 | Standings EAST: 5.7 | Standings
Team Strength: Perimeter scoring
Washington is such a difficult team to guard because everybody can score, and nearly everybody can score from distance. Although their two best players, Caron Butler and Antwan Jamison, are more midrange shooters than long-range bombers, the fact they must be defended closely still opens all kinds of space for the other four players on the court to go to work.
And except for Antonio Daniels, the secondary players can all stroke it too. DeShawn Stevenson is a midrange marksman who has added the 3-point shot to his arsenal the past two years; Nick Young, Oleksiy Pecherov and Darius Songaila aren't 3-point aces but they're strong midrange shooters who must be guarded from 18 feet, and Blatche can hit from there too. And when he comes back, Gilbert Arenas has virtually unlimited range that shouldn't be impacted by the knee injury.
The quality of the Wizards' shooters is what allowed them to be such a low-turnover team the past two years: There's not as much risk of losing the ball if you don't have to dribble into traffic to get a shot off.
Sleeper: Andray Blatche
Blatche is an annual listing here for good reason: There are few young big men with his type of athleticism. All he needs is the minutes.
Bust: Gilbert Arenas
Arenas is worth a flier if he falls into the middle rounds, but remember you'll probably only get 55 games of production at best. At worst it could be a lost season.
•
Southeast Preview | ESPN Fantasy Hoops | Sign up today
ESPN The Magazine: How Do You Know ...
... Agent Zero hasn't forever become Patient Zero?

Even the most loyal "Hibachi'' fans have to be worried. Gilbert Arenas entered last season with a clean bill of health and still managed just 13 subpar (by his standards) outings. Now it's déjà vu, and an unhappy comparison has reared its head. Remember Penny Hardaway? Same age (26), same issue (left knee). Butler and Jamison did a great job of carrying the team, but in an improved East, they'll carry it only so far. No Gil means no chance.
ESPN The Magazine's NBA Preview hits stands October 22. For more, go to espnthemag.com.
Wizards down one, 9.2 seconds to play, must-win game. What's the play?
There's a play Eddie Jordan loves to run called "ISO Giant," and it goes like this:
Dixon inbounds to McGee. McGee dunks the ball in his own basket. Wizards now down three. Dixon inbounds to Muresan, who has been summoned from VIP lounge, where he runs the executive nacho dispenser. Muresan swings to Jamison in the corner. Defense rotates, but Arenas anticipates the shift, positions wheelchair behind the defender and yanks his shorts down. Jamison drops 3-point finger roll at the buzzer. Analyst Doug Collins screams "Kiss me, Michael!" and stabs DeShawn Stevenson. Wizards make technical free throw, win game.
---
Chad Ford's NBA Dish: '08-09 Preview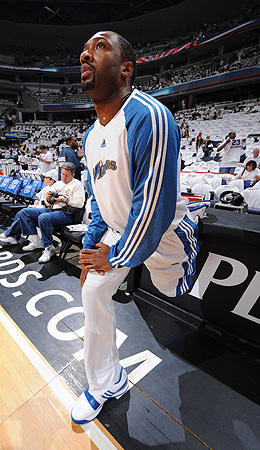 Ned Dishman/NBAE via Getty Images
Agent Zero is 0-for-3 in comebacks from his recent knee difficulties. Wiz fans hope he's more than just a blogger this season.

Eddie Jordan
Experience: 7 years
Record: 229-278
Playoffs: 8-18
NBA titles: 0
Coach's profile
Once again, Eddie Jordan is forced to deal with preseason injuries that radically change the way he wants to run his team. His offense will crawl without Gilbert Arenas, so focusing on execution is a clear starting point, and one the Wiz did well enough last season.
But an injury to Brendan Haywood adds even more complications to a team that thinks it's ready for a more serious playoff run. Jordan has to keep this team moving in the right direction early on, and then hope to catch a spark when he gets his players back.