Nathaniel S. Butler/NBAE/Getty Images
Kobe exploded for 38 points last Christmas. Will he have another stellar performance this year?

D. Clarke Evans/NBAE/Getty Images
Shaq isn't a stranger to Christmas Day games. His reunion with Kobe in '04 was a memorable moment.
The Game That Will Answer All The Questions

Lakers-Celtics is that rare single NBA regular-season game that can change the way we think about a team. That team, specifically, is the Lakers.
The Celtics can't alter any perceptions. They can only sustain the superiority that produced victories six of the past eight times the teams have played. For the Lakers, it's a chance to discover whether they have made any progress at all since the humbling end to their 2007-08 season. A loss would confirm our worst suspicions. But if they win, we can start salivating about a more competitive Finals rematch -- or perhaps LeBron versus Kobe in June.
Christmas Day NBA Schedule

• Hornets at Magic, ESPN, noon ET
• Spurs at Suns, ABC, 2:30 ET
• Celtics at Lakers, ABC, 5 ET
• Wizards at Cavs, TNT, 8 ET
• Mavs at Trail Blazers, TNT, 10:30 ET

"Rematch" can be the most fraudulent word in team sports. The rosters are too fluid, and the combination of chemistry and momentum are too difficult to recreate to produce a true rematch. Boxers have rematches. Basketball teams play again.
When the Los Angeles Lakers and Boston Celtics met in the Finals last season, it wasn't even a rematch of their earlier games that season. They hadn't played since Dec. 30, and in the interim, the Lakers lost Andrew Bynum and gained Pau Gasol (and shipped Kwame Brown and Javaris Crittenton off to Memphis in the trade), while the Celtics picked up P.J. Brown and Sam Cassell from the NBA wastelands.
But now, with the two teams together on the court for the first time since the Celtics ran the Lakers off the parquet floor to claim their 17th NBA championship, we're faced with the possibility that things haven't changed. That's an incredible testament to Boston and a fear-inducing prospect for Los Angeles. Everything about the Celtics screams that their 66-16 record last season and their subsequent championship was no fluke. This is "The Godfather Part II" of title defenses.
For the 2008-09 Celtics, it's not about the roster moves. Forget, for a moment, Brown's return to retirement or the much-bemoaned departure of James Posey to New Orleans via free agency. Tony Allen's return from a knee injury hasn't transformed this team. The noticeable difference is the attitudes of Rajon Rondo and Kendrick Perkins, the confidence surging through Rondo's veins and the sneer on Perkins' face. Boston has all the swagger and none of the complacency that can accompany a championship.
The Lakers are taller now that Bynum has returned from a knee injury that kept him out for the second half of last season and the playoffs. They're deeper with Trevor Ariza taking a more active role. But do we really know whether they're better? Can toughness be willed into existence? Can it be forged by humiliation and bitterness? Or do the Lakers need to get an enforcer, someone to play Marty McSorley to Kobe Bryant's Wayne Gretzky?
So far, the only thing the Lakers have determined is that Bill Parcells was wrong, that you are not always what your record says you are. Although the standings show the Lakers are the best in the Western Conference at 23-5, the headlines reflect a team in regression with some questioning of authority. Bynum sees a dissonance between a front office that was willing to give him a maximum-salary extension and a coaching staff that won't let him play maximum minutes. Before Jordan Farmar suffered a knee injury that could keep him out a month, the backup point guard met with Phil Jackson to ascertain what, exactly, the coach wants him to do. Lamar Odom initially chafed at being relegated to the second unit, then grew more comfortable -- so comfortable, in fact, that he stopped scoring. He had a run during which he produced double digits in the points column only twice in 13 games, even though he should be dominating against opponents' reserves.
But the greatest issue with this team is the defensive softness that took over after a training camp filled with talk of getting tougher on D and a couple of weeks of proving it. If the Lakers' recent back-to-back losses weren't bad enough, four of their five losses on the season have come against Eastern Conference teams. That would be the same Eastern Conference the Celtics have rampaged through at a 19-1 clip.
Top team performances on Christmas Day
| | | | |
| --- | --- | --- | --- |
| Team | Games | W-L | Win Pct. |
| New York Knicks | 44 | 20-24 | .455 |
| Los Angeles Lakers | 34 | 19-15 | .559 |
| Detroit Pistons | 32 | 10-22 | .313 |
| Sacramento Kings | 29 | 18-11 | .621 |
| Philadelphia 76ers | 29 | 16-13 | .552 |
For a while, the excuse for the Lakers was that they weren't motivated by some of the lesser competition they faced, that they were waiting for the Celtics to muster their best effort. Then their B-game stopped being good enough. Now, Boston's visit to the Staples Center could be a bad omen, not an opportunity.
In a sense, it's better for them that this game comes now; there have been seasons when the Lakers didn't get their first look at the Celtics until the end of January or even later. It could be the difference between realizing you forgot your cell phone as you're backing out of the driveway on your way to the airport or after you've gone through the airport security screening line.
For once, a single NBA game will be able to tell us whether we should bother waiting for the next time around.
J.A. Adande joined ESPN.com as an NBA columnist in August 2007 after 10 years with the Los Angeles Times. Click here to e-mail J.A.
Dimes past: December 8 | 9 | 10 | 11 | 12 | 13-14 | 15 | 16 | 17 | 18 | 19 | 20-21 | 22 | 23
Play It Forward: Our NBA Holiday Package
In the 12 days leading up to Christmas, we present a story each day highlighting the holiday spirit around the NBA. Here are excerpts from a few of the stories:

Superman's visit to the Florida Hospital:
ORLANDO, Fla. -- Dwight Howard is a 270-pound mountain of a man, with cartoonish shoulder muscles and a V-shaped body frame that resembles that of a Greek god.
The Orlando Magic's All-Star center is so freakishly gifted that he could become just the sixth player to lead the NBA in rebounding and blocked shots in the same season.
But as Howard showed last week at Florida Hospital in Orlando, clearly his powers extend well beyond wrestling Shaquille O'Neal, Tim Duncan and Yao Ming in the low post.
Read the rest of John Denton's story on the Florida Hospital visit here.
---

Rajon Rondo spreads some holiday cheer:
BOSTON -- A child's smile is one of the most powerful images of the holiday season.
Now, think about the power that 32 children smiling all together can bring and you will get a sense of what the entire Macy's store at the Natick Mall in Natick, Mass., felt on Thursday after Celtics teammates Rajon Rondo and Tony Allen delivered an early Christmas present: a shopping spree at the department store, where the 32 kids from the Massachusetts Society for the Prevention of Cruelty to Children after-school program, ranging in ages from 5 to 12, were able to pick out any two outfits.
Under one condition: They had to let Rondo and Allen be their "personal fashion guides."
Read the rest of Patrick Parker's story on Rondo's shopping spree with the MSPCC kids here.
•
Check out the entire holiday photo gallery here.
Notable NBA Christmas Day Games
2004: Heat beat Lakers 104-102 in OT
"Shaq O'Neal fate," The Diesel said of Kobe Bryant's desperate 3-point attempt to win the game at the buzzer in the matchup between the former teammates. "I had a pretty good look," said Bryant, who scored 42 points. "I didn't get the balance I liked, and as a consequence, the shot went left."
1992: Bulls beat Knicks 89-77
Miracle of miracles, things went from bleak to sweet in a two-minute span in the third quarter, and the Bulls finally got what they wanted for Christmas -- that old championship feeling. "We proved we still have it," Michael Jordan said after scoring 42 points to lead the Bulls from a 14-point second-quarter deficit.
Information courtesy of ESPN Research.

"The excitement is just like the old days, no question about it. … I think this is about the Lakers. The Lakers have to prove to the Celtics and to themselves that they can handle the physical play of the Celtics."
"I thought Paul [Pierce] had a great chip on his shoulder to show everybody that he was one of the best players in the league. He dominated the playoffs. I think he took it personal that he and Kobe [Bryant] were going to go head-to-head in the championship series."
-- Magic Johnson on the Christmas Day rematch of last season's Finals.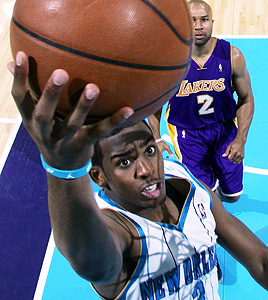 Layne Murdoch/Getty Images
The Grinch better watch out this holiday season. If CP3 keeps up his steal streak, he might go down as the best thief ever. The Hornets take on the Magic at noon on Thursday (coverage on ESPN, ESPN360.com).
Winning Without The Big Fella

ESPN's Ric Bucher helps us get ready for the big Christmas Day matchup and tells us whether he thinks Kobe Bryant will win a title without Shaq.
Tirico & Van Pelt
John Hollinger
ESPN.com

Clang! Doink! Boing! Rat-a-tat-tat!
It's been an amazing career for Shaquille O'Neal in most respects, but hanging over it is the specter of his greatest weakness -- free-throw shooting. The Big Brick has made only 52.5 percent of his career attempts, the second-worst percentage among those who have attempted 5,000 free throws or more, and rivaling Wilt Chamberlain (51.1 percent) for the cellar. Oddly, he has become worse with age, missing more than half his shots for five straight seasons before squeaking by at 51.3 percent a season ago.
Shaq's tragic flaw will loom a little larger in the coming days, because he's closing in on an amazing milestone. With eight more misses, he'll become just the second player in history to miss 5,000 free throws; at his 2008-09 rate of 2.7 misses per game he'll hit the mark in his next three games -- perhaps even on Christmas Day against San Antonio and coach Gregg Popovich, who has a penchant for the Hack-a-Shaq strategy. Only Wilt Chamberlain has bricked more, and he played in the turbo-charged '60s when the pace was much, much faster than it is today.
Mind you, this only includes regular-season games. In the playoffs, Shaq has bricked another 1,131 free throws, more than doubling every other player in history except Chamberlain. Despite his claim that he makes them when they count, he's actually significantly worse in the postseason (50.1 percent) than the regular season (58.1 percent) -- the low point came when he helped Miami to its only title despite shooting 37.4 percent during the playoffs.
To put 5,000 missed foul shots in perspective, consider that it's nearly 50 percent more than any other player in history save for Chamberlain …
To read the full Hollinger column click here.
Christmas Streak for the Cash
NBA basketball is a staple of Christmas Day, and the league and ESPN.com have teamed up to create a great game just for the occasion. The ESPN NBA Christmas Streak for the Cash challenge gives fans a chance to compete for a grand prize of $100,000 and a trip to the 2009 NBA All-Star game in Phoenix, Ariz.
Here's how it works: ESPN.com and the NBA have created 16 matchups based on teams and players from the five NBA games on Christmas day. With each consecutive correct pick, fans build a streak. At the end of the last NBA game that day, the person with the longest streak of the day will win $10,000 and the trip to the All-Star Game. The grand prize of $100,000 will be awarded if one competitor picks all 16 matchups correctly. For more information, visit the ESPN NBA Christmas Streak rules page.
As a bonus, all picks made in this contest will count toward the regular monthly and longest-streak prizes in Streak for the Cash.