Barry Gossage/Getty Images
Are The Best Years Behind The Suns And Spurs?

The news on Amare Stoudemire this week was devastating for the Phoenix Suns. Had he been healthy, I think, they would have made the playoffs with relative ease. He is so important to that team. He's a guy who can put up 25 points and 10 rebounds a night without question, and they don't have the personnel to survive his season-ending injury.
NBA on ABC Schedule


•
Suns at Spurs, 3:30 ET (ABC)
Shaquille O'Neal
has done what he can do to make up the difference this season, but they just don't have enough, really. I said a few days back that this week's four-game road trip would probably eliminate them. Even a win against the Spurs won't do much for their confidence. They had a great win against the Lakers on March 1 and couldn't really build off that, so I just don't see it for them this season. They added
Stromile Swift
to their roster recently but I don't think he'll make much of a difference. The Spurs are a whole different story. I think
Drew Gooden
could turn out to be one of the bigger late-season acquisitions in the league. He fits their system perfectly. He's a guy who can stretch the defense out to about 20 feet, since he's a quality shooter from that range. He can rebound the basketball, and he can defend, too.
Matt Bonner
stepped in and did a great job at that 4 spot for them, but he can't rebound or defend the way Gooden can. It wouldn't surprise me to see Gooden starting soon, but either way, they've strengthened their rotation in a major way. Next season doesn't look a lot brighter for the Suns. I think their best basketball for this current nucleus of players may be behind them. If Shaq were able to duplicate his play from this season, I'd be really surprised.
Steve Nash
certainly hasn't had the impact he once had. I don't think much of a window is left for them, and with their salaries, they don't appear to have much maneuverability, either. Unless they can move Shaq, who is on the books for $21 million, I don't know who they'll be able to add to improve themselves. I would say that the Spurs also have probably peaked as a unit with
Tim Duncan
,
Tony Parker
and
Manu Ginobili
, but they still are in much better shape than Phoenix. While they may have fallen off a bit, their best could still be enough to win an NBA title. I've sensed somewhat of a change in their style. This used to be a lockdown defensive team. You'd see a lot of games with scores in the 80s. They would slow the tempo and be very hard to score against. Now they are looking a little more like an up-tempo team. I think Gregg Popovich realizes that the goal for everyone in the Western Conference has to be to beat the Lakers. The only way the Spurs will do that is by improving their offense. I think that's why there were serious talks about bringing
Vince Carter
to San Antonio. I really think that was close to happening. They wanted to get more athletic and offensive. Ultimately, that's why they ended up with Gooden. They haven't stopped playing defense, but if you look at the numbers, they are nowhere near what they have been in the past decade. The style they are playing now is easier on them physically as well. All that being said, I can't see them beating L.A. in a playoff series. I know Ginobili was hurt when the Lakers beat them in five games in last season's Western Conference finals, but they just seemed to run circles around the Spurs. Even without
Andrew Bynum
, the Lakers are better, and I'd have to take them again in the West this season.
ESPN analyst Jon Barry is a regular contributor to the Daily Dime.
Dimes past:
Feb. 23
|
24
|
25
|
26
|
27
|
Feb. 28-March 1
|
March 1
|
2
|
3
|
4
|
5
|
6
|
7-8
By Eric Neel
ESPN The Magazine

Shaquille O'Neal turned 37 on Friday, a fact that raises at least two important questions: One, if you're Stan Van Gundy, what sort of gift do you send the Diesel now? And two, if you're an NBA fan, what sort of gift does the big fella have in store for you?
After missing 84 games the previous three seasons, Shaq has played in 55 of Phoenix's 62 games this season, thanks in large part to the wizardry of Suns trainer Aaron Nelson. Shaq played just 28 games with the Suns after getting traded by Miami late last season and never really clicked. But two-thirds of the way through his first full season with Phoenix, he's had the chance to develop a consistent rhythm and rapport with his teammates. As it turns out, a healthy, happy Shaq -- even with 17 years' worth of wear on the tires -- still can ball.
In fact, there have been only three seasons by centers 36 or older that compare to the one Shaq is putting together. In 1999, Hakeem Olajuwon posted a player efficiency rating of 23.1 (but played only 50 games because of injury). And Kareem Abdul-Jabbar, at ages 36 and 37, (while missing only five regular-season games combined) put up PERs of 21.3 and 22.9. Leading up to Friday night, O'Neal's PER stands at 22.6, which isn't just third all-time for a center his age -- it's 11th among all players in the league right now.
Insiders can read the rest of Neel's analysis here
Adding Firepower For The Stretch Run
By John Hollinger | ESPN.com
SPURS: DREW GOODEN

One big reason to think Drew Gooden can make an impact in San Antonio is how poorly the Spurs' frontcourt reserves have played.
Fabricio Oberto
, in particular, might have hit the wall at age 33. He has a 10.59 player efficiency rating despite shooting 59.1 percent from the floor, which is a nice way of saying that he creates plays so rarely that even playing efficiently can't save him. And 36-year-old
Kurt Thomas
has been adequate for a backup at the offensive end but too often has been a step slow on D -- particularly when he's asked to help on the perimeter instead of defending the block. Gooden, for all his faults, has been consistently productive as a scorer and rebounder and is quick enough to handle switching against guards on the perimeter. I don't think this move makes the Lakers quake in their boots, but it'll unquestionably make San Antonio a tougher out in the playoffs.
---
SUNS: STROMILE SWIFT

Don't overlook the addition of Stromile Swift to the Phoenix Suns. Swift is a good athlete who has struggled with some of the mental aspects of the game, but this is exactly the situation he needs. All the Suns want him to do is run the floor and dunk in transition, and that's exactly what he was put on this Earth to do. Phoenix had great success several years ago with a similar player,
Steven Hunter
. The Suns kept it simple and let him feast off feeds from Steve Nash, and everybody was happy. I'm not saying he'll be a game-changer, but if the Suns keep playing up-tempo as they've been doing since Alvin Gentry took over as coach, Swift can be a very productive reserve. His numbers from the three seasons before this one were very solid (17 points and nine boards per 40 minutes while shooting in the high 40s), and those were in half-court systems that didn't play to his strengths. He won't defend much, and his bad hands will bungle some easy buckets, but the run-and-gun Suns just got even faster with this move.
To see the three other Insider Gems, click here.
Suns, Mavs Battle For No. 8
By John Hollinger | ESPN.com

Dallas'
playoff odds
still come in at 67.8 percent, but for anyone who watched the Mavs on Thursday night, that seems about 66 percent too high. We probably caught them on a bad night, considering they were on a back-to-back and played extremely well Wednesday night in a 107-102 win over the Spurs, but by almost any metric, this team is a cut below the other eight Western playoff contenders. Dallas dropped to a lowly 14th in the
Power Rankings
, and the Mavs project to finish with one more win than Phoenix, even though they lead the Suns by three games in the standings. Dallas still has 13 games left against teams with winning records, including two against the Suns, and Thursday night didn't offer much confidence that the Mavs can win more than a few of them. All told, I'm sticking with my
New Year's prediction
that they're the No. 9 team from the West.
Chatting With J.A. Adande

Brandon, California [via mobile]:
Why is everyone handing the Western Conference to the Lakers. People never talk about the Spurs like always. Remember it's an odd year. And if it wasn't for that non foul call when Fisher fouled Barry that series would have been close last year. Once again people will be overlooking SA and they will be in the finals. SORRY AMERICA.
J.A. Adande:
I'd wait to see how healthy Manu is and how well their new acquisitions play off him before you make any bold predictions about the Spurs. When he was hobbled last year against the Lakers, they really had no shot.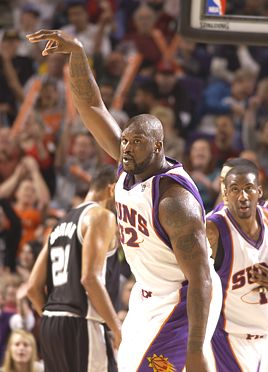 Barry Gossage/Getty Images
Can Shaq keep up his torrid pace? He might need to on Sunday. Amare Stoudemire led all scorers in the past three meetings with the Spurs (San Antonio leads the series 2-1). With Amare out, Shaq may be the only thing standing between Tim Duncan and a third Spurs win over Phoenix this season.
Bitter Words For Van Gundy

Shaq didn't respond too kindly to being called a flopper by Stan Van Gundy, his former coach with the Heat. Jason Smith takes a look at the situation and discusses other news from around the league.
NBA Today