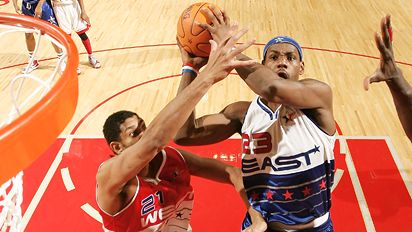 (Lisa Blumenfeld/Getty Images)
Stars Rise In East
Led by LeBron and the Pistons, the East won the All-Star Game, 122-120.
Grades: East | West ... Daily Dime
•
East beats West with comeback win
|
Wong: LBJ's trophy
•
Analysis in The Show:
Scoop
|
Hollinger
|
Broussard
•
Dunk contest:
Grades
|
Nate Rob
|
AI amazing

Stein: All-Star subs
The starters have been announced. Now Marc Stein makes the case for who should fill out the 2006 All-Star rosters.



Hollinger: Who's an All-Star?


Should studs on dud teams be picked for an All-Star squad? John Hollinger fills out his ballot using stats, of course.


All-Stars
East Starters
Allen Iverson
G
76ers
33.5 ppg, 7.4 apg
Dwyane Wade
G
Heat
27.4 ppg, 6.8 apg
LeBron James
F
Cavs
31.2 ppg, 7 rpg
Vince Carter
F
Nets
23.7 ppg, 5.9 rpg
Shaquille O'Neal
C
Heat
19.4 ppg, 9.3 rpg
East Reserves
Chauncey Billups
G
Pistons
18.9 ppg, 8.5 apg
Richard Hamilton
G
Pistons
21.6 ppg, .504 FG%
Chris Bosh
F
Raptors
22.5 ppg, 9.2 rpg
Gilbert Arenas
G
Wizards
28.3 ppg, 5.9 apg
Paul Pierce
F
Celtics
26.4 ppg, 7.1 rpg
Rasheed Wallace
F
Pistons
15.4 ppg, 6.6 rpg
Ben Wallace
C
Pistons
7.8 ppg, 12.2 rpg
West Starters
Steve Nash
G
Suns
19.3 ppg, 11.1 apg
Kobe Bryant
G
Lakers
35 ppg, 4.4 apg
Tracy McGrady
F
Rockets
25.6 ppg, 7.1 rpg
Tim Duncan
F
Spurs
19.5 ppg, 11.5 rpg
Yao Ming
C
Rockets
19.8 ppg, 9.2 rpg
West Reserves
Ray Allen
G
Sonics
24.8 ppg, 3.3 apg
Tony Parker
G
Spurs
19.4 ppg, 5.8 apg
Elton Brand
F
Clippers
25.4 ppg, 10.3 rpg
Kevin Garnett
F
Timberwolves
21.7 ppg, 12 rpg
Pau Gasol
F
Grizzlies
19.8 ppg, 9.3 rpg
Shawn Marion
F
Suns
21.2 ppg, 11.9 rpg
Dirk Nowitzki
F
Mavericks
25.3 ppg, 8.4 rpg
All-Star Weekend Participants
Rookie Roster
Andrew Bogut
FC
Bucks
9 ppg, 7.6 rpg
Channing Frye
FC
Knicks
13.8 ppg, 5.9 rpg
Danny Granger
F
Pacers
6.6 ppg, 4.5 rpg
Luther Head
G
Rockets
8.2 ppg, 2.4 apg
Sarunas Jasikevicius
PG
Pacers
8.5 ppg, 3.2 apg
Chris Paul
PG
Hornets
15.9 ppg, 7.7 apg
Nate Robinson
G
Knicks
8.3 ppg, 1.8 apg
Charlie Villanueva
F
Raptors
12.4 ppg, 5.3 rpg
Deron Williams
PG
Jazz
9.3 ppg, 3.9 apg
Sophomore Roster
Luol Deng
GF
Bulls
13.3 ppg, 6 rpg
Ben Gordon
G
Bulls
15.1 ppg, 2.7 apg
T.J. Ford
PG
Bucks
12.2 ppg, 6.4 apg
Devin Harris
PG
Mavs
10.8 ppg, 3.3 apg
Dwight Howard
PF
Magic
15.4 ppg, 12.6 rpg
Andre Iguodala
GF
76ers
12.1 ppg, 6 rpg
Nenad Krstic
FC
Nets
12.5 ppg, 5.6 rpg
Jameer Nelson
PG
Magic
13.8 ppg, 4.4 apg
Andres Nocioni
SF
Bulls
11.9 ppg, 5.1 rpg
Emeka Okafor
FC
Bobcats
13.2 ppg, 10 rpg
Delonte West
G
Celtics
11.2 ppg, 4.4 apg
Slam Dunk Contest
Andre Iguodala
24
76ers
6-6, 207
Nate Robinson
22
Knicks
5-9, 180
Josh Smith
21
Hawks
6-9, 225
Hakim Warrick
23
Grizzlies
6-9, 219
3-Point Shootout
Ray Allen
30
Sonics
.391 3-pt %
Gilbert Arenas
24
Wizards
.343 3-pt %
Chauncey Billups
29
Pistons
.432 3-pt %
Dirk Nowitzki
27
Mavericks
.426 3-pt %
Quentin Richardson
25
Knicks
.326 3-pt %
Jason Terry
28
Mavericks
.417 3-pt %
Skills Challenge
LeBron James
21
Cavs
31.2 ppg, 7 rpg
Steve Nash
32
Suns
19.3 ppg, 11.1 apg
Chris Paul
20
Hornets
15.9 ppg, 7.7 apg
Dwyane Wade
24
Heat
27.4 ppg, 6.8 apg