Friday, November 27 2020
Developmental Draft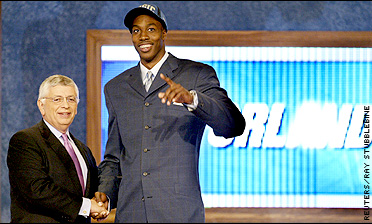 Howard is the latest prep to be the first to shake Stern's hand.


Once again,
college was deemed unnecessary
by NBA teams. Twice as many high school seniors (a record eight) as college seniors were selected in Thursday night's first round. The prep parade started with
Orlando picking Dwight Howard at No. 1
. Collegiate player of the year Jameer Nelson fell to Denver at No. 20, but will prove he was the
"steal of the draft"
as Howard's teammate after being traded to the Magic.
Round 1 analysis | Deals | Grades: Ford
| Yours
MAG: Howard photo shoot
| Katz: Junior league
Draft Grades

After tracking the draft for two months, what did Insider Chad Ford think about the choices teams made on draft night?
Draft Features

Rovell: Telfair hits the lottery
After plenty of speculation, Sebastian Telfair's stock rose to Portland at No. 13. Will his shoe sales do the same?

Outrageous Outtakes with DanPatrick
We have the inside scoop about your favorite athletes. Are you in the know? Take the Outrageous Outtakes quiz to find out and enter for a chance to win a trip to ESPN's Golf School in Vegas!