Wednesday, January 19 2022
Everything's A-OK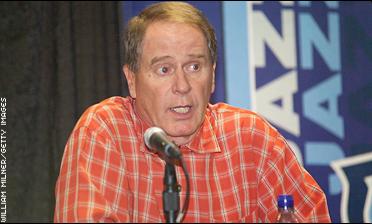 GM Kevin O'Connor got his men: a center and power forward.


The Bulls, Nuggets and Heat all got A-minuses. But only the Jazz deserved a straight A from Chad Ford in his
summer grades for offseason moves
. The Bucks, Nets, Blazers and Sonics? They're in jeopardy of failing this season.
More from ESPN.com

Hughes: NBA conspiracy ramblings
An agenda behind the crazy spending? Accidental e-mails from Eagle? Rick Fox's divorce?

Spears: New make and model
Joe Dumars has built a Pistons team that is bigger and will be better than last season's version.

May: The free fall of Antoine Walker
Being traded to Atlanta after only a year in Dallas shows just how far Antoine Walker's stock has dropped.

Hughes: Wait a (New York) minute!
Dealing for Jamal Crawford and signing Erick Dampier will only hurt, not help, the Knicks.

Ford: Praising Isiah


If the Knicks land both Erick Dampier and Jamal Crawford, Isiah Thomas deserves credit for a remarkable turnaround.

Ford: Help on the way?


Insider's Chad Ford takes a look 10 NBA teams that still need a major overhaul this summer.

Ford: Clips pick Kittles over Q


The Clips choose Kerry Kittles over Q. Insider's Chad Ford breaks down the latest free-agency rumblings.

Ford: The endless summer


This summer's frenzied cash grab is over. Which NBA free agents will get the precious few dollars still remaining?

Hughes: NBA's fuzzy offseason math
If the salary cap barely increased, then why did owners throw money around on marginal players?

Ford: Truly restricted


Why can't restricted free agents like Stromile Swift, Darius Miles and Jamal Crawford get offer sheets?

Wojnarowski: Nets fans feel spent
Like new owner Bruce Ratner, fans in New Jersey are done spending money on the Nets.

Neel: Wild, Wild West
As far as Eric Neel is concerned, the offseason was over when the Spurs made their move.
End text -------------------------
More from ESPN

Spears: Nuggets reach new rarefied air
The Nuggets know the pressure is on and it has nothing to do with Denver's high altitude.

Ford: East still the least


The East will likely have the two-best teams in the NBA season, but there's a significant drop-off after that.

Stein: Free agency's winners and losers
Guess which group the K-Mart-less Nets, Shaq-less Lakers, Boozer-less Cavs and Nash-less Mavs fit in.

Bucher: Lakers' price right for Kobe
Kobe Bryant could've signed with the Clippers. But he had 30 million reasons to stay with the Lakers.

Stein: Wrong move
Staying with the Lakers seemed logical, but Kobe Bryant would have been better off with the Clippers.

Ford: Hornets' Summer Blueprint


The Hornets don't have any buzz. Now that they're heading to the West, will they lose their sting too?

Ford: Bucks' Summer Blueprint


Will the Bucks be able to duplicate last year's surprise success, or were they a one-hit wonder?

Smith: Shaq, Kobe will regret breakup
Shaquille O'Neal and Kobe Bryant are making a giant mistake by going their separate ways.

Ford: Raptors' Summer Blueprint


By most accounts, Vince Carter wants out of Toronto. Will the Raptors make Vinsanity extinct?

Bucher: Jackson no longer on hold
After being put on hold for a year in Atlanta, Stephen Jackson finally got the call to collect.

Ford: Timberwolves' summer blueprint


Sometimes continuity is the best thing. In Minnesota's case, it could be a key to a trip to the Finals.

Aldridge: The great Carlos Boozer debate
Did Carlos Boozer do the right thing by taking more money and running? It depends on whom you ask.

Ford: Heat summer blueprint


Should the Heat blow up their rebuilding process for a chance at Shaquille O'Neal? Insider's Chad Ford examines.

Hughes: Doubting Kobe's desire for Denver
Is Kobe's interest in the Nuggets legit? Or is he just interested in improving his chances in his trial?

Ford: Pistons' summer blueprint


GM Joe Dumars built the anti-Lakers in Detroit and watched them win a title. What will he do for an encore?

Neel: Movers and shakers
Forget the NBA Finals, the real drama is in the ever-evolving offseason and Page 2's Eric Neel has the 411.

Ford: Pacers' summer blueprint


The Pacers won a league-best 61 games last year. Should Larry Bird and Co. mess with a good thing?
Ford: Nets' summer blueprint


Will Bruce Ratner blow up the Nets by trading Jason Kidd or by not matching a big offer to Kenyon Martin?

Ford: GMs gone wild


Monday saw Mehmet Okur and Adonal Foyle agree to huge offers and Kiki put Manu on hold to recruit Kobe.

Spears: Isiah's next Big Apple move
With A-Rod and Eli in town, New York is waiting to see what Isiah Thomas will do next with the Knicks.

Ford: Grizzlies' summer blueprint


Jerry West has one goal this summer: find the big man that's escaped him since he left the Lakers.

Ford: Knicks' summer blueprint


In the process of cleaning house, Isiah Thomas almost left the cupboard empty in New York.

Ford: Nuggets' summer blueprint


Making the playoffs was nice, but is Kiki Vandeweghe's team close to becoming a championship contender?

Ford: Free-agent frenzy


The free-agent wooing period is here. Here's the latest on Kobe, Kenyon Martin, Erick Dampier and others.

Aldridge: Trading places
An unprecedented amount of movement could result in several high-profile players switching teams this summer.

Wojnarowski: An eye only on Nets profit
After three runs at the NBA title, the Nets, under new management, could become the old Nets.

Ratto: The Prodigal Kidd
It doesn't have to make cents to make sense for Jason Kidd to return to the Bay Area and play for the Warriors.

May: Exception to the rule
Free agent Mark Blount will command more than the "million dollar exception" the Celtics signed him to last year.

Ford: Spurs' summer blueprint


When free agency begins July 1, the Spurs will have more than $14 million in cap room. What will they do with it?

Ford: Who's on the trading block?


We've heard all about Shaq, T-Mac and Steve Francis, but they're not the only big names who could be in play.

Ford: Mavericks' summer blueprint


The Mavs are at a crossroads. Do they continue being the fun, run-and-gun team, or do they trade for Shaquille O'Neal?

Stein: Lakers caught in a Catch-No. 8
Until they get Kobe's signature or promise to stay, the Lakers are unlikely to trade Shaq.

Ford: Rockets' summer blueprint


With the Rockets landing Tracy McGrady, the balance of power in the West is about to shift again.

Ford: L.A. facing 'Day After Tomorrow'


The Lakers' NBA Finals flameout could leave the franchise looking like a Hollywood disaster movie.

Spears: Free agency's 'big' decision
Erick Dampier could be free agency's prized big man. He'll have to risk $16.9 million to find out.