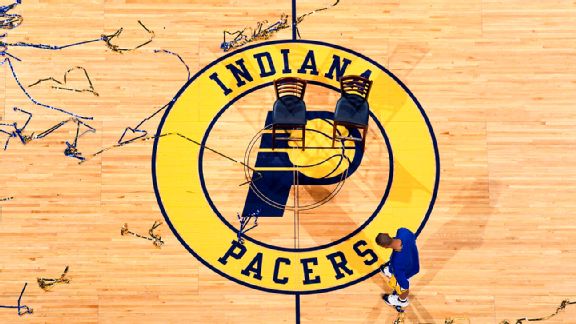 Ron Hoskins/Getty Images
Pacers In Pieces
By Brian Windhorst | ESPN.com
At the start of the 2004-05 season, the Indiana Pacers were one of the favorites to win the NBA title. They were coming off a 61-win season with a respected coach in Rick Carlisle at the helm and a roster of players in their prime, including Jermaine O'Neal, Ron Artest, Stephen Jackson and Jamaal Tinsley.
Things quickly and unexpectedly decayed, however.
In November of 2004, the Pacers were involved in a brawl during a game in Detroit. O'Neal, Jackson and Artest were hit with long suspensions that wrecked the season. The following year, Jackson and Tinsley became involved in a fight at a night club that led to Jackson firing a gun five times. Tinsley was later involved in another nightclub fight and another shooting.
Pacers fans, turned off by the spate of incidents, deserted the team as attendance and ratings plummeted. Artest and Jackson were traded, Carlisle was fired and Tinsley was exiled despite having three years left on his pricey contract.
In 2007-08, the Pacers finished 36-46, missed the playoffs for the second straight season and ended up 30th in attendance. The franchise was facing money problems and its future in Indianapolis was precarious. It was time for a rebuild, but the Pacers weren't bad enough to get a high draft pick. Things were bleak.
But then something unexpected took place, their front office went on an unexpected hot streak that turned the Pacers' fortunes and changed the balance of power in the Eastern Conference. Indiana advanced to two consecutive conference finals in 2013 and 2014 behind a starting core of Paul George, David West, Roy Hibbert, George Hill and Lance Stephenson.
In the executive ranks, there were two presidents, Larry Bird and Donnie Walsh, and two general managers, David Morway and Kevin Pritchard, integrally involved. Scouts, namely Kevin Mackey, plus the introduction of a previously unknown coach named Frank Vogel were also catalysts.