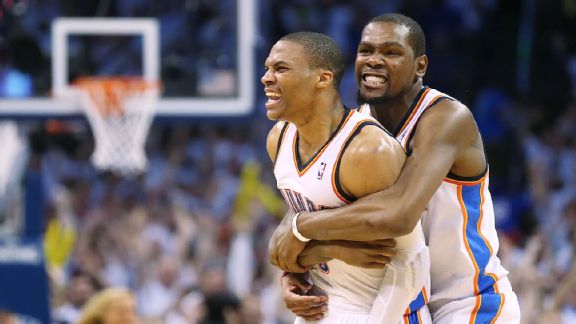 Ronald Martinez/Getty Images
Run For The Ages
By Royce Young | ESPN.com
Derek Fisher describes the NBA playoffs like this:
"There's no script for this," he said. "You can try to set expectations and everybody can sit around and try and predict what's going to happen and which team is going to come out on top, and it's just impossible."
Fisher would know. He's played in more postseason games than any other player in NBA history. He's seen pretty much everything there is to see, from shots with 0.4 seconds left, to improbable fourth-quarter comebacks, to lifting a trophy -- five different times -- at the end of it all.
But there was something different about the Oklahoma City Thunder's 2014 playoff campaign. Multiple rounds will produce crazy moments, memorable games and ridiculous finishes. There will be touchstone plays worthy of an entire day of watercooler conversation. With the Thunder's postseason run, though, there weren't just a few turns -- there were more than a dozen. It all added up to maybe the most dramatic, epic postseason we've ever seen from a team.