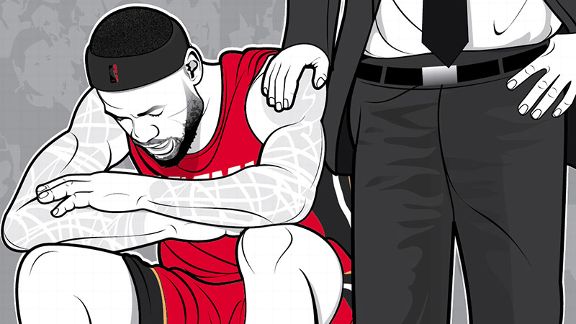 Illustrations by Peter Sucheski
How Heat Got Here
By Israel Gutierrez | ESPN.com
The plan may have been hatched in Beijing, during the 2008 Summer Olympics, with three of the world's best basketball players recognizing their contracts all expired the same summer and deciding to unite in Miami, pulling off an unprecedented player-driven power move.
Or perhaps it was merely a concept in China, and the idea was forced into reality because two of those three, LeBron James and Dwyane Wade, kept suffering agonizing playoff losses while the third, Chris Bosh, was so far removed from playoff success that he'd go anywhere to discover it.
Or it's possible the real-life Gordon Gekko, Miami's Pat Riley, with a bag full of championship rings, decided greed wasn't just good, but glorious, and pulled off the most significant coup in NBA free-agency history in a single summer.
However the wheels were thrust into motion, all James, Wade and Bosh did in the summer of 2010 was create professional basketball's most divisive, polarizing, electrifying and unique team perhaps in the history of professional basketball.
They weren't organically built through drafts, development and trades like any of the Celtics championship teams, the Lakers in the 1980s or Michael Jordan's Chicago Bulls. No, this team brought into question everything we believed about how a championship is supposed to be won in the NBA.
LeBron wasn't supposed to join Wade to win multiple rings. He was supposed to defeat Wade on his way to win multiple rings.
LeBron and Wade don't complement each other. They're too similar to win playing together. And Bosh isn't a true enough big man to offer the proper balance this team needs.
Oh, and Erik Spoelstra is supposed to guide this team to greatness? He hadn't even cracked the second round of the playoffs in his brief experience as a head coach.
Four years later, the Heat have two championships and four Finals appearances and have seemingly been at the center of every NBA conversation since. The Heatles, as they've come to call themselves, have marveled, they've disappointed, they've rallied, they've dominated, they've defied odds, they've made enemies, and they've played their way back into hearts.
Even though the Heat joined the Celtics and Lakers as only the third franchise to reach four straight NBA Finals, there remains a sense that they left something on the table. That winning half the championships in their time together so far wasn't good enough. They were supposed to steamroll to title after title after title. They were not supposed to be human.
Now, officially, the Big Three era in Miami is over. Sure, we can debate whether their achievements justified the hype, but this Heat core undeniably changed the way teams are conceived, covered, cheered and jeered in today's NBA.
Michael Wallace, Tom Haberstroh, Anthony Olivieri, Kevin Arnovitz and Henry Abbott also contributed to this story.