Points
22

PTS

10/19

FG

0/0

FT
28

PTS

11/16

FG

5/7

FT
Rebounds
14

REB

12

DREB

2

OREB
13

REB

12

DREB

1

OREB
Assists

10

AST

3

TO

33

MIN
5

AST

2

TO

27

MIN
Field Goal %

Three Point %

Turnovers

Rebounds
Attendance: 19,155
100%
Capacity: 19,155
Referees:
Tom Washington, David Guthrie, Mike Callahan
Andre Miller scored a playoff career-high 28 points and sank a nifty layup with 1.3 seconds left that lifted the Denver Nuggets to a 97-95 win over the Golden State Warriors on Saturday.
| ESPN | 1 | 2 | 3 | 4 | T |
| --- | --- | --- | --- | --- | --- |
| Warriors | 25 | 23 | 16 | 31 | 95 |
| Nuggets | 28 | 16 | 27 | 26 | 97 |
0:00 - 4th Quarter
End of Game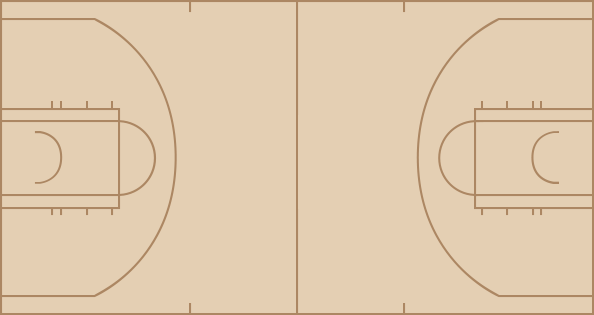 Warriors
Nuggets attempted a shot, free-throw or had a turnover in the first 4 seconds of the shot clock during their transition.

The Nuggets got out in transition after 4 of the Warriors' made field goals, 13 missed field goals and 13 turnovers Saturday.

Andre Miller stepped up in the second half, scoring 20 of his 28 points, including the game winner. He went 8-of-12 in the second half and 4-of-6 in the paint. Miller was 3-of-4 from the free throw line on fouls drawn in the paint.

The Nuggets made it difficult for Stephen Curry Saturday as they contested 15 of his 20 shots and forced five turnovers.

NEXT LEVEL: 37-year-old Andre Miller made a game-winning shot for the Nuggets today with 1.3 seconds left. Miller is the 3rd-oldest player to make a go-ahead shot in the final 10 seconds of an NBA playoff game over the last 15 years. Gary Payton was 293 days older when he made a game-winner for the Heat in the 2006 playoffs, and John Stockton was 17 days older when he made a game-winner for the Jazz in the 1999 playoffs.

25 Points and 5 Assists in Playoff Win - Age 37 or Older - Last 25 Seasons

The Nuggets entered the playoffs on a 23-game home win streak. That's the 4th-longest home win streak entering the playoffs by any team in NBA history. The previous 4 teams to enter the playoffs with at least 21 straight home wins all advanced to the NBA Finals, with 3 of the 4 teams winning the NBA title.

Stephen Curry is the first player to make a game-tying or go-ahead shot in the final 24 seconds of the 4th quarter or OT in his 1st career playoff game since Dwyane Wade for the Heat in 2004 against the Hornets.