Points
21

PTS

10/20

FG

0/2

FT
Rebounds
11

REB

8

DREB

3

OREB
Assists
8

AST

6

TO

39

MIN
Field Goal %

Three Point %

Turnovers

Rebounds
Attendance: 18,717
100%
Capacity: 18,717
Referees:
Dan Crawford, Marc Davis, Michael Smith
LeBron James scored 30, Ray Allen had another big game against his old team and the Miami Heat advanced to the Eastern Conference semifinals with an 88-77 victory over the Milwaukee Bucks on Sunday.
| ABC | 1 | 2 | 3 | 4 | T |
| --- | --- | --- | --- | --- | --- |
| Heat | 24 | 21 | 22 | 21 | 88 |
| Bucks | 17 | 24 | 21 | 15 | 77 |
0:00 - 4th Quarter
End of Game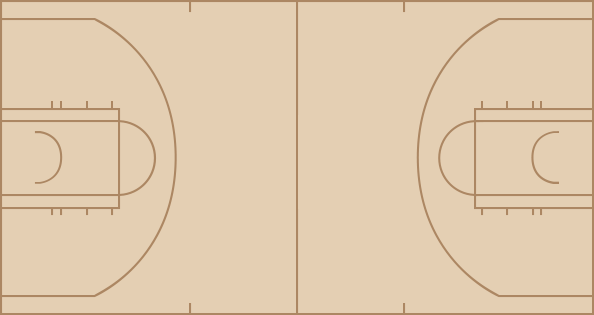 Heat
With 9:25 remaining in the fourth quarter, the Heat held a five-point lead (72-67) over the Bucks and were on the wrong side of a 9-3 run. At that point, LeBron James took over as the team's primary ball handler, marking the turning point in the game. The Heat went on a 14-5 run, upped their lead to 14 points and sealed the series.

Ray Allen was the primary beneficiary of Dwyane Wade's absence in Sunday's victory against the Bucks, scoring 16 points, including 12 points on 4-of-6 shooting from behind the arc on catch-and-shoot shots.

LeBron once again led his team (or shared the lead) in points, rebounds, and assists, the 37th time in his career that he has done so in a playoff game.

For the 6th time in NBA history, a team has swept a best-of-7 series while winning all 4 games by double digits. Three of the 6 times it's happened are by a LeBron James team. LeBron's Cavs swept through the first 2 rounds of the 2009 playoffs, winning each of the 8 games by double digits. Each of the previous teams to accomplish this feat lost in the Conference Finals.

The Heat advance to the conference semifinals for the 3rd straight year and it seems like they'd have a preference for their next opponent. Miami took each of its 3 meetings against the Nets this season by an average of more than 20 points per contest whereas the Bulls have posted the best record against the Heat since LeBron came to South Beach.

From Elias: LeBron has averaged more than 30 points per game in 13 career road playoff contests in which his team had a chance to clinch, the third-highest average in NBA history.

The Heat are the 3rd defending champs to win each of their first 4 playoff games by double digits, joining the 1985-86 Lakers and 1989-90 Pistons.