Points
27

PTS

8/16

FG

8/10

FT
Rebounds
14

REB

12

DREB

2

OREB
Assists
9

AST

3

TO

40

MIN
Field Goal %

Three Point %

Turnovers

Rebounds
Attendance: 19,685
100%
Capacity: 19,600
Referees:
Tom Washington, Ken Mauer, Ed Malloy
| | 1 | 2 | 3 | 4 | T |
| --- | --- | --- | --- | --- | --- |
| Bulls | 21 | 16 | 21 | 35 | 93 |
| Heat | 15 | 22 | 25 | 24 | 86 |
0:00 - 4th Quarter
End of Game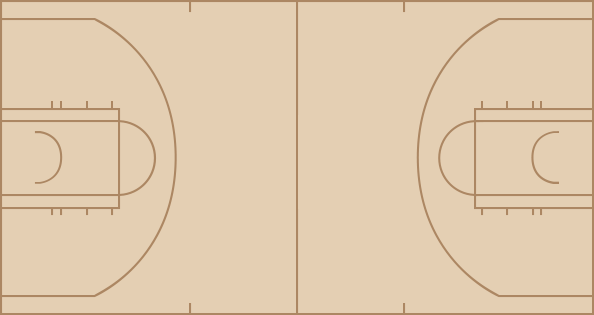 Bulls
Including the postseason, the Bulls are now 3-2 against the Heat this season. The Knicks (3-1) and Pacers (2-1) are the only other teams with a winning record against the Heat this season.

Derrick Rose was cleared to play by doctors on March 8. That was 61 days ago.

The Heat trailed by two points with a little more than a minute remaining Monday when Dwyane Wade missed a 3-point field goal that would have given Miami the lead. Over the last three postseasons (Big 3 Era), Wade is now 1-of-10 on potential game-tying or go-ahead shots in the final two minutes of games. LeBron James is shooting over 40 percent on such shots since joining the Heat.

Nate Robinson is the only player in the last 15 seasons with at least 11 points and 6 assists in the 4th quarter of an NBA playoff game.

The Bulls trailed 86-83 in the final minutes Monday but scored the final 10 points to steal Game 1 on the road. Nate Robinson scored seven of the Bulls final 10 points, while LeBron James was 0-of-2 in the final two minutes.

Jimmy Butler hasn't been on the bench for a second in any of the Bulls' last 3 games. Butler is the 4th player since the merger to play every single minute of 3 straight playoff games. He's the first player to do so since Allen Iverson in 2005. Nobody since the merger has played every minute of 4 straight playoff games.

The only times the Heat have been down 1-0 in a playoff series in the James/Wade/Bosh era...They went on to sweep the next 4 games.Heat Down 1-0 in Playoff SeriesBosh/James/Wade Era (Since 2010-11) Opponent Series Result2013 Conf Semis Bulls ??2012 NBA Finals Thunder Won, 4-12011 Conf Finals Bulls Won, 4-1

LeBron James hit a 3 with 11:01 left in the 3rd quarter.In other words, he scored more points in the first 59 seconds of the second half than he did in the entire 1st half.