Points
40

PTS

12/24

FG

15/18

FT
25

PTS

8/19

FG

9/11

FT
Rebounds
7

REB

6

DREB

1

OREB
14

REB

11

DREB

3

OREB
Assists
8

AST

4

TO

39

MIN
10

AST

1

TO

45

MIN
Field Goal %

Three Point %

Turnovers

Rebounds
Attendance: 19,365
100%
Capacity: 19,060
Referees:
Ron Garretson, Mike Callahan, Rodney Mott
Darren Collison scored 10 of his 18 points in the final 2:58, rallying the Los Angeles Clippers past the Oklahoma City Thunder 101-99 on Sunday to tie the Western Conference semifinal series 2-2.
| | 1 | 2 | 3 | 4 | T |
| --- | --- | --- | --- | --- | --- |
| Thunder | 32 | 25 | 18 | 24 | 99 |
| Clippers | 15 | 31 | 17 | 38 | 101 |
0:00 - 4th Quarter
End of Game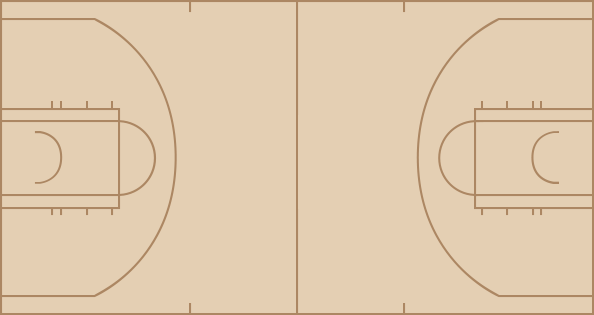 Thunder
The Clippers' win probability sunk to a game-low 0.9% with 9:07 remaining in the fourth quarter.

Blake Griffin replaced DeAndre Jordan with 8:44 remaining in the fourth quarter down by 14 points, joining Chris Paul, Darren Collison, Jamal Crawford and Danny Granger. During that time, the Clippers scored 33 points, shot 12-of-15 and outscored the Thunder by 16 points.To combat this, the Thunder also went with a small lineup of Russell Westbrook, Reggie Jackson, Caron Butler, Kevin Durant and Serge Ibaka. In the 5:47 they were on the court together, they were outscored 21-8, shooting 2-of-7 and committing three turnovers.

Kevin Durant scored five points on 2-of-3 shooting when guarded by Chris Paul. Durant also committed three turnovers.Doc Rivers switched to move Chris Paul on Kevin Durant in the fourth quarter. On the seven plays when Paul was Durant's primary defender, the Clippers double-teamed Durant on four of them. When those doubles came, Durant was 0-of-1 from the field with two turnovers and one foul drawn.

*Of the Clippers' 22 field goal attempts in the fourth quarter, 14 came in the restricted area, and they made 12. In the first three quarters, they were 12-of-25 in the restricted area. *In the first three quarters, the Clippers shot 11-of-40 (27.5%) on jump shots, including 2-of-19 from 3-point range. In the fourth quarter, they took six total jumpers. Although they only made two jumpers in the fourth quarter, one was the go-ahead 3-pointer by Jamal Crawford, their third made 3-pointer of the game.*Instead of settling for jump shots, they attacked the lane in the fourth quarter, scoring eight points on drives and an additional 14 in transition.