Points
49

PTS

16/24

FG

14/19

FT
18

PTS

5/15

FG

6/6

FT
Rebounds
7

REB

6

DREB

1

OREB
8

REB

5

DREB

3

OREB
Assists
7

AST

1

TO

28

MIN
7

AST

1

TO

32

MIN
Field Goal %

Three Point %

Turnovers

Rebounds
Barclays Center
Attendance: 17,732
Referees:
Jason Phillips, James Capers, Zach Zarba
LeBron James tied his playoff career high with 49 points, Chris Bosh made the tiebreaking 3-pointer with 57 seconds left, and the Miami Heat beat the Brooklyn Nets 102-96 on Monday night for a 3-1 lead in the Eastern Conference semifinals.
| | 1 | 2 | 3 | 4 | T |
| --- | --- | --- | --- | --- | --- |
| Heat | 27 | 29 | 23 | 23 | 102 |
| Nets | 22 | 27 | 27 | 20 | 96 |
0:00 - 4th Quarter
End of the 4th Quarter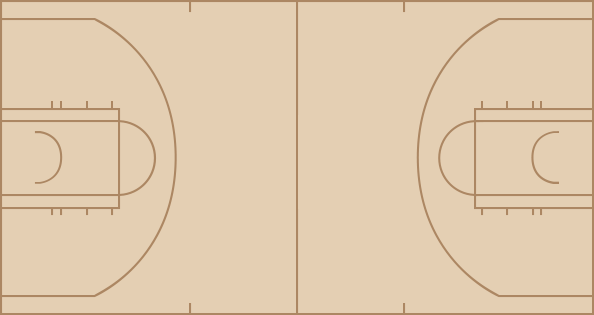 Heat
From Elias: LeBron James tied his playoff career-high with 49 points Monday. It was his seventh playoff game with at least 45 points, tied for third most all-time behind only Michael Jordan and Wilt Chamberlain.

The Heat improved to 18-1 in the playoffs in the Big 3 era (since 2010-11 season) when finishing with an effective field goal percentage of 55% or higher.
LeBron James' effective field goal percentage was 72.9%, his highest in the playoffs this season.
The Nets' effective field goal percentage dropped to 28.6% in the fourth quarter compared to 53.5% in the first three quarters.

LeBron James had a field goal attempt against seven different Nets defenders and scored over 50% on all but one of them.

LeBron James scored 34 of his 49 points on plays when he attacked the basket (cuts, drives, post ups and putbacks). James shot 11-of-12 in the restricted area compared with 5-of-12 on his jump shots Monday. James' 11 made field goals in the restricted area are tied for the second-most in his playoff career.

- LeBron drove to the basket a series-high 10 times Monday. In Games 1-3, James averaged 5.3 drives per game.

LeBron James had 89 offensive touches Monday, his most in a game this playoffs.

LeBron James scored four fewer points than the rest of Heat players combined.

LeBron James' 49 points tonight marked the 12th time in his career he has scored at least 40 points in a playoff game. Of those 12 games, 9 have come on the road, including all 3 instances since James took his talents to South Beach and joined the Heat.

Most Points in a Playoff Game

Heat Franchise History
Round
2014 LeBron James
49*
Conf Semis
2010 Dwyane Wade
46
1st Round
2012 LeBron James
45
Conf Finals
2006 Dwyane Wade
43
NBA Finals
*Ties Playoff Career High

LeBron's 49 points tied the most he has scored in any game in his entire playoff career. It's also the most points any player has scored in Miami Heat postseason history.