Points
34

PTS

15/23

FG

1/1

FT
29

PTS

6/14

FG

15/17

FT
Rebounds
8

REB

6

DREB

2

OREB
9

REB

7

DREB

2

OREB
Assists
4

AST

1

TO

37

MIN
7

AST

2

TO

33

MIN
Field Goal %

Three Point %

Turnovers

Rebounds
Attendance: 19,615
100%
Capacity: 19,600
Referees:
Derrick Stafford, Joe Crawford, Bill Spooner
Ray Allen's 3-pointer with 32 seconds left highlighted a huge Miami rally, and the Heat advanced to the Eastern Conference finals by topping the Brooklyn Nets 96-94 on Wednesday night.
| | 1 | 2 | 3 | 4 | T |
| --- | --- | --- | --- | --- | --- |
| Nets | 22 | 27 | 26 | 19 | 94 |
| Heat | 23 | 19 | 24 | 30 | 96 |
0:00 - 4th Quarter
End of Game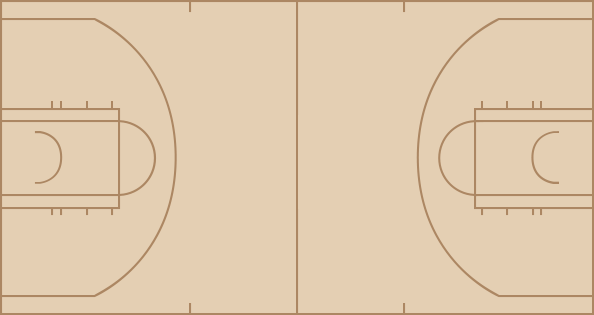 Nets
Ray Allen improved to 10-of-16 on game-tying or go-ahead 3-pt FG in the final minute in the 4th quarter or overtime in his postseason career. That is the best percentage on such shots in the playoffs since he entered the league. It was his first go-ahead 3-pointer in such situations since Game 6 of the NBA Finals last year against the Spurs.

The Heat needed a 13-3 run to close out the Nets in Game 5 but Miami remained perfect in the Big 3 era (since 2010-11) when leading 3 games to 1 in a series.

Dwyane Wade scored a playoff-best 28 points Wednesday, 20 of which came in the first half. Wade was successful driving to the hoop, nearly doubling his playoff average (4.4 PPG).

Joe Johnson scored a game-high 31 points, shooting 6-of-6 for 13 points through the first three and a half quarters when LeBron James was his primary defender. James locked down Johnson in the game's final 5 minutes, holding him to 0-of-2 from the field and preventing him from getting a shot off on the game's final play.

Ray Allen hit a 3-pointer with 32 seconds remaining to give the Heat their first lead since the first half. The Heat hit eight second-half 3-pointers, five of which were uncontested. In the first half, they shot a season-worst 1-of-16 from 3-point range.

From Elias: With tonight's win, the Heat have reached their fourth straight conference finals since the start of the Big Three era. All four of the other teams on this list also hail from the Eastern Conference with the West being too competitive for any team to sustain this kind of success the last quarter century.

Including luxury tax, it cost Nets owner Mikhail Prokhorov a league-high $193M to field his team this season. No picks in 2014 NBA Draft$85.1M in guaranteed contracts in 2014-15(projected salary cap is $63.2M)Best free agency tool: Taxpayer mid-level exception (can sign any free agent to a contract with a starting salary up to $3.3M)Paul Pierce: unrestricted free agentKevin Garnett: entering final season of current contract (the $12M he's due to make is fully guaranteed - was only $6M guaranteed at the time he signed the contract with the Celtics but the Nets agreed to make it fully guaranteed when Garnett agreed to waive his no-trade clause)Andrei Kirilenko ($3.3M), Andray Blatche ($1.4M) and Alan Anderson ($1.1M) have player options.