Harden drops 48 points in Rockets' OT win vs. Lakers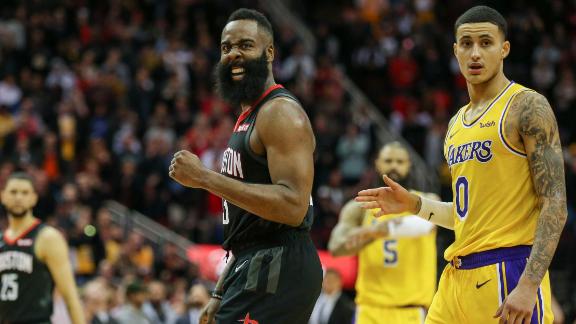 Gordon hits double-clutch 3 to send game into OT
Kuzma scores 32 points in Lakers' OT loss to Rockets
Kyle Kuzma starts hot with 20 points in the 1st quarter on his way to a 32-point night.
Harden nails 3-ball in OT as Rockets outlast Lakers
James Harden hits a smooth step-back 3-pointer in overtime to complete the comeback vs. the Lakers.
Lonzo carried to locker room after left ankle injury
Lonzo Ball rolls his left ankle and is helped off by his teammates to the locker room.
Embiid, Westbrook not fond of each other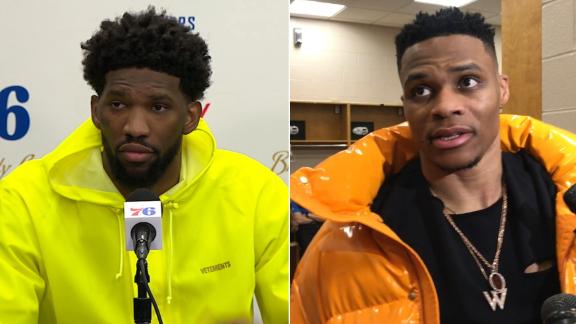 Smart goes after Bembry after ejection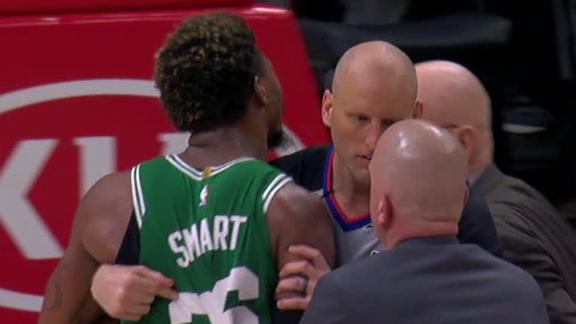 George's late 4-point play saves Thunder vs. 76ers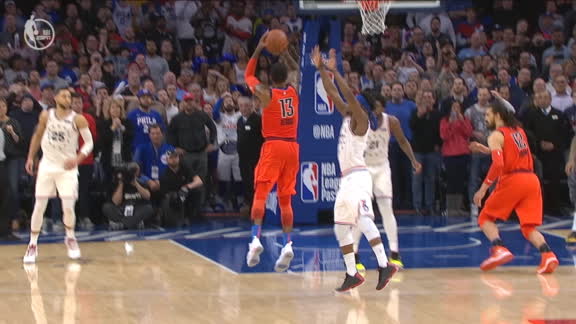 Butler swoops for steal, late go-ahead layup
Jimmy Butler steals an errant OKC pass and heads the other way for a layup, giving the 76ers a lead with seconds remaining.
George extends OKC's lead with 3-pointer
Paul George pulls up to bury a 3-pointer, extending the Thunder's lead in the fourth quarter.
Embiid drives past defenders for dunk
Joel Embiid pump fakes, drives down the lane and steps past a defender for a slam.
Westbrook steals from Simmons, hammers it down
Russell Westbrook pokes it away from Ben Simmons and rises up at the other end for a powerful dunk.
Customize ESPN
Al Bello/Getty Images

Here's our early look at the teams projecting to have salary flexibility for July moves.
ESPN.com Illustration

Players discuss adapting to African-American culture, dealing with racism and where they hope to live after their basketball careers are over,
Courtesy of the Miami Heat

Miami's new pink "Vice" jerseys take alternate uniforms to an exciting new level.
ESPN Fan Shop
Powered By