Punches thrown, Rondo, CP3 and Ingram tossed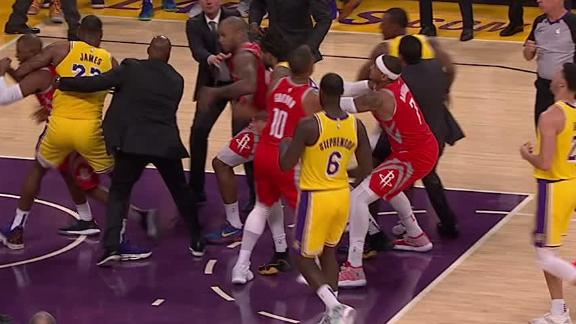 D'Antoni on scuffle: 'I wasn't getting in there'
Mike D'Antoni explains his perspective during the Rockes-Lakers fight and says he is going to let the NBA handle that.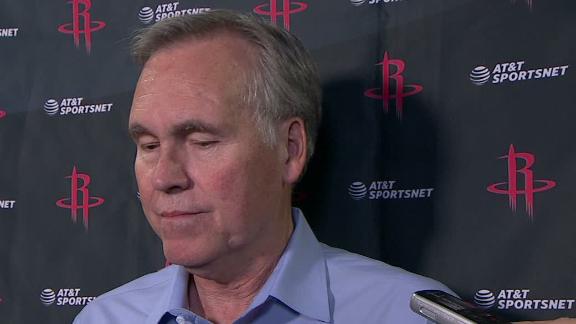 Did the Brewers' bullpen magic finally run out?
Eduardo Perez and John Farrell discuss the usage of the Brewers' bullpen and Jeremy Jeffress in Game 7.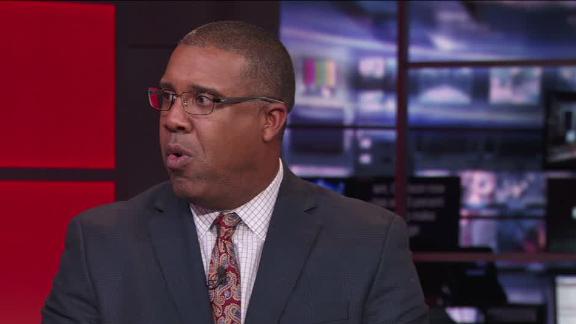 Smith drills game-winning jumper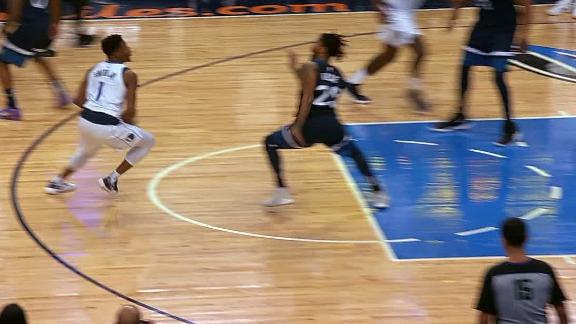 Lowry comes through in the clutch for Raptors
Kyle Lowry drops 28 points on the Wizards on Saturday night as Toronto, without Kawhi Leonard, tops Washington 117-113.
Oladipo takes steal all the way for dunk
Victor Oladipo picks off a D'Angelo Russell pass for a one-handed dunk.
Embiid dunks past Bamba
Joel Embiid gets by Mo Bamba with ease for the one-handed dunk.
Monk avoids Whiteside on great reverse layup
Malik Monk shows off his athleticism by soaring through the air to get around Hassan Whiteside and score a reverse layup.
Griffin schools Lopez for jam
Blake Griffin makes easy work of Robin Lopez, flying by him on the way to a rim-rocking slam.
Beal lobs it up to Wall for sweet alley-oop
Bradley Beal sends a perfect dish to the hoop where John Wall jumps to throw it down against the Raptors.
Tatum hits turnaround jumper over Hardaway
Jayson Tatum backs down Tim Hardaway Jr. and hits a fadeaway with Hardaway's hand in his face.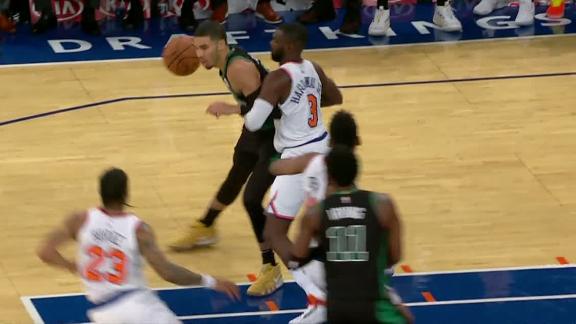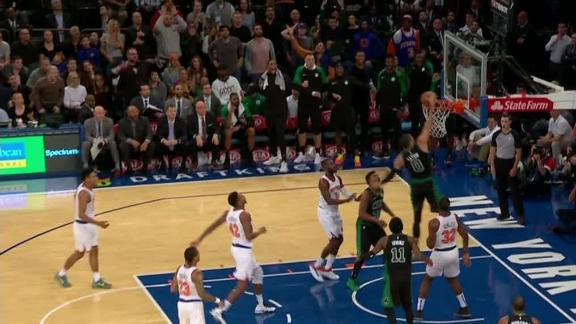 Butler turns boos to cheers quickly in Minnesota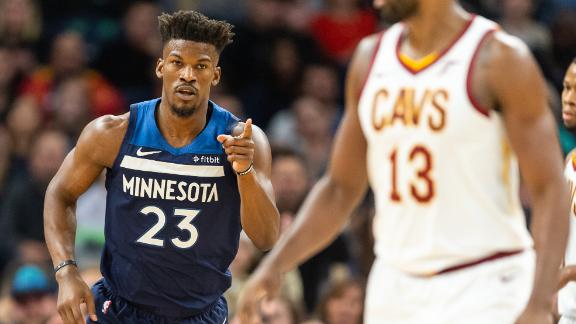 Butler on boos: 'It really makes me smile'
Jimmy Butler says that he "loves" when fans boo him as long as the Wolves are winning and expects fans to switch to cheers eventually.
Thibs on fans' attitude toward Butler: 'It's the NBA'
Coach Tom Thibodeau says there's an appreciation for hard work, so he's not surprised fans switched from boos to cheers for Jimmy Butler.
Butler boos back at the Minnesota crowd
After being booed by the Timberwolves fans, Jimmy Butler boos right back after feeding Taj Gibson for a dunk.
Butler gets 'M-V-P' chants
While at the line, Jimmy Butler gets "M-V-P" chants from the Minnesota crowd.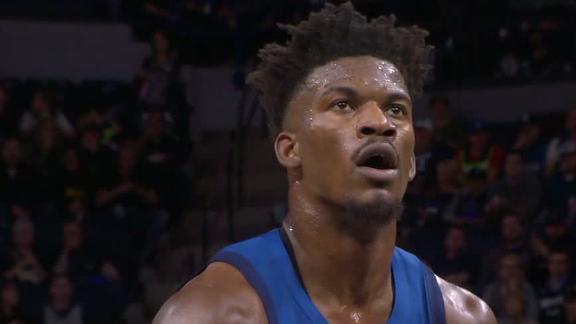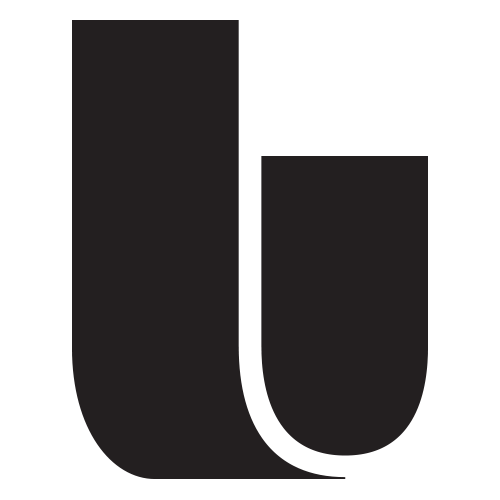 The Undefeated
Fultz hits first career 3, crowd erupts
Markelle Fultz steps up and knocks down his first 3-pointer of his career, putting the Philadelphia crowd on its feet.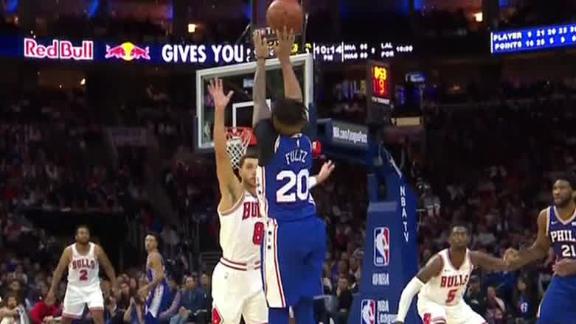 Embiid throws down 30-point double-double
Joel Embiid drops a double-double of 30 points and 12 rebounds, adding 4 blocks as the 76ers cruise past the Bulls.
Simmons records triple-double
Ben Simmons had himself a night, scoring 12 points, collecting 13 rebounds and dishing out 11 assists to fuel the 76ers past the Bulls.
Redick connects for 4-point play
J.J. Redick comes off a screen and knocks down a triple while getting fouled to set up a 4-point play.
Customize ESPN

Sign up for FREE!
Burning questions for 2018-2019 season
Maddie Meyer/Getty Images

Is Giannis ready to be MVP? Will the Lakers make the playoffs? What's the Jimmy Butler fallout? There are plenty of questions to answer this season.
An oral history of LeBron's NBA debut
n/a

Ricky Davis, Chris Webber, David Stern and others recall the first quarter of the most anticipated debut in league history.
Brian Babineau/NBAE/Getty Images

Zach Lowe breaks out his comprehensive guide to the most watchable (and least watchable) NBA teams, ranked from 30 to 16.