LeBron scores 26 in debut with Lakers
LeBron's first basket with the Lakers is a dunk and finishes with 26 points along with 12 rebounds in a loss to the Blazers.
LeBron throws down first points as Laker
LeBron James takes the steal and takes it coast-to-coast, slamming down his first bucket in a Los Angeles Laker uniform.
LeBron: 'It's gonna take patience'
LeBron James harps on patience and development after the Lakers' 128-119 opening-night loss to the Blazers.
Stephen A.: Lakers need to improve 3-point shooting
Stephen A. Smith breaks down the Lakers' weaknesses and how they can improve their starting lineup.
LeBron's 1st dunk as a Laker looks familiar
With a steal and one-handed jam on the break, LeBron's first dunk in his 16th season resembles his first-ever NBA slam in 2003.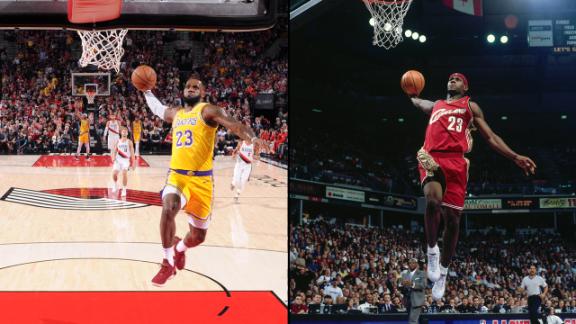 Lakers still finding their way with LeBron
Tim Legler breaks down plays from the Lakers' loss to the Blazers where other Lakers will need to step up for them to be successful.
Stauskas nails five 3s in Blazers' win
Fifteen of Nik Stauskas' 24 points come via the 3-ball as the Blazers take down the Lakers 128-119 to spoil LeBron James' Laker debut.
Lillard converts dagger 3-point play
Damian Lillard splits the defense and finishes through contact to give the Blazers a 124-114 lead with just over a minute to play.
Ball hits first 3 of season
Lonzo Ball sizes up Damian Lillard and swishes a 3-pointer to narrow the Lakers' deficit to 101-100.
Olynyk with the game-winning putback off Wade's miss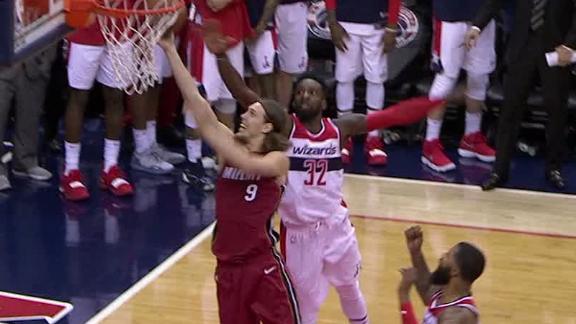 Wizards, Heat get into scuffle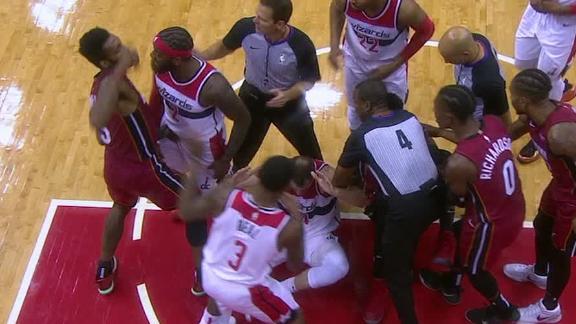 Fultz hits first career 3, crowd erupts
Markelle Fultz steps up and knocks down his first 3-pointer of his career, putting the Philadelphia crowd on its feet.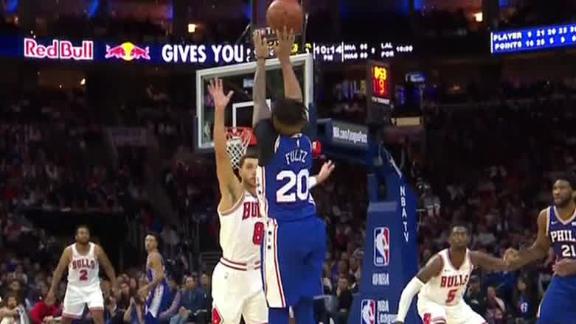 Embiid throws down 30-point double-double
Joel Embiid drops a double-double of 30 points and 12 rebounds, adding 4 blocks as the 76ers cruise past the Bulls.
Simmons records triple-double
Ben Simmons had himself a night, scoring 12 points, collecting 13 rebounds and dishing out 11 assists to fuel the 76ers past the Bulls.
Redick connects for 4-point play
J.J. Redick comes off a screen and knocks down a triple while getting fouled to set up a 4-point play.
First buckets for the rookies
Ayton backs down Doncic for first points
Deandre Ayton backs his way towards the basket for a layup and the foul for his first career points in the NBA.
Bagley records his first career basket
Marvin Bagley III scores his first career basket with the sweet turnaround hook shot.
Jackson scores his first NBA bucket
Jaren Jackson Jr. gets an easy layup to record his first bucket with the Memphis Grizzlies.
Young flips up first basket
Trae Young gets into the lane and hits a one-handed shot.
Doncic eases to basket for first points
Wesley Matthews passes the ball to Luka Doncic, who drops in an easy layup for his first career NBA points.
Bamba drives past Olynyk for first NBA points
Mo Bamba uses a nice jab step to create space on a drive against Kelly Olynyk and scores off glass.
Customize ESPN

Sign up for FREE!
Thearon W. Henderson/Getty Images

Healthier than he's been in years, D-Rose is ready to prove he can still hoop.
Rocky Widner/NBAE via Getty Images

Which NBA teams have bragging rights, and which are the most miserable? The Sports Misery Index rates the NBA 1-30.
Brian Babineau/NBAE/Getty Images

Zach Lowe breaks out his comprehensive guide to the most watchable (and least watchable) NBA teams, ranked from 30 to 16.