Jonas Jerebko tips in game winner in final seconds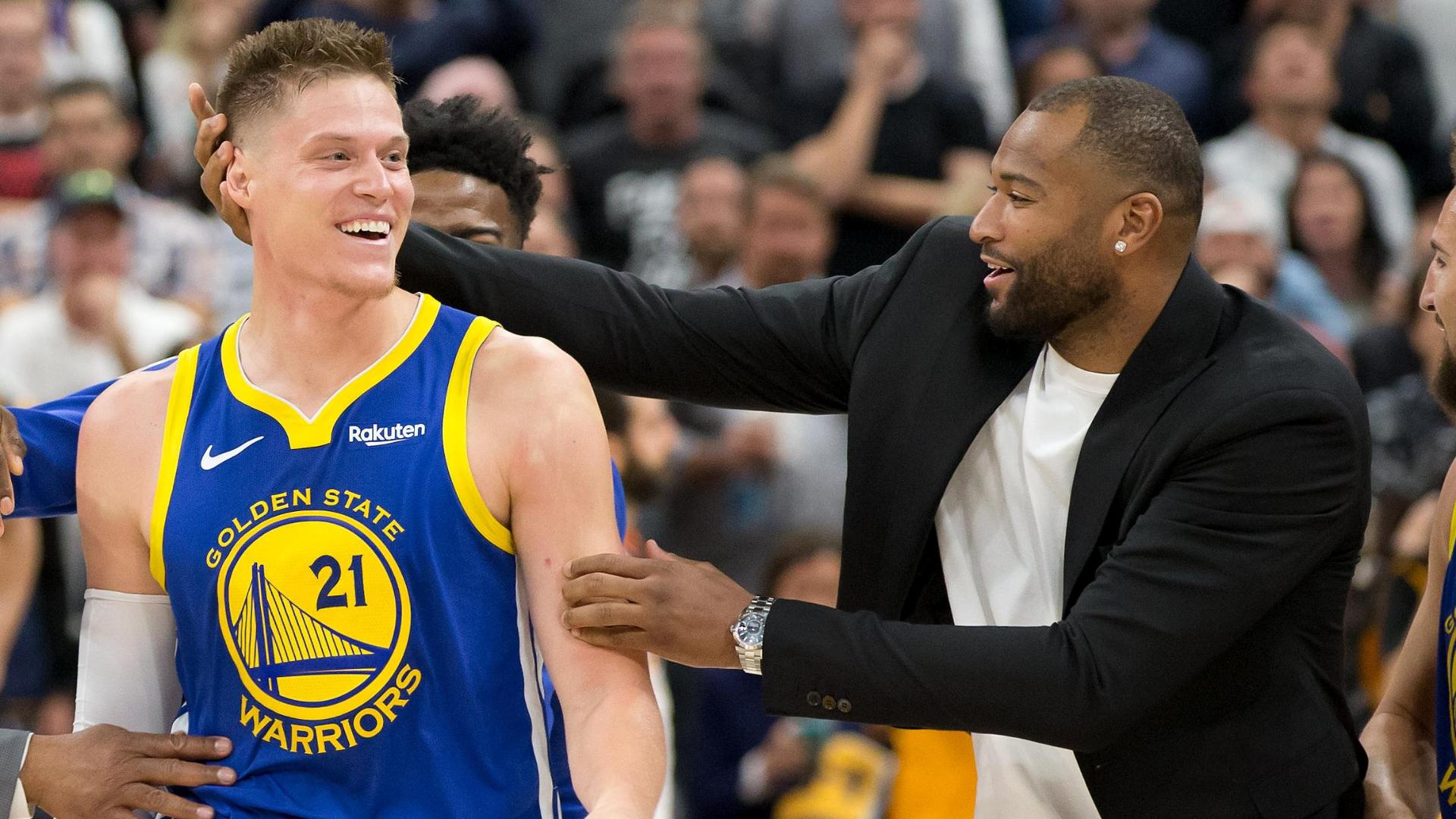 Curry thinks Jerebko was 'juiced' to play vs. former team
Steph Curry says that Jonas Jerebko was "juiced" to play against his former team, giving him the edge in this contest.
KD unguardable vs Jazz
Kevin Durant makes things look easy as he scores 38 points on 14-of-25 shooting in the Warriors' thrilling win.
Curry flips no-look pass behind his head
Steph Curry pulls down a rebound in traffic then throws it behind his back over two defenders for a wide-open Jonas Jerebko 3-pointer.
Ingles drains deep buzzer beater
Joe Ingles fires an off-balance 3-pointer from deep to beat the 3rd-quarter buzzer.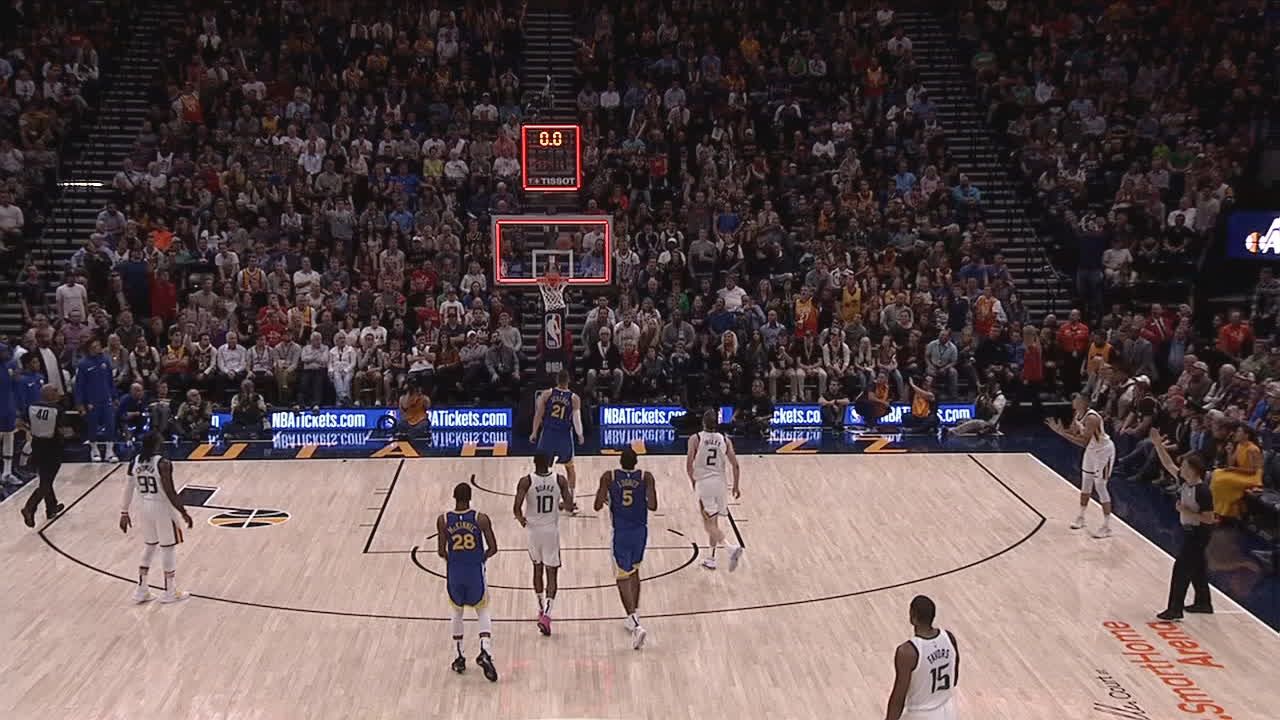 Curry hits wide open 3 to trim Utah's lead
Jonas Jerebko rebounds his missed shot and tosses it to Stephen Curry for a wide open 3-pointer.
Warriors can't stop Jazz from downtown at end of first half
Ricky Rubio, Joe Ingles and Donovan Mitchell all hit 3-pointers with under 2 minutes in the half to extend the Jazz's lead over the Warriors.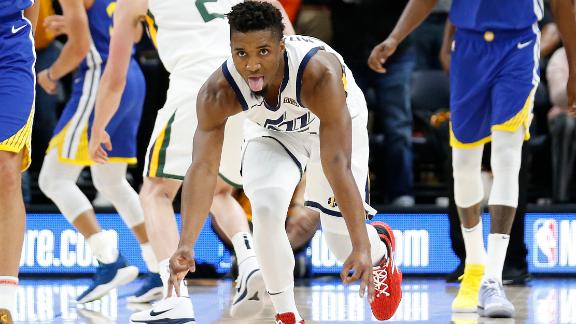 KD poked in eye during foul
Kevin Durant fouls Alec Burks behind the 3-point line before the buzzer, and gets hurt in the process.
KD drives lane for slam
Kevin Durant drives up a wide-open lane to slam it down.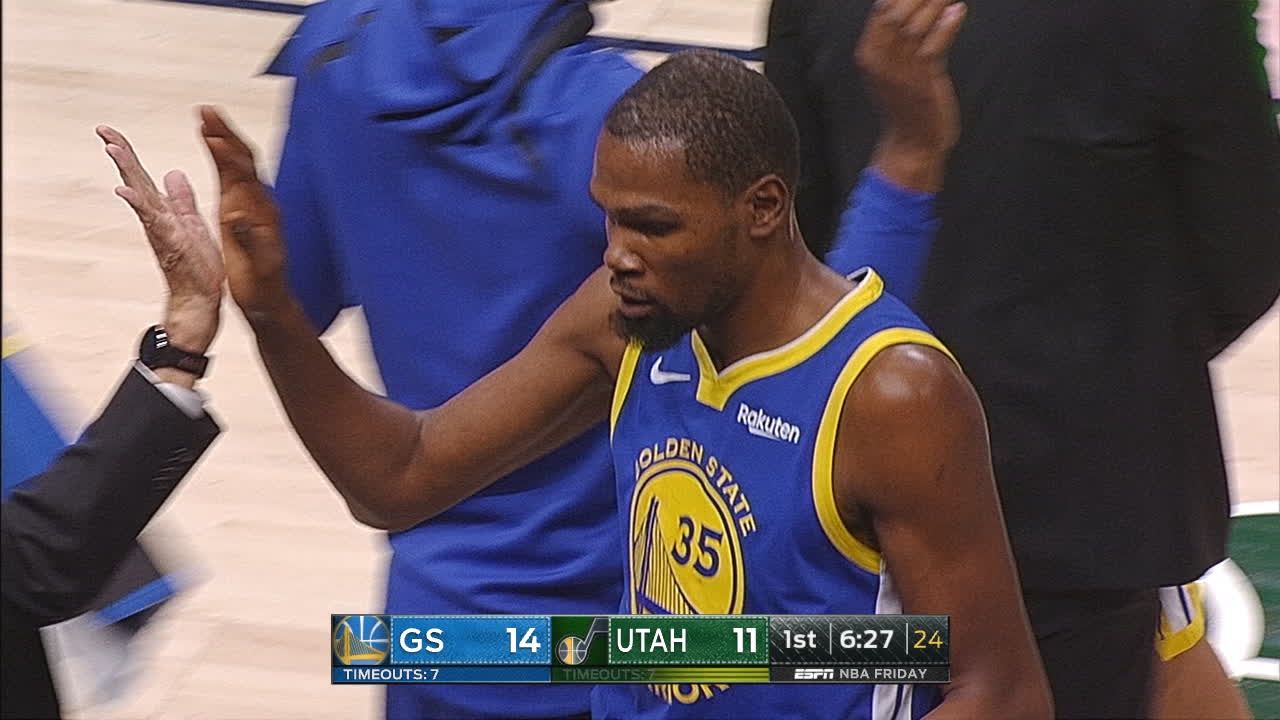 Green and Leonard team up to deny Tatum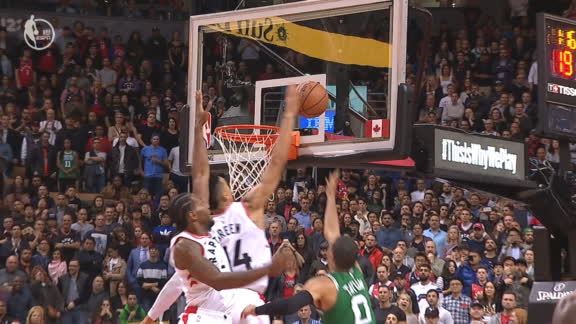 Butler turns boos to cheers quickly in Minnesota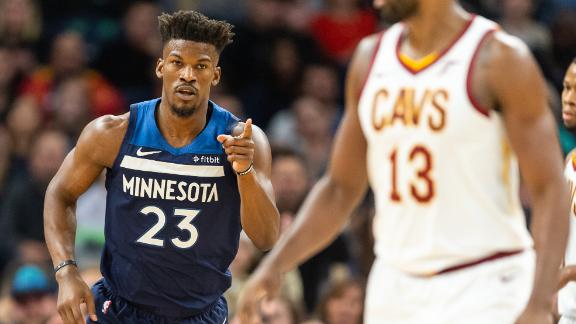 Butler on boos: 'It really makes me smile'
Jimmy Butler says that he "loves" when fans boo him as long as the Wolves are winning and expects fans to switch to cheers eventually.
Thibs on fans' attitude towards Butler: 'It's the NBA'
Coach Tom Thibodeau says there's an appreciation for hard work, so he's not surprised fans switched from boos to cheers for Jimmy Butler.
Butler boos back at the Minnesota crowd
After being booed by the Timberwolves fans, Jimmy Butler boos right back after feeding Taj Gibson for a dunk.
Butler gets 'M-V-P' chants
While at the line, Jimmy Butler gets "M-V-P" chants from the Minnesota crowd.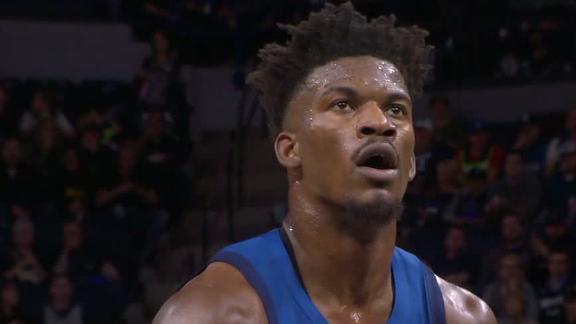 Oladipo rejects the Greek Freak's dunk attempt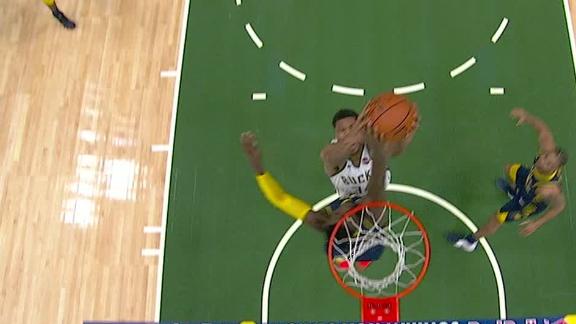 AD throws down vicious one-handed alley-oop
Jrue Holiday tosses up an alley-oop that Anthony Davis throws down with one hand.
Bridges crushes putback dunk
Miles Bridges flies through the lane for a monster putback dunk to clean up Marvin Williams miss.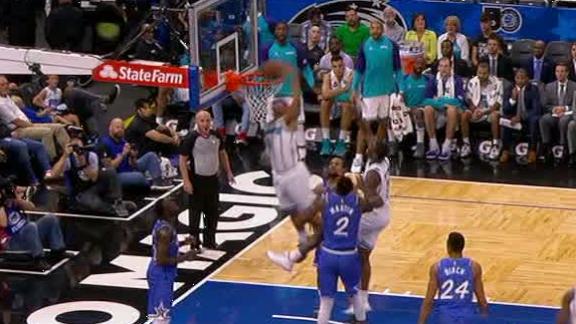 Greek Freak flies in for the jam
Malcolm Brogdon passes the ball off to Giannis Antetokounmpo in transition and the Greek Freak wastes no time powering it home.
Temple sends it up to Jackson for the oop
Garrett Temple sends a nice lob up to Jaren Jackson Jr. for a slick first-half alley-oop against the Hawks.
Sabonis attacks the rim with one-handed slam
Domantas Sabonis flies over multiple Bucks defenders and hammers a powerful one-handed jam.
Fultz hits first career 3, crowd erupts
Markelle Fultz steps up and knocks down his first 3-pointer of his career, putting the Philadelphia crowd on its feet.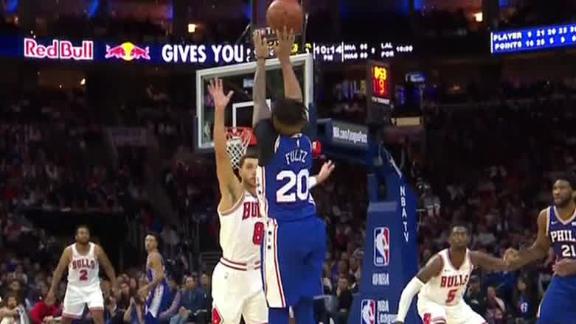 Embiid throws down 30-point double-double
Joel Embiid drops a double-double of 30 points and 12 rebounds, adding 4 blocks as the 76ers cruise past the Bulls.
Simmons records triple-double
Ben Simmons had himself a night, scoring 12 points, collecting 13 rebounds and dishing out 11 assists to fuel the 76ers past the Bulls.
Redick connects for 4-point play
J.J. Redick comes off a screen and knocks down a triple while getting fouled to set up a 4-point play.
Customize ESPN

Sign up for FREE!
Burning questions for 2018-2019 season
Maddie Meyer/Getty Images

Is Giannis ready to be MVP? Will the Lakers make the playoffs? What's the Jimmy Butler fallout? There are plenty of questions to answer this season.
An oral history of LeBron's NBA debut
n/a

Ricky Davis, Chris Webber, David Stern and others recall the first quarter of the most anticipated debut in league history.
Brian Babineau/NBAE/Getty Images

Zach Lowe breaks out his comprehensive guide to the most watchable (and least watchable) NBA teams, ranked from 30 to 16.