Celtics defend home court
The Celtics use great defense and drain 13 3-pointers to take down the Cavs and improve to 10-0 at home in the playoffs.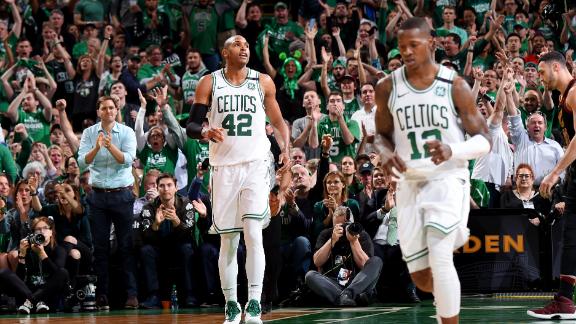 Morris, Nance get into heated altercation
Marcus Morris taunts Larry Nance Jr. after a block. Nance shoves Morris as teammates try to separate them. Morris and Nance receive technical fouls.
Lue's explanation on Korver playing time unreal
Ty Lue says Kyle Korver didn't play more because the Celtics didn't play Korver's matchup, Semi Ojeleye.
Rozier feeds Horford for the alley-oop
After LeBron James misses a layup, Terry Rozier flies downcourt and lobs a pass up to Al Horford, who finishes with a two-handed dunk.
Nance's poster attempt fail
Larry Nance Jr. tries to throw down a huge dunk over Aron Baynes, but gets called for a charge.
Brown says Celtics had their best defense of the year
Jaylen Brown explains why the Celtics' defense was a key factor in defeating the Cavaliers in Game 5.
Tatum says Celtics played with more poise in Game 5
Jayson Tatum explains how the Celtics were able to once again protect home court in Game 5 and what Boston needs to do to win in Cleveland.
Pierce credits Stevens for Celtics' play
Paul Pierce says Brad Stevens has prepared the young Boston players well and says LeBron will step up with his back against the wall.
Tatum converts steal into layup
Jayson Tatum picks up Kevin Love's bad pass and drives right past LeBron James for a layup.
Ball movement leads to Smart's 3-pointer
Celtics pass the ball around a couple of times before Marcus Smart pulls up from 3-point land and drains it.
LeBron's sloppy pass leads to Tatum's 3-pointer
LeBron James turns the ball over with a bad pass and at the other end, Jayson Tatum knocks down a pull-up 3-pointer.
Celtics hitting from downtown
The Celtics drain nine 3-pointers in the first half and hold an 11-point advantage at halftime.
Smart drains back-to-back buckets
Marcus Smart banks in a shot off the glass and on the next possession, smart floats in a layup.
Tatum follows up 3-pointer with assist to Baynes
Jayson Tatum pulls up and drains a 3-pointer and on the next possession, Tatum finds Aron Baynes with a no-look pass for a dunk.
Latest milestone makes LeBron reflective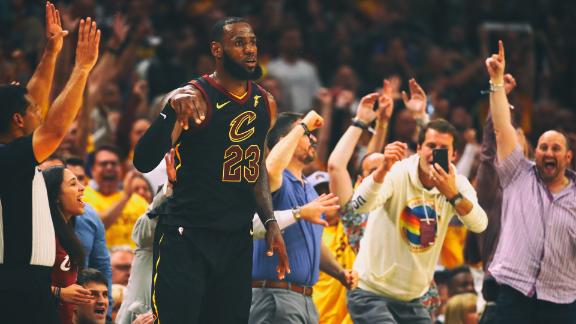 World Fame 100
ESPN The Magazine
NBA Draft
Where will Doncic land in NBA Draft?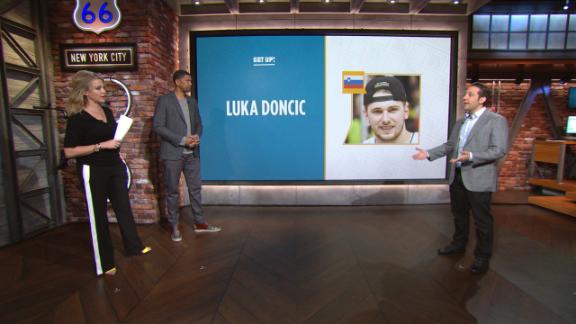 Will Lakers land two top free agents this offseason?
Byron Scott expects Magic Johnson to bring Paul George and one more marquee free agent to Los Angeles.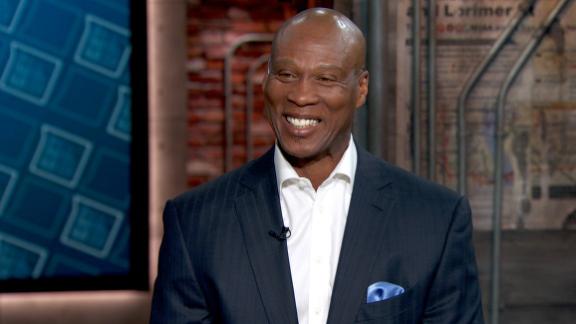 Customize ESPN
The scariest three minutes in the NBA
Diego Patino

By the time opponents know what's hit them, it's already too late. This is how the Warriors crush -- and how the NBA fails to fight back.
Kawhi, Pop and the NBA's most fascinating mystery
Soobum Im/USA TODAY Sports

What's behind the tension between the Spurs and Kawhi Leonard's camp? And how will the NBA's most fascinating mystery end?
Russell Westbrook's fashion
ESPN Illustration

Russ does what he wants -- on and off the court. We tracked every outfit the NBA's biggest fashion star wore this season. But even if you think you can pull off Westbrook's look, it'll cost you.
Joel Kimmel illustration

From LeBron James backing up Stephen Curry to Joel Embiid taunting victims on a weekly basis, if you weren't locked in to social media, you weren't getting the full story of the 2017-18 NBA season.