Click the pics below to read the bios of our top 12 Euroleague/NBA stars.
Dominique Wilkins
Panathinaikos
Dominique Wilkins
Atlanta Hawks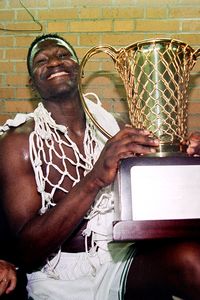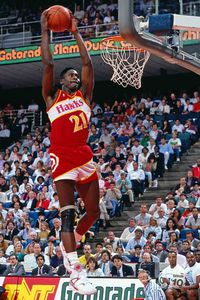 Wilkins' stay in Europe was brief and late in his career, but he still made his mark on Euroleague history.
The Human Highlight Film was 35 years old and 13 years into his professional career when he joined the legendary Greek club Panthinaikos in 1995. Averaging 20.9 points and 7 rebounds a game that season, he led the team to victory in the Euroleague Final Four in Paris. And he was named Final Four MVP, scoring 35 points in the Greeks semifinal win over CSKA Moscow and then helping them edge out FC Barcelona, 67-66, in one of the most thrilling Finals ever.
In the NBA, Wilkins was a nine-time All-Star and a two-time slam dunk champion. And he was instrumental in the Hawks rise in the Eastern Conference in the 1980s, although a championship eluded him. Wilkins also played for the U.S. national team that won the gold medal at the 1994 World Championship.
After his stint in Greece, Wilkins had a productive season for the San Antonio Spurs, then went on to play in Italy with Teamsystem Bologna and ended his career with a brief stay in Orlando.
Photo credits: (l-r) Euroleague.net, Andrew D. Bernstein/NBAE/Getty Images
Ian Whittell covers basketball for The Times of London.