Click the pics above to follow the path of Phil Jackson.
Next >
Knicks Forward
Topps 1972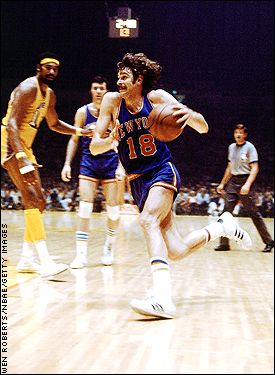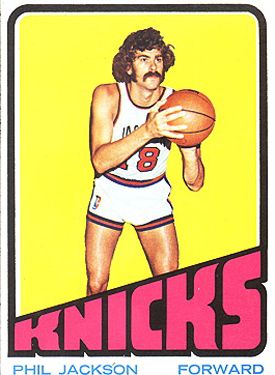 Jackson was drafted in 1967 -- the New York Knicks took Jackson with the fifth pick of the second round, the 17th overall pick (the NBA had only 12 teams in the 1967-68 season).
The Knicks won the NBA title in 1970, but Jackson missed the entire season with a back injury. After he and the Knicks lost the 1972 title to the Lakers, Jackson had better luck in 1973 as the Knicks polished off the Lakers in five games.
Jackson was with the Knicks for 11 seasons. In 1978, he joined the New Jersey Nets as a player-assistant coach for two seasons before finishing his playing career in 1980.
Jackson's 1973 Topps card provides this upbeat report:
"Phil is underrated in a lot of ways. He's very important to the Knicks' defense and he's a good shooter. He helps his team with intangibles such as boxing his man out under the boards, scrambling for loose balls, setting picks, depriving his opponent of his favorite shooting spot on the floor."
"Action Jackson," listed as a 6-8 forward, averaged 6.7 ppg, 4.3 rpg and 1.1 apg, in 17.6 minutes per game during his 12 NBA seasons.