Chasing The Streak: '71-72 Lakers vs. '12-13 Heat
iv class="mod-container mod-no-footer mod-inline content-box full mod-no-header-footer ">
1971-72 LAKERS
2012-13 HEAT
G
DATE
OPPONENT
G
DATE
OPPONENT
1
11/5
vs. Baltimore


W

110-106

1
2/3
@ Toronto


W

100-85
2
11/6
@ Golden State


W

105-89
2
2/4
vs. Charlotte


W

99-94
3
11/7
New York


W

103-96
3
2/6
vs. Houston


W

114-108
4
11/9
@ Chicago


W

122-109

4
2/8
vs. L.A. Clippers


W

111-89
5
11/10
@ Philadelphia


W

143-103

5
2/10
vs. L.A. Lakers


W

107-97
6
11/12
vs. Seattle


W

115-107

6
2/12
vs. Portland


W

117-104
7
11/13
@ Portland


W

130-108

7
2/14
@ Oklahoma City


W

110-100
8
11/14
vs. Boston


W

128-115

8
2/20
@ Atlanta


W

103-90
9
11/16
vs. Cleveland


W

108-90

9
2/21
@ Chicago


W

86-67
10
11/19
vs. Houston


W

106-99

10
2/23
@ Philadelphia


W

114-90
11
11/21
vs. Milwaukee


W

112-105

11
2/24
vs. Cleveland


W

109-105
12
11/25
@ Seattle


W

139-115

12
2/26
vs. Sacramento


W

141-129 2OT
13
11/26
vs. Detroit


W

132-113

13
3/1
vs. Memphis


W

98-91
14
11/28
vs. Seattle


W

138-121

14
3/3
@ New York


W

99-93
15
12/1
@ Boston


W

124-111

15
3/4
@ Minnesota


W

97-81
16
12/3
@ Philadelphia


W

131-116

16
3/6
vs. Orlando


W

97-96
17
12/5
vs. Portland


W

123-107

17
3/8
vs. Philadelphia


W

102-93
18
12/8
@ Houston


W

125-120

18
3/10
vs. Indiana


W

105-91
19
12/9
@ Warriors


W

124-111

19
3/12
vs. Atlanta


W

98-81
20
12/10
vs. Phoenix


W

126-117 OT

20
3/13
@ Philadelphia


W

98-94
21
12/12
vs. Atlanta


W

104-95

21
3/15
@ Milwaukee


W

107-94
22
12/14
@ Portland


W

129-114

22
3/17
@ Toronto


W

108-91
23
12/17
vs. Golden State


W

129-99

23
3/18
@ Boston


W

105-103
24
12/18
@ Phoenix


W

132-106

24
3/20
@ Cleveland


W

98-95
25
12/19
vs. Philadelphia


W

154-132

25
3/22
vs. Detroit


W

103-89
26
12/21
@ Buffalo


W

117-103

26
3/24
vs. Charlotte


W

109-77
27
12/22
@ Baltimore


W

127-120

27
3/25
@ Orlando


W

108-94
28
12/26
vs. Houston


W

137-115

28
3/27
@ Chicago


L

101-97
29
12/28
vs. Buffalo


W

105-87

30
12/30
@ Seattle


W

122-106

31
1/2
vs. Boston


W

122-113

32
1/5
@ Cleveland


W

113-103

33
1/7
@ Atlanta


W

134-90

34
1/9
@ Milwaukee


L

120-104

How the Bulls ended the streak
By
ESPN Stats & Information
What were the biggest statistical keys to the Chicago Bulls' snapping the Miami Heat's winning streak at 27 games?
Here's a quick look:
1. The Bulls allowed the Heat to get inside the paint but didn't allow the Heat's shooters to make easy baskets. The Heat went 10-of-39 outside the paint (25.6 percent), their second-worst shooting rate of the season (they were 6-for-35, 17 percent against the Lakers on Jan. 17).
The Bulls had similar success against the Heat earlier in the season. On Jan. 4, the Heat converted on 77.3 percent of field goals inside the paint but struggled on shots outside, hitting only 30 percent.
In the Heat's victory over the Bulls, the Heat had a more balanced scoring attack, shooting 59 percent inside the paint and 44 percent outside it.
2. The Heat dominated the fourth quarter during their 27-game win streak, outscoring opponents by a combined 152 points and shooting 44 percent on 3-pointers.
In the loss to the Bulls, they shot 1-for-8 on 3-point attempts and were outrebounded by 12.
3. Despite scoring 32 points Wednesday against the Bulls, LeBron James was held to three assists, tied for his third fewest this season. James drove to the basket 12 times in half-court sets, but created only one field goal attempt (and no baskets) for a teammate off those drives.
All Good Things ...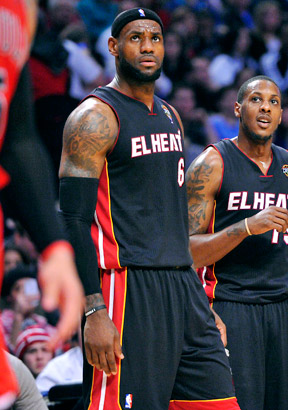 Rob Grabowski/USA TODAY SportsLeBron and the Heat couldn't summon another late-game comeback as the streak ended in Chicago.