1. Special Dime: 2013 MIT Sloan Conference
BOSTON -- The Los Angeles Lakers are the only team that does not have a representative listed at to the 2013 MIT Sloan Sports Analytics conference. Many teams made it public that they sent five or more. But even as the conference has expanded to the mainstream event it is today, there has remained a sense of conflict between two worlds: that of the removed statistical analyst, and that of the coach or player who can actually implement that analysis in competition.
The 2013 opening panel, which was moderated by Moneyball author Michael Lewis and featured Dallas Mavericks owner Mark Cuban, Rockets GM Daryl Morey and 49ers COO Paraag Marathe, in addition to baseball and political sabermetrician Nate Silver, suggested that division is failing.
Titled "Revenge of the Nerds," the panel was something of a victory lap for those who longed to see sabermetricians in powerful roles within sports teams.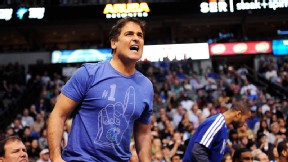 Jerome Miron/USA TODAY SportsMark Cuban is never too far away from his Mavs.
Morey and Marathe each framed their rise as an outsider narrative -- the super fan with a mind for statistics who gets a break and ends up with his dream job. No longer marginalized by traditional powers, people like Morey and Marathe have the power to execute on their stat-based findings. Mark Cuban owns the team. If he wants advanced analytics to be a part of their process, it doesn't matter how many old-school NBA types aren't on board. Statistics are being used at the highest level by the most successful organization -- there's no debate over the new world order.
When Lewis wrote Moneyball, he said he caught heat from baseball people because he "screwed with the status structure." Looking at the success of the panel, it's clear that, even if it hasn't spread to every team in every league, the hierarchy of decision-making in sports has irrevocably changed.
So instead of a discussion of some primordial conflict between stat geeks and those athletes and coaches "in the trenches," the panel turned its attention to an exploration of what's coming next.
According to the distinguished group on stage, the next front is something that can't be analyzed from afar; it's the interior profile of the athletes themselves. This includes better medical information and training, but also psychological profiling.
Unlike offensive rebounding and 3-point shooting rates, there are no public data sets that can mine the personal dynamics of individuals working together. Both Cuban and Morey emphasized the importance of learning as much as possible about their players' physical makeup, and enjoyed some playful sparring over the effectiveness of the Mavericks' sports psychologist, Don Kalkein, who travels with the team and sits behind the bench.
When Cuban touted that his team was one of few who would invest in Kalkein's expertise, Morey shot back, "Mark has no idea if his psychologist is good. He just thinks he's good."
No one quibbled about the value of dedicating resources to understanding the role of psychology in sports. Marathe explained that, at the highest levels, the "margin is so narrow on physical differences" that the real gains can only be made by quantifying the psychological.
This is a change of speed from how advanced analytics have been framed in the past. In fact, how difficult it is to know the psychological state of a player with any real certainty was one of the original battlegrounds of the statistical revolution. Give me real data, the stat geeks demanded, not platitudes about who wants it more.
But it wasn't that stat-driven analysts didn't think psychological issues were unimportant, rather they argued it is foolish to make decisions without hard data. Now, the geeks are trying to acquire and process reliable information about what makes players tick.
This process will inevitably bring former outsiders closer to the lives of players and the interpersonal dynamics of teams than ever.
Mark Cuban said he likes to sit down by the bench so he can see who is paying attention in huddles, who's muttering under his breath when the coach is talking, and to monitor whether players are getting along.
"It's hard to be a decision-maker and be removed," explained Cuban.
The panel also discussed the frontier of "on-court" analytics, and both Cuban and Morey suggested that the way the game is played will change as new analytics are introduced. That's already happened, to some degree, as coaches throughout the NBA embrace the value of efficiency and the number of teams willing to live and die by the 3-point shot expands.
Detractors of the influence of advanced and sometimes obscure statistics in sports analysis have argued that such methods ignore the emotional, personal elements of the game. The word out of Sloan is that the next big prize is understanding just that, and with definitive data.
The race is on to learn more about what's happening between the lines by figuring out what's going on between the ears.
Dimes past: Feb. 5 | 6 | 7 | 8-9 | 10 | 11 | 12 | 13 | 14 | 17 | 20 | 21 | 24 | 25 | 26 | 27 | 28
Beckley Mason is an NBA contributor for ESPN.com.
2. The Dwight Effect
By
Jack Winter
| ESPN.com/TrueHoop Network
Sanders
BOSTON -- Milwaukee's Larry Sanders has an almost too-passionate following among the NBA blogosphere.
His everlasting length, size-defying quickness and penchant for highlight reel blocks are sights to behold, and have recently garnered him some national attention as one of the league's top defenders. With "The Dwight Effect: A New Ensemble of Interior Defense Analytics for the NBA," Kirk Goldsberry and Eric Weiss use SportVU innovations to identify Sanders as the game's preeminent paint protector. And with that, the NBA stat geeks in Boston showered the Bucks center with adoration.
There are several important broad takeaways in these findings. First, preventing shots close to the rim is more important than reducing the efficiency at which opponents make them. "The Dwight Effect" notes that 70 percent of short shots lead to a basket, free throws or an offensive rebound. And consequently, teams are forced into more inefficient attempts from mid-range when they're limited near the basket. By measuring the amount of those close shots taken when a specific defender is within five feet of the basket, Goldsberry and Weiss identify the NBA's closest thing to true basket-protectors. At the top of the list? The paper's namesake, of course, the Lakers' Dwight Howard.
Though Howard blocked shots at less than half the rate of Serge Ibaka over the sampled time frame, the former is the more impactful defender.
Why? L.A.'s big man allowed almost 26 percent fewer shots near the basket compared to his OKC counterpart. The collective eye roll of NBA analysts everywhere at Ibaka's runner-up finish in last year's Defensive Player of the Year voting, then, seems more appropriate than ever.
Howard may be the inspiration behind this research, but he's not its star. Indiana's Roy Hibbert rates favorably in most every compiled metric, too, but not as well as Sanders. Said Goldsberry during today's presentation, "Not only does [Sanders] lead the NBA in blocks, he reduces the efficiency of shots that aren't blocked. Which is markedly more significant than blocks because it happens a lot more frequently."
So in preventing close shots, reducing the efficiency of close shots and blocking shots at elite or near-elite levels, Sanders combines the finest attributes of Howard and Ibaka. Thus, the paper's climactic line: "Larry Sanders is the best interior defender in the NBA." After "The Dwight Effect," it's tough to argue otherwise.
3. Breaking Up Is Hard To Do
BOSTON -- The "It's Not You, It's Me: Break-Ups In Sports" panel had a juicy topic and the perfect panelist in Stan Van Gundy. You'd have to be a quirky kind of sports fan to not want Van Gundy's take on his falling out with Dwight Howard.
SVG delivered the goods, retelling his fateful decision to out Dwight's coach-killing intentions.
"It was something I'd been thinking about for a couple weeks," Van Gundy said. "He was pissed at me for having broken it."
The crowd ate up the details of one of basketball's more tumultuous public relationships.
MIT SLOAN 2013
Check out TrueHoop's coverage of the MIT Sloan Sports Analytics Conference.

• When players turn into commodities
• This is your brain on basketball
• When statisticians paint a picture
• What's your NBA "FICO" score?
• TrueHoop TV: Neil Olshey


• TrueHoop TV: Protecting the rim


• Is MIT Sloan now the majority party?
• TrueHoop TV: Geekery, big shots


• What the NBA can learn from cycling
• Overheard at Sloan
• Lockout analytics
• The Kessel Run in less than 12 parsecs
• Concussions and the culture of tough
• Does NBA err in age restriction?
• Quantifying the unquantifiable
• Advanced stats of team chemistry
• When rewinding, be kind
• Observations from Sloan, Day 2
• Future of Suns training staff
• Crash the boards or retreat?
• The devil is in the randomness
• Slice and dice: Analytics and access
• TrueHoop TV with Brian Kopp


• MIT Sloan 2013: Twitter compilation
• The future's so bright ... maybe
• Communication breakdown
• The dissection of shot selection
• Observations from the Almond
• The ingredients of success

Toronto Maple Leafs advisor Brian Burke, who often veered off topic, added some poignant commentary on the difficulties of working in a competitive, high-turnover profession. Burke had to fire his best friend, former Maple Leafs coach Ron Wilson, and the ensuing awkwardness caused him to miss a wedding. Such choices are common in the pro sports business.
Former Indianapolis Colts executive Bill Polian spoke of the tearful embrace that came with his axing. Van Gundy spoke of how he thought "Dwight, quite honestly, got too much criticism for the stuff last year," even while reaffirming that Howard was aiming to fire him.
Sports is a surreal world where you fire a beloved confidant, hug the boss firing you or stick up for the guy who sought to take your livelihood. Perhaps that's why the conversation got derailed at times -- because these are difficult issues, issues that a conference devoted to analytics can't address just yet. Polian asserted that "there is a human element in sports that is not quantifiable," and, "the emotional part is really hard."
There is humanity within the insular sports sphere. Though their lives are public, their internal, emotional worlds are often shrouded, as fans and media obsess over the games. The outside interest is animated by whether or not the coach should be fired, and not how it feels to be fired, or how it feels to fire.
Co-owner of the Boston Celtics Steve Pagliuca discussed the decision to keep Doc Rivers amid a popular call for his ouster in 2007. Pagliuca said: "The biggest mistake owners make is if you let the parallel universe run your thinking."
4. THTV: Analytics With Brian Kopp
5. 'The Golden Gate'
Lee
BOSTON -- One of the biggest stories from Sloan came when a Visiting Harvard Scholar spoke brutal, biting truth to David Lee's interior defense. Kirk Goldsberry not only did this in front of some of the sharpest minds in sports -- he did it in front of Lee's co-workers.
Goldsberry's "The Dwight Effect" panel was hotly anticipated in part because its subject, Dwight Howard, had been the focus of so much scorn and mockery. Goldsberry actually had mostly nice things to say about Howard, but he used his study of interior defensive effectiveness to bring scorn and mockery to the Golden State Warriors' All-Star. The study revealed that Lee gave up a 53 percent field goal mark when "contesting" shots five feet from the rim, whereas the less lauded Larry Sanders gave up a stingy 34.9 percent (see Box 2). Goldsberry also had the video to back up his negative Lee assessment.
The building roared with laughter as Goldsberry played footage of Lee's defensive lowlights. The reel was graced with a graphic that called Lee "The Golden Gate." It was like a film session wherein a coach embarassess some poor, hapless rookie -- only Lee wasn't present for the roasting. After the visual skewering, Goldsberry used terms like "All-Star" and "David Lee money" as self-evident barbs.
Golden State employees were spotted in the room (no word on whether they were laughing or wincing). Word will certainly get back to Warriors owner Joe Lacob and Warriors general manager Bob Myers, who are both attending the conference, but it's debatable as to whether such withering criticism matters. Lee is perceived as untradeable, due to his close relationship with Lacob. When the Warriors celebrated their proposed San Francisco location, Lee was the player chosen to represent and herald.
Lacob himself has been an advanced statistics enthusiast and this is his second time attending the conference. It is possible to be an "advanced stats" guy while loving Lee. His offensive game has been reliable and productive, and we have more information on how to measure offense.
But, if we are to enter an era of defensive measurement, it may become difficult for Lacob to stay on the cutting edge while maintaining such steadfast belief in his power forward. If Lacob really takes the data to heart, Lee's untradability may be a casualty of Sloan 2013.
6. Best Things In Strife Are 3s?
By
Ming Wang
| ESPN.com/TrueHoop Network
BOSTON -- Go for a 2-pointer or fire up a 3?
It's not an easy decision. NBA players hit 2-pointers at a higher percentage, but there's greater reward beyond the arc -- a shooter gets $1.50 on his dollar with a successful 3-pointer. David Lee shoots better than 50 percent for the Warriors, but they get better value if Stephen Curry can tee it up from long range, even though his shooting percentage is less than Lee's.
Greater risk, greater reward.
How do NBA teams measure that risk in different situations? This is the question that Matthew Goldman and Justin Rao examine in their paper, "Live by the Three, Die by the Three? The Price of Risk in the NBA."
The relative value of these two shots changes in different situations. For example, when your team is trailing by a bunch, it attempts more 3-pointers in its comeback effort, which makes sense -- you can make up more ground with 3-pointers when possessions are at a premium and you're behind.
And it follows that a team with a large lead is more conservative and opts for lower-risk 2-pointers. This is true even if that team's lead starts to shrink.
But Goldman and Rao found that teams that are ahead in a tight game should take more 3s to try to stretch their lead, even if those shots are, on the surface, riskier. The numbers show that, counterintuitive as it might be, they should actually be putting their foot on the gas, rather than playing a prevent offense, so to speak.
What's the result of all this? Teams with a lead down the stretch tend to relinquish those leads more frequently than expected, which means more comebacks and closer games.
Great for the fans! But for a team with a cushion -- not so much.
7. Tweet Of Day 1
Walking in the halls of #SSAC13 feels like I'm walking through my Twitter feed @LarryCoon @TrueHoop @johnhollinger @dmorey etc etc etc

— Justin Hummel (@jhummel9) March 28, 2013
8. Quote Of Day 1
"Believe me, it's always a lot harder on the guy getting fired."
-- Stan Van Gundy, in response to former Maple Leafs GM Brian Burke's remark that it's tough to fire a coach.
9. Pop Quiz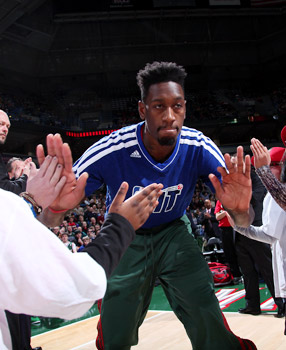 Gary Dineen/NBAE/Getty ImagesIs Milwaukee's Larry Sanders the best interior defender in the NBA? (See Box. 2)