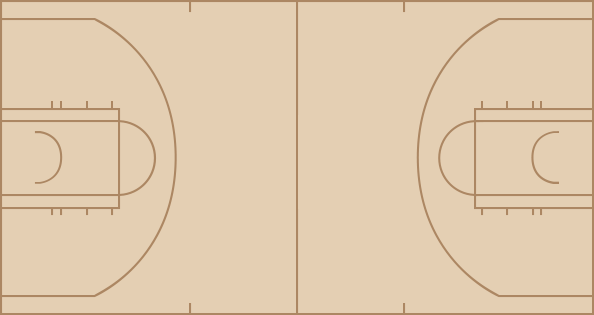 Pistons
time
TEAM
PLAY
SCORE
12:00
Greg Monroe vs. Tyson Chandler (Raymond Felton gains possession)
0 - 0
11:45
Greg Monroe blocks Carmelo Anthony's layup
0 - 0
11:44
Carmelo Anthony offensive rebound
0 - 0
11:42
Kyle Singler vs. Carmelo Anthony (Jason Kidd gains possession)
0 - 0
11:33
Carmelo Anthony makes 16-foot jumper (Tyson Chandler assists)
0 - 2
11:14
Jason Maxiell misses jumper
0 - 2
11:12
Iman Shumpert defensive rebound
0 - 2
11:03
Carmelo Anthony lost ball turnover (Jason Maxiell steals)
0 - 2
10:56
Greg Monroe misses driving layup
0 - 2
10:56
Raymond Felton defensive rebound
0 - 2
10:41
Kyle Singler shooting foul (Carmelo Anthony draws the foul)
0 - 2
10:41
Carmelo Anthony makes free throw 1 of 2
0 - 3
10:41
Carmelo Anthony makes free throw 2 of 2
0 - 4
10:26
Jose Calderon makes 15-foot jumper
2 - 4
10:03
Jason Maxiell shooting foul (Iman Shumpert draws the foul)
2 - 4
10:03
Iman Shumpert makes free throw 1 of 2
2 - 5
10:03
Iman Shumpert makes free throw 2 of 2
2 - 6
9:52
Brandon Knight misses 24-foot three point jumper
2 - 6
9:49
Jason Maxiell offensive rebound
2 - 6
9:34
Jason Maxiell misses two point shot
2 - 6
9:33
Jason Kidd defensive rebound
2 - 6
9:32
Jason Maxiell personal foul (Iman Shumpert draws the foul)
2 - 6
9:32
Rodney Stuckey enters the game for Jason Maxiell
2 - 6
9:18
Jason Kidd makes 24-foot three point jumper (Iman Shumpert assists)
2 - 9
9:07
Iman Shumpert personal foul (Jose Calderon draws the foul)
2 - 9
9:00
Jose Calderon makes 15-foot jumper
4 - 9
8:47
Raymond Felton bad pass (Rodney Stuckey steals)
4 - 9
8:41
Iman Shumpert kicked ball violation
4 - 9
8:30
Jose Calderon misses 25-foot three point jumper
4 - 9
8:27
Tyson Chandler defensive rebound
4 - 9
8:18
Carmelo Anthony misses 16-foot jumper
4 - 9
8:15
Greg Monroe defensive rebound
4 - 9
8:11
Brandon Knight misses driving layup
4 - 9
8:10
Jason Kidd defensive rebound
4 - 9
7:58
Jason Kidd misses 25-foot three point jumper
4 - 9
7:56
Rodney Stuckey defensive rebound
4 - 9
7:46
Rodney Stuckey misses jumper
4 - 9
7:43
Tyson Chandler defensive rebound
4 - 9
7:33
Tyson Chandler misses layup
4 - 9
7:31
Rodney Stuckey defensive rebound
4 - 9
7:28
Greg Monroe makes layup (Rodney Stuckey assists)
6 - 9
7:07
Iman Shumpert makes 25-foot three point jumper (Carmelo Anthony assists)
6 - 12
6:45
Greg Monroe out of bounds lost ball turnover
6 - 12
6:45
J.R. Smith enters the game for Jason Kidd
6 - 12
6:31
Carmelo Anthony makes three point jumper (Raymond Felton assists)
6 - 15
6:20
Pistons Full timeout
6 - 15
6:07
Greg Monroe bad pass
6 - 15
5:45
Carmelo Anthony misses 18-foot jumper
6 - 15
5:43
Jose Calderon defensive rebound
6 - 15
5:28
Jose Calderon misses 4-foot two point shot
6 - 15
5:26
Carmelo Anthony defensive rebound
6 - 15
5:18
Tyson Chandler makes layup (Iman Shumpert assists)
6 - 17
5:18
Kyle Singler shooting foul (Tyson Chandler draws the foul)
6 - 17
5:18
Jonas Jerebko enters the game for Kyle Singler
6 - 17
5:18
Amar'e Stoudemire enters the game for Iman Shumpert
6 - 17
5:18
Tyson Chandler misses free throw 1 of 1
6 - 17
5:18
Amar'e Stoudemire offensive rebound
6 - 17
5:18
Amar'e Stoudemire misses tip shot
6 - 17
5:16
Tyson Chandler offensive rebound
6 - 17
5:13
J.R. Smith makes 25-foot three point jumper (Raymond Felton assists)
6 - 20
4:54
Rodney Stuckey misses two point shot
6 - 20
4:54
Tyson Chandler defensive rebound
6 - 20
4:37
J.R. Smith misses 25-foot three point jumper
6 - 20
4:35
Jonas Jerebko defensive rebound
6 - 20
4:31
Carmelo Anthony shooting foul (Rodney Stuckey draws the foul)
6 - 20
4:31
Rodney Stuckey misses free throw 1 of 2
6 - 20
4:31
Pistons offensive team rebound
6 - 20
4:31
Andre Drummond enters the game for Jonas Jerebko
6 - 20
4:31
Rodney Stuckey makes free throw 2 of 2
7 - 20
4:16
Amar'e Stoudemire misses lay up
7 - 20
4:16
Tyson Chandler offensive rebound
7 - 20
4:16
Tyson Chandler misses lay up
7 - 20
4:15
Knicks offensive team rebound
7 - 20
4:09
Andre Drummond blocks Carmelo Anthony 's 2-foot layup
7 - 20
4:07
Carmelo Anthony offensive rebound
7 - 20
4:07
Tyson Chandler 3 second turnover
7 - 20
3:47
Andre Drummond misses 5-foot hook shot
7 - 20
3:46
Raymond Felton defensive rebound
7 - 20
3:38
Raymond Felton misses 24-foot three point jumper
7 - 20
3:35
Rodney Stuckey defensive rebound
7 - 20
3:31
Rodney Stuckey makes driving layup
9 - 20
3:15
Tyson Chandler misses lay up
9 - 20
3:14
Rodney Stuckey defensive rebound
9 - 20
3:02
Greg Monroe misses layup
9 - 20
3:00
Andre Drummond offensive rebound
9 - 20
2:49
Tyson Chandler blocks Greg Monroe 's 4-foot jumper
9 - 20
2:48
Pistons offensive team rebound
9 - 20
2:48
Knicks Full timeout
9 - 20
2:48
Will Bynum enters the game for Jose Calderon
9 - 20
2:48
Pablo Prigioni enters the game for Raymond Felton
9 - 20
2:40
Andre Drummond makes 1-foot two point shot (Greg Monroe assists)
11 - 20
2:25
Carmelo Anthony makes 4-foot two point shot
11 - 22
2:06
Brandon Knight misses 25-foot three point jumper
11 - 22
2:04
Tyson Chandler defensive rebound
11 - 22
1:59
J.R. Smith misses 24-foot three point jumper
11 - 22
1:57
Rodney Stuckey defensive rebound
11 - 22
1:37
Rodney Stuckey makes two point shot
13 - 22
1:37
J.R. Smith shooting foul (Rodney Stuckey draws the foul)
13 - 22
1:37
Charlie Villanueva enters the game for Greg Monroe
13 - 22
1:37
Rodney Stuckey misses free throw 1 of 1
13 - 22
1:36
Tyson Chandler defensive rebound
13 - 22
1:15
J.R. Smith makes 25-foot three point jumper (Pablo Prigioni assists)
13 - 25
0:51
Rodney Stuckey misses driving layup
13 - 25
0:49
Tyson Chandler defensive rebound
13 - 25
0:41
J.R. Smith misses 25-foot three point jumper
13 - 25
0:40
Andre Drummond defensive rebound
13 - 25
0:30
Andre Drummond out of bounds lost ball turnover
13 - 25
0:30
Jonas Jerebko enters the game for Brandon Knight
13 - 25
0:30
Steve Novak enters the game for Tyson Chandler
13 - 25
0:09
Pablo Prigioni makes 23-foot three point jumper
13 - 28
0:00
Andre Drummond misses 19-foot jumper
13 - 28
0:00
Pistons offensive team rebound
13 - 28
0:00
End of the 1st Quarter
13 - 28

time
TEAM
PLAY
SCORE
11:45
Rodney Stuckey misses 4-foot two point shot
13 - 28
11:42
Steve Novak defensive rebound
13 - 28
11:25
Amar'e Stoudemire makes driving layup
13 - 30
11:10
Will Bynum lost ball turnover (Amar'e Stoudemire steals)
13 - 30
11:06
Jonas Jerebko shooting foul (J.R. Smith draws the foul)
13 - 30
11:06
J.R. Smith misses free throw 1 of 2
13 - 30
11:06
Knicks offensive team rebound
13 - 30
11:06
J.R. Smith makes free throw 2 of 2
13 - 31
10:48
Andre Drummond misses 4-foot jumper
13 - 31
10:47
Jonas Jerebko misses tip shot
13 - 31
10:47
Jonas Jerebko offensive rebound
13 - 31
10:45
J.R. Smith defensive rebound
13 - 31
10:37
Amar'e Stoudemire makes two point shot
13 - 33
10:29
Pistons Full timeout
13 - 33
10:21
Amar'e Stoudemire shooting foul (Andre Drummond draws the foul)
13 - 33
10:21
Andre Drummond misses free throw 1 of 2
13 - 33
10:21
Pistons offensive team rebound
13 - 33
10:21
Andre Drummond misses free throw 2 of 2
13 - 33
10:19
Charlie Villanueva offensive rebound
13 - 33
10:18
Charlie Villanueva misses 4-foot jumper
13 - 33
10:18
Andre Drummond misses tip shot
13 - 33
10:18
Andre Drummond offensive rebound
13 - 33
10:17
Andre Drummond offensive rebound
13 - 33
10:14
Amar'e Stoudemire blocks Andre Drummond 's 2-foot layup
13 - 33
10:12
J.R. Smith defensive rebound
13 - 33
10:04
J.R. Smith bad pass (Rodney Stuckey steals)
13 - 33
10:00
Jonas Jerebko makes two point shot
15 - 33
9:32
Amar'e Stoudemire makes 7-foot two point shot
15 - 35
9:11
Charlie Villanueva misses jumper
15 - 35
9:10
Knicks defensive team rebound
15 - 35
8:55
Pablo Prigioni bad pass (Andre Drummond steals)
15 - 35
8:49
Jonas Jerebko makes driving dunk (Rodney Stuckey assists)
17 - 35
8:33
Pablo Prigioni misses driving layup
17 - 35
8:30
Andre Drummond defensive rebound
17 - 35
8:25
Will Bynum makes two point shot (Rodney Stuckey assists)
19 - 35
8:15
Knicks Full timeout
19 - 35
8:15
Greg Monroe enters the game for Andre Drummond
19 - 35
8:15
Raymond Felton enters the game for Iman Shumpert
19 - 35
8:15
Jason Kidd enters the game for Pablo Prigioni
19 - 35
8:15
Carmelo Anthony enters the game for Steve Novak
19 - 35
8:10
Amar'e Stoudemire makes driving layup
19 - 37
7:50
Jonas Jerebko out of bounds lost ball turnover
19 - 37
7:50
Brandon Knight enters the game for Rodney Stuckey
19 - 37
7:46
J.R. Smith misses 24-foot three point jumper
19 - 37
7:43
Will Bynum defensive rebound
19 - 37
7:39
Will Bynum misses 14-foot jumper
19 - 37
7:37
Jonas Jerebko misses tip shot
19 - 37
7:37
Jonas Jerebko offensive rebound
19 - 37
7:35
Jonas Jerebko makes two point shot
21 - 37
7:35
Jonas Jerebko offensive rebound
19 - 37
7:20
Amar'e Stoudemire lost ball turnover (Will Bynum steals)
21 - 37
7:16
Carmelo Anthony shooting foul (Will Bynum draws the foul)
21 - 37
7:16
Will Bynum makes free throw 1 of 2
22 - 37
7:16
Tyson Chandler enters the game for Amar'e Stoudemire
22 - 37
7:16
Will Bynum makes free throw 2 of 2
23 - 37
7:03
Jason Kidd misses 25-foot three point jumper
23 - 37
7:01
Raymond Felton offensive rebound
23 - 37
6:50
Jason Kidd misses 25-foot three point jumper
23 - 37
6:48
Tyson Chandler offensive rebound
23 - 37
6:45
Carmelo Anthony makes 24-foot three point jumper (Tyson Chandler assists)
23 - 40
6:18
Brandon Knight makes 25-foot three point jumper
26 - 40
6:01
J.R. Smith makes 24-foot three point jumper (Raymond Felton assists)
26 - 43
5:46
Brandon Knight misses 25-foot three point jumper
26 - 43
5:43
Tyson Chandler defensive rebound
26 - 43
5:35
Carmelo Anthony makes 25-foot three point jumper (Raymond Felton assists)
26 - 46
5:28
Pistons 20 Sec. timeout
26 - 46
5:28
Kyle Singler enters the game for Jonas Jerebko
26 - 46
5:28
Jose Calderon enters the game for Will Bynum
26 - 46
5:28
Steve Novak enters the game for J.R. Smith
26 - 46
5:11
Charlie Villanueva misses 16-foot jumper
26 - 46
5:09
Carmelo Anthony defensive rebound
26 - 46
4:54
Tyson Chandler makes 1-foot two point shot (Raymond Felton assists)
26 - 48
4:54
Charlie Villanueva shooting foul (Tyson Chandler draws the foul)
26 - 48
4:54
Tyson Chandler misses free throw 1 of 1
26 - 48
4:54
Charlie Villanueva defensive rebound
26 - 48
4:33
Charlie Villanueva misses driving layup
26 - 48
4:31
Tyson Chandler defensive rebound
26 - 48
4:09
Raymond Felton lost ball turnover (Greg Monroe steals)
26 - 48
4:05
Jose Calderon makes layup (Charlie Villanueva assists)
28 - 48
3:47
Tyson Chandler makes two point shot (Raymond Felton assists)
28 - 50
3:20
Brandon Knight misses 24-foot three point jumper
28 - 50
3:18
Kyle Singler offensive rebound
28 - 50
3:16
Kyle Singler misses 11-foot jumper
28 - 50
3:15
Carmelo Anthony defensive rebound
28 - 50
3:08
Steve Novak makes 24-foot three point jumper (Jason Kidd assists)
28 - 53
3:04
Pistons Full timeout
28 - 53
3:04
Rodney Stuckey enters the game for Charlie Villanueva
28 - 53
2:46
Rodney Stuckey misses three point jumper
28 - 53
2:44
Rodney Stuckey offensive rebound
28 - 53
2:32
Jose Calderon makes 24-foot three point jumper (Brandon Knight assists)
31 - 53
2:06
Carmelo Anthony misses 24-foot three point jumper
31 - 53
2:05
Greg Monroe defensive rebound
31 - 53
2:01
Tyson Chandler personal foul (Jose Calderon draws the foul)
31 - 53
2:01
Amar'e Stoudemire enters the game for Steve Novak
31 - 53
2:01
Jason Maxiell enters the game for Kyle Singler
31 - 53
1:49
Greg Monroe lost ball turnover (Tyson Chandler steals)
31 - 53
1:47
Greg Monroe personal foul (Tyson Chandler draws the foul)
31 - 53
1:34
Carmelo Anthony makes driving layup
31 - 55
1:15
Brandon Knight misses 13-foot jumper
31 - 55
1:14
Pistons offensive team rebound
31 - 55
1:14
Amar'e Stoudemire loose ball foul (Jason Maxiell draws the foul)
31 - 55
0:55
Greg Monroe bad pass (Raymond Felton steals)
31 - 55
0:45
Carmelo Anthony makes layup (Jason Kidd assists)
31 - 57
0:32
Jose Calderon makes 14-foot jumper
33 - 57
0:10
Amar'e Stoudemire misses 3-foot Running Jumper
33 - 57
0:09
Rodney Stuckey defensive rebound
33 - 57
0:02
Rodney Stuckey makes driving layup
35 - 57
0:02
Raymond Felton shooting foul (Rodney Stuckey draws the foul)
35 - 57
0:02
Knicks 20 Sec. timeout
35 - 57
0:02
Andre Drummond enters the game for Greg Monroe
35 - 57
0:02
Steve Novak enters the game for Amar'e Stoudemire
35 - 57
0:02
Rodney Stuckey makes free throw 1 of 1
36 - 57
0:01
Jason Kidd misses 31-foot
36 - 57
0:00
Knicks offensive team rebound
36 - 57
0:00
End of the 2nd Quarter
36 - 57

time
TEAM
PLAY
SCORE
11:37
Jose Calderon misses 24-foot three point jumper
36 - 57
11:36
Raymond Felton defensive rebound
36 - 57
11:22
Carmelo Anthony makes jumper (Jason Kidd assists)
36 - 59
11:02
Kyle Singler misses 13-foot jumper
36 - 59
11:00
Greg Monroe offensive rebound
36 - 59
10:57
Greg Monroe misses layup
36 - 59
10:56
Greg Monroe offensive rebound
36 - 59
10:53
Greg Monroe makes layup
38 - 59
10:38
Raymond Felton makes 19-foot jumper
38 - 61
10:22
Kyle Singler misses 17-foot jumper
38 - 61
10:21
Tyson Chandler defensive rebound
38 - 61
10:03
Raymond Felton misses 21-foot jumper
38 - 61
10:00
Iman Shumpert offensive rebound
38 - 61
9:55
Jason Kidd misses 24-foot three point jumper
38 - 61
9:52
Jason Maxiell defensive rebound
38 - 61
9:47
Brandon Knight misses 25-foot three point jumper
38 - 61
9:45
Tyson Chandler defensive rebound
38 - 61
9:38
Carmelo Anthony misses 28-foot three point jumper
38 - 61
9:37
Greg Monroe defensive rebound
38 - 61
9:18
Greg Monroe misses layup
38 - 61
9:15
Tyson Chandler defensive rebound
38 - 61
8:59
Jason Maxiell blocks Tyson Chandler's layup
38 - 61
8:56
Greg Monroe defensive rebound
38 - 61
8:51
Greg Monroe makes 1-foot driving dunk (Brandon Knight assists)
40 - 61
8:33
Jason Kidd misses three point jumper
40 - 61
8:30
Jason Maxiell defensive rebound
40 - 61
8:17
Jose Calderon makes driving layup (Kyle Singler assists)
42 - 61
8:15
Knicks Full timeout
42 - 61
7:58
Carmelo Anthony makes 14-foot jumper
42 - 63
7:39
Greg Monroe makes 4-foot two point shot
44 - 63
7:11
Iman Shumpert misses jumper
44 - 63
7:09
Brandon Knight defensive rebound
44 - 63
6:56
Greg Monroe misses 19-foot jumper
44 - 63
6:54
Tyson Chandler defensive rebound
44 - 63
6:35
Iman Shumpert makes 24-foot three point jumper (Carmelo Anthony assists)
44 - 66
6:11
Jose Calderon makes 22-foot jumper (Greg Monroe assists)
46 - 66
5:47
Amar'e Stoudemire enters the game for Jason Kidd
46 - 66
5:47
J.R. Smith enters the game for Iman Shumpert
46 - 66
5:41
Carmelo Anthony makes 14-foot two point shot
46 - 68
5:18
Brandon Knight makes driving layup
48 - 68
4:56
Greg Monroe blocks Tyson Chandler's layup
48 - 68
4:54
Greg Monroe defensive rebound
48 - 68
4:50
Kyle Singler makes 25-foot three point jumper (Jose Calderon assists)
51 - 68
4:33
Kyle Singler shooting foul (Amar'e Stoudemire draws the foul)
51 - 68
4:33
Amar'e Stoudemire makes free throw 1 of 2
51 - 69
4:33
Steve Novak enters the game for Tyson Chandler
51 - 69
4:33
Amar'e Stoudemire makes free throw 2 of 2
51 - 70
4:22
Amar'e Stoudemire shooting foul (Greg Monroe draws the foul)
51 - 70
4:22
Greg Monroe makes free throw 1 of 2
52 - 70
4:22
Greg Monroe misses free throw 2 of 2
52 - 70
4:20
Pistons offensive team rebound
52 - 70
4:07
Jose Calderon misses 21-foot jumper
52 - 70
4:05
Pistons offensive team rebound
52 - 70
3:55
Jose Calderon misses 24-foot three point jumper
52 - 70
3:54
Pistons offensive team rebound
52 - 70
3:54
Carmelo Anthony loose ball foul (Jason Maxiell draws the foul)
52 - 70
3:48
Greg Monroe makes 1-foot driving dunk (Jose Calderon assists)
54 - 70
3:36
Carmelo Anthony offensive foul (Kyle Singler draws the foul)
54 - 70
3:36
Carmelo Anthony turnover
54 - 70
3:25
Brandon Knight misses 21-foot jumper
54 - 70
3:23
Carmelo Anthony defensive rebound
54 - 70
3:14
Amar'e Stoudemire makes two point shot (Carmelo Anthony assists)
54 - 72
2:55
Greg Monroe bad pass
54 - 72
2:55
Pistons Full timeout
54 - 72
2:55
Rodney Stuckey enters the game for Brandon Knight
54 - 72
2:55
Tyson Chandler enters the game for Carmelo Anthony
54 - 72
2:41
Raymond Felton misses 8-foot two point shot
54 - 72
2:40
Raymond Felton offensive rebound
54 - 72
2:34
Steve Novak misses 25-foot three point jumper
54 - 72
2:32
Greg Monroe defensive rebound
54 - 72
2:20
Kyle Singler makes driving layup
56 - 72
2:00
J.R. Smith misses 20-foot jumper
56 - 72
1:59
Knicks offensive team rebound
56 - 72
1:45
Amar'e Stoudemire misses two point shot
56 - 72
1:43
Kyle Singler defensive rebound
56 - 72
1:28
Jason Maxiell misses 19-foot jumper
56 - 72
1:27
J.R. Smith defensive rebound
56 - 72
1:06
Amar'e Stoudemire misses 3-foot jumper
56 - 72
1:04
Amar'e Stoudemire offensive rebound
56 - 72
1:04
Amar'e Stoudemire makes two point shot
56 - 74
0:42
Rodney Stuckey misses 10-foot two point shot
56 - 74
0:40
Amar'e Stoudemire defensive rebound
56 - 74
0:33
Tyson Chandler makes two point shot (Raymond Felton assists)
56 - 76
0:15
Iman Shumpert enters the game for Steve Novak
56 - 76
0:15
Raymond Felton personal foul (Jose Calderon draws the foul)
56 - 76
0:03
Jason Maxiell makes 20-foot jumper (Jose Calderon assists)
58 - 76
0:00
End of the 3rd Quarter
58 - 76

time
TEAM
PLAY
SCORE
11:41
J.R. Smith makes 26-foot three point jumper
58 - 79
11:21
Greg Monroe misses layup
58 - 79
11:18
Charlie Villanueva makes 1-foot two point shot
60 - 79
11:18
Charlie Villanueva offensive rebound
58 - 79
11:00
Greg Monroe blocks Amar'e Stoudemire 's 3-foot layup
60 - 79
10:59
Knicks offensive team rebound
60 - 79
10:55
J.R. Smith misses 24-foot three point jumper
60 - 79
10:52
Charlie Villanueva defensive rebound
60 - 79
10:42
Will Bynum makes driving layup
62 - 79
10:30
Will Bynum personal foul (Pablo Prigioni draws the foul)
62 - 79
10:19
J.R. Smith misses 26-foot three point jumper
62 - 79
10:18
Tyson Chandler offensive rebound
62 - 79
10:06
Steve Novak misses 25-foot three point jumper
62 - 79
10:03
Tyson Chandler offensive rebound
62 - 79
9:48
J.R. Smith misses 25-foot three point jumper
62 - 79
9:45
Charlie Villanueva defensive rebound
62 - 79
9:26
Rodney Stuckey misses 6-foot two point shot
62 - 79
9:25
Greg Monroe makes 3-foot two point shot
64 - 79
9:25
Greg Monroe offensive rebound
62 - 79
8:56
J.R. Smith misses 11-foot two point shot
64 - 79
8:53
Steve Novak offensive rebound
64 - 79
8:45
Charlie Villanueva shooting foul (Amar'e Stoudemire draws the foul)
64 - 79
8:45
Official timeout
64 - 79
8:45
Jonas Jerebko enters the game for Kyle Singler
64 - 79
8:45
Carmelo Anthony enters the game for Steve Novak
64 - 79
8:45
Amar'e Stoudemire makes free throw 1 of 2
64 - 80
8:45
Amar'e Stoudemire makes free throw 2 of 2
64 - 81
8:27
Will Bynum misses 19-foot jumper
64 - 81
8:26
Carmelo Anthony defensive rebound
64 - 81
8:03
J.R. Smith misses 25-foot three point jumper
64 - 81
8:02
Greg Monroe defensive rebound
64 - 81
7:52
Will Bynum lost ball turnover (Amar'e Stoudemire steals)
64 - 81
7:47
Amar'e Stoudemire makes two point shot (J.R. Smith assists)
64 - 83
7:26
Jonas Jerebko misses 4-foot hook shot
64 - 83
7:26
Tyson Chandler defensive rebound
64 - 83
7:24
Tyson Chandler steps out of bounds turnover
64 - 83
7:24
Jason Maxiell enters the game for Greg Monroe
64 - 83
7:20
Will Bynum misses layup
64 - 83
7:18
Tyson Chandler defensive rebound
64 - 83
7:01
Pablo Prigioni bad pass
64 - 83
6:50
Rodney Stuckey out of bounds lost ball turnover
64 - 83
6:39
Jonas Jerebko shooting foul (Carmelo Anthony draws the foul)
64 - 83
6:39
Carmelo Anthony makes free throw 1 of 2
64 - 84
6:39
Carmelo Anthony makes free throw 2 of 2
64 - 85
6:30
Rodney Stuckey makes layup (Will Bynum assists)
66 - 85
6:16
Tyson Chandler offensive foul (Jonas Jerebko draws the foul)
66 - 85
6:16
Tyson Chandler turnover
66 - 85
6:05
Pablo Prigioni shooting foul (Will Bynum draws the foul)
66 - 85
6:05
Will Bynum makes free throw 1 of 2
67 - 85
6:05
Raymond Felton enters the game for Pablo Prigioni
67 - 85
6:05
Will Bynum misses free throw 2 of 2
67 - 85
6:03
Tyson Chandler defensive rebound
67 - 85
5:50
Carmelo Anthony misses 7-foot two point shot
67 - 85
5:48
Pistons defensive team rebound
67 - 85
5:48
Knicks Full timeout
67 - 85
5:43
Rodney Stuckey makes layup (Charlie Villanueva assists)
69 - 85
5:22
Amar'e Stoudemire lost ball turnover (Jonas Jerebko steals)
69 - 85
5:16
Charlie Villanueva misses 25-foot three point jumper
69 - 85
5:15
J.R. Smith defensive rebound
69 - 85
4:52
Carmelo Anthony bad pass (Rodney Stuckey steals)
69 - 85
4:48
Steve Novak enters the game for Tyson Chandler
69 - 85
4:39
Charlie Villanueva makes two point shot (Rodney Stuckey assists)
71 - 85
4:13
Carmelo Anthony bad pass (Jonas Jerebko steals)
71 - 85
4:09
Rodney Stuckey makes driving layup
73 - 85
3:47
J.R. Smith makes 23-foot three point jumper (Raymond Felton assists)
73 - 88
3:33
Will Bynum makes two point shot
75 - 88
3:18
Steve Novak makes 24-foot three point jumper (Raymond Felton assists)
75 - 91
3:17
Pistons Full timeout
75 - 91
3:08
Raymond Felton personal foul (Charlie Villanueva draws the foul)
75 - 91
2:57
Amar'e Stoudemire personal foul (Will Bynum draws the foul)
75 - 91
2:49
Will Bynum bad pass (Raymond Felton steals)
75 - 91
2:31
Raymond Felton makes 21-foot jumper
75 - 93
2:15
Rodney Stuckey misses driving layup
75 - 93
2:14
Charlie Villanueva offensive rebound
75 - 93
2:14
Charlie Villanueva misses tip shot
75 - 93
2:12
Jonas Jerebko offensive rebound
75 - 93
2:10
Jonas Jerebko makes two point shot
77 - 93
2:05
Jonas Jerebko personal foul (Carmelo Anthony draws the foul)
77 - 93
1:54
Raymond Felton bad pass (Jonas Jerebko steals)
77 - 93
1:51
Jonas Jerebko bad pass (J.R. Smith steals)
77 - 93
1:47
Amar'e Stoudemire makes layup (J.R. Smith assists)
77 - 95
1:31
Rodney Stuckey misses 8-foot two point shot
79 - 95
1:31
Charlie Villanueva makes two point shot
79 - 95
1:31
Charlie Villanueva offensive rebound
77 - 95
1:31
Knicks 20 Sec. timeout
79 - 95
1:31
Chris Copeland enters the game for Carmelo Anthony
79 - 95
1:31
James White enters the game for Raymond Felton
79 - 95
1:31
Ronnie Brewer enters the game for J.R. Smith
79 - 95
1:31
Pablo Prigioni enters the game for Amar'e Stoudemire
79 - 95
1:31
Viacheslav Kravtsov enters the game for Jason Maxiell
79 - 95
1:31
Kim English enters the game for Rodney Stuckey
79 - 95
1:14
Steve Novak misses 24-foot three point jumper
79 - 95
1:12
Chris Copeland offensive rebound
79 - 95
1:10
Chris Copeland makes layup
79 - 97
0:58
Will Bynum makes driving layup
81 - 97
0:48
Kim English personal foul (Chris Copeland draws the foul)
81 - 97
0:48
Chris Copeland makes free throw 1 of 2
81 - 98
0:48
Chris Copeland makes free throw 2 of 2
81 - 99
0:35
Viacheslav Kravtsov makes layup
83 - 99
0:21
James White misses 21-foot jumper
83 - 99
0:19
Charlie Villanueva defensive rebound
83 - 99
0:12
Will Bynum makes driving layup
85 - 99
0:00
End of the 4th Quarter
85 - 99
0:00
End of Game
85 - 99
What started as a Matt Barnes alley-oop attempt to Rudy Gay ended as a banked in 3-pointer, drawing plenty of laughs from the Kings' bench.

Point guards Derrick Rose and Russell Westbrook, chosen first and fourth, respectively, in the 2008 draft, will renew acquaintances on Monday when the New York Knicks host the Oklahoma City Thunder at Madison Square Garden.

The Toronto Raptors recalled first-round draft pick Jakob Poeltl from their NBA Development League affiliate, along with Bruno Caboclo and Fred VanVleet.
Regular Season Series
NY wins series 4-0
2016-2017 Central Standings
2016-2017 Atlantic Standings