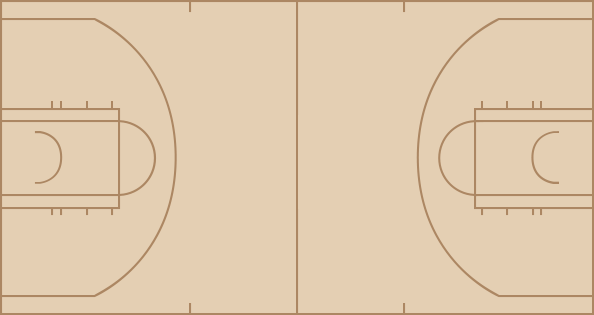 Lakers
time
TEAM
PLAY
SCORE
12:00
Dwight Howard vs. Bismack Biyombo (Earl Clark gains possession)
0 - 0
11:45
Dwight Howard makes layup (Steve Nash assists)
2 - 0
11:33
Michael Kidd-Gilchrist misses 5-foot jumper
2 - 0
11:33
Byron Mullens offensive rebound
2 - 0
11:22
Kemba Walker misses 20-foot jumper
2 - 0
11:21
Earl Clark defensive rebound
2 - 0
11:07
Dwight Howard bad pass (Kemba Walker steals)
2 - 0
11:03
Gerald Henderson makes layup (Kemba Walker assists)
2 - 2
10:45
Steve Nash bad pass (Bismack Biyombo steals)
2 - 2
10:41
Kemba Walker makes layup (Gerald Henderson assists)
2 - 4
10:29
Metta World Peace misses 25-foot three point jumper
2 - 4
10:27
Earl Clark offensive rebound
2 - 4
10:23
Kobe Bryant bad pass (Byron Mullens steals)
2 - 4
10:18
Kemba Walker misses 15-foot jumper
2 - 4
10:15
Kobe Bryant defensive rebound
2 - 4
10:03
Steve Nash misses 26-foot three point jumper
2 - 4
10:02
Byron Mullens defensive rebound
2 - 4
9:48
Gerald Henderson misses 11-foot jumper
2 - 4
9:47
Dwight Howard defensive rebound
2 - 4
9:37
Steve Nash makes driving layup
4 - 4
9:30
Earl Clark shooting foul (Michael Kidd-Gilchrist draws the foul)
4 - 4
9:30
Michael Kidd-Gilchrist misses free throw 1 of 2
4 - 4
9:30
Bobcats offensive team rebound
4 - 4
9:30
Michael Kidd-Gilchrist makes free throw 2 of 2
4 - 5
9:17
Dwight Howard makes dunk (Steve Nash assists)
6 - 5
8:51
Byron Mullens makes 19-foot jumper (Kemba Walker assists)
6 - 7
8:40
Steve Nash bad pass (Michael Kidd-Gilchrist steals)
6 - 7
8:34
Kemba Walker makes layup
6 - 9
8:22
Metta World Peace misses layup
6 - 9
8:21
Gerald Henderson defensive rebound
6 - 9
8:15
Gerald Henderson misses 17-foot jumper
6 - 9
8:14
Earl Clark defensive rebound
6 - 9
7:56
Byron Mullens blocks Dwight Howard's layup
6 - 9
7:54
Michael Kidd-Gilchrist defensive rebound
6 - 9
7:50
Earl Clark blocks Michael Kidd-Gilchrist 's 2-foot layup
6 - 9
7:47
Michael Kidd-Gilchrist offensive rebound
6 - 9
7:43
Byron Mullens misses 26-foot three point jumper
6 - 9
7:43
Kobe Bryant defensive rebound
6 - 9
7:35
Earl Clark makes 27-foot three point jumper (Steve Nash assists)
9 - 9
7:33
Lakers delay of game violation
9 - 9
7:18
Metta World Peace personal foul (Byron Mullens draws the foul)
9 - 9
7:05
Byron Mullens misses 14-foot jumper
9 - 9
7:05
Bismack Biyombo offensive rebound
9 - 9
7:00
Michael Kidd-Gilchrist lost ball turnover (Steve Nash steals)
9 - 9
6:48
Earl Clark misses 16-foot two point shot
9 - 9
6:47
Byron Mullens defensive rebound
9 - 9
6:26
Bismack Biyombo makes dunk (Byron Mullens assists)
9 - 11
6:13
Earl Clark offensive Charge (Gerald Henderson draws the foul)
9 - 11
6:13
Earl Clark turnover
9 - 11
6:13
Antawn Jamison enters the game for Earl Clark
9 - 11
5:54
Gerald Henderson misses jumper
9 - 11
5:52
Bobcats offensive team rebound
9 - 11
5:52
Bobcats Full timeout
9 - 11
5:52
Jodie Meeks enters the game for Metta World Peace
9 - 11
5:35
Michael Kidd-Gilchrist misses 19-foot jumper
9 - 11
5:33
Steve Nash defensive rebound
9 - 11
5:24
Steve Nash misses 25-foot three point jumper
9 - 11
5:22
Bismack Biyombo defensive rebound
9 - 11
5:18
Kemba Walker makes layup (Gerald Henderson assists)
9 - 13
5:00
Steve Nash misses 17-foot jumper
9 - 13
4:58
Gerald Henderson defensive rebound
9 - 13
4:48
Byron Mullens misses 26-foot three point jumper
9 - 13
4:45
Michael Kidd-Gilchrist offensive rebound
9 - 13
4:41
Kemba Walker makes 5-foot two point shot (Michael Kidd-Gilchrist assists)
9 - 15
4:24
Antawn Jamison misses layup
9 - 15
4:22
Bismack Biyombo defensive rebound
9 - 15
4:11
Jodie Meeks shooting foul (Michael Kidd-Gilchrist draws the foul)
9 - 15
4:11
Michael Kidd-Gilchrist misses free throw 1 of 2
9 - 15
4:11
Bobcats offensive team rebound
9 - 15
4:11
Michael Kidd-Gilchrist makes free throw 2 of 2
9 - 16
3:54
Steve Nash misses 25-foot three point jumper
9 - 16
3:51
Michael Kidd-Gilchrist defensive rebound
9 - 16
3:46
Antawn Jamison blocks Gerald Henderson 's 2-foot layup
9 - 16
3:46
Bobcats offensive team rebound
9 - 16
3:46
Ramon Sessions enters the game for Michael Kidd-Gilchrist
9 - 16
3:45
Byron Mullens traveling
9 - 16
3:27
Kobe Bryant misses 5-foot jumper
9 - 16
3:25
Byron Mullens defensive rebound
9 - 16
3:16
Ramon Sessions makes two point shot (Kemba Walker assists)
9 - 18
3:11
Antawn Jamison bad pass (Kemba Walker steals)
9 - 18
3:10
Byron Mullens makes two point shot (Kemba Walker assists)
9 - 20
3:10
Lakers Full timeout
9 - 20
3:10
Earl Clark enters the game for Dwight Howard
9 - 20
3:10
Steve Blake enters the game for Steve Nash
9 - 20
3:00
Michael Kidd-Gilchrist enters the game for Bismack Biyombo
9 - 20
2:47
Jodie Meeks makes 23-foot three point jumper (Kobe Bryant assists)
12 - 20
2:42
Ramon Sessions makes layup (Kemba Walker assists)
12 - 22
2:30
Antawn Jamison makes layup (Steve Blake assists)
14 - 22
2:25
Jodie Meeks shooting foul (Gerald Henderson draws the foul)
14 - 23
2:25
Gerald Henderson makes free throw 1 of 2
14 - 23
2:25
Metta World Peace enters the game for Antawn Jamison
14 - 23
2:25
Gerald Henderson misses free throw 2 of 2
14 - 23
2:23
Kobe Bryant defensive rebound
14 - 23
2:06
Jodie Meeks makes 25-foot three point jumper (Steve Blake assists)
17 - 23
1:46
Byron Mullens makes layup (Ramon Sessions assists)
17 - 25
1:46
Metta World Peace shooting foul (Byron Mullens draws the foul)
17 - 25
1:46
Byron Mullens makes free throw 1 of 1
17 - 26
1:32
Earl Clark misses layup
17 - 26
1:31
Byron Mullens defensive rebound
17 - 26
1:23
Gerald Henderson makes layup (Ramon Sessions assists)
17 - 28
1:16
Metta World Peace makes layup
19 - 28
1:16
Michael Kidd-Gilchrist shooting foul (Metta World Peace draws the foul)
19 - 28
1:16
Metta World Peace makes free throw 1 of 1
20 - 28
0:58
Byron Mullens makes 10-foot two point shot
20 - 30
0:46
Kobe Bryant bad pass (Gerald Henderson steals)
20 - 30
0:33
Ramon Sessions misses driving layup
20 - 30
0:32
Kobe Bryant defensive rebound
20 - 30
0:24
Earl Clark misses 26-foot three point jumper
20 - 30
0:24
Michael Kidd-Gilchrist defensive rebound
20 - 30
0:01
Ramon Sessions misses layup
20 - 30
0:00
Steve Blake defensive rebound
20 - 30
0:00
Steve Blake misses 62-foot three point jumper
20 - 30
0:00
Lakers offensive team rebound
20 - 30
0:00
End of the 1st Quarter
20 - 30

time
TEAM
PLAY
SCORE
11:41
Bismack Biyombo bad pass (Earl Clark steals)
20 - 30
11:27
Earl Clark makes dunk (Dwight Howard assists)
22 - 30
11:11
Ben Gordon makes 26-foot three point jumper (Ramon Sessions assists)
22 - 33
10:53
Bismack Biyombo personal foul (Dwight Howard draws the foul)
22 - 33
10:42
Metta World Peace makes layup (Jodie Meeks assists)
24 - 33
10:26
Ben Gordon misses driving layup
24 - 33
10:25
Earl Clark defensive rebound
24 - 33
10:10
Dwight Howard misses layup
24 - 33
10:08
Michael Kidd-Gilchrist defensive rebound
24 - 33
10:00
Bismack Biyombo makes layup (Ben Gordon assists)
24 - 35
9:42
Steve Blake bad pass (Jeffery Taylor steals)
24 - 35
9:33
Jeffery Taylor misses 25-foot three point jumper
24 - 35
9:32
Dwight Howard defensive rebound
24 - 35
9:22
Dwight Howard makes layup (Metta World Peace assists)
26 - 35
9:22
Bismack Biyombo shooting foul (Dwight Howard draws the foul)
27 - 35
9:22
Dwight Howard makes free throw 1 of 1
27 - 35
9:06
Metta World Peace blocks Michael Kidd-Gilchrist's layup
27 - 35
9:06
Michael Kidd-Gilchrist offensive rebound
27 - 35
9:06
Brendan Haywood enters the game for Bismack Biyombo
27 - 35
9:03
Ben Gordon misses 19-foot jumper
27 - 35
9:00
Dwight Howard defensive rebound
27 - 35
8:51
Dwight Howard makes layup (Steve Blake assists)
29 - 35
8:51
Brendan Haywood shooting foul (Dwight Howard draws the foul)
29 - 35
8:51
Official timeout
29 - 35
8:51
Dwight Howard makes free throw 1 of 1
30 - 35
8:27
Brendan Haywood misses 15-foot jumper
30 - 35
8:26
Earl Clark defensive rebound
30 - 35
8:06
Steve Blake misses 27-foot three point jumper
30 - 35
8:04
Ramon Sessions defensive rebound
30 - 35
7:58
Brendan Haywood misses layup
30 - 35
7:56
Dwight Howard defensive rebound
30 - 35
7:41
Earl Clark lost ball turnover (Michael Kidd-Gilchrist steals)
30 - 35
7:33
Ben Gordon misses layup
30 - 35
7:31
Dwight Howard defensive rebound
30 - 35
7:16
Earl Clark misses 17-foot jumper
30 - 35
7:15
Michael Kidd-Gilchrist defensive rebound
30 - 35
6:58
Dwight Howard blocks Ramon Sessions 's 4-foot jumper
30 - 35
6:56
Steve Blake defensive rebound
30 - 35
6:48
Steve Blake misses jumper
30 - 35
6:47
Metta World Peace offensive rebound
30 - 35
6:47
Metta World Peace misses tip shot
30 - 35
6:43
Brendan Haywood defensive rebound
30 - 35
6:41
Earl Clark personal foul (Michael Kidd-Gilchrist draws the foul)
30 - 35
6:41
Steve Nash enters the game for Metta World Peace
30 - 35
6:41
Antawn Jamison enters the game for Dwight Howard
30 - 35
6:41
Kobe Bryant enters the game for Steve Blake
30 - 35
6:41
Byron Mullens enters the game for Michael Kidd-Gilchrist
30 - 35
6:41
Gerald Henderson enters the game for Jeffery Taylor
30 - 35
6:41
Kemba Walker enters the game for Brendan Haywood
30 - 35
6:31
Ben Gordon makes 18-foot two point shot (Ramon Sessions assists)
30 - 37
6:20
Kobe Bryant misses 17-foot jumper
30 - 37
6:18
Gerald Henderson defensive rebound
30 - 37
6:07
Gerald Henderson makes 3-foot two point shot (Ben Gordon assists)
30 - 39
5:52
Kemba Walker blocks Antawn Jamison 's 8-foot jumper
30 - 39
5:52
Antawn Jamison offensive rebound
30 - 39
5:52
Gerald Henderson shooting foul (Antawn Jamison draws the foul)
30 - 39
5:52
Bobcats Full timeout
30 - 39
5:52
Antawn Jamison makes free throw 1 of 2
31 - 39
5:52
Antawn Jamison misses free throw 2 of 2
31 - 39
5:50
Byron Mullens defensive rebound
31 - 39
5:43
Ben Gordon makes 14-foot two point shot
31 - 41
5:20
Gerald Henderson personal foul (Steve Nash draws the foul)
33 - 41
5:20
Steve Nash makes free throw 1 of 2
32 - 41
5:20
Steve Nash makes free throw 2 of 2
33 - 41
5:01
Antawn Jamison shooting foul (Byron Mullens draws the foul)
33 - 41
5:01
Byron Mullens makes free throw 1 of 2
33 - 42
5:01
Dwight Howard enters the game for Earl Clark
33 - 42
5:01
Metta World Peace enters the game for Antawn Jamison
33 - 42
5:01
Bismack Biyombo enters the game for Ramon Sessions
33 - 42
5:01
Byron Mullens makes free throw 2 of 2
33 - 43
4:43
Steve Nash traveling
33 - 43
4:22
Ben Gordon misses 25-foot three point jumper
33 - 43
4:22
Dwight Howard defensive rebound
33 - 43
4:07
Steve Nash makes 10-foot jumper
35 - 43
3:47
Byron Mullens makes 22-foot three point jumper (Gerald Henderson assists)
35 - 46
3:31
Dwight Howard misses 6-foot
35 - 46
3:29
Byron Mullens defensive rebound
35 - 46
3:24
Gerald Henderson makes dunk (Ben Gordon assists)
35 - 48
3:03
Steve Nash bad pass (Gerald Henderson steals)
35 - 48
2:57
Metta World Peace blocks Bismack Biyombo 's 2-foot layup
35 - 48
2:53
Jodie Meeks defensive rebound
35 - 48
2:43
Byron Mullens personal foul (Dwight Howard draws the foul)
36 - 48
2:43
Lakers Full timeout
35 - 48
2:43
Steve Blake enters the game for Jodie Meeks
35 - 48
2:43
Dwight Howard misses free throw 1 of 2
35 - 48
2:43
Lakers offensive team rebound
35 - 48
2:43
Dwight Howard makes free throw 2 of 2
36 - 48
2:24
Ben Gordon misses 21-foot jumper
36 - 48
2:21
Dwight Howard defensive rebound
36 - 48
2:15
Steve Nash makes driving layup
38 - 48
1:51
Gerald Henderson makes layup (Bismack Biyombo assists)
38 - 50
1:37
Steve Nash makes 22-foot jumper (Kobe Bryant assists)
40 - 50
1:21
Dwight Howard personal foul (Gerald Henderson draws the foul)
40 - 50
1:05
Ben Gordon misses 5-foot jumper
40 - 50
1:04
Bismack Biyombo offensive rebound
40 - 50
1:00
Byron Mullens misses 17-foot jumper
40 - 50
0:59
Kobe Bryant defensive rebound
40 - 50
0:53
Byron Mullens personal foul (Dwight Howard draws the foul)
41 - 50
0:53
Dwight Howard misses free throw 1 of 2
40 - 50
0:53
Lakers offensive team rebound
40 - 50
0:53
Dwight Howard makes free throw 2 of 2
41 - 50
0:43
Bismack Biyombo makes layup (Ben Gordon assists)
41 - 52
0:29
Steve Blake misses 23-foot three point jumper
41 - 52
0:28
Gerald Henderson defensive rebound
41 - 52
0:23
Gerald Henderson misses layup
41 - 52
0:20
Dwight Howard defensive rebound
41 - 52
0:11
Metta World Peace misses 26-foot three point jumper
41 - 52
0:10
Gerald Henderson defensive rebound
41 - 52
0:00
Steve Nash shooting foul (Kemba Walker draws the foul)
41 - 52
0:00
Kemba Walker misses free throw 1 of 2
41 - 52
0:00
Bobcats offensive team rebound
41 - 52
0:00
Kemba Walker makes free throw 2 of 2
41 - 53
0:00
End of the 2nd Quarter
41 - 53

time
TEAM
PLAY
SCORE
11:42
Dwight Howard shooting foul (Gerald Henderson draws the foul)
41 - 53
11:42
Gerald Henderson makes free throw 1 of 2
41 - 54
11:42
Gerald Henderson makes free throw 2 of 2
41 - 55
11:27
Earl Clark misses 24-foot three point jumper
41 - 55
11:26
Metta World Peace offensive rebound
41 - 55
11:26
Metta World Peace makes layup
43 - 55
11:00
Michael Kidd-Gilchrist bad pass (Metta World Peace steals)
43 - 55
10:55
Kobe Bryant misses 26-foot three point jumper
43 - 55
10:53
Michael Kidd-Gilchrist defensive rebound
43 - 55
10:34
Gerald Henderson makes 18-foot jumper
43 - 57
10:19
Steve Nash misses 27-foot three point jumper
43 - 57
10:18
Gerald Henderson defensive rebound
43 - 57
10:15
Gerald Henderson misses layup
43 - 57
10:11
Byron Mullens offensive rebound
43 - 57
10:11
Byron Mullens makes two point shot
43 - 59
10:06
Kemba Walker personal foul (Dwight Howard draws the foul)
43 - 59
9:56
Earl Clark makes 10-foot jumper (Kobe Bryant assists)
45 - 59
9:44
Dwight Howard blocks Byron Mullens's shot
45 - 59
9:41
Metta World Peace defensive rebound
45 - 59
9:36
Michael Kidd-Gilchrist blocks Metta World Peace's layup
45 - 59
9:30
Michael Kidd-Gilchrist defensive rebound
45 - 59
9:26
Michael Kidd-Gilchrist makes layup (Kemba Walker assists)
45 - 61
9:12
Metta World Peace misses 25-foot three point jumper
45 - 61
9:11
Bismack Biyombo defensive rebound
45 - 61
9:02
Kemba Walker makes 29-foot three point jumper (Michael Kidd-Gilchrist assists)
45 - 64
9:00
Lakers Full timeout
45 - 64
8:47
Kobe Bryant makes 12-foot two point shot
47 - 64
8:33
Dwight Howard personal foul (Kemba Walker draws the foul)
47 - 64
8:21
Gerald Henderson makes 16-foot jumper (Bismack Biyombo assists)
47 - 66
8:07
Kobe Bryant misses 26-foot three point jumper
47 - 66
8:06
Byron Mullens defensive rebound
47 - 66
7:58
Kemba Walker misses layup
47 - 66
7:58
Dwight Howard defensive rebound
47 - 66
7:56
Gerald Henderson personal foul (Kobe Bryant draws the foul)
47 - 66
7:50
Earl Clark makes 1-foot dunk (Kobe Bryant assists)
49 - 66
7:28
Gerald Henderson misses 17-foot jumper
49 - 66
7:28
Earl Clark defensive rebound
49 - 66
7:18
Earl Clark misses 26-foot three point jumper
49 - 66
7:16
Gerald Henderson defensive rebound
49 - 66
7:00
Kemba Walker lost ball turnover (Dwight Howard steals)
49 - 66
6:41
Metta World Peace misses 24-foot three point jumper
49 - 66
6:41
Kemba Walker defensive rebound
49 - 66
6:24
Michael Kidd-Gilchrist lost ball turnover (Earl Clark steals)
49 - 66
6:20
Kemba Walker shooting foul (Kobe Bryant draws the foul)
49 - 66
6:20
Kobe Bryant makes free throw 1 of 2
50 - 66
6:20
Ramon Sessions enters the game for Michael Kidd-Gilchrist
50 - 66
6:20
Jeffery Taylor enters the game for Gerald Henderson
50 - 66
6:20
Kobe Bryant makes free throw 2 of 2
51 - 66
6:07
Ramon Sessions makes 26-foot three point jumper (Kemba Walker assists)
51 - 69
5:41
Kobe Bryant misses 16-foot jumper
51 - 69
5:37
Bismack Biyombo defensive rebound
51 - 69
5:26
Dwight Howard shooting foul (Kemba Walker draws the foul)
51 - 69
5:26
Kemba Walker makes free throw 1 of 2
51 - 70
5:26
Jodie Meeks enters the game for Dwight Howard
51 - 70
5:26
Gerald Henderson enters the game for Bismack Biyombo
51 - 70
5:26
Antawn Jamison enters the game for Metta World Peace
51 - 70
5:26
Kemba Walker makes free throw 2 of 2
51 - 71
5:11
Earl Clark makes layup (Steve Nash assists)
53 - 71
5:11
Jeffery Taylor shooting foul (Earl Clark draws the foul)
54 - 71
5:11
Ben Gordon enters the game for Kemba Walker
53 - 71
5:11
Earl Clark makes free throw 1 of 1
54 - 71
4:54
Antawn Jamison blocks Ben Gordon's layup
54 - 71
4:52
Antawn Jamison defensive rebound
54 - 71
4:43
Steve Nash misses 4-foot jumper
54 - 71
4:41
Ramon Sessions defensive rebound
54 - 71
4:24
Byron Mullens misses 14-foot two point shot
54 - 71
4:22
Jodie Meeks defensive rebound
54 - 71
4:13
Byron Mullens defensive 3-seconds (Technical Foul)
54 - 71
4:13
Steve Nash makes technical free throw
55 - 71
4:03
Jodie Meeks misses layup
55 - 71
4:01
Earl Clark offensive rebound
55 - 71
4:01
Earl Clark makes two point shot
57 - 71
3:48
Ramon Sessions misses 25-foot three point jumper
57 - 71
3:47
Earl Clark defensive rebound
57 - 71
3:36
Jodie Meeks makes 25-foot three point jumper (Kobe Bryant assists)
60 - 71
3:35
Bobcats Full timeout
60 - 71
3:24
Antawn Jamison personal foul (Byron Mullens draws the foul)
60 - 71
3:12
Byron Mullens makes 5-foot two point shot (Ben Gordon assists)
60 - 73
2:54
Steve Nash makes 26-foot three point jumper (Kobe Bryant assists)
63 - 73
2:33
Gerald Henderson misses 14-foot jumper
63 - 73
2:32
Antawn Jamison defensive rebound
63 - 73
2:17
Jeffery Taylor shooting foul (Antawn Jamison draws the foul)
63 - 73
2:17
Antawn Jamison makes free throw 1 of 2
64 - 73
2:17
Antawn Jamison misses free throw 2 of 2
64 - 73
2:15
Byron Mullens defensive rebound
64 - 73
2:13
Steve Nash shooting foul (Ramon Sessions draws the foul)
64 - 73
2:13
Ramon Sessions makes free throw 1 of 2
64 - 74
2:13
Ramon Sessions misses free throw 2 of 2
64 - 74
2:11
Antawn Jamison defensive rebound
64 - 74
1:47
Kobe Bryant misses jumper
64 - 74
1:47
Gerald Henderson defensive rebound
64 - 74
1:42
Jeffery Taylor makes two point shot (Ben Gordon assists)
64 - 76
1:31
Kobe Bryant makes layup
66 - 76
1:21
Jeffery Taylor traveling
66 - 76
1:21
Steve Blake enters the game for Steve Nash
66 - 76
1:04
Earl Clark makes 8-foot jumper (Kobe Bryant assists)
68 - 76
0:53
Byron Mullens makes 1-foot dunk (Ben Gordon assists)
68 - 78
0:33
Ben Gordon shooting foul (Earl Clark draws the foul)
68 - 78
0:33
Earl Clark misses free throw 1 of 2
68 - 78
0:33
Lakers offensive team rebound
68 - 78
0:33
Earl Clark makes free throw 2 of 2
69 - 78
0:24
Byron Mullens offensive foul (Steve Blake draws the foul)
69 - 78
0:24
Byron Mullens turnover
69 - 78
0:06
Earl Clark misses finger roll layup
69 - 78
0:04
Byron Mullens defensive rebound
69 - 78
0:00
Ben Gordon misses 9-foot jumper
69 - 78
0:00
Bobcats offensive team rebound
69 - 78
0:00
End of the 3rd Quarter
69 - 78

time
TEAM
PLAY
SCORE
11:33
Jodie Meeks makes 11-foot jumper
71 - 78
11:11
Gerald Henderson bad pass (Metta World Peace steals)
71 - 78
11:06
Gerald Henderson blocks Jodie Meeks 's 2-foot layup
71 - 78
11:03
Gerald Henderson defensive rebound
71 - 78
11:00
Antawn Jamison shooting foul (Gerald Henderson draws the foul)
71 - 78
11:00
Gerald Henderson misses free throw 1 of 2
71 - 78
11:00
Bobcats offensive team rebound
71 - 78
11:00
Gerald Henderson makes free throw 2 of 2
71 - 79
10:38
Metta World Peace makes 8-foot jumper
73 - 79
10:26
Ben Gordon makes 16-foot jumper (Ramon Sessions assists)
73 - 81
10:07
Steve Blake misses 26-foot three point jumper
73 - 81
10:06
Bismack Biyombo defensive rebound
73 - 81
9:53
Antawn Jamison blocks Kemba Walker's layup
73 - 81
9:52
Jodie Meeks defensive rebound
73 - 81
9:48
Metta World Peace makes layup (Jodie Meeks assists)
75 - 81
9:23
Dwight Howard blocks Kemba Walker 's 2-foot layup
75 - 81
9:23
Bobcats offensive team rebound
75 - 81
9:23
shot clock turnover
75 - 81
9:03
Metta World Peace misses layup
75 - 81
9:02
Metta World Peace offensive rebound
75 - 81
9:02
Metta World Peace misses tip shot
75 - 81
8:59
Bismack Biyombo defensive rebound
75 - 81
8:48
Ben Gordon misses 24-foot three point jumper
75 - 81
8:48
Dwight Howard defensive rebound
75 - 81
8:32
Bismack Biyombo personal foul (Dwight Howard draws the foul)
75 - 81
8:32
Official timeout
75 - 81
8:32
Michael Kidd-Gilchrist enters the game for Gerald Henderson
75 - 81
8:32
Byron Mullens enters the game for Ben Gordon
75 - 81
8:19
Dwight Howard out of bounds lost ball turnover
75 - 81
7:54
Kemba Walker misses 25-foot three point jumper
75 - 81
7:54
Metta World Peace defensive rebound
75 - 81
7:43
Antawn Jamison makes 25-foot three point jumper (Steve Blake assists)
78 - 81
7:24
Byron Mullens misses 9-foot hook shot
77 - 81
7:20
Antawn Jamison defensive rebound
77 - 81
7:13
Antawn Jamison misses 25-foot three point jumper
77 - 81
7:13
Bismack Biyombo defensive rebound
77 - 81
6:56
Bismack Biyombo makes 6-foot two point shot (Ramon Sessions assists)
77 - 83
6:50
Lakers Full timeout
77 - 83
6:50
Kobe Bryant enters the game for Metta World Peace
78 - 83
6:50
Earl Clark enters the game for Jodie Meeks
78 - 83
6:50
Steve Nash enters the game for Steve Blake
78 - 83
6:35
Kobe Bryant makes 18-foot jumper
80 - 83
6:18
Byron Mullens misses 19-foot jumper
80 - 83
6:16
Kobe Bryant defensive rebound
80 - 83
6:05
Kobe Bryant makes driving layup
82 - 83
6:05
Bobcats Full timeout
82 - 83
6:05
Gerald Henderson enters the game for Michael Kidd-Gilchrist
82 - 83
5:41
Kobe Bryant blocks Ramon Sessions 's 7-foot jumper
82 - 83
5:39
Dwight Howard defensive rebound
82 - 83
5:22
Kobe Bryant misses 17-foot two point shot
82 - 83
5:20
Bismack Biyombo defensive rebound
82 - 83
4:56
Ramon Sessions misses 6-foot jumper
82 - 83
4:54
Earl Clark defensive rebound
82 - 83
4:46
Antawn Jamison makes jumper (Steve Nash assists)
84 - 83
4:24
Gerald Henderson makes jumper (Ramon Sessions assists)
84 - 85
4:16
Ramon Sessions shooting foul (Kobe Bryant draws the foul)
84 - 85
4:16
Kobe Bryant makes free throw 1 of 2
85 - 85
4:16
Ben Gordon enters the game for Bismack Biyombo
85 - 85
4:16
Jodie Meeks enters the game for Antawn Jamison
85 - 85
4:16
Kobe Bryant makes free throw 2 of 2
86 - 85
4:03
Kemba Walker makes two point shot
86 - 87
3:50
Steve Nash makes 25-foot three point jumper (Kobe Bryant assists)
89 - 87
3:34
Kemba Walker makes 16-foot two point shot
89 - 89
3:24
Kobe Bryant bad pass (Gerald Henderson steals)
89 - 89
3:17
Ramon Sessions makes layup (Kemba Walker assists)
89 - 91
3:17
Lakers 20 Sec. timeout
89 - 91
3:01
Jodie Meeks makes 26-foot three point jumper (Steve Nash assists)
92 - 91
2:47
Byron Mullens offensive goaltending turnover
92 - 91
2:47
Bobcats Full timeout
92 - 91
2:47
Bismack Biyombo enters the game for Ben Gordon
92 - 91
2:29
Kobe Bryant misses 14-foot jumper
92 - 91
2:29
Lakers offensive team rebound
92 - 91
2:15
Kobe Bryant makes 10-foot two point shot
94 - 91
1:53
Kemba Walker misses 15-foot jumper
94 - 91
1:51
Jodie Meeks defensive rebound
94 - 91
1:39
Gerald Henderson personal foul (Jodie Meeks draws the foul)
94 - 91
1:29
Gerald Henderson shooting foul (Kobe Bryant draws the foul)
96 - 91
1:29
Kobe Bryant makes free throw 1 of 2
95 - 91
1:29
Ben Gordon enters the game for Bismack Biyombo
95 - 91
1:29
Kobe Bryant makes free throw 2 of 2
96 - 91
1:29
Bobcats 20 Sec. timeout
96 - 91
1:17
Byron Mullens misses 25-foot three point jumper
96 - 91
1:17
Bobcats offensive team rebound
96 - 91
1:17
Steve Nash loose ball foul (Ramon Sessions draws the foul)
96 - 91
1:14
Ramon Sessions makes driving layup
96 - 93
0:54
Kobe Bryant misses 15-foot jumper
96 - 93
0:52
Byron Mullens defensive rebound
96 - 93
0:44
Ramon Sessions misses layup
96 - 93
0:43
Steve Nash defensive rebound
96 - 93
0:40
Kobe Bryant makes layup (Steve Nash assists)
98 - 93
0:40
Bobcats Full timeout
98 - 93
0:33
Byron Mullens misses 16-foot jumper
98 - 93
0:31
Earl Clark defensive rebound
98 - 93
0:29
Byron Mullens personal take foul (Kobe Bryant draws the foul)
98 - 93
0:29
Kobe Bryant makes free throw 1 of 2
99 - 93
0:29
Kobe Bryant makes free throw 2 of 2
100 - 93
0:23
Kemba Walker misses 27-foot three point jumper
100 - 93
0:21
Gerald Henderson offensive rebound
100 - 93
0:17
Gerald Henderson misses 23-foot three point jumper
100 - 93
0:16
Kobe Bryant defensive rebound
100 - 93
0:00
End of the 4th Quarter
100 - 93
0:00
End of Game
100 - 93
How will the season shape up for your favorite squad? We put every team in its place.

Under Armour has unveiled the Dub Nation Heritage, the latest version of a shoe endorsed by Stephen Curry.

Congress is reviewing current "obsolete" federal gambling laws and plans on introducing comprehensive new legislation.
Regular Season Series
LAL wins series 2-0
2016-2017 Pacific Standings