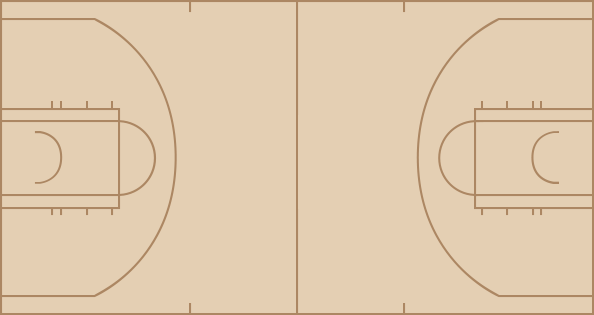 Lakers
time
TEAM
PLAY
SCORE
12:00
Dwight Howard vs. Bismack Biyombo (Earl Clark gains possession)
0 - 0
11:45
Dwight Howard makes layup (Steve Nash assists)
2 - 0
11:33
Michael Kidd-Gilchrist misses 5-foot jumper
2 - 0
11:33
Byron Mullens offensive rebound
2 - 0
11:22
Kemba Walker misses 20-foot jumper
2 - 0
11:21
Earl Clark defensive rebound
2 - 0
11:07
Dwight Howard bad pass (Kemba Walker steals)
2 - 0
11:03
Gerald Henderson makes layup (Kemba Walker assists)
2 - 2
10:45
Steve Nash bad pass (Bismack Biyombo steals)
2 - 2
10:41
Kemba Walker makes layup (Gerald Henderson assists)
2 - 4
10:29
Metta World Peace misses 25-foot three point jumper
2 - 4
10:27
Earl Clark offensive rebound
2 - 4
10:23
Kobe Bryant bad pass (Byron Mullens steals)
2 - 4
10:18
Kemba Walker misses 15-foot jumper
2 - 4
10:15
Kobe Bryant defensive rebound
2 - 4
10:03
Steve Nash misses 26-foot three point jumper
2 - 4
10:02
Byron Mullens defensive rebound
2 - 4
9:48
Gerald Henderson misses 11-foot jumper
2 - 4
9:47
Dwight Howard defensive rebound
2 - 4
9:37
Steve Nash makes driving layup
4 - 4
9:30
Earl Clark shooting foul (Michael Kidd-Gilchrist draws the foul)
4 - 4
9:30
Michael Kidd-Gilchrist misses free throw 1 of 2
4 - 4
9:30
Bobcats offensive team rebound
4 - 4
9:30
Michael Kidd-Gilchrist makes free throw 2 of 2
4 - 5
9:17
Dwight Howard makes dunk (Steve Nash assists)
6 - 5
8:51
Byron Mullens makes 19-foot jumper (Kemba Walker assists)
6 - 7
8:40
Steve Nash bad pass (Michael Kidd-Gilchrist steals)
6 - 7
8:34
Kemba Walker makes layup
6 - 9
8:22
Metta World Peace misses layup
6 - 9
8:21
Gerald Henderson defensive rebound
6 - 9
8:15
Gerald Henderson misses 17-foot jumper
6 - 9
8:14
Earl Clark defensive rebound
6 - 9
7:56
Byron Mullens blocks Dwight Howard's layup
6 - 9
7:54
Michael Kidd-Gilchrist defensive rebound
6 - 9
7:50
Earl Clark blocks Michael Kidd-Gilchrist 's 2-foot layup
6 - 9
7:47
Michael Kidd-Gilchrist offensive rebound
6 - 9
7:43
Byron Mullens misses 26-foot three point jumper
6 - 9
7:43
Kobe Bryant defensive rebound
6 - 9
7:35
Earl Clark makes 27-foot three point jumper (Steve Nash assists)
9 - 9
7:33
Lakers delay of game violation
9 - 9
7:18
Metta World Peace personal foul (Byron Mullens draws the foul)
9 - 9
7:05
Byron Mullens misses 14-foot jumper
9 - 9
7:05
Bismack Biyombo offensive rebound
9 - 9
7:00
Michael Kidd-Gilchrist lost ball turnover (Steve Nash steals)
9 - 9
6:48
Earl Clark misses 16-foot two point shot
9 - 9
6:47
Byron Mullens defensive rebound
9 - 9
6:26
Bismack Biyombo makes dunk (Byron Mullens assists)
9 - 11
6:13
Earl Clark offensive Charge (Gerald Henderson draws the foul)
9 - 11
6:13
Earl Clark turnover
9 - 11
6:13
Antawn Jamison enters the game for Earl Clark
9 - 11
5:54
Gerald Henderson misses jumper
9 - 11
5:52
Bobcats offensive team rebound
9 - 11
5:52
Bobcats Full timeout
9 - 11
5:52
Jodie Meeks enters the game for Metta World Peace
9 - 11
5:35
Michael Kidd-Gilchrist misses 19-foot jumper
9 - 11
5:33
Steve Nash defensive rebound
9 - 11
5:24
Steve Nash misses 25-foot three point jumper
9 - 11
5:22
Bismack Biyombo defensive rebound
9 - 11
5:18
Kemba Walker makes layup (Gerald Henderson assists)
9 - 13
5:00
Steve Nash misses 17-foot jumper
9 - 13
4:58
Gerald Henderson defensive rebound
9 - 13
4:48
Byron Mullens misses 26-foot three point jumper
9 - 13
4:45
Michael Kidd-Gilchrist offensive rebound
9 - 13
4:41
Kemba Walker makes 5-foot two point shot (Michael Kidd-Gilchrist assists)
9 - 15
4:24
Antawn Jamison misses layup
9 - 15
4:22
Bismack Biyombo defensive rebound
9 - 15
4:11
Jodie Meeks shooting foul (Michael Kidd-Gilchrist draws the foul)
9 - 15
4:11
Michael Kidd-Gilchrist misses free throw 1 of 2
9 - 15
4:11
Bobcats offensive team rebound
9 - 15
4:11
Michael Kidd-Gilchrist makes free throw 2 of 2
9 - 16
3:54
Steve Nash misses 25-foot three point jumper
9 - 16
3:51
Michael Kidd-Gilchrist defensive rebound
9 - 16
3:46
Antawn Jamison blocks Gerald Henderson 's 2-foot layup
9 - 16
3:46
Bobcats offensive team rebound
9 - 16
3:46
Ramon Sessions enters the game for Michael Kidd-Gilchrist
9 - 16
3:45
Byron Mullens traveling
9 - 16
3:27
Kobe Bryant misses 5-foot jumper
9 - 16
3:25
Byron Mullens defensive rebound
9 - 16
3:16
Ramon Sessions makes two point shot (Kemba Walker assists)
9 - 18
3:11
Antawn Jamison bad pass (Kemba Walker steals)
9 - 18
3:10
Byron Mullens makes two point shot (Kemba Walker assists)
9 - 20
3:10
Lakers Full timeout
9 - 20
3:10
Earl Clark enters the game for Dwight Howard
9 - 20
3:10
Steve Blake enters the game for Steve Nash
9 - 20
3:00
Michael Kidd-Gilchrist enters the game for Bismack Biyombo
9 - 20
2:47
Jodie Meeks makes 23-foot three point jumper (Kobe Bryant assists)
12 - 20
2:42
Ramon Sessions makes layup (Kemba Walker assists)
12 - 22
2:30
Antawn Jamison makes layup (Steve Blake assists)
14 - 22
2:25
Jodie Meeks shooting foul (Gerald Henderson draws the foul)
14 - 23
2:25
Gerald Henderson makes free throw 1 of 2
14 - 23
2:25
Metta World Peace enters the game for Antawn Jamison
14 - 23
2:25
Gerald Henderson misses free throw 2 of 2
14 - 23
2:23
Kobe Bryant defensive rebound
14 - 23
2:06
Jodie Meeks makes 25-foot three point jumper (Steve Blake assists)
17 - 23
1:46
Byron Mullens makes layup (Ramon Sessions assists)
17 - 25
1:46
Metta World Peace shooting foul (Byron Mullens draws the foul)
17 - 25
1:46
Byron Mullens makes free throw 1 of 1
17 - 26
1:32
Earl Clark misses layup
17 - 26
1:31
Byron Mullens defensive rebound
17 - 26
1:23
Gerald Henderson makes layup (Ramon Sessions assists)
17 - 28
1:16
Metta World Peace makes layup
19 - 28
1:16
Michael Kidd-Gilchrist shooting foul (Metta World Peace draws the foul)
19 - 28
1:16
Metta World Peace makes free throw 1 of 1
20 - 28
0:58
Byron Mullens makes 10-foot two point shot
20 - 30
0:46
Kobe Bryant bad pass (Gerald Henderson steals)
20 - 30
0:33
Ramon Sessions misses driving layup
20 - 30
0:32
Kobe Bryant defensive rebound
20 - 30
0:24
Earl Clark misses 26-foot three point jumper
20 - 30
0:24
Michael Kidd-Gilchrist defensive rebound
20 - 30
0:01
Ramon Sessions misses layup
20 - 30
0:00
Steve Blake defensive rebound
20 - 30
0:00
Steve Blake misses 62-foot three point jumper
20 - 30
0:00
Lakers offensive team rebound
20 - 30
0:00
End of the 1st Quarter
20 - 30

time
TEAM
PLAY
SCORE
11:41
Bismack Biyombo bad pass (Earl Clark steals)
20 - 30
11:27
Earl Clark makes dunk (Dwight Howard assists)
22 - 30
11:11
Ben Gordon makes 26-foot three point jumper (Ramon Sessions assists)
22 - 33
10:53
Bismack Biyombo personal foul (Dwight Howard draws the foul)
22 - 33
10:42
Metta World Peace makes layup (Jodie Meeks assists)
24 - 33
10:26
Ben Gordon misses driving layup
24 - 33
10:25
Earl Clark defensive rebound
24 - 33
10:10
Dwight Howard misses layup
24 - 33
10:08
Michael Kidd-Gilchrist defensive rebound
24 - 33
10:00
Bismack Biyombo makes layup (Ben Gordon assists)
24 - 35
9:42
Steve Blake bad pass (Jeffery Taylor steals)
24 - 35
9:33
Jeffery Taylor misses 25-foot three point jumper
24 - 35
9:32
Dwight Howard defensive rebound
24 - 35
9:22
Dwight Howard makes layup (Metta World Peace assists)
26 - 35
9:22
Bismack Biyombo shooting foul (Dwight Howard draws the foul)
27 - 35
9:22
Dwight Howard makes free throw 1 of 1
27 - 35
9:06
Metta World Peace blocks Michael Kidd-Gilchrist's layup
27 - 35
9:06
Michael Kidd-Gilchrist offensive rebound
27 - 35
9:06
Brendan Haywood enters the game for Bismack Biyombo
27 - 35
9:03
Ben Gordon misses 19-foot jumper
27 - 35
9:00
Dwight Howard defensive rebound
27 - 35
8:51
Dwight Howard makes layup (Steve Blake assists)
29 - 35
8:51
Brendan Haywood shooting foul (Dwight Howard draws the foul)
29 - 35
8:51
Official timeout
29 - 35
8:51
Dwight Howard makes free throw 1 of 1
30 - 35
8:27
Brendan Haywood misses 15-foot jumper
30 - 35
8:26
Earl Clark defensive rebound
30 - 35
8:06
Steve Blake misses 27-foot three point jumper
30 - 35
8:04
Ramon Sessions defensive rebound
30 - 35
7:58
Brendan Haywood misses layup
30 - 35
7:56
Dwight Howard defensive rebound
30 - 35
7:41
Earl Clark lost ball turnover (Michael Kidd-Gilchrist steals)
30 - 35
7:33
Ben Gordon misses layup
30 - 35
7:31
Dwight Howard defensive rebound
30 - 35
7:16
Earl Clark misses 17-foot jumper
30 - 35
7:15
Michael Kidd-Gilchrist defensive rebound
30 - 35
6:58
Dwight Howard blocks Ramon Sessions 's 4-foot jumper
30 - 35
6:56
Steve Blake defensive rebound
30 - 35
6:48
Steve Blake misses jumper
30 - 35
6:47
Metta World Peace offensive rebound
30 - 35
6:47
Metta World Peace misses tip shot
30 - 35
6:43
Brendan Haywood defensive rebound
30 - 35
6:41
Earl Clark personal foul (Michael Kidd-Gilchrist draws the foul)
30 - 35
6:41
Steve Nash enters the game for Metta World Peace
30 - 35
6:41
Antawn Jamison enters the game for Dwight Howard
30 - 35
6:41
Kobe Bryant enters the game for Steve Blake
30 - 35
6:41
Byron Mullens enters the game for Michael Kidd-Gilchrist
30 - 35
6:41
Gerald Henderson enters the game for Jeffery Taylor
30 - 35
6:41
Kemba Walker enters the game for Brendan Haywood
30 - 35
6:31
Ben Gordon makes 18-foot two point shot (Ramon Sessions assists)
30 - 37
6:20
Kobe Bryant misses 17-foot jumper
30 - 37
6:18
Gerald Henderson defensive rebound
30 - 37
6:07
Gerald Henderson makes 3-foot two point shot (Ben Gordon assists)
30 - 39
5:52
Kemba Walker blocks Antawn Jamison 's 8-foot jumper
30 - 39
5:52
Antawn Jamison offensive rebound
30 - 39
5:52
Gerald Henderson shooting foul (Antawn Jamison draws the foul)
30 - 39
5:52
Bobcats Full timeout
30 - 39
5:52
Antawn Jamison makes free throw 1 of 2
31 - 39
5:52
Antawn Jamison misses free throw 2 of 2
31 - 39
5:50
Byron Mullens defensive rebound
31 - 39
5:43
Ben Gordon makes 14-foot two point shot
31 - 41
5:20
Gerald Henderson personal foul (Steve Nash draws the foul)
33 - 41
5:20
Steve Nash makes free throw 1 of 2
32 - 41
5:20
Steve Nash makes free throw 2 of 2
33 - 41
5:01
Antawn Jamison shooting foul (Byron Mullens draws the foul)
33 - 41
5:01
Byron Mullens makes free throw 1 of 2
33 - 42
5:01
Dwight Howard enters the game for Earl Clark
33 - 42
5:01
Metta World Peace enters the game for Antawn Jamison
33 - 42
5:01
Bismack Biyombo enters the game for Ramon Sessions
33 - 42
5:01
Byron Mullens makes free throw 2 of 2
33 - 43
4:43
Steve Nash traveling
33 - 43
4:22
Ben Gordon misses 25-foot three point jumper
33 - 43
4:22
Dwight Howard defensive rebound
33 - 43
4:07
Steve Nash makes 10-foot jumper
35 - 43
3:47
Byron Mullens makes 22-foot three point jumper (Gerald Henderson assists)
35 - 46
3:31
Dwight Howard misses 6-foot
35 - 46
3:29
Byron Mullens defensive rebound
35 - 46
3:24
Gerald Henderson makes dunk (Ben Gordon assists)
35 - 48
3:03
Steve Nash bad pass (Gerald Henderson steals)
35 - 48
2:57
Metta World Peace blocks Bismack Biyombo 's 2-foot layup
35 - 48
2:53
Jodie Meeks defensive rebound
35 - 48
2:43
Byron Mullens personal foul (Dwight Howard draws the foul)
36 - 48
2:43
Lakers Full timeout
35 - 48
2:43
Steve Blake enters the game for Jodie Meeks
35 - 48
2:43
Dwight Howard misses free throw 1 of 2
35 - 48
2:43
Lakers offensive team rebound
35 - 48
2:43
Dwight Howard makes free throw 2 of 2
36 - 48
2:24
Ben Gordon misses 21-foot jumper
36 - 48
2:21
Dwight Howard defensive rebound
36 - 48
2:15
Steve Nash makes driving layup
38 - 48
1:51
Gerald Henderson makes layup (Bismack Biyombo assists)
38 - 50
1:37
Steve Nash makes 22-foot jumper (Kobe Bryant assists)
40 - 50
1:21
Dwight Howard personal foul (Gerald Henderson draws the foul)
40 - 50
1:05
Ben Gordon misses 5-foot jumper
40 - 50
1:04
Bismack Biyombo offensive rebound
40 - 50
1:00
Byron Mullens misses 17-foot jumper
40 - 50
0:59
Kobe Bryant defensive rebound
40 - 50
0:53
Byron Mullens personal foul (Dwight Howard draws the foul)
41 - 50
0:53
Dwight Howard misses free throw 1 of 2
40 - 50
0:53
Lakers offensive team rebound
40 - 50
0:53
Dwight Howard makes free throw 2 of 2
41 - 50
0:43
Bismack Biyombo makes layup (Ben Gordon assists)
41 - 52
0:29
Steve Blake misses 23-foot three point jumper
41 - 52
0:28
Gerald Henderson defensive rebound
41 - 52
0:23
Gerald Henderson misses layup
41 - 52
0:20
Dwight Howard defensive rebound
41 - 52
0:11
Metta World Peace misses 26-foot three point jumper
41 - 52
0:10
Gerald Henderson defensive rebound
41 - 52
0:00
Steve Nash shooting foul (Kemba Walker draws the foul)
41 - 52
0:00
Kemba Walker misses free throw 1 of 2
41 - 52
0:00
Bobcats offensive team rebound
41 - 52
0:00
Kemba Walker makes free throw 2 of 2
41 - 53
0:00
End of the 2nd Quarter
41 - 53

time
TEAM
PLAY
SCORE
11:42
Dwight Howard shooting foul (Gerald Henderson draws the foul)
41 - 53
11:42
Gerald Henderson makes free throw 1 of 2
41 - 54
11:42
Gerald Henderson makes free throw 2 of 2
41 - 55
11:27
Earl Clark misses 24-foot three point jumper
41 - 55
11:26
Metta World Peace offensive rebound
41 - 55
11:26
Metta World Peace makes layup
43 - 55
11:00
Michael Kidd-Gilchrist bad pass (Metta World Peace steals)
43 - 55
10:55
Kobe Bryant misses 26-foot three point jumper
43 - 55
10:53
Michael Kidd-Gilchrist defensive rebound
43 - 55
10:34
Gerald Henderson makes 18-foot jumper
43 - 57
10:19
Steve Nash misses 27-foot three point jumper
43 - 57
10:18
Gerald Henderson defensive rebound
43 - 57
10:15
Gerald Henderson misses layup
43 - 57
10:11
Byron Mullens offensive rebound
43 - 57
10:11
Byron Mullens makes two point shot
43 - 59
10:06
Kemba Walker personal foul (Dwight Howard draws the foul)
43 - 59
9:56
Earl Clark makes 10-foot jumper (Kobe Bryant assists)
45 - 59
9:44
Dwight Howard blocks Byron Mullens's shot
45 - 59
9:41
Metta World Peace defensive rebound
45 - 59
9:36
Michael Kidd-Gilchrist blocks Metta World Peace's layup
45 - 59
9:30
Michael Kidd-Gilchrist defensive rebound
45 - 59
9:26
Michael Kidd-Gilchrist makes layup (Kemba Walker assists)
45 - 61
9:12
Metta World Peace misses 25-foot three point jumper
45 - 61
9:11
Bismack Biyombo defensive rebound
45 - 61
9:02
Kemba Walker makes 29-foot three point jumper (Michael Kidd-Gilchrist assists)
45 - 64
9:00
Lakers Full timeout
45 - 64
8:47
Kobe Bryant makes 12-foot two point shot
47 - 64
8:33
Dwight Howard personal foul (Kemba Walker draws the foul)
47 - 64
8:21
Gerald Henderson makes 16-foot jumper (Bismack Biyombo assists)
47 - 66
8:07
Kobe Bryant misses 26-foot three point jumper
47 - 66
8:06
Byron Mullens defensive rebound
47 - 66
7:58
Kemba Walker misses layup
47 - 66
7:58
Dwight Howard defensive rebound
47 - 66
7:56
Gerald Henderson personal foul (Kobe Bryant draws the foul)
47 - 66
7:50
Earl Clark makes 1-foot dunk (Kobe Bryant assists)
49 - 66
7:28
Gerald Henderson misses 17-foot jumper
49 - 66
7:28
Earl Clark defensive rebound
49 - 66
7:18
Earl Clark misses 26-foot three point jumper
49 - 66
7:16
Gerald Henderson defensive rebound
49 - 66
7:00
Kemba Walker lost ball turnover (Dwight Howard steals)
49 - 66
6:41
Metta World Peace misses 24-foot three point jumper
49 - 66
6:41
Kemba Walker defensive rebound
49 - 66
6:24
Michael Kidd-Gilchrist lost ball turnover (Earl Clark steals)
49 - 66
6:20
Kemba Walker shooting foul (Kobe Bryant draws the foul)
49 - 66
6:20
Kobe Bryant makes free throw 1 of 2
50 - 66
6:20
Ramon Sessions enters the game for Michael Kidd-Gilchrist
50 - 66
6:20
Jeffery Taylor enters the game for Gerald Henderson
50 - 66
6:20
Kobe Bryant makes free throw 2 of 2
51 - 66
6:07
Ramon Sessions makes 26-foot three point jumper (Kemba Walker assists)
51 - 69
5:41
Kobe Bryant misses 16-foot jumper
51 - 69
5:37
Bismack Biyombo defensive rebound
51 - 69
5:26
Dwight Howard shooting foul (Kemba Walker draws the foul)
51 - 69
5:26
Kemba Walker makes free throw 1 of 2
51 - 70
5:26
Jodie Meeks enters the game for Dwight Howard
51 - 70
5:26
Gerald Henderson enters the game for Bismack Biyombo
51 - 70
5:26
Antawn Jamison enters the game for Metta World Peace
51 - 70
5:26
Kemba Walker makes free throw 2 of 2
51 - 71
5:11
Earl Clark makes layup (Steve Nash assists)
53 - 71
5:11
Jeffery Taylor shooting foul (Earl Clark draws the foul)
54 - 71
5:11
Ben Gordon enters the game for Kemba Walker
53 - 71
5:11
Earl Clark makes free throw 1 of 1
54 - 71
4:54
Antawn Jamison blocks Ben Gordon's layup
54 - 71
4:52
Antawn Jamison defensive rebound
54 - 71
4:43
Steve Nash misses 4-foot jumper
54 - 71
4:41
Ramon Sessions defensive rebound
54 - 71
4:24
Byron Mullens misses 14-foot two point shot
54 - 71
4:22
Jodie Meeks defensive rebound
54 - 71
4:13
Byron Mullens defensive 3-seconds (Technical Foul)
54 - 71
4:13
Steve Nash makes technical free throw
55 - 71
4:03
Jodie Meeks misses layup
55 - 71
4:01
Earl Clark offensive rebound
55 - 71
4:01
Earl Clark makes two point shot
57 - 71
3:48
Ramon Sessions misses 25-foot three point jumper
57 - 71
3:47
Earl Clark defensive rebound
57 - 71
3:36
Jodie Meeks makes 25-foot three point jumper (Kobe Bryant assists)
60 - 71
3:35
Bobcats Full timeout
60 - 71
3:24
Antawn Jamison personal foul (Byron Mullens draws the foul)
60 - 71
3:12
Byron Mullens makes 5-foot two point shot (Ben Gordon assists)
60 - 73
2:54
Steve Nash makes 26-foot three point jumper (Kobe Bryant assists)
63 - 73
2:33
Gerald Henderson misses 14-foot jumper
63 - 73
2:32
Antawn Jamison defensive rebound
63 - 73
2:17
Jeffery Taylor shooting foul (Antawn Jamison draws the foul)
63 - 73
2:17
Antawn Jamison makes free throw 1 of 2
64 - 73
2:17
Antawn Jamison misses free throw 2 of 2
64 - 73
2:15
Byron Mullens defensive rebound
64 - 73
2:13
Steve Nash shooting foul (Ramon Sessions draws the foul)
64 - 73
2:13
Ramon Sessions makes free throw 1 of 2
64 - 74
2:13
Ramon Sessions misses free throw 2 of 2
64 - 74
2:11
Antawn Jamison defensive rebound
64 - 74
1:47
Kobe Bryant misses jumper
64 - 74
1:47
Gerald Henderson defensive rebound
64 - 74
1:42
Jeffery Taylor makes two point shot (Ben Gordon assists)
64 - 76
1:31
Kobe Bryant makes layup
66 - 76
1:21
Jeffery Taylor traveling
66 - 76
1:21
Steve Blake enters the game for Steve Nash
66 - 76
1:04
Earl Clark makes 8-foot jumper (Kobe Bryant assists)
68 - 76
0:53
Byron Mullens makes 1-foot dunk (Ben Gordon assists)
68 - 78
0:33
Ben Gordon shooting foul (Earl Clark draws the foul)
68 - 78
0:33
Earl Clark misses free throw 1 of 2
68 - 78
0:33
Lakers offensive team rebound
68 - 78
0:33
Earl Clark makes free throw 2 of 2
69 - 78
0:24
Byron Mullens offensive foul (Steve Blake draws the foul)
69 - 78
0:24
Byron Mullens turnover
69 - 78
0:06
Earl Clark misses finger roll layup
69 - 78
0:04
Byron Mullens defensive rebound
69 - 78
0:00
Ben Gordon misses 9-foot jumper
69 - 78
0:00
Bobcats offensive team rebound
69 - 78
0:00
End of the 3rd Quarter
69 - 78

time
TEAM
PLAY
SCORE
11:33
Jodie Meeks makes 11-foot jumper
71 - 78
11:11
Gerald Henderson bad pass (Metta World Peace steals)
71 - 78
11:06
Gerald Henderson blocks Jodie Meeks 's 2-foot layup
71 - 78
11:03
Gerald Henderson defensive rebound
71 - 78
11:00
Antawn Jamison shooting foul (Gerald Henderson draws the foul)
71 - 78
11:00
Gerald Henderson misses free throw 1 of 2
71 - 78
11:00
Bobcats offensive team rebound
71 - 78
11:00
Gerald Henderson makes free throw 2 of 2
71 - 79
10:38
Metta World Peace makes 8-foot jumper
73 - 79
10:26
Ben Gordon makes 16-foot jumper (Ramon Sessions assists)
73 - 81
10:07
Steve Blake misses 26-foot three point jumper
73 - 81
10:06
Bismack Biyombo defensive rebound
73 - 81
9:53
Antawn Jamison blocks Kemba Walker's layup
73 - 81
9:52
Jodie Meeks defensive rebound
73 - 81
9:48
Metta World Peace makes layup (Jodie Meeks assists)
75 - 81
9:23
Dwight Howard blocks Kemba Walker 's 2-foot layup
75 - 81
9:23
Bobcats offensive team rebound
75 - 81
9:23
shot clock turnover
75 - 81
9:03
Metta World Peace misses layup
75 - 81
9:02
Metta World Peace offensive rebound
75 - 81
9:02
Metta World Peace misses tip shot
75 - 81
8:59
Bismack Biyombo defensive rebound
75 - 81
8:48
Ben Gordon misses 24-foot three point jumper
75 - 81
8:48
Dwight Howard defensive rebound
75 - 81
8:32
Bismack Biyombo personal foul (Dwight Howard draws the foul)
75 - 81
8:32
Official timeout
75 - 81
8:32
Michael Kidd-Gilchrist enters the game for Gerald Henderson
75 - 81
8:32
Byron Mullens enters the game for Ben Gordon
75 - 81
8:19
Dwight Howard out of bounds lost ball turnover
75 - 81
7:54
Kemba Walker misses 25-foot three point jumper
75 - 81
7:54
Metta World Peace defensive rebound
75 - 81
7:43
Antawn Jamison makes 25-foot three point jumper (Steve Blake assists)
78 - 81
7:24
Byron Mullens misses 9-foot hook shot
77 - 81
7:20
Antawn Jamison defensive rebound
77 - 81
7:13
Antawn Jamison misses 25-foot three point jumper
77 - 81
7:13
Bismack Biyombo defensive rebound
77 - 81
6:56
Bismack Biyombo makes 6-foot two point shot (Ramon Sessions assists)
77 - 83
6:50
Lakers Full timeout
77 - 83
6:50
Kobe Bryant enters the game for Metta World Peace
78 - 83
6:50
Earl Clark enters the game for Jodie Meeks
78 - 83
6:50
Steve Nash enters the game for Steve Blake
78 - 83
6:35
Kobe Bryant makes 18-foot jumper
80 - 83
6:18
Byron Mullens misses 19-foot jumper
80 - 83
6:16
Kobe Bryant defensive rebound
80 - 83
6:05
Kobe Bryant makes driving layup
82 - 83
6:05
Bobcats Full timeout
82 - 83
6:05
Gerald Henderson enters the game for Michael Kidd-Gilchrist
82 - 83
5:41
Kobe Bryant blocks Ramon Sessions 's 7-foot jumper
82 - 83
5:39
Dwight Howard defensive rebound
82 - 83
5:22
Kobe Bryant misses 17-foot two point shot
82 - 83
5:20
Bismack Biyombo defensive rebound
82 - 83
4:56
Ramon Sessions misses 6-foot jumper
82 - 83
4:54
Earl Clark defensive rebound
82 - 83
4:46
Antawn Jamison makes jumper (Steve Nash assists)
84 - 83
4:24
Gerald Henderson makes jumper (Ramon Sessions assists)
84 - 85
4:16
Ramon Sessions shooting foul (Kobe Bryant draws the foul)
84 - 85
4:16
Kobe Bryant makes free throw 1 of 2
85 - 85
4:16
Ben Gordon enters the game for Bismack Biyombo
85 - 85
4:16
Jodie Meeks enters the game for Antawn Jamison
85 - 85
4:16
Kobe Bryant makes free throw 2 of 2
86 - 85
4:03
Kemba Walker makes two point shot
86 - 87
3:50
Steve Nash makes 25-foot three point jumper (Kobe Bryant assists)
89 - 87
3:34
Kemba Walker makes 16-foot two point shot
89 - 89
3:24
Kobe Bryant bad pass (Gerald Henderson steals)
89 - 89
3:17
Ramon Sessions makes layup (Kemba Walker assists)
89 - 91
3:17
Lakers 20 Sec. timeout
89 - 91
3:01
Jodie Meeks makes 26-foot three point jumper (Steve Nash assists)
92 - 91
2:47
Byron Mullens offensive goaltending turnover
92 - 91
2:47
Bobcats Full timeout
92 - 91
2:47
Bismack Biyombo enters the game for Ben Gordon
92 - 91
2:29
Kobe Bryant misses 14-foot jumper
92 - 91
2:29
Lakers offensive team rebound
92 - 91
2:15
Kobe Bryant makes 10-foot two point shot
94 - 91
1:53
Kemba Walker misses 15-foot jumper
94 - 91
1:51
Jodie Meeks defensive rebound
94 - 91
1:39
Gerald Henderson personal foul (Jodie Meeks draws the foul)
94 - 91
1:29
Gerald Henderson shooting foul (Kobe Bryant draws the foul)
96 - 91
1:29
Kobe Bryant makes free throw 1 of 2
95 - 91
1:29
Ben Gordon enters the game for Bismack Biyombo
95 - 91
1:29
Kobe Bryant makes free throw 2 of 2
96 - 91
1:29
Bobcats 20 Sec. timeout
96 - 91
1:17
Byron Mullens misses 25-foot three point jumper
96 - 91
1:17
Bobcats offensive team rebound
96 - 91
1:17
Steve Nash loose ball foul (Ramon Sessions draws the foul)
96 - 91
1:14
Ramon Sessions makes driving layup
96 - 93
0:54
Kobe Bryant misses 15-foot jumper
96 - 93
0:52
Byron Mullens defensive rebound
96 - 93
0:44
Ramon Sessions misses layup
96 - 93
0:43
Steve Nash defensive rebound
96 - 93
0:40
Kobe Bryant makes layup (Steve Nash assists)
98 - 93
0:40
Bobcats Full timeout
98 - 93
0:33
Byron Mullens misses 16-foot jumper
98 - 93
0:31
Earl Clark defensive rebound
98 - 93
0:29
Byron Mullens personal take foul (Kobe Bryant draws the foul)
98 - 93
0:29
Kobe Bryant makes free throw 1 of 2
99 - 93
0:29
Kobe Bryant makes free throw 2 of 2
100 - 93
0:23
Kemba Walker misses 27-foot three point jumper
100 - 93
0:21
Gerald Henderson offensive rebound
100 - 93
0:17
Gerald Henderson misses 23-foot three point jumper
100 - 93
0:16
Kobe Bryant defensive rebound
100 - 93
0:00
End of the 4th Quarter
100 - 93
0:00
End of Game
100 - 93
The Los Angeles Lakers are negotiating a deal with former NBA forward and Chinese star Yi Jianlian, sources told ESPN.com.

Professional dunker Jordan Kilganon impresses once again by jumping over three people and throwing down a one-handed, no-look slam.

Paul George and DeAndre Jordan highlight the attention to defense Team USA has had in practice after their struggles the past three games.
Regular Season Series
LAL wins series 2-0
2015-2016 Pacific Standings