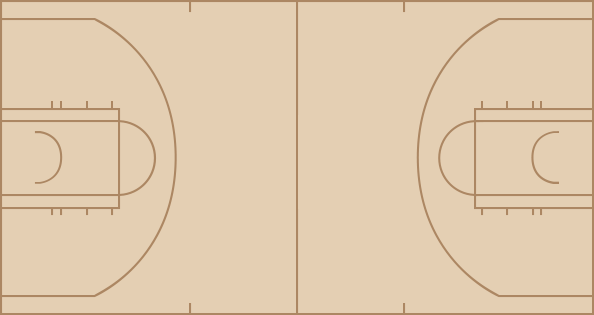 Hawks
time
TEAM
PLAY
SCORE
12:00
Josh Smith vs. Bernard James (Dirk Nowitzki gains possession)
0 - 0
11:41
Shawn Marion misses jumper
0 - 0
11:40
Josh Smith defensive rebound
0 - 0
11:32
Al Horford makes two point shot (Devin Harris assists)
2 - 0
11:18
Shawn Marion bad pass (Al Horford steals)
2 - 0
11:12
Josh Smith bad pass (Bernard James steals)
2 - 0
11:07
O.J. Mayo steps out of bounds turnover
2 - 0
10:48
Devin Harris misses 25-foot three point jumper
2 - 0
10:47
Dirk Nowitzki defensive rebound
2 - 0
10:41
O.J. Mayo misses 11-foot jumper
2 - 0
10:38
Jeff Teague defensive rebound
2 - 0
10:34
Jeff Teague makes driving layup
4 - 0
10:17
O.J. Mayo misses 24-foot three point jumper
4 - 0
10:15
Jeff Teague defensive rebound
4 - 0
10:07
Al Horford makes two point shot (Anthony Tolliver assists)
6 - 0
10:06
Mavericks 20 Sec. timeout
6 - 0
9:52
Al Horford blocks Darren Collison's layup
6 - 0
9:51
Al Horford defensive rebound
6 - 0
9:47
Jeff Teague misses 4-foot Running Jumper
6 - 0
9:45
Bernard James defensive rebound
6 - 0
9:40
Al Horford shooting foul (Bernard James draws the foul)
6 - 0
9:40
Bernard James misses free throw 1 of 2
6 - 0
9:40
Mavericks offensive team rebound
6 - 0
9:40
Bernard James misses free throw 2 of 2
6 - 0
9:40
Josh Smith defensive rebound
6 - 0
9:26
Dirk Nowitzki personal foul (Devin Harris draws the foul)
6 - 0
9:15
Josh Smith misses two point shot
6 - 0
9:15
Bernard James defensive rebound
6 - 0
9:06
Al Horford blocks Bernard James 's 4-foot jumper
6 - 0
9:03
Al Horford defensive rebound
6 - 0
9:00
Devin Harris makes driving layup
8 - 0
8:48
Darren Collison misses 24-foot three point jumper
8 - 0
8:48
Anthony Tolliver defensive rebound
8 - 0
8:41
Devin Harris makes driving layup
10 - 0
8:34
Mavericks Full timeout
10 - 0
8:26
O.J. Mayo makes 17-foot jumper (Darren Collison assists)
10 - 2
8:03
Devin Harris makes 24-foot three point jumper (Jeff Teague assists)
13 - 2
7:52
O.J. Mayo makes 17-foot two point shot
13 - 4
7:37
Al Horford misses 6-foot jumper
13 - 4
7:35
Dirk Nowitzki defensive rebound
13 - 4
7:31
Darren Collison makes driving layup
13 - 6
7:20
Jeff Teague makes two point shot
15 - 6
7:03
O.J. Mayo makes 22-foot jumper (Bernard James assists)
15 - 8
6:47
Devin Harris misses 25-foot three point jumper
15 - 8
6:46
Mavericks defensive team rebound
15 - 8
6:46
Kyle Korver enters the game for Devin Harris
15 - 8
6:35
Dirk Nowitzki misses 18-foot two point shot
15 - 8
6:35
Josh Smith defensive rebound
15 - 8
6:28
Josh Smith makes two point shot
17 - 8
6:20
Darren Collison makes driving layup
17 - 10
6:03
Jeff Teague misses 24-foot three point jumper
17 - 10
6:01
Dirk Nowitzki defensive rebound
17 - 10
5:52
Dirk Nowitzki makes 18-foot jumper (Darren Collison assists)
17 - 12
5:33
Jeff Teague makes two point shot
19 - 12
5:18
Shawn Marion misses 7-foot two point shot
19 - 12
5:16
Kyle Korver defensive rebound
19 - 12
5:09
Kyle Korver misses 25-foot three point jumper
19 - 12
5:07
Bernard James defensive rebound
19 - 12
4:48
Dirk Nowitzki misses 12-foot jumper
19 - 12
4:47
Darren Collison offensive rebound
19 - 12
4:43
Darren Collison misses 17-foot jumper
19 - 12
4:41
Dirk Nowitzki offensive rebound
19 - 12
4:41
Dirk Nowitzki makes two point shot
19 - 14
4:41
Mavericks delay of game violation
19 - 14
4:41
Hawks Full timeout
19 - 14
4:41
Vince Carter enters the game for Dirk Nowitzki
19 - 14
4:41
Elton Brand enters the game for Bernard James
19 - 14
4:24
Al Horford makes 5-foot two point shot
21 - 14
4:09
Darren Collison makes two point shot
21 - 16
3:48
Jeff Teague misses two point shot
21 - 16
3:47
Shawn Marion defensive rebound
21 - 16
3:47
Shawn Marion bad pass (Al Horford steals)
21 - 16
3:46
Vince Carter shooting foul (Al Horford draws the foul)
21 - 16
3:46
Al Horford misses free throw 1 of 2
21 - 16
3:46
Hawks offensive team rebound
21 - 16
3:46
John Jenkins enters the game for Anthony Tolliver
21 - 16
3:46
Al Horford makes free throw 2 of 2
22 - 16
3:41
Jeff Teague personal foul (Darren Collison draws the foul)
22 - 16
3:41
Zaza Pachulia enters the game for Al Horford
22 - 16
3:35
Vince Carter bad pass
22 - 16
3:13
John Jenkins makes 21-foot jumper
24 - 16
3:04
Darren Collison bad pass (Josh Smith steals)
24 - 16
2:58
Kyle Korver makes three point jumper (Jeff Teague assists)
27 - 16
2:40
Vince Carter misses two point shot
27 - 16
2:38
Kyle Korver defensive rebound
27 - 16
2:24
Josh Smith misses 6-foot two point shot
27 - 16
2:23
Josh Smith offensive rebound
27 - 16
2:21
Josh Smith makes two point shot
29 - 16
2:19
Mavericks Full timeout
29 - 16
2:19
Rodrigue Beaubois enters the game for Shawn Marion
29 - 16
2:19
Dirk Nowitzki enters the game for Darren Collison
29 - 16
2:05
O.J. Mayo makes 22-foot jumper
29 - 18
1:39
Dirk Nowitzki blocks Zaza Pachulia 's 14-foot jumper
29 - 18
1:37
Elton Brand defensive rebound
29 - 18
1:30
Elton Brand makes 16-foot jumper (Rodrigue Beaubois assists)
29 - 20
1:15
Josh Smith misses jumper
29 - 20
1:14
Vince Carter defensive rebound
29 - 20
1:05
Vince Carter misses 8-foot running hook shot
29 - 20
1:04
Zaza Pachulia defensive rebound
29 - 20
0:58
Vince Carter shooting foul (Zaza Pachulia draws the foul)
29 - 20
0:58
Zaza Pachulia misses free throw 1 of 2
29 - 20
0:58
Hawks offensive team rebound
29 - 20
0:58
Jae Crowder enters the game for Vince Carter
29 - 20
0:58
Devin Harris enters the game for Jeff Teague
29 - 20
0:58
Zaza Pachulia makes free throw 2 of 2
30 - 20
0:37
Dirk Nowitzki makes 24-foot three point jumper (Jae Crowder assists)
30 - 23
0:27
Jae Crowder shooting foul (Zaza Pachulia draws the foul)
30 - 23
0:27
Zaza Pachulia makes free throw 1 of 2
31 - 23
0:27
Zaza Pachulia misses free throw 2 of 2
31 - 23
0:26
Kyle Korver offensive rebound
31 - 23
0:01
John Jenkins misses 23-foot three point jumper
31 - 23
0:00
Rodrigue Beaubois defensive rebound
31 - 23
0:00
End of the 1st Quarter
31 - 23

time
TEAM
PLAY
SCORE
11:41
Kyle Korver makes 19-foot two point shot (Zaza Pachulia assists)
33 - 23
11:27
Elton Brand misses 15-foot two point shot
33 - 23
11:26
Mavericks offensive team rebound
33 - 23
11:15
Mike James misses jump shot
33 - 23
11:14
Zaza Pachulia defensive rebound
33 - 23
11:07
John Jenkins misses 22-foot three point jumper
33 - 23
11:07
Elton Brand defensive rebound
33 - 23
10:56
Jae Crowder makes 1-foot two point shot (Mike James assists)
33 - 25
10:44
Jae Crowder personal foul (Kyle Korver draws the foul)
33 - 25
10:38
Al Horford misses 18-foot jumper
33 - 25
10:37
Zaza Pachulia offensive rebound
33 - 25
10:27
Elton Brand blocks Zaza Pachulia 's 6-foot two point shot
33 - 25
10:26
Mavericks defensive team rebound
33 - 25
10:17
Al Horford personal foul (Dirk Nowitzki draws the foul)
33 - 25
10:08
Dirk Nowitzki misses 16-foot jumper
33 - 25
10:07
Zaza Pachulia defensive rebound
33 - 25
10:00
Al Horford makes 19-foot jumper (Devin Harris assists)
35 - 25
9:45
Rodrigue Beaubois misses 21-foot jumper
35 - 25
9:45
Hawks defensive team rebound
35 - 25
9:22
Al Horford misses two point shot
35 - 25
9:22
Zaza Pachulia offensive rebound
35 - 25
9:12
Zaza Pachulia makes 11-foot jumper (Devin Harris assists)
37 - 25
8:49
Jae Crowder misses 24-foot three point jumper
37 - 25
8:48
John Jenkins defensive rebound
37 - 25
8:44
Devin Harris bad pass
37 - 25
8:44
Official timeout
37 - 25
8:44
Shawn Marion enters the game for Dirk Nowitzki
37 - 25
8:44
Vince Carter enters the game for Jae Crowder
37 - 25
8:27
Elton Brand makes 13-foot jumper (Rodrigue Beaubois assists)
37 - 27
8:12
Devin Harris misses 25-foot three point jumper
37 - 27
8:11
Vince Carter defensive rebound
37 - 27
8:03
Vince Carter makes 25-foot three point jumper (Rodrigue Beaubois assists)
37 - 30
7:43
Zaza Pachulia misses 13-foot jumper
37 - 30
7:41
Al Horford offensive rebound
37 - 30
7:41
Al Horford makes two point shot
39 - 30
7:22
Mike James misses 23-foot three point jumper
39 - 30
7:22
Zaza Pachulia defensive rebound
39 - 30
7:20
Mike James personal foul (Devin Harris draws the foul)
39 - 30
7:20
Jeff Teague enters the game for John Jenkins
39 - 30
7:20
Darren Collison enters the game for Rodrigue Beaubois
39 - 30
7:20
O.J. Mayo enters the game for Mike James
39 - 30
7:09
Zaza Pachulia makes layup (Jeff Teague assists)
41 - 30
7:00
Kyle Korver personal foul (Vince Carter draws the foul)
41 - 30
6:50
O.J. Mayo makes 24-foot three point jumper (Vince Carter assists)
41 - 33
6:28
Al Horford traveling
41 - 33
6:28
Josh Smith enters the game for Al Horford
41 - 33
6:28
Anthony Tolliver enters the game for Kyle Korver
41 - 33
6:13
Elton Brand misses 14-foot jumper
41 - 33
6:11
Josh Smith defensive rebound
41 - 33
6:05
Zaza Pachulia makes layup (Josh Smith assists)
43 - 33
5:50
Shawn Marion makes layup
43 - 35
5:50
Anthony Tolliver shooting foul (Shawn Marion draws the foul)
43 - 35
5:50
Mavericks Full timeout
43 - 35
5:50
Brandan Wright enters the game for Elton Brand
43 - 35
5:50
DeShawn Stevenson enters the game for Devin Harris
43 - 35
5:50
Shawn Marion makes free throw 1 of 1
43 - 36
5:24
Anthony Tolliver misses three point jumper
43 - 36
5:24
O.J. Mayo defensive rebound
43 - 36
5:13
O.J. Mayo makes 8-foot two point shot
43 - 38
4:48
Jeff Teague makes 12-foot two point shot
45 - 38
4:26
Josh Smith personal foul (Darren Collison draws the foul)
45 - 38
4:26
Ivan Johnson enters the game for Zaza Pachulia
45 - 38
4:18
Shawn Marion misses 8-foot jumper
45 - 38
4:16
Josh Smith defensive rebound
45 - 38
4:11
DeShawn Stevenson misses 23-foot three point jumper
45 - 38
4:09
Vince Carter defensive rebound
45 - 38
4:01
Shawn Marion misses dunk
45 - 38
4:00
Ivan Johnson defensive rebound
45 - 38
3:56
Jeff Teague offensive Charge (Darren Collison draws the foul)
45 - 38
3:56
Jeff Teague turnover
45 - 38
3:56
Dirk Nowitzki enters the game for Vince Carter
45 - 38
3:41
Shawn Marion makes 23-foot three point jumper (Darren Collison assists)
45 - 41
3:18
Jeff Teague makes two point shot
47 - 41
2:51
O.J. Mayo misses 24-foot three point jumper
47 - 41
2:51
Shawn Marion offensive rebound
47 - 41
2:48
Shawn Marion misses layup
47 - 41
2:47
Anthony Tolliver defensive rebound
47 - 41
2:47
Darren Collison personal foul (Josh Smith draws the foul)
47 - 41
2:47
Hawks Full timeout
47 - 41
2:47
Vince Carter enters the game for Shawn Marion
47 - 41
2:47
Devin Harris enters the game for Jeff Teague
47 - 41
2:28
Josh Smith makes 17-foot jumper (Ivan Johnson assists)
49 - 41
2:11
Brandan Wright makes 1-foot two point shot (Darren Collison assists)
49 - 43
1:51
Devin Harris bad pass
49 - 43
1:31
Vince Carter makes three point jumper
49 - 46
1:06
Ivan Johnson misses
49 - 46
1:05
Vince Carter defensive rebound
49 - 46
0:57
Darren Collison misses 23-foot three point jumper
49 - 46
0:56
Brandan Wright offensive rebound
49 - 46
0:55
Dirk Nowitzki makes 8-foot two point shot (Brandan Wright assists)
49 - 48
0:36
Anthony Tolliver misses 25-foot three point jumper
49 - 48
0:35
Brandan Wright defensive rebound
49 - 48
0:26
Darren Collison offensive Charge (Devin Harris draws the foul)
49 - 48
0:26
Darren Collison turnover
49 - 48
0:26
Hawks 20 Sec. timeout
49 - 48
0:26
Shawn Marion enters the game for Dirk Nowitzki
49 - 48
0:26
Dahntay Jones enters the game for Vince Carter
49 - 48
0:05
Ivan Johnson out of bounds lost ball turnover
49 - 48
0:00
Darren Collison misses 25-foot three point jumper
49 - 48
0:00
Josh Smith defensive rebound
49 - 48
0:00
End of the 2nd Quarter
49 - 48

time
TEAM
PLAY
SCORE
11:48
Jeff Teague makes 12-foot two point shot
51 - 48
11:26
O.J. Mayo misses 17-foot two point shot
51 - 48
11:25
Shawn Marion offensive rebound
51 - 48
11:22
Shawn Marion makes 5-foot two point shot
51 - 50
11:07
Jeff Teague makes 8-foot two point shot
53 - 50
10:48
Dirk Nowitzki makes jumper (Darren Collison assists)
53 - 52
10:26
Josh Smith makes 24-foot three point jumper (Jeff Teague assists)
56 - 52
10:03
Shawn Marion misses 12-foot two point shot
56 - 52
10:02
Anthony Tolliver defensive rebound
56 - 52
9:56
Elton Brand personal foul (Jeff Teague draws the foul)
56 - 52
9:41
Devin Harris misses 24-foot three point jumper
56 - 52
9:40
O.J. Mayo defensive rebound
56 - 52
9:29
Dirk Nowitzki misses 10-foot jumper
56 - 52
9:29
Anthony Tolliver defensive rebound
56 - 52
9:18
Jeff Teague misses 24-foot three point jumper
56 - 52
9:17
Elton Brand defensive rebound
56 - 52
9:12
O.J. Mayo makes two point shot (Darren Collison assists)
56 - 54
8:47
Shawn Marion personal foul (Jeff Teague draws the foul)
56 - 54
8:42
Devin Harris makes 24-foot three point jumper (Josh Smith assists)
59 - 54
8:22
O.J. Mayo misses 20-foot jumper
59 - 54
8:22
Al Horford defensive rebound
59 - 54
8:15
Devin Harris misses 24-foot three point jumper
59 - 54
8:14
Darren Collison defensive rebound
59 - 54
8:11
Devin Harris shooting foul (Shawn Marion draws the foul)
59 - 54
8:11
Shawn Marion makes free throw 1 of 2
59 - 55
8:11
Shawn Marion makes free throw 2 of 2
59 - 56
7:54
Al Horford makes two point shot (Josh Smith assists)
61 - 56
7:43
Dirk Nowitzki makes 24-foot three point jumper (Darren Collison assists)
61 - 59
7:20
Josh Smith makes 19-foot jumper (Al Horford assists)
63 - 59
7:11
Josh Smith shooting foul (Elton Brand draws the foul)
63 - 61
7:11
Elton Brand makes free throw 1 of 2
63 - 60
7:11
Elton Brand makes free throw 2 of 2
63 - 61
6:56
O.J. Mayo defensive 3-seconds (Technical Foul)
63 - 61
6:56
Jeff Teague makes technical free throw
64 - 61
6:45
Al Horford misses 6-foot jumper
64 - 61
6:43
Dirk Nowitzki defensive rebound
64 - 61
6:31
Darren Collison misses 23-foot three point jumper
64 - 61
6:30
Al Horford defensive rebound
64 - 61
6:24
Josh Smith out of bounds lost ball turnover
64 - 61
6:07
Darren Collison makes 15-foot two point shot (Dirk Nowitzki assists)
64 - 63
6:07
Al Horford shooting foul (Darren Collison draws the foul)
64 - 63
6:07
Vince Carter enters the game for Dirk Nowitzki
64 - 63
6:07
Brandan Wright enters the game for Elton Brand
64 - 63
6:07
Kyle Korver enters the game for Anthony Tolliver
64 - 63
6:07
Darren Collison makes free throw 1 of 1
64 - 64
5:52
Devin Harris makes 24-foot three point jumper (Al Horford assists)
67 - 64
5:41
Devin Harris personal foul (O.J. Mayo draws the foul)
67 - 64
5:41
Mavericks Full timeout
67 - 64
5:24
Darren Collison misses 22-foot jumper
67 - 64
5:24
Mavericks offensive team rebound
67 - 64
5:24
shot clock turnover
67 - 64
5:16
O.J. Mayo shooting foul (Jeff Teague draws the foul)
67 - 64
5:16
Jeff Teague makes free throw 1 of 2
68 - 64
5:16
Jeff Teague misses free throw 2 of 2
68 - 64
5:16
Shawn Marion defensive rebound
68 - 64
5:13
Darren Collison makes 7-foot two point shot
68 - 66
5:13
Jeff Teague shooting foul (Darren Collison draws the foul)
68 - 67
5:13
Darren Collison makes free throw 1 of 1
68 - 67
4:56
Josh Smith makes 22-foot jumper (Kyle Korver assists)
70 - 67
4:39
Shawn Marion misses 9-foot jumper
70 - 67
4:37
Shawn Marion offensive rebound
70 - 67
4:33
O.J. Mayo offensive Charge (Josh Smith draws the foul)
70 - 67
4:33
O.J. Mayo turnover
70 - 67
4:33
John Jenkins enters the game for Devin Harris
70 - 67
4:13
Josh Smith makes 25-foot three point jumper (Jeff Teague assists)
73 - 67
3:54
Vince Carter makes 23-foot three point jumper (O.J. Mayo assists)
73 - 70
3:31
Al Horford makes 20-foot jumper (Jeff Teague assists)
75 - 70
3:17
O.J. Mayo misses 14-foot jumper
75 - 70
3:16
Al Horford defensive rebound
75 - 70
3:13
John Jenkins bad pass (Darren Collison steals)
75 - 70
3:13
John Jenkins loose ball foul (Darren Collison draws the foul)
75 - 70
3:13
Darren Collison makes free throw 1 of 2
75 - 71
3:13
Jae Crowder enters the game for O.J. Mayo
75 - 71
3:13
Darren Collison makes free throw 2 of 2
75 - 72
3:01
Darren Collison shooting foul (Jeff Teague draws the foul)
75 - 72
3:01
Jeff Teague makes free throw 1 of 2
76 - 72
3:01
Zaza Pachulia enters the game for Al Horford
76 - 72
3:01
Rodrigue Beaubois enters the game for Darren Collison
76 - 72
3:01
Dirk Nowitzki enters the game for Shawn Marion
76 - 72
3:01
Jeff Teague makes free throw 2 of 2
77 - 72
2:47
Brandan Wright makes 6-foot two point shot (Vince Carter assists)
77 - 74
2:26
Brandan Wright blocks Jeff Teague 's 1-foot layup
77 - 74
2:23
Josh Smith offensive rebound
77 - 74
2:21
Josh Smith misses 25-foot three point jumper
77 - 74
2:19
Brandan Wright defensive rebound
77 - 74
2:06
Vince Carter misses driving layup
77 - 74
2:04
Zaza Pachulia defensive rebound
77 - 74
2:00
Kyle Korver makes 25-foot three point jumper (Jeff Teague assists)
80 - 74
1:42
Jae Crowder misses three point jumper
80 - 74
1:40
Josh Smith defensive rebound
80 - 74
1:35
John Jenkins makes driving layup (Josh Smith assists)
82 - 74
1:31
Mavericks 20 Sec. timeout
82 - 74
1:31
Hawks Full timeout
82 - 74
1:21
Vince Carter misses two point shot
82 - 74
1:20
Zaza Pachulia defensive rebound
82 - 74
1:15
John Jenkins traveling
82 - 74
1:04
Vince Carter makes 25-foot three point jumper (Rodrigue Beaubois assists)
82 - 77
0:48
Kyle Korver offensive foul (Vince Carter draws the foul)
82 - 77
0:48
Kyle Korver turnover
82 - 77
0:35
Vince Carter misses 25-foot three point jumper
82 - 77
0:34
Josh Smith defensive rebound
82 - 77
0:31
Josh Smith bad pass (Rodrigue Beaubois steals)
82 - 77
0:13
Brandan Wright makes two point shot (Rodrigue Beaubois assists)
82 - 79
0:01
Jeff Teague misses jumper
82 - 79
0:01
Zaza Pachulia offensive rebound
82 - 79
0:01
Zaza Pachulia misses layup
82 - 79
0:00
Dirk Nowitzki defensive rebound
82 - 79
0:00
Zaza Pachulia loose ball foul (Dirk Nowitzki draws the foul)
82 - 79
0:00
Dirk Nowitzki makes free throw 1 of 2
82 - 80
0:00
Dahntay Jones enters the game for Vince Carter
82 - 80
0:00
Dirk Nowitzki makes free throw 2 of 2
82 - 81
0:00
End of the 3rd Quarter
82 - 81

time
TEAM
PLAY
SCORE
11:45
Zaza Pachulia shooting foul (Vince Carter draws the foul)
82 - 81
11:45
Vince Carter misses free throw 1 of 2
82 - 81
11:45
Mavericks offensive team rebound
82 - 81
11:45
Vince Carter makes free throw 2 of 2
82 - 82
11:32
Kyle Korver misses 24-foot jumper
82 - 82
11:32
Hawks offensive team rebound
82 - 82
11:22
Devin Harris bad pass (Dirk Nowitzki steals)
82 - 82
11:10
Jae Crowder makes 20-foot jumper
82 - 84
10:48
Zaza Pachulia bad pass (Brandan Wright steals)
82 - 84
10:40
Brandan Wright misses layup
82 - 84
10:38
Zaza Pachulia defensive rebound
82 - 84
10:26
Zaza Pachulia bad pass (Jae Crowder steals)
82 - 84
10:17
Vince Carter misses two point shot
82 - 84
10:14
Brandan Wright offensive rebound
82 - 84
10:03
Jae Crowder misses 25-foot three point jumper
82 - 84
10:03
Al Horford defensive rebound
82 - 84
10:03
Hawks Full timeout
82 - 84
10:03
O.J. Mayo enters the game for Vince Carter
82 - 84
10:03
Anthony Tolliver enters the game for Zaza Pachulia
82 - 84
9:49
Anthony Tolliver misses layup
82 - 84
9:48
Dirk Nowitzki defensive rebound
82 - 84
9:33
Rodrigue Beaubois misses 23-foot jumper
82 - 84
9:33
Hawks defensive team rebound
82 - 84
9:11
Devin Harris misses driving layup
82 - 84
9:10
Jae Crowder defensive rebound
82 - 84
9:04
O.J. Mayo misses 8-foot jumper
82 - 84
9:03
Mavericks offensive team rebound
82 - 84
9:03
Josh Smith enters the game for John Jenkins
82 - 84
9:03
Jeff Teague enters the game for Anthony Tolliver
82 - 84
8:55
Rodrigue Beaubois misses 13-foot two point jumper
82 - 84
8:52
Josh Smith defensive rebound
82 - 84
8:48
Al Horford makes layup (Josh Smith assists)
84 - 84
8:22
O.J. Mayo misses 23-foot jumper
84 - 84
8:21
Al Horford defensive rebound
84 - 84
8:11
Jeff Teague bad pass (Dirk Nowitzki steals)
84 - 84
8:07
O.J. Mayo makes two point shot (Dirk Nowitzki assists)
84 - 86
7:48
Josh Smith misses 17-foot jumper
84 - 86
7:47
Brandan Wright defensive rebound
84 - 86
7:33
Dirk Nowitzki misses 20-foot jumper
84 - 86
7:33
Al Horford defensive rebound
84 - 86
7:16
Rodrigue Beaubois shooting foul (Devin Harris draws the foul)
84 - 86
7:16
Devin Harris makes free throw 1 of 2
85 - 86
7:16
Shawn Marion enters the game for Dirk Nowitzki
85 - 86
7:16
Darren Collison enters the game for Rodrigue Beaubois
85 - 86
7:16
Vince Carter enters the game for Jae Crowder
85 - 86
7:16
Devin Harris makes free throw 2 of 2
86 - 86
7:05
Brandan Wright makes two point shot (Vince Carter assists)
86 - 88
7:05
Devin Harris shooting foul (Brandan Wright draws the foul)
86 - 89
7:05
Brandan Wright makes free throw 1 of 1
86 - 89
6:50
Kyle Korver misses 23-foot three point jumper
86 - 89
6:48
Darren Collison defensive rebound
86 - 89
6:28
Brandan Wright makes 15-foot jumper (Darren Collison assists)
86 - 91
6:11
Josh Smith makes two point shot (Jeff Teague assists)
88 - 91
5:50
Vince Carter lost ball turnover (Kyle Korver steals)
88 - 91
5:43
Josh Smith makes 25-foot three point jumper (Jeff Teague assists)
91 - 91
5:43
Mavericks Full timeout
91 - 91
5:43
Dirk Nowitzki enters the game for Vince Carter
91 - 91
5:43
Elton Brand enters the game for Brandan Wright
91 - 91
5:43
Anthony Tolliver enters the game for Devin Harris
91 - 91
5:20
O.J. Mayo misses 18-foot step back jumpshot
91 - 91
5:18
Darren Collison offensive rebound
91 - 91
5:16
Josh Smith personal foul (Darren Collison draws the foul)
91 - 91
5:07
Darren Collison misses 21-foot jumper
91 - 91
5:05
Anthony Tolliver defensive rebound
91 - 91
4:41
Elton Brand shooting foul (Anthony Tolliver draws the foul)
91 - 91
4:41
Anthony Tolliver misses free throw 1 of 2
91 - 91
4:41
Hawks offensive team rebound
91 - 91
4:41
Anthony Tolliver makes free throw 2 of 2
92 - 91
4:24
Josh Smith shooting foul (Dirk Nowitzki draws the foul)
92 - 91
4:24
Dirk Nowitzki makes free throw 1 of 2
92 - 92
4:24
Dirk Nowitzki misses free throw 2 of 2
92 - 92
4:22
Josh Smith defensive rebound
92 - 92
4:11
Jeff Teague lost ball turnover (Elton Brand steals)
92 - 92
4:07
Elton Brand misses layup
92 - 92
4:05
Jeff Teague defensive rebound
92 - 92
3:59
Darren Collison personal foul (Jeff Teague draws the foul)
92 - 92
3:45
Anthony Tolliver misses 25-foot three point jumper
92 - 92
3:44
Darren Collison defensive rebound
92 - 92
3:26
O.J. Mayo misses driving layup
92 - 92
3:24
Josh Smith defensive rebound
92 - 92
3:20
Josh Smith traveling
92 - 92
3:04
O.J. Mayo misses 23-foot jumper
92 - 92
3:03
Al Horford defensive rebound
92 - 92
2:55
O.J. Mayo shooting foul (Josh Smith draws the foul)
92 - 92
2:55
Official timeout
92 - 92
2:55
Vince Carter enters the game for Shawn Marion
92 - 92
2:55
Brandan Wright enters the game for Elton Brand
92 - 92
2:55
Devin Harris enters the game for Anthony Tolliver
92 - 92
2:55
Josh Smith misses free throw 1 of 2
92 - 92
2:55
Hawks offensive team rebound
92 - 92
2:55
Josh Smith misses free throw 2 of 2
92 - 92
2:54
Kyle Korver offensive rebound
92 - 92
2:41
Al Horford makes driving layup (Devin Harris assists)
94 - 92
2:18
Dirk Nowitzki misses 24-foot three point jumper
94 - 92
2:17
Jeff Teague defensive rebound
94 - 92
2:05
Al Horford makes two point shot (Josh Smith assists)
96 - 92
1:51
O.J. Mayo makes two point shot (Darren Collison assists)
96 - 94
1:29
Josh Smith makes 25-foot three point jumper (Devin Harris assists)
99 - 94
1:14
Josh Smith personal foul (Dirk Nowitzki draws the foul)
99 - 94
1:14
Dirk Nowitzki makes free throw 1 of 2
99 - 95
1:14
Elton Brand enters the game for Brandan Wright
99 - 95
1:14
Dirk Nowitzki makes free throw 2 of 2
99 - 96
1:00
Jeff Teague misses three point jumper
99 - 96
0:59
Vince Carter defensive rebound
99 - 96
0:44
Dirk Nowitzki makes 3-foot two point shot
99 - 98
0:44
Hawks Full timeout
99 - 98
0:29
Josh Smith bad pass (Elton Brand steals)
99 - 98
0:23
O.J. Mayo bad pass (Devin Harris steals)
99 - 98
0:22
Dirk Nowitzki personal take foul (Josh Smith draws the foul)
99 - 98
0:22
Josh Smith makes free throw 1 of 2
100 - 98
0:22
Josh Smith makes free throw 2 of 2
101 - 98
0:22
Mavericks Full timeout
101 - 98
0:14
O.J. Mayo bad pass (Jeff Teague steals)
101 - 98
0:13
Elton Brand personal take foul (Jeff Teague draws the foul)
101 - 98
0:13
Jeff Teague makes free throw 1 of 2
102 - 98
0:13
Jeff Teague makes free throw 2 of 2
103 - 98
0:06
Dirk Nowitzki makes 24-foot three point jumper (Darren Collison assists)
103 - 101
0:06
Hawks 20 Sec. timeout
103 - 101
0:06
Shawn Marion enters the game for Dirk Nowitzki
103 - 101
0:06
Jae Crowder enters the game for Elton Brand
103 - 101
0:05
O.J. Mayo personal take foul (Kyle Korver draws the foul)
103 - 101
0:05
Kyle Korver makes free throw 1 of 2
104 - 101
0:05
Dirk Nowitzki enters the game for Shawn Marion
104 - 101
0:05
Kyle Korver makes free throw 2 of 2
105 - 101
0:04
Jae Crowder bad pass (Al Horford steals)
105 - 101
0:00
End of the 4th Quarter
105 - 101
0:00
End of Game
105 - 101
Kevin Love is making what UCLA's athletic department calls "a significant financial contribution," and in return, its strength and conditioning facility will be named for the Cavs forward.

Marcellus Wiley, Amin Elhassan and Michelle Beadle think it's a good move for Rudy Gay to declare that he will opt out of his contract at the end of the season.

A Los Angeles federal judge has ruled that a woman accusing NBA star Derrick Rose of rape cannot remain anonymous at her upcoming civil trial.
Regular Season Series
Series tied 1-1
2015-2016 Southeast Standings
2015-2016 Southwest Standings