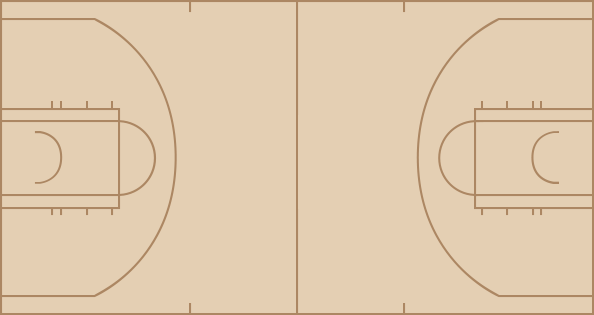 Hawks
time
TEAM
PLAY
SCORE
12:00
Josh Smith vs. Nikola Vucevic (Jeff Teague gains possession)
0 - 0
11:41
Devin Harris misses 25-foot three point jumper
0 - 0
11:38
Moe Harkless defensive rebound
0 - 0
11:26
Arron Afflalo makes layup (Nikola Vucevic assists)
0 - 2
11:15
Jeff Teague misses 18-foot jumper
0 - 2
11:14
Nikola Vucevic defensive rebound
0 - 2
10:57
Andrew Nicholson misses 20-foot jumper
0 - 2
10:56
Al Horford defensive rebound
0 - 2
10:41
Josh Smith misses 14-foot jumper
0 - 2
10:41
Jameer Nelson defensive rebound
0 - 2
10:27
Arron Afflalo makes driving layup
0 - 4
10:10
Josh Smith makes 19-foot jumper (Devin Harris assists)
2 - 4
9:49
Arron Afflalo misses 20-foot jumper
2 - 4
9:48
Josh Smith defensive rebound
2 - 4
9:42
Josh Smith misses 17-foot Running Jumper
2 - 4
9:41
Nikola Vucevic defensive rebound
2 - 4
9:27
Devin Harris personal foul (Arron Afflalo draws the foul)
2 - 4
9:27
Devin Harris technical foul(1st technical foul)
2 - 4
9:27
Jameer Nelson makes technical free throw
2 - 5
9:23
Jameer Nelson makes 21-foot jumper (Moe Harkless assists)
2 - 7
9:07
Josh Smith misses two point shot
2 - 7
9:07
Hawks offensive team rebound
2 - 7
9:00
Josh Smith misses hook shot
2 - 7
8:59
Moe Harkless defensive rebound
2 - 7
8:53
Arron Afflalo offensive foul (Devin Harris draws the foul)
2 - 7
8:53
Arron Afflalo turnover
2 - 7
8:37
Anthony Tolliver misses 25-foot three point jumper
2 - 7
8:36
Nikola Vucevic defensive rebound
2 - 7
8:26
Arron Afflalo bad pass
2 - 7
8:11
Al Horford misses two point shot
2 - 7
8:10
Al Horford offensive rebound
2 - 7
8:06
Al Horford misses 11-foot hook shot
2 - 7
8:04
Andrew Nicholson defensive rebound
2 - 7
8:02
Jameer Nelson bad pass (Devin Harris steals)
2 - 7
7:56
Josh Smith makes driving dunk (Devin Harris assists)
4 - 7
7:35
Jameer Nelson misses 24-foot three point jumper
4 - 7
7:33
Anthony Tolliver defensive rebound
4 - 7
7:26
Anthony Tolliver misses 25-foot three point jumper
4 - 7
7:24
Moe Harkless defensive rebound
4 - 7
7:16
Arron Afflalo makes 15-foot two point shot
4 - 9
7:09
Hawks Full timeout
4 - 9
6:54
Josh Smith makes 26-foot three point jumper (Jeff Teague assists)
7 - 9
6:39
Jameer Nelson makes 7-foot two point shot
7 - 11
6:30
Andrew Nicholson shooting foul (Al Horford draws the foul)
7 - 11
6:30
Al Horford makes free throw 1 of 2
8 - 11
6:30
J.J. Redick enters the game for Andrew Nicholson
8 - 11
6:30
Al Horford makes free throw 2 of 2
9 - 11
6:16
J.J. Redick makes 11-foot two point shot (Jameer Nelson assists)
9 - 13
5:58
Josh Smith misses layup
9 - 13
5:58
J.J. Redick defensive rebound
9 - 13
5:52
Arron Afflalo misses 26-foot three point jumper
9 - 13
5:50
Devin Harris defensive rebound
9 - 13
5:37
Al Horford makes layup (Devin Harris assists)
11 - 13
5:20
Jameer Nelson misses two point shot
11 - 13
5:18
Josh Smith defensive rebound
11 - 13
5:09
Devin Harris bad pass
11 - 13
5:09
Kyle Korver enters the game for Jeff Teague
11 - 13
4:46
Nikola Vucevic makes two point shot
11 - 15
4:24
Anthony Tolliver misses 24-foot three point jumper
11 - 15
4:24
Magic defensive team rebound
11 - 15
4:20
Magic Full timeout
11 - 15
4:20
Jeff Teague enters the game for Anthony Tolliver
11 - 15
4:20
Zaza Pachulia enters the game for Devin Harris
11 - 15
4:07
Arron Afflalo misses 14-foot two point shot
11 - 15
4:05
Al Horford defensive rebound
11 - 15
3:57
Jeff Teague misses 26-foot three point jumper
11 - 15
3:56
Kyle Korver offensive rebound
11 - 15
3:43
Jeff Teague makes three point jumper (Josh Smith assists)
14 - 15
3:24
J.J. Redick traveling
14 - 15
3:24
Gustavo Ayon enters the game for Arron Afflalo
14 - 15
3:11
Zaza Pachulia makes 1-foot two point shot (Kyle Korver assists)
16 - 15
2:55
Gustavo Ayon misses 11-foot jumper
16 - 15
2:54
Al Horford defensive rebound
16 - 15
2:42
Jeff Teague makes 9-foot two point shot (Josh Smith assists)
18 - 15
2:25
J.J. Redick makes 26-foot three point jumper (Nikola Vucevic assists)
18 - 18
2:10
Gustavo Ayon shooting foul (Al Horford draws the foul)
18 - 18
2:10
Al Horford misses free throw 1 of 2
18 - 18
2:10
Hawks offensive team rebound
18 - 18
2:10
Kyle O'Quinn enters the game for Moe Harkless
18 - 18
2:10
E'Twaun Moore enters the game for Nikola Vucevic
18 - 18
2:10
DeQuan Jones enters the game for Jameer Nelson
18 - 18
2:10
Al Horford misses free throw 2 of 2
18 - 18
2:10
Zaza Pachulia offensive rebound
18 - 18
2:10
Zaza Pachulia misses tip shot
18 - 18
2:08
Al Horford offensive rebound
18 - 18
2:00
Zaza Pachulia misses layup
18 - 18
2:00
Al Horford offensive rebound
18 - 18
2:00
Al Horford misses tip shot
18 - 18
1:58
Al Horford offensive rebound
18 - 18
1:58
Al Horford makes layup
20 - 18
1:46
Jeff Teague personal foul (Gustavo Ayon draws the foul)
20 - 18
1:46
John Jenkins enters the game for Al Horford
20 - 18
1:43
Jeff Teague personal foul (J.J. Redick draws the foul)
20 - 18
1:43
J.J. Redick makes free throw 1 of 2
20 - 19
1:43
Devin Harris enters the game for Jeff Teague
20 - 19
1:43
J.J. Redick misses free throw 2 of 2
20 - 19
1:42
Josh Smith defensive rebound
20 - 19
1:36
Gustavo Ayon shooting foul (Josh Smith draws the foul)
20 - 19
1:36
Josh Smith misses free throw 1 of 2
20 - 19
1:36
Hawks offensive team rebound
20 - 19
1:36
Josh Smith misses free throw 2 of 2
20 - 19
1:35
DeQuan Jones defensive rebound
20 - 19
1:19
J.J. Redick misses 15-foot Running Jumper
20 - 19
1:16
Josh Smith defensive rebound
20 - 19
1:07
Devin Harris misses 26-foot three point jumper
20 - 19
1:06
Zaza Pachulia offensive rebound
20 - 19
1:02
Kyle O'Quinn blocks Zaza Pachulia's layup
20 - 19
1:00
Kyle Korver offensive rebound
20 - 19
0:59
John Jenkins makes 27-foot three point jumper (Kyle Korver assists)
23 - 19
0:44
E'Twaun Moore misses 10-foot two point shot
23 - 19
0:43
Josh Smith defensive rebound
23 - 19
0:37
E'Twaun Moore shooting foul (Devin Harris draws the foul)
23 - 19
0:37
Devin Harris makes free throw 1 of 2
24 - 19
0:37
Devin Harris makes free throw 2 of 2
25 - 19
0:18
Gustavo Ayon misses driving layup
25 - 19
0:16
Josh Smith defensive rebound
25 - 19
0:00
Devin Harris misses 25-foot three point jumper
25 - 19
0:00
Kyle O'Quinn defensive rebound
25 - 19
0:00
End of the 1st Quarter
25 - 19

time
TEAM
PLAY
SCORE
11:52
John Jenkins personal foul (Arron Afflalo draws the foul)
25 - 19
11:37
Nikola Vucevic misses 15-foot jumper
25 - 19
11:36
John Jenkins defensive rebound
25 - 19
11:17
Al Horford makes 21-foot jumper (Devin Harris assists)
27 - 19
10:56
Nikola Vucevic out of bounds lost ball turnover
27 - 19
10:44
Kyle Korver misses 26-foot three point jumper
27 - 19
10:42
Al Horford offensive rebound
27 - 19
10:40
John Jenkins makes 25-foot three point jumper (Al Horford assists)
30 - 19
10:33
Magic 20 Sec. timeout
30 - 19
10:22
Nikola Vucevic makes layup (Gustavo Ayon assists)
30 - 21
9:59
Zaza Pachulia makes layup (Devin Harris assists)
32 - 21
9:45
John Jenkins personal foul (Arron Afflalo draws the foul)
32 - 21
9:45
Jameer Nelson enters the game for E'Twaun Moore
32 - 21
9:45
DeShawn Stevenson enters the game for John Jenkins
32 - 21
9:41
J.J. Redick makes 2-foot two point shot (Jameer Nelson assists)
32 - 23
9:18
Al Horford makes 20-foot jumper
34 - 23
9:04
Kyle Korver personal foul (J.J. Redick draws the foul)
34 - 23
8:57
Gustavo Ayon offensive foul (Devin Harris draws the foul)
34 - 23
8:57
Gustavo Ayon turnover
34 - 23
8:57
Official timeout
34 - 23
8:57
Andrew Nicholson enters the game for J.J. Redick
34 - 23
8:57
Moe Harkless enters the game for Gustavo Ayon
34 - 23
8:44
Devin Harris bad pass (Nikola Vucevic steals)
34 - 23
8:36
Arron Afflalo bad pass (Al Horford steals)
34 - 23
8:30
DeShawn Stevenson makes layup (Al Horford assists)
36 - 23
8:08
Moe Harkless misses 20-foot jumper
36 - 23
8:07
Al Horford defensive rebound
36 - 23
7:52
Al Horford makes layup (Zaza Pachulia assists)
38 - 23
7:26
Andrew Nicholson makes 18-foot jumper (Jameer Nelson assists)
38 - 25
7:07
Al Horford misses 7-foot jumper
38 - 25
7:07
Zaza Pachulia offensive rebound
38 - 25
7:03
Moe Harkless blocks Zaza Pachulia's layup
38 - 25
7:01
Arron Afflalo defensive rebound
38 - 25
6:56
Jameer Nelson misses 26-foot three point jumper
38 - 25
6:54
Zaza Pachulia defensive rebound
38 - 25
6:52
Hawks Full timeout
38 - 25
6:52
Josh Smith enters the game for Zaza Pachulia
38 - 25
6:33
Josh Smith misses 15-foot jumper
38 - 25
6:31
Kyle Korver offensive rebound
38 - 25
6:18
DeShawn Stevenson makes 26-foot three point jumper (Al Horford assists)
41 - 25
6:05
Nikola Vucevic misses 16-foot jumper
41 - 25
6:03
Kyle Korver defensive rebound
41 - 25
5:48
DeShawn Stevenson misses 24-foot three point jumper
41 - 25
5:46
Moe Harkless defensive rebound
41 - 25
5:31
Nikola Vucevic misses two point shot
41 - 25
5:28
Andrew Nicholson offensive rebound
41 - 25
5:24
Andrew Nicholson makes 8-foot two point shot
41 - 27
5:03
Josh Smith makes 18-foot jumper (Kyle Korver assists)
43 - 27
4:45
Arron Afflalo misses 15-foot jumper
43 - 27
4:43
Al Horford defensive rebound
43 - 27
4:39
Jameer Nelson shooting foul (Devin Harris draws the foul)
43 - 27
4:39
Devin Harris makes free throw 1 of 2
44 - 27
4:39
Anthony Tolliver enters the game for Kyle Korver
44 - 27
4:39
J.J. Redick enters the game for Moe Harkless
44 - 27
4:39
Devin Harris makes free throw 2 of 2
45 - 27
4:22
Arron Afflalo misses 25-foot three point jumper
45 - 27
4:20
Arron Afflalo offensive rebound
45 - 27
4:16
Andrew Nicholson misses 18-foot jumper
45 - 27
4:16
Nikola Vucevic offensive rebound
45 - 27
4:16
DeShawn Stevenson personal foul (Nikola Vucevic draws the foul)
45 - 27
4:03
Nikola Vucevic misses layup
45 - 27
4:03
Anthony Tolliver defensive rebound
45 - 27
3:59
Al Horford makes two point shot (Josh Smith assists)
47 - 27
3:59
Nikola Vucevic shooting foul (Al Horford draws the foul)
47 - 27
3:59
Kyle O'Quinn enters the game for Nikola Vucevic
47 - 27
3:59
John Jenkins enters the game for Devin Harris
47 - 27
3:59
Al Horford makes free throw 1 of 1
48 - 27
3:47
Josh Smith blocks Jameer Nelson 's 2-foot layup
48 - 27
3:47
Magic offensive team rebound
48 - 27
3:45
J.J. Redick misses 16-foot jumper
48 - 27
3:44
John Jenkins defensive rebound
48 - 27
3:29
Anthony Tolliver makes 24-foot three point jumper (Josh Smith assists)
51 - 27
3:25
Magic Full timeout
51 - 27
3:10
Anthony Tolliver shooting foul (Arron Afflalo draws the foul)
51 - 27
3:10
Arron Afflalo misses free throw 1 of 2
51 - 27
3:10
Magic offensive team rebound
51 - 27
3:10
Josh McRoberts enters the game for Andrew Nicholson
51 - 27
3:10
Arron Afflalo makes free throw 2 of 2
51 - 28
2:53
Josh Smith makes 10-foot two point shot
53 - 28
2:53
Josh McRoberts shooting foul (Josh Smith draws the foul)
53 - 28
2:53
Josh Smith misses free throw 1 of 1
53 - 28
2:53
Kyle O'Quinn defensive rebound
53 - 28
2:33
Kyle O'Quinn bad pass (John Jenkins steals)
53 - 28
2:28
DeShawn Stevenson misses 18-foot Running Jumper
53 - 28
2:26
Kyle O'Quinn defensive rebound
53 - 28
2:17
Arron Afflalo makes 6-foot two point shot
53 - 30
2:00
Anthony Tolliver bad pass (Arron Afflalo steals)
53 - 30
1:51
Kyle O'Quinn misses 16-foot jumper
53 - 30
1:49
Josh Smith defensive rebound
53 - 30
1:34
Josh Smith makes 20-foot jumper (Al Horford assists)
55 - 30
1:09
Kyle O'Quinn makes 1-foot dunk (Arron Afflalo assists)
55 - 32
0:57
Josh McRoberts personal foul (Josh Smith draws the foul)
55 - 32
0:57
Nikola Vucevic enters the game for Kyle O'Quinn
55 - 32
0:57
Devin Harris enters the game for DeShawn Stevenson
55 - 32
0:48
Josh McRoberts shooting foul (Josh Smith draws the foul)
55 - 32
0:48
Josh Smith makes free throw 1 of 2
56 - 32
0:48
DeShawn Stevenson enters the game for Anthony Tolliver
56 - 32
0:48
Josh Smith makes free throw 2 of 2
57 - 32
0:38
Nikola Vucevic makes dunk (Josh McRoberts assists)
57 - 34
0:30
Al Horford offensive foul (Jameer Nelson draws the foul)
57 - 34
0:30
Al Horford turnover
57 - 34
0:19
Jameer Nelson makes driving layup
57 - 36
0:00
DeShawn Stevenson misses 25-foot three point jumper
57 - 36
0:00
Hawks offensive team rebound
57 - 36
0:00
End of the 2nd Quarter
57 - 36

time
TEAM
PLAY
SCORE
11:38
Nikola Vucevic 3 second turnover
57 - 36
11:26
Devin Harris bad pass (Moe Harkless steals)
57 - 36
11:22
Moe Harkless bad pass (Al Horford steals)
57 - 36
11:18
Devin Harris misses 25-foot three point jumper
57 - 36
11:18
Nikola Vucevic defensive rebound
57 - 36
10:57
Josh McRoberts misses 23-foot three point jumper
57 - 36
10:56
Josh Smith defensive rebound
57 - 36
10:48
Jeff Teague lost ball turnover (Moe Harkless steals)
57 - 36
10:48
Josh Smith kicked ball violation
57 - 36
10:34
Josh McRoberts traveling
57 - 36
10:19
Josh Smith makes 15-foot jumper
59 - 36
10:03
Nikola Vucevic offensive foul (Jeff Teague draws the foul)
59 - 36
10:03
Nikola Vucevic turnover
59 - 36
9:52
Devin Harris misses 23-foot three point jumper
59 - 36
9:49
Arron Afflalo defensive rebound
59 - 36
9:42
Arron Afflalo misses 17-foot two point shot
59 - 36
9:36
Jeff Teague vs. Jameer Nelson (Al Horford gains possession)
59 - 36
9:36
Hawks defensive team rebound
59 - 36
9:14
Josh Smith makes 16-foot jumper
61 - 36
8:51
Moe Harkless makes 6-foot two point shot
61 - 38
8:37
Al Horford misses 6-foot jumper
61 - 38
8:37
Al Horford offensive rebound
61 - 38
8:37
Jameer Nelson personal foul (Al Horford draws the foul)
61 - 38
8:37
J.J. Redick enters the game for Josh McRoberts
61 - 38
8:27
Josh Smith makes layup
63 - 38
8:15
Josh Smith blocks Moe Harkless 's 2-foot shot
63 - 38
8:15
Hawks defensive team rebound
63 - 38
7:56
Anthony Tolliver misses 24-foot three point jumper
63 - 38
7:54
Nikola Vucevic defensive rebound
63 - 38
7:35
Moe Harkless misses
63 - 38
7:35
Hawks defensive team rebound
63 - 38
7:22
Al Horford makes 9-foot two point shot (Jeff Teague assists)
65 - 38
7:05
Moe Harkless misses three point jumper
65 - 38
7:03
Devin Harris defensive rebound
65 - 38
7:01
Josh Smith makes two point shot (Jeff Teague assists)
67 - 38
7:01
Magic Full timeout
67 - 38
6:52
Jameer Nelson misses 22-foot jumper
67 - 38
6:50
Josh Smith defensive rebound
67 - 38
6:31
Devin Harris misses 26-foot three point jumper
67 - 38
6:31
Nikola Vucevic defensive rebound
67 - 38
6:22
Jameer Nelson makes 25-foot three point jumper (Nikola Vucevic assists)
67 - 41
6:07
Al Horford makes 14-foot jumper (Jeff Teague assists)
69 - 41
5:50
Moe Harkless misses 24-foot three point jumper
69 - 41
5:48
Devin Harris defensive rebound
69 - 41
5:28
Josh Smith misses 26-foot three point jumper
69 - 41
5:26
Anthony Tolliver offensive rebound
69 - 41
5:24
Anthony Tolliver makes layup
71 - 41
5:07
Moe Harkless makes 2-foot two point shot (Jameer Nelson assists)
71 - 43
4:56
Al Horford makes 7-foot two point shot (Josh Smith assists)
73 - 43
4:56
Nikola Vucevic shooting foul (Al Horford draws the foul)
73 - 43
4:56
DeQuan Jones enters the game for Moe Harkless
73 - 43
4:56
E'Twaun Moore enters the game for Nikola Vucevic
73 - 43
4:56
Ish Smith enters the game for Arron Afflalo
73 - 43
4:56
Andrew Nicholson enters the game for Jameer Nelson
73 - 43
4:56
Kyle O'Quinn enters the game for J.J. Redick
73 - 43
4:56
Kyle Korver enters the game for Devin Harris
73 - 43
4:56
Al Horford makes free throw 1 of 1
74 - 43
4:41
Ish Smith misses 21-foot jumper
74 - 43
4:41
Josh Smith defensive rebound
74 - 43
4:20
Jeff Teague misses 26-foot three point jumper
74 - 43
4:20
Ish Smith defensive rebound
74 - 43
4:09
DeQuan Jones misses 25-foot three point jumper
74 - 43
4:09
Al Horford defensive rebound
74 - 43
4:01
Kyle O'Quinn personal foul (Jeff Teague draws the foul)
74 - 43
4:01
Magic Full timeout
74 - 43
4:01
John Jenkins enters the game for Anthony Tolliver
74 - 43
3:47
Josh Smith makes 26-foot three point jumper (Jeff Teague assists)
77 - 43
3:29
DeQuan Jones makes 7-foot two point shot
77 - 45
3:15
Al Horford makes 15-foot jumper (Jeff Teague assists)
79 - 45
2:57
Ish Smith makes 12-foot two point shot
79 - 47
2:44
Al Horford makes 16-foot jumper (Jeff Teague assists)
81 - 47
2:30
Andrew Nicholson makes 20-foot jumper (Ish Smith assists)
81 - 49
2:13
Josh Smith makes 18-foot jumper (Al Horford assists)
83 - 49
1:58
Andrew Nicholson misses 20-foot jumper
83 - 49
1:57
Kyle Korver defensive rebound
83 - 49
1:47
Kyle O'Quinn shooting foul (Josh Smith draws the foul)
83 - 49
1:47
Josh Smith misses free throw 1 of 2
83 - 49
1:47
Hawks offensive team rebound
83 - 49
1:47
Zaza Pachulia enters the game for Al Horford
83 - 49
1:47
Josh Smith misses free throw 2 of 2
83 - 49
1:46
Andrew Nicholson defensive rebound
83 - 49
1:31
Andrew Nicholson makes 8-foot two point shot (Kyle O'Quinn assists)
83 - 51
1:17
Josh Smith makes 19-foot jumper (Jeff Teague assists)
85 - 51
0:58
DeQuan Jones misses 11-foot
85 - 51
0:56
Kyle O'Quinn misses tip shot
85 - 51
0:56
Kyle O'Quinn offensive rebound
85 - 51
0:55
Zaza Pachulia defensive rebound
85 - 51
0:51
John Jenkins makes 26-foot three point jumper (Jeff Teague assists)
88 - 51
0:40
Ish Smith makes 18-foot two point shot
88 - 53
0:34
DeQuan Jones personal foul (Jeff Teague draws the foul)
88 - 53
0:34
Jeff Teague makes free throw 1 of 2
89 - 53
0:34
Mike Scott enters the game for Josh Smith
89 - 53
0:34
Jeff Teague makes free throw 2 of 2
90 - 53
0:22
E'Twaun Moore makes 26-foot three point jumper (Andrew Nicholson assists)
90 - 56
0:01
Mike Scott misses 20-foot jumper
90 - 56
0:00
Kyle O'Quinn defensive rebound
90 - 56
0:00
End of the 3rd Quarter
90 - 56

time
TEAM
PLAY
SCORE
11:32
Zaza Pachulia makes 16-foot two point shot
92 - 56
11:08
Andrew Nicholson misses 16-foot two point shot
92 - 56
11:07
Zaza Pachulia defensive rebound
92 - 56
11:00
Ish Smith shooting foul (Zaza Pachulia draws the foul)
92 - 56
11:00
Zaza Pachulia makes free throw 1 of 2
93 - 56
11:00
Zaza Pachulia makes free throw 2 of 2
94 - 56
10:45
Kyle O'Quinn makes 2-foot two point shot (Ish Smith assists)
94 - 58
10:37
Kyle Korver makes 21-foot jumper (Jeff Teague assists)
96 - 58
10:11
DeQuan Jones misses driving layup
96 - 58
10:10
Kyle O'Quinn offensive rebound
96 - 58
10:10
Kyle O'Quinn makes two point shot
96 - 60
9:56
Jeff Teague misses 26-foot three point jumper
96 - 60
9:55
Ish Smith defensive rebound
96 - 60
9:48
E'Twaun Moore misses 25-foot three point jumper
96 - 60
9:48
Hawks defensive team rebound
96 - 60
9:48
Kyle O'Quinn loose ball foul (Zaza Pachulia draws the foul)
96 - 60
9:40
Kyle O'Quinn personal foul (Kyle Korver draws the foul)
96 - 60
9:34
DeQuan Jones shooting foul (Kyle Korver draws the foul)
96 - 60
9:34
Kyle Korver makes free throw 1 of 2
97 - 60
9:34
Kyle Korver makes free throw 2 of 2
98 - 60
9:17
Jeff Teague blocks Ish Smith 's 3-foot layup
98 - 60
9:15
John Jenkins defensive rebound
98 - 60
9:08
John Jenkins bad pass (Kyle O'Quinn steals)
98 - 60
9:03
E'Twaun Moore misses driving layup
98 - 60
9:00
Mike Scott defensive rebound
98 - 60
8:47
John Jenkins misses 24-foot three point jumper
98 - 60
8:45
DeQuan Jones defensive rebound
98 - 60
8:44
Zaza Pachulia personal foul (DeQuan Jones draws the foul)
98 - 60
8:44
Official timeout
98 - 60
8:32
Andrew Nicholson lost ball turnover (Jeff Teague steals)
98 - 60
8:26
Kyle Korver misses 26-foot three point jumper
98 - 60
8:26
Mike Scott offensive rebound
98 - 60
8:26
Mike Scott misses dunk
98 - 60
8:26
Magic defensive team rebound
98 - 60
8:07
Ish Smith makes 19-foot jumper
98 - 62
7:41
Mike Scott makes 23-foot jumper (Kyle Korver assists)
100 - 62
7:16
Kyle O'Quinn misses 20-foot jumper
100 - 62
7:13
Kyle Korver defensive rebound
100 - 62
7:03
Zaza Pachulia misses 16-foot jumper
100 - 62
7:03
DeQuan Jones defensive rebound
100 - 62
6:58
E'Twaun Moore makes driving dunk (Ish Smith assists)
100 - 64
6:45
Kyle Korver misses 26-foot three point jumper
100 - 64
6:43
Mike Scott offensive rebound
100 - 64
6:41
Kyle Korver misses 23-foot three point jumper
100 - 64
6:39
Ish Smith defensive rebound
100 - 64
6:33
Ish Smith bad pass (Kyle Korver steals)
100 - 64
6:20
Zaza Pachulia misses 17-foot jumper
100 - 64
6:18
Kyle O'Quinn defensive rebound
100 - 64
6:11
E'Twaun Moore makes 20-foot jumper
100 - 66
6:01
Kyle Korver makes 26-foot three point jumper (Jeff Teague assists)
103 - 66
6:00
Magic Full timeout
103 - 66
6:00
Johan Petro enters the game for Jeff Teague
103 - 66
6:00
Anthony Morrow enters the game for Kyle Korver
103 - 66
6:00
Anthony Tolliver enters the game for Zaza Pachulia
103 - 66
5:46
Kyle O'Quinn misses 17-foot jumper
103 - 66
5:43
Mike Scott defensive rebound
103 - 66
5:26
Anthony Morrow misses 14-foot jumper
103 - 66
5:24
Johan Petro offensive rebound
103 - 66
5:22
Johan Petro misses 26-foot three point jumper
103 - 66
5:20
Ish Smith defensive rebound
103 - 66
5:11
DeQuan Jones misses 26-foot three point jumper
103 - 66
5:09
Johan Petro defensive rebound
103 - 66
5:00
Johan Petro misses running hook shot
103 - 66
4:58
Mike Scott misses tip shot
103 - 66
4:58
Mike Scott offensive rebound
103 - 66
4:56
Andrew Nicholson defensive rebound
103 - 66
4:50
Johan Petro kicked ball violation
103 - 66
4:50
Hawks delay of game violation
103 - 66
4:43
Ish Smith makes driving layup
103 - 68
4:26
Anthony Tolliver makes 8-foot two point shot
105 - 68
4:11
Ish Smith misses 9-foot jump bank shot
105 - 68
4:09
Johan Petro defensive rebound
105 - 68
3:53
Anthony Tolliver misses 25-foot three point jumper
105 - 68
3:51
Kyle O'Quinn defensive rebound
105 - 68
3:31
E'Twaun Moore misses driving layup
105 - 70
3:31
E'Twaun Moore offensive rebound
105 - 68
3:31
E'Twaun Moore misses tip shot
105 - 68
3:31
E'Twaun Moore offensive rebound
105 - 68
3:31
Johan Petro shooting foul (E'Twaun Moore draws the foul)
105 - 68
3:31
E'Twaun Moore makes free throw 1 of 2
105 - 69
3:31
E'Twaun Moore makes free throw 2 of 2
105 - 70
3:15
Mike Scott lost ball turnover (Kyle O'Quinn steals)
105 - 70
3:08
DeQuan Jones makes 2-foot two point shot (E'Twaun Moore assists)
105 - 72
2:53
Anthony Morrow makes 24-foot three point jumper (John Jenkins assists)
108 - 72
2:34
DeQuan Jones misses 20-foot jumper
108 - 72
2:33
Magic offensive team rebound
108 - 72
2:32
Hawks Full timeout
108 - 72
2:23
DeQuan Jones makes 19-foot jumper
108 - 74
2:02
Mike Scott misses 18-foot jumper
108 - 74
2:00
Andrew Nicholson defensive rebound
108 - 74
1:58
E'Twaun Moore bad pass
108 - 74
1:44
Johan Petro misses 21-foot jumper
108 - 74
1:42
Ish Smith defensive rebound
108 - 74
1:32
DeQuan Jones misses 25-foot three point jumper
108 - 74
1:31
Anthony Morrow defensive rebound
108 - 74
1:27
Anthony Morrow misses 19-foot two point jumper
108 - 74
1:24
Andrew Nicholson defensive rebound
108 - 74
1:21
Anthony Morrow shooting foul (DeQuan Jones draws the foul)
108 - 74
1:21
DeQuan Jones misses free throw 1 of 2
108 - 74
1:21
Magic offensive team rebound
108 - 74
1:21
DeQuan Jones misses free throw 2 of 2
108 - 74
1:20
Anthony Morrow defensive rebound
108 - 74
1:00
Mike Scott bad pass (E'Twaun Moore steals)
108 - 74
0:54
E'Twaun Moore misses 20-foot jumper
108 - 74
0:53
Johan Petro defensive rebound
108 - 74
0:41
John Jenkins misses 26-foot three point jumper
108 - 74
0:40
Ish Smith defensive rebound
108 - 74
0:23
Andrew Nicholson makes 10-foot two point shot (E'Twaun Moore assists)
108 - 76
0:00
End of the 4th Quarter
108 - 76
The Golden State Warriors have exercised the third-year contract option on forward Kevon Looney.

Knicks big man Kristaps Porzingis knows that the Joakim Noah's nagging injury and Derrick Rose's prolonged absence, it will take time for the club to develop chemistry and cohesion.

Will the Timberwolves make the West playoffs? What moves should they make? Our NBA Insiders preview Minnesota's 2016-17 season.
Regular Season Series
ATL wins series 4-0
2016-2017 Southeast Standings