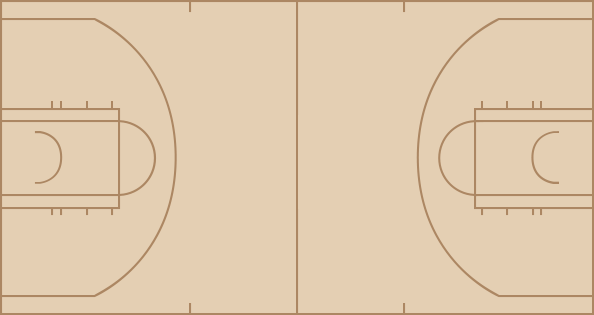 Thunder
time
TEAM
PLAY
SCORE
12:00
Serge Ibaka vs. Elton Brand (Kendrick Perkins gains possession)
0 - 0
11:37
Serge Ibaka misses 15-foot jumper
0 - 0
11:36
Elton Brand defensive rebound
0 - 0
11:14
Mike James makes two point shot
0 - 2
10:47
Thabo Sefolosha misses 14-foot jumper
0 - 2
10:45
Serge Ibaka offensive rebound
0 - 2
10:37
Russell Westbrook makes 19-foot two point shot
2 - 2
10:18
O.J. Mayo misses 21-foot jumper
2 - 2
10:17
Kendrick Perkins defensive rebound
2 - 2
10:10
Russell Westbrook lost ball turnover (Elton Brand steals)
2 - 2
10:00
Elton Brand misses 3-foot
2 - 2
9:59
Kendrick Perkins defensive rebound
2 - 2
9:45
Kevin Durant makes 22-foot jumper (Russell Westbrook assists)
4 - 2
9:34
Elton Brand makes two point shot (O.J. Mayo assists)
4 - 4
9:21
Elton Brand blocks Russell Westbrook's layup
4 - 4
9:18
Mike James defensive rebound
4 - 4
9:12
Mike James makes two point shot
4 - 6
9:06
Mike James personal foul (Russell Westbrook draws the foul)
4 - 6
8:57
Russell Westbrook makes 15-foot two point shot
6 - 6
8:41
Elton Brand misses running hook shot
6 - 6
8:41
Serge Ibaka defensive rebound
6 - 6
8:26
Kevin Durant misses 11-foot step back jumpshot
6 - 6
8:25
Kendrick Perkins offensive rebound
6 - 6
8:21
Thabo Sefolosha misses 25-foot three point jumper
6 - 6
8:19
Dirk Nowitzki defensive rebound
6 - 6
8:07
Jae Crowder misses 24-foot three point jumper
6 - 6
8:07
Dirk Nowitzki offensive rebound
6 - 6
8:00
Dirk Nowitzki makes 24-foot three point jumper
6 - 9
7:43
Kevin Durant misses 16-foot jumper
6 - 9
7:43
Dirk Nowitzki defensive rebound
6 - 9
7:31
Jae Crowder misses 24-foot three point jumper
6 - 9
7:30
Thabo Sefolosha defensive rebound
6 - 9
7:22
Kevin Durant bad pass (Dirk Nowitzki steals)
6 - 9
7:18
Dirk Nowitzki makes two point shot (O.J. Mayo assists)
6 - 11
7:01
Russell Westbrook makes driving layup
8 - 11
6:46
Mike James makes 6-foot two point shot
8 - 13
6:28
Mike James personal foul (Russell Westbrook draws the foul)
8 - 13
6:28
Brandan Wright enters the game for Dirk Nowitzki
8 - 13
6:28
Darren Collison enters the game for Mike James
8 - 13
6:05
Elton Brand misses 15-foot jumper
10 - 13
6:05
Kevin Durant defensive rebound
10 - 13
6:00
Kevin Durant offensive Charge (Elton Brand draws the foul)
10 - 13
6:00
Kevin Durant turnover
10 - 13
6:00
Mavericks Full timeout
10 - 13
6:00
Vince Carter enters the game for Jae Crowder
10 - 13
5:50
Kendrick Perkins personal foul (Elton Brand draws the foul)
10 - 13
5:46
Brandan Wright makes two point shot (O.J. Mayo assists)
10 - 15
5:30
Kevin Durant makes 15-foot two point shot
12 - 15
5:15
Brandan Wright makes 5-foot jumper (Darren Collison assists)
12 - 17
4:54
Russell Westbrook makes layup (Thabo Sefolosha assists)
14 - 17
4:31
Nick Collison enters the game for Serge Ibaka
14 - 17
4:31
Kevin Martin enters the game for Thabo Sefolosha
14 - 17
4:31
Chris Kaman enters the game for Elton Brand
14 - 17
4:28
Kevin Durant blocks Darren Collison 's 19-foot shot
14 - 17
4:28
Mavericks offensive team rebound
14 - 17
4:15
Kendrick Perkins bad pass (Chris Kaman steals)
14 - 17
4:05
O.J. Mayo makes 15-foot two point shot
14 - 19
3:44
Nick Collison misses 5-foot two point shot
14 - 19
3:43
Chris Kaman defensive rebound
14 - 19
3:33
Brandan Wright misses 5-foot two point shot
14 - 19
3:32
Mavericks offensive team rebound
14 - 19
3:21
Brandan Wright misses 13-foot jumper
14 - 19
3:19
Chris Kaman offensive rebound
14 - 19
3:19
Chris Kaman misses tip shot
14 - 19
3:18
Nick Collison defensive rebound
14 - 19
3:11
Russell Westbrook misses 20-foot two point jumper
14 - 19
3:10
Brandan Wright defensive rebound
14 - 19
2:51
Chris Kaman misses 11-foot two point shot
14 - 19
2:50
Kevin Durant defensive rebound
14 - 19
2:43
Vince Carter shooting foul (Kevin Durant draws the foul)
14 - 19
2:43
Thunder Full timeout
14 - 19
2:43
Rodrigue Beaubois enters the game for O.J. Mayo
14 - 19
2:43
Kevin Durant makes free throw 1 of 2
15 - 19
2:43
Kevin Durant makes free throw 2 of 2
16 - 19
2:21
Rodrigue Beaubois lost ball turnover (Russell Westbrook steals)
16 - 19
2:17
Russell Westbrook makes two point shot
18 - 19
2:03
Darren Collison makes two point shot
18 - 21
1:45
Derek Fisher enters the game for Kevin Durant
18 - 21
1:45
Dirk Nowitzki enters the game for Brandan Wright
18 - 21
1:45
Serge Ibaka enters the game for Kendrick Perkins
18 - 21
1:43
Kevin Martin misses 7-foot jumper
18 - 21
1:42
Chris Kaman defensive rebound
18 - 21
1:35
Vince Carter makes 7-foot two point shot
18 - 23
1:35
Derek Fisher shooting foul (Vince Carter draws the foul)
18 - 23
1:35
Vince Carter makes free throw 1 of 1
18 - 24
1:28
Rodrigue Beaubois shooting foul (Russell Westbrook draws the foul)
18 - 24
1:28
Russell Westbrook makes free throw 1 of 2
19 - 24
1:28
Russell Westbrook makes free throw 2 of 2
20 - 24
1:07
Rodrigue Beaubois misses 16-foot two point jumper
20 - 24
1:07
Russell Westbrook defensive rebound
20 - 24
1:01
Darren Collison shooting block foul (Russell Westbrook draws the foul)
20 - 24
1:01
Russell Westbrook makes free throw 1 of 2
21 - 24
1:01
O.J. Mayo enters the game for Darren Collison
21 - 24
1:01
Russell Westbrook makes free throw 2 of 2
22 - 24
0:51
Vince Carter traveling
22 - 24
0:51
Reggie Jackson enters the game for Russell Westbrook
22 - 24
0:51
Darren Collison enters the game for O.J. Mayo
22 - 24
0:34
Nick Collison misses 21-foot jumper
22 - 24
0:33
Serge Ibaka offensive rebound
22 - 24
0:30
Kevin Martin misses 24-foot three point jumper
22 - 24
0:29
Serge Ibaka offensive rebound
22 - 24
0:12
Nick Collison makes two point shot (Reggie Jackson assists)
24 - 24
0:04
Chris Kaman makes jumper (Darren Collison assists)
24 - 26
0:00
Reggie Jackson misses three point jumper
24 - 26
0:00
Thunder offensive team rebound
24 - 26
0:00
End of the 1st Quarter
24 - 26

time
TEAM
PLAY
SCORE
11:42
Vince Carter makes 23-foot three point jumper
24 - 29
11:19
Kevin Martin misses 25-foot three point jumper
24 - 29
11:18
Darren Collison defensive rebound
24 - 29
11:12
Darren Collison misses 17-foot two point jumper
24 - 29
11:11
Nick Collison defensive rebound
24 - 29
11:00
Serge Ibaka 3 second turnover
24 - 29
10:52
Kevin Martin personal foul (Vince Carter draws the foul)
24 - 29
10:40
Darren Collison misses 11-foot jumper
24 - 29
10:38
Serge Ibaka defensive rebound
24 - 29
10:30
Rodrigue Beaubois shooting foul (Derek Fisher draws the foul)
25 - 29
10:30
Derek Fisher makes free throw 1 of 2
25 - 29
10:30
Mike James enters the game for Darren Collison
25 - 29
10:30
Jae Crowder enters the game for Vince Carter
25 - 29
10:30
Derek Fisher makes free throw 2 of 2
26 - 29
10:17
Rodrigue Beaubois traveling
26 - 29
9:56
Kevin Martin makes two point shot (Nick Collison assists)
28 - 29
9:38
Dirk Nowitzki makes 12-foot two point shot
28 - 31
9:29
Reggie Jackson bad pass (Jae Crowder steals)
28 - 31
9:23
Jae Crowder makes two point shot (Mike James assists)
28 - 33
9:03
Kevin Martin makes two point shot (Nick Collison assists)
30 - 33
8:52
Serge Ibaka personal foul (Dirk Nowitzki draws the foul)
30 - 33
8:52
Official timeout
30 - 33
8:52
Elton Brand enters the game for Brandan Wright
30 - 33
8:52
Kevin Durant enters the game for Nick Collison
30 - 33
8:41
Mike James bad pass (Kevin Martin steals)
30 - 33
8:37
Rodrigue Beaubois blocks Kevin Martin 's 2-foot layup
30 - 33
8:37
Thunder offensive team rebound
30 - 33
8:27
Derek Fisher misses 23-foot three point jumper
30 - 33
8:26
Mike James defensive rebound
30 - 33
8:15
Rodrigue Beaubois lost ball turnover (Kevin Durant steals)
30 - 33
8:06
Dirk Nowitzki shooting foul (Kevin Durant draws the foul)
30 - 33
8:06
Kevin Durant makes free throw 1 of 2
31 - 33
8:06
Vince Carter enters the game for Rodrigue Beaubois
31 - 33
8:06
O.J. Mayo enters the game for Dirk Nowitzki
31 - 33
8:06
Kevin Durant makes free throw 2 of 2
32 - 33
7:47
Mike James misses 25-foot three point jumper
32 - 33
7:46
Serge Ibaka defensive rebound
32 - 33
7:39
Reggie Jackson misses 21-foot two point jumper
32 - 33
7:39
Vince Carter defensive rebound
32 - 33
7:31
O.J. Mayo makes 7-foot jumper
32 - 35
7:31
Reggie Jackson shooting foul (O.J. Mayo draws the foul)
32 - 35
7:31
Serge Ibaka defensive goaltending violation
32 - 35
7:31
Russell Westbrook enters the game for Reggie Jackson
32 - 35
7:31
O.J. Mayo makes free throw 1 of 1
32 - 36
7:11
Kevin Durant makes 16-foot two point shot (Russell Westbrook assists)
34 - 36
6:58
Serge Ibaka blocks Vince Carter's shot
34 - 36
6:58
Serge Ibaka defensive rebound
34 - 36
6:52
Kevin Martin makes 24-foot (Russell Westbrook assists)
37 - 36
6:46
Mavericks Full timeout
37 - 36
6:46
Thabo Sefolosha enters the game for Derek Fisher
37 - 36
6:31
O.J. Mayo misses 21-foot jumper
37 - 36
6:31
Vince Carter offensive rebound
37 - 36
6:16
Vince Carter misses
37 - 36
6:15
Serge Ibaka defensive rebound
37 - 36
5:58
Kevin Durant bad pass (Elton Brand steals)
37 - 36
5:52
Jae Crowder makes two point shot (Vince Carter assists)
37 - 38
5:31
Serge Ibaka makes 15-foot jumper (Kevin Martin assists)
39 - 38
5:16
Mike James misses 18-foot jumper
39 - 38
5:15
Kevin Durant defensive rebound
39 - 38
4:58
Thabo Sefolosha misses 22-foot three point jumper
39 - 38
4:58
Vince Carter defensive rebound
39 - 38
4:50
Vince Carter misses 25-foot three point jumper
39 - 38
4:48
Serge Ibaka defensive rebound
39 - 38
4:39
Elton Brand shooting block foul (Kevin Durant draws the foul)
39 - 38
4:39
Kevin Durant makes free throw 1 of 2
40 - 38
4:39
Dirk Nowitzki enters the game for Elton Brand
40 - 38
4:39
Brandan Wright enters the game for Jae Crowder
40 - 38
4:39
Kendrick Perkins enters the game for Kevin Martin
40 - 38
4:39
Kevin Durant makes free throw 2 of 2
41 - 38
4:24
Mike James misses 22-foot two point jumper
41 - 38
4:22
Kevin Durant defensive rebound
41 - 38
4:09
Thabo Sefolosha makes layup (Russell Westbrook assists)
43 - 38
4:03
Mavericks 20 Sec. timeout
43 - 38
4:03
Darren Collison enters the game for Mike James
43 - 38
3:49
Dirk Nowitzki makes 13-foot two point shot
43 - 40
3:32
Kendrick Perkins traveling
43 - 40
3:23
Dirk Nowitzki traveling
43 - 40
3:15
Russell Westbrook lost ball turnover (Darren Collison steals)
43 - 40
3:11
Darren Collison makes two point shot
43 - 42
2:59
Russell Westbrook lost ball turnover (Brandan Wright steals)
43 - 42
2:50
Vince Carter makes 24-foot three point jumper (Darren Collison assists)
43 - 45
2:47
Thunder Full timeout
43 - 45
2:31
Serge Ibaka makes two point shot (Kevin Durant assists)
45 - 45
2:09
Vince Carter makes driving layup
45 - 47
2:09
Serge Ibaka defensive goaltending violation
45 - 47
1:43
Russell Westbrook misses 25-foot three point jumper
45 - 47
1:40
Russell Westbrook offensive rebound
45 - 47
1:37
Serge Ibaka makes 20-foot jumper (Russell Westbrook assists)
47 - 47
1:25
Vince Carter misses 26-foot three point jumper
47 - 47
1:24
Kendrick Perkins defensive rebound
47 - 47
1:15
Kendrick Perkins misses jumper
47 - 47
1:13
Dirk Nowitzki defensive rebound
47 - 47
1:02
Dirk Nowitzki makes 5-foot two point shot (Vince Carter assists)
47 - 49
0:42
Vince Carter shooting foul (Kendrick Perkins draws the foul)
47 - 49
0:42
Kendrick Perkins misses free throw 1 of 2
47 - 49
0:42
Thunder offensive team rebound
47 - 49
0:42
Jae Crowder enters the game for Vince Carter
47 - 49
0:42
Kendrick Perkins makes free throw 2 of 2
48 - 49
0:34
Serge Ibaka blocks Darren Collison's shot
48 - 49
0:32
Thabo Sefolosha defensive rebound
48 - 49
0:30
Russell Westbrook makes two point shot (Thabo Sefolosha assists)
50 - 49
0:13
Darren Collison bad pass (Kendrick Perkins steals)
50 - 49
0:08
Kendrick Perkins misses 4-foot
50 - 49
0:07
Kendrick Perkins offensive rebound
50 - 49
0:00
Russell Westbrook misses 24-foot three point jumper
50 - 49
0:00
Thunder offensive team rebound
50 - 49
0:00
End of the 2nd Quarter
50 - 49

time
TEAM
PLAY
SCORE
11:40
O.J. Mayo steps out of bounds turnover
50 - 49
11:26
Russell Westbrook makes 21-foot two point shot
52 - 49
11:07
Russell Westbrook personal foul (Dirk Nowitzki draws the foul)
52 - 49
10:57
Jae Crowder makes 17-foot jumper (Dirk Nowitzki assists)
52 - 51
10:34
Mike James shooting foul (Russell Westbrook draws the foul)
52 - 51
10:34
Russell Westbrook makes free throw 1 of 2
53 - 51
10:34
Russell Westbrook makes free throw 2 of 2
54 - 51
10:21
O.J. Mayo bad pass
54 - 51
10:10
Thabo Sefolosha misses 17-foot jumper
54 - 51
10:08
Elton Brand defensive rebound
54 - 51
9:52
Elton Brand misses 11-foot jumper
54 - 51
9:52
Thabo Sefolosha defensive rebound
54 - 51
9:45
Russell Westbrook misses 24-foot three point jumper
54 - 51
9:44
Dirk Nowitzki defensive rebound
54 - 51
9:34
Dirk Nowitzki makes 24-foot three point jumper (Jae Crowder assists)
54 - 54
9:17
Kevin Durant misses 25-foot three point jumper
54 - 54
9:17
Serge Ibaka offensive rebound
54 - 54
9:14
Serge Ibaka makes 15-foot jumper
56 - 54
9:00
Dirk Nowitzki makes 25-foot three point jumper (Mike James assists)
56 - 57
8:41
Kevin Durant bad pass (O.J. Mayo steals)
56 - 57
8:33
Jae Crowder misses 25-foot three point jumper
56 - 57
8:33
Thabo Sefolosha defensive rebound
56 - 57
8:22
Russell Westbrook lost ball turnover (Elton Brand steals)
56 - 57
8:11
Dirk Nowitzki makes 21-foot jumper (Mike James assists)
56 - 59
8:11
Thunder Full timeout
56 - 59
7:48
Kevin Durant misses 25-foot three point jumper
56 - 59
7:48
Dirk Nowitzki defensive rebound
56 - 59
7:48
Kendrick Perkins loose ball foul (Dirk Nowitzki draws the foul)
56 - 59
7:37
Russell Westbrook blocks Mike James 's 2-foot 2-pt jumper
56 - 59
7:35
Elton Brand offensive rebound
56 - 59
7:33
Thabo Sefolosha blocks Elton Brand 's 2-foot shot
56 - 59
7:33
Elton Brand offensive rebound
56 - 59
7:31
Serge Ibaka shooting foul (Jae Crowder draws the foul)
56 - 59
7:31
Jae Crowder makes free throw 1 of 2
56 - 60
7:31
Brandan Wright enters the game for Elton Brand
56 - 60
7:31
Jae Crowder makes free throw 2 of 2
56 - 61
7:18
Dirk Nowitzki shooting foul (Serge Ibaka draws the foul)
56 - 61
7:18
Serge Ibaka misses free throw 1 of 2
56 - 61
7:18
Thunder offensive team rebound
56 - 61
7:18
Serge Ibaka makes free throw 2 of 2
57 - 61
7:01
Dirk Nowitzki misses 24-foot three point jumper
57 - 61
7:00
Serge Ibaka defensive rebound
57 - 61
6:50
Dirk Nowitzki shooting foul (Serge Ibaka draws the foul)
57 - 61
6:50
Serge Ibaka misses free throw 1 of 2
57 - 61
6:50
Thunder offensive team rebound
57 - 61
6:50
Vince Carter enters the game for Dirk Nowitzki
57 - 61
6:50
Serge Ibaka makes free throw 2 of 2
58 - 61
6:26
Brandan Wright misses 12-foot jumper
58 - 61
6:26
Russell Westbrook defensive rebound
58 - 61
6:09
Russell Westbrook misses 21-foot jumper
58 - 61
6:09
Serge Ibaka offensive rebound
58 - 61
6:09
Vince Carter shooting foul (Serge Ibaka draws the foul)
58 - 61
6:09
Serge Ibaka misses free throw 1 of 2
58 - 61
6:09
Thunder offensive team rebound
58 - 61
6:09
Serge Ibaka makes free throw 2 of 2
59 - 61
5:48
Kendrick Perkins blocks Jae Crowder 's 24-foot three point jumper
59 - 61
5:48
Kevin Durant defensive rebound
59 - 61
5:31
Brandan Wright shooting foul (Serge Ibaka draws the foul)
59 - 61
5:31
Serge Ibaka misses free throw 1 of 2
59 - 61
5:31
Thunder offensive team rebound
59 - 61
5:31
Serge Ibaka misses free throw 2 of 2
59 - 61
5:31
Jae Crowder defensive rebound
59 - 61
5:16
Brandan Wright misses
59 - 61
5:15
Kendrick Perkins defensive rebound
59 - 61
5:11
Russell Westbrook makes driving layup
61 - 61
5:11
Vince Carter shooting foul (Russell Westbrook draws the foul)
61 - 61
5:11
Dirk Nowitzki enters the game for Vince Carter
61 - 61
5:11
Russell Westbrook makes free throw 1 of 1
62 - 61
4:54
Brandan Wright makes two point shot (Jae Crowder assists)
62 - 63
4:41
Kevin Durant misses two point shot
62 - 63
4:41
Brandan Wright defensive rebound
62 - 63
4:31
O.J. Mayo makes 17-foot two point shot
62 - 65
4:15
Russell Westbrook misses 15-foot two point jumper
62 - 65
4:13
Jae Crowder defensive rebound
62 - 65
3:59
O.J. Mayo misses 25-foot three point jumper
62 - 65
3:58
Jae Crowder offensive rebound
62 - 65
3:54
Jae Crowder bad pass (Russell Westbrook steals)
62 - 65
3:49
Russell Westbrook makes 1-foot two point shot
64 - 65
3:46
Mavericks Full timeout
64 - 65
3:46
Kevin Martin enters the game for Kevin Durant
64 - 65
3:46
Nick Collison enters the game for Kendrick Perkins
64 - 65
3:32
Nick Collison personal foul (Dirk Nowitzki draws the foul)
64 - 65
3:26
O.J. Mayo makes two point shot
64 - 67
3:10
Serge Ibaka misses 17-foot jumper
64 - 67
3:09
Jae Crowder defensive rebound
64 - 67
3:00
Mike James misses 8-foot
64 - 67
2:59
Serge Ibaka defensive rebound
64 - 67
2:45
Russell Westbrook makes 11-foot two point shot
66 - 67
2:25
Dirk Nowitzki misses 11-foot two point shot
66 - 67
2:24
Serge Ibaka defensive rebound
66 - 67
2:16
Russell Westbrook makes 18-foot two point shot
68 - 67
2:03
O.J. Mayo misses 27-foot three point jumper
68 - 67
2:02
Kevin Martin defensive rebound
68 - 67
1:45
Serge Ibaka makes 23-foot three point jumper (Kevin Martin assists)
71 - 67
1:43
Mavericks 20 Sec. timeout
71 - 67
1:43
Darren Collison enters the game for Mike James
71 - 67
1:43
Reggie Jackson enters the game for Thabo Sefolosha
71 - 67
1:27
Brandan Wright misses two point shot
71 - 67
1:25
Brandan Wright offensive rebound
71 - 67
1:23
Serge Ibaka blocks Brandan Wright 's 3-foot layup
71 - 67
1:22
Russell Westbrook defensive rebound
71 - 67
1:13
Russell Westbrook lost ball turnover (Darren Collison steals)
71 - 67
1:13
Nick Collison personal foul (Darren Collison draws the foul)
71 - 67
1:13
Darren Collison makes free throw 1 of 2
71 - 68
1:13
Elton Brand enters the game for Dirk Nowitzki
71 - 68
1:13
Darren Collison makes free throw 2 of 2
71 - 69
0:52
Nick Collison misses 6-foot step back jumpshot
71 - 69
0:51
Brandan Wright defensive rebound
71 - 69
0:40
Jae Crowder makes three point jumper (Brandan Wright assists)
71 - 72
0:23
Russell Westbrook makes 20-foot jumper
73 - 72
0:02
O.J. Mayo misses 16-foot jumper
73 - 72
0:01
Nick Collison defensive rebound
73 - 72
0:00
Reggie Jackson misses 62-foot three point running jumper
73 - 72
0:00
Thunder offensive team rebound
73 - 72
0:00
End of the 3rd Quarter
73 - 72

time
TEAM
PLAY
SCORE
11:34
Reggie Jackson makes three point jumper
76 - 72
11:22
Vince Carter bad pass (Kevin Durant steals)
76 - 72
11:15
Kevin Durant misses 3-foot
76 - 72
11:14
Brandan Wright defensive rebound
76 - 72
11:06
Darren Collison bad pass (Reggie Jackson steals)
76 - 72
11:02
Kevin Martin makes driving layup (Reggie Jackson assists)
78 - 72
11:00
Thunder delay of game violation
78 - 72
10:41
Elton Brand makes driving layup
78 - 74
10:19
Kevin Durant bad pass (Vince Carter steals)
78 - 74
10:12
Vince Carter makes 24-foot three point jumper (Mike James assists)
78 - 77
9:51
Kevin Martin misses 23-foot three point jumper
78 - 77
9:49
Brandan Wright defensive rebound
78 - 77
9:42
Darren Collison makes 7-foot two point shot
78 - 79
9:41
Thunder Full timeout
78 - 79
9:27
Kevin Durant makes 21-foot jumper (Derek Fisher assists)
80 - 79
9:10
Mike James bad pass (Nick Collison steals)
80 - 79
8:55
Kevin Durant makes 1-foot two point shot
82 - 79
8:55
Brandan Wright shooting foul (Kevin Durant draws the foul)
82 - 79
8:55
Dirk Nowitzki enters the game for Brandan Wright
82 - 79
8:55
Kevin Durant makes free throw 1 of 1
83 - 79
8:41
Derek Fisher shooting foul (Mike James draws the foul)
83 - 79
8:41
Mike James makes free throw 1 of 2
83 - 80
8:41
Jae Crowder enters the game for Elton Brand
83 - 80
8:41
Mike James makes free throw 2 of 2
83 - 81
8:25
Nick Collison makes 9-foot two point shot
85 - 81
8:11
Darren Collison misses 24-foot three point jumper
85 - 81
8:11
Derek Fisher defensive rebound
85 - 81
8:11
Jae Crowder loose ball foul (Derek Fisher draws the foul)
85 - 81
7:50
Kevin Durant makes 25-foot three point jumper
88 - 81
7:22
Mike James makes 25-foot three point jumper
88 - 84
7:05
Kevin Durant makes driving layup
90 - 84
6:54
Mike James makes 23-foot three point jumper (Jae Crowder assists)
90 - 87
6:33
Kevin Durant lost ball turnover (Vince Carter steals)
90 - 87
6:31
Derek Fisher shooting foul (Darren Collison draws the foul)
90 - 87
6:31
Darren Collison makes free throw 1 of 2
90 - 88
6:31
Russell Westbrook enters the game for Reggie Jackson
90 - 88
6:31
Serge Ibaka enters the game for Derek Fisher
90 - 88
6:31
Brandan Wright enters the game for Vince Carter
90 - 88
6:31
Darren Collison makes free throw 2 of 2
90 - 89
6:20
Kevin Durant makes 7-foot two point shot
92 - 89
6:03
Darren Collison makes driving layup
92 - 91
5:35
Serge Ibaka misses three point jumper
92 - 91
5:35
Russell Westbrook offensive rebound
92 - 91
5:31
Kevin Martin bad pass (Jae Crowder steals)
92 - 91
5:24
Jae Crowder bad pass (Kevin Martin steals)
92 - 91
5:18
Serge Ibaka makes two point shot (Russell Westbrook assists)
94 - 91
5:16
Mavericks Full timeout
94 - 91
5:16
Vince Carter enters the game for Mike James
94 - 91
5:16
Kendrick Perkins enters the game for Nick Collison
94 - 91
5:09
Kendrick Perkins personal foul (Dirk Nowitzki draws the foul)
94 - 91
4:54
Brandan Wright misses jumper
94 - 91
4:52
Kevin Durant defensive rebound
94 - 91
4:43
Kevin Durant makes 25-foot three pointer
97 - 91
4:33
Kendrick Perkins shooting foul (Vince Carter draws the foul)
97 - 91
4:33
Vince Carter makes free throw 1 of 2
97 - 92
4:33
O.J. Mayo enters the game for Jae Crowder
97 - 92
4:33
Vince Carter makes free throw 2 of 2
97 - 93
4:15
Kevin Durant makes 13-foot two point shot
99 - 93
4:01
Brandan Wright makes two point shot (Vince Carter assists)
99 - 95
3:44
Kevin Durant misses 18-foot two point shot
99 - 95
3:43
Serge Ibaka offensive rebound
99 - 95
3:26
Brandan Wright shooting foul (Russell Westbrook draws the foul)
99 - 95
3:26
Russell Westbrook makes free throw 1 of 2
100 - 95
3:26
Thabo Sefolosha enters the game for Kevin Martin
100 - 95
3:26
Mike James enters the game for Darren Collison
100 - 95
3:26
Russell Westbrook makes free throw 2 of 2
101 - 95
3:11
Vince Carter misses 22-foot two point shot
101 - 95
3:10
Kevin Durant defensive rebound
101 - 95
3:00
Kevin Durant misses 24-foot three point jumper
101 - 95
3:00
Vince Carter defensive rebound
101 - 95
2:54
Vince Carter makes driving layup
101 - 97
2:35
Russell Westbrook misses 20-foot jumper
101 - 97
2:34
Dirk Nowitzki defensive rebound
101 - 97
2:20
O.J. Mayo misses 14-foot
101 - 97
2:19
Kevin Durant defensive rebound
101 - 97
2:05
Russell Westbrook misses 25-foot three point jumper
101 - 97
2:04
Russell Westbrook offensive rebound
101 - 97
2:02
Russell Westbrook misses layup
101 - 97
2:01
Serge Ibaka offensive rebound
101 - 97
2:00
Serge Ibaka misses
101 - 97
1:59
Brandan Wright defensive rebound
101 - 97
1:53
Russell Westbrook personal foul (Dirk Nowitzki draws the foul)
101 - 97
1:53
Official timeout
101 - 97
1:53
Dirk Nowitzki makes free throw 1 of 2
101 - 98
1:53
Dirk Nowitzki makes free throw 2 of 2
101 - 99
1:29
Kevin Durant misses 13-foot two point jumper
101 - 99
1:28
O.J. Mayo defensive rebound
101 - 99
1:20
Russell Westbrook personal foul (Dirk Nowitzki draws the foul)
101 - 99
1:20
Dirk Nowitzki makes free throw 1 of 2
101 - 100
1:20
Dirk Nowitzki makes free throw 2 of 2
101 - 101
1:00
Russell Westbrook makes 17-foot two point shot
103 - 101
0:36
Kevin Durant blocks Mike James 's 15-foot two point shot
103 - 101
0:36
Mike James offensive rebound
103 - 101
0:12
Thabo Sefolosha makes 13-foot two point shot
105 - 101
0:12
Mavericks Full timeout
105 - 101
0:04
Vince Carter misses
105 - 101
0:03
Kevin Durant defensive rebound
105 - 101
0:02
Vince Carter personal foul (Kevin Durant draws the foul)
105 - 101
0:02
Thunder 20 Sec. timeout
105 - 101
0:02
Darren Collison enters the game for Dirk Nowitzki
105 - 101
0:02
Jae Crowder enters the game for Vince Carter
105 - 101
0:02
Kevin Martin enters the game for Kendrick Perkins
105 - 101
0:02
Brandan Wright personal take foul (Kevin Durant draws the foul)
105 - 101
0:02
Kevin Durant makes free throw 1 of 2
106 - 101
0:02
Kevin Durant makes free throw 2 of 2
107 - 101
0:00
Brandan Wright misses 56-foot three point jumper
107 - 101
0:00
Mavericks offensive team rebound
107 - 101
0:00
End of the 4th Quarter
107 - 101
0:00
End of Game
107 - 101
When the Grizzlies open training camp next week, four of the seven injured players will be able to practice with no limitations.

Timberwolves backup center Nikola Pekovic is still having issues with his sore ankle and Achilles.

There have been rumors for several months that Philadelphia wants to trade Nerlens Noel or Jahlil Okafor.
Regular Season Series
OKC wins series 4-0
2015-2016 Northwest Standings
2015-2016 Southwest Standings