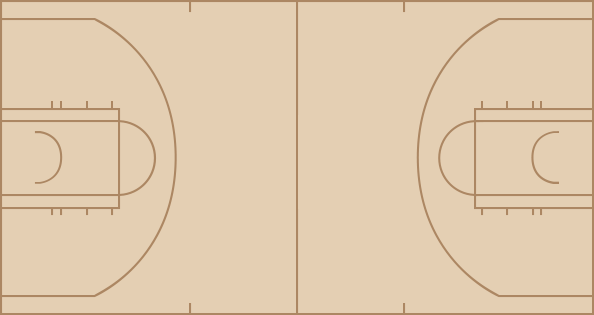 Timberwolves
time
TEAM
PLAY
SCORE
12:00
Nikola Pekovic vs. Zach Randolph (Ricky Rubio gains possession)
0 - 0
11:41
Ricky Rubio makes 20-foot jumper
2 - 0
11:23
Marc Gasol misses 19-foot jumper
2 - 0
11:22
Andrei Kirilenko defensive rebound
2 - 0
10:59
Derrick Williams misses 25-foot three point jumper
2 - 0
10:56
Tayshaun Prince defensive rebound
2 - 0
10:45
Zach Randolph makes 7-foot two point shot
2 - 2
10:23
Andrei Kirilenko misses 7-foot jumper
2 - 2
10:22
Tayshaun Prince defensive rebound
2 - 2
10:11
Nikola Pekovic blocks Tayshaun Prince 's 7-foot jumper
2 - 2
10:08
Ricky Rubio defensive rebound
2 - 2
10:03
Andrei Kirilenko makes dunk (Ricky Rubio assists)
4 - 2
9:45
Tayshaun Prince misses 19-foot jumper
4 - 2
9:42
Luke Ridnour defensive rebound
4 - 2
9:32
Derrick Williams misses 19-foot jumper
4 - 2
9:30
Tony Allen defensive rebound
4 - 2
9:21
Tony Allen makes two point shot
4 - 4
9:02
Ricky Rubio misses 19-foot jumper
4 - 4
9:00
Zach Randolph defensive rebound
4 - 4
8:47
Nikola Pekovic shooting foul (Tayshaun Prince draws the foul)
4 - 4
8:47
Tayshaun Prince misses free throw 1 of 2
4 - 4
8:47
Grizzlies offensive team rebound
4 - 4
8:47
Tayshaun Prince misses free throw 2 of 2
4 - 4
8:45
Derrick Williams defensive rebound
4 - 4
8:26
Luke Ridnour makes 28-foot three point jumper
7 - 4
8:07
Marc Gasol misses 8-foot jumper
7 - 4
8:07
Tony Allen offensive rebound
7 - 4
8:06
Tony Allen misses 7-foot jumper
7 - 4
8:03
Derrick Williams defensive rebound
7 - 4
7:48
Marc Gasol shooting foul (Nikola Pekovic draws the foul)
7 - 4
7:48
Nikola Pekovic makes free throw 1 of 2
8 - 4
7:48
Nikola Pekovic makes free throw 2 of 2
9 - 4
7:30
Mike Conley misses 26-foot three point jumper
9 - 4
7:28
Derrick Williams defensive rebound
9 - 4
7:18
Ricky Rubio misses 25-foot three point jumper
9 - 4
7:18
Nikola Pekovic offensive rebound
9 - 4
7:16
Nikola Pekovic misses 4-foot jumper
9 - 4
7:13
Zach Randolph defensive rebound
9 - 4
7:01
Tony Allen misses 17-foot jumper
9 - 4
7:01
Tayshaun Prince offensive rebound
9 - 4
6:56
Luke Ridnour blocks Tony Allen 's 2-foot layup
9 - 4
6:54
Nikola Pekovic defensive rebound
9 - 4
6:52
Derrick Williams makes layup (Luke Ridnour assists)
11 - 4
6:52
Zach Randolph shooting foul (Derrick Williams draws the foul)
11 - 4
6:52
Grizzlies Full timeout
11 - 4
6:52
Jerryd Bayless enters the game for Tony Allen
11 - 4
6:52
Derrick Williams makes free throw 1 of 1
12 - 4
6:43
Mike Conley misses 20-foot two point jumper
12 - 4
6:41
Luke Ridnour defensive rebound
12 - 4
6:28
Andrei Kirilenko bad pass (Mike Conley steals)
12 - 4
6:22
Mike Conley makes layup
12 - 6
5:56
Nikola Pekovic makes 11-foot jumper
14 - 6
5:39
Mike Conley makes 18-foot jumper (Marc Gasol assists)
14 - 8
5:13
Derrick Williams makes 19-foot two point shot
16 - 8
4:52
Marc Gasol misses 15-foot jumper
16 - 8
4:52
Ricky Rubio defensive rebound
16 - 8
4:45
Marc Gasol blocks Nikola Pekovic 's 9-foot jumper
16 - 8
4:41
Zach Randolph defensive rebound
16 - 8
4:35
Marc Gasol makes 8-foot two point shot
16 - 10
4:35
Derrick Williams shooting foul (Marc Gasol draws the foul)
16 - 10
4:35
Timberwolves Full timeout
16 - 10
4:35
Mickael Gelabale enters the game for Andrei Kirilenko
16 - 10
4:35
Marc Gasol makes free throw 1 of 1
16 - 11
4:22
Zach Randolph blocks Ricky Rubio 's 11-foot jumper
16 - 11
4:22
Mike Conley defensive rebound
16 - 11
4:13
Ricky Rubio personal foul (Mike Conley draws the foul)
16 - 11
4:03
Mike Conley misses 19-foot two point jumper
16 - 11
4:00
Derrick Williams defensive rebound
16 - 11
3:54
Luke Ridnour makes 15-foot two point shot
18 - 11
3:39
Zach Randolph makes layup (Marc Gasol assists)
18 - 13
3:12
Derrick Williams misses 25-foot three point jumper
18 - 13
3:11
Timberwolves offensive team rebound
18 - 13
3:11
Quincy Pondexter enters the game for Tayshaun Prince
18 - 13
3:11
J.J. Barea enters the game for Ricky Rubio
18 - 13
3:02
Nikola Pekovic makes layup (Luke Ridnour assists)
20 - 13
2:41
Mike Conley misses 23-foot three point jumper
20 - 13
2:39
Mickael Gelabale defensive rebound
20 - 13
2:25
Luke Ridnour steps out of bounds turnover
20 - 13
2:04
Jerryd Bayless misses 25-foot three point jumper
20 - 13
2:02
Mike Conley offensive rebound
20 - 13
1:59
Zach Randolph makes two point shot (Mike Conley assists)
20 - 15
1:39
Derrick Williams bad pass (Zach Randolph steals)
20 - 15
1:37
Mike Conley makes layup
20 - 17
1:37
J.J. Barea shooting foul (Mike Conley draws the foul)
20 - 18
1:37
Dante Cunningham enters the game for Derrick Williams
20 - 17
1:37
Alexey Shved enters the game for Luke Ridnour
20 - 17
1:37
Ed Davis enters the game for Zach Randolph
20 - 17
1:37
Mike Conley makes free throw 1 of 1
20 - 18
1:14
Nikola Pekovic misses 7-foot two point shot
20 - 18
1:13
Timberwolves offensive team rebound
20 - 18
1:02
Nikola Pekovic misses 18-foot jumper
20 - 18
1:01
Marc Gasol defensive rebound
20 - 18
0:51
Marc Gasol misses 20-foot jumper
20 - 18
0:50
Ed Davis offensive rebound
20 - 18
0:32
Marc Gasol makes 11-foot two point shot
20 - 20
0:25
Dante Cunningham misses 19-foot jumper
20 - 18
0:24
Ed Davis defensive rebound
20 - 18
0:04
Jerryd Bayless makes 19-foot jumper
20 - 20
0:01
J.J. Barea lost ball turnover (Quincy Pondexter steals)
20 - 20
0:00
End of the 1st Quarter
20 - 22

time
TEAM
PLAY
SCORE
11:41
Quincy Pondexter misses 9-foot jumper
20 - 22
11:38
Dante Cunningham defensive rebound
20 - 22
11:33
Ed Davis blocks J.J. Barea 's 7-foot jumper
20 - 22
11:18
Tony Wroten bad pass (Mickael Gelabale steals)
20 - 22
11:15
Mickael Gelabale bad pass
20 - 22
11:00
Jerryd Bayless misses 20-foot jumper
20 - 22
10:59
Ed Davis offensive rebound
20 - 22
10:56
Ed Davis misses layup
20 - 22
10:53
Mickael Gelabale defensive rebound
20 - 22
10:47
J.J. Barea misses 18-foot step back jumpshot
20 - 22
10:45
Tayshaun Prince defensive rebound
20 - 22
10:29
Jerryd Bayless misses 27-foot three point jumper
20 - 22
10:26
Alexey Shved defensive rebound
20 - 22
10:25
Ed Davis personal foul (Greg Stiemsma draws the foul)
20 - 22
10:10
Alexey Shved makes 20-foot two point shot
22 - 22
9:56
Quincy Pondexter misses 26-foot three point jumper
22 - 22
9:55
Tayshaun Prince offensive rebound
22 - 22
9:53
Tayshaun Prince makes 4-foot two point shot
22 - 24
9:42
J.J. Barea misses 28-foot
22 - 24
9:41
Ed Davis defensive rebound
22 - 24
9:30
Tayshaun Prince misses 19-foot jumper
22 - 24
9:30
Mickael Gelabale defensive rebound
22 - 24
9:25
Alexey Shved makes 13-foot two point shot (J.J. Barea assists)
24 - 24
9:02
Jerryd Bayless out of bounds lost ball turnover
24 - 24
8:49
J.J. Barea misses 25-foot three point jumper
24 - 24
8:48
Mickael Gelabale offensive rebound
24 - 24
8:48
Quincy Pondexter loose ball foul (Mickael Gelabale draws the foul)
24 - 24
8:48
Official timeout
24 - 24
8:48
Zach Randolph enters the game for Tony Wroten
24 - 24
8:38
Greg Stiemsma misses 4-foot jumper
24 - 24
8:37
Dante Cunningham offensive rebound
24 - 24
8:36
Dante Cunningham misses layup
24 - 24
8:30
Greg Stiemsma misses jumper
24 - 24
8:30
Greg Stiemsma offensive rebound
24 - 24
8:29
Tayshaun Prince defensive rebound
24 - 24
8:25
Tayshaun Prince misses
24 - 24
8:23
Zach Randolph offensive rebound
24 - 24
8:18
Mickael Gelabale loose ball foul (Zach Randolph draws the foul)
24 - 24
8:18
misses
24 - 24
8:18
Grizzlies offensive team rebound
24 - 24
8:03
Ed Davis makes 7-foot jumper
24 - 26
7:43
Mickael Gelabale makes 23-foot three point jumper (Dante Cunningham assists)
27 - 26
7:20
Jerryd Bayless makes driving layup
27 - 28
7:09
J.J. Barea misses 27-foot three point jumper
27 - 28
7:07
Dante Cunningham makes two point shot
29 - 28
7:07
Dante Cunningham offensive rebound
27 - 28
6:54
Greg Stiemsma blocks Ed Davis 's 6-foot jumper
29 - 28
6:52
J.J. Barea defensive rebound
29 - 28
6:41
Alexey Shved misses 11-foot jumper
29 - 28
6:41
Zach Randolph defensive rebound
29 - 28
6:35
Quincy Pondexter misses 6-foot jumper
29 - 28
6:33
Tayshaun Prince makes two point shot
29 - 30
6:33
Tayshaun Prince offensive rebound
29 - 28
6:11
Alexey Shved misses 24-foot three point jumper
29 - 30
6:11
Tayshaun Prince defensive rebound
29 - 30
6:03
Tayshaun Prince bad pass (Mickael Gelabale steals)
29 - 30
5:58
J.J. Barea makes 25-foot three point jumper (Mickael Gelabale assists)
32 - 30
5:35
Zach Randolph misses 15-foot jumper
32 - 30
5:33
Dante Cunningham defensive rebound
32 - 30
5:26
J.J. Barea misses layup
32 - 30
5:24
Zach Randolph defensive rebound
32 - 30
5:16
Jerryd Bayless makes 26-foot three point jumper (Quincy Pondexter assists)
32 - 33
5:07
Timberwolves Full timeout
32 - 33
4:52
Ed Davis blocks Greg Stiemsma 's 4-foot jumper
32 - 33
4:28
Tony Allen enters the game for Quincy Pondexter
32 - 33
4:28
Marc Gasol enters the game for Ed Davis
32 - 33
4:28
Mike Conley enters the game for Jerryd Bayless
32 - 33
4:26
Dante Cunningham misses 21-foot jumper
32 - 33
4:24
Tony Allen defensive rebound
32 - 33
4:03
Zach Randolph makes 8-foot two point shot
32 - 35
3:46
Tony Allen personal foul (J.J. Barea draws the foul)
32 - 35
3:46
Ricky Rubio enters the game for J.J. Barea
32 - 35
3:46
Luke Ridnour enters the game for Dante Cunningham
32 - 35
3:46
Nikola Pekovic enters the game for Alexey Shved
32 - 35
3:46
Derrick Williams enters the game for Greg Stiemsma
32 - 35
3:35
Marc Gasol blocks Ricky Rubio 's 11-foot jumper
32 - 35
3:33
Nikola Pekovic offensive rebound
32 - 35
3:31
Nikola Pekovic makes 7-foot jumper
34 - 35
3:16
Ricky Rubio kicked ball violation
34 - 35
3:16
Andrei Kirilenko enters the game for Mickael Gelabale
34 - 35
3:05
Marc Gasol makes layup (Tayshaun Prince assists)
34 - 37
2:49
Luke Ridnour traveling
34 - 37
2:49
Grizzlies Full timeout
34 - 37
2:32
Marc Gasol makes free throw 1 of 2
34 - 38
2:32
Marc Gasol misses free throw 2 of 2
34 - 38
2:14
Tayshaun Prince defensive rebound
34 - 39
1:38
Andrei Kirilenko makes 7-foot two point shot
36 - 41
1:10
Tony Allen makes 1-foot two point shot (Marc Gasol assists)
36 - 43
0:50
Derrick Williams makes three point jumper (Luke Ridnour assists)
39 - 43
0:38
Tony Allen misses jumper
39 - 43
0:37
Luke Ridnour defensive rebound
39 - 43
0:33
Tony Allen personal take foul (Luke Ridnour draws the foul)
39 - 43
0:23
Tayshaun Prince blocks Nikola Pekovic 's 6-foot jumper
39 - 43
0:21
Marc Gasol defensive rebound
39 - 43
0:06
Mike Conley makes 18-foot jumper
39 - 45
0:00
Derrick Williams misses 27-foot three point jumper
39 - 45
0:00
Luke Ridnour offensive rebound
39 - 45
0:00
End of the 2nd Quarter
39 - 45

time
TEAM
PLAY
SCORE
11:45
Tayshaun Prince makes jumper
39 - 47
11:26
Nikola Pekovic misses 11-foot jumper
39 - 47
11:23
Tony Allen defensive rebound
39 - 47
11:17
Mike Conley makes driving layup
39 - 49
10:53
Derrick Williams misses 25-foot three point jumper
39 - 49
10:52
Nikola Pekovic offensive rebound
39 - 49
10:48
Luke Ridnour misses 19-foot jumper
39 - 49
10:47
Mike Conley defensive rebound
39 - 49
10:23
Zach Randolph makes 6-foot jumper
39 - 51
10:04
Andrei Kirilenko misses 27-foot three point jumper
39 - 51
10:03
Zach Randolph defensive rebound
39 - 51
9:52
Tony Allen makes layup (Mike Conley assists)
39 - 53
9:52
Ricky Rubio shooting foul (Tony Allen draws the foul)
39 - 54
9:52
Tony Allen makes free throw 1 of 1
39 - 54
9:33
Andrei Kirilenko makes two point shot (Derrick Williams assists)
41 - 54
9:15
Zach Randolph makes 14-foot jumper (Tayshaun Prince assists)
41 - 56
8:49
Luke Ridnour misses 21-foot jumper
41 - 56
8:49
Timberwolves offensive team rebound
41 - 56
8:49
Marc Gasol loose ball foul (Nikola Pekovic draws the foul)
41 - 56
8:45
Marc Gasol blocks Luke Ridnour 's 12-foot shot
41 - 56
8:45
Timberwolves offensive team rebound
41 - 56
8:37
Derrick Williams misses 9-foot jumper
41 - 56
8:36
Zach Randolph defensive rebound
41 - 56
8:12
Marc Gasol makes 19-foot jumper
41 - 58
8:11
Timberwolves Full timeout
41 - 58
7:46
Tony Allen blocks Derrick Williams 's 8-foot jumper
41 - 58
7:46
Timberwolves offensive team rebound
41 - 58
7:28
Tayshaun Prince misses 19-foot jumper
41 - 58
7:28
Nikola Pekovic defensive rebound
41 - 58
7:24
Andrei Kirilenko makes dunk (Ricky Rubio assists)
43 - 58
7:24
Tayshaun Prince shooting foul (Andrei Kirilenko draws the foul)
43 - 58
7:24
Andrei Kirilenko misses free throw 1 of 1
43 - 58
7:24
Tayshaun Prince defensive rebound
43 - 58
7:09
Mike Conley makes 24-foot three point jumper
43 - 61
6:45
Luke Ridnour misses 16-foot jumper
43 - 61
6:43
Zach Randolph defensive rebound
43 - 61
6:28
Zach Randolph offensive foul (Ricky Rubio draws the foul)
43 - 61
6:28
Zach Randolph turnover
43 - 61
6:28
Mickael Gelabale enters the game for Andrei Kirilenko
43 - 61
6:07
Luke Ridnour misses 25-foot three point jumper
43 - 61
5:48
Tayshaun Prince makes 7-foot two point shot
43 - 63
5:31
Tony Allen personal foul (Luke Ridnour draws the foul)
43 - 63
5:31
Jerryd Bayless enters the game for Tony Allen
43 - 63
5:24
Zach Randolph shooting foul (Nikola Pekovic draws the foul)
43 - 63
5:24
Nikola Pekovic misses free throw 1 of 2
43 - 63
5:24
Timberwolves offensive team rebound
43 - 63
5:24
Nikola Pekovic makes free throw 2 of 2
44 - 63
5:09
Tayshaun Prince misses 19-foot jumper
44 - 63
5:07
Derrick Williams defensive rebound
44 - 63
4:58
Ricky Rubio misses layup
44 - 63
4:56
Marc Gasol defensive rebound
44 - 63
4:50
Tayshaun Prince makes layup (Mike Conley assists)
44 - 65
4:37
Jerryd Bayless personal foul (Luke Ridnour draws the foul)
45 - 65
4:37
Luke Ridnour makes free throw 1 of 2
45 - 65
4:37
Luke Ridnour misses free throw 2 of 2
45 - 65
4:37
Marc Gasol defensive rebound
45 - 65
4:26
Jerryd Bayless makes two point shot (Mike Conley assists)
45 - 67
4:07
Mickael Gelabale makes layup (Derrick Williams assists)
47 - 67
3:55
Nikola Pekovic personal foul (Marc Gasol draws the foul)
47 - 67
3:53
Marc Gasol lost ball turnover (Ricky Rubio steals)
47 - 67
3:42
Derrick Williams misses 10-foot jumper
47 - 67
3:41
Derrick Williams offensive rebound
47 - 67
3:40
Derrick Williams misses layup
47 - 67
3:38
Tayshaun Prince defensive rebound
47 - 67
3:33
Mike Conley makes 24-foot three point jumper (Jerryd Bayless assists)
47 - 70
3:31
Timberwolves Full timeout
47 - 70
3:31
Austin Daye enters the game for Tayshaun Prince
47 - 70
3:31
Greg Stiemsma enters the game for Nikola Pekovic
47 - 70
3:31
J.J. Barea enters the game for Ricky Rubio
47 - 70
3:10
Derrick Williams lost ball turnover (Zach Randolph steals)
47 - 70
3:00
Mike Conley misses 23-foot three point jumper
47 - 70
2:59
Greg Stiemsma defensive rebound
47 - 70
2:46
Marc Gasol blocks Luke Ridnour 's 7-foot jumper
47 - 70
2:43
Luke Ridnour offensive rebound
47 - 70
2:42
Luke Ridnour misses 12-foot jumper
47 - 70
2:39
Marc Gasol defensive rebound
47 - 70
2:24
Zach Randolph misses 14-foot jumper
47 - 70
2:23
Mickael Gelabale defensive rebound
47 - 70
2:14
J.J. Barea lost ball turnover (Mike Conley steals)
47 - 70
2:11
Jerryd Bayless makes two point shot (Mike Conley assists)
47 - 72
1:53
Mike Conley personal foul (J.J. Barea draws the foul)
47 - 72
1:53
J.J. Barea misses free throw 1 of 2
47 - 72
1:53
Timberwolves offensive team rebound
47 - 72
1:53
Ed Davis enters the game for Zach Randolph
47 - 72
1:53
Alexey Shved enters the game for Luke Ridnour
48 - 72
1:53
Quincy Pondexter enters the game for Mike Conley
47 - 72
1:53
J.J. Barea makes free throw 2 of 2
48 - 72
1:34
Marc Gasol bad pass (Greg Stiemsma steals)
48 - 72
1:23
Austin Daye blocks Mickael Gelabale 's 24-foot three point jumper
48 - 72
1:22
Marc Gasol defensive rebound
48 - 72
1:09
Ed Davis misses 7-foot jumper
48 - 72
1:08
Greg Stiemsma defensive rebound
48 - 72
1:08
Austin Daye loose ball foul (Greg Stiemsma draws the foul)
50 - 72
1:08
Greg Stiemsma makes free throw 1 of 2
49 - 72
1:08
Greg Stiemsma makes free throw 2 of 2
50 - 72
1:01
Jerryd Bayless offensive foul (J.J. Barea draws the foul)
50 - 72
1:01
Jerryd Bayless turnover
50 - 72
0:49
Greg Stiemsma misses 20-foot jumper
50 - 72
0:47
Ed Davis defensive rebound
50 - 72
0:31
Marc Gasol makes 20-foot jumper (Jerryd Bayless assists)
50 - 74
0:10
Alexey Shved makes 27-foot three point jumper
53 - 72
0:02
Austin Daye misses three point jumper
53 - 74
0:00
Grizzlies offensive team rebound
53 - 74
0:00
End of the 3rd Quarter
53 - 74

time
TEAM
PLAY
SCORE
11:45
Ed Davis personal foul (Dante Cunningham draws the foul)
53 - 74
11:37
J.J. Barea makes 23-foot three point jumper (Dante Cunningham assists)
56 - 74
11:11
Quincy Pondexter makes 23-foot three point jumper (Marc Gasol assists)
56 - 77
10:59
Dante Cunningham makes 21-foot jumper (Alexey Shved assists)
58 - 77
10:38
Jerryd Bayless makes two point shot (Marc Gasol assists)
58 - 79
10:30
Quincy Pondexter shooting foul (J.J. Barea draws the foul)
58 - 79
10:30
J.J. Barea makes free throw 1 of 2
59 - 79
10:30
J.J. Barea makes free throw 2 of 2
60 - 79
10:11
Marc Gasol misses 8-foot two point shot
60 - 79
10:10
Marc Gasol offensive rebound
60 - 79
10:06
Marc Gasol bad pass (Greg Stiemsma steals)
60 - 79
10:03
Alexey Shved makes 9-foot jumper
63 - 79
10:03
Jerryd Bayless shooting foul (Alexey Shved draws the foul)
63 - 79
10:03
Alexey Shved makes free throw 1 of 1
63 - 79
9:49
Jerryd Bayless misses 20-foot jumper
63 - 79
9:48
Marc Gasol offensive rebound
63 - 79
9:44
Quincy Pondexter traveling
63 - 79
9:37
Alexey Shved misses 26-foot three point jumper
63 - 79
9:34
Austin Daye defensive rebound
63 - 79
9:27
Grizzlies Full timeout
63 - 79
9:27
Tayshaun Prince enters the game for Marc Gasol
63 - 79
9:27
Mike Conley enters the game for Jerryd Bayless
63 - 79
9:11
Tayshaun Prince makes 12-foot two point shot
63 - 81
8:53
Dante Cunningham misses 17-foot jumper
63 - 81
8:52
Austin Daye defensive rebound
63 - 81
8:40
Mike Conley bad pass
63 - 81
8:30
Ed Davis personal foul (J.J. Barea draws the foul)
63 - 81
8:30
Zach Randolph enters the game for Ed Davis
63 - 81
8:18
Greg Stiemsma misses 15-foot jumper
63 - 81
8:18
Tayshaun Prince defensive rebound
63 - 81
7:56
Zach Randolph makes layup (Tayshaun Prince assists)
63 - 83
7:56
Greg Stiemsma defensive goaltending violation
63 - 83
7:48
J.J. Barea bad pass (Austin Daye steals)
63 - 83
7:41
Mike Conley misses 7-foot jumper
63 - 83
7:41
Greg Stiemsma defensive rebound
63 - 83
7:31
J.J. Barea misses 27-foot three point jumper
63 - 83
7:31
Dante Cunningham offensive rebound
63 - 83
7:18
Mickael Gelabale makes 7-foot two point shot
65 - 83
7:07
J.J. Barea personal foul (Tayshaun Prince draws the foul)
65 - 83
7:05
Quincy Pondexter bad pass (Alexey Shved steals)
65 - 83
6:58
Dante Cunningham misses 4-foot jumper
65 - 83
6:56
Dante Cunningham offensive rebound
65 - 83
6:52
Alexey Shved misses 17-foot jumper
65 - 83
6:50
Austin Daye defensive rebound
65 - 83
6:33
Quincy Pondexter misses 23-foot three point jumper
65 - 83
6:31
J.J. Barea defensive rebound
65 - 83
6:26
J.J. Barea misses 25-foot three point pullup jump shot
65 - 83
6:07
Quincy Pondexter makes layup (Austin Daye assists)
65 - 85
5:48
Dante Cunningham makes 20-foot jumper (Alexey Shved assists)
67 - 85
5:26
Austin Daye misses 26-foot three point jumper
67 - 85
5:24
Greg Stiemsma defensive rebound
67 - 85
5:15
Mickael Gelabale makes 21-foot jumper
69 - 85
4:54
Official timeout
69 - 85
4:54
Marc Gasol enters the game for Austin Daye
69 - 85
4:50
Marc Gasol misses 18-foot jumper
69 - 85
4:50
Zach Randolph offensive rebound
69 - 85
4:48
Alexey Shved blocks Zach Randolph's shot
69 - 85
4:45
Alexey Shved defensive rebound
69 - 85
4:39
J.J. Barea misses 23-foot three point jumper
69 - 85
4:35
Dante Cunningham offensive rebound
69 - 85
4:33
Zach Randolph kicked ball violation
69 - 85
4:15
Greg Stiemsma makes dunk (J.J. Barea assists)
71 - 85
3:54
Tony Allen enters the game for Quincy Pondexter
71 - 85
3:51
Mike Conley makes 23-foot three point jumper (Tayshaun Prince assists)
71 - 88
3:30
Greg Stiemsma bad pass
71 - 88
3:16
Greg Stiemsma shooting foul (Marc Gasol draws the foul)
71 - 88
3:16
Marc Gasol makes free throw 1 of 2
71 - 89
3:16
Marc Gasol misses free throw 2 of 2
71 - 89
3:15
Mickael Gelabale defensive rebound
71 - 89
3:01
J.J. Barea makes layup
73 - 89
3:01
Tony Allen shooting foul (J.J. Barea draws the foul)
73 - 89
3:01
Tony Wroten enters the game for Zach Randolph
73 - 89
3:01
J.J. Barea misses free throw 1 of 1
73 - 89
3:00
Tayshaun Prince defensive rebound
73 - 89
2:43
Marc Gasol misses 12-foot jumper
73 - 89
2:41
J.J. Barea defensive rebound
73 - 89
2:32
Greg Stiemsma misses 20-foot jumper
73 - 89
2:32
Tayshaun Prince defensive rebound
73 - 89
2:32
Dante Cunningham loose ball foul (Tayshaun Prince draws the foul)
73 - 89
2:32
Timberwolves Full timeout
73 - 89
2:32
Jerryd Bayless enters the game for Tayshaun Prince
73 - 89
2:32
Austin Daye enters the game for Marc Gasol
73 - 89
2:32
Ed Davis enters the game for Tony Allen
73 - 89
2:32
Quincy Pondexter enters the game for Mike Conley
73 - 89
2:14
Dante Cunningham shooting foul (Austin Daye draws the foul)
73 - 89
2:14
Austin Daye misses free throw 1 of 2
73 - 89
2:14
Grizzlies offensive team rebound
73 - 89
2:14
Austin Daye makes free throw 2 of 2
73 - 90
2:00
Dante Cunningham misses 15-foot jumper
73 - 90
2:00
Mickael Gelabale offensive rebound
73 - 90
2:00
Quincy Pondexter loose ball foul (Mickael Gelabale draws the foul)
74 - 90
2:00
Mickael Gelabale makes free throw 1 of 2
74 - 90
2:00
Mickael Gelabale makes free throw 2 of 2
75 - 90
1:40
Austin Daye lost ball turnover (Greg Stiemsma steals)
75 - 90
1:34
Mickael Gelabale possession lost ball turnover
75 - 90
1:13
Jerryd Bayless makes 17-foot two point shot
75 - 92
0:57
Alexey Shved makes 13-foot two point shot
77 - 92
0:34
Jerryd Bayless misses 28-foot three point jumper
77 - 92
0:33
Greg Stiemsma defensive rebound
77 - 92
0:25
J.J. Barea misses 25-foot three point jumper
77 - 92
0:23
Austin Daye defensive rebound
77 - 92
0:00
Tony Wroten misses three point jumper
77 - 92
0:00
Greg Stiemsma defensive rebound
77 - 92
0:00
End of the 4th Quarter
77 - 92
0:00
End of Game
77 - 92
Shelley Smith reports from Derrick Rose's civil trial, where he and his two friends were found not liable, and what's next in the case.

The SportsNation crew review the day's winners and losers in the world of sports, including Oklahoma City's Steven Adams getting kicked in the groin by a teammate.

A federal jury has found Derrick Rose and two friends not liable in a sexual assault civil trial in which they were accused of raping the Knicks point guard's unconscious ex-girlfriend.
Regular Season Series
MEM wins series 3-0
2016-2017 Northwest Standings
2016-2017 Southwest Standings