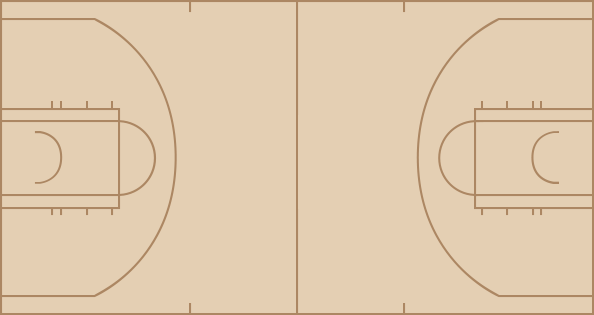 Thunder
time
TEAM
PLAY
SCORE
12:00
Serge Ibaka vs. Kyle O'Quinn (Kendrick Perkins gains possession)
0 - 0
11:45
Kevin Durant makes 18-foot jumper (Russell Westbrook assists)
2 - 0
11:26
Kyle O'Quinn bad pass (Serge Ibaka steals)
2 - 0
11:23
Kyle O'Quinn shooting foul (Russell Westbrook draws the foul)
2 - 0
11:23
Russell Westbrook misses free throw 1 of 2
2 - 0
11:23
Thunder offensive team rebound
2 - 0
11:23
Russell Westbrook makes free throw 2 of 2
3 - 0
11:18
Magic Full timeout
3 - 0
11:08
Moe Harkless misses
3 - 0
11:07
Russell Westbrook defensive rebound
3 - 0
11:02
Russell Westbrook misses 17-foot jumper
3 - 0
11:00
Arron Afflalo defensive rebound
3 - 0
10:52
Tobias Harris misses three point jumper
3 - 0
10:51
Thabo Sefolosha defensive rebound
3 - 0
10:41
Kevin Durant bad pass (Moe Harkless steals)
3 - 0
10:23
Tobias Harris makes layup (Jameer Nelson assists)
3 - 2
10:03
Russell Westbrook misses 24-foot three point jumper
3 - 2
10:03
Tobias Harris defensive rebound
3 - 2
9:56
Tobias Harris misses 17-foot jumper
3 - 2
9:56
Kyle O'Quinn personal foul (Thabo Sefolosha draws the foul)
3 - 2
9:41
Russell Westbrook misses 25-foot three point jumper
3 - 2
9:38
Serge Ibaka offensive rebound
3 - 2
9:38
Serge Ibaka makes 2-foot two point shot
5 - 2
9:26
Kyle O'Quinn makes 18-foot jumper (Jameer Nelson assists)
5 - 4
9:06
Kendrick Perkins makes 17-foot jumper (Russell Westbrook assists)
7 - 4
8:51
Kendrick Perkins kicked ball violation
7 - 4
8:37
Arron Afflalo makes 21-foot two point shot
7 - 6
8:17
Kendrick Perkins misses layup
7 - 6
8:15
Tobias Harris defensive rebound
7 - 6
8:15
Kyle O'Quinn traveling
7 - 6
8:03
Thabo Sefolosha misses
7 - 6
8:03
Kyle O'Quinn defensive rebound
7 - 6
7:52
Tobias Harris misses 7-foot jumper
7 - 6
7:50
Serge Ibaka defensive rebound
7 - 6
7:39
Kevin Durant makes 9-foot two point shot
9 - 6
7:16
Arron Afflalo misses 26-foot three point jumper
9 - 6
7:15
Serge Ibaka defensive rebound
9 - 6
7:05
Andrew Nicholson enters the game for Kyle O'Quinn
9 - 6
6:50
Kendrick Perkins misses 19-foot jumper
9 - 6
6:48
Tobias Harris defensive rebound
9 - 6
6:39
Tobias Harris makes two point shot (Arron Afflalo assists)
9 - 8
6:26
Russell Westbrook bad pass
9 - 8
6:07
Tobias Harris misses jumper
9 - 8
6:05
Tobias Harris offensive rebound
9 - 8
6:03
Kevin Durant blocks Tobias Harris's layup
9 - 8
6:01
Arron Afflalo offensive rebound
9 - 8
5:58
Arron Afflalo makes 14-foot jumper
9 - 10
5:43
Kevin Durant makes jumper
11 - 10
5:24
Arron Afflalo lost ball turnover (Kevin Durant steals)
11 - 10
5:24
Arron Afflalo personal foul (Kevin Durant draws the foul)
11 - 10
5:05
Russell Westbrook misses 14-foot jumper
11 - 10
5:03
Moe Harkless defensive rebound
11 - 10
4:58
Arron Afflalo misses 26-foot three point jumper
11 - 10
4:56
Thabo Sefolosha defensive rebound
11 - 10
4:52
Thabo Sefolosha makes driving layup
13 - 10
4:28
Andrew Nicholson makes 17-foot jumper (Jameer Nelson assists)
13 - 12
4:13
Moe Harkless blocks Serge Ibaka 's 2-foot layup
13 - 12
4:11
Jameer Nelson defensive rebound
13 - 12
4:07
Arron Afflalo makes layup (Jameer Nelson assists)
13 - 14
3:48
Serge Ibaka misses three point jumper
13 - 14
3:47
Arron Afflalo defensive rebound
13 - 14
3:33
Tobias Harris misses 27-foot three point jumper
13 - 14
3:32
Thabo Sefolosha defensive rebound
13 - 14
3:23
Tobias Harris personal foul (Serge Ibaka draws the foul)
13 - 14
3:23
Kevin Martin enters the game for Kevin Durant
13 - 14
3:15
Kendrick Perkins makes layup (Russell Westbrook assists)
15 - 14
3:00
Andrew Nicholson misses 17-foot jumper
15 - 14
2:58
Kendrick Perkins defensive rebound
15 - 14
2:43
Russell Westbrook bad pass (Andrew Nicholson steals)
15 - 14
2:41
Russell Westbrook personal foul (Tobias Harris draws the foul)
15 - 14
2:41
Thunder Full timeout
15 - 14
2:41
Nick Collison enters the game for Kendrick Perkins
15 - 14
2:30
Moe Harkless lost ball turnover (Russell Westbrook steals)
15 - 14
2:25
Thabo Sefolosha makes driving layup
17 - 14
2:14
Arron Afflalo possession lost ball turnover
17 - 14
2:14
Arron Afflalo loose ball foul (Thabo Sefolosha draws the foul)
17 - 14
2:14
Thabo Sefolosha misses free throw 1 of 2
17 - 14
2:14
Thunder offensive team rebound
17 - 14
2:14
Beno Udrih enters the game for Arron Afflalo
18 - 14
2:14
Thabo Sefolosha makes free throw 2 of 2
18 - 14
2:01
Jameer Nelson bad pass (Thabo Sefolosha steals)
18 - 14
1:54
Serge Ibaka makes two point shot (Russell Westbrook assists)
20 - 14
1:38
Andrew Nicholson traveling
20 - 14
1:38
Reggie Jackson enters the game for Thabo Sefolosha
20 - 14
1:28
Beno Udrih personal foul (Nick Collison draws the foul)
20 - 14
1:28
Nick Collison misses free throw 1 of 2
20 - 14
1:28
Thunder offensive team rebound
20 - 14
1:28
Nick Collison makes free throw 2 of 2
21 - 14
1:12
Jameer Nelson misses 28-foot three point jumper
21 - 14
1:09
Serge Ibaka defensive rebound
21 - 14
0:50
Kevin Martin misses 26-foot three point jumper
21 - 14
0:48
Serge Ibaka offensive rebound
21 - 14
0:48
Jameer Nelson shooting foul (Serge Ibaka draws the foul)
21 - 14
0:48
Serge Ibaka misses free throw 1 of 2
21 - 14
0:48
Thunder offensive team rebound
21 - 14
0:48
Serge Ibaka makes free throw 2 of 2
22 - 14
0:32
Tobias Harris bad pass (Nick Collison steals)
22 - 14
0:07
Moe Harkless blocks Reggie Jackson 's 26-foot three point jumper
22 - 14
0:04
Jameer Nelson defensive rebound
22 - 14
0:01
Andrew Nicholson misses 20-foot jumper
22 - 14
0:01
Tobias Harris offensive rebound
22 - 14
0:01
Tobias Harris misses
22 - 14
0:00
Magic offensive team rebound
22 - 14
0:00
End of the 1st Quarter
22 - 14

time
TEAM
PLAY
SCORE
11:38
Tobias Harris misses 5-foot jumper
22 - 14
11:33
Kyle O'Quinn offensive rebound
22 - 14
11:33
Kyle O'Quinn makes layup
22 - 16
11:15
Kevin Durant misses jumper
22 - 16
11:12
Tobias Harris defensive rebound
22 - 16
11:03
Arron Afflalo misses 12-foot jumper
22 - 16
11:00
Derek Fisher defensive rebound
22 - 16
10:51
Derek Fisher bad pass (E'Twaun Moore steals)
22 - 16
10:42
Beno Udrih misses 14-foot jumper
22 - 16
10:41
Derek Fisher defensive rebound
22 - 16
10:32
Derek Fisher misses 16-foot jumper
22 - 16
10:30
Magic defensive team rebound
22 - 16
10:10
E'Twaun Moore misses 22-foot jumper
22 - 16
10:07
Kevin Durant defensive rebound
22 - 16
10:03
Kevin Durant misses layup
22 - 16
10:00
Tobias Harris defensive rebound
22 - 16
9:55
Tobias Harris misses layup
22 - 16
9:52
Kyle O'Quinn offensive rebound
22 - 16
9:52
Kyle O'Quinn misses tip shot
22 - 16
9:51
Nick Collison defensive rebound
22 - 16
9:45
Beno Udrih shooting foul (Nick Collison draws the foul)
22 - 16
9:45
Nick Collison misses free throw 1 of 2
22 - 16
9:45
Thunder offensive team rebound
22 - 16
9:45
Andrew Nicholson enters the game for Kyle O'Quinn
22 - 16
9:45
Moe Harkless enters the game for Tobias Harris
22 - 16
9:45
Nick Collison makes free throw 2 of 2
23 - 16
9:34
Andrew Nicholson misses jumper
23 - 16
9:33
Kevin Martin defensive rebound
23 - 16
9:22
E'Twaun Moore shooting foul (Kevin Martin draws the foul)
23 - 16
9:22
Kevin Martin makes free throw 1 of 2
24 - 16
9:22
Kevin Martin makes free throw 2 of 2
25 - 16
9:15
Derek Fisher personal foul (Beno Udrih draws the foul)
25 - 16
9:08
Magic Full timeout
25 - 16
9:08
DeQuan Jones enters the game for Arron Afflalo
25 - 16
9:04
Beno Udrih makes 16-foot jumper
25 - 18
8:49
Kevin Durant misses 16-foot jumper
25 - 18
8:48
Beno Udrih defensive rebound
25 - 18
8:44
DeQuan Jones misses 18-foot jumper
25 - 18
8:41
Kevin Martin defensive rebound
25 - 18
8:30
Nick Collison makes 10-foot two point shot (Kevin Martin assists)
27 - 18
8:18
Moe Harkless makes driving layup
27 - 20
8:18
Kevin Durant shooting foul (Moe Harkless draws the foul)
27 - 20
8:18
Moe Harkless makes free throw 1 of 1
27 - 21
8:04
Kevin Martin makes layup
29 - 21
7:48
E'Twaun Moore makes 4-foot two point shot
29 - 23
7:30
Moe Harkless blocks Nick Collison's layup
29 - 23
7:24
Reggie Jackson offensive rebound
29 - 23
7:22
Nick Collison makes layup (Kevin Martin assists)
31 - 23
7:22
DeQuan Jones shooting foul (Nick Collison draws the foul)
31 - 23
7:22
Nick Collison makes free throw 1 of 1
32 - 23
7:13
E'Twaun Moore misses 14-foot jumper
32 - 23
7:11
Kevin Durant defensive rebound
32 - 23
6:58
Kevin Durant misses layup
32 - 23
6:56
Kevin Durant offensive rebound
32 - 23
6:56
Kevin Durant makes 2-foot two point shot
34 - 23
6:48
Magic 20 Sec. timeout
34 - 23
6:48
Jameer Nelson enters the game for DeQuan Jones
34 - 23
6:37
Moe Harkless misses layup
34 - 23
6:35
Moe Harkless offensive rebound
34 - 23
6:35
Moe Harkless makes 1-foot two point shot
34 - 25
6:16
Derek Fisher misses 12-foot jumper
34 - 25
6:13
Beno Udrih defensive rebound
34 - 25
6:05
E'Twaun Moore misses 17-foot jumper
34 - 25
6:03
Derek Fisher defensive rebound
34 - 25
5:47
Kevin Martin misses 4-foot jumper
34 - 25
5:46
Reggie Jackson offensive rebound
34 - 25
5:33
Derek Fisher misses three point jumper
34 - 25
5:31
Kevin Martin offensive rebound
34 - 25
5:28
Kevin Martin misses layup
34 - 25
5:26
Beno Udrih defensive rebound
34 - 25
5:20
Nick Collison personal foul (Beno Udrih draws the foul)
34 - 25
5:20
Official timeout
34 - 25
5:20
Russell Westbrook enters the game for Nick Collison
34 - 25
5:20
Serge Ibaka enters the game for Reggie Jackson
34 - 25
5:20
Kendrick Perkins enters the game for Derek Fisher
34 - 25
5:11
Beno Udrih makes 11-foot two point shot
34 - 27
5:11
Kevin Martin shooting foul (Beno Udrih draws the foul)
34 - 27
5:11
Tobias Harris enters the game for E'Twaun Moore
34 - 27
5:11
Beno Udrih makes free throw 1 of 1
34 - 28
4:58
Kevin Martin misses 27-foot three point jumper
34 - 28
4:56
Tobias Harris defensive rebound
34 - 28
4:48
Beno Udrih misses 16-foot jumper
34 - 28
4:47
Serge Ibaka defensive rebound
34 - 28
4:41
Kevin Martin makes 24-foot three point jumper (Russell Westbrook assists)
37 - 28
4:24
Moe Harkless misses 25-foot three point jumper
37 - 28
4:22
Kendrick Perkins defensive rebound
37 - 28
4:09
Serge Ibaka makes two point shot
39 - 28
3:54
Andrew Nicholson misses 9-foot hook shot
39 - 28
3:53
Kevin Durant defensive rebound
39 - 28
3:31
Serge Ibaka makes 10-foot two point shot
41 - 28
3:16
Tobias Harris makes layup (Jameer Nelson assists)
41 - 30
2:53
Kevin Martin makes three point jumper (Kevin Durant assists)
44 - 30
2:35
Jameer Nelson misses 26-foot three point jumper
44 - 30
2:34
Russell Westbrook defensive rebound
44 - 30
2:27
Andrew Nicholson shooting foul (Kevin Durant draws the foul)
44 - 30
2:27
Thunder Full timeout
44 - 30
2:27
Thabo Sefolosha enters the game for Kevin Martin
44 - 30
2:27
Kyle O'Quinn enters the game for Andrew Nicholson
44 - 30
2:27
Kevin Durant misses free throw 1 of 2
44 - 30
2:27
Thunder offensive team rebound
44 - 30
2:27
Kevin Durant makes free throw 2 of 2
45 - 30
2:10
Jameer Nelson misses jumper
45 - 30
2:09
Kendrick Perkins defensive rebound
45 - 30
1:47
Serge Ibaka misses
45 - 30
1:45
Moe Harkless defensive rebound
45 - 30
1:43
Moe Harkless traveling
45 - 30
1:32
Russell Westbrook misses 10-foot jump bank shot
45 - 30
1:31
Kyle O'Quinn defensive rebound
45 - 30
1:21
Jameer Nelson makes layup (Tobias Harris assists)
45 - 32
1:02
Serge Ibaka makes dunk (Russell Westbrook assists)
47 - 32
0:44
Moe Harkless misses 4-foot jumper
47 - 32
0:42
Russell Westbrook defensive rebound
47 - 32
0:38
Thabo Sefolosha offensive Charge (Jameer Nelson draws the foul)
47 - 32
0:38
Thabo Sefolosha turnover
47 - 32
0:27
Serge Ibaka blocks Tobias Harris 's 6-foot jumper
47 - 32
0:26
Moe Harkless makes two point shot
47 - 34
0:26
Moe Harkless offensive rebound
47 - 32
0:08
Kevin Durant lost ball turnover (Beno Udrih steals)
47 - 34
0:04
Russell Westbrook blocks Kyle O'Quinn's layup
47 - 34
0:01
Thabo Sefolosha defensive rebound
47 - 34
0:00
End of the 2nd Quarter
47 - 34

time
TEAM
PLAY
SCORE
11:42
Jameer Nelson makes 5-foot two point shot (Beno Udrih assists)
47 - 36
11:21
Thabo Sefolosha misses 23-foot three point jumper
47 - 36
11:18
Kyle O'Quinn defensive rebound
47 - 36
11:11
Beno Udrih makes driving layup
47 - 38
10:53
Kevin Durant bad pass (Kyle O'Quinn steals)
47 - 38
10:45
Jameer Nelson makes three point jumper (Moe Harkless assists)
47 - 41
10:27
Thabo Sefolosha misses 24-foot three point jumper
47 - 41
10:26
Moe Harkless defensive rebound
47 - 41
10:21
Jameer Nelson makes 25-foot three point jumper
47 - 44
10:18
Thunder Full timeout
47 - 44
10:06
Kyle O'Quinn defensive 3-seconds (Technical Foul)
47 - 44
10:06
Kevin Durant makes technical free throw
48 - 44
9:57
Kevin Durant makes jumper (Thabo Sefolosha assists)
50 - 44
9:40
Moe Harkless makes 14-foot jumper (Beno Udrih assists)
50 - 46
9:22
Kendrick Perkins makes 15-foot jumper (Russell Westbrook assists)
52 - 46
9:07
Kyle O'Quinn traveling
52 - 46
8:51
Kevin Durant misses 26-foot three point jumper
52 - 46
8:49
Moe Harkless defensive rebound
52 - 46
8:38
Kendrick Perkins blocks Kyle O'Quinn's layup
52 - 46
8:38
Magic offensive team rebound
52 - 46
8:30
Moe Harkless makes 2-foot two point shot (Tobias Harris assists)
52 - 48
8:18
Russell Westbrook makes 8-foot two point shot
54 - 48
8:00
Serge Ibaka blocks Kyle O'Quinn's layup
54 - 48
7:58
Jameer Nelson offensive rebound
54 - 48
7:56
Jameer Nelson makes driving layup
54 - 50
7:41
Moe Harkless personal foul (Russell Westbrook draws the foul)
54 - 50
7:28
Serge Ibaka misses layup
54 - 50
7:26
Tobias Harris defensive rebound
54 - 50
7:22
Kendrick Perkins personal foul (Beno Udrih draws the foul)
54 - 50
7:15
Jameer Nelson makes layup
54 - 52
6:56
Russell Westbrook makes driving layup
56 - 52
6:56
Kyle O'Quinn defensive goaltending violation
56 - 52
6:45
Beno Udrih lost ball turnover (Russell Westbrook steals)
56 - 52
6:41
Russell Westbrook makes layup (Kendrick Perkins assists)
58 - 52
6:20
Jameer Nelson misses 19-foot jumper
58 - 52
6:16
Kyle O'Quinn offensive rebound
58 - 52
6:16
Kyle O'Quinn misses layup
58 - 52
6:15
Kendrick Perkins defensive rebound
58 - 52
6:09
Russell Westbrook makes 19-foot two point shot
60 - 52
5:54
Moe Harkless makes 25-foot three point jumper (Beno Udrih assists)
60 - 55
5:33
Thabo Sefolosha misses 24-foot three point jumper
60 - 55
5:31
Kyle O'Quinn defensive rebound
60 - 55
5:28
Serge Ibaka shooting foul (Tobias Harris draws the foul)
60 - 55
5:28
Tobias Harris makes free throw 1 of 2
60 - 56
5:28
Andrew Nicholson enters the game for Kyle O'Quinn
60 - 56
5:28
Tobias Harris makes free throw 2 of 2
60 - 57
5:11
Thabo Sefolosha misses three point jumper
60 - 57
5:09
Moe Harkless defensive rebound
60 - 57
5:03
Moe Harkless makes driving layup
60 - 59
4:45
Russell Westbrook misses 19-foot jumper
60 - 59
4:41
Serge Ibaka offensive rebound
60 - 59
4:35
Thabo Sefolosha misses 20-foot jumper
60 - 59
4:33
Serge Ibaka offensive rebound
60 - 59
4:30
Moe Harkless shooting foul (Kevin Durant draws the foul)
60 - 59
4:30
Kevin Durant makes free throw 1 of 2
61 - 59
4:30
Nick Collison enters the game for Kendrick Perkins
61 - 59
4:30
E'Twaun Moore enters the game for Beno Udrih
61 - 59
4:30
Kevin Durant makes free throw 2 of 2
62 - 59
4:30
Kevin Martin enters the game for Thabo Sefolosha
62 - 59
4:20
Serge Ibaka blocks Jameer Nelson 's 1-foot layup
62 - 59
4:18
Serge Ibaka defensive rebound
62 - 59
4:16
Serge Ibaka bad pass (Moe Harkless steals)
62 - 59
4:01
Moe Harkless makes 23-foot three point jumper (Jameer Nelson assists)
62 - 62
3:47
Andrew Nicholson shooting foul (Serge Ibaka draws the foul)
62 - 62
3:47
Serge Ibaka makes free throw 1 of 2
63 - 62
3:47
Serge Ibaka makes free throw 2 of 2
64 - 62
3:30
Jameer Nelson misses 27-foot three point jumper
64 - 62
3:28
Kevin Durant defensive rebound
64 - 62
3:19
Kevin Durant bad pass (E'Twaun Moore steals)
64 - 62
3:10
Andrew Nicholson makes two point shot (Jameer Nelson assists)
64 - 64
2:47
Nick Collison makes two point shot (Kevin Durant assists)
66 - 64
2:38
Magic Full timeout
66 - 64
2:36
Beno Udrih enters the game for E'Twaun Moore
66 - 64
2:36
Reggie Jackson enters the game for Russell Westbrook
66 - 64
2:26
Moe Harkless misses 22-foot jumper
66 - 64
2:25
Reggie Jackson defensive rebound
66 - 64
2:15
Moe Harkless personal foul (Kevin Durant draws the foul)
66 - 64
2:09
Kevin Martin makes 28-foot three point jumper (Nick Collison assists)
69 - 64
1:52
Jameer Nelson makes driving layup
69 - 66
1:25
Kevin Durant misses 12-foot jumper
69 - 66
1:24
Serge Ibaka offensive rebound
69 - 66
1:24
Tobias Harris shooting foul (Serge Ibaka draws the foul)
69 - 66
1:24
Serge Ibaka misses free throw 1 of 2
69 - 66
1:24
Thunder offensive team rebound
69 - 66
1:24
Serge Ibaka makes free throw 2 of 2
70 - 66
1:10
Jameer Nelson misses 27-foot three point jumper
70 - 66
1:08
Kevin Durant defensive rebound
70 - 66
1:01
Kevin Durant misses 19-foot jumper
70 - 66
1:00
Tobias Harris defensive rebound
70 - 66
0:44
Andrew Nicholson misses layup
70 - 66
0:29
Serge Ibaka misses 23-foot three point jumper
70 - 66
0:28
Magic defensive team rebound
70 - 66
0:28
Derek Fisher enters the game for Serge Ibaka
70 - 66
0:11
Nick Collison personal foul (Andrew Nicholson draws the foul)
70 - 66
0:00
Beno Udrih misses 25-foot three point jumper
70 - 66
0:00
Magic offensive team rebound
70 - 66
0:00
End of the 3rd Quarter
70 - 66

time
TEAM
PLAY
SCORE
11:41
Kevin Martin misses 27-foot three point jumper
70 - 66
11:40
Tobias Harris defensive rebound
70 - 66
11:25
Tobias Harris misses 19-foot jumper
70 - 66
11:23
Nick Collison defensive rebound
70 - 66
11:12
DeAndre Liggins misses 24-foot three point jumper
70 - 66
11:11
Jameer Nelson defensive rebound
70 - 66
11:00
Jameer Nelson misses 5-foot jumper
70 - 66
10:59
Nick Collison defensive rebound
70 - 66
10:52
Reggie Jackson bad pass
70 - 66
10:52
Kyle O'Quinn enters the game for Andrew Nicholson
70 - 66
10:33
Beno Udrih misses 12-foot jumper
70 - 66
10:30
Moe Harkless offensive rebound
70 - 66
10:30
Moe Harkless makes 3-foot two point shot
70 - 68
10:12
Kevin Martin makes driving layup
72 - 68
10:00
Beno Udrih offensive Charge (Nick Collison draws the foul)
72 - 68
10:00
Beno Udrih turnover
72 - 68
10:00
E'Twaun Moore enters the game for Jameer Nelson
72 - 68
9:44
Kevin Martin bad pass (Moe Harkless steals)
72 - 68
9:40
Moe Harkless makes driving layup
72 - 70
9:26
Reggie Jackson makes driving layup
74 - 70
9:03
DeAndre Liggins shooting foul (Tobias Harris draws the foul)
74 - 72
9:03
Tobias Harris makes free throw 1 of 2
74 - 71
9:03
Doron Lamb enters the game for Moe Harkless
74 - 71
9:03
Tobias Harris makes free throw 2 of 2
74 - 72
8:48
Reggie Jackson misses 28-foot three point jumper
74 - 72
8:47
Tobias Harris defensive rebound
74 - 72
8:34
Doron Lamb makes layup (Beno Udrih assists)
74 - 74
8:17
Nick Collison makes layup (Derek Fisher assists)
76 - 74
8:11
Magic Full timeout
76 - 74
8:11
Russell Westbrook enters the game for Reggie Jackson
76 - 74
8:11
Kevin Durant enters the game for DeAndre Liggins
76 - 74
8:11
Moe Harkless enters the game for E'Twaun Moore
76 - 74
8:11
Jameer Nelson enters the game for Doron Lamb
76 - 74
7:54
Moe Harkless makes two point shot (Tobias Harris assists)
76 - 76
7:35
Kevin Durant bad pass (Beno Udrih steals)
76 - 76
7:28
Beno Udrih makes 9-foot two point shot
76 - 78
7:15
Russell Westbrook makes driving layup
78 - 78
7:00
Tobias Harris bad pass (Kevin Durant steals)
78 - 78
6:56
Russell Westbrook makes driving layup
80 - 78
6:56
Tobias Harris shooting foul (Russell Westbrook draws the foul)
80 - 78
6:56
Thabo Sefolosha enters the game for Nick Collison
80 - 78
6:56
Serge Ibaka enters the game for Derek Fisher
80 - 78
6:56
Russell Westbrook makes free throw 1 of 1
81 - 78
6:48
Russell Westbrook personal foul (Beno Udrih draws the foul)
81 - 78
6:39
Kyle O'Quinn makes layup (Jameer Nelson assists)
81 - 80
6:24
Russell Westbrook makes driving layup
83 - 80
6:09
Kyle O'Quinn makes jumper (Beno Udrih assists)
83 - 82
5:58
Russell Westbrook lost ball turnover (Moe Harkless steals)
83 - 82
5:52
Kevin Durant blocks Tobias Harris's layup
83 - 82
5:48
Serge Ibaka defensive rebound
83 - 82
5:37
Kevin Durant makes 26-foot three point jumper (Russell Westbrook assists)
86 - 82
5:37
Magic 20 Sec. timeout
86 - 82
5:37
Official timeout
86 - 82
5:24
Tobias Harris misses layup
86 - 82
5:20
Tobias Harris offensive rebound
86 - 82
5:16
Beno Udrih makes 26-foot three point jumper (Jameer Nelson assists)
86 - 85
4:54
Beno Udrih personal foul (Serge Ibaka draws the foul)
86 - 85
4:43
Russell Westbrook misses 17-foot jumper
86 - 85
4:43
Moe Harkless defensive rebound
86 - 85
4:28
Kyle O'Quinn misses 13-foot jumper
86 - 85
4:28
Tobias Harris loose ball foul (Kevin Durant draws the foul)
86 - 85
4:28
Kendrick Perkins enters the game for Kevin Martin
86 - 85
4:09
Kendrick Perkins misses 16-foot jumper
86 - 85
4:07
Tobias Harris defensive rebound
86 - 85
3:55
Thabo Sefolosha shooting foul (Kyle O'Quinn draws the foul)
86 - 85
3:55
Kyle O'Quinn makes free throw 1 of 2
86 - 86
3:55
Kyle O'Quinn misses free throw 2 of 2
86 - 86
3:54
Russell Westbrook defensive rebound
86 - 86
3:44
Tobias Harris blocks Russell Westbrook 's 2-foot layup
86 - 86
3:42
Kyle O'Quinn defensive rebound
86 - 86
3:38
Serge Ibaka blocks Moe Harkless 's 3-foot layup
86 - 86
3:33
Russell Westbrook defensive rebound
86 - 86
3:30
Moe Harkless blocks Russell Westbrook's layup
86 - 86
3:30
Thunder offensive team rebound
86 - 86
3:29
Tobias Harris personal foul (Kendrick Perkins draws the foul)
86 - 86
3:15
Thabo Sefolosha misses layup
86 - 86
3:15
Serge Ibaka offensive rebound
86 - 86
3:00
Russell Westbrook misses 16-foot jumper
86 - 86
2:58
Jameer Nelson defensive rebound
86 - 86
2:51
Kendrick Perkins blocks Moe Harkless's layup
86 - 86
2:48
Serge Ibaka defensive rebound
86 - 86
2:44
Kevin Durant makes 24-foot three point jumper (Russell Westbrook assists)
89 - 86
2:41
Magic Full timeout
89 - 86
2:31
Thabo Sefolosha personal foul (Jameer Nelson draws the foul)
89 - 86
2:26
Kyle O'Quinn makes layup (Jameer Nelson assists)
89 - 88
1:59
Kendrick Perkins misses 4-foot hook shot
89 - 88
1:57
Kyle O'Quinn defensive rebound
89 - 88
1:47
Serge Ibaka blocks Jameer Nelson 's 2-foot layup
89 - 88
1:43
Kevin Durant defensive rebound
89 - 88
1:39
Kyle O'Quinn shooting foul (Kevin Durant draws the foul)
89 - 88
1:39
Kevin Durant misses free throw 1 of 2
89 - 88
1:39
Thunder offensive team rebound
89 - 88
1:39
Kevin Durant makes free throw 2 of 2
90 - 88
1:30
Russell Westbrook blocks Beno Udrih's layup
90 - 88
1:28
Russell Westbrook defensive rebound
90 - 88
1:09
Serge Ibaka misses 10-foot hook shot
90 - 88
1:07
Tobias Harris defensive rebound
90 - 88
0:58
Tobias Harris misses 7-foot Running Jumper
90 - 88
0:57
Thabo Sefolosha defensive rebound
90 - 88
0:39
Jameer Nelson shooting foul (Kevin Durant draws the foul)
90 - 88
0:39
Kevin Durant makes free throw 1 of 2
91 - 88
0:39
Kevin Durant makes free throw 2 of 2
92 - 88
0:39
Magic Full timeout
92 - 88
0:36
Tobias Harris bad pass (Kevin Durant steals)
92 - 88
0:31
Jameer Nelson personal foul (Russell Westbrook draws the foul)
92 - 88
0:31
Russell Westbrook misses free throw 1 of 2
92 - 88
0:31
Thunder offensive team rebound
92 - 88
0:31
Russell Westbrook makes free throw 2 of 2
93 - 88
0:21
Jameer Nelson misses 28-foot three point jumper
93 - 88
0:20
Kevin Durant defensive rebound
93 - 88
0:18
Tobias Harris personal foul (Kevin Durant draws the foul)
93 - 88
0:18
Doron Lamb enters the game for Tobias Harris
93 - 88
0:18
Kevin Durant makes free throw 1 of 2
94 - 88
0:18
Kevin Durant makes free throw 2 of 2
95 - 88
0:13
Russell Westbrook shooting foul (Beno Udrih draws the foul)
95 - 89
0:13
Beno Udrih makes free throw 1 of 2
95 - 89
0:13
Beno Udrih misses free throw 2 of 2
95 - 89
0:13
Kendrick Perkins defensive rebound
95 - 89
0:13
Thunder 20 Sec. timeout
95 - 89
0:13
Kevin Martin enters the game for Kendrick Perkins
95 - 89
0:13
DeQuan Jones enters the game for Kyle O'Quinn
95 - 89
0:11
Doron Lamb personal foul (Russell Westbrook draws the foul)
97 - 89
0:11
Russell Westbrook makes free throw 1 of 2
96 - 89
0:11
Russell Westbrook makes free throw 2 of 2
97 - 89
0:00
End of the 4th Quarter
97 - 89
0:00
End of Game
97 - 89
Jackie MacMullan believes several NBA teams will offer Kevin Garnett positions after he announced his retirement.

With the Pelicans facing the possibility of missing the playoffs yet again, they need Anthony Davis more than ever to get the franchise through tough times.

With Derrick Rose leading the Knicks' reinforcements around Carmelo Anthony, team brass hopes he can turn their playmaking into easier baskets.
Regular Season Series
OKC wins series 2-0
2015-2016 Northwest Standings
2015-2016 Southeast Standings