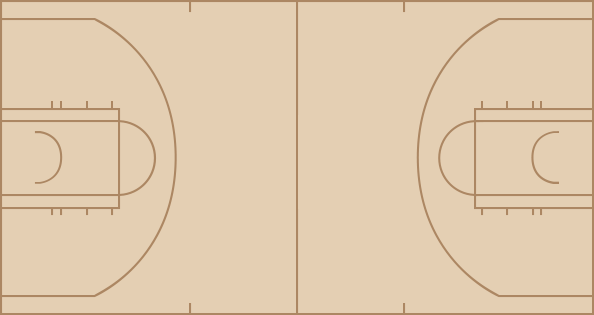 Kings
time
TEAM
PLAY
SCORE
12:00
Jason Thompson vs. Kosta Koufos (Kenneth Faried gains possession)
0 - 0
11:41
Kenneth Faried makes layup (Andre Iguodala assists)
0 - 2
11:18
DeMarcus Cousins 3 second turnover
0 - 2
10:59
Andre Iguodala misses 14-foot two point shot
0 - 2
10:57
DeMarcus Cousins defensive rebound
0 - 2
10:55
Kenneth Faried personal foul (Jason Thompson draws the foul)
0 - 2
10:45
Isaiah Thomas misses 25-foot three point jumper
0 - 2
10:44
Danilo Gallinari defensive rebound
0 - 2
10:33
Andre Miller makes two point shot
0 - 4
10:27
Jason Thompson makes dunk (Isaiah Thomas assists)
2 - 4
10:06
Andre Iguodala makes 26-foot three point jumper (Kosta Koufos assists)
2 - 7
9:49
DeMarcus Cousins offensive Charge (Kenneth Faried draws the foul)
2 - 7
9:49
DeMarcus Cousins turnover
2 - 7
9:37
Danilo Gallinari makes 1-foot dunk (Andre Miller assists)
2 - 9
9:30
Kings Full timeout
2 - 9
9:17
John Salmons bad pass
2 - 9
8:57
Kenneth Faried makes 4-foot two point shot (Andre Iguodala assists)
2 - 11
8:45
Jason Thompson misses two point shot
2 - 11
8:44
Danilo Gallinari defensive rebound
2 - 11
8:30
Danilo Gallinari misses 4-foot
2 - 11
8:29
DeMarcus Cousins defensive rebound
2 - 11
8:18
DeMarcus Cousins misses 19-foot jumper
2 - 11
8:17
Danilo Gallinari defensive rebound
2 - 11
8:14
Andre Miller bad pass (Jason Thompson steals)
2 - 11
8:07
DeMarcus Cousins makes two point shot (Isaiah Thomas assists)
4 - 11
7:50
Andre Iguodala makes two point shot
4 - 13
7:35
John Salmons misses 22-foot three point jumper
4 - 13
7:35
DeMarcus Cousins offensive rebound
4 - 13
7:33
DeMarcus Cousins makes two point shot
6 - 13
7:13
John Salmons blocks Andre Iguodala 's 3-foot layup
6 - 13
7:13
Nuggets offensive team rebound
6 - 13
7:07
DeMarcus Cousins blocks Kosta Koufos 's 7-foot jumper
6 - 13
7:05
Kenneth Faried offensive rebound
6 - 13
7:05
Kenneth Faried misses 15-foot jumper
6 - 13
7:03
Nuggets offensive team rebound
6 - 13
7:03
shot clock turnover
6 - 13
6:48
DeMarcus Cousins bad pass
6 - 13
6:30
Andre Miller misses 5-foot two point shot
6 - 13
6:28
DeMarcus Cousins defensive rebound
6 - 13
6:20
DeMarcus Cousins makes 1-foot dunk (Isaiah Thomas assists)
8 - 13
5:54
Andre Miller misses 17-foot jumper
8 - 13
5:54
Kosta Koufos loose ball foul (DeMarcus Cousins draws the foul)
8 - 13
5:41
DeMarcus Cousins bad pass (Danilo Gallinari steals)
8 - 13
5:35
Kosta Koufos makes jumper (Danilo Gallinari assists)
8 - 15
5:24
Kings 20 Sec. timeout
8 - 15
5:24
Julyan Stone enters the game for Kosta Koufos
8 - 15
5:24
JaVale McGee enters the game for Andre Miller
8 - 15
5:11
JaVale McGee blocks Tyreke Evans's layup
8 - 15
5:11
Kenneth Faried defensive rebound
8 - 15
5:03
Danilo Gallinari makes 24-foot three point jumper (Andre Iguodala assists)
8 - 18
4:52
Isaiah Thomas bad pass (Andre Iguodala steals)
8 - 18
4:50
Tyreke Evans clear path foul (Danilo Gallinari draws the foul)
8 - 18
4:50
Danilo Gallinari misses free throw clear path 1 of 2
8 - 18
4:50
Nuggets offensive team rebound
8 - 18
4:50
Danilo Gallinari makes free throw clear path 2 of 2
8 - 19
4:50
Marcus Thornton enters the game for Tyreke Evans
8 - 19
4:46
Danilo Gallinari loose ball foul (DeMarcus Cousins draws the foul)
8 - 19
4:46
Danilo Gallinari turnover
8 - 19
4:26
JaVale McGee shooting foul (DeMarcus Cousins draws the foul)
8 - 19
4:26
DeMarcus Cousins makes free throw 1 of 2
9 - 19
4:26
Corey Brewer enters the game for Danilo Gallinari
9 - 19
4:26
DeMarcus Cousins misses free throw 2 of 2
9 - 19
4:24
Kenneth Faried defensive rebound
9 - 19
4:11
JaVale McGee makes two point shot (Kenneth Faried assists)
9 - 21
4:00
DeMarcus Cousins misses 21-foot jumper
9 - 21
3:59
Kenneth Faried defensive rebound
9 - 21
3:47
JaVale McGee bad pass
9 - 21
3:28
Jason Thompson makes 9-foot jumper (DeMarcus Cousins assists)
11 - 21
3:15
Andre Iguodala misses 11-foot jump bank shot
11 - 21
3:14
JaVale McGee offensive rebound
11 - 21
3:11
DeMarcus Cousins blocks JaVale McGee 's 3-foot layup
11 - 21
3:09
DeMarcus Cousins defensive rebound
11 - 21
3:00
Marcus Thornton makes layup (DeMarcus Cousins assists)
13 - 21
2:47
JaVale McGee makes two point shot
13 - 23
2:31
Jason Thompson misses 15-foot jumper
13 - 23
2:29
Julyan Stone defensive rebound
13 - 23
2:26
Nuggets Full timeout
13 - 23
2:26
Anthony Randolph enters the game for Kenneth Faried
13 - 23
2:26
Cole Aldrich enters the game for John Salmons
13 - 23
2:26
Travis Outlaw enters the game for Jason Thompson
13 - 23
2:26
Patrick Patterson enters the game for DeMarcus Cousins
13 - 23
2:17
Anthony Randolph misses 5-foot jumper
13 - 23
2:16
JaVale McGee offensive rebound
13 - 23
2:16
JaVale McGee makes two point shot
13 - 25
1:59
Marcus Thornton makes 19-foot jumper
15 - 25
1:49
Isaiah Thomas personal foul (Julyan Stone draws the foul)
15 - 25
1:49
Jimmer Fredette enters the game for Isaiah Thomas
15 - 25
1:36
JaVale McGee misses jumper
15 - 25
1:36
Anthony Randolph offensive rebound
15 - 25
1:31
Anthony Randolph makes 3-foot two point shot
15 - 27
1:15
Marcus Thornton misses 25-foot three point jumper
15 - 27
1:15
Anthony Randolph defensive rebound
15 - 27
1:10
Anthony Randolph misses 13-foot jumper
15 - 27
1:09
Andre Iguodala offensive rebound
15 - 27
1:09
Andre Iguodala misses 7-foot jumper
15 - 27
1:08
Corey Brewer offensive rebound
15 - 27
1:07
Corey Brewer misses 23-foot three point jumper
15 - 27
1:07
Marcus Thornton defensive rebound
15 - 27
1:07
JaVale McGee loose ball foul (Travis Outlaw draws the foul)
15 - 27
1:07
Cole Aldrich misses free throw 1 of 2
15 - 27
1:07
Kings offensive team rebound
15 - 27
1:07
Cole Aldrich misses free throw 2 of 2
15 - 27
1:05
Nuggets defensive team rebound
15 - 27
0:43
Andre Iguodala misses 26-foot
15 - 27
0:42
Anthony Randolph offensive rebound
15 - 27
0:27
JaVale McGee lost ball turnover (Travis Outlaw steals)
15 - 27
0:25
Marcus Thornton makes layup (Cole Aldrich assists)
17 - 27
0:02
Andre Iguodala misses two point shot
17 - 27
0:00
Nuggets offensive team rebound
17 - 27
0:00
End of the 1st Quarter
17 - 27

time
TEAM
PLAY
SCORE
11:53
Marcus Thornton lost ball turnover (Corey Brewer steals)
17 - 27
11:40
Corey Brewer misses 11-foot two point shot
17 - 27
11:38
Cole Aldrich defensive rebound
17 - 27
11:27
Jimmer Fredette misses 26-foot three point jumper
17 - 27
11:26
Andre Iguodala defensive rebound
17 - 27
11:23
Andre Iguodala bad pass
17 - 27
11:10
JaVale McGee blocks Marcus Thornton's layup
17 - 27
11:10
Anthony Randolph defensive rebound
17 - 27
11:00
Andre Iguodala makes 24-foot three point jumper (Corey Brewer assists)
17 - 30
10:36
Travis Outlaw makes layup (Jimmer Fredette assists)
19 - 30
10:27
Cole Aldrich shooting foul (JaVale McGee draws the foul)
19 - 30
10:27
JaVale McGee makes free throw 1 of 2
19 - 31
10:27
Danilo Gallinari enters the game for Andre Iguodala
19 - 31
10:27
JaVale McGee misses free throw 2 of 2
19 - 31
10:26
Cole Aldrich defensive rebound
19 - 31
10:15
Jimmer Fredette makes 3-foot two point shot
21 - 31
9:53
Kenneth Faried enters the game for JaVale McGee
21 - 31
9:53
Andre Miller enters the game for Julyan Stone
21 - 31
9:49
Cole Aldrich blocks Kenneth Faried 's 4-foot jumper
21 - 31
9:48
Nuggets offensive team rebound
21 - 31
9:47
Anthony Randolph misses three point jumper
21 - 31
9:45
Nuggets offensive team rebound
21 - 31
9:45
shot clock turnover
21 - 31
9:33
Travis Outlaw makes 26-foot three point jumper (Marcus Thornton assists)
24 - 31
9:22
Cole Aldrich kicked ball violation
24 - 31
9:15
Patrick Patterson personal foul (Kenneth Faried draws the foul)
24 - 31
9:11
Travis Outlaw shooting foul (Anthony Randolph draws the foul)
24 - 31
9:11
Anthony Randolph misses free throw 1 of 2
24 - 31
9:11
Nuggets offensive team rebound
24 - 31
9:11
Anthony Randolph misses free throw 2 of 2
24 - 31
9:10
Cole Aldrich defensive rebound
24 - 31
8:53
Marcus Thornton misses 22-foot jumper
24 - 31
8:53
Kenneth Faried defensive rebound
24 - 31
8:40
Marcus Thornton blocks Danilo Gallinari's layup
24 - 31
8:40
Jimmer Fredette defensive rebound
24 - 31
8:40
Andre Miller personal take foul (Jimmer Fredette draws the foul)
24 - 31
8:40
Official timeout
24 - 31
8:26
Kenneth Faried shooting foul (Marcus Thornton draws the foul)
24 - 31
8:26
Travis Outlaw misses free throw 1 of 2
24 - 31
8:26
Kings offensive team rebound
24 - 31
8:26
Travis Outlaw makes free throw 2 of 2
25 - 31
8:19
Travis Outlaw personal foul (Danilo Gallinari draws the foul)
25 - 31
8:19
Kosta Koufos enters the game for Anthony Randolph
25 - 31
8:03
Kosta Koufos misses jumper
25 - 31
8:03
Danilo Gallinari offensive rebound
25 - 31
8:00
Travis Outlaw blocks Corey Brewer 's 3-foot layup
25 - 31
7:41
Travis Outlaw makes 19-foot jumper
27 - 31
7:28
Corey Brewer misses 22-foot three point jumper
27 - 31
7:28
Kosta Koufos loose ball foul (Cole Aldrich draws the foul)
27 - 31
7:11
Travis Outlaw misses 20-foot jumper
27 - 31
7:09
Danilo Gallinari defensive rebound
27 - 31
7:07
Kenneth Faried makes two point shot (Corey Brewer assists)
27 - 33
6:54
Travis Outlaw misses 25-foot three point jumper
27 - 33
6:52
Patrick Patterson offensive rebound
27 - 33
6:50
Patrick Patterson misses layup
27 - 33
6:48
Andre Miller defensive rebound
27 - 33
6:43
Kenneth Faried makes 2-foot dunk (Corey Brewer assists)
27 - 35
6:18
Travis Outlaw misses 19-foot jumper
27 - 35
6:18
Nuggets defensive team rebound
27 - 35
6:18
Cole Aldrich loose ball foul (Kosta Koufos draws the foul)
27 - 35
6:18
Kosta Koufos makes free throw 1 of 2
27 - 36
6:18
DeMarcus Cousins enters the game for Patrick Patterson
27 - 36
6:18
Jason Thompson enters the game for Cole Aldrich
27 - 36
6:18
Tyreke Evans enters the game for Travis Outlaw
27 - 36
6:18
Kosta Koufos misses free throw 2 of 2
27 - 36
6:16
Andre Miller offensive rebound
27 - 36
6:05
Danilo Gallinari misses 27-foot three point jumper
27 - 36
6:05
DeMarcus Cousins defensive rebound
27 - 36
5:46
Jimmer Fredette makes 18-foot jumper
29 - 36
5:26
Corey Brewer misses 12-foot two point shot
29 - 36
5:24
DeMarcus Cousins defensive rebound
29 - 36
5:22
DeMarcus Cousins bad pass (Danilo Gallinari steals)
29 - 36
5:16
Kosta Koufos bad pass
29 - 36
5:16
Nuggets Full timeout
29 - 36
5:16
Andre Iguodala enters the game for Corey Brewer
29 - 36
5:01
Jason Thompson misses two point shot
29 - 36
5:00
Kosta Koufos defensive rebound
29 - 36
4:46
Andre Miller makes 4-foot jumper
29 - 38
4:20
Jimmer Fredette makes 17-foot two point shot
31 - 38
4:03
Kosta Koufos misses 9-foot jumper
31 - 38
3:49
Jimmer Fredette misses 25-foot three point jumper
31 - 38
3:48
Kosta Koufos defensive rebound
31 - 38
3:44
Andre Miller makes layup (Andre Iguodala assists)
31 - 40
3:30
Kenneth Faried blocks Jason Thompson 's 3-foot layup
31 - 40
3:29
Kosta Koufos defensive rebound
31 - 40
3:29
Jason Thompson personal foul (Kosta Koufos draws the foul)
31 - 40
3:29
Kosta Koufos makes free throw 1 of 2
31 - 41
3:29
Isaiah Thomas enters the game for Jimmer Fredette
31 - 41
3:29
Kosta Koufos makes free throw 2 of 2
31 - 42
3:08
Jason Thompson misses 17-foot jumper
31 - 42
3:06
DeMarcus Cousins offensive rebound
31 - 42
3:05
Kosta Koufos blocks DeMarcus Cousins 's 3-foot layup
31 - 42
3:04
Kings offensive team rebound
31 - 42
2:59
Kenneth Faried shooting foul (DeMarcus Cousins draws the foul)
31 - 42
2:59
Kings Full timeout
31 - 42
2:59
Corey Brewer enters the game for Kenneth Faried
31 - 42
2:59
DeMarcus Cousins misses free throw 1 of 2
31 - 42
2:59
DeMarcus Cousins misses free throw 2 of 2
31 - 42
2:59
Kings offensive team rebound
31 - 42
2:57
Kosta Koufos defensive rebound
31 - 42
2:40
Jason Thompson personal foul (Andre Iguodala draws the foul)
31 - 42
2:40
Andre Iguodala makes free throw 1 of 2
31 - 43
2:40
John Salmons enters the game for Jason Thompson
31 - 43
2:40
Andre Iguodala makes free throw 2 of 2
31 - 44
2:21
Marcus Thornton misses 17-foot two point shot
31 - 44
2:20
Danilo Gallinari defensive rebound
31 - 44
2:14
Tyreke Evans personal foul (Danilo Gallinari draws the foul)
31 - 44
2:14
Danilo Gallinari makes free throw 1 of 2
31 - 45
2:14
JaVale McGee enters the game for Kosta Koufos
31 - 45
2:14
Danilo Gallinari makes free throw 2 of 2
31 - 46
1:59
Andre Miller defensive 3-seconds (Technical Foul)
31 - 46
1:59
Isaiah Thomas makes technical free throw
32 - 46
1:47
Tyreke Evans makes driving layup
34 - 46
1:47
JaVale McGee defensive goaltending violation
34 - 46
1:31
JaVale McGee makes two point shot (Danilo Gallinari assists)
34 - 48
1:16
Isaiah Thomas misses 25-foot three point jumper
34 - 48
1:15
Corey Brewer defensive rebound
34 - 48
1:14
Corey Brewer bad pass (Isaiah Thomas steals)
34 - 48
1:07
Corey Brewer personal foul (Isaiah Thomas draws the foul)
34 - 48
1:07
Isaiah Thomas misses free throw 1 of 2
34 - 48
1:07
Kings offensive team rebound
34 - 48
1:07
Isaiah Thomas makes free throw 2 of 2
35 - 48
0:57
JaVale McGee makes dunk (Danilo Gallinari assists)
35 - 50
0:44
Marcus Thornton misses 24-foot three point jumper
35 - 50
0:42
Marcus Thornton offensive rebound
35 - 50
0:40
Kings Full timeout
35 - 50
0:40
Cole Aldrich enters the game for DeMarcus Cousins
35 - 50
0:29
John Salmons makes 20-foot jumper (Isaiah Thomas assists)
37 - 50
0:10
Andre Iguodala steps out of bounds turnover
37 - 50
0:01
John Salmons makes 24-foot three point jumper (Isaiah Thomas assists)
40 - 50
0:01
Andre Miller misses 55-foot three point jumper
40 - 50
0:00
Nuggets offensive team rebound
40 - 50
0:00
End of the 2nd Quarter
40 - 50

time
TEAM
PLAY
SCORE
11:44
DeMarcus Cousins makes 1-foot dunk (Isaiah Thomas assists)
42 - 50
11:44
Kosta Koufos shooting foul (DeMarcus Cousins draws the foul)
42 - 50
11:44
DeMarcus Cousins makes free throw 1 of 1
43 - 50
11:27
DeMarcus Cousins blocks Kenneth Faried 's 4-foot jumper
43 - 50
11:26
DeMarcus Cousins defensive rebound
43 - 50
11:15
John Salmons makes 23-foot three point jumper (Isaiah Thomas assists)
46 - 50
10:59
Danilo Gallinari makes 14-foot jumper
46 - 52
10:47
Tyreke Evans misses 26-foot three point jumper
46 - 52
10:45
Jason Thompson offensive rebound
46 - 52
10:41
Jason Thompson makes layup
48 - 52
10:25
Kenneth Faried makes 4-foot two point shot (Andre Iguodala assists)
48 - 54
10:11
Tyreke Evans misses 4-foot Running Jumper
48 - 54
10:10
DeMarcus Cousins offensive rebound
48 - 54
10:08
DeMarcus Cousins makes two point shot
50 - 54
9:52
Andre Iguodala misses 25-foot three point jumper
50 - 54
9:51
Jason Thompson defensive rebound
50 - 54
9:45
Isaiah Thomas misses driving layup
50 - 54
9:44
Andre Iguodala defensive rebound
50 - 54
9:33
Andre Iguodala misses 4-foot Running Jumper
50 - 56
9:33
Kosta Koufos offensive rebound
50 - 54
9:33
Kosta Koufos makes two point shot
50 - 56
9:18
Tyreke Evans makes two point shot
52 - 56
9:03
Jason Thompson kicked ball violation
52 - 56
8:55
John Salmons personal foul (Danilo Gallinari draws the foul)
52 - 56
8:44
Andre Miller misses 16-foot jumper
52 - 56
8:42
Jason Thompson defensive rebound
52 - 56
8:34
Tyreke Evans bad pass (Danilo Gallinari steals)
52 - 56
8:30
Andre Iguodala makes 1-foot two point shot (Andre Miller assists)
52 - 58
8:30
Kings Full timeout
52 - 58
8:15
John Salmons misses 25-foot three point jumper
52 - 58
8:15
Andre Miller defensive rebound
52 - 58
8:00
Andre Iguodala misses driving layup
52 - 58
8:00
Tyreke Evans defensive rebound
52 - 58
7:48
John Salmons misses 26-foot three point jumper
52 - 58
7:48
Danilo Gallinari defensive rebound
52 - 58
7:43
Jason Thompson blocks Danilo Gallinari's layup
52 - 58
7:43
John Salmons defensive rebound
52 - 58
7:43
Andre Iguodala clear path foul (John Salmons draws the foul)
52 - 58
7:28
DeMarcus Cousins misses layup
52 - 58
7:28
Kenneth Faried defensive rebound
52 - 58
7:09
Kosta Koufos makes 7-foot two point shot (Andre Miller assists)
52 - 60
6:47
Isaiah Thomas makes 25-foot three point jumper
55 - 60
6:39
Isaiah Thomas personal foul (Andre Miller draws the foul)
55 - 60
6:33
Andre Iguodala bad pass
55 - 60
6:13
Jason Thompson misses 20-foot jumper
55 - 60
6:11
Kosta Koufos defensive rebound
55 - 60
6:07
Andre Miller loose ball foul (Isaiah Thomas draws the foul)
55 - 60
6:07
Andre Miller turnover
55 - 60
5:48
Jason Thompson misses two point shot
55 - 60
5:48
Andre Iguodala defensive rebound
55 - 60
5:41
Andre Iguodala makes driving dunk
55 - 62
5:33
John Salmons misses 24-foot three point jumper
55 - 62
5:31
Jason Thompson offensive rebound
55 - 62
5:31
Jason Thompson misses layup
55 - 62
5:30
Nuggets defensive team rebound
55 - 62
5:30
DeMarcus Cousins loose ball foul (Danilo Gallinari draws the foul)
55 - 62
5:30
Patrick Patterson enters the game for Jason Thompson
55 - 62
5:18
Andre Miller misses jumper
55 - 62
5:16
John Salmons defensive rebound
55 - 62
5:11
Isaiah Thomas misses layup
55 - 62
5:09
Kosta Koufos defensive rebound
55 - 62
5:01
Danilo Gallinari misses three point jumper
55 - 62
5:01
Tyreke Evans defensive rebound
55 - 62
4:45
Patrick Patterson makes 19-foot jumper (Tyreke Evans assists)
57 - 62
4:26
John Salmons shooting foul (Andre Iguodala draws the foul)
57 - 62
4:26
Andre Iguodala misses free throw 1 of 2
57 - 62
4:26
Nuggets offensive team rebound
57 - 62
4:26
Corey Brewer enters the game for Danilo Gallinari
57 - 62
4:26
JaVale McGee enters the game for Kosta Koufos
57 - 62
4:26
Andre Iguodala makes free throw 2 of 2
57 - 63
4:09
Isaiah Thomas makes 6-foot two point shot (Patrick Patterson assists)
59 - 63
3:47
Kenneth Faried misses 20-foot jumper
59 - 63
3:46
DeMarcus Cousins defensive rebound
59 - 63
3:40
Kenneth Faried blocks Isaiah Thomas 's 2-foot layup
59 - 63
3:39
Nuggets defensive team rebound
59 - 63
3:39
Anthony Randolph enters the game for Kenneth Faried
59 - 63
3:27
Andre Iguodala misses 18-foot jumper
59 - 63
3:25
Patrick Patterson defensive rebound
59 - 63
3:18
Isaiah Thomas misses 24-foot three point jumper
59 - 63
3:17
Patrick Patterson offensive rebound
59 - 63
3:15
Patrick Patterson lost ball turnover (Corey Brewer steals)
59 - 63
3:14
DeMarcus Cousins blocks Andre Miller's layup
59 - 63
3:13
Nuggets offensive team rebound
59 - 63
3:08
Corey Brewer traveling
59 - 63
2:53
John Salmons makes layup (DeMarcus Cousins assists)
61 - 63
2:26
Andre Miller misses
61 - 63
2:25
JaVale McGee offensive rebound
61 - 63
2:25
JaVale McGee misses tip shot
61 - 63
2:24
DeMarcus Cousins defensive rebound
61 - 63
2:15
John Salmons makes 25-foot three point jumper (Tyreke Evans assists)
64 - 63
2:15
Nuggets Full timeout
64 - 63
2:15
Marcus Thornton enters the game for Tyreke Evans
64 - 63
2:15
Julyan Stone enters the game for Andre Miller
64 - 63
1:58
Corey Brewer makes jumper (Julyan Stone assists)
64 - 65
1:43
DeMarcus Cousins makes 2-foot driving dunk (Isaiah Thomas assists)
66 - 65
1:43
Anthony Randolph shooting foul (DeMarcus Cousins draws the foul)
66 - 65
1:43
Toney Douglas enters the game for Isaiah Thomas
66 - 65
1:43
DeMarcus Cousins makes free throw 1 of 1
67 - 65
1:30
JaVale McGee bad pass (Patrick Patterson steals)
67 - 65
1:24
Marcus Thornton makes layup (Toney Douglas assists)
69 - 65
1:06
Patrick Patterson shooting block foul (Julyan Stone draws the foul)
69 - 65
1:06
Julyan Stone misses free throw 1 of 2
69 - 65
1:06
Nuggets offensive team rebound
69 - 65
1:06
Kenneth Faried enters the game for JaVale McGee
69 - 65
1:06
Julyan Stone makes free throw 2 of 2
69 - 66
0:53
DeMarcus Cousins makes layup (Toney Douglas assists)
71 - 66
0:38
Andre Iguodala misses 26-foot three point jumper
71 - 66
0:37
Andre Iguodala offensive rebound
71 - 66
0:35
Patrick Patterson shooting foul (Kenneth Faried draws the foul)
71 - 66
0:35
Kenneth Faried makes free throw 1 of 2
71 - 67
0:35
Kenneth Faried makes free throw 2 of 2
71 - 68
0:16
Toney Douglas misses 27-foot three point jumper
71 - 68
0:15
Kenneth Faried defensive rebound
71 - 68
0:04
DeMarcus Cousins shooting foul (Julyan Stone draws the foul)
71 - 68
0:04
Julyan Stone makes free throw 1 of 2
71 - 69
0:04
Julyan Stone makes free throw 2 of 2
71 - 70
0:00
End of the 3rd Quarter
71 - 70

time
TEAM
PLAY
SCORE
11:51
Anthony Randolph makes 1-foot two point shot (Andre Iguodala assists)
71 - 72
11:25
Patrick Patterson makes 24-foot three point jumper (Toney Douglas assists)
74 - 72
11:02
Kenneth Faried makes two point shot (Andre Iguodala assists)
74 - 74
10:48
Kings 20 Sec. timeout
74 - 74
10:48
Danilo Gallinari enters the game for Andre Iguodala
74 - 74
10:36
Marcus Thornton misses 26-foot three point jumper
74 - 74
10:34
Cole Aldrich offensive rebound
74 - 74
10:30
Cole Aldrich makes 5-foot two point shot
76 - 74
10:11
Corey Brewer misses 7-foot Running Jumper
76 - 74
10:11
Anthony Randolph offensive rebound
76 - 74
10:10
Anthony Randolph makes two point shot
76 - 76
9:44
Corey Brewer blocks John Salmons 's 8-foot jumper
76 - 76
9:42
Danilo Gallinari defensive rebound
76 - 76
9:37
Patrick Patterson shooting block foul (Kenneth Faried draws the foul)
76 - 77
9:37
Kenneth Faried misses free throw 1 of 2
76 - 77
9:37
Nuggets offensive team rebound
76 - 76
9:37
DeMarcus Cousins enters the game for Cole Aldrich
76 - 76
9:37
Kenneth Faried makes free throw 2 of 2
76 - 77
9:23
Anthony Randolph personal foul (DeMarcus Cousins draws the foul)
76 - 77
9:17
DeMarcus Cousins misses driving layup
76 - 77
9:15
Kenneth Faried defensive rebound
76 - 77
9:06
Julyan Stone makes layup (Kenneth Faried assists)
76 - 79
9:06
DeMarcus Cousins defensive goaltending violation
76 - 79
8:51
Toney Douglas back court turnover
76 - 79
8:51
Official timeout
76 - 79
8:51
Isaiah Thomas enters the game for Toney Douglas
76 - 79
8:41
Danilo Gallinari makes driving layup
76 - 81
8:41
John Salmons shooting foul (Danilo Gallinari draws the foul)
76 - 81
8:41
Danilo Gallinari makes free throw 1 of 1
76 - 82
8:22
John Salmons makes driving dunk
78 - 82
8:00
Anthony Randolph makes jumper (Danilo Gallinari assists)
78 - 84
7:37
Corey Brewer blocks Marcus Thornton's jumper
78 - 84
7:35
Anthony Randolph defensive rebound
78 - 84
7:30
Corey Brewer misses 17-foot jumper
78 - 84
7:30
Nuggets offensive team rebound
78 - 84
7:30
Andre Miller enters the game for Julyan Stone
78 - 84
7:13
DeMarcus Cousins blocks Kenneth Faried's jumper
78 - 84
7:13
John Salmons defensive rebound
78 - 84
7:09
Isaiah Thomas possession lost ball turnoverCorey Brewer
78 - 84
7:07
Corey Brewer bad pass
78 - 84
6:56
Patrick Patterson makes 1-foot dunk (John Salmons assists)
80 - 84
6:35
Anthony Randolph misses 17-foot two point shot
80 - 84
6:35
Patrick Patterson defensive rebound
80 - 84
6:20
DeMarcus Cousins offensive foul (Anthony Randolph draws the foul)
80 - 84
6:20
DeMarcus Cousins turnover
80 - 84
6:20
Jason Thompson enters the game for Patrick Patterson
80 - 84
6:05
Corey Brewer bad pass (Marcus Thornton steals)
80 - 84
6:03
Corey Brewer shooting foul (Marcus Thornton draws the foul)
80 - 84
6:03
Marcus Thornton makes free throw 1 of 2
81 - 84
6:03
Kosta Koufos enters the game for Anthony Randolph
81 - 84
6:03
Marcus Thornton makes free throw 2 of 2
82 - 84
5:43
Danilo Gallinari makes 24-foot three point jumper (Corey Brewer assists)
82 - 87
5:18
Isaiah Thomas makes 25-foot three point jumper (John Salmons assists)
85 - 87
5:01
DeMarcus Cousins shooting block foul (Danilo Gallinari draws the foul)
85 - 87
5:01
Nuggets Full timeout
85 - 87
5:01
Andre Iguodala enters the game for Corey Brewer
85 - 87
5:01
Danilo Gallinari makes free throw 1 of 2
85 - 88
5:01
Danilo Gallinari makes free throw 2 of 2
85 - 89
4:46
Andre Miller shooting foul (DeMarcus Cousins draws the foul)
85 - 89
4:46
DeMarcus Cousins misses free throw 1 of 2
85 - 89
4:46
Kings offensive team rebound
85 - 89
4:46
DeMarcus Cousins makes free throw 2 of 2
86 - 89
4:30
Kosta Koufos makes 6-foot two point shot (Andre Miller assists)
86 - 91
4:15
Marcus Thornton bad pass (Andre Iguodala steals)
86 - 91
4:09
Kosta Koufos makes layup (Andre Iguodala assists)
86 - 93
3:48
DeMarcus Cousins makes 5-foot two point shot
88 - 93
3:44
Kenneth Faried makes two point shot (Andre Miller assists)
88 - 95
3:21
Isaiah Thomas misses three point jumper
88 - 95
3:20
Kenneth Faried defensive rebound
88 - 95
3:11
Kenneth Faried offensive Charge (DeMarcus Cousins draws the foul)
88 - 95
3:11
Kenneth Faried turnover
88 - 95
2:54
Isaiah Thomas misses 26-foot three point jumper
88 - 95
2:53
Nuggets defensive team rebound
88 - 95
2:53
Kings Full timeout
88 - 95
2:38
Danilo Gallinari misses 17-foot jumper
88 - 95
2:36
DeMarcus Cousins defensive rebound
88 - 95
2:18
DeMarcus Cousins makes 5-foot two point shot
90 - 95
1:58
Andre Miller misses 8-foot jumper
90 - 95
1:57
DeMarcus Cousins defensive rebound
90 - 95
1:40
DeMarcus Cousins makes driving layup (Isaiah Thomas assists)
92 - 95
1:24
Danilo Gallinari misses three point jumper
92 - 95
1:23
DeMarcus Cousins defensive rebound
92 - 95
1:15
Kosta Koufos personal foul (Isaiah Thomas draws the foul)
92 - 95
1:02
DeMarcus Cousins misses 9-foot jumper
92 - 95
1:01
Nuggets defensive team rebound
92 - 95
1:01
Jason Thompson loose ball foul (Kenneth Faried draws the foul)
92 - 95
0:51
Andre Miller makes driving layup
92 - 97
0:51
Isaiah Thomas shooting foul (Andre Miller draws the foul)
92 - 97
0:51
Patrick Patterson enters the game for DeMarcus Cousins
92 - 97
0:51
Andre Miller makes free throw 1 of 1
92 - 98
0:38
Marcus Thornton misses 26-foot three point jumper
92 - 98
0:37
Isaiah Thomas offensive rebound
92 - 98
0:31
Isaiah Thomas misses 25-foot three point jumper
92 - 98
0:30
Kosta Koufos defensive rebound
92 - 98
0:26
Isaiah Thomas personal take foul (Danilo Gallinari draws the foul)
92 - 99
0:26
Danilo Gallinari misses free throw 1 of 2
92 - 98
0:26
Nuggets offensive team rebound
92 - 98
0:26
Danilo Gallinari makes free throw 2 of 2
92 - 99
0:16
John Salmons makes 26-foot three point jumper (Patrick Patterson assists)
95 - 99
0:15
Jason Thompson personal take foul (Andre Miller draws the foul)
95 - 101
0:15
Andre Miller makes free throw 1 of 2
95 - 100
0:15
Andre Miller makes free throw 2 of 2
95 - 101
0:15
Kings Full timeout
95 - 101
0:11
Marcus Thornton misses three point jumper
95 - 101
0:10
Kosta Koufos defensive rebound
95 - 101
0:00
End of the 4th Quarter
95 - 101
0:00
End of Game
95 - 101
What moves should the Nets make? Will Jeremy Lin or Derrick Rose have a better season? Our NBA Insiders preview Brooklyn's 2016-17 season.

Draymond Green, Steph Curry and other Golden State Warriors discuss how the addition of Kevin Durant raises their ceiling and what it has been like to mesh with each other.

Bob Ryan is looking forward to the NBA's opening night, when the Warriors take the court with newly acquired Kevin Durant, who will need to find his role alongside elite 3-point shooters such as Stephen Curry and Klay Thompson.
Regular Season Series
DEN wins series 4-0
2016-2017 Pacific Standings
2016-2017 Northwest Standings