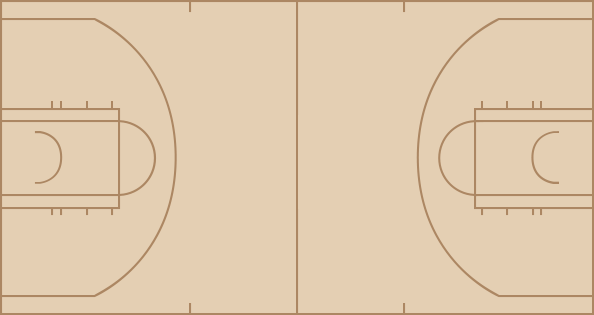 Bulls
time
TEAM
PLAY
SCORE
12:00
Nazr Mohammed vs. Nikola Pekovic (Derrick Williams gains possession)
0 - 0
11:40
Jimmy Butler blocks Nikola Pekovic's layup
0 - 0
11:37
Nazr Mohammed defensive rebound
0 - 0
11:27
Luol Deng misses 22-foot jumper
0 - 0
11:26
Derrick Williams defensive rebound
0 - 0
11:11
Andrei Kirilenko misses two point shot
0 - 0
11:08
Luol Deng defensive rebound
0 - 0
10:52
Luol Deng misses 9-foot jumper
0 - 0
10:51
Luke Ridnour defensive rebound
0 - 0
10:40
Jimmy Butler shooting foul (Ricky Rubio draws the foul)
0 - 0
10:40
Ricky Rubio makes free throw 1 of 2
0 - 1
10:40
Ricky Rubio makes free throw 2 of 2
0 - 2
10:26
Kirk Hinrich misses 19-foot jumper
0 - 2
10:25
Nikola Pekovic defensive rebound
0 - 2
10:17
Derrick Williams misses 19-foot jumper
0 - 2
10:15
Luol Deng defensive rebound
0 - 2
10:03
Carlos Boozer misses 12-foot
0 - 2
10:02
Nikola Pekovic defensive rebound
0 - 2
9:45
Nikola Pekovic misses hook shot
0 - 2
9:42
Ricky Rubio offensive rebound
0 - 2
9:36
Andrei Kirilenko bad pass
0 - 2
9:18
Nazr Mohammed misses 6-foot two point shot
0 - 2
9:17
Ricky Rubio defensive rebound
0 - 2
9:11
Andrei Kirilenko makes driving layup (Luke Ridnour assists)
0 - 4
8:53
Jimmy Butler misses 13-foot jumper
0 - 4
8:52
Nazr Mohammed offensive rebound
0 - 4
8:47
Kirk Hinrich makes 25-foot three point jumper (Luol Deng assists)
3 - 4
8:26
Derrick Williams makes 16-foot jumper (Andrei Kirilenko assists)
3 - 6
8:08
Kirk Hinrich misses 25-foot three point jumper
3 - 6
8:07
Nikola Pekovic defensive rebound
3 - 6
7:56
Derrick Williams traveling
3 - 6
7:41
Luol Deng makes driving layup
5 - 6
7:24
Nikola Pekovic makes layup
5 - 8
7:07
Carlos Boozer bad pass (Derrick Williams steals)
5 - 8
7:01
Luke Ridnour makes driving layup
5 - 10
6:37
Carlos Boozer misses layup
5 - 10
6:35
Nazr Mohammed misses layup
5 - 10
6:35
Nazr Mohammed offensive rebound
5 - 10
6:35
Nazr Mohammed misses tip shot
5 - 10
6:35
Nazr Mohammed offensive rebound
5 - 10
6:33
Luke Ridnour defensive rebound
5 - 10
6:28
Kirk Hinrich shooting foul (Ricky Rubio draws the foul)
5 - 10
6:28
Ricky Rubio makes free throw 1 of 2
5 - 11
6:28
Ricky Rubio makes free throw 2 of 2
5 - 12
6:18
Jimmy Butler misses 11-foot two point shot
5 - 12
6:16
Carlos Boozer offensive rebound
5 - 12
6:07
Kirk Hinrich misses 22-foot jumper
5 - 12
6:05
Carlos Boozer offensive rebound
5 - 12
5:58
Kirk Hinrich makes 25-foot three point jumper (Jimmy Butler assists)
8 - 12
5:35
Luke Ridnour misses 9-foot Running Jumper
8 - 12
5:35
Carlos Boozer defensive rebound
8 - 12
5:22
Kirk Hinrich makes 16-foot jumper
10 - 12
5:07
Nikola Pekovic offensive foul (Kirk Hinrich draws the foul)
10 - 12
5:07
Nikola Pekovic turnover
10 - 12
5:07
Timberwolves Full timeout
10 - 12
5:07
Nate Robinson enters the game for Kirk Hinrich
10 - 12
4:52
Luol Deng makes two point shot
12 - 12
4:26
Andrei Kirilenko misses layup
12 - 12
4:24
Nazr Mohammed defensive rebound
12 - 12
4:20
Luol Deng misses layup
12 - 12
4:18
Carlos Boozer makes two point shot
14 - 12
4:18
Carlos Boozer offensive rebound
12 - 12
4:09
Nate Robinson personal foul (Ricky Rubio draws the foul)
14 - 12
4:03
Ricky Rubio makes driving layup
14 - 14
3:33
Luol Deng makes 26-foot three point jumper (Nate Robinson assists)
17 - 14
3:06
Andrei Kirilenko misses 8-foot jumper
17 - 14
3:05
Chase Budinger enters the game for Andrei Kirilenko
17 - 14
3:05
Taj Gibson enters the game for Carlos Boozer
17 - 14
2:48
Nazr Mohammed makes 17-foot jumper (Nate Robinson assists)
19 - 14
2:32
Chase Budinger makes jumper (Nikola Pekovic assists)
19 - 16
2:11
Luol Deng makes two point shot
21 - 16
1:51
Nikola Pekovic misses 7-foot two point shot
21 - 16
1:50
Bulls Full timeout
21 - 16
1:50
Alexey Shved enters the game for Luke Ridnour
21 - 16
1:50
J.J. Barea enters the game for Ricky Rubio
21 - 16
1:50
Daequan Cook enters the game for Nazr Mohammed
21 - 16
1:39
Chase Budinger personal foul (Luol Deng draws the foul)
21 - 16
1:25
Daequan Cook misses 25-foot three point jumper
21 - 16
1:24
Taj Gibson offensive rebound
21 - 16
1:22
Daequan Cook misses 25-foot three point jumper
21 - 16
1:21
Nikola Pekovic defensive rebound
21 - 16
1:00
Alexey Shved bad pass (Luol Deng steals)
21 - 16
0:57
Derrick Williams blocks Nate Robinson 's 4-foot jumper
21 - 16
0:55
Luol Deng offensive rebound
21 - 16
0:50
Nate Robinson misses 23-foot three point jumper
21 - 16
0:49
Taj Gibson offensive rebound
21 - 16
0:43
Nikola Pekovic blocks Luol Deng's layup
21 - 16
0:42
Jimmy Butler offensive rebound
21 - 16
0:39
Luol Deng misses 23-foot three point jumper
21 - 16
0:38
Taj Gibson makes two point shot
23 - 16
0:38
Taj Gibson offensive rebound
21 - 16
0:31
J.J. Barea misses driving layup
23 - 16
0:30
Taj Gibson defensive rebound
23 - 16
0:18
Luol Deng misses layup
23 - 16
0:17
J.J. Barea defensive rebound
23 - 16
0:17
Luol Deng personal foul (J.J. Barea draws the foul)
23 - 16
0:17
Dante Cunningham enters the game for Derrick Williams
23 - 16
0:05
J.J. Barea misses layup
23 - 16
0:04
Taj Gibson defensive rebound
23 - 16
0:00
Nate Robinson misses 29-foot three point jumper
23 - 16
0:00
Bulls offensive team rebound
23 - 16
0:00
End of the 1st Quarter
23 - 16

time
TEAM
PLAY
SCORE
11:51
Nate Robinson misses 25-foot three point jumper
23 - 16
11:49
Chase Budinger defensive rebound
23 - 16
11:44
Alexey Shved misses 21-foot jumper
23 - 16
11:41
Nate Robinson defensive rebound
23 - 16
11:27
Taj Gibson misses 14-foot jumper
23 - 16
11:27
Daequan Cook vs. Alexey Shved (Dante Cunningham gains possession)
23 - 16
11:27
Bulls offensive team rebound
23 - 16
11:08
Luol Deng blocks Alexey Shved 's 19-foot jumper
23 - 16
11:07
Jimmy Butler defensive rebound
23 - 16
11:00
Alexey Shved personal foul (Luol Deng draws the foul)
23 - 16
10:51
Daequan Cook makes 19-foot jumper (Nate Robinson assists)
25 - 16
10:33
Dante Cunningham makes 20-foot jumper (J.J. Barea assists)
25 - 18
10:19
Nate Robinson makes 6-foot two point shot
27 - 18
10:08
Greg Stiemsma makes 11-foot jumper (J.J. Barea assists)
27 - 20
9:49
Taj Gibson makes 2-foot driving dunk (Nate Robinson assists)
29 - 20
9:33
J.J. Barea makes 18-foot jumper (Dante Cunningham assists)
29 - 22
9:14
Jimmy Butler makes
32 - 22
9:02
J.J. Barea misses 10-foot jumper
32 - 22
9:00
Taj Gibson defensive rebound
32 - 22
8:55
Luol Deng makes 25-foot three point jumper (Nate Robinson assists)
35 - 22
8:51
Timberwolves Full timeout
35 - 22
8:51
Carlos Boozer enters the game for Luol Deng
35 - 22
8:36
Dante Cunningham misses 19-foot jumper
35 - 22
8:34
Taj Gibson defensive rebound
35 - 22
8:18
Nate Robinson makes 14-foot jumper (Carlos Boozer assists)
37 - 22
8:07
J.J. Barea makes driving layup
37 - 24
7:48
Carlos Boozer bad pass (Chase Budinger steals)
37 - 24
7:41
J.J. Barea makes 25-foot three point jumper (Alexey Shved assists)
37 - 27
7:20
Daequan Cook misses 17-foot jumper
37 - 27
7:18
Greg Stiemsma defensive rebound
37 - 27
7:09
Dante Cunningham misses 19-foot jumper
37 - 27
7:07
Jimmy Butler defensive rebound
37 - 27
7:00
Carlos Boozer makes 19-foot jumper (Nate Robinson assists)
39 - 27
6:39
Dante Cunningham makes 8-foot jumper (Alexey Shved assists)
39 - 29
6:20
Greg Stiemsma shooting foul (Jimmy Butler draws the foul)
39 - 29
6:20
Jimmy Butler makes free throw 1 of 2
40 - 29
6:20
Ricky Rubio enters the game for Chase Budinger
40 - 29
6:20
Jimmy Butler makes free throw 2 of 2
41 - 29
6:07
Taj Gibson blocks J.J. Barea 's 5-foot jumper
41 - 29
6:05
Timberwolves offensive team rebound
41 - 29
5:58
Dante Cunningham makes two point shot (Alexey Shved assists)
41 - 31
5:33
Nate Robinson makes 13-foot two point shot
43 - 31
5:22
Dante Cunningham makes 16-foot jumper (Ricky Rubio assists)
43 - 33
5:05
Nate Robinson makes 25-foot three pointer
46 - 33
4:50
Taj Gibson shooting foul (Alexey Shved draws the foul)
46 - 33
4:50
Full timeout
46 - 33
4:50
Kirk Hinrich enters the game for Daequan Cook
46 - 33
4:50
Alexey Shved misses free throw 1 of 2
46 - 33
4:50
Timberwolves offensive team rebound
46 - 33
4:50
Alexey Shved misses free throw 2 of 2
46 - 33
4:50
Jimmy Butler defensive rebound
46 - 33
4:33
Kirk Hinrich misses 24-foot three point jumper
46 - 33
4:31
Carlos Boozer offensive rebound
46 - 33
4:20
Nate Robinson misses 23-foot three point jumper
46 - 33
4:20
J.J. Barea defensive rebound
46 - 33
4:13
Alexey Shved misses driving layup
46 - 33
4:13
Timberwolves offensive team rebound
46 - 33
4:13
Andrei Kirilenko enters the game for Alexey Shved
46 - 33
4:13
Luol Deng enters the game for Jimmy Butler
46 - 33
4:13
Luke Ridnour enters the game for J.J. Barea
46 - 33
4:01
Greg Stiemsma misses
46 - 33
4:01
Ricky Rubio offensive rebound
46 - 33
3:53
Greg Stiemsma offensive foul (Kirk Hinrich draws the foul)
46 - 33
3:53
Greg Stiemsma turnover
46 - 33
3:53
Nikola Pekovic enters the game for Greg Stiemsma
46 - 33
3:41
Kirk Hinrich misses 25-foot three point jumper
46 - 33
3:40
Andrei Kirilenko defensive rebound
46 - 33
3:26
Luke Ridnour makes 20-foot two point shot
46 - 35
3:01
Luol Deng makes 10-foot jumper (Taj Gibson assists)
48 - 35
2:43
Dante Cunningham misses 19-foot jumper
48 - 35
2:41
Nikola Pekovic offensive rebound
48 - 35
2:40
Carlos Boozer shooting foul (Nikola Pekovic draws the foul)
48 - 35
2:40
Bulls Full timeout
48 - 35
2:40
Derrick Williams enters the game for Dante Cunningham
48 - 35
2:40
Nikola Pekovic makes free throw 1 of 2
48 - 36
2:40
Nikola Pekovic makes free throw 2 of 2
48 - 37
2:21
Carlos Boozer makes layup (Kirk Hinrich assists)
50 - 37
2:15
Carlos Boozer personal foul (Nikola Pekovic draws the foul)
50 - 37
2:15
Nazr Mohammed enters the game for Carlos Boozer
50 - 37
2:12
Andrei Kirilenko bad pass (Nazr Mohammed steals)
50 - 37
2:01
Taj Gibson makes 5-foot two point shot (Nate Robinson assists)
52 - 37
1:47
Ricky Rubio misses jumper
52 - 37
1:46
Andrei Kirilenko offensive rebound
52 - 37
1:39
Nikola Pekovic makes jumper (Ricky Rubio assists)
52 - 39
1:39
Nate Robinson shooting foul (Nikola Pekovic draws the foul)
52 - 40
1:39
Nikola Pekovic makes free throw 1 of 1
52 - 40
1:19
Nate Robinson misses 20-foot jumper
52 - 40
1:16
Taj Gibson offensive rebound
52 - 40
1:05
Taj Gibson traveling
52 - 40
0:50
Luke Ridnour misses 16-foot jumper
52 - 40
0:49
Kirk Hinrich defensive rebound
52 - 40
0:29
Nate Robinson makes 21-foot jumper (Taj Gibson assists)
54 - 40
0:10
Ricky Rubio misses layup
54 - 40
0:09
Nazr Mohammed defensive rebound
54 - 40
0:04
Taj Gibson makes two point shot (Nate Robinson assists)
56 - 40
0:01
Derrick Williams makes 25-foot three point jumper (Luke Ridnour assists)
56 - 43
0:00
End of the 2nd Quarter
56 - 43

time
TEAM
PLAY
SCORE
11:32
Luol Deng out of bounds lost ball turnover
56 - 43
11:17
Andrei Kirilenko misses jumper
56 - 43
11:15
Carlos Boozer defensive rebound
56 - 43
10:53
Nazr Mohammed makes layup (Carlos Boozer assists)
58 - 43
10:34
Andrei Kirilenko lost ball turnover (Kirk Hinrich steals)
58 - 43
10:33
Kirk Hinrich lost ball turnover (Andrei Kirilenko steals)
58 - 43
10:30
Ricky Rubio makes 6-foot jumper
58 - 45
10:30
Carlos Boozer shooting foul (Ricky Rubio draws the foul)
58 - 46
10:30
Ricky Rubio makes free throw 1 of 1
58 - 46
10:30
Carlos Boozer inbound turnover
58 - 46
10:27
Derrick Williams misses 19-foot Regular Jump Shot
58 - 46
10:26
Jimmy Butler defensive rebound
58 - 46
10:03
Carlos Boozer misses layup
58 - 46
10:03
Nikola Pekovic defensive rebound
58 - 46
9:53
Luke Ridnour misses jumper
58 - 46
9:52
Carlos Boozer defensive rebound
58 - 46
9:37
Carlos Boozer makes 16-foot jumper (Kirk Hinrich assists)
60 - 46
9:15
Derrick Williams misses 20-foot jumper
60 - 46
8:53
Luol Deng makes 21-foot two point shot
62 - 46
8:33
Nikola Pekovic makes two point shot
62 - 48
7:52
Luke Ridnour misses 25-foot three point jumper
64 - 48
7:52
Carlos Boozer defensive rebound
64 - 48
7:41
Kirk Hinrich bad pass (Derrick Williams steals)
64 - 48
7:37
Derrick Williams makes driving dunk
64 - 50
7:11
Kirk Hinrich misses 26-foot three point jumper
64 - 50
7:11
Luke Ridnour defensive rebound
64 - 50
7:05
Derrick Williams makes driving layup (Luke Ridnour assists)
64 - 52
6:46
Derrick Williams shooting foul (Jimmy Butler draws the foul)
64 - 52
6:46
Jimmy Butler makes free throw 1 of 2
65 - 52
6:46
Jimmy Butler makes free throw 2 of 2
66 - 52
6:33
Ricky Rubio makes 4-foot two point shot
66 - 54
6:33
Kirk Hinrich shooting foul (Ricky Rubio draws the foul)
66 - 54
6:33
Ricky Rubio misses free throw 1 of 1
66 - 54
6:18
Carlos Boozer misses 19-foot jumper
66 - 54
6:16
Nazr Mohammed offensive rebound
66 - 54
6:13
Kirk Hinrich misses 23-foot jumper
66 - 54
6:13
Derrick Williams defensive rebound
66 - 54
6:05
Nikola Pekovic makes dunk (Ricky Rubio assists)
66 - 56
5:37
Kirk Hinrich misses 21-foot jumper
66 - 56
5:35
Nazr Mohammed misses tip shot
66 - 56
5:35
Nazr Mohammed offensive rebound
66 - 56
5:33
Jimmy Butler offensive rebound
66 - 56
5:28
Luol Deng misses 25-foot three point jumper
66 - 56
5:26
Ricky Rubio defensive rebound
66 - 56
5:18
Derrick Williams makes two point shot (Luke Ridnour assists)
66 - 58
5:18
Bulls Full timeout
66 - 58
5:18
Nate Robinson enters the game for Kirk Hinrich
66 - 58
4:56
Jimmy Butler makes 17-foot jumper (Carlos Boozer assists)
68 - 58
4:35
Derrick Williams misses 19-foot jumper
68 - 58
4:33
Nazr Mohammed defensive rebound
68 - 58
4:18
Carlos Boozer makes 8-foot two point shot
70 - 58
4:05
Derrick Williams misses 26-foot three point jumper
70 - 58
4:03
Nazr Mohammed defensive rebound
70 - 58
3:43
Jimmy Butler misses 20-foot jumper
70 - 58
3:43
Andrei Kirilenko defensive rebound
70 - 58
3:26
Nate Robinson shooting foul (Ricky Rubio draws the foul)
70 - 58
3:26
Ricky Rubio makes free throw 1 of 2
70 - 59
3:26
Dante Cunningham enters the game for Andrei Kirilenko
70 - 59
3:26
Chase Budinger enters the game for Luke Ridnour
70 - 59
3:26
Ricky Rubio makes free throw 2 of 2
70 - 60
3:15
Nate Robinson makes 26-foot three point jumper (Jimmy Butler assists)
73 - 60
2:54
Nikola Pekovic makes driving layup (Ricky Rubio assists)
73 - 62
2:33
Ricky Rubio shooting foul (Carlos Boozer draws the foul)
73 - 62
2:33
Timberwolves Full timeout
73 - 62
2:33
Daequan Cook enters the game for Nazr Mohammed
73 - 62
2:33
Carlos Boozer misses free throw 1 of 2
73 - 62
2:33
Bulls offensive team rebound
73 - 62
2:33
Carlos Boozer makes free throw 2 of 2
74 - 62
2:18
Ricky Rubio makes 13-foot jumper
74 - 64
2:00
Carlos Boozer makes two point shot
76 - 64
1:39
Chase Budinger lost ball turnover (Jimmy Butler steals)
76 - 64
1:35
Jimmy Butler misses alley pop dunk shot
76 - 64
1:32
Carlos Boozer makes two point shot
78 - 64
1:32
Carlos Boozer offensive rebound
76 - 64
1:24
Ricky Rubio misses layup
78 - 64
1:23
Jimmy Butler defensive rebound
78 - 64
1:06
Carlos Boozer misses 17-foot jumper
78 - 64
1:04
Chase Budinger defensive rebound
78 - 64
0:53
Chase Budinger misses 23-foot three point jumper
78 - 64
0:53
Taj Gibson enters the game for Carlos Boozer
78 - 64
0:53
J.J. Barea enters the game for Ricky Rubio
78 - 64
0:42
Daequan Cook misses 23-foot three point jumper
78 - 64
0:41
J.J. Barea defensive rebound
78 - 64
0:31
Dante Cunningham misses jumper
78 - 64
0:30
Derrick Williams makes 1-foot two point shot
78 - 66
0:30
Nikola Pekovic offensive rebound
78 - 64
0:13
Luol Deng misses 22-foot jumper
78 - 66
0:13
J.J. Barea defensive rebound
78 - 66
0:05
J.J. Barea makes driving layup
78 - 68
0:01
Dante Cunningham personal take foul (Daequan Cook draws the foul)
78 - 68
0:00
Luol Deng misses 30-foot three point jumper
78 - 68
0:00
Bulls offensive team rebound
78 - 68
0:00
End of the 3rd Quarter
78 - 68

time
TEAM
PLAY
SCORE
11:42
Chase Budinger makes jumper (Alexey Shved assists)
78 - 70
11:21
Jimmy Butler makes 25-foot three point jumper (Nate Robinson assists)
81 - 70
11:03
Derrick Williams makes two point shot (Chase Budinger assists)
81 - 72
10:33
Taj Gibson misses 15-foot jumper
81 - 72
10:33
Jimmy Butler offensive rebound
81 - 72
10:21
Alexey Shved bad pass (Jimmy Butler steals)
81 - 72
10:18
Taj Gibson bad pass (Dante Cunningham steals)
81 - 72
10:10
Derrick Williams misses 14-foot jumper
81 - 72
10:08
Taj Gibson defensive rebound
81 - 72
9:47
Nate Robinson makes driving layup
83 - 72
9:37
J.J. Barea misses 25-foot three point jumper
83 - 72
9:36
Carlos Boozer defensive rebound
83 - 72
9:18
Nate Robinson bad pass (Alexey Shved steals)
83 - 72
9:10
Derrick Williams bad pass (Jimmy Butler steals)
83 - 72
9:04
Jimmy Butler makes two point shot
85 - 72
9:03
Timberwolves Full timeout
85 - 72
8:51
Chase Budinger makes 24-foot three point jumper (J.J. Barea assists)
85 - 75
8:23
Taj Gibson bad pass (Dante Cunningham steals)
85 - 75
8:15
Alexey Shved makes 24-foot three point jumper (Chase Budinger assists)
85 - 78
8:15
Bulls Full timeout
85 - 78
8:15
Luol Deng enters the game for Daequan Cook
85 - 78
8:06
J.J. Barea personal foul (Nate Robinson draws the foul)
85 - 78
7:52
Dante Cunningham blocks Nate Robinson 's 3-foot jumper
85 - 78
7:52
Luol Deng offensive rebound
85 - 78
7:48
Carlos Boozer makes layup (Luol Deng assists)
87 - 78
7:26
Derrick Williams makes 25-foot three point jumper (J.J. Barea assists)
87 - 81
7:05
Carlos Boozer makes 19-foot jumper (Nate Robinson assists)
89 - 81
6:47
Taj Gibson shooting block foul (Derrick Williams draws the foul)
89 - 81
6:47
Derrick Williams makes free throw 1 of 2
89 - 82
6:47
Derrick Williams makes free throw 2 of 2
89 - 83
6:33
J.J. Barea shooting foul (Taj Gibson draws the foul)
89 - 83
6:33
Taj Gibson makes free throw 1 of 2
90 - 83
6:33
Carlos Boozer turnover (lane violation)
90 - 83
6:20
Dante Cunningham makes 19-foot jumper (Alexey Shved assists)
90 - 85
5:54
Jimmy Butler misses 19-foot jumper
90 - 85
5:52
Luol Deng offensive rebound
90 - 85
5:50
Nate Robinson makes 25-foot three point jumper (Luol Deng assists)
93 - 85
5:35
Dante Cunningham misses 18-foot jumper
93 - 85
5:33
Jimmy Butler defensive rebound
93 - 85
5:30
Derrick Williams shooting foul (Jimmy Butler draws the foul)
93 - 85
5:30
Jimmy Butler makes free throw 1 of 2
94 - 85
5:30
Andrei Kirilenko enters the game for Chase Budinger
94 - 85
5:30
Ricky Rubio enters the game for Alexey Shved
94 - 85
5:30
Kirk Hinrich enters the game for Carlos Boozer
94 - 85
5:30
Jimmy Butler makes free throw 2 of 2
95 - 85
5:20
Dante Cunningham offensive foul (Kirk Hinrich draws the foul)
95 - 85
5:20
Dante Cunningham turnover
95 - 85
5:13
J.J. Barea personal foul (Kirk Hinrich draws the foul)
95 - 85
5:13
J.J. Barea technical foul(1st technical foul)
95 - 85
5:13
Jimmy Butler makes technical free throw
96 - 85
5:13
Luke Ridnour enters the game for J.J. Barea
96 - 85
5:03
Nate Robinson lost ball turnover (Ricky Rubio steals)
96 - 85
5:01
Derrick Williams makes two point shot (Ricky Rubio assists)
96 - 87
4:35
Nate Robinson back court turnover
96 - 87
4:22
Jimmy Butler shooting foul (Derrick Williams draws the foul)
96 - 87
4:22
Derrick Williams makes free throw 1 of 2
96 - 88
4:22
Derrick Williams misses free throw 2 of 2
96 - 88
4:22
Taj Gibson defensive rebound
96 - 88
4:00
Taj Gibson makes two point shot (Luol Deng assists)
98 - 88
4:00
Ricky Rubio shooting foul (Taj Gibson draws the foul)
99 - 88
4:00
Taj Gibson makes free throw 1 of 1
99 - 88
3:54
Taj Gibson shooting foul (Ricky Rubio draws the foul)
99 - 88
3:54
Ricky Rubio misses free throw 1 of 2
99 - 88
3:54
Timberwolves offensive team rebound
99 - 88
3:54
Carlos Boozer enters the game for Taj Gibson
99 - 88
3:54
Nikola Pekovic enters the game for Dante Cunningham
99 - 88
3:54
Ricky Rubio misses free throw 2 of 2
99 - 88
3:54
Luol Deng defensive rebound
99 - 88
3:47
Bulls Full timeout
99 - 88
3:35
Luke Ridnour personal foul (Jimmy Butler draws the foul)
99 - 88
3:35
Jimmy Butler misses free throw 1 of 2
99 - 88
3:35
Bulls offensive team rebound
99 - 88
3:35
Jimmy Butler makes free throw 2 of 2
100 - 88
3:26
Ricky Rubio misses 20-foot jumper
100 - 88
3:25
Carlos Boozer defensive rebound
100 - 88
3:08
Nate Robinson makes 25-foot three point jumper (Carlos Boozer assists)
103 - 88
2:55
Ricky Rubio bad pass (Carlos Boozer steals)
103 - 88
2:54
Carlos Boozer offensive foul (Ricky Rubio draws the foul)
103 - 88
2:54
Carlos Boozer turnover
103 - 88
2:54
Bulls delay of game violation
103 - 88
2:48
Derrick Williams misses 25-foot three point jumper
103 - 88
2:47
Luol Deng defensive rebound
103 - 88
2:30
Derrick Williams blocks Jimmy Butler 's 3-foot layup
103 - 88
2:29
Ricky Rubio defensive rebound
103 - 88
2:25
Andrei Kirilenko makes dunk (Ricky Rubio assists)
103 - 90
1:59
Luol Deng misses 25-foot three point jumper
103 - 90
1:58
Derrick Williams defensive rebound
103 - 90
1:44
Derrick Williams offensive Charge (Jimmy Butler draws the foul)
103 - 90
1:44
Derrick Williams turnover
103 - 90
1:29
Kirk Hinrich misses 25-foot three point jumper
103 - 90
1:28
Nikola Pekovic defensive rebound
103 - 90
1:23
Alexey Shved enters the game for Andrei Kirilenko
103 - 90
1:21
Derrick Williams makes layup (Ricky Rubio assists)
103 - 92
1:04
Carlos Boozer misses 18-foot jumper
103 - 92
1:02
Nate Robinson loose ball foul (Ricky Rubio draws the foul)
103 - 92
1:02
Taj Gibson enters the game for Carlos Boozer
103 - 92
0:54
Alexey Shved misses 25-foot three point jumper
103 - 92
0:52
Luke Ridnour offensive rebound
103 - 92
0:50
Nikola Pekovic makes layup (Ricky Rubio assists)
103 - 94
0:48
Ricky Rubio personal foul (Luol Deng draws the foul)
103 - 94
0:48
Luol Deng makes free throw 1 of 2
104 - 94
0:48
Mickael Gelabale enters the game for Ricky Rubio
104 - 94
0:48
Chris Johnson enters the game for Nikola Pekovic
104 - 94
0:48
Luol Deng misses free throw 2 of 2
104 - 94
0:48
Derrick Williams defensive rebound
104 - 94
0:32
Mickael Gelabale misses 14-foot two point jumper
104 - 94
0:31
Taj Gibson defensive rebound
104 - 94
0:16
Luke Ridnour personal take foul (Nate Robinson draws the foul)
104 - 94
0:16
Nate Robinson misses free throw 1 of 2
104 - 94
0:16
Bulls offensive team rebound
104 - 94
0:16
Nate Robinson misses free throw 2 of 2
104 - 94
0:15
Derrick Williams defensive rebound
104 - 94
0:07
Derrick Williams makes 25-foot three point jumper (Alexey Shved assists)
104 - 97
0:00
End of the 4th Quarter
104 - 97
0:00
End of Game
104 - 97
There were a lot of questions facing the Milwaukee Bucks as they prepared to open training camp. Now, on the eve of the 2016-17 season opener, there are even more.

With expectations raised after the signing of free agent Al Horford, the Boston Celtics open the season with a home game against the New Jersey Nets on Wednesday night.

Despite scoring 27 points and grabbing 10 rebounds in his first regular season game with the Warriors, Kevin Durant saw his squad suffer its worst home loss since April 2009.
Regular Season Series
CHI wins series 2-0
2016-2017 Central Standings
2016-2017 Northwest Standings