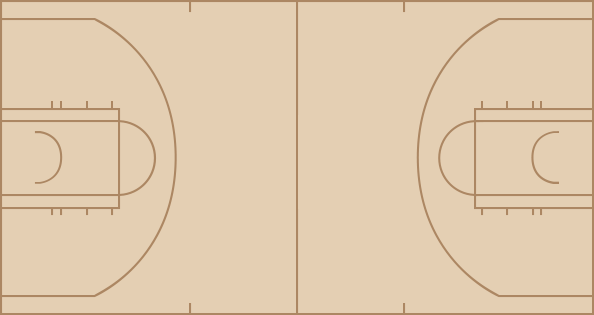 Trail Blazers
time
TEAM
PLAY
SCORE
12:00
Meyers Leonard vs. DeAndre Jordan (Chris Paul gains possession)
0 - 0
11:49
Blake Griffin makes 3-foot two point shot (Chris Paul assists)
0 - 2
11:30
J.J. Hickson misses 14-foot jumper
0 - 2
11:26
DeAndre Jordan defensive rebound
0 - 2
11:18
Caron Butler makes 19-foot jumper (Blake Griffin assists)
0 - 4
10:59
Damian Lillard bad pass (Chris Paul steals)
0 - 4
10:55
Chris Paul makes driving layup
0 - 6
10:30
Will Barton makes jumper (J.J. Hickson assists)
2 - 6
10:17
Meyers Leonard shooting foul (Chauncey Billups draws the foul)
2 - 6
10:17
Chauncey Billups makes free throw 1 of 2
2 - 7
10:17
Chauncey Billups makes free throw 2 of 2
2 - 8
10:02
Damian Lillard makes 17-foot two point shot
4 - 8
9:52
Caron Butler misses 27-foot three point jumper
4 - 8
9:52
Will Barton defensive rebound
4 - 8
9:45
Will Barton bad pass
4 - 8
9:37
J.J. Hickson personal foul (Chris Paul draws the foul)
4 - 8
9:26
Chris Paul misses 25-foot three point jumper
4 - 8
9:23
Victor Claver defensive rebound
4 - 8
9:03
Damian Lillard misses 27-foot three point jumper
4 - 8
9:03
J.J. Hickson offensive rebound
4 - 8
9:00
J.J. Hickson makes layup
6 - 8
8:55
Blake Griffin makes layup (Chris Paul assists)
6 - 10
8:36
Meyers Leonard makes 21-foot jumper (Victor Claver assists)
8 - 10
8:14
DeAndre Jordan makes 1-foot two point shot (Blake Griffin assists)
8 - 12
7:50
Victor Claver misses 26-foot three point jumper
8 - 12
7:50
J.J. Hickson offensive rebound
8 - 12
7:39
J.J. Hickson bad pass (Chris Paul steals)
8 - 12
7:33
Chauncey Billups misses 26-foot three point jumper
8 - 12
7:31
Victor Claver defensive rebound
8 - 12
7:24
Will Barton misses 4-foot jumper
8 - 12
7:24
Will Barton offensive rebound
8 - 12
7:24
Chris Paul shooting foul (Will Barton draws the foul)
8 - 12
7:24
Will Barton misses free throw 1 of 2
9 - 12
7:24
Will Barton makes free throw 2 of 2
10 - 12
7:24
Trail Blazers offensive team rebound
9 - 12
7:16
Chauncey Billups traveling
10 - 12
7:16
Trail Blazers Full timeout
10 - 12
7:16
Joel Freeland enters the game for Meyers Leonard
9 - 12
6:58
Will Barton makes two point shot
11 - 12
6:48
Blake Griffin makes 2-foot driving dunk (Chauncey Billups assists)
11 - 14
6:48
J.J. Hickson shooting foul (Blake Griffin draws the foul)
11 - 14
6:48
Blake Griffin makes free throw 1 of 1
11 - 15
6:35
Will Barton makes 17-foot jumper (Damian Lillard assists)
13 - 15
6:09
Blake Griffin misses 11-foot
13 - 15
6:07
Will Barton defensive rebound
13 - 15
6:03
J.J. Hickson misses layup
13 - 15
6:00
DeAndre Jordan defensive rebound
13 - 15
6:00
Chris Paul bad pass
13 - 15
6:00
Meyers Leonard enters the game for J.J. Hickson
13 - 15
5:48
Damian Lillard bad pass (Chris Paul steals)
13 - 15
5:33
DeAndre Jordan makes 3-foot two point shot (Chauncey Billups assists)
13 - 17
5:18
Joel Freeland makes layup (Damian Lillard assists)
15 - 17
5:00
Chauncey Billups misses 28-foot three point jumper
15 - 17
4:58
Blake Griffin offensive rebound
15 - 17
4:48
Chris Paul misses 26-foot three point jumper
15 - 17
4:48
Victor Claver defensive rebound
15 - 17
4:43
Will Barton bad pass
15 - 17
4:43
Jamal Crawford enters the game for Chauncey Billups
15 - 17
4:26
Jamal Crawford makes 25-foot three point jumper (Chris Paul assists)
15 - 20
4:09
Victor Claver misses 26-foot three point jumper
15 - 20
4:07
DeAndre Jordan defensive rebound
15 - 20
4:03
Victor Claver personal foul (Caron Butler draws the foul)
15 - 20
4:03
Sasha Pavlovic enters the game for Victor Claver
15 - 20
3:59
Damian Lillard personal foul (Chris Paul draws the foul)
15 - 20
3:59
Chris Paul makes free throw 1 of 2
15 - 21
3:59
Eric Maynor enters the game for Will Barton
15 - 21
3:59
Chris Paul makes free throw 2 of 2
15 - 22
3:45
Meyers Leonard makes 4-foot two point shot (Sasha Pavlovic assists)
17 - 22
3:24
Caron Butler makes 5-foot two point shot (Chris Paul assists)
17 - 24
3:03
Sasha Pavlovic makes 25-foot three point jumper (Damian Lillard assists)
20 - 24
2:55
Blake Griffin makes driving layup (Chris Paul assists)
20 - 26
2:46
Eric Maynor misses 9-foot two point shot
20 - 26
2:43
DeAndre Jordan defensive rebound
20 - 26
2:30
Caron Butler misses 23-foot three point jumper
20 - 26
2:28
Joel Freeland defensive rebound
20 - 26
2:18
Eric Maynor makes 25-foot three point jumper (Damian Lillard assists)
23 - 26
2:05
Clippers Full timeout
23 - 26
2:05
Matt Barnes enters the game for Caron Butler
23 - 26
2:05
Eric Bledsoe enters the game for Chris Paul
23 - 26
2:05
Ryan Hollins enters the game for DeAndre Jordan
23 - 26
1:53
Jamal Crawford misses 28-foot three point jumper
23 - 26
1:52
Ryan Hollins offensive rebound
23 - 26
1:51
Ryan Hollins makes layup
23 - 28
1:32
Sasha Pavlovic misses 6-foot hook shot
23 - 28
1:29
Blake Griffin defensive rebound
23 - 28
1:23
Blake Griffin 3 second turnover
23 - 28
1:04
Damian Lillard misses 26-foot three point jumper
23 - 28
1:00
Blake Griffin defensive rebound
23 - 28
0:48
Jamal Crawford misses 27-foot three point jumper
23 - 28
0:47
Joel Freeland defensive rebound
23 - 28
0:41
Eric Maynor misses layup
23 - 28
0:38
Blake Griffin defensive rebound
23 - 28
0:26
Eric Bledsoe misses 26-foot three point jumper
23 - 28
0:22
Sasha Pavlovic defensive rebound
23 - 28
0:04
Ryan Hollins shooting foul (Joel Freeland draws the foul)
23 - 28
0:04
Joel Freeland misses free throw 1 of 2
24 - 28
0:04
Will Barton enters the game for Damian Lillard
23 - 28
0:04
Trail Blazers offensive team rebound
23 - 28
0:04
Joel Freeland makes free throw 2 of 2
24 - 28
0:01
Ryan Hollins misses 7-foot jumper
24 - 28
0:01
Joel Freeland defensive rebound
24 - 28
0:00
End of the 1st Quarter
24 - 28

time
TEAM
PLAY
SCORE
11:44
Eric Bledsoe shooting foul (Meyers Leonard draws the foul)
25 - 28
11:44
Meyers Leonard makes free throw 1 of 2
25 - 28
11:44
Meyers Leonard makes free throw 2 of 2
26 - 28
11:22
Ryan Hollins makes 4-foot two point shot (Matt Barnes assists)
26 - 30
11:03
Ryan Hollins defensive 3-seconds (Technical Foul)
26 - 30
11:03
Meyers Leonard makes technical free throw
27 - 30
11:00
Meyers Leonard bad pass
27 - 30
10:42
Lamar Odom lost ball turnover (Joel Freeland steals)
27 - 30
10:36
Sasha Pavlovic makes driving layup
29 - 30
10:36
Matt Barnes shooting foul (Sasha Pavlovic draws the foul)
29 - 30
10:36
Sasha Pavlovic misses free throw 1 of 1
29 - 30
10:33
Matt Barnes defensive rebound
29 - 30
10:18
Eric Bledsoe misses layup
29 - 30
10:15
Eric Bledsoe makes two point shot
29 - 32
10:15
Eric Bledsoe offensive rebound
29 - 30
10:07
Matt Barnes personal foul (Joel Freeland draws the foul)
29 - 32
9:52
Will Barton misses 4-foot jumper
29 - 32
9:49
Eric Bledsoe defensive rebound
29 - 32
9:44
Eric Bledsoe misses 17-foot jumper
29 - 32
9:42
Ryan Hollins makes two point shot
29 - 34
9:42
Ryan Hollins offensive rebound
29 - 32
9:18
Joel Freeland misses 4-foot jumper
29 - 34
9:17
Lamar Odom defensive rebound
29 - 34
9:03
Jamal Crawford misses 26-foot three point jumper
29 - 34
9:03
Joel Freeland defensive rebound
29 - 34
8:48
Joel Freeland misses 18-foot jumper
29 - 34
8:47
Matt Barnes defensive rebound
29 - 34
8:33
Lamar Odom makes 28-foot three point jumper (Eric Bledsoe assists)
29 - 37
8:33
Trail Blazers Full timeout
29 - 37
8:33
Damian Lillard enters the game for Meyers Leonard
29 - 37
8:33
J.J. Hickson enters the game for Eric Maynor
29 - 37
8:10
Sasha Pavlovic misses 27-foot three point jumper
29 - 37
8:08
Ryan Hollins defensive rebound
29 - 37
7:52
Eric Bledsoe misses 17-foot jumper
29 - 37
7:50
Lamar Odom misses tip shot
29 - 37
7:50
Lamar Odom offensive rebound
29 - 37
7:46
Lamar Odom offensive rebound
29 - 37
7:39
J.J. Hickson shooting foul (Matt Barnes draws the foul)
29 - 37
7:39
Matt Barnes makes free throw 1 of 2
29 - 38
7:39
Matt Barnes misses free throw 2 of 2
29 - 38
7:35
Lamar Odom offensive rebound
29 - 38
7:31
Lamar Odom misses layup
29 - 38
7:31
Eric Bledsoe misses tip shot
29 - 38
7:31
Eric Bledsoe offensive rebound
29 - 38
7:28
Will Barton defensive rebound
29 - 38
7:20
Will Barton misses three point jumper
29 - 38
7:20
Lamar Odom defensive rebound
29 - 38
7:07
Clippers 20 Sec. timeout
29 - 38
6:56
shot clock turnover
29 - 38
6:37
Will Barton bad pass (Lamar Odom steals)
29 - 38
6:33
Eric Bledsoe makes 3-foot two point shot (Lamar Odom assists)
29 - 40
6:11
Damian Lillard misses 18-foot jumper
29 - 40
6:11
Lamar Odom defensive rebound
29 - 40
6:05
Ryan Hollins makes 3-foot driving dunk (Jamal Crawford assists)
29 - 42
6:05
Clippers 20 Sec. timeout
29 - 42
6:05
Will Barton shooting foul (Ryan Hollins draws the foul)
29 - 42
6:05
Luke Babbitt enters the game for J.J. Hickson
29 - 42
6:05
Victor Claver enters the game for Joel Freeland
29 - 42
6:05
Meyers Leonard enters the game for Sasha Pavlovic
29 - 42
6:05
Ryan Hollins makes free throw 1 of 1
29 - 43
5:43
Victor Claver misses 18-foot two point jumper
29 - 43
5:39
Ryan Hollins defensive rebound
29 - 43
5:28
Matt Barnes misses 26-foot three point jumper
29 - 43
5:28
Lamar Odom offensive rebound
29 - 43
5:09
Jamal Crawford misses 28-foot three point jumper
29 - 43
5:07
Luke Babbitt defensive rebound
29 - 43
5:01
Damian Lillard misses 18-foot step back jumpshot
29 - 43
5:00
Matt Barnes defensive rebound
29 - 43
4:54
Matt Barnes makes driving layup (Jamal Crawford assists)
29 - 45
4:31
Ryan Hollins blocks Will Barton 's 8-foot jumper
29 - 45
4:28
Lamar Odom defensive rebound
29 - 45
4:26
Matt Barnes bad pass (Will Barton steals)
29 - 45
4:18
Damian Lillard makes 26-foot three point jumper (Will Barton assists)
32 - 45
4:11
Clippers Full timeout
32 - 45
4:11
Eric Maynor enters the game for Will Barton
32 - 45
4:11
J.J. Hickson enters the game for Meyers Leonard
32 - 45
4:11
Caron Butler enters the game for Jamal Crawford
32 - 45
4:11
Blake Griffin enters the game for Matt Barnes
32 - 45
4:11
DeAndre Jordan enters the game for Eric Bledsoe
32 - 45
4:11
Chauncey Billups enters the game for Ryan Hollins
32 - 45
4:11
Chris Paul enters the game for Lamar Odom
32 - 45
3:58
Chris Paul makes 21-foot jumper (Chauncey Billups assists)
32 - 47
3:34
Victor Claver misses 4-foot jumper
32 - 47
3:32
Caron Butler defensive rebound
32 - 47
3:27
Chauncey Billups misses 27-foot three point jumper
32 - 47
3:25
Luke Babbitt defensive rebound
32 - 47
3:12
Damian Lillard misses 30-foot three point jumper
32 - 47
3:11
Chauncey Billups defensive rebound
32 - 47
2:51
DeAndre Jordan makes 4-foot two point shot (Blake Griffin assists)
32 - 49
2:33
DeAndre Jordan blocks Victor Claver 's 9-foot jumper
32 - 49
2:31
Clippers defensive team rebound
32 - 49
2:31
Official timeout
32 - 49
2:15
Victor Claver shooting foul (Chauncey Billups draws the foul)
32 - 49
2:15
Chauncey Billups makes free throw 1 of 2
32 - 50
2:15
Chauncey Billups makes free throw 2 of 2
32 - 51
2:03
Damian Lillard misses 27-foot three point jumper
32 - 51
2:01
J.J. Hickson makes 2-foot two point shot
34 - 51
2:01
J.J. Hickson offensive rebound
32 - 51
1:40
Chris Paul makes 16-foot two point shot (Chauncey Billups assists)
34 - 53
1:28
Victor Claver makes 27-foot three point jumper (Damian Lillard assists)
37 - 53
1:00
Luke Babbitt shooting foul (Blake Griffin draws the foul)
37 - 53
1:00
Blake Griffin misses free throw 1 of 2
37 - 53
1:00
Clippers offensive team rebound
37 - 53
1:00
Blake Griffin makes free throw 2 of 2
37 - 54
0:39
DeAndre Jordan blocks J.J. Hickson 's 14-foot shot
37 - 54
0:37
Chris Paul defensive rebound
37 - 54
0:25
Caron Butler misses 14-foot two point shot
37 - 54
0:22
DeAndre Jordan offensive rebound
37 - 54
0:00
End of the 2nd Quarter
37 - 54

time
TEAM
PLAY
SCORE
11:48
Caron Butler personal foul (Damian Lillard draws the foul)
37 - 54
11:37
Meyers Leonard misses 20-foot jumper
37 - 54
11:34
Clippers defensive team rebound
37 - 54
11:25
Chauncey Billups misses 22-foot jumper
37 - 54
11:23
J.J. Hickson defensive rebound
37 - 54
11:15
Will Barton lost ball turnover (Blake Griffin steals)
37 - 54
11:11
Meyers Leonard shooting foul (Blake Griffin draws the foul)
37 - 54
11:11
Blake Griffin makes free throw 1 of 2
37 - 55
11:11
Blake Griffin makes free throw 2 of 2
37 - 56
10:57
Will Barton misses 18-foot jumper
37 - 56
10:56
Blake Griffin defensive rebound
37 - 56
10:44
Blake Griffin makes 4-foot two point shot (Chauncey Billups assists)
37 - 58
10:17
Victor Claver misses 13-foot jumper
37 - 58
10:15
J.J. Hickson offensive rebound
37 - 58
10:15
J.J. Hickson makes layup
39 - 58
9:52
Caron Butler makes 23-foot three point jumper (Chris Paul assists)
39 - 61
9:36
J.J. Hickson misses jumper
39 - 61
9:34
DeAndre Jordan defensive rebound
39 - 61
9:25
Blake Griffin misses 20-foot jumper
39 - 61
9:22
DeAndre Jordan offensive rebound
39 - 61
9:21
DeAndre Jordan lost ball turnover (Will Barton steals)
39 - 61
9:15
Will Barton makes driving layup
41 - 61
8:52
Chris Paul misses 12-foot jumper
41 - 61
8:49
J.J. Hickson defensive rebound
41 - 61
8:41
Damian Lillard misses 26-foot three point jumper
41 - 61
8:41
Caron Butler defensive rebound
41 - 61
8:27
Caron Butler misses two point jumper
41 - 61
8:25
Will Barton defensive rebound
41 - 61
8:17
Will Barton bad pass (Chauncey Billups steals)
41 - 61
8:15
Will Barton personal foul (Blake Griffin draws the foul)
41 - 61
8:06
Chauncey Billups misses 26-foot three point jumper
41 - 61
8:04
Damian Lillard defensive rebound
41 - 61
7:43
Will Barton makes 17-foot jumper (Damian Lillard assists)
43 - 61
7:30
Caron Butler makes 18-foot jumper
43 - 63
7:09
Victor Claver makes 26-foot three point jumper (Will Barton assists)
46 - 63
6:58
Meyers Leonard personal foul (Chris Paul draws the foul)
46 - 63
6:52
Blake Griffin makes 3-foot driving dunk
46 - 65
6:35
Victor Claver makes 27-foot three point jumper (Damian Lillard assists)
49 - 65
6:20
Caron Butler makes 11-foot jumper (Chris Paul assists)
49 - 67
6:07
Damian Lillard bad pass (Blake Griffin steals)
49 - 67
5:54
Caron Butler makes 19-foot jumper (Chris Paul assists)
49 - 69
5:54
Trail Blazers Full timeout
49 - 69
5:54
Jamal Crawford enters the game for Chauncey Billups
49 - 69
5:28
Meyers Leonard misses 18-foot jumper
49 - 69
5:28
Caron Butler defensive rebound
49 - 69
5:05
Blake Griffin misses 13-foot hook shot
49 - 69
5:03
Clippers offensive team rebound
49 - 69
5:03
shot clock turnover
49 - 69
4:45
Blake Griffin shooting foul (J.J. Hickson draws the foul)
49 - 69
4:45
J.J. Hickson makes free throw 1 of 2
50 - 69
4:45
J.J. Hickson misses free throw 2 of 2
50 - 69
4:43
DeAndre Jordan defensive rebound
50 - 69
4:22
Caron Butler makes 26-foot three point jumper (Jamal Crawford assists)
50 - 72
4:05
Victor Claver lost ball turnover (Caron Butler steals)
50 - 72
4:00
DeAndre Jordan makes 2-foot two point shot (Chris Paul assists)
50 - 74
3:47
Damian Lillard makes 28-foot three point jumper
53 - 74
3:35
Caron Butler makes 26-foot three point jumper (Chris Paul assists)
53 - 77
3:19
J.J. Hickson misses alley pop dunk shot
53 - 77
3:17
DeAndre Jordan defensive rebound
53 - 77
3:17
Damian Lillard personal foul (Chris Paul draws the foul)
53 - 77
3:17
Sasha Pavlovic enters the game for Victor Claver
53 - 77
3:17
Joel Freeland enters the game for Meyers Leonard
53 - 77
3:09
Chris Paul misses 14-foot jumper
53 - 77
3:08
Sasha Pavlovic defensive rebound
53 - 77
3:00
Damian Lillard misses driving layup
53 - 77
2:59
Trail Blazers offensive team rebound
53 - 77
2:59
Blake Griffin loose ball foul (J.J. Hickson draws the foul)
53 - 77
2:59
Clippers Full timeout
53 - 77
2:53
Will Barton makes 20-foot two point shot
55 - 77
2:36
DeAndre Jordan makes layup (Chris Paul assists)
55 - 79
2:36
Joel Freeland shooting foul (DeAndre Jordan draws the foul)
55 - 79
2:36
DeAndre Jordan misses free throw 1 of 1
55 - 79
2:34
Caron Butler offensive rebound
55 - 79
2:27
Caron Butler makes three point jumper (Blake Griffin assists)
55 - 82
1:59
DeAndre Jordan blocks Joel Freeland 's 16-foot jumper
55 - 82
1:57
Blake Griffin defensive rebound
55 - 82
1:50
Caron Butler misses 25-foot three point jumper
55 - 82
1:49
Damian Lillard defensive rebound
55 - 82
1:45
Damian Lillard bad pass (DeAndre Jordan steals)
55 - 82
1:31
Blake Griffin bad pass (Joel Freeland steals)
55 - 82
1:29
Joel Freeland makes driving dunk
57 - 82
1:06
Blake Griffin 3 second turnover
57 - 82
1:06
Ronny Turiaf enters the game for Caron Butler
57 - 82
1:06
Lamar Odom enters the game for Blake Griffin
57 - 82
1:06
Matt Barnes enters the game for DeAndre Jordan
57 - 82
1:06
Eric Bledsoe enters the game for Chris Paul
57 - 82
0:47
Will Barton misses 12-foot jumper
57 - 82
0:45
Matt Barnes defensive rebound
57 - 82
0:38
Jamal Crawford bad pass
57 - 82
0:16
Sasha Pavlovic misses 24-foot three point jumper
57 - 82
0:15
Matt Barnes defensive rebound
57 - 82
0:00
End of the 3rd Quarter
57 - 82

time
TEAM
PLAY
SCORE
11:37
Lamar Odom misses hook shot
57 - 82
11:34
Victor Claver defensive rebound
57 - 82
11:23
Victor Claver makes driving layup (Will Barton assists)
59 - 82
10:59
Eric Bledsoe misses 27-foot three point jumper
59 - 82
10:57
Sasha Pavlovic defensive rebound
59 - 82
10:47
Damian Lillard makes 15-foot jumper (Will Barton assists)
61 - 82
10:33
Jamal Crawford makes 4-foot two point shot (Lamar Odom assists)
61 - 84
10:11
Victor Claver misses 26-foot three point jumper
61 - 84
10:10
Jamal Crawford defensive rebound
61 - 84
9:56
Lamar Odom bad pass (Will Barton steals)
61 - 84
9:51
Joel Freeland makes 3-foot two point shot (Will Barton assists)
63 - 84
9:30
Jamal Crawford misses three point jumper
63 - 84
9:30
Trail Blazers defensive team rebound
63 - 84
9:14
Will Barton steps out of bounds turnover
63 - 84
9:06
Matt Barnes bad pass
63 - 84
8:52
Lamar Odom personal foul (Victor Claver draws the foul)
63 - 84
8:52
Official timeout
63 - 84
8:37
Joel Freeland makes 7-foot two point shot
65 - 84
8:18
Victor Claver personal foul (Eric Bledsoe draws the foul)
65 - 84
8:18
Meyers Leonard enters the game for Sasha Pavlovic
65 - 84
8:14
Matt Barnes misses 24-foot three point jumper
65 - 84
8:12
Jamal Crawford offensive rebound
65 - 84
8:08
Jamal Crawford makes 26-foot three point jumper
65 - 87
7:41
Victor Claver misses 28-foot three point jumper
65 - 87
7:39
Lamar Odom defensive rebound
65 - 87
7:20
Lamar Odom misses 18-foot jumper
65 - 87
7:18
Meyers Leonard defensive rebound
65 - 87
7:01
Meyers Leonard lost ball turnover (Jamal Crawford steals)
65 - 87
6:48
Matt Barnes makes layup (Lamar Odom assists)
65 - 89
6:26
Lamar Odom personal foul (Joel Freeland draws the foul)
65 - 89
6:26
Willie Green enters the game for Jamal Crawford
65 - 89
6:26
Grant Hill enters the game for Matt Barnes
65 - 89
6:20
Joel Freeland misses 20-foot jumper
65 - 89
6:18
Grant Hill defensive rebound
65 - 89
5:58
Ronny Turiaf misses 9-foot hook shot
65 - 89
5:56
Victor Claver defensive rebound
65 - 89
5:52
Eric Bledsoe shooting foul (Damian Lillard draws the foul)
65 - 89
5:52
Eric Bledsoe technical foul(1st technical foul)
65 - 89
5:52
Clippers Full timeout
65 - 89
5:52
Damian Lillard misses technical free throw
65 - 89
5:52
Trail Blazers offensive team rebound
65 - 89
5:52
Damian Lillard makes free throw 1 of 2
66 - 89
5:52
Damian Lillard makes free throw 2 of 2
67 - 89
5:35
Eric Bledsoe misses 16-foot jumper
67 - 89
5:33
Joel Freeland defensive rebound
67 - 89
5:20
Will Barton makes 19-foot jumper (Damian Lillard assists)
69 - 89
5:01
Grant Hill misses three point jumper
69 - 89
5:01
Damian Lillard defensive rebound
69 - 89
4:41
Joel Freeland misses jumper
69 - 89
4:41
Ronny Turiaf defensive rebound
69 - 89
4:26
Willie Green steps out of bounds turnover
69 - 89
4:26
Sasha Pavlovic enters the game for Damian Lillard
69 - 89
4:03
Sasha Pavlovic misses 16-foot jumper
69 - 89
4:01
Grant Hill defensive rebound
69 - 89
3:53
Willie Green misses three point jumper
69 - 89
3:51
Meyers Leonard defensive rebound
69 - 89
3:36
Meyers Leonard makes 3-foot two point shot (Victor Claver assists)
71 - 89
3:26
Victor Claver personal foul (Ronny Turiaf draws the foul)
71 - 89
3:17
Lamar Odom misses 21-foot jumper
71 - 89
3:16
Will Barton defensive rebound
71 - 89
3:06
Lamar Odom shooting foul (Joel Freeland draws the foul)
71 - 89
3:06
Joel Freeland makes free throw 1 of 2
72 - 89
3:06
Joel Freeland makes free throw 2 of 2
73 - 89
2:59
Eric Bledsoe bad pass
73 - 89
2:59
Trail Blazers Full timeout
73 - 89
2:44
Meyers Leonard misses three point jumper
73 - 89
2:43
Willie Green defensive rebound
73 - 89
2:21
Grant Hill misses 17-foot jumper
73 - 89
2:20
Lamar Odom offensive rebound
73 - 89
2:04
Willie Green makes 3-foot two point shot (Eric Bledsoe assists)
73 - 91
1:43
Joel Freeland makes 7-foot two point shot (Victor Claver assists)
75 - 91
1:23
Lamar Odom lost ball turnover (Sasha Pavlovic steals)
75 - 91
1:14
Sasha Pavlovic misses 24-foot three point jumper
75 - 91
1:13
Lamar Odom defensive rebound
75 - 91
1:05
Grant Hill makes 15-foot two point shot (Willie Green assists)
75 - 93
0:45
Meyers Leonard misses 15-foot jumper
75 - 93
0:44
Lamar Odom defensive rebound
75 - 93
0:30
Eric Bledsoe misses 13-foot jumper
75 - 93
0:29
Joel Freeland defensive rebound
75 - 93
0:17
Will Barton makes 20-foot jumper
77 - 93
0:00
End of the 4th Quarter
77 - 93
0:00
End of Game
77 - 93
A man charged with hitting Sacramento Mayor Kevin Johnson in the face with a coconut cream pie plans to plead not guilty.

After missing almost all of last season, Grizzlies guard Jordan Adams hopes to return this season.

Steve Kerr speaks with Marc Stein about how the Warriors are handling bringing in several new players, Marv Albert giving a speech to the team and his intentions on dealing with Golden State players protesting during the national anthem.
Regular Season Series
LAC wins series 3-1
2015-2016 Northwest Standings