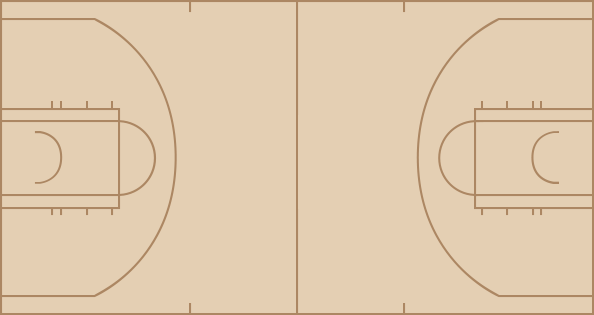 Spurs
time
TEAM
PLAY
SCORE
12:00
Tim Duncan vs. Andrew Bogut (Tony Parker gains possession)
0 - 0
11:38
Tiago Splitter misses 7-foot jumper
0 - 0
11:37
Harrison Barnes defensive rebound
0 - 0
11:18
Andrew Bogut misses jumper
0 - 0
11:18
Festus Ezeli offensive rebound
0 - 0
11:18
Festus Ezeli misses tip shot
0 - 0
11:15
Tiago Splitter defensive rebound
0 - 0
11:04
Tim Duncan makes 19-foot two point shot (Tony Parker assists)
2 - 0
10:44
Klay Thompson misses 18-foot two point jumper
2 - 0
10:42
Tim Duncan defensive rebound
2 - 0
10:26
Tony Parker misses 18-foot jumper
2 - 0
10:25
Andrew Bogut defensive rebound
2 - 0
10:07
Andrew Bogut makes 6-foot two point shot (Stephen Curry assists)
2 - 2
9:45
Tim Duncan misses 17-foot two point shot
2 - 2
9:44
Festus Ezeli defensive rebound
2 - 2
9:22
Festus Ezeli bad pass
2 - 2
9:10
Tim Duncan bad pass (Klay Thompson steals)
2 - 2
9:06
Harrison Barnes makes two point shot (Klay Thompson assists)
2 - 4
8:48
Danny Green lost ball turnover (Stephen Curry steals)
2 - 4
8:33
Stephen Curry bad pass (Tiago Splitter steals)
2 - 4
8:27
Festus Ezeli personal foul (Tony Parker draws the foul)
2 - 4
8:18
Tony Parker makes 19-foot two point shot (Tim Duncan assists)
4 - 4
8:06
Stephen Curry misses 6-foot two point shot
4 - 4
8:03
Tony Parker defensive rebound
4 - 4
7:56
Danny Green makes 23-foot three point jumper (Tony Parker assists)
7 - 4
7:35
Stephen Curry bad pass (Tiago Splitter steals)
7 - 4
7:31
Stephen Curry blocks Kawhi Leonard 's 2-foot layup
7 - 4
7:31
Spurs offensive team rebound
7 - 4
7:28
Kawhi Leonard vs. Stephen Curry (Tiago Splitter gains possession)
7 - 4
7:20
Tiago Splitter misses 4-foot jumper
7 - 4
7:18
Andrew Bogut defensive rebound
7 - 4
7:09
Klay Thompson misses 13-foot jumper
7 - 4
7:07
Kawhi Leonard defensive rebound
7 - 4
7:03
Danny Green offensive foul (Stephen Curry draws the foul)
7 - 4
7:03
Danny Green turnover
7 - 4
6:52
Stephen Curry makes 26-foot (Harrison Barnes assists)
7 - 7
6:52
Spurs Full timeout
7 - 7
6:52
Manu Ginobili enters the game for Tiago Splitter
7 - 7
6:52
Boris Diaw enters the game for Danny Green
7 - 7
6:35
Tim Duncan makes layup (Boris Diaw assists)
9 - 7
6:16
Harrison Barnes makes 13-foot two point shot (Stephen Curry assists)
9 - 9
6:05
Kawhi Leonard offensive foul (Harrison Barnes draws the foul)
9 - 9
6:05
Kawhi Leonard turnover
9 - 9
5:46
Harrison Barnes makes 13-foot two point shot
9 - 11
5:31
Tim Duncan makes 6-foot two point shot (Manu Ginobili assists)
11 - 11
5:31
Festus Ezeli shooting foul (Tim Duncan draws the foul)
11 - 11
5:31
David Lee enters the game for Festus Ezeli
11 - 11
5:31
Tim Duncan makes free throw 1 of 1
12 - 11
5:24
Andrew Bogut misses dunk
12 - 11
5:24
David Lee offensive rebound
12 - 11
5:13
Klay Thompson bad pass (Manu Ginobili steals)
12 - 11
5:13
Andrew Bogut personal foul (Manu Ginobili draws the foul)
12 - 11
4:58
Kawhi Leonard makes 21-foot two point shot (Manu Ginobili assists)
14 - 11
4:33
David Lee makes 3-foot two point shot (Klay Thompson assists)
14 - 13
4:16
Manu Ginobili misses 23-foot three point pullup jump shot
14 - 13
4:16
Andrew Bogut defensive rebound
14 - 13
4:01
David Lee makes 12-foot two point shot (Andrew Bogut assists)
14 - 15
3:41
Kawhi Leonard misses 26-foot three point jumper
14 - 15
3:38
David Lee defensive rebound
14 - 15
3:28
Jarrett Jack enters the game for Klay Thompson
14 - 15
3:28
Cory Joseph enters the game for Tony Parker
14 - 15
3:21
David Lee misses 17-foot jumper
14 - 15
3:20
Kawhi Leonard defensive rebound
14 - 15
3:09
Kawhi Leonard makes layup (Manu Ginobili assists)
16 - 15
2:50
Manu Ginobili personal foul (Stephen Curry draws the foul)
16 - 15
2:50
Warriors Full timeout
16 - 15
2:50
Draymond Green enters the game for Harrison Barnes
16 - 15
2:50
Carl Landry enters the game for Andrew Bogut
16 - 15
2:50
Tiago Splitter enters the game for Kawhi Leonard
16 - 15
2:50
Gary Neal enters the game for Tim Duncan
16 - 15
2:43
Carl Landry misses 9-foot jumper
16 - 15
2:42
Manu Ginobili defensive rebound
16 - 15
2:32
Cory Joseph makes 24-foot three point jumper (Boris Diaw assists)
19 - 15
2:11
Draymond Green misses 19-foot two point jumper
19 - 15
2:09
Gary Neal defensive rebound
19 - 15
1:53
Gary Neal misses 27-foot three point pullup jump shot
19 - 15
1:52
Draymond Green defensive rebound
19 - 15
1:43
Stephen Curry makes 2-foot two point shot
19 - 17
1:22
Tiago Splitter makes 9-foot two point shot (Boris Diaw assists)
21 - 17
1:06
Stephen Curry misses 21-foot jumper
21 - 17
1:02
Gary Neal defensive rebound
21 - 17
0:57
Manu Ginobili misses 27-foot three point jumper
21 - 17
0:57
Stephen Curry defensive rebound
21 - 17
0:51
David Lee offensive foul (Cory Joseph draws the foul)
21 - 17
0:51
David Lee turnover
21 - 17
0:51
Klay Thompson enters the game for Stephen Curry
21 - 17
0:43
Draymond Green personal foul (Manu Ginobili draws the foul)
21 - 17
0:43
Festus Ezeli enters the game for David Lee
21 - 17
0:36
Manu Ginobili lost ball turnover (Carl Landry steals)
21 - 17
0:23
Manu Ginobili shooting foul (Carl Landry draws the foul)
21 - 19
0:23
Carl Landry makes free throw 1 of 2
21 - 18
0:23
Carl Landry makes free throw 2 of 2
21 - 19
0:05
Boris Diaw misses 15-foot jumper
21 - 19
0:03
Festus Ezeli defensive rebound
21 - 19
0:00
End of the 1st Quarter
21 - 19

time
TEAM
PLAY
SCORE
11:52
Carl Landry offensive foul (Boris Diaw draws the foul)
21 - 19
11:52
Carl Landry turnover
21 - 19
11:29
Danny Green misses 26-foot three point pullup jump shot
21 - 19
11:27
Carl Landry defensive rebound
21 - 19
11:17
Carl Landry makes 19-foot two point shot (Jarrett Jack assists)
21 - 21
11:02
Festus Ezeli personal foul (Tiago Splitter draws the foul)
21 - 21
11:02
Andrew Bogut enters the game for Festus Ezeli
21 - 21
10:56
Gary Neal makes 11-foot two point shot (Tony Parker assists)
23 - 21
10:45
Matt Bonner enters the game for Boris Diaw
23 - 21
10:45
Harrison Barnes enters the game for Draymond Green
23 - 21
10:30
Jarrett Jack misses 16-foot two point shot
23 - 21
10:30
Gary Neal defensive rebound
23 - 21
10:15
Tony Parker misses 14-foot jumper
23 - 21
10:15
Warriors defensive team rebound
23 - 21
10:15
Tiago Splitter personal foul (Klay Thompson draws the foul)
23 - 21
10:15
Stephen Curry enters the game for Carl Landry
23 - 21
10:00
Tiago Splitter blocks Klay Thompson's shot
23 - 21
9:57
Tiago Splitter defensive rebound
23 - 21
9:53
Tony Parker misses driving layup
23 - 21
9:52
Warriors defensive team rebound
23 - 21
9:38
Jarrett Jack makes 7-foot two point shot (Stephen Curry assists)
23 - 23
9:23
Gary Neal makes 20-foot two point shot
25 - 23
9:03
Harrison Barnes misses 27-foot three point pullup jump shot
25 - 23
9:02
Danny Green defensive rebound
25 - 23
8:48
Tiago Splitter makes two point shot (Tony Parker assists)
27 - 23
8:33
Stephen Curry misses 27-foot three point jumper
27 - 23
8:33
Harrison Barnes offensive rebound
27 - 23
8:30
Harrison Barnes possession lost ball turnover
27 - 23
8:30
Official timeout
27 - 23
8:30
Andris Biedrins enters the game for Andrew Bogut
27 - 23
8:12
Gary Neal makes 9-foot two point shot (Danny Green assists)
29 - 23
7:56
Tony Parker personal foul (Andris Biedrins draws the foul)
29 - 23
7:47
Harrison Barnes misses 10-foot two point shot
29 - 23
7:46
Gary Neal defensive rebound
29 - 23
7:41
Gary Neal misses 26-foot three point pullup jump shot
29 - 23
7:39
Andris Biedrins defensive rebound
29 - 23
7:31
Klay Thompson misses 26-foot three point pullup jump shot
29 - 23
7:30
Tony Parker defensive rebound
29 - 23
7:11
Tiago Splitter makes 5-foot two point shot (Tony Parker assists)
31 - 23
6:58
Stephen Curry misses layup
31 - 23
6:58
Andris Biedrins offensive rebound
31 - 23
6:52
Klay Thompson misses 6-foot jumper
31 - 23
6:52
Matt Bonner defensive rebound
31 - 23
6:43
Andris Biedrins shooting foul (Tiago Splitter draws the foul)
31 - 23
6:43
Tiago Splitter makes free throw 1 of 2
32 - 23
6:43
Tiago Splitter makes free throw 2 of 2
33 - 23
6:35
Stephen Curry makes 6-foot two point shot
33 - 25
6:31
Spurs Full timeout
33 - 25
6:31
Tim Duncan enters the game for Tiago Splitter
33 - 25
6:11
Matt Bonner makes 9-foot two point shot (Tim Duncan assists)
35 - 25
5:56
Stephen Curry makes 2-foot two point shot
35 - 27
5:31
Matt Bonner misses 24-foot three point jumper
35 - 27
5:31
Jarrett Jack defensive rebound
35 - 27
5:24
Jarrett Jack makes 18-foot two point shot
35 - 29
4:58
Andris Biedrins shooting foul (Danny Green draws the foul)
35 - 29
4:58
Danny Green makes free throw 1 of 2
36 - 29
4:58
Manu Ginobili enters the game for Matt Bonner
36 - 29
4:58
Kawhi Leonard enters the game for Gary Neal
36 - 29
4:58
Danny Green makes free throw 2 of 2
37 - 29
4:41
Harrison Barnes misses 13-foot jumper
37 - 29
4:39
Andris Biedrins offensive rebound
37 - 29
4:33
Stephen Curry makes 23-foot three pointer (Andris Biedrins assists)
37 - 32
4:16
Tony Parker misses 13-foot jumper
37 - 32
4:15
Andris Biedrins defensive rebound
37 - 32
3:56
Harrison Barnes makes two point shot
37 - 34
3:30
Tony Parker misses 5-foot jumper
37 - 34
3:29
Tim Duncan offensive rebound
37 - 34
3:28
Tim Duncan makes layup
39 - 34
3:11
Stephen Curry makes 3-foot two point shot
39 - 36
2:50
Andris Biedrins shooting foul (Tony Parker draws the foul)
39 - 36
2:50
Warriors Full timeout
39 - 36
2:50
Cory Joseph enters the game for Manu Ginobili
39 - 36
2:50
Andrew Bogut enters the game for Andris Biedrins
39 - 36
2:50
Tony Parker misses free throw 1 of 2
39 - 36
2:50
Spurs offensive team rebound
39 - 36
2:50
Tony Parker makes free throw 2 of 2
40 - 36
2:47
Cory Joseph personal take foul (Jarrett Jack draws the foul)
40 - 36
2:47
David Lee enters the game for Jarrett Jack
40 - 36
2:47
Boris Diaw enters the game for Cory Joseph
40 - 36
2:47
Manu Ginobili enters the game for Tony Parker
40 - 36
2:40
Stephen Curry misses 22-foot jumper
40 - 36
2:38
Manu Ginobili defensive rebound
40 - 36
2:21
Tim Duncan makes 12-foot two point shot (Manu Ginobili assists)
42 - 36
2:08
Stephen Curry misses layup
42 - 36
2:05
Boris Diaw defensive rebound
42 - 36
2:00
Danny Green makes 28-foot three pointer (Manu Ginobili assists)
45 - 36
1:39
Tim Duncan blocks David Lee 's 2-foot shot
45 - 36
1:39
Warriors offensive team rebound
45 - 36
1:37
David Lee misses 16-foot jumper
45 - 36
1:35
Stephen Curry offensive rebound
45 - 36
1:30
Stephen Curry misses 17-foot step back jumpshot
45 - 36
1:29
Manu Ginobili defensive rebound
45 - 36
1:15
Boris Diaw traveling
45 - 36
1:15
Warriors Full timeout
45 - 36
1:15
Jarrett Jack enters the game for Harrison Barnes
45 - 36
1:15
Cory Joseph enters the game for Manu Ginobili
45 - 36
1:00
Jarrett Jack misses 24-foot three point jumper
45 - 36
0:58
David Lee offensive rebound
45 - 36
0:50
Tim Duncan blocks David Lee's jumper
45 - 36
0:49
Tim Duncan defensive rebound
45 - 36
0:46
Kawhi Leonard bad pass
45 - 36
0:46
Manu Ginobili enters the game for Cory Joseph
45 - 36
0:29
Klay Thompson makes 20-foot two point shot (David Lee assists)
45 - 38
0:08
David Lee shooting foul (Tim Duncan draws the foul)
45 - 38
0:08
Tim Duncan makes free throw 1 of 2
46 - 38
0:08
Cory Joseph enters the game for Manu Ginobili
46 - 38
0:08
Tim Duncan makes free throw 2 of 2
47 - 38
0:03
Stephen Curry makes driving layup
47 - 40
0:01
Cory Joseph misses 34-foot three point pullup jump shot
47 - 40
0:00
Spurs offensive team rebound
47 - 40
0:00
End of the 2nd Quarter
47 - 40

time
TEAM
PLAY
SCORE
11:44
Stephen Curry makes 11-foot two point shot (Klay Thompson assists)
47 - 42
11:18
Tim Duncan misses jumper
47 - 42
11:18
Stephen Curry defensive rebound
47 - 42
11:11
Tiago Splitter shooting foul (Andrew Bogut draws the foul)
47 - 42
11:11
Andrew Bogut makes free throw 1 of 2
47 - 43
11:11
Andrew Bogut misses free throw 2 of 2
47 - 43
11:10
Kawhi Leonard defensive rebound
47 - 43
10:48
Tiago Splitter makes two point shot
49 - 43
10:40
Klay Thompson steps out of bounds turnover
49 - 43
10:21
Danny Green misses 19-foot jumper
49 - 43
10:19
Kawhi Leonard offensive rebound
49 - 43
10:17
Kawhi Leonard misses 15-foot two point shot
49 - 43
10:15
Andrew Bogut defensive rebound
49 - 43
10:00
Klay Thompson bad pass (Kawhi Leonard steals)
49 - 43
9:56
Tony Parker misses two point shot
49 - 43
9:55
Warriors defensive team rebound
49 - 43
9:30
Stephen Curry misses 27-foot three point shot
49 - 43
9:30
Tony Parker defensive rebound
49 - 43
9:10
Tony Parker misses 25-foot three point shot
49 - 43
9:08
Andrew Bogut defensive rebound
49 - 43
9:03
Stephen Curry lost ball turnover (Danny Green steals)
49 - 43
8:49
Andris Biedrins shooting foul (Tim Duncan draws the foul)
49 - 43
8:49
Tim Duncan makes free throw 1 of 2
50 - 43
8:49
Tim Duncan makes free throw 2 of 2
51 - 43
8:37
Tony Parker personal foul (Harrison Barnes draws the foul)
51 - 43
8:27
Andrew Bogut bad pass (Kawhi Leonard steals)
51 - 43
8:03
Tim Duncan makes 18-foot two point shot (Tony Parker assists)
53 - 43
7:48
Stephen Curry makes 14-foot two point shot
53 - 45
7:26
Tony Parker misses 20-foot two point jumper
53 - 45
7:26
Andrew Bogut defensive rebound
53 - 45
7:16
Tim Duncan blocks Stephen Curry's jumper
53 - 45
7:16
Tim Duncan defensive rebound
53 - 45
7:13
Harrison Barnes blocks Tony Parker 's 3-foot jumper
53 - 45
7:11
Kawhi Leonard offensive rebound
53 - 45
7:11
Kawhi Leonard makes layup
55 - 45
7:03
Warriors Full timeout
55 - 45
7:03
Cory Joseph enters the game for Tony Parker
55 - 45
7:00
Danny Green shooting foul (Harrison Barnes draws the foul)
55 - 45
7:00
Harrison Barnes makes free throw 1 of 2
55 - 46
7:00
Jarrett Jack enters the game for Klay Thompson
55 - 46
7:00
Harrison Barnes misses free throw 2 of 2
55 - 46
6:58
Danny Green defensive rebound
55 - 46
6:46
Kawhi Leonard misses 18-foot two point jumper
55 - 46
6:45
Andrew Bogut defensive rebound
55 - 46
6:33
Jarrett Jack makes 16-foot two point shot (Stephen Curry assists)
55 - 48
6:16
Manu Ginobili enters the game for Danny Green
55 - 48
6:16
Festus Ezeli enters the game for Andrew Bogut
55 - 48
6:09
Andris Biedrins blocks Manu Ginobili 's 6-foot jumper
55 - 48
6:07
Spurs offensive team rebound
55 - 48
6:05
Tim Duncan misses 14-foot step back jumpshot
55 - 48
6:05
Kawhi Leonard offensive rebound
55 - 48
6:05
Andris Biedrins shooting foul (Kawhi Leonard draws the foul)
55 - 48
6:05
Kawhi Leonard misses free throw 1 of 2
55 - 48
6:05
Spurs offensive team rebound
55 - 48
6:05
Carl Landry enters the game for Andris Biedrins
55 - 48
6:05
Kawhi Leonard makes free throw 2 of 2
56 - 48
5:52
Jarrett Jack misses 17-foot step back jumpshot
56 - 48
5:52
Kawhi Leonard defensive rebound
56 - 48
5:43
Tim Duncan bad pass (Festus Ezeli steals)
56 - 48
5:35
Harrison Barnes misses jumper
56 - 48
5:35
Manu Ginobili defensive rebound
56 - 48
5:16
Tim Duncan makes 12-foot two point shot (Manu Ginobili assists)
58 - 48
5:01
Stephen Curry misses 26-foot three point pullup jump shot
58 - 48
5:00
Manu Ginobili defensive rebound
58 - 48
4:54
Cory Joseph makes driving layup (Manu Ginobili assists)
60 - 48
4:28
Jarrett Jack misses 3-foot jumper
60 - 48
4:28
Tiago Splitter defensive rebound
60 - 48
4:28
Jarrett Jack personal foul (Tiago Splitter draws the foul)
60 - 48
4:28
Boris Diaw enters the game for Tiago Splitter
60 - 48
4:24
Harrison Barnes shooting foul (Cory Joseph draws the foul)
60 - 48
4:24
Cory Joseph makes free throw 1 of 2
61 - 48
4:24
Klay Thompson enters the game for Stephen Curry
61 - 48
4:24
Cory Joseph misses free throw 2 of 2
61 - 48
4:24
Harrison Barnes defensive rebound
61 - 48
4:11
Boris Diaw personal foul (Carl Landry draws the foul)
61 - 48
3:56
Carl Landry misses 9-foot jumper
61 - 48
3:56
Carl Landry offensive rebound
61 - 48
3:54
Carl Landry makes 4-foot two point shot
61 - 50
3:35
Tim Duncan misses jumper
61 - 50
3:33
Carl Landry defensive rebound
61 - 50
3:17
Harrison Barnes misses 12-foot jumper
61 - 50
3:16
Festus Ezeli offensive rebound
61 - 50
3:15
Klay Thompson makes 26-foot three pointer (Festus Ezeli assists)
61 - 53
3:13
Spurs Full timeout
61 - 53
3:00
Carl Landry personal foul (Manu Ginobili draws the foul)
61 - 53
3:00
Manu Ginobili makes free throw 1 of 2
62 - 53
3:00
Tony Parker enters the game for Cory Joseph
62 - 53
3:00
Manu Ginobili makes free throw 2 of 2
63 - 53
2:44
Carl Landry misses 9-foot jumper
63 - 53
2:43
Tim Duncan defensive rebound
63 - 53
2:28
Kawhi Leonard misses 23-foot three point jumper
63 - 53
2:27
Kawhi Leonard offensive rebound
63 - 53
2:25
Kawhi Leonard makes two point shot
65 - 53
2:09
Festus Ezeli misses jumper
65 - 53
2:06
Carl Landry offensive rebound
65 - 53
2:06
Carl Landry makes two point shot
65 - 55
2:06
Boris Diaw shooting foul (Carl Landry draws the foul)
65 - 55
2:06
Carl Landry misses free throw 1 of 1
65 - 55
2:05
Boris Diaw defensive rebound
65 - 55
1:58
Tony Parker possession lost ball turnover
65 - 55
1:47
Carl Landry misses two point jumper
65 - 55
1:46
Boris Diaw defensive rebound
65 - 55
1:27
Manu Ginobili misses 27-foot three point pullup jump shot
65 - 55
1:27
Festus Ezeli defensive rebound
65 - 55
1:15
Jarrett Jack makes two point shot
65 - 57
1:04
Manu Ginobili bad pass (Jarrett Jack steals)
65 - 57
0:57
Boris Diaw shooting foul (Harrison Barnes draws the foul)
65 - 57
0:57
Festus Ezeli misses free throw 1 of 2
65 - 57
0:57
Warriors offensive team rebound
65 - 57
0:57
Tiago Splitter enters the game for Tim Duncan
65 - 57
0:57
Gary Neal enters the game for Kawhi Leonard
65 - 57
0:57
Festus Ezeli misses free throw 2 of 2
65 - 57
0:55
Boris Diaw defensive rebound
65 - 57
0:43
Tony Parker misses 17-foot jumper
65 - 57
0:42
Harrison Barnes defensive rebound
65 - 57
0:39
Tony Parker personal take foul (Festus Ezeli draws the foul)
65 - 57
0:39
Festus Ezeli makes free throw 1 of 2
65 - 58
0:39
Matt Bonner enters the game for Boris Diaw
65 - 58
0:39
Draymond Green enters the game for Carl Landry
65 - 58
0:39
Festus Ezeli makes free throw 2 of 2
65 - 59
0:28
Tony Parker bad pass (Jarrett Jack steals)
65 - 59
0:22
Harrison Barnes misses 28-foot three point jumper
65 - 59
0:21
Spurs defensive team rebound
65 - 59
0:20
Danny Green enters the game for Tony Parker
65 - 59
0:20
Kent Bazemore enters the game for Festus Ezeli
65 - 59
0:04
Kent Bazemore shooting foul (Manu Ginobili draws the foul)
65 - 59
0:04
Manu Ginobili misses free throw 1 of 2
65 - 59
0:04
Spurs offensive team rebound
65 - 59
0:04
Stephen Curry enters the game for Kent Bazemore
65 - 59
0:04
Kawhi Leonard enters the game for Tiago Splitter
65 - 59
0:04
Cory Joseph enters the game for Matt Bonner
65 - 59
0:04
Manu Ginobili makes free throw 2 of 2
66 - 59
0:01
Stephen Curry misses 34-foot three point pullup jump shot
66 - 59
0:00
Warriors offensive team rebound
66 - 59
0:00
End of the 3rd Quarter
66 - 59

time
TEAM
PLAY
SCORE
11:42
Tiago Splitter makes driving layup (Boris Diaw assists)
68 - 59
11:22
Jarrett Jack makes 18-foot two point shot
68 - 61
11:22
Gary Neal shooting foul (Jarrett Jack draws the foul)
68 - 62
11:22
Danny Green enters the game for Gary Neal
68 - 61
11:22
Tony Parker enters the game for Cory Joseph
68 - 61
11:22
Jarrett Jack makes free throw 1 of 1
68 - 62
11:04
Tiago Splitter makes driving layup (Manu Ginobili assists)
70 - 62
10:48
David Lee makes 18-foot two point shot (Draymond Green assists)
70 - 64
10:37
Tiago Splitter lost ball turnover (David Lee steals)
70 - 64
10:30
Draymond Green offensive foul (Tony Parker draws the foul)
70 - 64
10:30
Draymond Green turnover
70 - 64
10:14
Manu Ginobili misses 11-foot two point shot
70 - 64
10:12
David Lee defensive rebound
70 - 64
10:00
Klay Thompson makes 26-foot three pointer (David Lee assists)
70 - 67
9:44
Manu Ginobili makes driving layup (Tiago Splitter assists)
72 - 67
9:32
Draymond Green misses 25-foot three point jumper
72 - 67
9:30
Danny Green defensive rebound
72 - 67
9:23
Klay Thompson personal foul (Boris Diaw draws the foul)
72 - 67
9:23
Spurs Full timeout
72 - 67
9:23
Kawhi Leonard enters the game for Tiago Splitter
72 - 67
9:23
Tim Duncan enters the game for Boris Diaw
72 - 67
9:23
Festus Ezeli enters the game for Draymond Green
72 - 67
9:15
Tim Duncan misses two point shot
72 - 67
9:14
David Lee defensive rebound
72 - 67
9:00
Kawhi Leonard personal foul (David Lee draws the foul)
72 - 67
9:00
Boris Diaw enters the game for Manu Ginobili
72 - 67
8:49
David Lee misses 17-foot jumper
72 - 67
8:48
Boris Diaw defensive rebound
72 - 67
8:29
Kawhi Leonard makes 17-foot two point shot (Tony Parker assists)
74 - 67
8:07
David Lee misses 17-foot jumper
74 - 67
8:06
Kawhi Leonard defensive rebound
74 - 67
7:45
Kawhi Leonard misses 18-foot jumper
74 - 67
7:43
Stephen Curry defensive rebound
74 - 67
7:35
David Lee makes driving layup (Stephen Curry assists)
74 - 69
7:35
Boris Diaw shooting foul (David Lee draws the foul)
74 - 69
7:35
Tiago Splitter enters the game for Boris Diaw
74 - 69
7:35
David Lee makes free throw 1 of 1
74 - 70
7:13
Tony Parker traveling
74 - 70
7:13
Carl Landry enters the game for David Lee
74 - 70
6:58
Klay Thompson misses 18-foot jumper
74 - 70
6:58
Danny Green defensive rebound
74 - 70
6:52
Festus Ezeli personal foul (Tim Duncan draws the foul)
74 - 70
6:47
Danny Green makes 25-foot three pointer (Tony Parker assists)
77 - 70
6:33
Tiago Splitter shooting foul (Carl Landry draws the foul)
77 - 70
6:33
Carl Landry makes free throw 1 of 2
77 - 71
6:33
Carl Landry misses free throw 2 of 2
77 - 71
6:31
Tim Duncan defensive rebound
77 - 71
6:13
Tim Duncan misses 15-foot jumper
77 - 71
6:13
Festus Ezeli defensive rebound
77 - 71
6:05
Jarrett Jack misses 17-foot step back jumpshot
77 - 71
6:03
Spurs defensive team rebound
77 - 71
6:03
Carl Landry loose ball foul (Kawhi Leonard draws the foul)
77 - 71
5:39
Tony Parker misses 20-foot jumper
77 - 71
5:39
Jarrett Jack defensive rebound
77 - 71
5:31
Klay Thompson makes 15-foot two point shot
77 - 73
5:09
Kawhi Leonard misses 26-foot three point pullup jump shot
77 - 73
5:07
Festus Ezeli defensive rebound
77 - 73
4:52
Stephen Curry makes 18-foot two point shot (Carl Landry assists)
77 - 75
4:28
Tim Duncan bad pass
77 - 75
4:28
Official timeout
77 - 75
4:28
Manu Ginobili enters the game for Tim Duncan
77 - 75
4:13
Stephen Curry misses two point jumper
77 - 75
4:13
Warriors offensive team rebound
77 - 75
4:01
Stephen Curry misses 18-foot step back jumpshot
77 - 75
4:00
Kawhi Leonard defensive rebound
77 - 75
3:46
Tony Parker misses 3-foot jumper
77 - 75
3:46
Tiago Splitter offensive rebound
77 - 75
3:46
Stephen Curry personal foul (Tiago Splitter draws the foul)
77 - 75
3:35
Tony Parker makes 22-foot three point jumper (Manu Ginobili assists)
80 - 75
3:15
Klay Thompson misses 18-foot jumper
80 - 75
3:15
Spurs defensive team rebound
80 - 75
3:15
Carl Landry loose ball foul (Kawhi Leonard draws the foul)
80 - 75
3:15
Kawhi Leonard makes free throw 1 of 2
81 - 75
3:15
Kawhi Leonard makes free throw 2 of 2
82 - 75
2:57
Jarrett Jack makes 10-foot two point shot (Stephen Curry assists)
82 - 77
2:31
Tony Parker misses 21-foot jumper
82 - 77
2:30
Carl Landry defensive rebound
82 - 77
2:19
Kawhi Leonard personal foul (Jarrett Jack draws the foul)
82 - 77
2:19
Warriors Full timeout
82 - 77
2:19
Jarrett Jack makes free throw 1 of 2
82 - 78
2:19
Jarrett Jack makes free throw 2 of 2
82 - 79
2:00
Kawhi Leonard makes 23-foot three pointer (Manu Ginobili assists)
85 - 79
1:50
Klay Thompson misses 27-foot three point pullup jump shot
85 - 79
1:49
Warriors offensive team rebound
85 - 79
1:35
Stephen Curry misses 27-foot three point pullup jump shot
85 - 79
1:34
Manu Ginobili defensive rebound
85 - 79
1:15
Tony Parker makes 23-foot three pointer (Manu Ginobili assists)
88 - 79
1:00
Jarrett Jack misses 9-foot jumper
88 - 79
0:59
Carl Landry offensive rebound
88 - 79
0:59
Carl Landry makes two point shot
88 - 81
0:53
Jarrett Jack personal take foul (Tony Parker draws the foul)
88 - 81
0:53
Tony Parker makes free throw 1 of 2
89 - 81
0:53
Boris Diaw enters the game for Tiago Splitter
89 - 81
0:53
Draymond Green enters the game for Festus Ezeli
89 - 81
0:53
Tony Parker makes free throw 2 of 2
90 - 81
0:48
Warriors Full timeout
90 - 81
0:48
Warriors 20 Sec. timeout
90 - 81
0:44
Stephen Curry misses 26-foot three point jumper
90 - 81
0:42
Boris Diaw defensive rebound
90 - 81
0:37
Stephen Curry personal take foul (Tony Parker draws the foul)
92 - 81
0:37
Tony Parker makes free throw 1 of 2
91 - 81
0:37
Kent Bazemore enters the game for Stephen Curry
91 - 81
0:37
Festus Ezeli enters the game for Klay Thompson
91 - 81
0:37
Scott Machado enters the game for Jarrett Jack
91 - 81
0:37
Patty Mills enters the game for Kawhi Leonard
91 - 81
0:37
Gary Neal enters the game for Manu Ginobili
91 - 81
0:37
DeJuan Blair enters the game for Danny Green
91 - 81
0:37
Tony Parker makes free throw 2 of 2
92 - 81
0:35
Tony Parker personal foul (Scott Machado draws the foul)
92 - 81
0:35
Cory Joseph enters the game for Tony Parker
92 - 81
0:35
Matt Bonner enters the game for Boris Diaw
92 - 81
0:35
Scott Machado makes free throw 1 of 2
92 - 82
0:35
Scott Machado misses free throw 2 of 2
92 - 82
0:34
Gary Neal defensive rebound
92 - 82
0:15
Gary Neal makes 15-foot two point shot
94 - 82
0:08
Draymond Green misses 11-foot two point shot
94 - 82
0:07
DeJuan Blair defensive rebound
94 - 82
0:00
End of the 4th Quarter
94 - 82
0:00
End of Game
94 - 82
0:00
End of Game
94 - 82
LeBron James breaks down his personal inspiration, chasing the ghost of Michael Jordan and his six rings.

LeBron James sits down with Rachael Nichols and addresses playing for Team USA in the Olympics in the future.

DeAndre Jordan joins Lindsay Czarniak to express his emotions about playing in the Olympics and what it felt like eking out a win over Spain and earning a shot at the gold medal.
Western Conference Semifinals
SA wins series 4-2
2015-2016 Southwest Standings
2015-2016 Pacific Standings