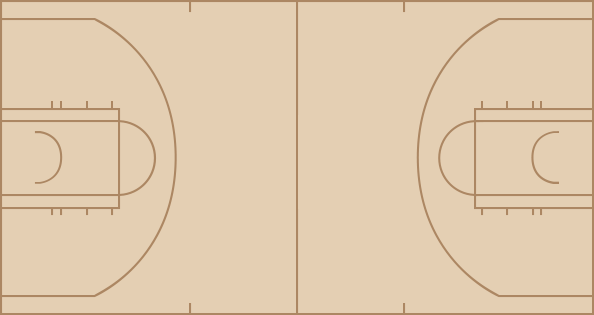 Nuggets
time
TEAM
PLAY
SCORE
12:00
J.J. Hickson vs. Nikola Pekovic (Ty Lawson gains possession)
0 - 0
11:33
Randy Foye makes 25-foot three point jumper (J.J. Hickson assists)
3 - 0
11:15
J.J. Hickson personal foul (Nikola Pekovic draws the foul)
3 - 0
11:11
Corey Brewer misses 25-foot three point jumper
3 - 0
11:08
Ty Lawson defensive rebound
3 - 0
10:56
Kenneth Faried misses 7-foot jumper
3 - 0
10:56
Nikola Pekovic defensive rebound
3 - 0
10:48
Ricky Rubio bad pass (Kenneth Faried steals)
3 - 0
10:44
J.J. Hickson misses driving layup
3 - 0
10:42
Kevin Love defensive rebound
3 - 0
10:34
Nikola Pekovic makes layup (Ricky Rubio assists)
3 - 2
10:18
J.J. Hickson makes layup (Wilson Chandler assists)
5 - 2
10:00
Kevin Love misses 21-foot jumper
5 - 2
10:00
Wilson Chandler defensive rebound
5 - 2
9:52
Kenneth Faried bad pass
5 - 2
9:41
Randy Foye shooting foul (Kevin Martin draws the foul)
5 - 2
9:41
Kevin Martin makes free throw 1 of 2
5 - 3
9:41
Kevin Martin makes free throw 2 of 2
5 - 4
9:19
Ty Lawson makes 25-foot three point jumper
8 - 4
9:02
Randy Foye blocks Kevin Martin's layup
8 - 4
9:00
Kevin Love offensive rebound
8 - 4
9:00
Kenneth Faried blocks Kevin Love's layup
8 - 4
8:59
Nuggets defensive team rebound
8 - 4
8:37
Ty Lawson makes 21-foot jumper (Randy Foye assists)
10 - 4
8:15
Kevin Martin makes two point shot (Ricky Rubio assists)
10 - 6
8:00
Wilson Chandler makes 9-foot two point shot
12 - 6
7:50
Ricky Rubio makes driving layup
12 - 8
7:43
Kevin Martin personal foul (Ty Lawson draws the foul)
12 - 8
7:35
J.J. Hickson makes 14-foot jumper (Ty Lawson assists)
14 - 8
7:18
Kevin Love makes two point shot
14 - 10
7:05
Kenneth Faried out of bounds lost ball turnover
14 - 10
6:54
Ricky Rubio makes driving layup
14 - 12
6:48
Nuggets Full timeout
14 - 12
6:31
Wilson Chandler makes 15-foot two point shot
16 - 12
6:13
Kevin Love makes 25-foot three point jumper (Ricky Rubio assists)
16 - 15
6:09
Wilson Chandler out of bounds lost ball turnover
16 - 15
6:01
Kevin Martin makes driving layup (Ricky Rubio assists)
16 - 17
5:50
Ty Lawson misses 21-foot two point jumper
16 - 17
5:48
Corey Brewer defensive rebound
16 - 17
5:46
Corey Brewer bad pass
16 - 17
5:46
Timofey Mozgov enters the game for J.J. Hickson
16 - 17
5:31
Wilson Chandler misses 15-foot jumper
16 - 17
5:31
Nikola Pekovic defensive rebound
16 - 17
5:24
Kevin Martin misses 8-foot Running Jumper
16 - 17
5:22
Kevin Love offensive rebound
16 - 17
5:16
Kevin Love misses two point shot
16 - 17
5:15
Kevin Martin makes two point shot
16 - 19
5:15
Kevin Martin offensive rebound
16 - 17
4:58
Wilson Chandler misses 15-foot two point jumper
16 - 19
4:58
Ricky Rubio defensive rebound
16 - 19
4:50
Ricky Rubio bad pass (Timofey Mozgov steals)
16 - 19
4:39
Ty Lawson makes 4-foot two point shot
18 - 19
4:24
Kevin Martin misses 23-foot three point jumper
18 - 19
4:22
Kenneth Faried defensive rebound
18 - 19
4:11
Timofey Mozgov traveling
18 - 19
4:11
Darrell Arthur enters the game for Kenneth Faried
18 - 19
4:11
Timberwolves Full timeout
18 - 19
4:11
Nate Robinson enters the game for Randy Foye
18 - 19
3:55
Ricky Rubio misses layup
18 - 19
3:53
Nikola Pekovic misses tip shot
18 - 19
3:53
Nikola Pekovic offensive rebound
18 - 19
3:51
Nikola Pekovic makes two point shot
18 - 21
3:51
Nikola Pekovic offensive rebound
18 - 19
3:46
5 sec inbound turnover
18 - 21
3:46
Dante Cunningham enters the game for Nikola Pekovic
18 - 21
3:45
Ricky Rubio bad pass (Wilson Chandler steals)
18 - 21
3:43
Ty Lawson lost ball turnover (Corey Brewer steals)
18 - 21
3:41
Wilson Chandler personal foul (Corey Brewer draws the foul)
18 - 21
3:29
Dante Cunningham makes 18-foot jumper (Kevin Love assists)
18 - 23
3:13
Darrell Arthur bad pass
18 - 23
3:00
Kevin Martin misses Running Jumper
18 - 23
3:00
Timofey Mozgov defensive rebound
18 - 23
2:49
Wilson Chandler makes 20-foot jumper (Nate Robinson assists)
20 - 23
2:36
Ricky Rubio bad pass (Wilson Chandler steals)
20 - 23
2:35
Kevin Martin personal foul (Nate Robinson draws the foul)
20 - 23
2:35
Jordan Hamilton enters the game for Timofey Mozgov
20 - 23
2:35
J.J. Barea enters the game for Kevin Martin
20 - 23
2:31
Ty Lawson makes driving layup
22 - 23
2:15
Ricky Rubio misses driving layup
22 - 23
2:14
Nuggets defensive team rebound
22 - 23
2:06
J.J. Barea personal foul (Ty Lawson draws the foul)
22 - 23
1:51
Nate Robinson makes driving layup
24 - 23
1:29
Kevin Love misses 9-foot two point shot
24 - 23
1:28
Nuggets defensive team rebound
24 - 23
1:17
Wilson Chandler makes two point shot
26 - 23
1:02
Kevin Love misses 8-foot
26 - 23
1:01
Wilson Chandler defensive rebound
26 - 23
0:48
Wilson Chandler misses 26-foot three point jumper
26 - 23
0:47
Jordan Hamilton offensive rebound
26 - 23
0:44
Darrell Arthur makes dunk (Jordan Hamilton assists)
28 - 23
0:33
J.J. Barea makes 19-foot two point shot
28 - 25
0:27
Ty Lawson misses driving layup
28 - 25
0:26
Ricky Rubio defensive rebound
28 - 25
0:11
Wilson Chandler personal foul (Ricky Rubio draws the foul)
28 - 25
0:11
Evan Fournier enters the game for Wilson Chandler
28 - 25
0:01
Kevin Love makes layup (Ricky Rubio assists)
28 - 27
0:01
Darrell Arthur bad pass (Ricky Rubio steals)
28 - 27
0:00
Ricky Rubio misses 25-foot three point jumper
28 - 27
0:00
Timberwolves offensive team rebound
28 - 27
0:00
End of the 1st Quarter
28 - 27

time
TEAM
PLAY
SCORE
11:47
Robbie Hummel misses 19-foot jumper
28 - 27
11:45
Kenneth Faried defensive rebound
28 - 27
11:30
Jordan Hamilton makes 23-foot three point jumper (Darrell Arthur assists)
31 - 27
11:14
Robbie Hummel bad pass (Jordan Hamilton steals)
31 - 27
10:59
Kenneth Faried makes 2-foot dunk (Andre Miller assists)
33 - 27
10:59
Ricky Rubio shooting foul (Kenneth Faried draws the foul)
33 - 27
10:59
Kenneth Faried makes free throw 1 of 1
34 - 27
10:40
Ricky Rubio bad pass (Kenneth Faried steals)
34 - 27
10:36
Robbie Hummel shooting foul (Nate Robinson draws the foul)
34 - 27
10:36
Nate Robinson makes free throw 1 of 2
35 - 27
10:36
Alexey Shved enters the game for Ricky Rubio
35 - 27
10:36
Nikola Pekovic enters the game for Kevin Love
35 - 27
10:36
Nate Robinson makes free throw 2 of 2
36 - 27
10:23
Nate Robinson personal foul (J.J. Barea draws the foul)
36 - 27
10:23
Timofey Mozgov enters the game for Darrell Arthur
36 - 27
10:18
Alexey Shved misses driving layup
36 - 27
10:15
Timofey Mozgov defensive rebound
36 - 27
10:07
Robbie Hummel shooting foul (Jordan Hamilton draws the foul)
36 - 27
10:07
Jordan Hamilton misses free throw 1 of 2
36 - 27
10:07
Nuggets offensive team rebound
36 - 27
10:07
Shabazz Muhammad enters the game for Robbie Hummel
36 - 27
10:07
Timberwolves delay of game violation
37 - 27
10:07
Jordan Hamilton makes free throw 2 of 2
37 - 27
9:49
Timofey Mozgov blocks Shabazz Muhammad's layup
37 - 27
9:48
Shabazz Muhammad offensive rebound
37 - 27
9:47
Shabazz Muhammad misses 6-foot jumper
37 - 27
9:45
Nikola Pekovic makes two point shot
37 - 29
9:45
Nikola Pekovic offensive rebound
37 - 29
9:29
Jordan Hamilton misses 16-foot step back jumpshot
37 - 29
9:27
Dante Cunningham defensive rebound
37 - 29
9:23
Nate Robinson kicked ball violation
37 - 29
9:17
Dante Cunningham makes 18-foot jumper (J.J. Barea assists)
37 - 31
8:56
Nate Robinson makes 25-foot three point jumper (Jordan Hamilton assists)
40 - 31
8:41
Dante Cunningham misses 20-foot jumper
40 - 31
8:40
Jordan Hamilton defensive rebound
40 - 31
8:33
Andre Miller makes driving layup
42 - 31
8:25
Nate Robinson personal foul (J.J. Barea draws the foul)
42 - 31
8:25
Full timeout
42 - 31
8:19
Timofey Mozgov personal foul (Nikola Pekovic draws the foul)
42 - 31
8:14
J.J. Barea makes driving layup
42 - 33
8:06
Nate Robinson makes 25-foot three pointer
45 - 33
8:00
Timberwolves 20 Sec. timeout
45 - 33
7:48
J.J. Barea offensive foul (Nate Robinson draws the foul)
45 - 33
7:48
J.J. Barea turnover
45 - 33
7:35
Nate Robinson makes three point jumper (Andre Miller assists)
48 - 33
7:22
Nikola Pekovic misses layup
48 - 33
7:20
Kenneth Faried defensive rebound
48 - 33
7:15
Nate Robinson misses 17-foot two point jumper
48 - 33
7:11
Shabazz Muhammad defensive rebound
48 - 33
7:09
Nate Robinson personal foul (J.J. Barea draws the foul)
48 - 33
7:09
Kevin Martin enters the game for Alexey Shved
48 - 33
7:09
Kevin Love enters the game for Dante Cunningham
48 - 33
7:09
Evan Fournier enters the game for Nate Robinson
48 - 33
6:58
J.J. Barea makes driving layup
48 - 35
6:35
Jordan Hamilton misses 24-foot three point jumper
48 - 35
6:33
J.J. Barea defensive rebound
48 - 35
6:26
J.J. Barea misses 8-foot Running Jumper
48 - 35
6:26
Timberwolves offensive team rebound
48 - 35
6:26
Timofey Mozgov loose ball foul (Nikola Pekovic draws the foul)
48 - 35
6:26
Wilson Chandler enters the game for Jordan Hamilton
48 - 35
6:26
Ricky Rubio enters the game for J.J. Barea
48 - 35
6:26
Corey Brewer enters the game for Shabazz Muhammad
48 - 35
6:26
Nikola Pekovic misses free throw 1 of 2
48 - 36
6:26
Timberwolves offensive team rebound
48 - 36
6:26
Nikola Pekovic makes free throw 2 of 2
48 - 36
6:09
Andre Miller makes 12-foot two point shot
50 - 36
5:50
Kevin Love misses 26-foot three point jumper
50 - 36
5:48
Timofey Mozgov defensive rebound
50 - 36
5:37
Evan Fournier misses 16-foot Running Jumper
50 - 36
5:37
Nikola Pekovic defensive rebound
50 - 36
5:28
Kevin Martin makes 14-foot two point shot (Ricky Rubio assists)
50 - 38
5:15
Kenneth Faried makes two point shot (Andre Miller assists)
52 - 38
5:03
Evan Fournier shooting foul (Kevin Martin draws the foul)
52 - 38
5:03
Timberwolves Full timeout
52 - 38
5:03
J.J. Hickson enters the game for Kenneth Faried
52 - 38
5:03
Kevin Martin makes free throw 1 of 2
52 - 39
5:03
Kevin Martin makes free throw 2 of 2
52 - 40
4:50
Kevin Love shooting foul (Evan Fournier draws the foul)
52 - 40
4:50
Evan Fournier misses free throw 1 of 2
52 - 40
4:50
Nuggets offensive team rebound
52 - 40
4:50
Evan Fournier makes free throw 2 of 2
53 - 40
4:39
J.J. Hickson personal foul (Kevin Love draws the foul)
53 - 40
4:39
Kevin Love makes free throw 1 of 2
53 - 41
4:39
Kevin Love makes free throw 2 of 2
53 - 42
4:28
Evan Fournier misses layup
53 - 42
4:28
Kevin Love defensive rebound
53 - 42
4:13
Kevin Martin misses 22-foot jumper
53 - 42
4:11
Nikola Pekovic offensive rebound
53 - 42
4:09
Nikola Pekovic makes layup
53 - 44
3:54
J.J. Hickson misses 17-foot jumper
53 - 44
3:53
Kevin Love defensive rebound
53 - 44
3:46
J.J. Hickson shooting foul (Nikola Pekovic draws the foul)
53 - 44
3:46
Nikola Pekovic makes free throw 1 of 2
53 - 45
3:46
Darrell Arthur enters the game for J.J. Hickson
53 - 45
3:46
Ty Lawson enters the game for Evan Fournier
53 - 45
3:46
Nikola Pekovic makes free throw 2 of 2
53 - 46
3:29
Andre Miller makes 6-foot two point shot
55 - 46
3:15
Kevin Martin misses 23-foot three point jumper
55 - 46
3:14
Timofey Mozgov defensive rebound
55 - 46
2:59
Ty Lawson makes 17-foot jumper
57 - 46
2:43
Nikola Pekovic makes layup
57 - 48
2:18
Darrell Arthur misses 20-foot jumper
57 - 48
2:17
Nuggets offensive team rebound
57 - 48
2:17
Nikola Pekovic loose ball foul (Timofey Mozgov draws the foul)
57 - 48
2:17
Nuggets Full timeout
57 - 48
2:17
Randy Foye enters the game for Andre Miller
57 - 48
2:17
Timofey Mozgov misses free throw 1 of 2
57 - 48
2:17
Nuggets offensive team rebound
57 - 48
2:17
Timofey Mozgov makes free throw 2 of 2
58 - 48
1:54
Wilson Chandler blocks Nikola Pekovic's layup
58 - 48
1:54
Timberwolves offensive team rebound
58 - 48
1:54
shot clock turnover
58 - 48
1:39
Ty Lawson makes 21-foot two point shot
60 - 48
1:27
Randy Foye personal foul (Kevin Martin draws the foul)
60 - 48
1:27
Kevin Martin makes free throw 1 of 2
60 - 49
1:27
Kevin Martin makes free throw 2 of 2
60 - 50
1:13
Randy Foye makes 20-foot jumper
62 - 50
0:58
Timofey Mozgov shooting foul (Nikola Pekovic draws the foul)
62 - 50
0:58
Nikola Pekovic makes free throw 1 of 2
62 - 51
0:58
Nikola Pekovic makes free throw 2 of 2
62 - 52
0:46
Darrell Arthur misses 19-foot jumper
62 - 52
0:45
Wilson Chandler offensive rebound
62 - 52
0:44
Wilson Chandler makes layup
64 - 52
0:31
Kevin Love misses 25-foot three point jumper
64 - 52
0:30
Kevin Martin offensive rebound
64 - 52
0:30
Ty Lawson personal foul (Kevin Martin draws the foul)
64 - 52
0:30
Nate Robinson technical foul(1st technical foul)
64 - 52
0:30
Kevin Martin makes technical free throw
64 - 53
0:30
Kevin Martin makes free throw 1 of 2
64 - 54
0:30
Kevin Martin makes free throw 2 of 2
64 - 55
0:07
Corey Brewer shooting foul (Ty Lawson draws the foul)
64 - 55
0:07
Ty Lawson misses free throw 1 of 2
64 - 55
0:07
Nuggets offensive team rebound
64 - 55
0:07
Jordan Hamilton enters the game for Wilson Chandler
64 - 55
0:07
Ty Lawson misses free throw 2 of 2
64 - 55
0:05
Kevin Martin defensive rebound
64 - 55
0:00
Kevin Love misses 22-foot jumper
64 - 55
0:00
Timberwolves offensive team rebound
64 - 55
0:00
End of the 2nd Quarter
64 - 55

time
TEAM
PLAY
SCORE
11:41
Ricky Rubio makes driving layup
64 - 57
11:18
Kenneth Faried makes 12-foot jumper (Randy Foye assists)
66 - 57
11:06
Kevin Martin misses 24-foot three point jumper
66 - 57
11:04
Ty Lawson defensive rebound
66 - 57
10:59
Kevin Martin shooting foul (Ty Lawson draws the foul)
66 - 57
10:59
Ty Lawson makes free throw 1 of 2
67 - 57
10:59
Ty Lawson makes free throw 2 of 2
68 - 57
10:42
Ricky Rubio makes 21-foot two point shot
68 - 59
10:29
Randy Foye misses 17-foot two point jumper
68 - 59
10:29
Nuggets offensive team rebound
68 - 59
10:29
Nikola Pekovic loose ball foul (Wilson Chandler draws the foul)
68 - 59
10:23
Randy Foye misses 25-foot three point jumper
68 - 59
10:22
Kenneth Faried offensive rebound
68 - 59
10:15
Randy Foye makes layup (Ty Lawson assists)
70 - 59
9:57
Corey Brewer makes 23-foot three point jumper (Kevin Love assists)
70 - 62
9:48
Ty Lawson misses 24-foot three point jumper
70 - 62
9:48
Kevin Love defensive rebound
70 - 62
9:41
Nikola Pekovic makes layup (Ricky Rubio assists)
70 - 64
9:18
J.J. Hickson misses 12-foot jumper
70 - 64
9:17
Kevin Love defensive rebound
70 - 64
9:06
Kevin Love misses 25-foot three point jumper
70 - 64
9:03
Ricky Rubio offensive rebound
70 - 64
9:00
Corey Brewer misses 25-foot three point jumper
70 - 64
8:59
Kevin Love offensive rebound
70 - 64
8:57
Kevin Love makes layup
70 - 66
8:56
Nuggets Full timeout
70 - 66
8:37
Wilson Chandler makes 6-foot two point shot
72 - 66
8:15
Ricky Rubio makes 21-foot jumper
72 - 68
7:52
Wilson Chandler misses 10-foot jumper
72 - 68
7:48
Kevin Love defensive rebound
72 - 68
7:43
Kevin Martin misses 25-foot three point pullup jump shot
72 - 68
7:41
Randy Foye defensive rebound
72 - 68
7:28
Randy Foye misses 25-foot three point jumper
72 - 68
7:26
Kevin Love defensive rebound
72 - 68
7:24
Kevin Love bad pass (Ty Lawson steals)
72 - 68
7:22
Kevin Love personal block (Ty Lawson draws the foul)
72 - 68
7:00
Ty Lawson makes driving layup
74 - 68
6:48
Randy Foye shooting foul (Ricky Rubio draws the foul)
74 - 68
6:48
Ricky Rubio makes free throw 1 of 2
74 - 69
6:48
Ricky Rubio makes free throw 2 of 2
74 - 70
6:39
J.J. Hickson makes layup (Ty Lawson assists)
76 - 70
6:11
Ricky Rubio makes 16-foot jumper
76 - 72
6:01
Ty Lawson misses 17-foot two point jumper
76 - 72
5:58
Nikola Pekovic defensive rebound
76 - 72
5:46
Nikola Pekovic misses 3-foot jumper
76 - 72
5:43
Randy Foye defensive rebound
76 - 72
5:37
Randy Foye makes 25-foot three pointer
79 - 72
5:20
Randy Foye personal foul (Kevin Martin draws the foul)
79 - 72
5:20
Timofey Mozgov enters the game for J.J. Hickson
79 - 72
5:20
Darrell Arthur enters the game for Kenneth Faried
79 - 72
5:20
Nate Robinson enters the game for Randy Foye
79 - 72
5:15
Ricky Rubio misses 22-foot jumper
79 - 72
5:13
Timofey Mozgov defensive rebound
79 - 72
5:07
Ty Lawson misses driving layup
79 - 72
5:05
Kevin Love defensive rebound
79 - 72
5:03
Wilson Chandler shooting foul (Corey Brewer draws the foul)
79 - 72
5:03
Corey Brewer makes free throw 1 of 2
79 - 73
5:03
Corey Brewer makes free throw 2 of 2
79 - 74
4:56
Corey Brewer blocks Ty Lawson's shot
79 - 74
4:54
Ricky Rubio defensive rebound
79 - 74
4:52
Ricky Rubio bad pass (Nate Robinson steals)
79 - 74
4:50
Ricky Rubio shooting foul (Ty Lawson draws the foul)
79 - 74
4:50
Ty Lawson makes free throw 1 of 2
80 - 74
4:50
Jordan Hamilton enters the game for Wilson Chandler
80 - 74
4:50
Ty Lawson makes free throw 2 of 2
81 - 74
4:31
Kevin Martin makes 16-foot two point shot
81 - 76
4:09
Timofey Mozgov misses 7-foot two point shot
81 - 76
4:09
Kevin Love defensive rebound
81 - 76
3:57
Kevin Martin misses 16-foot Running Jumper
81 - 76
3:54
Kevin Love offensive rebound
81 - 76
3:41
Kevin Love makes two point shot (Ricky Rubio assists)
81 - 78
3:18
Darrell Arthur makes 19-foot jumper (Nate Robinson assists)
83 - 78
2:58
Corey Brewer misses 14-foot
83 - 78
2:56
Timofey Mozgov defensive rebound
83 - 78
2:47
Jordan Hamilton misses 11-foot Running Jumper
83 - 78
2:45
Kevin Martin defensive rebound
83 - 78
2:39
Kevin Martin bad pass (Ty Lawson steals)
83 - 78
2:33
Nate Robinson makes driving layup (Ty Lawson assists)
85 - 78
2:33
Timberwolves Full timeout
85 - 78
2:33
Dante Cunningham enters the game for Nikola Pekovic
85 - 78
2:18
Kevin Martin lost ball turnover (Jordan Hamilton steals)
85 - 78
2:13
Jordan Hamilton makes 25-foot three point jumper (Nate Robinson assists)
88 - 78
1:52
Timofey Mozgov blocks Ricky Rubio 's 2-foot layup
88 - 78
1:50
Timofey Mozgov defensive rebound
88 - 78
1:44
Nate Robinson misses 27-foot three point jumper
88 - 78
1:42
Dante Cunningham defensive rebound
88 - 78
1:28
Kevin Love possession lost ball turnover
88 - 78
1:28
Kenneth Faried enters the game for Timofey Mozgov
88 - 78
1:28
J.J. Barea enters the game for Kevin Martin
88 - 78
1:02
Nate Robinson misses 16-foot jumper
88 - 78
1:00
Dante Cunningham defensive rebound
88 - 78
0:58
Corey Brewer makes driving layup (Ricky Rubio assists)
88 - 80
0:58
Darrell Arthur shooting foul (Corey Brewer draws the foul)
88 - 80
0:58
Andre Miller enters the game for Ty Lawson
88 - 80
0:58
Corey Brewer misses free throw 1 of 1
88 - 80
0:58
Darrell Arthur defensive rebound
88 - 80
0:38
Darrell Arthur misses 19-foot jumper
88 - 80
0:37
Nuggets offensive team rebound
88 - 80
0:36
Kenneth Faried makes 2-foot two point shot (Andre Miller assists)
90 - 80
0:30
J.J. Barea bad pass (Jordan Hamilton steals)
90 - 80
0:11
Kenneth Faried offensive foul (Dante Cunningham draws the foul)
90 - 80
0:11
Kenneth Faried turnover
90 - 80
0:03
Darrell Arthur shooting foul (Ricky Rubio draws the foul)
90 - 80
0:03
Ricky Rubio makes free throw 1 of 2
90 - 81
0:03
Ricky Rubio misses free throw 2 of 2
90 - 81
0:03
Corey Brewer offensive rebound
90 - 81
0:01
Corey Brewer makes layup
90 - 83
0:00
Jordan Hamilton misses 30-foot three point jumper
90 - 83
0:00
Nuggets offensive team rebound
90 - 83
0:00
End of the 3rd Quarter
90 - 83

time
TEAM
PLAY
SCORE
11:45
Andre Miller misses layup
90 - 83
11:42
Ricky Rubio defensive rebound
90 - 83
11:34
Andre Miller personal foul (Ricky Rubio draws the foul)
90 - 83
11:21
Nikola Pekovic makes 14-foot two point shot
90 - 85
11:02
Darrell Arthur misses 20-foot jumper
90 - 85
11:00
Nikola Pekovic defensive rebound
90 - 85
10:52
Ricky Rubio disc dribble turnover
90 - 85
10:41
Jordan Hamilton makes 7-foot two point shot
92 - 85
10:27
Ricky Rubio misses 20-foot two point jumper
92 - 85
10:26
Nate Robinson defensive rebound
92 - 85
10:22
Nate Robinson misses layup
92 - 85
10:19
Andre Miller offensive rebound
92 - 85
10:18
Andre Miller makes layup
94 - 85
10:04
Corey Brewer makes 22-foot three point jumper (Ricky Rubio assists)
94 - 88
9:45
Andre Miller misses 7-foot jumper
94 - 88
9:45
Andre Miller offensive rebound
94 - 88
9:45
Andre Miller vs. Ricky Rubio (Nikola Pekovic gains possession)
94 - 88
9:45
Andre Miller lost ball turnover (Ricky Rubio steals)
94 - 88
9:33
Dante Cunningham misses 19-foot jumper
94 - 88
9:32
Darrell Arthur defensive rebound
94 - 88
9:22
Nate Robinson misses driving layup
94 - 88
9:22
Nate Robinson offensive rebound
94 - 88
9:03
Jordan Hamilton makes dunk (Andre Miller assists)
96 - 88
8:56
Timberwolves Full timeout
96 - 88
8:56
Kevin Martin enters the game for Ricky Rubio
96 - 88
8:41
Kevin Martin makes 10-foot two point shot
96 - 90
8:22
Corey Brewer shooting foul (Darrell Arthur draws the foul)
96 - 90
8:22
Darrell Arthur makes free throw 1 of 2
97 - 90
8:22
Darrell Arthur misses free throw 2 of 2
97 - 90
8:22
Nikola Pekovic defensive rebound
97 - 90
8:07
Nikola Pekovic misses layup
97 - 90
8:06
Andre Miller defensive rebound
97 - 90
8:00
Corey Brewer blocks Andre Miller's layup
97 - 90
7:58
Timofey Mozgov offensive rebound
97 - 90
7:56
Timofey Mozgov makes dunk
99 - 90
7:43
Corey Brewer misses 24-foot three point jumper
99 - 90
7:43
Jordan Hamilton defensive rebound
99 - 90
7:30
Nate Robinson out of bounds lost ball turnover
99 - 90
7:30
Kevin Love enters the game for Nikola Pekovic
99 - 90
7:15
J.J. Barea misses 19-foot jumper
99 - 90
7:11
Dante Cunningham offensive rebound
99 - 90
7:03
Kevin Martin misses 17-foot two point jumper
99 - 90
7:01
Andre Miller defensive rebound
99 - 90
6:58
Dante Cunningham shooting foul (Andre Miller draws the foul)
99 - 90
6:58
Andre Miller makes free throw 1 of 2
100 - 90
6:58
Ricky Rubio enters the game for Corey Brewer
100 - 90
6:58
Andre Miller makes free throw 2 of 2
101 - 90
6:37
Darrell Arthur shooting foul (Ricky Rubio draws the foul)
101 - 90
6:37
Ricky Rubio makes free throw 1 of 2
101 - 91
6:37
Wilson Chandler enters the game for Timofey Mozgov
101 - 91
6:37
Ty Lawson enters the game for Jordan Hamilton
101 - 91
6:37
Ricky Rubio makes free throw 2 of 2
101 - 92
6:18
Darrell Arthur makes 8-foot two point shot (Nate Robinson assists)
103 - 92
5:58
Kevin Martin misses 11-foot jumper
103 - 92
5:56
Kevin Love offensive rebound
103 - 92
5:52
Kevin Martin out of bounds lost ball turnover
103 - 92
5:52
Full timeout
103 - 92
5:28
Andre Miller misses 11-foot two point jumper
103 - 92
5:24
Kevin Martin defensive rebound
103 - 92
5:15
Kevin Love makes 24-foot three point jumper (Dante Cunningham assists)
103 - 95
5:05
Dante Cunningham blocks Ty Lawson 's 2-foot layup
103 - 95
5:03
Nuggets offensive team rebound
103 - 95
5:03
Nikola Pekovic enters the game for Dante Cunningham
103 - 95
5:03
Corey Brewer enters the game for J.J. Barea
103 - 95
5:03
J.J. Hickson enters the game for Darrell Arthur
103 - 95
4:52
Nate Robinson misses 25-foot three point jumper
103 - 95
4:52
Kevin Love defensive rebound
103 - 95
4:48
Kevin Martin makes layup (Kevin Love assists)
103 - 97
4:35
Ricky Rubio personal foul (Andre Miller draws the foul)
103 - 97
4:35
Kenneth Faried enters the game for Nate Robinson
103 - 97
4:31
Ty Lawson bad pass (Corey Brewer steals)
103 - 97
4:28
Kevin Martin makes dunk (Corey Brewer assists)
103 - 99
4:28
Nuggets Full timeout
103 - 99
4:05
Andre Miller misses 16-foot jumper
103 - 99
4:03
Corey Brewer defensive rebound
103 - 99
3:57
Kevin Love makes 23-foot three point jumper (Nikola Pekovic assists)
103 - 102
3:35
Andre Miller misses 17-foot jumper
103 - 102
3:34
J.J. Hickson makes two point shot
105 - 102
3:34
J.J. Hickson offensive rebound
105 - 102
3:16
Kevin Love misses 24-foot three point jumper
105 - 102
3:15
Andre Miller defensive rebound
105 - 102
3:11
Kenneth Faried makes two point shot (Wilson Chandler assists)
107 - 102
2:53
Nikola Pekovic misses layup
107 - 102
2:51
J.J. Hickson defensive rebound
107 - 102
2:34
J.J. Hickson makes dunk (Andre Miller assists)
109 - 102
2:34
Timberwolves Full timeout
109 - 102
2:34
Randy Foye enters the game for Andre Miller
109 - 102
2:15
Kevin Martin makes 20-foot jumper
109 - 104
1:53
J.J. Hickson misses layup
109 - 104
1:52
Kenneth Faried offensive rebound
109 - 104
1:51
Kenneth Faried makes layup
111 - 104
1:43
Ty Lawson personal foul (Ricky Rubio draws the foul)
111 - 104
1:39
Randy Foye shooting foul (Kevin Martin draws the foul)
111 - 104
1:39
Kevin Martin makes free throw 1 of 2
111 - 105
1:39
Kevin Martin makes free throw 2 of 2
111 - 106
1:16
Randy Foye lost ball turnover (Kevin Love steals)
111 - 106
1:13
Corey Brewer makes two point shot (Kevin Martin assists)
111 - 108
0:56
Ty Lawson misses 22-foot two point jumper
111 - 108
0:55
Corey Brewer defensive rebound
111 - 108
0:44
Kevin Love misses 24-foot three point jumper
111 - 108
0:43
J.J. Hickson defensive rebound
111 - 108
0:24
Nikola Pekovic shooting foul (Ty Lawson draws the foul)
111 - 108
0:24
Ty Lawson makes free throw 1 of 2
112 - 108
0:24
Ty Lawson makes free throw 2 of 2
113 - 108
0:24
Timberwolves Full timeout
113 - 108
0:24
Andre Miller enters the game for Kenneth Faried
113 - 108
0:20
Kevin Martin misses 25-foot three point jumper
113 - 108
0:18
Timberwolves offensive team rebound
113 - 108
0:14
Nikola Pekovic makes 5-foot jumper (Ricky Rubio assists)
113 - 110
0:12
Nuggets 20 Sec. timeout
113 - 110
0:12
Nuggets 20 Sec. timeout
113 - 110
0:12
Dante Cunningham enters the game for Nikola Pekovic
113 - 110
0:12
Nate Robinson enters the game for J.J. Hickson
113 - 110
0:10
Corey Brewer personal take foul (Ty Lawson draws the foul)
113 - 110
0:10
Ty Lawson makes free throw 1 of 2
114 - 110
0:10
Ty Lawson makes free throw 2 of 2
115 - 110
0:10
Timberwolves 20 Sec. timeout
115 - 110
0:10
J.J. Barea enters the game for Dante Cunningham
115 - 110
0:05
Kevin Love misses 26-foot three point jumper
115 - 110
0:04
Wilson Chandler defensive rebound
115 - 110
0:03
Ricky Rubio personal take foul (Wilson Chandler draws the foul)
115 - 110
0:03
Wilson Chandler makes free throw 1 of 2
116 - 110
0:03
Wilson Chandler makes free throw 2 of 2
117 - 110
0:00
End of the 4th Quarter
117 - 110
0:00
End of Game
117 - 110
Jalen Rose and David Jacoby discuss ESPN's David Purdum article revealing that more bets have been placed on the 80-1 longshot 'New York Knicks' than any other team according to the Westgate Superbook in Las Vegas.

Kevin Garnett's second stint with the Timberwolves is nearing an end, with the sides in advanced discussions on a buyout, sources say.

Bucks guard Khris Middleton is expected to be sidelined for six months after suffering a torn left hamstring in preseason workouts that will require surgery, the team announced.
Regular Season Series
Series tied 2-2
2015-2016 Northwest Standings