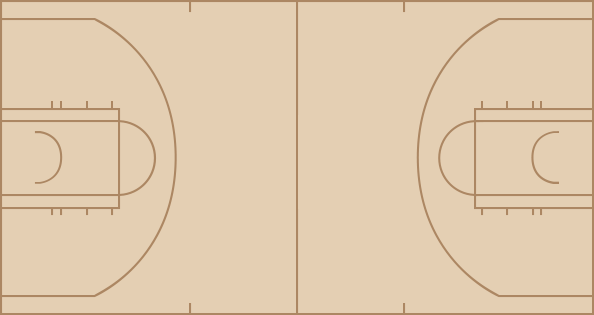 Kings
time
TEAM
PLAY
SCORE
12:00
Jason Thompson vs. Tim Duncan (Tony Parker gains possession)
0 - 0
11:44
Rudy Gay blocks Kawhi Leonard's three point jumper
0 - 0
11:42
DeMarcus Cousins defensive rebound
0 - 0
11:32
Jason Thompson bad pass (Kawhi Leonard steals)
0 - 0
11:27
Kawhi Leonard misses layup
0 - 0
11:26
Jason Thompson defensive rebound
0 - 0
11:06
Isaiah Thomas misses 25-foot three point jumper
0 - 0
11:04
Kawhi Leonard defensive rebound
0 - 0
10:52
Jason Thompson kicked ball violation
0 - 0
10:47
Tim Duncan misses 16-foot jumper
0 - 0
10:45
Jason Thompson defensive rebound
0 - 0
10:38
DeMarcus Cousins makes 20-foot jumper (Isaiah Thomas assists)
2 - 0
10:30
DeMarcus Cousins shooting foul (Tiago Splitter draws the foul)
2 - 0
10:30
Tiago Splitter makes free throw 1 of 2
2 - 1
10:30
Tiago Splitter misses free throw 2 of 2
2 - 1
10:29
Tiago Splitter offensive rebound
2 - 1
10:15
Tim Duncan makes 13-foot two point shot
2 - 3
9:59
DeMarcus Cousins makes layup
4 - 3
9:45
Tony Parker misses 6-foot jumper
4 - 3
9:45
Kings defensive team rebound
4 - 3
9:30
Ben McLemore misses 22-foot jumper
4 - 3
9:29
Tony Parker defensive rebound
4 - 3
9:18
Tony Parker misses 7-foot jumper
4 - 3
9:17
DeMarcus Cousins defensive rebound
4 - 3
9:10
DeMarcus Cousins misses layup
4 - 3
9:08
Tiago Splitter defensive rebound
4 - 3
9:07
Isaiah Thomas personal foul (Tony Parker draws the foul)
4 - 3
9:03
Marco Belinelli makes 16-foot jumper (Tony Parker assists)
4 - 5
8:41
Jason Thompson makes layup (Rudy Gay assists)
6 - 5
8:33
Ben McLemore personal foul (Marco Belinelli draws the foul)
6 - 5
8:26
Jason Thompson blocks Tim Duncan's 2-pt jumper
6 - 5
8:26
Spurs offensive team rebound
6 - 5
8:21
Marco Belinelli misses 18-foot jumper
6 - 5
8:19
Kawhi Leonard offensive rebound
6 - 5
8:17
Tim Duncan makes layup (Kawhi Leonard assists)
6 - 7
8:04
DeMarcus Cousins makes jumper
8 - 7
8:04
Tiago Splitter shooting foul (DeMarcus Cousins draws the foul)
8 - 7
8:04
DeMarcus Cousins makes free throw 1 of 1
9 - 7
7:39
Marco Belinelli misses 26-foot three point jumper
9 - 7
7:39
Tiago Splitter makes layup
9 - 9
7:39
Tiago Splitter offensive rebound
9 - 7
7:28
Tiago Splitter kicked ball violation
9 - 9
7:22
Rudy Gay misses 26-foot three point jumper
9 - 9
7:22
Marco Belinelli defensive rebound
9 - 9
7:15
Marco Belinelli misses 17-foot jumper
9 - 9
7:13
Rudy Gay defensive rebound
9 - 9
7:01
DeMarcus Cousins makes layup (Rudy Gay assists)
11 - 9
6:50
Tiago Splitter makes layup (Kawhi Leonard assists)
11 - 11
6:37
DeMarcus Cousins misses 17-foot jumper
11 - 11
6:35
Tim Duncan defensive rebound
11 - 11
6:30
Tim Duncan bad pass (Rudy Gay steals)
11 - 11
6:18
Rudy Gay misses 4-foot Running Jumper
11 - 11
6:16
Jason Thompson offensive rebound
11 - 11
6:15
Jason Thompson makes layup (DeMarcus Cousins assists)
13 - 11
6:15
Tim Duncan shooting foul (Jason Thompson draws the foul)
13 - 11
6:15
Manu Ginobili enters the game for Marco Belinelli
13 - 11
6:15
Jason Thompson makes free throw 1 of 1
14 - 11
6:01
Tony Parker makes 16-foot two point shot
14 - 13
5:47
Isaiah Thomas misses 17-foot jumper
14 - 13
5:46
Tiago Splitter defensive rebound
14 - 13
5:41
Tony Parker makes layup
14 - 15
5:41
Isaiah Thomas shooting foul (Tony Parker draws the foul)
14 - 15
5:41
Spurs Full timeout
14 - 15
5:41
Jimmer Fredette enters the game for Isaiah Thomas
14 - 15
5:41
Tony Parker misses free throw 1 of 1
14 - 15
5:41
Boris Diaw enters the game for Tiago Splitter
14 - 15
5:39
DeMarcus Cousins defensive rebound
14 - 15
5:20
DeMarcus Cousins misses jumper
14 - 15
5:20
Tim Duncan defensive rebound
14 - 15
5:13
Tim Duncan makes layup (Manu Ginobili assists)
14 - 17
4:58
Rudy Gay misses jumper
14 - 17
4:58
Tim Duncan defensive rebound
14 - 17
4:52
Tony Parker makes layup (Kawhi Leonard assists)
14 - 19
4:52
Kings Full timeout
14 - 19
4:52
Derrick Williams enters the game for Jason Thompson
14 - 19
4:31
Ben McLemore misses 25-foot three point jumper
14 - 19
4:31
Tim Duncan defensive rebound
14 - 19
4:13
Danny Green enters the game for Kawhi Leonard
14 - 19
4:09
Tim Duncan misses 15-foot jump bank shot
14 - 19
4:09
Rudy Gay defensive rebound
14 - 19
3:56
Jimmer Fredette makes 13-foot two point shot
16 - 19
3:44
Tony Parker misses 18-foot two point jumper
16 - 19
3:43
Derrick Williams defensive rebound
16 - 19
3:25
Rudy Gay makes two point shot
18 - 19
3:01
Boris Diaw makes two point shot (Tim Duncan assists)
18 - 21
2:40
Derrick Williams misses layup
18 - 21
2:39
Derrick Williams offensive rebound
18 - 21
2:35
Ben McLemore misses 25-foot three point jumper
18 - 21
2:34
Derrick Williams offensive rebound
18 - 21
2:34
Manu Ginobili personal foul (Derrick Williams draws the foul)
18 - 21
2:34
Derrick Williams makes free throw 1 of 2
19 - 21
2:34
Marcus Thornton enters the game for Ben McLemore
19 - 21
2:34
Aron Baynes enters the game for Tim Duncan
19 - 21
2:34
Patty Mills enters the game for Tony Parker
19 - 21
2:34
Derrick Williams misses free throw 2 of 2
19 - 21
2:33
DeMarcus Cousins offensive rebound
19 - 21
2:32
Aron Baynes shooting foul (DeMarcus Cousins draws the foul)
19 - 21
2:32
DeMarcus Cousins makes free throw 1 of 2
20 - 21
2:32
DeMarcus Cousins misses free throw 2 of 2
20 - 21
2:32
Spurs defensive team rebound
20 - 21
2:11
Manu Ginobili makes 25-foot three point jumper (Boris Diaw assists)
20 - 24
1:59
Jimmer Fredette lost ball turnover (Manu Ginobili steals)
20 - 24
1:53
Aron Baynes misses 5-foot jumper
20 - 24
1:52
Aron Baynes offensive rebound
20 - 24
1:38
Manu Ginobili misses 26-foot three point jumper
20 - 24
1:38
Derrick Williams defensive rebound
20 - 24
1:21
Marcus Thornton makes two point shot
22 - 24
1:13
Danny Green misses 25-foot three point jumper
22 - 24
1:10
Spurs offensive team rebound
22 - 24
1:10
Derrick Williams loose ball foul (Boris Diaw draws the foul)
22 - 25
1:10
Boris Diaw makes free throw 1 of 2
22 - 25
1:10
Quincy Acy enters the game for DeMarcus Cousins
22 - 25
1:10
Boris Diaw misses free throw 2 of 2
22 - 25
1:09
Quincy Acy defensive rebound
22 - 25
0:54
Danny Green shooting foul (Rudy Gay draws the foul)
22 - 25
0:54
Rudy Gay makes free throw 1 of 2
23 - 25
0:54
Rudy Gay misses free throw 2 of 2
23 - 25
0:53
Aron Baynes defensive rebound
23 - 25
0:33
Aron Baynes misses 7-foot jumper
23 - 25
0:32
Boris Diaw offensive rebound
23 - 25
0:32
Marcus Thornton shooting foul (Boris Diaw draws the foul)
23 - 25
0:32
Boris Diaw makes free throw 1 of 2
23 - 26
0:32
Boris Diaw makes free throw 2 of 2
23 - 27
0:18
Marcus Thornton misses 26-foot three point jumper
23 - 27
0:17
Danny Green defensive rebound
23 - 27
0:00
Danny Green misses two point shot
23 - 27
0:00
Jimmer Fredette defensive rebound
23 - 27
0:00
End of the 1st Quarter
23 - 27

time
TEAM
PLAY
SCORE
11:37
Marcus Thornton makes 24-foot three point jumper (Travis Outlaw assists)
26 - 27
11:29
Boris Diaw makes layup
26 - 29
11:29
Derrick Williams shooting foul (Boris Diaw draws the foul)
26 - 29
11:29
Boris Diaw makes free throw 1 of 1
26 - 30
11:10
Jimmer Fredette misses 14-foot jump bank shot
26 - 30
11:08
Quincy Acy offensive rebound
26 - 30
11:06
Boris Diaw blocks Quincy Acy 's 2-foot layup
26 - 30
11:04
Danny Green defensive rebound
26 - 30
10:52
Danny Green misses three point jumper
26 - 30
10:51
Marcus Thornton defensive rebound
26 - 30
10:34
Jimmer Fredette makes 20-foot two point shot (Marcus Thornton assists)
28 - 30
10:18
Boris Diaw misses layup
28 - 30
10:18
Spurs offensive team rebound
28 - 30
10:07
Marcus Thornton personal foul (Aron Baynes draws the foul)
28 - 30
10:03
Quincy Acy shooting foul (Manu Ginobili draws the foul)
28 - 30
10:03
Manu Ginobili makes free throw 1 of 2
28 - 31
10:03
Manu Ginobili makes free throw 2 of 2
28 - 32
9:44
Jimmer Fredette bad pass (Danny Green steals)
28 - 32
9:37
Manu Ginobili makes layup (Danny Green assists)
28 - 34
9:33
Derrick Williams misses dunk
28 - 34
9:30
Jimmer Fredette offensive rebound
28 - 34
9:26
Derrick Williams makes 1-foot dunk (Jimmer Fredette assists)
30 - 34
9:10
Boris Diaw makes 4-foot jumper
30 - 36
9:00
Marcus Thornton misses 19-foot jumper
30 - 36
8:59
Danny Green defensive rebound
30 - 36
8:53
Spurs Full timeout
30 - 36
8:53
Jason Thompson enters the game for Derrick Williams
30 - 36
8:53
Marco Belinelli enters the game for Manu Ginobili
30 - 36
8:44
Danny Green makes 6-foot two point shot (Boris Diaw assists)
30 - 38
8:36
Patty Mills personal foul (Jimmer Fredette draws the foul)
30 - 38
8:27
Boris Diaw personal foul (Jason Thompson draws the foul)
30 - 38
8:27
Tony Parker enters the game for Patty Mills
30 - 38
8:17
Jason Thompson misses 6-foot jumper
30 - 38
8:15
Aron Baynes defensive rebound
30 - 38
8:02
Boris Diaw misses two point shot
30 - 38
8:00
Quincy Acy defensive rebound
30 - 38
7:50
Quincy Acy misses 18-foot jumper
30 - 38
7:50
Danny Green defensive rebound
30 - 38
7:39
Aron Baynes makes two point shot (Tony Parker assists)
30 - 40
7:24
Travis Outlaw misses 17-foot jumper
30 - 40
7:22
Boris Diaw defensive rebound
30 - 40
7:09
Danny Green makes 25-foot three point jumper (Tony Parker assists)
30 - 43
7:09
Kings Full timeout
30 - 43
7:09
Kawhi Leonard enters the game for Boris Diaw
30 - 43
7:09
Tim Duncan enters the game for Danny Green
30 - 43
7:09
Tiago Splitter enters the game for Aron Baynes
30 - 43
7:09
Isaiah Thomas enters the game for Jimmer Fredette
30 - 43
7:09
DeMarcus Cousins enters the game for Quincy Acy
30 - 43
7:09
Rudy Gay enters the game for Travis Outlaw
30 - 43
6:52
DeMarcus Cousins misses 5-foot jumper
30 - 43
6:52
Tim Duncan defensive rebound
30 - 43
6:43
Tiago Splitter makes layup (Marco Belinelli assists)
30 - 45
6:24
Rudy Gay misses
30 - 45
6:22
Tim Duncan defensive rebound
30 - 45
6:03
Marco Belinelli misses 20-foot jumper
30 - 45
6:03
Marcus Thornton defensive rebound
30 - 45
5:54
Isaiah Thomas makes driving layup (Marcus Thornton assists)
32 - 45
5:46
Tim Duncan bad pass
32 - 45
5:46
Ben McLemore enters the game for Marcus Thornton
32 - 45
5:26
Kawhi Leonard shooting foul (Rudy Gay draws the foul)
32 - 45
5:26
Rudy Gay makes free throw 1 of 2
33 - 45
5:26
Rudy Gay misses free throw 2 of 2
33 - 45
5:26
Tim Duncan defensive rebound
33 - 45
5:13
Ben McLemore kicked ball violation
33 - 45
5:03
Marco Belinelli makes 17-foot jumper (Tony Parker assists)
33 - 47
4:50
Tony Parker personal foul (Isaiah Thomas draws the foul)
33 - 47
4:46
Tiago Splitter blocks Ben McLemore's layup
33 - 47
4:45
Kings offensive team rebound
33 - 47
4:39
Rudy Gay makes dunk (DeMarcus Cousins assists)
35 - 47
4:20
Tim Duncan misses 9-foot jump bank shot
35 - 47
4:18
Jason Thompson defensive rebound
35 - 47
4:09
DeMarcus Cousins makes 15-foot two point shot (Isaiah Thomas assists)
37 - 47
3:58
Tim Duncan makes two point shot (Tony Parker assists)
37 - 49
3:45
Isaiah Thomas misses step back jumpshot
37 - 49
3:44
Tiago Splitter defensive rebound
37 - 49
3:33
Marco Belinelli misses 25-foot three point jumper
37 - 49
3:32
Jason Thompson defensive rebound
37 - 49
3:25
Manu Ginobili enters the game for Marco Belinelli
37 - 49
3:19
Isaiah Thomas makes 24-foot three point jumper (Jason Thompson assists)
40 - 49
3:03
Tim Duncan misses 19-foot jumper
40 - 49
3:02
Isaiah Thomas defensive rebound
40 - 49
2:59
Rudy Gay makes 1-foot dunk (Isaiah Thomas assists)
42 - 49
2:58
Spurs 20 Sec. timeout
42 - 49
2:58
Official timeout
42 - 49
2:45
Kawhi Leonard misses three point jumper
42 - 49
2:43
DeMarcus Cousins defensive rebound
42 - 49
2:41
Ben McLemore out of bounds lost ball turnover
42 - 49
2:28
Tony Parker makes 17-foot jumper
42 - 51
2:03
Rudy Gay misses 16-foot jumper
42 - 51
2:02
DeMarcus Cousins offensive rebound
42 - 51
2:00
DeMarcus Cousins misses layup
42 - 51
1:59
Jason Thompson offensive rebound
42 - 51
1:54
Tim Duncan blocks Rudy Gay's jumper
42 - 51
1:53
Jason Thompson misses 6-foot jumper
42 - 51
1:53
Jason Thompson offensive rebound
42 - 51
1:51
Tiago Splitter defensive rebound
42 - 51
1:45
Rudy Gay blocks Kawhi Leonard's layup
42 - 51
1:45
Spurs offensive team rebound
42 - 51
1:43
Manu Ginobili makes layup (Tiago Splitter assists)
42 - 53
1:17
Ben McLemore makes 26-foot three point jumper (Isaiah Thomas assists)
45 - 53
1:01
Ben McLemore shooting foul (Manu Ginobili draws the foul)
45 - 53
1:01
Manu Ginobili makes free throw 1 of 2
45 - 54
1:01
Jimmer Fredette enters the game for Isaiah Thomas
45 - 54
1:01
Manu Ginobili makes free throw 2 of 2
45 - 55
0:51
Rudy Gay misses jump bank shot
45 - 55
0:49
Jason Thompson offensive rebound
45 - 55
0:48
Jason Thompson makes layup
47 - 55
0:30
Tiago Splitter makes layup (Tony Parker assists)
47 - 57
0:08
DeMarcus Cousins makes 9-foot jumper (Jimmer Fredette assists)
49 - 57
0:00
Tim Duncan misses layup
49 - 57
0:00
Spurs offensive team rebound
49 - 57
0:00
End of the 2nd Quarter
49 - 57

time
TEAM
PLAY
SCORE
11:36
Jason Thompson misses 19-foot jumper
49 - 57
11:36
Kings offensive team rebound
49 - 57
11:36
Tiago Splitter loose ball foul (DeMarcus Cousins draws the foul)
49 - 57
11:29
DeMarcus Cousins makes driving layup (Isaiah Thomas assists)
51 - 57
11:12
Kawhi Leonard makes jumper (Tim Duncan assists)
51 - 59
10:56
Ben McLemore misses 6-foot jumper
51 - 59
10:56
Marco Belinelli defensive rebound
51 - 59
10:44
Tim Duncan makes 14-foot jumper (Marco Belinelli assists)
51 - 61
10:23
Isaiah Thomas misses 14-foot jumper
51 - 61
10:22
Tiago Splitter defensive rebound
51 - 61
10:14
Marco Belinelli misses 24-foot three point jumper
51 - 61
10:12
DeMarcus Cousins defensive rebound
51 - 61
10:00
DeMarcus Cousins makes 16-foot jumper (Isaiah Thomas assists)
53 - 61
9:48
Rudy Gay personal foul (Tony Parker draws the foul)
53 - 61
9:42
Tim Duncan misses 17-foot jumper
53 - 61
9:41
Rudy Gay defensive rebound
53 - 61
9:33
Rudy Gay makes 17-foot jumper
55 - 61
9:17
Marco Belinelli misses two point shot
55 - 61
9:15
Tim Duncan makes layup
55 - 63
9:15
Tim Duncan offensive rebound
55 - 61
8:59
Tim Duncan blocks DeMarcus Cousins's jumper
55 - 63
8:56
Tim Duncan defensive rebound
55 - 63
8:51
Marco Belinelli misses 8-foot jumper
55 - 63
8:49
Jason Thompson defensive rebound
55 - 63
8:45
Ben McLemore makes dunk (Isaiah Thomas assists)
57 - 63
8:29
Tony Parker misses 8-foot jumper
57 - 63
8:27
DeMarcus Cousins defensive rebound
57 - 63
8:22
Isaiah Thomas makes 25-foot three point jumper
60 - 63
8:22
Spurs Full timeout
60 - 63
8:15
Jason Thompson kicked ball violation
60 - 63
8:06
DeMarcus Cousins blocks Marco Belinelli 's 2-foot layup
60 - 63
8:04
Jason Thompson blocks Tiago Splitter 's 2-foot layup
60 - 63
8:04
Tiago Splitter offensive rebound
60 - 63
8:03
DeMarcus Cousins defensive rebound
60 - 63
7:48
Rudy Gay makes 10-foot jumper
62 - 63
7:33
Tony Parker makes 19-foot jumper
62 - 65
7:13
Tim Duncan shooting foul (DeMarcus Cousins draws the foul)
62 - 65
7:13
DeMarcus Cousins misses free throw 1 of 2
62 - 65
7:13
Kings offensive team rebound
62 - 65
7:13
Manu Ginobili enters the game for Marco Belinelli
62 - 65
7:13
Boris Diaw enters the game for Tiago Splitter
62 - 65
7:13
DeMarcus Cousins makes free throw 2 of 2
63 - 65
7:01
Tony Parker makes layup (Boris Diaw assists)
63 - 67
6:43
Rudy Gay makes jumper
65 - 67
6:28
Boris Diaw misses 19-foot jumper
65 - 67
6:26
Tim Duncan offensive rebound
65 - 67
6:20
Manu Ginobili bad pass (DeMarcus Cousins steals)
65 - 67
6:13
DeMarcus Cousins misses layup
65 - 67
6:13
Rudy Gay offensive rebound
65 - 67
6:01
Rudy Gay makes 4-foot jumper
67 - 67
5:50
Ben McLemore personal foul (Manu Ginobili draws the foul)
67 - 67
5:43
Tim Duncan misses 18-foot jumper
67 - 67
5:41
DeMarcus Cousins defensive rebound
67 - 67
5:31
DeMarcus Cousins makes 19-foot jumper (Isaiah Thomas assists)
69 - 67
5:16
Manu Ginobili makes 25-foot three point jumper (Boris Diaw assists)
69 - 70
5:03
Isaiah Thomas makes two point shot
71 - 70
4:46
Boris Diaw misses 17-foot jumper
71 - 70
4:45
Rudy Gay defensive rebound
71 - 70
4:35
Rudy Gay misses layup
71 - 70
4:35
DeMarcus Cousins offensive rebound
71 - 70
4:31
Rudy Gay makes 3-foot dunk (DeMarcus Cousins assists)
73 - 70
4:07
Manu Ginobili makes driving layup
73 - 72
3:54
Isaiah Thomas makes 9-foot jumper
75 - 72
3:34
Kawhi Leonard makes three point jumper (Boris Diaw assists)
75 - 75
3:20
DeMarcus Cousins misses 21-foot jumper
75 - 75
3:19
Isaiah Thomas offensive rebound
75 - 75
3:14
Isaiah Thomas makes 25-foot three point jumper
78 - 75
2:57
Kings Full timeout
78 - 75
2:57
Patty Mills enters the game for Tony Parker
78 - 75
2:57
Danny Green enters the game for Kawhi Leonard
78 - 75
2:57
Aron Baynes enters the game for Tim Duncan
78 - 75
2:57
Derrick Williams enters the game for Jason Thompson
78 - 75
2:57
Marcus Thornton enters the game for Ben McLemore
78 - 75
2:49
Manu Ginobili misses 26-foot three point jumper
78 - 75
2:48
Isaiah Thomas defensive rebound
78 - 75
2:33
Danny Green shooting foul (Rudy Gay draws the foul)
78 - 75
2:33
Rudy Gay makes free throw 1 of 2
79 - 75
2:33
Rudy Gay makes free throw 2 of 2
80 - 75
2:12
Boris Diaw makes layup (Danny Green assists)
80 - 77
1:54
Isaiah Thomas misses 5-foot jumper
80 - 77
1:53
Boris Diaw defensive rebound
80 - 77
1:47
Patty Mills misses 25-foot three point jumper
80 - 77
1:45
Rudy Gay defensive rebound
80 - 77
1:31
Aron Baynes shooting foul (DeMarcus Cousins draws the foul)
80 - 77
1:31
DeMarcus Cousins makes free throw 1 of 2
81 - 77
1:31
Travis Outlaw enters the game for Rudy Gay
81 - 77
1:31
DeMarcus Cousins makes free throw 2 of 2
82 - 77
1:10
Aron Baynes makes 5-foot two point shot (Boris Diaw assists)
82 - 79
1:10
DeMarcus Cousins defensive goaltending violation
82 - 79
0:56
DeMarcus Cousins misses 16-foot jumper
82 - 79
0:55
Danny Green defensive rebound
82 - 79
0:41
Patty Mills misses 11-foot jumper
82 - 79
0:39
Kings defensive team rebound
82 - 79
0:39
Jason Thompson enters the game for DeMarcus Cousins
82 - 79
0:31
Isaiah Thomas makes 16-foot jumper
84 - 79
0:11
Manu Ginobili makes driving layup
84 - 81
0:01
Isaiah Thomas makes 26-foot three point jumper
87 - 81
0:00
Danny Green misses 44-foot three point jumper
87 - 81
0:00
Spurs offensive team rebound
87 - 81
0:00
End of the 3rd Quarter
87 - 81

time
TEAM
PLAY
SCORE
11:45
Danny Green misses 23-foot three point jumper
87 - 81
11:45
Jason Thompson defensive rebound
87 - 81
11:25
Marcus Thornton misses 21-foot jumper
87 - 81
11:23
Manu Ginobili defensive rebound
87 - 81
11:18
Manu Ginobili misses 26-foot three point jumper
87 - 81
11:18
Marcus Thornton defensive rebound
87 - 81
10:59
Isaiah Thomas makes 26-foot three point jumper
90 - 81
10:48
Derrick Williams shooting foul (Boris Diaw draws the foul)
90 - 81
10:48
Boris Diaw makes free throw 1 of 2
90 - 82
10:48
Boris Diaw makes free throw 2 of 2
90 - 83
10:33
Isaiah Thomas misses 19-foot jumper
90 - 83
10:32
Manu Ginobili defensive rebound
90 - 83
10:26
Manu Ginobili makes driving layup
90 - 85
10:11
Marcus Thornton misses two point shot
90 - 85
10:10
Spurs defensive team rebound
90 - 85
9:57
Travis Outlaw blocks Manu Ginobili 's 15-foot jumper
90 - 85
9:56
Marcus Thornton defensive rebound
90 - 85
9:40
Isaiah Thomas lost ball turnover (Danny Green steals)
90 - 85
9:36
Danny Green makes layup (Patty Mills assists)
90 - 87
9:36
Kings Full timeout
90 - 87
9:36
Rudy Gay enters the game for Derrick Williams
90 - 87
9:19
Patty Mills shooting foul (Isaiah Thomas draws the foul)
90 - 87
9:19
Isaiah Thomas makes free throw 1 of 2
91 - 87
9:19
Isaiah Thomas makes free throw 2 of 2
92 - 87
9:03
Tiago Splitter makes layup
92 - 89
8:45
Marcus Thornton misses 26-foot three point jumper
92 - 89
8:44
Boris Diaw defensive rebound
92 - 89
8:37
Rudy Gay shooting foul (Manu Ginobili draws the foul)
92 - 89
8:37
Manu Ginobili makes free throw 1 of 2
92 - 90
8:37
Tony Parker enters the game for Patty Mills
92 - 90
8:37
Manu Ginobili makes free throw 2 of 2
92 - 91
8:18
Rudy Gay misses 10-foot two point shot
92 - 91
8:18
Manu Ginobili defensive rebound
92 - 91
8:12
Danny Green bad pass (Marcus Thornton steals)
92 - 91
8:03
Boris Diaw personal foul (Jason Thompson draws the foul)
92 - 91
8:03
DeMarcus Cousins enters the game for Travis Outlaw
92 - 91
8:03
Tim Duncan enters the game for Boris Diaw
92 - 91
7:52
DeMarcus Cousins misses 8-foot jumper
92 - 91
7:50
DeMarcus Cousins offensive rebound
92 - 91
7:37
Rudy Gay makes 13-foot jumper (Isaiah Thomas assists)
94 - 91
7:30
Manu Ginobili misses two point shot
94 - 91
7:28
Tim Duncan offensive rebound
94 - 91
7:20
Tony Parker makes 23-foot three point jumper (Manu Ginobili assists)
94 - 94
6:54
DeMarcus Cousins misses 8-foot jumper
94 - 94
6:54
DeMarcus Cousins makes 3-foot two point shot
96 - 94
6:54
DeMarcus Cousins offensive rebound
94 - 94
6:33
Tony Parker misses 15-foot jumper
96 - 94
6:33
Rudy Gay defensive rebound
96 - 94
6:30
Danny Green kicked ball violation
96 - 94
6:30
Kawhi Leonard enters the game for Manu Ginobili
96 - 94
6:30
Ben McLemore enters the game for Marcus Thornton
96 - 94
6:26
Rudy Gay makes 16-foot jumper
98 - 94
6:24
Spurs Full timeout
96 - 94
6:13
Danny Green misses 26-foot three point jumper
98 - 94
6:13
Isaiah Thomas defensive rebound
98 - 94
5:50
Kings 20 Sec. timeout
98 - 94
5:48
shot clock turnover
98 - 94
5:24
Tim Duncan makes 8-foot two point shot
98 - 96
5:07
Tiago Splitter personal foul (DeMarcus Cousins draws the foul)
98 - 96
4:58
Tiago Splitter shooting foul (DeMarcus Cousins draws the foul)
98 - 96
4:58
DeMarcus Cousins makes free throw 1 of 2
99 - 96
4:58
Manu Ginobili enters the game for Kawhi Leonard
99 - 96
4:58
DeMarcus Cousins makes free throw 2 of 2
100 - 96
4:45
Jason Thompson personal foul (Tim Duncan draws the foul)
100 - 96
4:35
Danny Green misses 13-foot jumper
100 - 96
4:33
DeMarcus Cousins defensive rebound
100 - 96
4:24
Ben McLemore offensive foul (Tiago Splitter draws the foul)
100 - 96
4:24
Ben McLemore turnover
100 - 96
4:00
Manu Ginobili misses 24-foot three point jumper
100 - 96
3:59
Tony Parker offensive rebound
100 - 96
3:50
Manu Ginobili makes 25-foot three point jumper (Danny Green assists)
100 - 99
3:24
DeMarcus Cousins makes 7-foot jumper
102 - 99
3:10
Manu Ginobili makes 23-foot three point jumper (Tony Parker assists)
102 - 102
3:10
Kings Full timeout
102 - 102
3:10
Boris Diaw enters the game for Tiago Splitter
102 - 102
3:10
Kawhi Leonard enters the game for Danny Green
102 - 102
3:00
back court turnover
102 - 102
2:47
Tim Duncan makes 7-foot two point shot (Boris Diaw assists)
102 - 104
2:47
DeMarcus Cousins shooting foul (Tim Duncan draws the foul)
102 - 104
2:47
Tim Duncan makes free throw 1 of 1
102 - 105
2:25
DeMarcus Cousins misses 9-foot jumper
102 - 105
2:23
Boris Diaw defensive rebound
102 - 105
2:05
Manu Ginobili misses 25-foot three point jumper
102 - 105
2:04
Rudy Gay defensive rebound
102 - 105
1:45
Isaiah Thomas misses 8-foot Running Jumper
102 - 105
1:44
Tim Duncan defensive rebound
102 - 105
1:22
Tim Duncan misses 18-foot jumper
102 - 105
1:21
Rudy Gay defensive rebound
102 - 105
1:13
Jason Thompson misses layup
102 - 105
1:12
Jason Thompson misses layup
102 - 105
1:12
Jason Thompson offensive rebound
102 - 105
1:10
Tim Duncan defensive rebound
102 - 105
0:50
Tony Parker makes 25-foot three point jumper (Manu Ginobili assists)
102 - 108
0:50
Kings Full timeout
102 - 108
0:50
Travis Outlaw enters the game for Jason Thompson
102 - 108
0:43
Isaiah Thomas makes driving layup
104 - 108
0:22
Tony Parker makes 20-foot jumper
104 - 110
0:15
Isaiah Thomas lost ball turnover (Manu Ginobili steals)
104 - 110
0:12
DeMarcus Cousins personal take foul (Tony Parker draws the foul)
104 - 111
0:12
Tony Parker makes free throw 1 of 2
104 - 111
0:12
Aron Baynes enters the game for Tim Duncan
104 - 111
0:12
Cory Joseph enters the game for Manu Ginobili
104 - 111
0:12
Tony Parker makes free throw 2 of 2
104 - 112
0:06
Rudy Gay misses 31-foot three point jumper
104 - 112
0:05
Boris Diaw defensive rebound
104 - 112
0:00
End of the 4th Quarter
104 - 112
0:00
End of Game
104 - 112
Russell Westbrook says that he's keeping focused on this year's Thunder team and not players that have moved on.

Anthony Morrow tells reporters he was caught off guard by Kevin Durant leaving and that the team is trying to move forward.

What's next for Miami if Chris Bosh can't play this year? What would it mean for the Heat's future and the East playoff race?
2015-2016 Pacific Standings
2015-2016 Southwest Standings