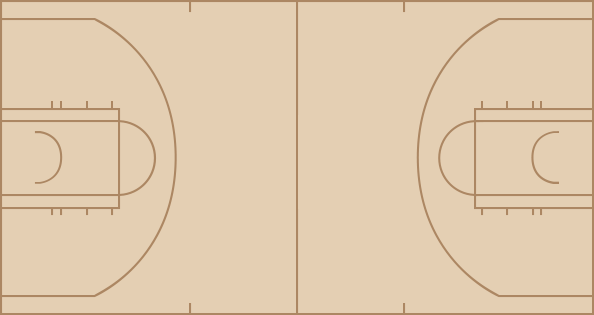 Knicks
time
TEAM
PLAY
SCORE
12:00
Tyson Chandler vs. Dwight Howard (Jeremy Lin gains possession)
0 - 0
11:41
Chandler Parsons makes 18-foot jumper (James Harden assists)
0 - 2
11:22
Dwight Howard blocks Andrea Bargnani 's 5-foot jumper
0 - 2
11:22
Dwight Howard defensive rebound
0 - 2
11:18
Chandler Parsons misses driving layup
0 - 2
11:17
Carmelo Anthony defensive rebound
0 - 2
10:56
Carmelo Anthony misses jumper
0 - 2
10:56
James Harden defensive rebound
0 - 2
10:33
Chandler Parsons misses 25-foot three point jumper
0 - 2
10:32
Carmelo Anthony defensive rebound
0 - 2
10:11
Andrea Bargnani misses 2-foot two point shot
0 - 2
10:10
Terrence Jones defensive rebound
0 - 2
10:03
Jeremy Lin makes layup (James Harden assists)
0 - 4
9:42
Iman Shumpert misses 22-foot two point jumper
0 - 4
9:41
Tyson Chandler offensive rebound
0 - 4
9:30
Carmelo Anthony makes 10-foot two point shot
2 - 4
9:25
Jeremy Lin makes driving layup
2 - 6
9:07
Andrea Bargnani misses 25-foot three point jumper
2 - 6
9:06
Terrence Jones defensive rebound
2 - 6
8:56
Terrence Jones traveling
2 - 6
8:48
Iman Shumpert makes 19-foot two point shot
4 - 6
8:32
James Harden makes driving layup
4 - 8
8:26
Knicks Full timeout
4 - 8
8:11
Beno Udrih misses 9-foot
4 - 8
8:08
James Harden defensive rebound
4 - 8
8:02
Jeremy Lin makes 24-foot three point jumper (James Harden assists)
4 - 11
7:47
Tyson Chandler makes 19-foot jumper (Iman Shumpert assists)
6 - 11
7:39
Jeremy Lin misses driving layup
6 - 11
7:39
Tyson Chandler defensive rebound
6 - 11
7:26
Carmelo Anthony misses 18-foot two point jumper
6 - 11
7:24
Tyson Chandler offensive rebound
6 - 11
7:18
Jeremy Lin kicked ball violation
6 - 11
7:18
Toure' Murry enters the game for Beno Udrih
6 - 11
7:05
Iman Shumpert misses 19-foot two point jumper
6 - 11
7:01
Chandler Parsons defensive rebound
6 - 11
6:47
Toure' Murry personal foul (Terrence Jones draws the foul)
6 - 11
6:39
Tyson Chandler shooting foul (Dwight Howard draws the foul)
6 - 11
6:39
Dwight Howard misses free throw 1 of 2
6 - 11
6:39
Rockets offensive team rebound
6 - 11
6:39
Dwight Howard makes free throw 2 of 2
6 - 12
6:30
Toure' Murry makes two point shot
8 - 12
6:16
Dwight Howard makes layup (Jeremy Lin assists)
8 - 14
6:05
Tyson Chandler makes 2-foot two point shot (Toure' Murry assists)
10 - 14
5:52
Dwight Howard misses two point shot
10 - 14
5:50
Tyson Chandler defensive rebound
10 - 14
5:43
Andrea Bargnani makes layup (Iman Shumpert assists)
12 - 14
5:31
James Harden misses 25-foot three point pullup jump shot
12 - 14
5:30
Andrea Bargnani defensive rebound
12 - 14
5:15
Iman Shumpert makes 25-foot three point jumper (Toure' Murry assists)
15 - 14
4:58
Terrence Jones makes layup (Jeremy Lin assists)
15 - 16
4:43
Dwight Howard shooting foul (Tyson Chandler draws the foul)
15 - 16
4:43
Rockets delay of game violation
15 - 16
4:43
Tyson Chandler misses free throw 1 of 2
15 - 16
4:43
Knicks offensive team rebound
15 - 16
4:43
Tyson Chandler makes free throw 2 of 2
16 - 16
4:24
Jeremy Lin misses 25-foot three point jumper
16 - 16
4:24
Carmelo Anthony defensive rebound
16 - 16
4:16
James Harden shooting foul (Tyson Chandler draws the foul)
16 - 16
4:16
Tyson Chandler misses free throw 1 of 2
16 - 16
4:16
Knicks offensive team rebound
16 - 16
4:16
Tyson Chandler makes free throw 2 of 2
17 - 16
4:07
Carmelo Anthony personal foul (Chandler Parsons draws the foul)
17 - 16
4:07
J.R. Smith enters the game for Tyson Chandler
17 - 16
3:58
Terrence Jones traveling
17 - 16
3:40
Toure' Murry misses two point jumper
17 - 16
3:39
Chandler Parsons defensive rebound
17 - 16
3:34
Aaron Brooks enters the game for Jeremy Lin
17 - 16
3:25
Andrea Bargnani blocks Dwight Howard 's 4-foot shot
17 - 16
3:25
Knicks defensive team rebound
17 - 16
3:12
J.R. Smith makes 26-foot three pointer (Toure' Murry assists)
20 - 16
3:03
Rockets Full timeout
20 - 16
3:03
Greg Smith enters the game for Dwight Howard
20 - 16
2:47
James Harden makes 20-foot two point shot
20 - 18
2:32
Terrence Jones personal foul (Carmelo Anthony draws the foul)
20 - 18
2:26
Carmelo Anthony makes 21-foot jumper (Iman Shumpert assists)
22 - 18
2:12
Aaron Brooks bad pass
22 - 18
2:12
Amar'e Stoudemire enters the game for Andrea Bargnani
22 - 18
1:59
Aaron Brooks personal foul (Carmelo Anthony draws the foul)
22 - 18
1:49
Carmelo Anthony misses 20-foot two point jumper
22 - 18
1:47
Toure' Murry offensive rebound
22 - 18
1:40
Amar'e Stoudemire makes 4-foot jumper
24 - 18
1:31
Chandler Parsons makes driving layup
24 - 20
1:09
J.R. Smith misses 27-foot three point jumper
24 - 20
1:08
Rockets defensive team rebound
24 - 20
1:08
Omri Casspi enters the game for Terrence Jones
24 - 20
1:00
Aaron Brooks lost ball turnover (Toure' Murry steals)
24 - 20
0:40
Toure' Murry lost ball turnover (Chandler Parsons steals)
24 - 20
0:32
James Harden lost ball turnover (Amar'e Stoudemire steals)
24 - 20
0:26
Amar'e Stoudemire offensive foul (Greg Smith draws the foul)
24 - 20
0:26
Amar'e Stoudemire turnover
24 - 20
0:11
Iman Shumpert personal take foul (James Harden draws the foul)
24 - 20
0:11
Tim Hardaway Jr. enters the game for Iman Shumpert
24 - 20
0:01
Chandler Parsons misses 5-foot jump bank shot
24 - 20
0:00
Aaron Brooks misses tip shot
24 - 20
0:00
Aaron Brooks offensive rebound
24 - 20
0:00
Knicks defensive team rebound
24 - 20
0:00
End of the 1st Quarter
24 - 20

time
TEAM
PLAY
SCORE
11:42
Andrea Bargnani misses hook shot
24 - 20
11:41
Amar'e Stoudemire offensive rebound
24 - 20
11:40
Amar'e Stoudemire misses layup
24 - 20
11:38
Francisco Garcia defensive rebound
24 - 20
11:26
Aaron Brooks misses 26-foot three point pullup jump shot
24 - 20
11:25
Andrea Bargnani defensive rebound
24 - 20
11:21
Aaron Brooks shooting foul (Toure' Murry draws the foul)
24 - 20
11:21
Toure' Murry makes free throw 1 of 2
25 - 20
11:21
Jeremy Lin enters the game for Aaron Brooks
25 - 20
11:21
Toure' Murry misses free throw 2 of 2
25 - 20
11:21
Dwight Howard defensive rebound
25 - 20
11:04
Omri Casspi makes 25-foot three point jumper (Chandler Parsons assists)
25 - 23
10:47
Amar'e Stoudemire makes dunk (Toure' Murry assists)
27 - 23
10:22
Dwight Howard makes two point shot
27 - 25
10:03
Andrea Bargnani bad pass (Dwight Howard steals)
27 - 25
9:59
Chandler Parsons lost ball turnover (J.R. Smith steals)
27 - 25
9:56
Jeremy Lin shooting foul (Toure' Murry draws the foul)
27 - 25
9:56
Toure' Murry misses free throw 1 of 2
27 - 25
9:56
Knicks offensive team rebound
27 - 25
9:56
Toure' Murry misses free throw 2 of 2
27 - 25
9:52
Amar'e Stoudemire misses tip shot
27 - 25
9:52
Amar'e Stoudemire offensive rebound
27 - 25
9:51
Amar'e Stoudemire offensive rebound
27 - 25
9:48
Amar'e Stoudemire lost ball turnover (Chandler Parsons steals)
27 - 25
9:33
Dwight Howard misses 3-foot hook shot
27 - 25
9:32
Knicks defensive team rebound
27 - 25
9:32
Beno Udrih enters the game for Toure' Murry
27 - 25
9:14
Amar'e Stoudemire misses 19-foot jumper
27 - 25
9:12
Chandler Parsons defensive rebound
27 - 25
9:06
Chandler Parsons bad pass
27 - 25
8:55
Tim Hardaway Jr. misses 25-foot three point pullup jump shot
27 - 25
8:52
Omri Casspi defensive rebound
27 - 25
8:47
Omri Casspi misses 25-foot three point jumper
27 - 25
8:45
Dwight Howard makes two point shot
27 - 27
8:45
Dwight Howard offensive rebound
27 - 25
8:30
Francisco Garcia blocks J.R. Smith 's 7-foot jumper
27 - 27
8:30
Chandler Parsons defensive rebound
27 - 27
8:27
Andrea Bargnani personal foul (Jeremy Lin draws the foul)
27 - 27
8:27
Official timeout
27 - 27
8:27
James Harden enters the game for Chandler Parsons
27 - 27
8:27
Tyson Chandler enters the game for Amar'e Stoudemire
27 - 27
8:18
Beno Udrih shooting foul (Jeremy Lin draws the foul)
27 - 27
8:18
Jeremy Lin makes free throw 1 of 2
27 - 28
8:18
Jeremy Lin makes free throw 2 of 2
27 - 29
8:07
Beno Udrih misses 17-foot two point jumper
27 - 29
8:04
James Harden defensive rebound
27 - 29
7:56
Jeremy Lin misses 5-foot
27 - 29
7:54
Tyson Chandler defensive rebound
27 - 29
7:47
Andrea Bargnani misses 25-foot three point jumper
27 - 29
7:46
Tyson Chandler offensive rebound
27 - 29
7:39
Beno Udrih misses 17-foot two point jumper
27 - 29
7:37
Andrea Bargnani offensive rebound
27 - 29
7:24
Tyson Chandler makes two point shot (J.R. Smith assists)
29 - 29
7:24
Francisco Garcia shooting foul (Tyson Chandler draws the foul)
29 - 29
7:24
Tyson Chandler makes free throw 1 of 1
30 - 29
7:07
Omri Casspi makes layup (James Harden assists)
30 - 31
6:48
Terrence Jones enters the game for Omri Casspi
30 - 31
6:43
Andrea Bargnani misses 8-foot two point shot
30 - 31
6:41
Francisco Garcia defensive rebound
30 - 31
6:35
James Harden bad pass
30 - 31
6:18
J.R. Smith misses 20-foot two point jumper
30 - 31
6:18
Francisco Garcia defensive rebound
30 - 31
6:00
James Harden misses 13-foot Running Jumper
30 - 31
5:58
James Harden offensive rebound
30 - 31
5:39
James Harden misses 18-foot step back jumpshot
30 - 31
5:37
Tyson Chandler defensive rebound
30 - 31
5:28
J.R. Smith makes 5-foot two point shot
32 - 31
5:09
Jeremy Lin makes jumper
32 - 33
5:09
Tyson Chandler technical foul(1st technical foul)
32 - 33
5:09
Rockets Full timeout
32 - 33
5:09
Iman Shumpert enters the game for Andrea Bargnani
32 - 33
5:09
Carmelo Anthony enters the game for Tim Hardaway Jr.
32 - 33
5:09
James Harden makes technical free throw
32 - 34
4:54
J.R. Smith misses 23-foot three point jumper
32 - 34
4:54
Dwight Howard defensive rebound
32 - 34
4:48
Jeremy Lin makes driving layup
32 - 36
4:48
Tyson Chandler shooting foul (Jeremy Lin draws the foul)
32 - 36
4:48
Chandler Parsons enters the game for Francisco Garcia
32 - 36
4:48
Jeremy Lin makes free throw 1 of 1
32 - 37
4:33
Carmelo Anthony misses 24-foot three point jumper
32 - 37
4:31
James Harden defensive rebound
32 - 37
4:26
Terrence Jones makes two point shot (James Harden assists)
32 - 39
4:20
Knicks Full timeout
32 - 39
4:20
Amar'e Stoudemire enters the game for J.R. Smith
32 - 39
4:03
Carmelo Anthony misses 10-foot jumper
32 - 39
4:01
Dwight Howard defensive rebound
32 - 39
4:01
Dwight Howard bad pass (Beno Udrih steals)
32 - 39
3:56
Carmelo Anthony makes three point jumper (Beno Udrih assists)
35 - 39
3:47
James Harden misses 13-foot two point shot
35 - 41
3:47
Terrence Jones makes two point shot
35 - 41
3:47
Terrence Jones offensive rebound
35 - 39
3:31
Iman Shumpert makes 25-foot three point jumper (Beno Udrih assists)
38 - 41
3:17
Amar'e Stoudemire personal foul (Dwight Howard draws the foul)
38 - 41
3:05
Chandler Parsons misses 23-foot three point jumper
38 - 41
3:04
Iman Shumpert defensive rebound
38 - 41
2:55
Carmelo Anthony makes 25-foot three point jumper (Iman Shumpert assists)
41 - 41
2:48
Jeremy Lin bad pass (Beno Udrih steals)
41 - 41
2:25
Iman Shumpert makes 21-foot two point shot
43 - 41
2:08
Terrence Jones misses
43 - 41
2:06
James Harden offensive rebound
43 - 41
2:00
James Harden makes
43 - 44
1:49
Carmelo Anthony misses 13-foot two point jumper
43 - 44
1:47
Terrence Jones defensive rebound
43 - 44
1:32
Iman Shumpert personal foul (James Harden draws the foul)
43 - 44
1:32
James Harden makes free throw 1 of 2
43 - 45
1:32
J.R. Smith enters the game for Iman Shumpert
43 - 45
1:32
Andrea Bargnani enters the game for Tyson Chandler
43 - 45
1:32
James Harden makes free throw 2 of 2
43 - 46
1:15
Beno Udrih makes 20-foot two point shot
45 - 46
1:06
James Harden misses 25-foot three point pullup jump shot
45 - 46
1:04
Andrea Bargnani defensive rebound
45 - 46
0:45
J.R. Smith misses 25-foot three point jumper
45 - 46
0:44
Andrea Bargnani offensive rebound
45 - 46
0:43
Andrea Bargnani makes jumper
47 - 46
0:28
Andrea Bargnani blocks Jeremy Lin 's 5-foot jumper
47 - 46
0:27
Beno Udrih defensive rebound
47 - 46
0:04
shot clock turnover
47 - 46
0:04
Carmelo Anthony personal foul (Chandler Parsons draws the foul)
47 - 46
0:04
Chandler Parsons makes free throw 1 of 2
47 - 47
0:04
Toure' Murry enters the game for Andrea Bargnani
47 - 47
0:04
Greg Smith enters the game for Dwight Howard
47 - 47
0:04
Chandler Parsons makes free throw 2 of 2
47 - 48
0:00
J.R. Smith misses 38-foot three point running jumper
47 - 48
0:00
Knicks offensive team rebound
47 - 48
0:00
End of the 2nd Quarter
47 - 48

time
TEAM
PLAY
SCORE
11:44
Tyson Chandler 3 second turnover
47 - 48
11:27
James Harden makes three point jumper (Jeremy Lin assists)
47 - 51
11:15
Beno Udrih misses 21-foot two point jumper
47 - 51
11:12
Terrence Jones defensive rebound
47 - 51
11:04
James Harden bad pass (Tyson Chandler steals)
47 - 51
10:56
Iman Shumpert makes 25-foot three pointer
50 - 51
10:40
James Harden misses three point jumper
50 - 51
10:37
Tyson Chandler defensive rebound
50 - 51
10:29
Carmelo Anthony misses two point shot
50 - 51
10:27
Terrence Jones defensive rebound
50 - 51
10:21
James Harden makes 25-foot three point jumper (Terrence Jones assists)
50 - 54
9:55
Beno Udrih makes 19-foot jumper (Carmelo Anthony assists)
52 - 54
9:37
Jeremy Lin misses driving layup
52 - 54
9:37
Iman Shumpert defensive rebound
52 - 54
9:30
Iman Shumpert misses 21-foot two point jumper
52 - 54
9:27
Terrence Jones defensive rebound
52 - 54
9:19
Dwight Howard makes 3-foot two point shot (Terrence Jones assists)
52 - 56
8:55
Carmelo Anthony makes 10-foot two point shot
54 - 56
8:45
Carmelo Anthony shooting foul (James Harden draws the foul)
54 - 56
8:45
James Harden makes free throw 1 of 2
54 - 57
8:45
James Harden makes free throw 2 of 2
54 - 58
8:30
Beno Udrih misses 18-foot two point jumper
54 - 58
8:29
Iman Shumpert offensive rebound
54 - 58
8:26
Iman Shumpert makes two point shot
56 - 58
8:12
James Harden makes 26-foot three point jumper (Jeremy Lin assists)
56 - 61
8:00
Terrence Jones personal foul (Tyson Chandler draws the foul)
56 - 61
7:58
Carmelo Anthony makes driving layup (Beno Udrih assists)
58 - 61
7:39
Jeremy Lin misses two point shot
58 - 61
7:39
Jeremy Lin offensive rebound
58 - 61
7:39
Jeremy Lin traveling
58 - 61
7:22
Carmelo Anthony makes two point shot (Beno Udrih assists)
60 - 61
7:11
Chandler Parsons misses 26-foot three point jumper
60 - 61
7:09
Andrea Bargnani defensive rebound
60 - 61
6:58
Beno Udrih makes layup (Iman Shumpert assists)
62 - 61
6:56
Rockets Full timeout
62 - 61
6:31
James Harden misses 27-foot
62 - 61
6:30
Carmelo Anthony defensive rebound
62 - 61
6:11
Andrea Bargnani makes 20-foot two point shot
64 - 61
5:58
Tyson Chandler blocks Terrence Jones 's 3-foot shot
64 - 61
5:56
Carmelo Anthony defensive rebound
64 - 61
5:48
Dwight Howard blocks Tyson Chandler 's 5-foot jumper
64 - 61
5:47
Tyson Chandler offensive rebound
64 - 61
5:41
Carmelo Anthony misses 14-foot two point jumper
64 - 61
5:39
Jeremy Lin defensive rebound
64 - 61
5:37
Beno Udrih personal foul (Jeremy Lin draws the foul)
64 - 61
5:37
J.R. Smith enters the game for Tyson Chandler
64 - 61
5:30
Iman Shumpert shooting foul (James Harden draws the foul)
64 - 61
5:30
James Harden makes free throw 1 of 2
64 - 62
5:30
James Harden makes free throw 2 of 2
64 - 63
5:18
Jeremy Lin personal foul (Andrea Bargnani draws the foul)
64 - 63
5:05
Dwight Howard blocks Carmelo Anthony 's 4-foot jumper
64 - 63
5:03
Carmelo Anthony offensive rebound
64 - 63
5:01
Carmelo Anthony makes layup
66 - 64
5:01
Carmelo Anthony technical foul(1st technical foul)
66 - 63
5:01
James Harden makes technical free throw
66 - 64
4:45
Andrea Bargnani shooting foul (Dwight Howard draws the foul)
66 - 64
4:45
Dwight Howard misses free throw 1 of 2
66 - 64
4:45
Rockets offensive team rebound
66 - 64
4:45
Dwight Howard misses free throw 2 of 2
66 - 64
4:43
Chandler Parsons offensive rebound
66 - 64
4:43
Chandler Parsons makes 4-foot two point shot
66 - 66
4:20
Beno Udrih makes driving layup
68 - 66
4:01
Dwight Howard misses 6-foot hook shot
68 - 66
4:01
Iman Shumpert defensive rebound
68 - 66
3:51
Iman Shumpert makes 25-foot three point jumper (J.R. Smith assists)
71 - 66
3:44
Jeremy Lin lost ball turnover (Iman Shumpert steals)
71 - 66
3:34
Dwight Howard personal foul (Andrea Bargnani draws the foul)
71 - 66
3:34
Aaron Brooks enters the game for Jeremy Lin
71 - 66
3:34
Amar'e Stoudemire enters the game for Andrea Bargnani
71 - 66
3:24
Carmelo Anthony makes 21-foot jumper
73 - 66
3:06
Dwight Howard misses layup
73 - 66
3:04
Terrence Jones misses tip shot
73 - 66
3:04
Terrence Jones offensive rebound
73 - 66
3:03
Dwight Howard offensive rebound
73 - 66
3:02
Dwight Howard makes 4-foot two point shot
73 - 68
3:01
Terrence Jones taunting technical (5th personal foul)
73 - 68
3:01
Carmelo Anthony makes technical free throw
74 - 68
2:48
Dwight Howard shooting foul (Amar'e Stoudemire draws the foul)
74 - 68
2:48
Knicks Full timeout
74 - 68
2:48
Amar'e Stoudemire makes free throw 1 of 2
75 - 68
2:48
Amar'e Stoudemire makes free throw 2 of 2
76 - 68
2:29
James Harden makes 17-foot jumper
76 - 70
2:05
Iman Shumpert makes 23-foot three point jumper (Beno Udrih assists)
79 - 70
1:45
James Harden misses 11-foot jumper
79 - 70
1:44
Terrence Jones offensive rebound
79 - 70
1:37
Chandler Parsons makes 25-foot three point jumper (Terrence Jones assists)
79 - 73
1:15
Carmelo Anthony misses 18-foot jumper
79 - 73
1:14
Chandler Parsons defensive rebound
79 - 73
1:02
Terrence Jones misses driving layup
79 - 73
1:01
Beno Udrih defensive rebound
79 - 73
0:44
Chandler Parsons personal foul (Iman Shumpert draws the foul)
79 - 73
0:44
Iman Shumpert makes free throw 1 of 2
80 - 73
0:44
Toure' Murry enters the game for Beno Udrih
80 - 73
0:44
Iman Shumpert makes free throw 2 of 2
81 - 73
0:32
James Harden misses 25-foot
81 - 73
0:30
Amar'e Stoudemire defensive rebound
81 - 73
0:10
Carmelo Anthony misses 25-foot three point pullup jump shot
81 - 73
0:08
Dwight Howard defensive rebound
81 - 73
0:00
Aaron Brooks misses 26-foot three point jumper
81 - 73
0:00
Rockets offensive team rebound
81 - 73
0:00
End of the 3rd Quarter
81 - 73

time
TEAM
PLAY
SCORE
11:45
Chandler Parsons misses 24-foot three point jumper
81 - 73
11:44
Tim Hardaway Jr. defensive rebound
81 - 73
11:26
Andrea Bargnani misses 25-foot three point jumper
81 - 73
11:26
Chandler Parsons defensive rebound
81 - 73
11:21
Chandler Parsons makes driving layup
81 - 76
11:21
Andrea Bargnani shooting foul (Chandler Parsons draws the foul)
81 - 75
11:21
Chandler Parsons makes free throw 1 of 1
81 - 76
11:12
Aaron Brooks personal foul (Toure' Murry draws the foul)
81 - 76
10:59
Amar'e Stoudemire misses 6-foot hook shot
81 - 76
10:59
Andrea Bargnani offensive rebound
81 - 76
10:59
Francisco Garcia shooting foul (Andrea Bargnani draws the foul)
81 - 76
10:59
Andrea Bargnani misses free throw 1 of 2
81 - 76
10:59
Knicks offensive team rebound
81 - 76
10:59
Andrea Bargnani makes free throw 2 of 2
82 - 76
10:49
Toure' Murry shooting block foul (Chandler Parsons draws the foul)
82 - 76
10:49
Chandler Parsons misses free throw 1 of 2
82 - 76
10:49
Rockets offensive team rebound
82 - 76
10:49
Chandler Parsons makes free throw 2 of 2
82 - 77
10:30
Toure' Murry misses two point shot
82 - 77
10:27
Chandler Parsons defensive rebound
82 - 77
10:18
Aaron Brooks makes 27-foot three point jumper (James Harden assists)
82 - 80
10:17
Knicks Full timeout
82 - 80
9:56
J.R. Smith misses 20-foot step back jumpshot
82 - 80
9:52
Amar'e Stoudemire vs. Greg Smith (J.R. Smith gains possession)
82 - 80
9:52
Knicks offensive team rebound
82 - 80
9:40
Andrea Bargnani offensive foul (Chandler Parsons draws the foul)
82 - 80
9:40
Andrea Bargnani turnover
82 - 80
9:15
Francisco Garcia makes 25-foot three point jumper (Chandler Parsons assists)
82 - 83
8:56
Toure' Murry misses 25-foot three point jumper
82 - 83
8:55
James Harden defensive rebound
82 - 83
8:45
James Harden lost ball turnover (Amar'e Stoudemire steals)
82 - 83
8:44
Francisco Garcia shooting foul (Tim Hardaway Jr. draws the foul)
82 - 83
8:44
Tim Hardaway Jr. makes free throw 1 of 2
83 - 83
8:44
Beno Udrih enters the game for Toure' Murry
83 - 83
8:44
Carmelo Anthony enters the game for Andrea Bargnani
83 - 83
8:44
Tim Hardaway Jr. misses free throw 2 of 2
83 - 83
8:42
Amar'e Stoudemire offensive rebound
83 - 83
8:29
Beno Udrih misses 10-foot two point jumper
83 - 83
8:26
Chandler Parsons defensive rebound
83 - 83
8:10
Francisco Garcia misses 27-foot three point jumper
83 - 83
8:10
Amar'e Stoudemire defensive rebound
83 - 83
8:08
Aaron Brooks personal foul (Amar'e Stoudemire draws the foul)
83 - 83
8:08
Iman Shumpert enters the game for Tim Hardaway Jr.
83 - 83
7:56
Chandler Parsons personal foul (Carmelo Anthony draws the foul)
83 - 83
7:56
Carmelo Anthony makes free throw 1 of 2
84 - 83
7:56
Carmelo Anthony makes free throw 2 of 2
85 - 83
7:41
Aaron Brooks misses 7-foot
85 - 83
7:39
Amar'e Stoudemire defensive rebound
85 - 83
7:20
Iman Shumpert misses 7-foot jumper
85 - 83
7:18
Francisco Garcia defensive rebound
85 - 83
7:11
James Harden makes 8-foot two point shot
85 - 85
6:52
J.R. Smith makes 20-foot two point shot
87 - 85
6:43
Chandler Parsons makes driving layup
87 - 87
6:24
Carmelo Anthony traveling
87 - 87
6:24
Tyson Chandler enters the game for Amar'e Stoudemire
87 - 87
6:05
Aaron Brooks misses three point jumper
87 - 87
6:05
Carmelo Anthony defensive rebound
87 - 87
5:41
Carmelo Anthony misses 18-foot two point jumper
87 - 87
5:39
Greg Smith defensive rebound
87 - 87
5:35
Carmelo Anthony shooting foul (James Harden draws the foul)
87 - 87
5:35
Full timeout
87 - 87
5:35
Dwight Howard enters the game for Greg Smith
87 - 87
5:35
James Harden makes free throw 1 of 2
87 - 88
5:35
James Harden makes free throw 2 of 2
87 - 89
5:16
Beno Udrih makes two point shot
89 - 89
4:58
Dwight Howard makes 7-foot two point shot (Aaron Brooks assists)
89 - 91
4:37
Carmelo Anthony makes 10-foot jumper (Beno Udrih assists)
91 - 91
4:24
Chandler Parsons misses Running Jumper
91 - 91
4:22
Tyson Chandler defensive rebound
91 - 91
4:09
James Harden personal foul (J.R. Smith draws the foul)
91 - 91
4:09
J.R. Smith makes free throw 1 of 2
92 - 91
4:09
J.R. Smith makes free throw 2 of 2
93 - 91
3:59
Tyson Chandler shooting foul (Dwight Howard draws the foul)
93 - 91
3:59
Dwight Howard makes free throw 1 of 2
93 - 92
3:59
Dwight Howard makes free throw 2 of 2
93 - 93
3:41
J.R. Smith misses three point jumper
93 - 93
3:41
Chandler Parsons defensive rebound
93 - 93
3:31
J.R. Smith shooting foul (James Harden draws the foul)
93 - 93
3:31
James Harden makes free throw 1 of 2
93 - 94
3:31
James Harden makes free throw 2 of 2
93 - 95
3:18
Tyson Chandler makes layup (Beno Udrih assists)
95 - 95
3:06
James Harden makes 26-foot three point jumper
95 - 98
2:43
Carmelo Anthony lost ball turnover (Chandler Parsons steals)
95 - 98
2:25
James Harden makes 20-foot two point shot
95 - 100
2:23
Knicks Full timeout
95 - 100
2:12
J.R. Smith misses 27-foot three point jumper
95 - 100
2:11
Beno Udrih offensive rebound
95 - 100
2:04
Carmelo Anthony misses 18-foot step back jumpshot
95 - 100
2:02
Chandler Parsons defensive rebound
95 - 100
1:39
Aaron Brooks misses 27-foot three point jumper
95 - 100
1:39
Beno Udrih defensive rebound
95 - 100
1:27
Iman Shumpert makes 26-foot three point jumper (Carmelo Anthony assists)
98 - 100
1:04
Rockets 20 Sec. timeout
98 - 100
1:04
J.R. Smith vs. James Harden (Tyson Chandler gains possession)
98 - 100
1:04
James Harden lost ball turnover (J.R. Smith steals)
98 - 100
1:01
Francisco Garcia loose ball foul (Tyson Chandler draws the foul)
98 - 100
1:01
Tyson Chandler makes free throw 1 of 2
99 - 100
1:01
Tyson Chandler makes free throw 2 of 2
100 - 100
0:50
Aaron Brooks misses driving layup
100 - 100
0:50
Carmelo Anthony defensive rebound
100 - 100
0:43
Knicks Full timeout
100 - 100
0:24
Beno Udrih misses three point jumper
100 - 100
0:23
Tyson Chandler offensive rebound
100 - 100
0:19
J.R. Smith misses 25-foot three point jumper
100 - 100
0:18
Aaron Brooks defensive rebound
100 - 100
0:17
Beno Udrih personal foul (Aaron Brooks draws the foul)
100 - 100
0:17
Aaron Brooks makes free throw 1 of 2
100 - 101
0:17
Aaron Brooks makes free throw 2 of 2
100 - 102
0:17
Knicks 20 Sec. timeout
100 - 102
0:17
Andrea Bargnani enters the game for Tyson Chandler
100 - 102
0:17
Terrence Jones enters the game for Aaron Brooks
100 - 102
0:10
Iman Shumpert misses 18-foot jumper
100 - 102
0:09
Andrea Bargnani offensive rebound
100 - 102
0:00
Beno Udrih misses Running Jumper
100 - 102
0:00
Knicks offensive team rebound
100 - 102
0:00
End of the 4th Quarter
100 - 102
0:00
End of Game
100 - 102
0:00
End of Game
100 - 102
Thunder center Steven Adams tries to help his teammate, Victor Oladipo, out on defense, but Oladipo accidentally hits Adams below the belt.

Booger McFarland doesn't think Kevin Durant is a villain for leaving OKC, but he may become a villain if he keeps talking about his former teammates.

Lebron James reminded us his play in the play-off final wasn't a one-off after he produced something very similar against the Washington Wizards.
Regular Season Series
HOU wins series 2-0
2016-2017 Atlantic Standings
2016-2017 Southwest Standings