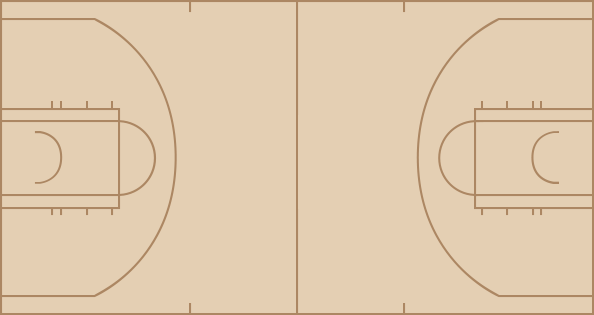 Nets
time
TEAM
PLAY
SCORE
12:00
Brook Lopez vs. Joakim Noah (Deron Williams gains possession)
0 - 0
11:45
Carlos Boozer personal foul (Brook Lopez draws the foul)
0 - 0
11:37
Kirk Hinrich personal foul (Deron Williams draws the foul)
0 - 0
11:30
Brook Lopez misses driving layup
0 - 0
11:29
Carlos Boozer defensive rebound
0 - 0
11:18
Carlos Boozer makes two point shot (Joakim Noah assists)
0 - 2
10:56
Deron Williams makes driving layup
2 - 2
10:41
Kirk Hinrich misses 25-foot three point jumper
2 - 2
10:40
Joe Johnson defensive rebound
2 - 2
10:34
Joakim Noah personal foul (Brook Lopez draws the foul)
2 - 2
10:34
Joakim Noah technical foul(1st technical foul)
2 - 2
10:34
Deron Williams makes technical free throw
3 - 2
10:30
Brook Lopez makes two point shot (Deron Williams assists)
5 - 2
10:23
Bulls 20 Sec. timeout
5 - 2
10:12
Carlos Boozer makes two point shot (Marco Belinelli assists)
5 - 4
9:56
Deron Williams makes 25-foot three point jumper (Joe Johnson assists)
8 - 4
9:44
Gerald Wallace personal foul (Marco Belinelli draws the foul)
8 - 4
9:37
Kirk Hinrich bad pass (Reggie Evans steals)
8 - 4
9:36
Reggie Evans traveling
8 - 4
9:26
Carlos Boozer misses 14-foot jumper
8 - 4
9:26
Reggie Evans defensive rebound
8 - 4
9:12
Brook Lopez misses 9-foot jumper
8 - 4
9:11
Carlos Boozer defensive rebound
8 - 4
9:06
Luol Deng misses jumper
8 - 4
9:04
Brook Lopez defensive rebound
8 - 4
8:55
Gerald Wallace makes three point jumper (Brook Lopez assists)
11 - 4
8:41
Kirk Hinrich steps out of bounds turnover
11 - 4
8:29
Brook Lopez makes 4-foot jumper (Joe Johnson assists)
13 - 4
8:29
Reggie Evans loose ball foul (Carlos Boozer draws the foul)
13 - 4
8:07
Luol Deng misses 3-foot hook shot
13 - 4
8:07
Reggie Evans defensive rebound
13 - 4
7:58
Brook Lopez makes 16-foot jumper (Deron Williams assists)
15 - 4
7:48
Bulls Full timeout
15 - 4
7:31
Marco Belinelli makes 25-foot three point jumper (Joakim Noah assists)
15 - 7
7:11
Brook Lopez makes jumper (Joe Johnson assists)
17 - 7
7:00
Joe Johnson personal foul (Luol Deng draws the foul)
17 - 7
6:50
Carlos Boozer lost ball turnover (Reggie Evans steals)
17 - 7
6:45
Joakim Noah blocks Gerald Wallace's shot
17 - 7
6:43
Reggie Evans offensive rebound
17 - 7
6:37
Deron Williams misses 24-foot three point jumper
17 - 7
6:35
Carlos Boozer defensive rebound
17 - 7
6:31
Deron Williams personal foul (Joakim Noah draws the foul)
17 - 7
6:20
Kirk Hinrich makes 25-foot three point jumper (Carlos Boozer assists)
17 - 10
6:07
Joe Johnson makes layup (Gerald Wallace assists)
19 - 10
5:50
Joakim Noah makes two point shot (Kirk Hinrich assists)
19 - 12
5:24
Brook Lopez makes layup
21 - 12
5:09
Brook Lopez shooting foul (Carlos Boozer draws the foul)
21 - 12
5:09
Carlos Boozer makes free throw 1 of 2
21 - 13
5:09
Carlos Boozer makes free throw 2 of 2
21 - 14
4:52
Joe Johnson lost ball turnover (Carlos Boozer steals)
21 - 14
4:43
Luol Deng misses 20-foot jumper
21 - 14
4:43
Joakim Noah offensive rebound
21 - 14
4:43
Joakim Noah makes two point shot
21 - 16
4:24
Gerald Wallace bad pass (Carlos Boozer steals)
21 - 16
4:13
Carlos Boozer makes 9-foot two point shot (Marco Belinelli assists)
21 - 18
4:05
Nets Full timeout
21 - 18
4:05
Keith Bogans enters the game for Gerald Wallace
21 - 18
3:57
Joakim Noah blocks Brook Lopez 's 2-foot layup
21 - 18
3:54
Reggie Evans offensive rebound
21 - 18
3:53
Reggie Evans bad pass
21 - 18
3:32
Joakim Noah makes layup (Carlos Boozer assists)
21 - 20
3:06
Joe Johnson bad pass
21 - 20
2:55
Brook Lopez blocks Marco Belinelli 's 18-foot jumper
21 - 20
2:53
Reggie Evans defensive rebound
21 - 20
2:38
Brook Lopez makes 16-foot two point shot
23 - 20
2:15
Luol Deng bad pass
23 - 20
2:15
Kris Humphries enters the game for Reggie Evans
23 - 20
2:15
C.J. Watson enters the game for Joe Johnson
23 - 20
2:00
Kris Humphries misses layup
23 - 20
2:00
Carlos Boozer defensive rebound
23 - 20
1:40
Marco Belinelli misses 26-foot three point jumper
23 - 20
1:39
Deron Williams defensive rebound
23 - 20
1:24
Kris Humphries bad pass (Luol Deng steals)
23 - 20
1:22
Keith Bogans shooting foul (Luol Deng draws the foul)
23 - 20
1:22
Luol Deng makes free throw 1 of 2
23 - 21
1:22
Nate Robinson enters the game for Kirk Hinrich
23 - 21
1:22
Jimmy Butler enters the game for Carlos Boozer
23 - 21
1:22
Luol Deng makes free throw 2 of 2
23 - 22
1:12
Deron Williams misses 22-foot jumper
23 - 22
1:08
Nets offensive team rebound
23 - 22
1:08
Kirk Hinrich enters the game for Marco Belinelli
23 - 22
1:06
Deron Williams misses 21-foot jumper
23 - 22
1:05
Luol Deng defensive rebound
23 - 22
0:54
Joakim Noah makes two point shot (Nate Robinson assists)
23 - 24
0:54
Keith Bogans shooting foul (Joakim Noah draws the foul)
23 - 24
0:54
Joakim Noah makes free throw 1 of 1
23 - 25
0:46
Kirk Hinrich personal foul (Deron Williams draws the foul)
23 - 25
0:40
Brook Lopez makes dunk (Deron Williams assists)
25 - 25
0:19
Luol Deng bad pass
25 - 25
0:04
Deron Williams makes 17-foot jumper
27 - 25
0:00
Nate Robinson makes two point shot
27 - 27
0:00
End of the 1st Quarter
27 - 27

time
TEAM
PLAY
SCORE
11:40
Joakim Noah makes layup (Nate Robinson assists)
27 - 29
11:21
Nate Robinson personal foul (C.J. Watson draws the foul)
27 - 29
11:21
Daequan Cook enters the game for Kirk Hinrich
27 - 29
11:15
C.J. Watson bad pass (Luol Deng steals)
27 - 29
11:00
Joakim Noah misses
27 - 29
11:00
Andray Blatche defensive rebound
27 - 29
10:53
Andray Blatche misses jumper
27 - 29
10:52
Joakim Noah defensive rebound
27 - 29
10:45
Joakim Noah makes two point shot (Jimmy Butler assists)
27 - 31
10:25
C.J. Watson makes 12-foot two point shot
29 - 31
10:08
C.J. Watson shooting foul (Nate Robinson draws the foul)
29 - 31
10:08
Nate Robinson makes free throw 1 of 2
29 - 32
10:08
Nate Robinson makes free throw 2 of 2
29 - 33
9:52
Joe Johnson bad pass (Jimmy Butler steals)
29 - 33
9:38
Daequan Cook misses 18-foot jumper
29 - 33
9:37
C.J. Watson defensive rebound
29 - 33
9:29
Andray Blatche makes 1-foot driving dunk
31 - 33
9:03
Joakim Noah bad pass
31 - 33
8:48
Daequan Cook shooting foul (MarShon Brooks draws the foul)
31 - 33
8:48
Full timeout
31 - 33
8:48
MarShon Brooks misses free throw 1 of 2
31 - 33
8:48
Nets offensive team rebound
31 - 33
8:48
MarShon Brooks misses free throw 2 of 2
31 - 33
8:45
Daequan Cook defensive rebound
31 - 33
8:33
Daequan Cook misses 16-foot jumper
31 - 33
8:32
Gerald Wallace defensive rebound
31 - 33
8:15
Gerald Wallace makes layup (C.J. Watson assists)
33 - 33
8:00
Nate Robinson misses 17-foot two point shot
33 - 33
7:58
Joakim Noah offensive rebound
33 - 33
7:48
Jimmy Butler misses 22-foot three point jumper
33 - 33
7:48
Gerald Wallace defensive rebound
33 - 33
7:37
Gerald Wallace out of bounds lost ball turnover
33 - 33
7:24
Luol Deng misses 25-foot three point jumper
33 - 33
7:24
Joe Johnson defensive rebound
33 - 33
7:16
Luol Deng blocks Gerald Wallace's layup
33 - 33
7:16
Gerald Wallace vs. Luol Deng (Andray Blatche gains possession)
33 - 33
7:16
Nets offensive team rebound
33 - 33
7:09
Andray Blatche makes jumper
35 - 33
6:50
Jimmy Butler makes 15-foot jumper (Nate Robinson assists)
35 - 35
6:24
MarShon Brooks offensive Charge (Jimmy Butler draws the foul)
35 - 35
6:24
MarShon Brooks turnover
35 - 35
6:24
Carlos Boozer enters the game for Joakim Noah
35 - 35
6:11
Nate Robinson makes 25-foot three point jumper
35 - 38
5:52
Andray Blatche misses layup
35 - 38
5:50
Carlos Boozer defensive rebound
35 - 38
5:46
Gerald Wallace blocks Jimmy Butler 's 4-foot 2-pt jumper
35 - 38
5:46
Bulls offensive team rebound
35 - 38
5:46
Bulls Full timeout
35 - 38
5:46
Deron Williams enters the game for Andray Blatche
35 - 38
5:46
Brook Lopez enters the game for MarShon Brooks
35 - 38
5:37
Nate Robinson misses three point jumper
35 - 38
5:37
Luol Deng offensive rebound
35 - 38
5:31
Nate Robinson misses 25-foot three point jumper
35 - 38
5:31
Joe Johnson defensive rebound
35 - 38
5:13
C.J. Watson makes 18-foot jumper (Joe Johnson assists)
37 - 38
4:48
Carlos Boozer misses 16-foot jumper
37 - 38
4:48
Joe Johnson defensive rebound
37 - 38
4:37
Joe Johnson makes driving layup
39 - 38
4:16
Daequan Cook makes 27-foot three point jumper
39 - 41
3:58
Luol Deng blocks Deron Williams 's 7-foot jumper
39 - 41
3:56
Daequan Cook defensive rebound
39 - 41
3:47
Luol Deng lost ball turnover (Gerald Wallace steals)
39 - 41
3:47
Gerald Wallace out of bounds lost ball turnover
39 - 41
3:47
Kirk Hinrich enters the game for Luol Deng
39 - 41
3:47
Joakim Noah enters the game for Daequan Cook
39 - 41
3:47
Reggie Evans enters the game for Gerald Wallace
39 - 41
3:36
Joakim Noah misses 18-foot jumper
39 - 41
3:35
Joe Johnson defensive rebound
39 - 41
3:15
Joe Johnson misses three point jumper
39 - 41
3:13
Joakim Noah defensive rebound
39 - 41
2:55
Carlos Boozer misses
39 - 41
2:54
Reggie Evans defensive rebound
39 - 41
2:48
Nets Full timeout
39 - 41
2:38
Joe Johnson misses 26-foot three point jumper
39 - 41
2:29
Nate Robinson bad pass (Joe Johnson steals)
39 - 41
2:21
C.J. Watson misses three point jumper
39 - 41
2:09
Joakim Noah makes driving layup (Nate Robinson assists)
39 - 43
1:44
Deron Williams bad pass (Carlos Boozer steals)
39 - 43
1:32
Joe Johnson shooting foul (Jimmy Butler draws the foul)
39 - 43
1:32
Jimmy Butler makes free throw 1 of 2
39 - 44
1:32
Keith Bogans enters the game for Joe Johnson
39 - 44
1:32
Jimmy Butler makes free throw 2 of 2
39 - 45
1:23
C.J. Watson bad pass (Carlos Boozer steals)
39 - 45
1:15
Nate Robinson makes 26-foot three point jumper (Kirk Hinrich assists)
39 - 48
1:15
Nets 20 Sec. timeout
39 - 48
1:02
C.J. Watson misses jumper
39 - 48
1:00
Nate Robinson defensive rebound
39 - 48
0:53
Kirk Hinrich makes 26-foot three point jumper (Joakim Noah assists)
39 - 51
0:44
Nate Robinson personal foul (C.J. Watson draws the foul)
39 - 51
0:35
Brook Lopez misses 13-foot jumper
39 - 51
0:34
Carlos Boozer defensive rebound
39 - 51
0:18
Jimmy Butler makes jumper
39 - 53
0:00
C.J. Watson misses 21-foot jumper
39 - 53
0:00
Nets offensive team rebound
39 - 53
0:00
End of the 2nd Quarter
39 - 53

time
TEAM
PLAY
SCORE
11:44
Luol Deng misses 14-foot jumper
39 - 53
11:42
Joakim Noah offensive rebound
39 - 53
11:33
Marco Belinelli offensive foul (Deron Williams draws the foul)
39 - 53
11:33
Marco Belinelli turnover
39 - 53
11:25
Joe Johnson offensive foul (Marco Belinelli draws the foul)
39 - 53
11:25
Joe Johnson turnover
39 - 53
11:12
Carlos Boozer makes 14-foot two point shot (Joakim Noah assists)
39 - 55
10:52
Brook Lopez misses 19-foot jumper
39 - 55
10:52
Reggie Evans offensive rebound
39 - 55
10:49
Carlos Boozer blocks Reggie Evans's layup
39 - 55
10:49
Nets offensive team rebound
39 - 55
10:47
Reggie Evans misses driving layup
39 - 55
10:45
Carlos Boozer defensive rebound
39 - 55
10:33
Carlos Boozer misses 14-foot jumper
39 - 55
10:33
Brook Lopez defensive rebound
39 - 55
10:15
Reggie Evans 3 second turnover
39 - 55
10:15
Nets 20 Sec. timeout
39 - 55
10:00
Carlos Boozer makes driving layup (Marco Belinelli assists)
39 - 57
9:32
Deron Williams misses 19-foot
39 - 57
9:30
Joakim Noah defensive rebound
39 - 57
9:18
Marco Belinelli misses jumper
39 - 57
9:17
Reggie Evans defensive rebound
39 - 57
9:11
Marco Belinelli shooting foul (Brook Lopez draws the foul)
39 - 57
9:11
Brook Lopez makes free throw 1 of 2
40 - 57
9:11
Brook Lopez makes free throw 2 of 2
41 - 57
8:56
Carlos Boozer makes jumper (Luol Deng assists)
41 - 59
8:33
Joakim Noah personal foul (Brook Lopez draws the foul)
41 - 59
8:19
Joe Johnson makes 5-foot two point shot
43 - 59
8:03
Marco Belinelli misses 4-foot jumper
43 - 59
8:03
Joakim Noah offensive rebound
43 - 59
8:03
Gerald Wallace personal foul (Joakim Noah draws the foul)
43 - 59
7:56
Luol Deng misses 25-foot three point jumper
43 - 59
7:56
Reggie Evans defensive rebound
43 - 59
7:41
Gerald Wallace misses layup
43 - 59
7:39
Reggie Evans offensive rebound
43 - 59
7:37
Reggie Evans bad pass
43 - 59
7:37
Nets Full timeout
43 - 59
7:37
Andray Blatche enters the game for Reggie Evans
43 - 59
7:18
Joakim Noah bad pass (Gerald Wallace steals)
43 - 59
7:11
Joe Johnson misses layup
43 - 59
7:09
Joakim Noah defensive rebound
43 - 59
6:48
Carlos Boozer misses driving layup
43 - 59
6:48
Andray Blatche defensive rebound
43 - 59
6:39
Gerald Wallace bad pass (Joakim Noah steals)
43 - 59
6:35
Carlos Boozer makes two point shot (Kirk Hinrich assists)
43 - 61
6:05
Andray Blatche misses 20-foot jumper
43 - 61
6:03
Brook Lopez offensive rebound
43 - 61
5:52
Brook Lopez makes driving layup (Deron Williams assists)
45 - 61
5:52
Luol Deng shooting foul (Brook Lopez draws the foul)
45 - 61
5:52
Brook Lopez makes free throw 1 of 1
46 - 61
5:41
Joe Johnson kicked ball violation
46 - 61
5:37
Kirk Hinrich makes 20-foot jumper
46 - 63
5:20
Joe Johnson bad pass (Joakim Noah steals)
46 - 63
5:09
Luol Deng bad pass (Andray Blatche steals)
46 - 63
5:00
Andray Blatche bad pass (Luol Deng steals)
46 - 63
4:54
Kirk Hinrich misses two point shot
46 - 63
4:52
Luol Deng offensive rebound
46 - 63
4:52
Luol Deng misses layup
46 - 63
4:52
Andray Blatche defensive rebound
46 - 63
4:45
Brook Lopez misses jumper
46 - 63
4:43
Joakim Noah defensive rebound
46 - 63
4:26
Deron Williams kicked ball violation
46 - 63
4:26
Keith Bogans enters the game for Joe Johnson
46 - 63
4:24
Gerald Wallace personal foul (Joakim Noah draws the foul)
46 - 63
4:18
Joakim Noah lost ball turnover (Gerald Wallace steals)
46 - 63
4:15
Gerald Wallace makes two point shot
49 - 63
4:15
Marco Belinelli shooting foul (Gerald Wallace draws the foul)
49 - 63
4:15
Gerald Wallace makes free throw 1 of 1
49 - 63
3:57
Joakim Noah makes 20-foot jumper (Marco Belinelli assists)
49 - 65
3:47
Andray Blatche makes two point shot (Deron Williams assists)
51 - 65
3:26
Carlos Boozer makes two point shot
51 - 67
3:06
Carlos Boozer shooting foul (Andray Blatche draws the foul)
51 - 67
3:06
Andray Blatche makes free throw 1 of 2
52 - 67
3:06
Andray Blatche makes free throw 2 of 2
53 - 67
2:51
Joakim Noah makes two point shot (Luol Deng assists)
53 - 69
2:38
Kirk Hinrich personal foul (Deron Williams draws the foul)
53 - 69
2:38
Bulls Full timeout
53 - 69
2:38
Jimmy Butler enters the game for Carlos Boozer
53 - 69
2:38
Deron Williams makes free throw 1 of 2
54 - 69
2:38
Deron Williams makes free throw 2 of 2
55 - 69
2:16
Jimmy Butler makes 22-foot jumper (Joakim Noah assists)
55 - 71
1:55
Joakim Noah blocks Andray Blatche's jumper
55 - 71
1:55
Nets offensive team rebound
55 - 71
1:55
Mirza Teletovic enters the game for Brook Lopez
55 - 71
1:52
Deron Williams misses 25-foot three point jumper
55 - 71
1:51
Andray Blatche offensive rebound
55 - 71
1:36
Joakim Noah blocks Gerald Wallace 's 3-foot layup
55 - 71
1:34
Marco Belinelli defensive rebound
55 - 71
1:31
Mirza Teletovic shooting foul (Jimmy Butler draws the foul)
55 - 71
1:31
Jimmy Butler makes free throw 1 of 2
55 - 72
1:31
Jimmy Butler makes free throw 2 of 2
55 - 73
1:13
Mirza Teletovic makes jumper (Andray Blatche assists)
57 - 73
0:45
Luol Deng makes jumper (Jimmy Butler assists)
57 - 75
0:28
Joakim Noah personal foul (Andray Blatche draws the foul)
59 - 75
0:28
Andray Blatche makes free throw 1 of 2
58 - 75
0:28
Andray Blatche makes free throw 2 of 2
59 - 75
0:10
Kirk Hinrich makes driving layup
59 - 77
0:02
Mirza Teletovic misses 24-foot three point jumper
59 - 77
0:01
Joakim Noah defensive rebound
59 - 77
0:00
Joakim Noah misses 42-foot three point jumper
59 - 77
0:00
Bulls offensive team rebound
59 - 77
0:00
End of the 3rd Quarter
59 - 77

time
TEAM
PLAY
SCORE
11:41
Luol Deng personal foul (Joe Johnson draws the foul)
59 - 77
11:26
Joe Johnson misses layup
59 - 77
11:22
C.J. Watson offensive rebound
59 - 77
11:19
Joe Johnson misses three point jumper
59 - 77
11:15
Mirza Teletovic offensive rebound
59 - 77
11:04
Mirza Teletovic makes 26-foot three point jumper (Joe Johnson assists)
62 - 77
10:48
Nate Robinson lost ball turnover (Andray Blatche steals)
62 - 77
10:45
Nazr Mohammed enters the game for Joakim Noah
62 - 77
10:40
Nazr Mohammed shooting foul (Andray Blatche draws the foul)
62 - 77
10:40
Andray Blatche misses free throw 1 of 2
62 - 77
10:40
Nets offensive team rebound
62 - 77
10:40
Kirk Hinrich enters the game for Marco Belinelli
62 - 77
10:40
Andray Blatche makes free throw 2 of 2
63 - 77
10:26
Mirza Teletovic personal foul (Nate Robinson draws the foul)
63 - 77
10:21
Nate Robinson makes 11-foot two point shot
63 - 79
10:08
Andray Blatche misses layup
63 - 79
10:07
Nazr Mohammed defensive rebound
63 - 79
9:52
Nate Robinson misses 19-foot jumper
63 - 79
9:42
C.J. Watson misses layup
63 - 79
9:41
Kirk Hinrich defensive rebound
63 - 79
9:37
Jimmy Butler makes 2-foot two point shot (Kirk Hinrich assists)
63 - 81
9:37
Mirza Teletovic shooting foul (Jimmy Butler draws the foul)
63 - 81
9:37
Jimmy Butler makes free throw 1 of 1
63 - 82
9:11
Joe Johnson makes three point jumper (Mirza Teletovic assists)
66 - 82
8:45
Jimmy Butler misses driving layup
66 - 82
8:44
Mirza Teletovic defensive rebound
66 - 82
8:33
Mirza Teletovic misses jumper
66 - 82
8:33
Jimmy Butler defensive rebound
66 - 82
8:11
Kirk Hinrich makes jumper
66 - 84
8:11
Nets Full timeout
66 - 84
8:11
Brook Lopez enters the game for C.J. Watson
66 - 84
8:11
Deron Williams enters the game for Andray Blatche
66 - 84
8:00
Deron Williams offensive Charge (Kirk Hinrich draws the foul)
66 - 84
8:00
Deron Williams turnover
66 - 84
7:47
Luol Deng makes 14-foot jumper
66 - 86
7:28
Mirza Teletovic misses 8-foot jumper
66 - 86
7:28
Nazr Mohammed defensive rebound
66 - 86
7:22
Nate Robinson misses 25-foot three point running jumper
66 - 86
7:20
Keith Bogans defensive rebound
66 - 86
7:09
Deron Williams misses 26-foot three point jumper
66 - 86
7:09
Jimmy Butler defensive rebound
66 - 86
6:50
Nate Robinson bad pass (Brook Lopez steals)
66 - 86
6:39
Nazr Mohammed personal foul (Brook Lopez draws the foul)
66 - 86
6:39
Gerald Wallace enters the game for Keith Bogans
66 - 86
6:35
Nazr Mohammed personal foul (Brook Lopez draws the foul)
66 - 86
6:35
Joakim Noah enters the game for Nate Robinson
66 - 86
6:35
Marco Belinelli enters the game for Nazr Mohammed
66 - 86
6:28
Kirk Hinrich personal foul (Brook Lopez draws the foul)
66 - 86
6:28
Brook Lopez makes free throw 1 of 2
67 - 86
6:28
Brook Lopez misses free throw 2 of 2
67 - 86
6:24
Luol Deng defensive rebound
67 - 86
6:20
Deron Williams personal foul (Kirk Hinrich draws the foul)
67 - 86
6:11
Brook Lopez blocks Marco Belinelli's layup
67 - 86
6:09
Mirza Teletovic defensive rebound
67 - 86
5:58
Marco Belinelli personal foul (Gerald Wallace draws the foul)
67 - 86
5:58
Full timeout
67 - 86
5:58
Gerald Wallace misses free throw 1 of 2
67 - 86
5:58
Nets offensive team rebound
67 - 86
5:58
Gerald Wallace misses free throw 2 of 2
67 - 86
5:56
Marco Belinelli defensive rebound
67 - 86
5:39
Brook Lopez blocks Kirk Hinrich 's 16-foot jumper
67 - 86
5:37
Gerald Wallace defensive rebound
67 - 86
5:22
Joe Johnson makes layup
69 - 86
5:09
Joe Johnson personal foul (Marco Belinelli draws the foul)
69 - 86
5:09
Carlos Boozer enters the game for Jimmy Butler
69 - 86
5:09
Andray Blatche enters the game for Mirza Teletovic
69 - 86
5:01
Carlos Boozer misses jumper
69 - 86
4:58
Gerald Wallace defensive rebound
69 - 86
4:43
Brook Lopez misses 11-foot jumper
69 - 86
4:41
Carlos Boozer defensive rebound
69 - 86
4:26
Joakim Noah makes driving layup (Luol Deng assists)
69 - 88
4:05
Deron Williams makes 18-foot jumper
71 - 88
3:49
Joakim Noah bad pass (Andray Blatche steals)
71 - 88
3:44
Andray Blatche makes layup (Gerald Wallace assists)
73 - 88
3:44
Bulls Full timeout
73 - 88
3:31
Marco Belinelli makes two point shot (Carlos Boozer assists)
73 - 90
3:05
Deron Williams misses 26-foot three point jumper
73 - 90
3:04
Luol Deng defensive rebound
73 - 90
2:43
Carlos Boozer misses 18-foot jumper
73 - 90
2:42
Deron Williams defensive rebound
73 - 90
2:38
Deron Williams bad pass (Carlos Boozer steals)
73 - 90
2:32
Joakim Noah out of bounds lost ball turnover
73 - 90
2:28
Marco Belinelli personal foul (Deron Williams draws the foul)
73 - 90
2:28
Deron Williams makes free throw 1 of 2
74 - 90
2:28
MarShon Brooks enters the game for Joe Johnson
74 - 90
2:28
Deron Williams makes free throw 2 of 2
75 - 90
2:10
Luol Deng makes 18-foot jumper
75 - 92
1:59
Brook Lopez makes layup (Deron Williams assists)
77 - 92
1:43
Carlos Boozer offensive foul (Deron Williams draws the foul)
77 - 92
1:43
Carlos Boozer turnover
77 - 92
1:43
Mirza Teletovic enters the game for Gerald Wallace
77 - 92
1:43
C.J. Watson enters the game for Brook Lopez
77 - 92
1:43
Tyshawn Taylor enters the game for Deron Williams
77 - 92
1:31
Carlos Boozer shooting foul (Tyshawn Taylor draws the foul)
77 - 92
1:31
Tyshawn Taylor misses free throw 1 of 2
77 - 92
1:31
Nets offensive team rebound
77 - 92
1:31
Tyshawn Taylor makes free throw 2 of 2
78 - 92
1:14
Carlos Boozer makes 6-foot two point shot
78 - 94
1:02
C.J. Watson makes three point jumper (Andray Blatche assists)
81 - 94
0:46
Carlos Boozer lost ball turnover (Andray Blatche steals)
81 - 94
0:40
Mirza Teletovic makes 1-foot two point shot (MarShon Brooks assists)
83 - 94
0:35
MarShon Brooks personal foul (Marco Belinelli draws the foul)
83 - 96
0:35
Marco Belinelli makes free throw 1 of 2
83 - 95
0:35
Marco Belinelli makes free throw 2 of 2
83 - 96
0:26
Mirza Teletovic makes layup
85 - 96
0:21
Carlos Boozer bad pass (C.J. Watson steals)
85 - 96
0:15
Andray Blatche misses 25-foot three point jumper
85 - 96
0:14
Marco Belinelli defensive rebound
85 - 96
0:00
End of the 4th Quarter
85 - 96
0:00
End of Game
85 - 96
SportsCenter goes Next Level to explain how not having Mike Conley on the court negatively affects the Grizzlies.

James Harden puts up 26 points, but on 8-for-23 shooting as the Rockets fall to the Jazz 120-101.

Jalen Rose and David Jacoby discuss the announcement of Tiger Woods' new sponsor as he returns from a 15-month hiatus from playing professional golf.
Eastern Conference Quarter Finals
CHI wins series 4-3
2016-2017 Atlantic Standings