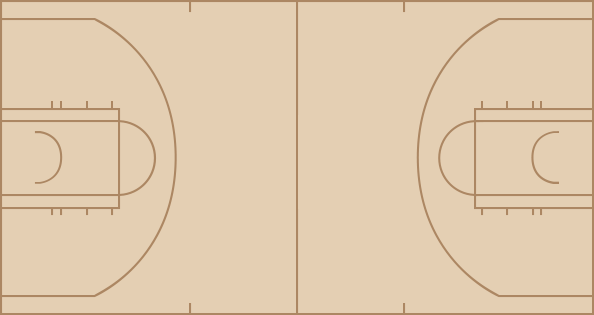 Thunder
time
TEAM
PLAY
SCORE
12:00
Serge Ibaka vs. Kyle O'Quinn (Kendrick Perkins gains possession)
0 - 0
11:45
Kevin Durant makes 18-foot jumper (Russell Westbrook assists)
2 - 0
11:26
Kyle O'Quinn bad pass (Serge Ibaka steals)
2 - 0
11:23
Kyle O'Quinn shooting foul (Russell Westbrook draws the foul)
2 - 0
11:23
Russell Westbrook misses free throw 1 of 2
2 - 0
11:23
Thunder offensive team rebound
2 - 0
11:23
Russell Westbrook makes free throw 2 of 2
3 - 0
11:18
Magic Full timeout
3 - 0
11:08
Moe Harkless misses
3 - 0
11:07
Russell Westbrook defensive rebound
3 - 0
11:02
Russell Westbrook misses 17-foot jumper
3 - 0
11:00
Arron Afflalo defensive rebound
3 - 0
10:52
Tobias Harris misses three point jumper
3 - 0
10:51
Thabo Sefolosha defensive rebound
3 - 0
10:41
Kevin Durant bad pass (Moe Harkless steals)
3 - 0
10:23
Tobias Harris makes layup (Jameer Nelson assists)
3 - 2
10:03
Russell Westbrook misses 24-foot three point jumper
3 - 2
10:03
Tobias Harris defensive rebound
3 - 2
9:56
Tobias Harris misses 17-foot jumper
3 - 2
9:56
Kyle O'Quinn personal foul (Thabo Sefolosha draws the foul)
3 - 2
9:41
Russell Westbrook misses 25-foot three point jumper
3 - 2
9:38
Serge Ibaka offensive rebound
3 - 2
9:38
Serge Ibaka makes 2-foot two point shot
5 - 2
9:26
Kyle O'Quinn makes 18-foot jumper (Jameer Nelson assists)
5 - 4
9:06
Kendrick Perkins makes 17-foot jumper (Russell Westbrook assists)
7 - 4
8:51
Kendrick Perkins kicked ball violation
7 - 4
8:37
Arron Afflalo makes 21-foot two point shot
7 - 6
8:17
Kendrick Perkins misses layup
7 - 6
8:15
Tobias Harris defensive rebound
7 - 6
8:15
Kyle O'Quinn traveling
7 - 6
8:03
Thabo Sefolosha misses
7 - 6
8:03
Kyle O'Quinn defensive rebound
7 - 6
7:52
Tobias Harris misses 7-foot jumper
7 - 6
7:50
Serge Ibaka defensive rebound
7 - 6
7:39
Kevin Durant makes 9-foot two point shot
9 - 6
7:16
Arron Afflalo misses 26-foot three point jumper
9 - 6
7:15
Serge Ibaka defensive rebound
9 - 6
7:05
Andrew Nicholson enters the game for Kyle O'Quinn
9 - 6
6:50
Kendrick Perkins misses 19-foot jumper
9 - 6
6:48
Tobias Harris defensive rebound
9 - 6
6:39
Tobias Harris makes two point shot (Arron Afflalo assists)
9 - 8
6:26
Russell Westbrook bad pass
9 - 8
6:07
Tobias Harris misses jumper
9 - 8
6:05
Tobias Harris offensive rebound
9 - 8
6:03
Kevin Durant blocks Tobias Harris's layup
9 - 8
6:01
Arron Afflalo offensive rebound
9 - 8
5:58
Arron Afflalo makes 14-foot jumper
9 - 10
5:43
Kevin Durant makes jumper
11 - 10
5:24
Arron Afflalo lost ball turnover (Kevin Durant steals)
11 - 10
5:24
Arron Afflalo personal foul (Kevin Durant draws the foul)
11 - 10
5:05
Russell Westbrook misses 14-foot jumper
11 - 10
5:03
Moe Harkless defensive rebound
11 - 10
4:58
Arron Afflalo misses 26-foot three point jumper
11 - 10
4:56
Thabo Sefolosha defensive rebound
11 - 10
4:52
Thabo Sefolosha makes driving layup
13 - 10
4:28
Andrew Nicholson makes 17-foot jumper (Jameer Nelson assists)
13 - 12
4:13
Moe Harkless blocks Serge Ibaka 's 2-foot layup
13 - 12
4:11
Jameer Nelson defensive rebound
13 - 12
4:07
Arron Afflalo makes layup (Jameer Nelson assists)
13 - 14
3:48
Serge Ibaka misses three point jumper
13 - 14
3:47
Arron Afflalo defensive rebound
13 - 14
3:33
Tobias Harris misses 27-foot three point jumper
13 - 14
3:32
Thabo Sefolosha defensive rebound
13 - 14
3:23
Tobias Harris personal foul (Serge Ibaka draws the foul)
13 - 14
3:23
Kevin Martin enters the game for Kevin Durant
13 - 14
3:15
Kendrick Perkins makes layup (Russell Westbrook assists)
15 - 14
3:00
Andrew Nicholson misses 17-foot jumper
15 - 14
2:58
Kendrick Perkins defensive rebound
15 - 14
2:43
Russell Westbrook bad pass (Andrew Nicholson steals)
15 - 14
2:41
Russell Westbrook personal foul (Tobias Harris draws the foul)
15 - 14
2:41
Thunder Full timeout
15 - 14
2:41
Nick Collison enters the game for Kendrick Perkins
15 - 14
2:30
Moe Harkless lost ball turnover (Russell Westbrook steals)
15 - 14
2:25
Thabo Sefolosha makes driving layup
17 - 14
2:14
Arron Afflalo possession lost ball turnover
17 - 14
2:14
Arron Afflalo loose ball foul (Thabo Sefolosha draws the foul)
17 - 14
2:14
Thabo Sefolosha misses free throw 1 of 2
17 - 14
2:14
Thunder offensive team rebound
17 - 14
2:14
Beno Udrih enters the game for Arron Afflalo
18 - 14
2:14
Thabo Sefolosha makes free throw 2 of 2
18 - 14
2:01
Jameer Nelson bad pass (Thabo Sefolosha steals)
18 - 14
1:54
Serge Ibaka makes two point shot (Russell Westbrook assists)
20 - 14
1:38
Andrew Nicholson traveling
20 - 14
1:38
Reggie Jackson enters the game for Thabo Sefolosha
20 - 14
1:28
Beno Udrih personal foul (Nick Collison draws the foul)
20 - 14
1:28
Nick Collison misses free throw 1 of 2
20 - 14
1:28
Thunder offensive team rebound
20 - 14
1:28
Nick Collison makes free throw 2 of 2
21 - 14
1:12
Jameer Nelson misses 28-foot three point jumper
21 - 14
1:09
Serge Ibaka defensive rebound
21 - 14
0:50
Kevin Martin misses 26-foot three point jumper
21 - 14
0:48
Serge Ibaka offensive rebound
21 - 14
0:48
Jameer Nelson shooting foul (Serge Ibaka draws the foul)
21 - 14
0:48
Serge Ibaka misses free throw 1 of 2
21 - 14
0:48
Thunder offensive team rebound
21 - 14
0:48
Serge Ibaka makes free throw 2 of 2
22 - 14
0:32
Tobias Harris bad pass (Nick Collison steals)
22 - 14
0:07
Moe Harkless blocks Reggie Jackson 's 26-foot three point jumper
22 - 14
0:04
Jameer Nelson defensive rebound
22 - 14
0:01
Andrew Nicholson misses 20-foot jumper
22 - 14
0:01
Tobias Harris offensive rebound
22 - 14
0:01
Tobias Harris misses
22 - 14
0:00
Magic offensive team rebound
22 - 14
0:00
End of the 1st Quarter
22 - 14

time
TEAM
PLAY
SCORE
11:38
Tobias Harris misses 5-foot jumper
22 - 14
11:33
Kyle O'Quinn offensive rebound
22 - 14
11:33
Kyle O'Quinn makes layup
22 - 16
11:15
Kevin Durant misses jumper
22 - 16
11:12
Tobias Harris defensive rebound
22 - 16
11:03
Arron Afflalo misses 12-foot jumper
22 - 16
11:00
Derek Fisher defensive rebound
22 - 16
10:51
Derek Fisher bad pass (E'Twaun Moore steals)
22 - 16
10:42
Beno Udrih misses 14-foot jumper
22 - 16
10:41
Derek Fisher defensive rebound
22 - 16
10:32
Derek Fisher misses 16-foot jumper
22 - 16
10:30
Magic defensive team rebound
22 - 16
10:10
E'Twaun Moore misses 22-foot jumper
22 - 16
10:07
Kevin Durant defensive rebound
22 - 16
10:03
Kevin Durant misses layup
22 - 16
10:00
Tobias Harris defensive rebound
22 - 16
9:55
Tobias Harris misses layup
22 - 16
9:52
Kyle O'Quinn offensive rebound
22 - 16
9:52
Kyle O'Quinn misses tip shot
22 - 16
9:51
Nick Collison defensive rebound
22 - 16
9:45
Beno Udrih shooting foul (Nick Collison draws the foul)
22 - 16
9:45
Nick Collison misses free throw 1 of 2
22 - 16
9:45
Thunder offensive team rebound
22 - 16
9:45
Andrew Nicholson enters the game for Kyle O'Quinn
22 - 16
9:45
Moe Harkless enters the game for Tobias Harris
22 - 16
9:45
Nick Collison makes free throw 2 of 2
23 - 16
9:34
Andrew Nicholson misses jumper
23 - 16
9:33
Kevin Martin defensive rebound
23 - 16
9:22
E'Twaun Moore shooting foul (Kevin Martin draws the foul)
23 - 16
9:22
Kevin Martin makes free throw 1 of 2
24 - 16
9:22
Kevin Martin makes free throw 2 of 2
25 - 16
9:15
Derek Fisher personal foul (Beno Udrih draws the foul)
25 - 16
9:08
Magic Full timeout
25 - 16
9:08
DeQuan Jones enters the game for Arron Afflalo
25 - 16
9:04
Beno Udrih makes 16-foot jumper
25 - 18
8:49
Kevin Durant misses 16-foot jumper
25 - 18
8:48
Beno Udrih defensive rebound
25 - 18
8:44
DeQuan Jones misses 18-foot jumper
25 - 18
8:41
Kevin Martin defensive rebound
25 - 18
8:30
Nick Collison makes 10-foot two point shot (Kevin Martin assists)
27 - 18
8:18
Moe Harkless makes driving layup
27 - 20
8:18
Kevin Durant shooting foul (Moe Harkless draws the foul)
27 - 20
8:18
Moe Harkless makes free throw 1 of 1
27 - 21
8:04
Kevin Martin makes layup
29 - 21
7:48
E'Twaun Moore makes 4-foot two point shot
29 - 23
7:30
Moe Harkless blocks Nick Collison's layup
29 - 23
7:24
Reggie Jackson offensive rebound
29 - 23
7:22
Nick Collison makes layup (Kevin Martin assists)
31 - 23
7:22
DeQuan Jones shooting foul (Nick Collison draws the foul)
31 - 23
7:22
Nick Collison makes free throw 1 of 1
32 - 23
7:13
E'Twaun Moore misses 14-foot jumper
32 - 23
7:11
Kevin Durant defensive rebound
32 - 23
6:58
Kevin Durant misses layup
32 - 23
6:56
Kevin Durant offensive rebound
32 - 23
6:56
Kevin Durant makes 2-foot two point shot
34 - 23
6:48
Magic 20 Sec. timeout
34 - 23
6:48
Jameer Nelson enters the game for DeQuan Jones
34 - 23
6:37
Moe Harkless misses layup
34 - 23
6:35
Moe Harkless offensive rebound
34 - 23
6:35
Moe Harkless makes 1-foot two point shot
34 - 25
6:16
Derek Fisher misses 12-foot jumper
34 - 25
6:13
Beno Udrih defensive rebound
34 - 25
6:05
E'Twaun Moore misses 17-foot jumper
34 - 25
6:03
Derek Fisher defensive rebound
34 - 25
5:47
Kevin Martin misses 4-foot jumper
34 - 25
5:46
Reggie Jackson offensive rebound
34 - 25
5:33
Derek Fisher misses three point jumper
34 - 25
5:31
Kevin Martin offensive rebound
34 - 25
5:28
Kevin Martin misses layup
34 - 25
5:26
Beno Udrih defensive rebound
34 - 25
5:20
Nick Collison personal foul (Beno Udrih draws the foul)
34 - 25
5:20
Official timeout
34 - 25
5:20
Russell Westbrook enters the game for Nick Collison
34 - 25
5:20
Serge Ibaka enters the game for Reggie Jackson
34 - 25
5:20
Kendrick Perkins enters the game for Derek Fisher
34 - 25
5:11
Beno Udrih makes 11-foot two point shot
34 - 27
5:11
Kevin Martin shooting foul (Beno Udrih draws the foul)
34 - 27
5:11
Tobias Harris enters the game for E'Twaun Moore
34 - 27
5:11
Beno Udrih makes free throw 1 of 1
34 - 28
4:58
Kevin Martin misses 27-foot three point jumper
34 - 28
4:56
Tobias Harris defensive rebound
34 - 28
4:48
Beno Udrih misses 16-foot jumper
34 - 28
4:47
Serge Ibaka defensive rebound
34 - 28
4:41
Kevin Martin makes 24-foot three point jumper (Russell Westbrook assists)
37 - 28
4:24
Moe Harkless misses 25-foot three point jumper
37 - 28
4:22
Kendrick Perkins defensive rebound
37 - 28
4:09
Serge Ibaka makes two point shot
39 - 28
3:54
Andrew Nicholson misses 9-foot hook shot
39 - 28
3:53
Kevin Durant defensive rebound
39 - 28
3:31
Serge Ibaka makes 10-foot two point shot
41 - 28
3:16
Tobias Harris makes layup (Jameer Nelson assists)
41 - 30
2:53
Kevin Martin makes three point jumper (Kevin Durant assists)
44 - 30
2:35
Jameer Nelson misses 26-foot three point jumper
44 - 30
2:34
Russell Westbrook defensive rebound
44 - 30
2:27
Andrew Nicholson shooting foul (Kevin Durant draws the foul)
44 - 30
2:27
Thunder Full timeout
44 - 30
2:27
Thabo Sefolosha enters the game for Kevin Martin
44 - 30
2:27
Kyle O'Quinn enters the game for Andrew Nicholson
44 - 30
2:27
Kevin Durant misses free throw 1 of 2
44 - 30
2:27
Thunder offensive team rebound
44 - 30
2:27
Kevin Durant makes free throw 2 of 2
45 - 30
2:10
Jameer Nelson misses jumper
45 - 30
2:09
Kendrick Perkins defensive rebound
45 - 30
1:47
Serge Ibaka misses
45 - 30
1:45
Moe Harkless defensive rebound
45 - 30
1:43
Moe Harkless traveling
45 - 30
1:32
Russell Westbrook misses 10-foot jump bank shot
45 - 30
1:31
Kyle O'Quinn defensive rebound
45 - 30
1:21
Jameer Nelson makes layup (Tobias Harris assists)
45 - 32
1:02
Serge Ibaka makes dunk (Russell Westbrook assists)
47 - 32
0:44
Moe Harkless misses 4-foot jumper
47 - 32
0:42
Russell Westbrook defensive rebound
47 - 32
0:38
Thabo Sefolosha offensive Charge (Jameer Nelson draws the foul)
47 - 32
0:38
Thabo Sefolosha turnover
47 - 32
0:27
Serge Ibaka blocks Tobias Harris 's 6-foot jumper
47 - 32
0:26
Moe Harkless makes two point shot
47 - 34
0:26
Moe Harkless offensive rebound
47 - 32
0:08
Kevin Durant lost ball turnover (Beno Udrih steals)
47 - 34
0:04
Russell Westbrook blocks Kyle O'Quinn's layup
47 - 34
0:01
Thabo Sefolosha defensive rebound
47 - 34
0:00
End of the 2nd Quarter
47 - 34

time
TEAM
PLAY
SCORE
11:42
Jameer Nelson makes 5-foot two point shot (Beno Udrih assists)
47 - 36
11:21
Thabo Sefolosha misses 23-foot three point jumper
47 - 36
11:18
Kyle O'Quinn defensive rebound
47 - 36
11:11
Beno Udrih makes driving layup
47 - 38
10:53
Kevin Durant bad pass (Kyle O'Quinn steals)
47 - 38
10:45
Jameer Nelson makes three point jumper (Moe Harkless assists)
47 - 41
10:27
Thabo Sefolosha misses 24-foot three point jumper
47 - 41
10:26
Moe Harkless defensive rebound
47 - 41
10:21
Jameer Nelson makes 25-foot three point jumper
47 - 44
10:18
Thunder Full timeout
47 - 44
10:06
Kyle O'Quinn defensive 3-seconds (Technical Foul)
47 - 44
10:06
Kevin Durant makes technical free throw
48 - 44
9:57
Kevin Durant makes jumper (Thabo Sefolosha assists)
50 - 44
9:40
Moe Harkless makes 14-foot jumper (Beno Udrih assists)
50 - 46
9:22
Kendrick Perkins makes 15-foot jumper (Russell Westbrook assists)
52 - 46
9:07
Kyle O'Quinn traveling
52 - 46
8:51
Kevin Durant misses 26-foot three point jumper
52 - 46
8:49
Moe Harkless defensive rebound
52 - 46
8:38
Kendrick Perkins blocks Kyle O'Quinn's layup
52 - 46
8:38
Magic offensive team rebound
52 - 46
8:30
Moe Harkless makes 2-foot two point shot (Tobias Harris assists)
52 - 48
8:18
Russell Westbrook makes 8-foot two point shot
54 - 48
8:00
Serge Ibaka blocks Kyle O'Quinn's layup
54 - 48
7:58
Jameer Nelson offensive rebound
54 - 48
7:56
Jameer Nelson makes driving layup
54 - 50
7:41
Moe Harkless personal foul (Russell Westbrook draws the foul)
54 - 50
7:28
Serge Ibaka misses layup
54 - 50
7:26
Tobias Harris defensive rebound
54 - 50
7:22
Kendrick Perkins personal foul (Beno Udrih draws the foul)
54 - 50
7:15
Jameer Nelson makes layup
54 - 52
6:56
Russell Westbrook makes driving layup
56 - 52
6:56
Kyle O'Quinn defensive goaltending violation
56 - 52
6:45
Beno Udrih lost ball turnover (Russell Westbrook steals)
56 - 52
6:41
Russell Westbrook makes layup (Kendrick Perkins assists)
58 - 52
6:20
Jameer Nelson misses 19-foot jumper
58 - 52
6:16
Kyle O'Quinn offensive rebound
58 - 52
6:16
Kyle O'Quinn misses layup
58 - 52
6:15
Kendrick Perkins defensive rebound
58 - 52
6:09
Russell Westbrook makes 19-foot two point shot
60 - 52
5:54
Moe Harkless makes 25-foot three point jumper (Beno Udrih assists)
60 - 55
5:33
Thabo Sefolosha misses 24-foot three point jumper
60 - 55
5:31
Kyle O'Quinn defensive rebound
60 - 55
5:28
Serge Ibaka shooting foul (Tobias Harris draws the foul)
60 - 55
5:28
Tobias Harris makes free throw 1 of 2
60 - 56
5:28
Andrew Nicholson enters the game for Kyle O'Quinn
60 - 56
5:28
Tobias Harris makes free throw 2 of 2
60 - 57
5:11
Thabo Sefolosha misses three point jumper
60 - 57
5:09
Moe Harkless defensive rebound
60 - 57
5:03
Moe Harkless makes driving layup
60 - 59
4:45
Russell Westbrook misses 19-foot jumper
60 - 59
4:41
Serge Ibaka offensive rebound
60 - 59
4:35
Thabo Sefolosha misses 20-foot jumper
60 - 59
4:33
Serge Ibaka offensive rebound
60 - 59
4:30
Moe Harkless shooting foul (Kevin Durant draws the foul)
60 - 59
4:30
Kevin Durant makes free throw 1 of 2
61 - 59
4:30
Nick Collison enters the game for Kendrick Perkins
61 - 59
4:30
E'Twaun Moore enters the game for Beno Udrih
61 - 59
4:30
Kevin Durant makes free throw 2 of 2
62 - 59
4:30
Kevin Martin enters the game for Thabo Sefolosha
62 - 59
4:20
Serge Ibaka blocks Jameer Nelson 's 1-foot layup
62 - 59
4:18
Serge Ibaka defensive rebound
62 - 59
4:16
Serge Ibaka bad pass (Moe Harkless steals)
62 - 59
4:01
Moe Harkless makes 23-foot three point jumper (Jameer Nelson assists)
62 - 62
3:47
Andrew Nicholson shooting foul (Serge Ibaka draws the foul)
62 - 62
3:47
Serge Ibaka makes free throw 1 of 2
63 - 62
3:47
Serge Ibaka makes free throw 2 of 2
64 - 62
3:30
Jameer Nelson misses 27-foot three point jumper
64 - 62
3:28
Kevin Durant defensive rebound
64 - 62
3:19
Kevin Durant bad pass (E'Twaun Moore steals)
64 - 62
3:10
Andrew Nicholson makes two point shot (Jameer Nelson assists)
64 - 64
2:47
Nick Collison makes two point shot (Kevin Durant assists)
66 - 64
2:38
Magic Full timeout
66 - 64
2:36
Beno Udrih enters the game for E'Twaun Moore
66 - 64
2:36
Reggie Jackson enters the game for Russell Westbrook
66 - 64
2:26
Moe Harkless misses 22-foot jumper
66 - 64
2:25
Reggie Jackson defensive rebound
66 - 64
2:15
Moe Harkless personal foul (Kevin Durant draws the foul)
66 - 64
2:09
Kevin Martin makes 28-foot three point jumper (Nick Collison assists)
69 - 64
1:52
Jameer Nelson makes driving layup
69 - 66
1:25
Kevin Durant misses 12-foot jumper
69 - 66
1:24
Serge Ibaka offensive rebound
69 - 66
1:24
Tobias Harris shooting foul (Serge Ibaka draws the foul)
69 - 66
1:24
Serge Ibaka misses free throw 1 of 2
69 - 66
1:24
Thunder offensive team rebound
69 - 66
1:24
Serge Ibaka makes free throw 2 of 2
70 - 66
1:10
Jameer Nelson misses 27-foot three point jumper
70 - 66
1:08
Kevin Durant defensive rebound
70 - 66
1:01
Kevin Durant misses 19-foot jumper
70 - 66
1:00
Tobias Harris defensive rebound
70 - 66
0:44
Andrew Nicholson misses layup
70 - 66
0:29
Serge Ibaka misses 23-foot three point jumper
70 - 66
0:28
Magic defensive team rebound
70 - 66
0:28
Derek Fisher enters the game for Serge Ibaka
70 - 66
0:11
Nick Collison personal foul (Andrew Nicholson draws the foul)
70 - 66
0:00
Beno Udrih misses 25-foot three point jumper
70 - 66
0:00
Magic offensive team rebound
70 - 66
0:00
End of the 3rd Quarter
70 - 66

time
TEAM
PLAY
SCORE
11:41
Kevin Martin misses 27-foot three point jumper
70 - 66
11:40
Tobias Harris defensive rebound
70 - 66
11:25
Tobias Harris misses 19-foot jumper
70 - 66
11:23
Nick Collison defensive rebound
70 - 66
11:12
DeAndre Liggins misses 24-foot three point jumper
70 - 66
11:11
Jameer Nelson defensive rebound
70 - 66
11:00
Jameer Nelson misses 5-foot jumper
70 - 66
10:59
Nick Collison defensive rebound
70 - 66
10:52
Reggie Jackson bad pass
70 - 66
10:52
Kyle O'Quinn enters the game for Andrew Nicholson
70 - 66
10:33
Beno Udrih misses 12-foot jumper
70 - 66
10:30
Moe Harkless offensive rebound
70 - 66
10:30
Moe Harkless makes 3-foot two point shot
70 - 68
10:12
Kevin Martin makes driving layup
72 - 68
10:00
Beno Udrih offensive Charge (Nick Collison draws the foul)
72 - 68
10:00
Beno Udrih turnover
72 - 68
10:00
E'Twaun Moore enters the game for Jameer Nelson
72 - 68
9:44
Kevin Martin bad pass (Moe Harkless steals)
72 - 68
9:40
Moe Harkless makes driving layup
72 - 70
9:26
Reggie Jackson makes driving layup
74 - 70
9:03
DeAndre Liggins shooting foul (Tobias Harris draws the foul)
74 - 72
9:03
Tobias Harris makes free throw 1 of 2
74 - 71
9:03
Doron Lamb enters the game for Moe Harkless
74 - 71
9:03
Tobias Harris makes free throw 2 of 2
74 - 72
8:48
Reggie Jackson misses 28-foot three point jumper
74 - 72
8:47
Tobias Harris defensive rebound
74 - 72
8:34
Doron Lamb makes layup (Beno Udrih assists)
74 - 74
8:17
Nick Collison makes layup (Derek Fisher assists)
76 - 74
8:11
Magic Full timeout
76 - 74
8:11
Russell Westbrook enters the game for Reggie Jackson
76 - 74
8:11
Kevin Durant enters the game for DeAndre Liggins
76 - 74
8:11
Moe Harkless enters the game for E'Twaun Moore
76 - 74
8:11
Jameer Nelson enters the game for Doron Lamb
76 - 74
7:54
Moe Harkless makes two point shot (Tobias Harris assists)
76 - 76
7:35
Kevin Durant bad pass (Beno Udrih steals)
76 - 76
7:28
Beno Udrih makes 9-foot two point shot
76 - 78
7:15
Russell Westbrook makes driving layup
78 - 78
7:00
Tobias Harris bad pass (Kevin Durant steals)
78 - 78
6:56
Russell Westbrook makes driving layup
80 - 78
6:56
Tobias Harris shooting foul (Russell Westbrook draws the foul)
80 - 78
6:56
Thabo Sefolosha enters the game for Nick Collison
80 - 78
6:56
Serge Ibaka enters the game for Derek Fisher
80 - 78
6:56
Russell Westbrook makes free throw 1 of 1
81 - 78
6:48
Russell Westbrook personal foul (Beno Udrih draws the foul)
81 - 78
6:39
Kyle O'Quinn makes layup (Jameer Nelson assists)
81 - 80
6:24
Russell Westbrook makes driving layup
83 - 80
6:09
Kyle O'Quinn makes jumper (Beno Udrih assists)
83 - 82
5:58
Russell Westbrook lost ball turnover (Moe Harkless steals)
83 - 82
5:52
Kevin Durant blocks Tobias Harris's layup
83 - 82
5:48
Serge Ibaka defensive rebound
83 - 82
5:37
Kevin Durant makes 26-foot three point jumper (Russell Westbrook assists)
86 - 82
5:37
Magic 20 Sec. timeout
86 - 82
5:37
Official timeout
86 - 82
5:24
Tobias Harris misses layup
86 - 82
5:20
Tobias Harris offensive rebound
86 - 82
5:16
Beno Udrih makes 26-foot three point jumper (Jameer Nelson assists)
86 - 85
4:54
Beno Udrih personal foul (Serge Ibaka draws the foul)
86 - 85
4:43
Russell Westbrook misses 17-foot jumper
86 - 85
4:43
Moe Harkless defensive rebound
86 - 85
4:28
Kyle O'Quinn misses 13-foot jumper
86 - 85
4:28
Tobias Harris loose ball foul (Kevin Durant draws the foul)
86 - 85
4:28
Kendrick Perkins enters the game for Kevin Martin
86 - 85
4:09
Kendrick Perkins misses 16-foot jumper
86 - 85
4:07
Tobias Harris defensive rebound
86 - 85
3:55
Thabo Sefolosha shooting foul (Kyle O'Quinn draws the foul)
86 - 85
3:55
Kyle O'Quinn makes free throw 1 of 2
86 - 86
3:55
Kyle O'Quinn misses free throw 2 of 2
86 - 86
3:54
Russell Westbrook defensive rebound
86 - 86
3:44
Tobias Harris blocks Russell Westbrook 's 2-foot layup
86 - 86
3:42
Kyle O'Quinn defensive rebound
86 - 86
3:38
Serge Ibaka blocks Moe Harkless 's 3-foot layup
86 - 86
3:33
Russell Westbrook defensive rebound
86 - 86
3:30
Moe Harkless blocks Russell Westbrook's layup
86 - 86
3:30
Thunder offensive team rebound
86 - 86
3:29
Tobias Harris personal foul (Kendrick Perkins draws the foul)
86 - 86
3:15
Thabo Sefolosha misses layup
86 - 86
3:15
Serge Ibaka offensive rebound
86 - 86
3:00
Russell Westbrook misses 16-foot jumper
86 - 86
2:58
Jameer Nelson defensive rebound
86 - 86
2:51
Kendrick Perkins blocks Moe Harkless's layup
86 - 86
2:48
Serge Ibaka defensive rebound
86 - 86
2:44
Kevin Durant makes 24-foot three point jumper (Russell Westbrook assists)
89 - 86
2:41
Magic Full timeout
89 - 86
2:31
Thabo Sefolosha personal foul (Jameer Nelson draws the foul)
89 - 86
2:26
Kyle O'Quinn makes layup (Jameer Nelson assists)
89 - 88
1:59
Kendrick Perkins misses 4-foot hook shot
89 - 88
1:57
Kyle O'Quinn defensive rebound
89 - 88
1:47
Serge Ibaka blocks Jameer Nelson 's 2-foot layup
89 - 88
1:43
Kevin Durant defensive rebound
89 - 88
1:39
Kyle O'Quinn shooting foul (Kevin Durant draws the foul)
89 - 88
1:39
Kevin Durant misses free throw 1 of 2
89 - 88
1:39
Thunder offensive team rebound
89 - 88
1:39
Kevin Durant makes free throw 2 of 2
90 - 88
1:30
Russell Westbrook blocks Beno Udrih's layup
90 - 88
1:28
Russell Westbrook defensive rebound
90 - 88
1:09
Serge Ibaka misses 10-foot hook shot
90 - 88
1:07
Tobias Harris defensive rebound
90 - 88
0:58
Tobias Harris misses 7-foot Running Jumper
90 - 88
0:57
Thabo Sefolosha defensive rebound
90 - 88
0:39
Jameer Nelson shooting foul (Kevin Durant draws the foul)
90 - 88
0:39
Kevin Durant makes free throw 1 of 2
91 - 88
0:39
Kevin Durant makes free throw 2 of 2
92 - 88
0:39
Magic Full timeout
92 - 88
0:36
Tobias Harris bad pass (Kevin Durant steals)
92 - 88
0:31
Jameer Nelson personal foul (Russell Westbrook draws the foul)
92 - 88
0:31
Russell Westbrook misses free throw 1 of 2
92 - 88
0:31
Thunder offensive team rebound
92 - 88
0:31
Russell Westbrook makes free throw 2 of 2
93 - 88
0:21
Jameer Nelson misses 28-foot three point jumper
93 - 88
0:20
Kevin Durant defensive rebound
93 - 88
0:18
Tobias Harris personal foul (Kevin Durant draws the foul)
93 - 88
0:18
Doron Lamb enters the game for Tobias Harris
93 - 88
0:18
Kevin Durant makes free throw 1 of 2
94 - 88
0:18
Kevin Durant makes free throw 2 of 2
95 - 88
0:13
Russell Westbrook shooting foul (Beno Udrih draws the foul)
95 - 89
0:13
Beno Udrih makes free throw 1 of 2
95 - 89
0:13
Beno Udrih misses free throw 2 of 2
95 - 89
0:13
Kendrick Perkins defensive rebound
95 - 89
0:13
Thunder 20 Sec. timeout
95 - 89
0:13
Kevin Martin enters the game for Kendrick Perkins
95 - 89
0:13
DeQuan Jones enters the game for Kyle O'Quinn
95 - 89
0:11
Doron Lamb personal foul (Russell Westbrook draws the foul)
97 - 89
0:11
Russell Westbrook makes free throw 1 of 2
96 - 89
0:11
Russell Westbrook makes free throw 2 of 2
97 - 89
0:00
End of the 4th Quarter
97 - 89
0:00
End of Game
97 - 89
The Warriors will exercise the third-year option on forward Kevon Looney, who was limited to five games in his rookie season after hip surgery,

The Bullets have returned to their winning ways after a nail-biting 88-82 NBL victory over New Zealand Breakers in Brisbane.

How will LeBron James, Kyrie Irving and the defending champion Cavaliers do in 2016-17? Check out our player scouting reports and projections.
Regular Season Series
OKC wins series 2-0
2016-2017 Northwest Standings
2016-2017 Southeast Standings