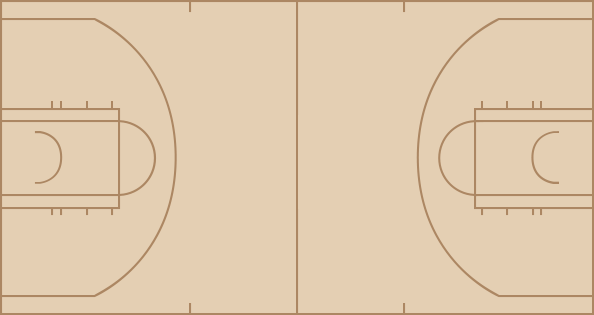 Jazz
time
TEAM
PLAY
SCORE
12:00
Derrick Favors vs. Andrew Bogut (Gordon Hayward gains possession)
0 - 0
11:45
Gordon Hayward misses 18-foot two point shot
0 - 0
11:45
David Lee defensive rebound
0 - 0
11:23
Stephen Curry makes 19-foot two point shot
0 - 2
11:07
Richard Jefferson misses 26-foot three point pullup jump shot
0 - 2
11:06
Andrew Bogut defensive rebound
0 - 2
10:55
Stephen Curry makes 5-foot two point shot
0 - 4
10:33
Derrick Favors makes 13-foot two point shot
2 - 4
10:25
Klay Thompson makes driving layup
2 - 6
10:07
Andrew Bogut blocks Gordon Hayward 's 4-foot jumper
2 - 6
10:07
Jazz offensive team rebound
2 - 6
10:04
Andrew Bogut personal foul (Richard Jefferson draws the foul)
2 - 6
9:59
Derrick Favors makes 16-foot two point shot (Alec Burks assists)
4 - 6
9:44
Enes Kanter shooting foul (David Lee draws the foul)
4 - 6
9:44
David Lee makes free throw 1 of 2
4 - 7
9:44
David Lee makes free throw 2 of 2
4 - 8
9:26
Alec Burks makes 19-foot two point shot
6 - 8
9:12
Stephen Curry misses 27-foot
6 - 8
9:11
Alec Burks defensive rebound
6 - 8
9:00
Alec Burks misses 26-foot three point jumper
6 - 8
9:00
Andre Iguodala defensive rebound
6 - 8
8:56
Andre Iguodala bad pass
6 - 8
8:34
Enes Kanter misses 4-foot jumper
6 - 8
8:33
Andrew Bogut defensive rebound
6 - 8
8:27
Andre Iguodala misses 27-foot three point jumper
6 - 8
8:26
Richard Jefferson defensive rebound
6 - 8
8:17
Gordon Hayward possession lost ball turnover
6 - 8
8:00
David Lee misses jumper
6 - 8
7:58
Andrew Bogut makes two point shot
6 - 10
7:58
Andrew Bogut offensive rebound
6 - 10
7:43
Andre Iguodala personal foul (Gordon Hayward draws the foul)
6 - 10
7:28
Richard Jefferson misses layup
6 - 10
7:28
Klay Thompson defensive rebound
6 - 10
7:16
David Lee makes 18-foot jumper (Klay Thompson assists)
6 - 12
6:58
Enes Kanter misses
6 - 12
6:56
Stephen Curry defensive rebound
6 - 12
6:52
Klay Thompson makes two point shot (Stephen Curry assists)
6 - 14
6:52
Jazz Full timeout
6 - 14
6:52
Diante Garrett enters the game for Alec Burks
6 - 14
6:35
Derrick Favors misses two point shot
6 - 14
6:33
Andrew Bogut defensive rebound
6 - 14
6:18
Klay Thompson misses three point pullup jump shot
6 - 14
6:16
Andrew Bogut offensive rebound
6 - 14
6:05
Enes Kanter blocks David Lee 's 3-foot jumper
6 - 14
6:05
Warriors offensive team rebound
6 - 14
6:05
Rudy Gobert enters the game for Enes Kanter
6 - 14
5:56
Andrew Bogut misses driving layup
6 - 14
5:56
Derrick Favors defensive rebound
6 - 14
5:43
Rudy Gobert bad pass
6 - 14
5:30
Andre Iguodala makes 23-foot three pointer (Stephen Curry assists)
6 - 17
5:09
Gordon Hayward misses 26-foot three point pullup jump shot
6 - 17
5:09
Derrick Favors offensive rebound
6 - 17
5:00
Rudy Gobert possession lost ball turnover
6 - 17
4:48
Stephen Curry makes 3-foot two point shot
6 - 19
4:31
Gordon Hayward misses 15-foot jumper
6 - 19
4:31
Warriors defensive team rebound
6 - 19
4:31
Marvin Williams enters the game for Richard Jefferson
6 - 19
4:22
Diante Garrett personal foul (Stephen Curry draws the foul)
6 - 19
4:22
Harrison Barnes enters the game for Andre Iguodala
6 - 19
4:18
Andrew Bogut offensive foul (Diante Garrett draws the foul)
6 - 19
4:18
Andrew Bogut turnover
6 - 19
4:18
Jermaine O'Neal enters the game for Andrew Bogut
6 - 19
4:18
Andrew Bogut technical foul(1st technical foul)
6 - 19
4:18
Gordon Hayward makes technical free throw
7 - 19
4:01
Marvin Williams bad pass (Stephen Curry steals)
7 - 19
3:56
Gordon Hayward personal foul (Klay Thompson draws the foul)
7 - 19
3:47
Stephen Curry misses 19-foot jumper
7 - 19
3:46
Rudy Gobert defensive rebound
7 - 19
3:26
Diante Garrett misses 20-foot jumper
7 - 19
3:25
Marvin Williams offensive rebound
7 - 19
3:23
Marvin Williams makes 2-foot two point shot
9 - 19
3:16
David Lee makes 2-foot two point shot (Stephen Curry assists)
9 - 21
3:06
Jermaine O'Neal personal foul (Marvin Williams draws the foul)
9 - 21
3:06
Alec Burks enters the game for Gordon Hayward
9 - 21
2:53
Derrick Favors makes 7-foot two point shot
11 - 21
2:45
Stephen Curry makes 19-foot two point shot
11 - 23
2:16
Derrick Favors makes 14-foot two point shot
13 - 23
2:08
Stephen Curry misses 17-foot jumper
13 - 23
2:03
Rudy Gobert defensive rebound
13 - 23
1:52
Marvin Williams steps out of bounds turnover
13 - 23
1:52
Warriors Full timeout
13 - 23
1:52
Marreese Speights enters the game for David Lee
13 - 23
1:39
Harrison Barnes makes 3-foot two point shot
13 - 25
1:39
Rudy Gobert defensive goaltending violation
13 - 25
1:29
Alec Burks misses 16-foot two point jumper
13 - 25
1:28
Harrison Barnes defensive rebound
13 - 25
1:17
Marreese Speights misses 22-foot jumper
13 - 25
1:15
Diante Garrett defensive rebound
13 - 25
1:07
Diante Garrett misses 14-foot jumper
13 - 25
1:07
Jermaine O'Neal defensive rebound
13 - 25
1:01
Klay Thompson misses 27-foot three point jumper
13 - 25
1:00
Derrick Favors defensive rebound
13 - 25
0:44
Derrick Favors misses 17-foot step back jumpshot
13 - 25
0:43
Klay Thompson defensive rebound
13 - 25
0:29
Jermaine O'Neal lost ball turnover (Alec Burks steals)
13 - 25
0:22
Diante Garrett misses 23-foot three point jumper
13 - 25
0:21
Marreese Speights defensive rebound
13 - 25
0:04
Stephen Curry misses 4-foot two point shot
13 - 25
0:03
Marreese Speights misses tip shot
13 - 25
0:03
Marreese Speights offensive rebound
13 - 25
0:02
Marreese Speights offensive rebound
13 - 25
0:02
Marreese Speights misses
13 - 25
0:02
Jermaine O'Neal makes 1-foot two point shot
13 - 27
0:02
Jermaine O'Neal offensive rebound
13 - 27
0:00
Marvin Williams misses 47-foot three point pullup jump shot
13 - 27
0:00
Jazz offensive team rebound
13 - 27
0:00
End of the 1st Quarter
13 - 27

time
TEAM
PLAY
SCORE
11:49
Jermaine O'Neal offensive foul (Alec Burks draws the foul)
13 - 27
11:49
Jermaine O'Neal turnover
13 - 27
11:30
Enes Kanter makes 13-foot two point shot (John Lucas III assists)
15 - 27
11:12
John Lucas III personal foul (Andre Iguodala draws the foul)
15 - 27
11:00
Harrison Barnes steps out of bounds turnover
15 - 27
10:49
John Lucas III makes 3-foot two point shot
17 - 27
10:34
Harrison Barnes makes 23-foot three pointer (Draymond Green assists)
17 - 30
10:17
Marvin Williams misses 19-foot jumper
17 - 30
10:15
Jermaine O'Neal defensive rebound
17 - 30
10:07
Draymond Green misses 18-foot jumper
17 - 30
10:06
Marreese Speights offensive rebound
17 - 30
10:06
Mike Harris personal foul (Marreese Speights draws the foul)
17 - 30
9:59
Jermaine O'Neal lost ball turnover (Marvin Williams steals)
17 - 30
9:49
Jermaine O'Neal blocks Alec Burks 's 3-foot layup
17 - 30
9:47
Marvin Williams offensive rebound
17 - 30
9:45
Marvin Williams misses 27-foot three point jumper
17 - 30
9:42
Jermaine O'Neal defensive rebound
17 - 30
9:34
Draymond Green possession lost ball turnover
17 - 30
9:19
Enes Kanter makes 18-foot jumper (John Lucas III assists)
19 - 30
9:06
Marreese Speights lost ball turnover (Mike Harris steals)
19 - 30
9:00
Mike Harris misses 4-foot jumper
19 - 30
9:00
Enes Kanter misses tip shot
19 - 30
9:00
Enes Kanter offensive rebound
19 - 30
8:56
Marvin Williams offensive rebound
19 - 30
8:55
Jermaine O'Neal blocks Marvin Williams 's 4-foot jumper
19 - 30
8:52
Andre Iguodala defensive rebound
19 - 30
8:49
Draymond Green makes 1-foot two point shot (Andre Iguodala assists)
19 - 32
8:37
Marreese Speights shooting foul (Mike Harris draws the foul)
19 - 32
8:37
Official timeout
19 - 32
8:37
Stephen Curry enters the game for Marreese Speights
19 - 32
8:37
Mike Harris makes free throw 1 of 2
20 - 32
8:37
Klay Thompson enters the game for Draymond Green
21 - 32
8:37
Mike Harris makes free throw 2 of 2
21 - 32
8:26
Harrison Barnes misses jumper
21 - 32
8:25
Marvin Williams defensive rebound
21 - 32
8:14
Klay Thompson kicked ball violation
21 - 32
8:14
Andrew Bogut enters the game for Jermaine O'Neal
21 - 32
8:03
Alec Burks traveling
21 - 32
7:45
Andre Iguodala makes 26-foot three pointer (Andrew Bogut assists)
21 - 35
7:26
Enes Kanter misses 15-foot two point shot
21 - 35
7:24
Andre Iguodala defensive rebound
21 - 35
7:16
Klay Thompson misses 24-foot three point jumper
21 - 35
7:13
Klay Thompson offensive rebound
21 - 35
7:11
Andre Iguodala makes two point shot (Klay Thompson assists)
21 - 37
6:50
Alec Burks makes driving layup
23 - 37
6:37
Klay Thompson makes 28-foot three pointer (Andrew Bogut assists)
23 - 40
6:15
Marvin Williams makes 28-foot three pointer (John Lucas III assists)
26 - 40
5:56
Andre Iguodala makes 26-foot three pointer (Stephen Curry assists)
26 - 43
5:39
Marvin Williams makes 25-foot three pointer (Alec Burks assists)
29 - 43
5:18
Klay Thompson makes 26-foot three pointer (Stephen Curry assists)
29 - 46
5:11
Jazz Full timeout
29 - 46
5:11
Richard Jefferson enters the game for John Lucas III
29 - 46
5:11
Gordon Hayward enters the game for Mike Harris
29 - 46
5:11
David Lee enters the game for Harrison Barnes
29 - 46
5:03
Alec Burks misses 17-foot jumper
29 - 46
5:03
Andre Iguodala defensive rebound
29 - 46
4:48
Stephen Curry misses 25-foot three point pullup jump shot
29 - 46
4:46
Enes Kanter defensive rebound
29 - 46
4:26
Marvin Williams makes 7-foot two point shot
31 - 46
4:16
Marvin Williams personal foul (David Lee draws the foul)
31 - 46
4:01
Marvin Williams shooting foul (Klay Thompson draws the foul)
31 - 46
4:01
Klay Thompson makes free throw 1 of 2
31 - 47
4:01
Klay Thompson makes free throw 2 of 2
31 - 48
3:39
Alec Burks misses Running Jumper
31 - 48
3:39
Andrew Bogut defensive rebound
31 - 48
3:24
Stephen Curry misses 19-foot jumper
31 - 48
3:24
Jazz defensive team rebound
31 - 48
3:24
Andrew Bogut loose ball foul (Enes Kanter draws the foul)
31 - 48
3:09
Andrew Bogut defensive 3-seconds (Technical Foul)
31 - 48
3:09
Gordon Hayward makes technical free throw
32 - 48
3:09
Derrick Favors enters the game for Marvin Williams
32 - 48
2:53
Derrick Favors lost ball turnover (Andre Iguodala steals)
32 - 48
2:39
Klay Thompson makes 23-foot three pointer (Stephen Curry assists)
32 - 51
2:12
Alec Burks misses 15-foot jumper
32 - 51
2:11
Derrick Favors makes two point shot
34 - 51
2:11
Derrick Favors offensive rebound
34 - 51
1:59
Klay Thompson bad pass
34 - 51
1:59
Warriors Full timeout
34 - 51
1:43
Enes Kanter misses jumper
34 - 51
1:42
David Lee defensive rebound
34 - 51
1:19
David Lee misses 3-foot running hook shot
34 - 51
1:19
Warriors offensive team rebound
34 - 51
1:19
shot clock turnover
34 - 51
1:00
Alec Burks bad pass (Andre Iguodala steals)
34 - 51
0:53
Stephen Curry misses 23-foot three point jumper
34 - 51
0:50
Enes Kanter defensive rebound
34 - 51
0:27
Gordon Hayward misses 3-foot jumper
34 - 51
0:27
Jazz offensive team rebound
34 - 51
0:27
shot clock turnover
34 - 51
0:27
Harrison Barnes enters the game for Andrew Bogut
34 - 51
0:05
Harrison Barnes misses 14-foot step back jumpshot
34 - 51
0:04
Gordon Hayward defensive rebound
34 - 51
0:00
Gordon Hayward lost ball turnover (Andre Iguodala steals)
34 - 51
0:00
End of the 2nd Quarter
34 - 51

time
TEAM
PLAY
SCORE
11:42
Andrew Bogut bad pass (Richard Jefferson steals)
34 - 51
11:25
Enes Kanter makes 5-foot two point shot (Derrick Favors assists)
36 - 51
11:07
Derrick Favors shooting foul (Andrew Bogut draws the foul)
36 - 51
11:07
Andrew Bogut makes free throw 1 of 2
36 - 52
11:07
Andrew Bogut makes free throw 2 of 2
36 - 53
10:47
Richard Jefferson misses 18-foot step back jumpshot
36 - 53
10:45
David Lee defensive rebound
36 - 53
10:33
David Lee misses step back jumpshot
36 - 53
10:33
Andrew Bogut offensive rebound
36 - 53
10:17
Andre Iguodala misses 26-foot three point pullup jump shot
36 - 53
10:15
Jazz defensive team rebound
36 - 53
9:57
Richard Jefferson makes 25-foot three pointer (Enes Kanter assists)
39 - 53
9:45
Stephen Curry misses jumper
39 - 53
9:42
Enes Kanter defensive rebound
39 - 53
9:36
John Lucas III makes 25-foot three pointer (Richard Jefferson assists)
42 - 53
9:15
Andrew Bogut makes driving layup (Stephen Curry assists)
42 - 55
9:03
Gordon Hayward makes 27-foot (Enes Kanter assists)
45 - 55
8:52
Derrick Favors shooting foul (Stephen Curry draws the foul)
45 - 55
8:52
Stephen Curry misses free throw 1 of 2
45 - 55
8:52
Warriors offensive team rebound
45 - 55
8:52
Stephen Curry makes free throw 2 of 2
45 - 56
8:38
Andrew Bogut blocks Derrick Favors's 2-pt jumper
45 - 56
8:37
David Lee defensive rebound
45 - 56
8:22
Gordon Hayward shooting foul (David Lee draws the foul)
45 - 56
8:22
David Lee makes free throw 1 of 2
45 - 57
8:22
David Lee misses free throw 2 of 2
45 - 57
8:21
Enes Kanter defensive rebound
45 - 57
8:02
Enes Kanter misses 7-foot
45 - 57
8:00
Warriors defensive team rebound
45 - 57
7:48
Enes Kanter blocks Stephen Curry 's 8-foot jumper
45 - 57
7:47
John Lucas III defensive rebound
45 - 57
7:43
Enes Kanter makes driving layup (John Lucas III assists)
47 - 57
7:22
David Lee makes driving layup
47 - 59
7:11
Andre Iguodala personal foul (Gordon Hayward draws the foul)
47 - 59
6:58
Enes Kanter makes 17-foot two point shot (Richard Jefferson assists)
49 - 59
6:43
Richard Jefferson blocks Andrew Bogut 's 4-foot jumper
49 - 59
6:41
Richard Jefferson defensive rebound
49 - 59
6:37
Richard Jefferson misses 26-foot three point jumper
49 - 59
6:35
Andre Iguodala defensive rebound
49 - 59
6:31
Andre Iguodala bad pass (Gordon Hayward steals)
49 - 59
6:15
Gordon Hayward makes 16-foot two point shot
51 - 59
5:54
David Lee makes 12-foot two point shot (Stephen Curry assists)
51 - 61
5:37
Gordon Hayward makes 24-foot three pointer (Richard Jefferson assists)
54 - 61
5:22
Stephen Curry makes 23-foot two point shot
54 - 63
5:11
Andre Iguodala personal foul (Gordon Hayward draws the foul)
54 - 63
5:11
Warriors Full timeout
54 - 63
5:11
Harrison Barnes enters the game for Klay Thompson
54 - 63
4:58
Richard Jefferson makes driving layup
56 - 63
4:43
Stephen Curry misses 7-foot two point shot
56 - 63
4:41
Gordon Hayward defensive rebound
56 - 63
4:28
Enes Kanter misses 5-foot two point shot
56 - 63
4:28
Andrew Bogut defensive rebound
56 - 63
4:09
David Lee misses 19-foot jumper
56 - 63
4:07
Andrew Bogut offensive rebound
56 - 63
4:00
Andrew Bogut makes 3-foot two point shot (Harrison Barnes assists)
56 - 65
3:44
Gordon Hayward misses 21-foot jumper
56 - 65
3:43
David Lee defensive rebound
56 - 65
3:41
David Lee offensive Charge (John Lucas III draws the foul)
56 - 65
3:41
David Lee turnover
56 - 65
3:41
Draymond Green enters the game for Stephen Curry
56 - 65
3:41
Marvin Williams enters the game for Enes Kanter
56 - 65
3:27
Marvin Williams offensive foul (Harrison Barnes draws the foul)
56 - 65
3:27
Marvin Williams turnover
56 - 65
3:27
Jermaine O'Neal enters the game for Andrew Bogut
56 - 65
3:27
Klay Thompson enters the game for David Lee
56 - 65
3:19
John Lucas III personal foul (Andre Iguodala draws the foul)
56 - 65
3:08
Klay Thompson misses 16-foot two point jumper
56 - 65
3:05
Marvin Williams defensive rebound
56 - 65
2:47
Draymond Green shooting foul (Richard Jefferson draws the foul)
56 - 65
2:47
Jazz Full timeout
56 - 65
2:47
Richard Jefferson makes free throw 1 of 2
57 - 65
2:47
Richard Jefferson makes free throw 2 of 2
58 - 65
2:31
Klay Thompson makes 23-foot three pointer (Andre Iguodala assists)
58 - 68
2:15
Marvin Williams offensive Charge (Jermaine O'Neal draws the foul)
58 - 68
2:15
Marvin Williams turnover
58 - 68
2:06
Klay Thompson bad pass (Derrick Favors steals)
58 - 68
1:47
Derrick Favors bad pass (Harrison Barnes steals)
58 - 68
1:44
Harrison Barnes offensive Charge (John Lucas III draws the foul)
58 - 68
1:44
Harrison Barnes turnover
58 - 68
1:31
Gordon Hayward traveling
58 - 68
1:14
Jermaine O'Neal makes 3-foot two point shot
58 - 70
0:58
John Lucas III makes 9-foot two point shot
60 - 70
0:46
Derrick Favors personal foul (Jermaine O'Neal draws the foul)
60 - 70
0:46
Richard Jefferson lane violation
60 - 72
0:46
Jermaine O'Neal makes free throw 1 of 2
60 - 71
0:46
Enes Kanter enters the game for Derrick Favors
60 - 71
0:46
Jermaine O'Neal makes free throw 2 of 2
60 - 72
0:33
Enes Kanter offensive foul (Harrison Barnes draws the foul)
60 - 72
0:33
Enes Kanter turnover
60 - 72
0:33
Stephen Curry enters the game for Draymond Green
60 - 72
0:24
Andre Iguodala makes 19-foot two point shot
60 - 74
0:00
Richard Jefferson makes 26-foot three pointer (Gordon Hayward assists)
63 - 74
0:00
End of the 3rd Quarter
63 - 74

time
TEAM
PLAY
SCORE
11:48
Jermaine O'Neal shooting foul (Gordon Hayward draws the foul)
63 - 74
11:48
Gordon Hayward misses free throw 1 of 2
63 - 74
11:48
Jazz offensive team rebound
63 - 74
11:48
Gordon Hayward misses free throw 2 of 2
63 - 74
11:45
Harrison Barnes defensive rebound
63 - 74
11:30
Harrison Barnes makes two point shot
63 - 76
11:26
Stephen Curry personal take foul (John Lucas III draws the foul)
63 - 76
11:26
Warriors Full timeout
63 - 76
11:26
Andrew Bogut enters the game for Jermaine O'Neal
63 - 76
11:11
Richard Jefferson makes 6-foot two point shot
65 - 76
11:00
Stephen Curry misses 19-foot jumper
65 - 76
10:59
Andrew Bogut offensive rebound
65 - 76
10:52
Andrew Bogut makes two point shot (Harrison Barnes assists)
65 - 78
10:42
Enes Kanter offensive foul (Harrison Barnes draws the foul)
65 - 78
10:42
Enes Kanter turnover
65 - 78
10:42
Derrick Favors enters the game for Enes Kanter
65 - 78
10:33
Harrison Barnes misses two point shot
65 - 78
10:30
Derrick Favors defensive rebound
65 - 78
10:10
shot clock turnover
65 - 78
9:56
Derrick Favors blocks Harrison Barnes 's 5-foot two point shot
65 - 78
9:56
Warriors offensive team rebound
65 - 78
9:48
Andre Iguodala makes 13-foot two point shot
65 - 80
9:29
Marvin Williams makes 26-foot three pointer (Richard Jefferson assists)
68 - 80
9:11
Klay Thompson misses 13-foot two point jumper
68 - 80
9:11
Derrick Favors defensive rebound
68 - 80
9:03
Gordon Hayward makes 8-foot two point shot
70 - 80
8:45
Stephen Curry makes 12-foot two point shot
70 - 82
8:30
Richard Jefferson misses 25-foot three point jumper
70 - 82
8:30
Andre Iguodala defensive rebound
70 - 82
8:23
Stephen Curry misses 23-foot three point pullup jump shot
70 - 82
8:22
Marvin Williams defensive rebound
70 - 82
8:08
Derrick Favors makes 13-foot two point shot (Gordon Hayward assists)
72 - 82
8:08
Andrew Bogut shooting foul (Derrick Favors draws the foul)
72 - 82
8:08
Marreese Speights enters the game for Andrew Bogut
72 - 82
8:08
Derrick Favors misses free throw 1 of 1
72 - 82
8:07
Marreese Speights defensive rebound
72 - 82
7:48
Klay Thompson makes 13-foot two point shot
72 - 84
7:33
Richard Jefferson lost ball turnover (Andre Iguodala steals)
72 - 84
7:31
Marvin Williams shooting foul (Andre Iguodala draws the foul)
72 - 84
7:31
Andre Iguodala misses free throw 1 of 2
72 - 84
7:31
Warriors offensive team rebound
72 - 84
7:31
Andre Iguodala makes free throw 2 of 2
72 - 85
7:16
Derrick Favors makes driving layup (Richard Jefferson assists)
74 - 85
7:16
Marreese Speights shooting foul (Derrick Favors draws the foul)
74 - 85
7:16
Derrick Favors makes free throw 1 of 1
75 - 85
7:05
Harrison Barnes makes 17-foot two point shot (Stephen Curry assists)
75 - 87
6:39
Gordon Hayward makes two point shot
77 - 87
6:22
Klay Thompson makes 19-foot two point shot (Andre Iguodala assists)
77 - 89
6:01
Derrick Favors misses 11-foot
77 - 89
6:00
Stephen Curry defensive rebound
77 - 89
5:54
Klay Thompson makes 24-foot three pointer (Stephen Curry assists)
77 - 92
5:46
Jazz Full timeout
77 - 92
5:46
David Lee enters the game for Andre Iguodala
77 - 92
5:46
Andrew Bogut enters the game for Marreese Speights
77 - 92
5:43
Alec Burks enters the game for John Lucas III
77 - 92
5:28
Richard Jefferson misses 9-foot two point shot
77 - 92
5:28
Andrew Bogut defensive rebound
77 - 92
5:05
Stephen Curry misses 30-foot three point jumper
77 - 92
5:05
Derrick Favors defensive rebound
77 - 92
4:52
Gordon Hayward misses 8-foot Running Jumper
77 - 92
4:52
Stephen Curry defensive rebound
77 - 92
4:39
Stephen Curry makes two point shot (David Lee assists)
77 - 94
4:16
Derrick Favors makes 17-foot two point shot
79 - 94
3:56
David Lee makes 5-foot two point shot
79 - 96
3:31
Alec Burks misses 21-foot jumper
79 - 96
3:30
Klay Thompson defensive rebound
79 - 96
3:14
Andrew Bogut makes two point shot (Stephen Curry assists)
79 - 98
2:59
David Lee shooting foul (Marvin Williams draws the foul)
79 - 98
2:59
Official timeout
79 - 98
2:59
Rudy Gobert enters the game for Richard Jefferson
79 - 98
2:59
Ian Clark enters the game for Derrick Favors
79 - 98
2:59
Mike Harris enters the game for Gordon Hayward
79 - 98
2:59
Ognjen Kuzmic enters the game for David Lee
79 - 98
2:59
Kent Bazemore enters the game for Andrew Bogut
79 - 98
2:59
Draymond Green enters the game for Klay Thompson
79 - 98
2:59
Nemanja Nedovic enters the game for Stephen Curry
79 - 98
2:59
Marvin Williams misses free throw 1 of 2
79 - 98
2:59
Jazz offensive team rebound
79 - 98
2:59
Marvin Williams makes free throw 2 of 2
80 - 98
2:48
Marvin Williams personal foul (Harrison Barnes draws the foul)
80 - 98
2:48
Diante Garrett enters the game for Marvin Williams
80 - 98
2:43
Harrison Barnes misses layup
80 - 98
2:40
Alec Burks defensive rebound
80 - 98
2:39
Ognjen Kuzmic shooting foul (Rudy Gobert draws the foul)
80 - 98
2:39
Rudy Gobert misses free throw 1 of 2
80 - 98
2:39
Jazz offensive team rebound
80 - 98
2:39
Rudy Gobert misses free throw 2 of 2
80 - 98
2:36
Harrison Barnes defensive rebound
80 - 98
2:23
Draymond Green misses 26-foot three point jumper
80 - 98
2:21
Rudy Gobert defensive rebound
80 - 98
2:06
Diante Garrett makes 7-foot two point shot (Alec Burks assists)
82 - 98
1:54
Kent Bazemore makes 19-foot two point shot (Nemanja Nedovic assists)
82 - 100
1:45
Diante Garrett bad pass (Harrison Barnes steals)
82 - 100
1:42
Harrison Barnes makes two point shot (Nemanja Nedovic assists)
82 - 102
1:21
Alec Burks misses 24-foot three point jumper
82 - 102
1:21
Jazz offensive team rebound
82 - 102
1:19
Ian Clark makes 20-foot two point shot (Alec Burks assists)
84 - 102
1:07
Mike Harris blocks Nemanja Nedovic 's 9-foot jumper
84 - 102
1:05
Mike Harris defensive rebound
84 - 102
1:00
Ognjen Kuzmic blocks Diante Garrett 's 5-foot jumper
84 - 102
0:59
Diante Garrett offensive rebound
84 - 102
0:51
Diante Garrett misses 14-foot two point shot
84 - 102
0:50
Ognjen Kuzmic defensive rebound
84 - 102
0:33
Ognjen Kuzmic bad pass (Alec Burks steals)
84 - 102
0:31
Alec Burks makes two point shot
86 - 102
0:09
Draymond Green misses 23-foot
86 - 102
0:08
Mike Harris defensive rebound
86 - 102
0:03
Ognjen Kuzmic shooting foul (Alec Burks draws the foul)
86 - 102
0:03
Alec Burks makes free throw 1 of 2
87 - 102
0:03
Alec Burks makes free throw 2 of 2
88 - 102
0:00
End of the 4th Quarter
88 - 102
0:00
End of Game
88 - 102
0:00
End of Game
88 - 102
Members of the Pelicans indicated they are more interested in taking action in their community to try to help fix social issues than staging protests.

With Russell Westbrook fully at the helm, the Oklahoma City Thunder chart a new course in a post-Kevin Durant world.

Chris Bosh said Friday he will continue his "journey" back to the NBA without specifically addressing what had caused him to fail a preseason physical with the Heat.
Regular Season Series
GS wins series 4-0
2015-2016 Northwest Standings
2015-2016 Pacific Standings