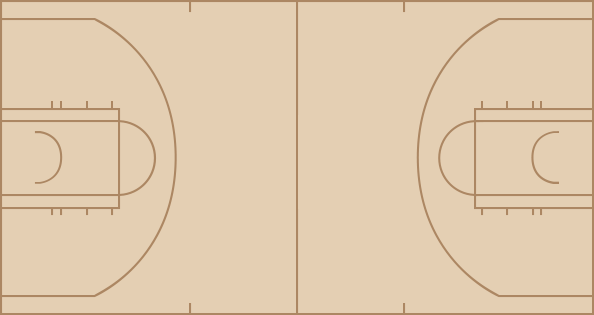 Warriors
time
TEAM
PLAY
SCORE
12:00
Jermaine O'Neal vs. Anthony Davis (David Lee gains possession)
0 - 0
11:47
David Lee makes 19-foot jumper (Klay Thompson assists)
2 - 0
11:23
Jason Smith makes 13-foot jumper (Jrue Holiday assists)
2 - 2
11:03
Jason Smith blocks David Lee 's 3-foot layup
2 - 2
11:02
Anthony Davis defensive rebound
2 - 2
10:52
Jason Smith misses 19-foot jumper
2 - 2
10:52
Harrison Barnes defensive rebound
2 - 2
10:37
David Lee misses layup
2 - 2
10:37
Anthony Davis defensive rebound
2 - 2
10:26
Jason Smith misses 8-foot jumper
2 - 2
10:25
Al-Farouq Aminu offensive rebound
2 - 2
10:21
Al-Farouq Aminu makes 2-foot two point shot
2 - 4
10:02
Klay Thompson misses jumper
2 - 4
10:00
Anthony Davis defensive rebound
2 - 4
9:49
Klay Thompson shooting foul (Eric Gordon draws the foul)
2 - 4
9:49
Eric Gordon makes free throw 1 of 2
2 - 5
9:49
Eric Gordon misses free throw 2 of 2
2 - 5
9:48
David Lee defensive rebound
2 - 5
9:34
Klay Thompson makes 16-foot jumper (David Lee assists)
4 - 5
9:22
Jermaine O'Neal personal foul (Jason Smith draws the foul)
4 - 5
9:10
Al-Farouq Aminu misses 22-foot jumper
4 - 5
9:08
Stephen Curry defensive rebound
4 - 5
8:56
Harrison Barnes misses 6-foot jumper
4 - 5
8:55
Jason Smith defensive rebound
4 - 5
8:40
Anthony Davis makes 13-foot jumper (Eric Gordon assists)
4 - 7
8:26
Stephen Curry misses 15-foot jumper
4 - 7
8:26
Al-Farouq Aminu defensive rebound
4 - 7
8:22
David Lee personal foul (Jason Smith draws the foul)
4 - 7
8:12
Jason Smith makes 3-foot two point shot (Jrue Holiday assists)
4 - 9
7:52
David Lee makes 5-foot jumper (Klay Thompson assists)
7 - 9
7:52
Jason Smith shooting foul (David Lee draws the foul)
7 - 9
7:52
David Lee makes free throw 1 of 1
7 - 9
7:39
Jrue Holiday misses 4-foot jumper
7 - 9
7:37
Jermaine O'Neal defensive rebound
7 - 9
7:30
Anthony Davis shooting foul (David Lee draws the foul)
7 - 9
7:30
David Lee makes free throw 1 of 2
8 - 9
7:30
David Lee makes free throw 2 of 2
9 - 9
7:11
Anthony Davis misses 15-foot jumper
9 - 9
7:11
Jason Smith offensive rebound
9 - 9
7:07
Jason Smith makes 5-foot two point shot
9 - 11
6:58
Stephen Curry misses 24-foot three point jumper
9 - 11
6:56
Warriors offensive team rebound
9 - 11
6:56
Anthony Davis loose ball foul (Jermaine O'Neal draws the foul)
9 - 11
6:56
Ryan Anderson enters the game for Anthony Davis
9 - 11
6:50
David Lee misses 7-foot jumper
9 - 11
6:50
Warriors offensive team rebound
9 - 11
6:50
Ryan Anderson loose ball foul (Jermaine O'Neal draws the foul)
9 - 11
6:41
Jermaine O'Neal makes driving dunk (Klay Thompson assists)
11 - 11
6:28
Jrue Holiday misses three point jumper
11 - 11
6:28
David Lee defensive rebound
11 - 11
6:18
Jermaine O'Neal makes layup (Klay Thompson assists)
13 - 11
6:05
Eric Gordon makes two point shot
13 - 13
5:43
Jermaine O'Neal makes 9-foot two point shot
15 - 13
5:20
Jason Smith misses 13-foot jumper
15 - 13
5:18
Ryan Anderson offensive rebound
15 - 13
5:11
Ryan Anderson misses 5-foot jumper
15 - 13
5:11
Al-Farouq Aminu offensive rebound
15 - 13
4:52
Jrue Holiday bad pass
15 - 13
4:52
Pelicans Full timeout
15 - 13
4:52
Draymond Green enters the game for Jermaine O'Neal
15 - 13
4:35
Al-Farouq Aminu blocks David Lee 's 3-foot layup
15 - 13
4:33
Jrue Holiday defensive rebound
15 - 13
4:20
Jrue Holiday makes 17-foot jumper
15 - 15
4:07
Harrison Barnes makes two point shot
17 - 15
3:51
Jason Smith misses 19-foot jumper
17 - 15
3:50
Harrison Barnes defensive rebound
17 - 15
3:42
Draymond Green misses 25-foot three point jumper
17 - 15
3:41
Al-Farouq Aminu defensive rebound
17 - 15
3:31
Ryan Anderson makes 26-foot three point jumper (Jrue Holiday assists)
17 - 18
3:16
Stephen Curry misses 23-foot three point jumper
17 - 18
3:15
Ryan Anderson defensive rebound
17 - 18
3:06
Eric Gordon lost ball turnover (Klay Thompson steals)
17 - 18
3:02
Stephen Curry makes layup (Klay Thompson assists)
19 - 18
2:53
Draymond Green blocks Ryan Anderson's jumper
19 - 18
2:49
Stephen Curry defensive rebound
19 - 18
2:40
Stephen Curry makes 15-foot jumper
21 - 18
2:23
Jrue Holiday misses 5-foot jumper
21 - 18
2:20
David Lee defensive rebound
21 - 18
2:14
Klay Thompson bad pass (Eric Gordon steals)
21 - 18
2:10
Eric Gordon lost ball turnover (Harrison Barnes steals)
21 - 18
2:04
David Lee makes dunk (Stephen Curry assists)
23 - 18
1:57
Pelicans 20 Sec. timeout
23 - 18
1:57
Warriors Full timeout
23 - 18
1:57
Marreese Speights enters the game for David Lee
23 - 18
1:57
Nemanja Nedovic enters the game for Stephen Curry
23 - 18
1:57
Lou Amundson enters the game for Al-Farouq Aminu
23 - 18
1:57
Brian Roberts enters the game for Jason Smith
23 - 18
1:57
Tyreke Evans enters the game for Jrue Holiday
23 - 18
1:46
Brian Roberts bad pass (Draymond Green steals)
23 - 18
1:43
Brian Roberts shooting foul (Draymond Green draws the foul)
23 - 18
1:43
Draymond Green misses free throw 1 of 2
23 - 18
1:43
Warriors offensive team rebound
23 - 18
1:43
Anthony Morrow enters the game for Eric Gordon
23 - 18
1:43
Draymond Green makes free throw 2 of 2
24 - 18
1:31
Ryan Anderson bad pass (Draymond Green steals)
24 - 18
1:31
Lou Amundson clear path foul (Draymond Green draws the foul)
24 - 18
1:31
Draymond Green misses free throw clear path 1 of 2
24 - 18
1:31
Kent Bazemore enters the game for Klay Thompson
24 - 18
1:31
Warriors offensive team rebound
24 - 18
1:31
Draymond Green makes free throw clear path 2 of 2
25 - 18
1:19
Tyreke Evans shooting foul (Harrison Barnes draws the foul)
25 - 18
1:19
Harrison Barnes misses free throw 1 of 2
25 - 18
1:19
Warriors offensive team rebound
25 - 18
1:19
Harrison Barnes makes free throw 2 of 2
26 - 18
1:00
Tyreke Evans misses layup
26 - 18
0:58
Lou Amundson offensive rebound
26 - 18
0:56
Draymond Green blocks Lou Amundson 's 1-foot layup
26 - 18
0:54
Nemanja Nedovic defensive rebound
26 - 18
0:50
Nemanja Nedovic misses layup
26 - 18
0:50
Marreese Speights makes 2-foot two point shot
28 - 18
0:50
Marreese Speights offensive rebound
26 - 18
0:35
Draymond Green blocks Ryan Anderson 's 19-foot jumper
28 - 18
0:33
Kent Bazemore defensive rebound
28 - 18
0:15
Lou Amundson blocks Harrison Barnes 's 6-foot jumper
28 - 18
0:13
Anthony Morrow defensive rebound
28 - 18
0:01
Marreese Speights blocks Brian Roberts 's 5-foot shot
28 - 18
0:01
Kent Bazemore defensive rebound
28 - 18
0:00
Kent Bazemore misses 75-foot three point jumper
28 - 18
0:00
Warriors offensive team rebound
28 - 18
0:00
End of the 1st Quarter
28 - 18

time
TEAM
PLAY
SCORE
11:48
Lou Amundson offensive foul (Harrison Barnes draws the foul)
28 - 18
11:48
Lou Amundson turnover
28 - 18
11:33
Marreese Speights misses 22-foot jumper
28 - 18
11:33
Lou Amundson defensive rebound
28 - 18
11:26
Tyreke Evans makes driving layup
28 - 21
11:26
Marreese Speights shooting block foul (Tyreke Evans draws the foul)
28 - 21
11:26
Klay Thompson enters the game for Harrison Barnes
28 - 20
11:26
Tyreke Evans makes free throw 1 of 1
28 - 21
11:07
Klay Thompson makes 8-foot jumper (Marreese Speights assists)
30 - 21
10:48
Ryan Anderson misses 26-foot three point jumper
30 - 21
10:47
Nemanja Nedovic defensive rebound
30 - 21
10:37
Lou Amundson shooting foul (Klay Thompson draws the foul)
30 - 21
10:37
Klay Thompson misses free throw 1 of 2
30 - 21
10:37
Warriors offensive team rebound
30 - 21
10:37
Anthony Davis enters the game for Lou Amundson
30 - 21
10:37
David Lee enters the game for Kent Bazemore
30 - 21
10:37
Klay Thompson makes free throw 2 of 2
31 - 21
10:23
Nemanja Nedovic shooting foul (Tyreke Evans draws the foul)
31 - 22
10:23
Tyreke Evans makes free throw 1 of 2
31 - 22
10:23
Tyreke Evans misses free throw 2 of 2
31 - 22
10:22
David Lee defensive rebound
31 - 22
10:03
Draymond Green misses three point jumper
31 - 22
10:03
Ryan Anderson defensive rebound
31 - 22
9:49
Anthony Davis misses 5-foot jumper
31 - 22
9:48
Anthony Davis offensive rebound
31 - 22
9:47
Stephen Curry enters the game for Nemanja Nedovic
31 - 22
9:37
Ryan Anderson makes layup (Tyreke Evans assists)
31 - 24
9:37
Marreese Speights shooting foul (Ryan Anderson draws the foul)
31 - 24
9:37
Ryan Anderson makes free throw 1 of 1
31 - 25
9:25
Klay Thompson misses 25-foot three point jumper
31 - 25
9:23
Marreese Speights offensive rebound
31 - 25
9:21
Marreese Speights makes 4-foot jumper
33 - 25
9:12
Tyreke Evans makes layup
33 - 27
9:00
David Lee out of bounds lost ball turnover
33 - 27
8:52
Ryan Anderson misses 26-foot three point jumper
33 - 27
8:51
Stephen Curry defensive rebound
33 - 27
8:41
David Lee misses 19-foot jumper
33 - 27
8:38
Ryan Anderson defensive rebound
33 - 27
8:34
Tyreke Evans traveling
33 - 27
8:34
Official timeout
33 - 27
8:34
Jermaine O'Neal enters the game for Marreese Speights
33 - 27
8:19
Stephen Curry makes 23-foot three point jumper (Klay Thompson assists)
36 - 27
7:56
Brian Roberts misses 17-foot jumper
36 - 27
7:54
Klay Thompson defensive rebound
36 - 27
7:43
Stephen Curry makes 11-foot two point shot
38 - 27
7:26
Anthony Davis bad pass (Stephen Curry steals)
38 - 27
7:18
Stephen Curry misses 11-foot jumper
38 - 27
7:16
Ryan Anderson defensive rebound
38 - 27
7:07
Anthony Morrow misses three point jumper
38 - 27
7:05
Jermaine O'Neal defensive rebound
38 - 27
6:43
Jermaine O'Neal makes two point shot (Draymond Green assists)
40 - 27
6:24
Tyreke Evans misses 11-foot jumper
40 - 27
6:24
Stephen Curry defensive rebound
40 - 27
6:18
Brian Roberts blocks David Lee 's 3-foot jumper
40 - 27
6:18
Warriors offensive team rebound
40 - 27
6:18
Eric Gordon enters the game for Brian Roberts
40 - 27
6:18
Jrue Holiday enters the game for Anthony Morrow
40 - 27
6:18
Al-Farouq Aminu enters the game for Tyreke Evans
40 - 27
6:18
Harrison Barnes enters the game for Draymond Green
40 - 27
6:18
Jason Smith enters the game for Anthony Davis
40 - 27
6:13
Klay Thompson traveling
40 - 27
6:00
Eric Gordon misses 26-foot three point jumper
40 - 27
5:58
Ryan Anderson makes 3-foot two point shot
40 - 29
5:58
Ryan Anderson offensive rebound
40 - 29
5:39
Jermaine O'Neal makes 6-foot two point shot
42 - 29
5:31
Jermaine O'Neal defensive 3-seconds (Technical Foul)
42 - 29
5:31
Pelicans Full timeout
42 - 29
5:31
Ryan Anderson makes technical free throw
42 - 30
5:20
Jason Smith misses 15-foot jumper
42 - 30
5:18
David Lee defensive rebound
42 - 30
5:01
Klay Thompson makes 24-foot three point jumper (Stephen Curry assists)
45 - 30
4:50
Jason Smith makes 15-foot jumper (Eric Gordon assists)
45 - 32
4:30
Jermaine O'Neal makes driving layup (Stephen Curry assists)
47 - 32
4:16
Eric Gordon makes 25-foot three point jumper
47 - 35
4:00
Stephen Curry misses 7-foot jumper
47 - 35
3:59
Jrue Holiday defensive rebound
47 - 35
3:54
Jrue Holiday misses 15-foot jumper
47 - 35
3:50
Jason Smith offensive rebound
47 - 35
3:48
Jrue Holiday makes layup
47 - 37
3:36
Jason Smith personal foul (Jermaine O'Neal draws the foul)
47 - 37
3:32
Eric Gordon shooting foul (Klay Thompson draws the foul)
47 - 37
3:32
Klay Thompson misses free throw 1 of 2
47 - 37
3:32
Warriors offensive team rebound
47 - 37
3:32
Klay Thompson misses free throw 2 of 2
47 - 37
3:31
Klay Thompson offensive rebound
47 - 37
3:28
Klay Thompson makes 12-foot jumper
49 - 37
3:10
Jrue Holiday makes 26-foot three point jumper (Jason Smith assists)
49 - 40
2:58
Stephen Curry misses 3-foot jumper
49 - 40
2:57
Al-Farouq Aminu defensive rebound
49 - 40
2:36
Eric Gordon misses 18-foot jumper
49 - 40
2:34
Ryan Anderson offensive rebound
49 - 40
2:33
Ryan Anderson makes two point shot
49 - 42
2:09
David Lee makes layup
51 - 42
2:00
Jrue Holiday misses 24-foot three point jumper
51 - 42
1:59
Jason Smith offensive rebound
51 - 42
1:50
Al-Farouq Aminu makes jumper (Jrue Holiday assists)
51 - 44
1:27
Jrue Holiday shooting foul (David Lee draws the foul)
51 - 44
1:27
Warriors Full timeout
51 - 44
1:27
David Lee makes free throw 1 of 2
52 - 44
1:27
David Lee makes free throw 2 of 2
53 - 44
1:15
Ryan Anderson makes 23-foot three point jumper (Eric Gordon assists)
53 - 47
1:00
Harrison Barnes makes 4-foot jumper (Stephen Curry assists)
55 - 47
1:00
Jason Smith defensive goaltending violation
55 - 47
0:49
Eric Gordon makes 6-foot two point shot
55 - 49
0:36
Harrison Barnes makes 8-foot jumper (Stephen Curry assists)
57 - 49
0:19
Ryan Anderson misses 6-foot jump bank shot
57 - 49
0:17
Jermaine O'Neal defensive rebound
57 - 49
0:00
Klay Thompson misses 20-foot jumper
57 - 49
0:00
Ryan Anderson defensive rebound
57 - 49
0:00
End of the 2nd Quarter
57 - 49

time
TEAM
PLAY
SCORE
11:47
Jason Smith misses 18-foot jumper
57 - 49
11:45
Jrue Holiday offensive rebound
57 - 49
11:33
Jrue Holiday misses 19-foot jumper
57 - 49
11:33
Jermaine O'Neal defensive rebound
57 - 49
11:19
Klay Thompson misses 25-foot three point jumper
57 - 49
11:18
Al-Farouq Aminu defensive rebound
57 - 49
11:04
Jason Smith makes 17-foot jumper (Eric Gordon assists)
57 - 51
10:41
Stephen Curry misses 20-foot jumper
57 - 51
10:40
Al-Farouq Aminu defensive rebound
57 - 51
10:22
Jason Smith misses 15-foot jumper
57 - 51
10:21
Stephen Curry defensive rebound
57 - 51
10:12
Harrison Barnes misses layup
57 - 51
10:11
Jermaine O'Neal makes 2-foot two point shot
59 - 51
10:11
Jermaine O'Neal offensive rebound
57 - 51
9:52
Jrue Holiday makes layup (Eric Gordon assists)
59 - 53
9:32
Jermaine O'Neal misses 15-foot jumper
59 - 53
9:30
Al-Farouq Aminu defensive rebound
59 - 53
9:18
Klay Thompson blocks Eric Gordon 's 3-foot jumper
59 - 53
9:15
Jermaine O'Neal defensive rebound
59 - 53
9:12
Stephen Curry lost ball turnover (Jrue Holiday steals)
59 - 53
9:07
Anthony Davis makes two point shot (Jrue Holiday assists)
59 - 55
8:45
Harrison Barnes misses 13-foot jumper
59 - 55
8:44
Al-Farouq Aminu defensive rebound
59 - 55
8:33
Jason Smith misses 19-foot jumper
59 - 55
8:33
Klay Thompson defensive rebound
59 - 55
8:22
Jermaine O'Neal bad pass (Eric Gordon steals)
59 - 55
8:15
Eric Gordon misses 20-foot jumper
59 - 55
8:14
Jermaine O'Neal defensive rebound
59 - 55
7:54
Jrue Holiday kicked ball violation
59 - 55
7:48
David Lee makes dunk (Klay Thompson assists)
61 - 55
7:31
Anthony Davis makes two point shot
61 - 57
7:31
David Lee shooting foul (Anthony Davis draws the foul)
61 - 57
7:31
Anthony Davis makes free throw 1 of 1
61 - 58
7:20
Klay Thompson makes 13-foot jumper (David Lee assists)
63 - 58
6:54
Stephen Curry shooting foul (Jason Smith draws the foul)
63 - 58
6:54
Jason Smith makes free throw 1 of 2
63 - 59
6:54
Jason Smith makes free throw 2 of 2
63 - 60
6:41
Harrison Barnes makes driving layup
65 - 60
6:16
Jason Smith makes jumper (Eric Gordon assists)
65 - 62
5:47
Klay Thompson misses 12-foot jumper
65 - 62
5:47
Pelicans defensive team rebound
65 - 62
5:47
Pelicans Full timeout
65 - 62
5:47
Ryan Anderson enters the game for Jason Smith
65 - 62
5:33
Eric Gordon makes 26-foot three point jumper (Al-Farouq Aminu assists)
65 - 65
5:20
Jermaine O'Neal offensive foul (Anthony Davis draws the foul)
65 - 65
5:20
Jermaine O'Neal turnover
65 - 65
5:09
Jermaine O'Neal shooting foul (Eric Gordon draws the foul)
65 - 65
5:09
Eric Gordon misses free throw 1 of 2
65 - 65
5:09
Pelicans offensive team rebound
65 - 65
5:09
Draymond Green enters the game for Jermaine O'Neal
65 - 65
5:09
Eric Gordon makes free throw 2 of 2
65 - 66
5:00
Harrison Barnes traveling
65 - 66
4:43
Eric Gordon makes two point shot
65 - 68
4:31
Stephen Curry misses 19-foot jumper
65 - 68
4:30
Anthony Davis defensive rebound
65 - 68
4:22
Jrue Holiday misses 16-foot jumper
65 - 68
4:22
Ryan Anderson offensive rebound
65 - 68
4:22
Draymond Green loose ball foul (Ryan Anderson draws the foul)
65 - 68
4:13
Jrue Holiday disc dribble turnover
65 - 68
4:13
Pelicans delay of game violation
65 - 68
4:00
Klay Thompson bad pass (Jrue Holiday steals)
65 - 68
3:58
Al-Farouq Aminu out of bounds lost ball turnover
65 - 68
3:44
Draymond Green makes 19-foot jumper (Stephen Curry assists)
67 - 68
3:33
Eric Gordon offensive foul (Harrison Barnes draws the foul)
67 - 68
3:33
Eric Gordon turnover
67 - 68
3:33
Tyreke Evans enters the game for Al-Farouq Aminu
67 - 68
3:14
Klay Thompson misses layup
67 - 68
3:13
Anthony Davis defensive rebound
67 - 68
3:04
Eric Gordon makes 21-foot jumper (Tyreke Evans assists)
67 - 70
2:49
Klay Thompson makes 23-foot three point jumper (Stephen Curry assists)
70 - 70
2:27
Tyreke Evans bad pass (Stephen Curry steals)
70 - 70
2:23
Harrison Barnes makes dunk (Draymond Green assists)
72 - 70
2:23
Pelicans 20 Sec. timeout
72 - 70
2:23
Warriors Full timeout
72 - 70
2:04
Ryan Anderson makes 2-foot two point shot (Anthony Davis assists)
72 - 72
1:45
Anthony Davis personal foul (Klay Thompson draws the foul)
72 - 72
1:45
Nemanja Nedovic enters the game for Stephen Curry
72 - 72
1:38
Anthony Davis blocks Klay Thompson 's 12-foot shot
72 - 72
1:38
Klay Thompson offensive rebound
72 - 72
1:37
David Lee makes layup (Draymond Green assists)
74 - 72
1:37
Anthony Davis defensive goaltending violation
74 - 72
1:13
Jrue Holiday misses 14-foot jumper
74 - 72
1:13
Warriors defensive team rebound
76 - 72
1:13
Ryan Anderson loose ball foul (Klay Thompson draws the foul)
74 - 72
1:13
Klay Thompson makes free throw 1 of 2
75 - 72
1:13
Brian Roberts enters the game for Jrue Holiday
75 - 72
1:13
Marreese Speights enters the game for David Lee
75 - 72
1:13
Klay Thompson makes free throw 2 of 2
76 - 72
0:52
Ryan Anderson makes 26-foot three point jumper (Eric Gordon assists)
76 - 75
0:35
Nemanja Nedovic misses 26-foot three point jumper
76 - 75
0:34
Harrison Barnes offensive rebound
76 - 75
0:31
Tyreke Evans blocks Harrison Barnes 's 1-foot layup
76 - 75
0:29
Anthony Davis defensive rebound
76 - 75
0:12
Tyreke Evans makes layup
76 - 77
0:01
Klay Thompson misses layup
76 - 77
0:00
Tyreke Evans defensive rebound
76 - 77
0:00
Tyreke Evans misses 48-foot three point jumper
76 - 77
0:00
Pelicans offensive team rebound
76 - 77
0:00
End of the 3rd Quarter
76 - 77

time
TEAM
PLAY
SCORE
11:44
Stephen Curry makes two point shot
78 - 77
11:15
Tyreke Evans misses 3-foot jumper
78 - 77
11:15
Anthony Davis offensive rebound
78 - 77
11:15
Marreese Speights loose ball foul (Anthony Davis draws the foul)
78 - 77
11:06
Tyreke Evans makes 13-foot two point shot
78 - 79
10:56
Anthony Morrow personal foul (Stephen Curry draws the foul)
78 - 79
10:48
Stephen Curry misses 17-foot jumper
78 - 79
10:47
Tyreke Evans defensive rebound
78 - 79
10:33
Stephen Curry blocks Tyreke Evans 's 8-foot jumper
78 - 79
10:32
Marreese Speights defensive rebound
78 - 79
10:26
Draymond Green makes three point jumper (Stephen Curry assists)
81 - 79
10:07
Anthony Morrow steps out of bounds turnover
81 - 79
9:56
Anthony Davis shooting foul (Marreese Speights draws the foul)
81 - 79
9:56
Marreese Speights makes free throw 1 of 2
82 - 79
9:56
Jason Smith enters the game for Anthony Davis
82 - 79
9:56
Jrue Holiday enters the game for Brian Roberts
82 - 79
9:56
Marreese Speights makes free throw 2 of 2
83 - 79
9:40
Ryan Anderson misses 14-foot jumper
83 - 79
9:38
Stephen Curry defensive rebound
83 - 79
9:26
Klay Thompson bad pass (Anthony Morrow steals)
83 - 79
9:19
Anthony Morrow makes 25-foot three point jumper (Jrue Holiday assists)
83 - 82
9:00
Stephen Curry misses 20-foot jumper
83 - 82
8:59
Draymond Green offensive rebound
83 - 82
8:56
Draymond Green misses layup
83 - 82
8:56
Tyreke Evans defensive rebound
83 - 82
8:52
Jrue Holiday makes 25-foot three point jumper (Tyreke Evans assists)
83 - 85
8:34
Stephen Curry makes 25-foot three point jumper (Klay Thompson assists)
86 - 85
8:15
Ryan Anderson lost ball turnover (Draymond Green steals)
86 - 85
8:15
Ryan Anderson loose ball foul (Draymond Green draws the foul)
86 - 85
8:15
Official timeout
86 - 85
8:15
Harrison Barnes enters the game for Klay Thompson
86 - 85
7:58
Harrison Barnes makes 23-foot three point jumper (Nemanja Nedovic assists)
89 - 85
7:41
Ryan Anderson misses layup
89 - 85
7:41
Draymond Green defensive rebound
89 - 85
7:28
Draymond Green misses three point jumper
89 - 85
7:26
Ryan Anderson defensive rebound
89 - 85
7:22
Tyreke Evans offensive Charge (Nemanja Nedovic draws the foul)
89 - 85
7:22
Tyreke Evans turnover
89 - 85
7:22
Eric Gordon enters the game for Anthony Morrow
89 - 85
7:22
David Lee enters the game for Marreese Speights
89 - 85
7:07
Harrison Barnes misses 24-foot three point jumper
89 - 85
7:07
Ryan Anderson defensive rebound
89 - 85
6:58
Jrue Holiday misses layup
89 - 85
6:56
David Lee defensive rebound
89 - 85
6:48
Ryan Anderson personal block (Stephen Curry draws the foul)
89 - 85
6:48
Anthony Davis enters the game for Jason Smith
89 - 85
6:39
Stephen Curry misses 26-foot three point jumper
89 - 85
6:37
Tyreke Evans defensive rebound
89 - 85
6:33
Tyreke Evans bad pass (Stephen Curry steals)
89 - 85
6:20
Stephen Curry makes 21-foot jumper
91 - 85
6:11
Nemanja Nedovic personal foul (Jrue Holiday draws the foul)
91 - 85
6:00
Ryan Anderson makes 17-foot two point shot
91 - 87
5:39
Stephen Curry misses 20-foot jumper
91 - 87
5:39
Ryan Anderson defensive rebound
91 - 87
5:31
Ryan Anderson misses 24-foot three point jumper
91 - 87
5:31
Harrison Barnes defensive rebound
91 - 87
5:16
Anthony Davis blocks David Lee 's 3-foot layup
91 - 87
5:16
Warriors offensive team rebound
91 - 87
5:16
Pelicans Full timeout
91 - 87
5:16
Klay Thompson enters the game for Nemanja Nedovic
91 - 87
5:11
Klay Thompson makes layup (Stephen Curry assists)
93 - 87
4:54
Tyreke Evans makes driving layup
93 - 89
4:41
Stephen Curry out of bounds lost ball turnover
93 - 89
4:26
Jrue Holiday makes 8-foot two point shot
93 - 91
4:07
David Lee misses jumper
93 - 91
4:05
Jrue Holiday defensive rebound
93 - 91
3:51
Anthony Davis makes dunk (Tyreke Evans assists)
93 - 93
3:51
Warriors Full timeout
93 - 93
3:51
Jermaine O'Neal enters the game for Draymond Green
93 - 93
3:35
Jermaine O'Neal makes 11-foot two point shot
95 - 93
3:21
Anthony Davis misses alley pop dunk shot
95 - 93
3:20
Stephen Curry defensive rebound
95 - 93
3:09
Klay Thompson makes three point jumper (David Lee assists)
98 - 93
2:50
Jrue Holiday makes three point jumper (Ryan Anderson assists)
98 - 96
2:33
Jrue Holiday shooting foul (David Lee draws the foul)
98 - 96
2:33
David Lee makes free throw 1 of 2
99 - 96
2:33
David Lee makes free throw 2 of 2
100 - 96
2:25
Anthony Davis makes two point shot (Jrue Holiday assists)
100 - 98
2:25
Stephen Curry shooting foul (Anthony Davis draws the foul)
100 - 98
2:25
Anthony Davis makes free throw 1 of 1
100 - 99
2:14
Eric Gordon blocks Jermaine O'Neal 's 3-foot layup
100 - 99
2:13
Jermaine O'Neal offensive rebound
100 - 99
2:12
Jermaine O'Neal makes two point shot
102 - 99
1:54
Eric Gordon misses 24-foot three point jumper
102 - 99
1:49
David Lee defensive rebound
102 - 99
1:29
Stephen Curry misses layup
102 - 99
1:27
Stephen Curry offensive rebound
102 - 99
1:27
Warriors Full timeout
102 - 99
1:12
Klay Thompson misses 14-foot jumper
102 - 99
1:10
Anthony Davis defensive rebound
102 - 99
0:47
Tyreke Evans misses 4-foot
102 - 99
0:47
Anthony Davis makes two point shot
102 - 101
0:47
Anthony Davis offensive rebound
102 - 99
0:24
Jermaine O'Neal misses jumper
102 - 101
0:22
Anthony Davis defensive rebound
102 - 101
0:01
Eric Gordon misses three point jumper
102 - 101
0:01
Klay Thompson defensive rebound
102 - 101
0:00
Klay Thompson misses 60-foot three point jumper
102 - 101
0:00
Warriors offensive team rebound
102 - 101
0:00
End of the 4th Quarter
102 - 101
0:00
End of Game
102 - 101
Newly acquired Magic guard Jodie Meeks continues to recover from foot surgery in July, and could potentially return to play in November.

Ramona Shelburne thinks the Bucks made a smart move locking up Giannis Antetokounmpo to a 4-year $100 million contract.

The New York Knicks have re-signed veteran forward Lou Amundson.
2015-2016 Pacific Standings
2015-2016 Southwest Standings