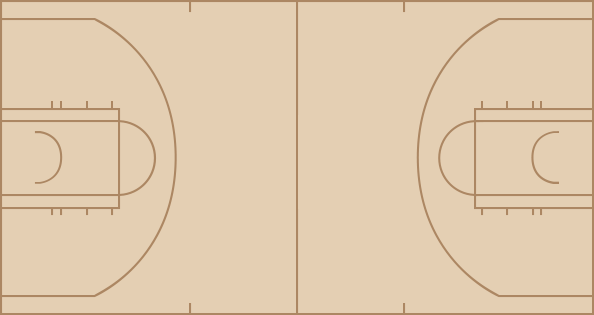 Spurs
time
TEAM
PLAY
SCORE
12:00
Tim Duncan vs. Andrew Bogut (Tony Parker gains possession)
0 - 0
11:38
Tiago Splitter misses 7-foot jumper
0 - 0
11:37
Harrison Barnes defensive rebound
0 - 0
11:18
Andrew Bogut misses jumper
0 - 0
11:18
Festus Ezeli offensive rebound
0 - 0
11:18
Festus Ezeli misses tip shot
0 - 0
11:15
Tiago Splitter defensive rebound
0 - 0
11:04
Tim Duncan makes 19-foot two point shot (Tony Parker assists)
2 - 0
10:44
Klay Thompson misses 18-foot two point jumper
2 - 0
10:42
Tim Duncan defensive rebound
2 - 0
10:26
Tony Parker misses 18-foot jumper
2 - 0
10:25
Andrew Bogut defensive rebound
2 - 0
10:07
Andrew Bogut makes 6-foot two point shot (Stephen Curry assists)
2 - 2
9:45
Tim Duncan misses 17-foot two point shot
2 - 2
9:44
Festus Ezeli defensive rebound
2 - 2
9:22
Festus Ezeli bad pass
2 - 2
9:10
Tim Duncan bad pass (Klay Thompson steals)
2 - 2
9:06
Harrison Barnes makes two point shot (Klay Thompson assists)
2 - 4
8:48
Danny Green lost ball turnover (Stephen Curry steals)
2 - 4
8:33
Stephen Curry bad pass (Tiago Splitter steals)
2 - 4
8:27
Festus Ezeli personal foul (Tony Parker draws the foul)
2 - 4
8:18
Tony Parker makes 19-foot two point shot (Tim Duncan assists)
4 - 4
8:06
Stephen Curry misses 6-foot two point shot
4 - 4
8:03
Tony Parker defensive rebound
4 - 4
7:56
Danny Green makes 23-foot three point jumper (Tony Parker assists)
7 - 4
7:35
Stephen Curry bad pass (Tiago Splitter steals)
7 - 4
7:31
Stephen Curry blocks Kawhi Leonard 's 2-foot layup
7 - 4
7:31
Spurs offensive team rebound
7 - 4
7:28
Kawhi Leonard vs. Stephen Curry (Tiago Splitter gains possession)
7 - 4
7:20
Tiago Splitter misses 4-foot jumper
7 - 4
7:18
Andrew Bogut defensive rebound
7 - 4
7:09
Klay Thompson misses 13-foot jumper
7 - 4
7:07
Kawhi Leonard defensive rebound
7 - 4
7:03
Danny Green offensive foul (Stephen Curry draws the foul)
7 - 4
7:03
Danny Green turnover
7 - 4
6:52
Stephen Curry makes 26-foot (Harrison Barnes assists)
7 - 7
6:52
Spurs Full timeout
7 - 7
6:52
Manu Ginobili enters the game for Tiago Splitter
7 - 7
6:52
Boris Diaw enters the game for Danny Green
7 - 7
6:35
Tim Duncan makes layup (Boris Diaw assists)
9 - 7
6:16
Harrison Barnes makes 13-foot two point shot (Stephen Curry assists)
9 - 9
6:05
Kawhi Leonard offensive foul (Harrison Barnes draws the foul)
9 - 9
6:05
Kawhi Leonard turnover
9 - 9
5:46
Harrison Barnes makes 13-foot two point shot
9 - 11
5:31
Tim Duncan makes 6-foot two point shot (Manu Ginobili assists)
11 - 11
5:31
Festus Ezeli shooting foul (Tim Duncan draws the foul)
11 - 11
5:31
David Lee enters the game for Festus Ezeli
11 - 11
5:31
Tim Duncan makes free throw 1 of 1
12 - 11
5:24
Andrew Bogut misses dunk
12 - 11
5:24
David Lee offensive rebound
12 - 11
5:13
Klay Thompson bad pass (Manu Ginobili steals)
12 - 11
5:13
Andrew Bogut personal foul (Manu Ginobili draws the foul)
12 - 11
4:58
Kawhi Leonard makes 21-foot two point shot (Manu Ginobili assists)
14 - 11
4:33
David Lee makes 3-foot two point shot (Klay Thompson assists)
14 - 13
4:16
Manu Ginobili misses 23-foot three point pullup jump shot
14 - 13
4:16
Andrew Bogut defensive rebound
14 - 13
4:01
David Lee makes 12-foot two point shot (Andrew Bogut assists)
14 - 15
3:41
Kawhi Leonard misses 26-foot three point jumper
14 - 15
3:38
David Lee defensive rebound
14 - 15
3:28
Jarrett Jack enters the game for Klay Thompson
14 - 15
3:28
Cory Joseph enters the game for Tony Parker
14 - 15
3:21
David Lee misses 17-foot jumper
14 - 15
3:20
Kawhi Leonard defensive rebound
14 - 15
3:09
Kawhi Leonard makes layup (Manu Ginobili assists)
16 - 15
2:50
Manu Ginobili personal foul (Stephen Curry draws the foul)
16 - 15
2:50
Warriors Full timeout
16 - 15
2:50
Draymond Green enters the game for Harrison Barnes
16 - 15
2:50
Carl Landry enters the game for Andrew Bogut
16 - 15
2:50
Tiago Splitter enters the game for Kawhi Leonard
16 - 15
2:50
Gary Neal enters the game for Tim Duncan
16 - 15
2:43
Carl Landry misses 9-foot jumper
16 - 15
2:42
Manu Ginobili defensive rebound
16 - 15
2:32
Cory Joseph makes 24-foot three point jumper (Boris Diaw assists)
19 - 15
2:11
Draymond Green misses 19-foot two point jumper
19 - 15
2:09
Gary Neal defensive rebound
19 - 15
1:53
Gary Neal misses 27-foot three point pullup jump shot
19 - 15
1:52
Draymond Green defensive rebound
19 - 15
1:43
Stephen Curry makes 2-foot two point shot
19 - 17
1:22
Tiago Splitter makes 9-foot two point shot (Boris Diaw assists)
21 - 17
1:06
Stephen Curry misses 21-foot jumper
21 - 17
1:02
Gary Neal defensive rebound
21 - 17
0:57
Manu Ginobili misses 27-foot three point jumper
21 - 17
0:57
Stephen Curry defensive rebound
21 - 17
0:51
David Lee offensive foul (Cory Joseph draws the foul)
21 - 17
0:51
David Lee turnover
21 - 17
0:51
Klay Thompson enters the game for Stephen Curry
21 - 17
0:43
Draymond Green personal foul (Manu Ginobili draws the foul)
21 - 17
0:43
Festus Ezeli enters the game for David Lee
21 - 17
0:36
Manu Ginobili lost ball turnover (Carl Landry steals)
21 - 17
0:23
Manu Ginobili shooting foul (Carl Landry draws the foul)
21 - 19
0:23
Carl Landry makes free throw 1 of 2
21 - 18
0:23
Carl Landry makes free throw 2 of 2
21 - 19
0:05
Boris Diaw misses 15-foot jumper
21 - 19
0:03
Festus Ezeli defensive rebound
21 - 19
0:00
End of the 1st Quarter
21 - 19

time
TEAM
PLAY
SCORE
11:52
Carl Landry offensive foul (Boris Diaw draws the foul)
21 - 19
11:52
Carl Landry turnover
21 - 19
11:29
Danny Green misses 26-foot three point pullup jump shot
21 - 19
11:27
Carl Landry defensive rebound
21 - 19
11:17
Carl Landry makes 19-foot two point shot (Jarrett Jack assists)
21 - 21
11:02
Festus Ezeli personal foul (Tiago Splitter draws the foul)
21 - 21
11:02
Andrew Bogut enters the game for Festus Ezeli
21 - 21
10:56
Gary Neal makes 11-foot two point shot (Tony Parker assists)
23 - 21
10:45
Matt Bonner enters the game for Boris Diaw
23 - 21
10:45
Harrison Barnes enters the game for Draymond Green
23 - 21
10:30
Jarrett Jack misses 16-foot two point shot
23 - 21
10:30
Gary Neal defensive rebound
23 - 21
10:15
Tony Parker misses 14-foot jumper
23 - 21
10:15
Warriors defensive team rebound
23 - 21
10:15
Tiago Splitter personal foul (Klay Thompson draws the foul)
23 - 21
10:15
Stephen Curry enters the game for Carl Landry
23 - 21
10:00
Tiago Splitter blocks Klay Thompson's shot
23 - 21
9:57
Tiago Splitter defensive rebound
23 - 21
9:53
Tony Parker misses driving layup
23 - 21
9:52
Warriors defensive team rebound
23 - 21
9:38
Jarrett Jack makes 7-foot two point shot (Stephen Curry assists)
23 - 23
9:23
Gary Neal makes 20-foot two point shot
25 - 23
9:03
Harrison Barnes misses 27-foot three point pullup jump shot
25 - 23
9:02
Danny Green defensive rebound
25 - 23
8:48
Tiago Splitter makes two point shot (Tony Parker assists)
27 - 23
8:33
Stephen Curry misses 27-foot three point jumper
27 - 23
8:33
Harrison Barnes offensive rebound
27 - 23
8:30
Harrison Barnes possession lost ball turnover
27 - 23
8:30
Official timeout
27 - 23
8:30
Andris Biedrins enters the game for Andrew Bogut
27 - 23
8:12
Gary Neal makes 9-foot two point shot (Danny Green assists)
29 - 23
7:56
Tony Parker personal foul (Andris Biedrins draws the foul)
29 - 23
7:47
Harrison Barnes misses 10-foot two point shot
29 - 23
7:46
Gary Neal defensive rebound
29 - 23
7:41
Gary Neal misses 26-foot three point pullup jump shot
29 - 23
7:39
Andris Biedrins defensive rebound
29 - 23
7:31
Klay Thompson misses 26-foot three point pullup jump shot
29 - 23
7:30
Tony Parker defensive rebound
29 - 23
7:11
Tiago Splitter makes 5-foot two point shot (Tony Parker assists)
31 - 23
6:58
Stephen Curry misses layup
31 - 23
6:58
Andris Biedrins offensive rebound
31 - 23
6:52
Klay Thompson misses 6-foot jumper
31 - 23
6:52
Matt Bonner defensive rebound
31 - 23
6:43
Andris Biedrins shooting foul (Tiago Splitter draws the foul)
31 - 23
6:43
Tiago Splitter makes free throw 1 of 2
32 - 23
6:43
Tiago Splitter makes free throw 2 of 2
33 - 23
6:35
Stephen Curry makes 6-foot two point shot
33 - 25
6:31
Spurs Full timeout
33 - 25
6:31
Tim Duncan enters the game for Tiago Splitter
33 - 25
6:11
Matt Bonner makes 9-foot two point shot (Tim Duncan assists)
35 - 25
5:56
Stephen Curry makes 2-foot two point shot
35 - 27
5:31
Matt Bonner misses 24-foot three point jumper
35 - 27
5:31
Jarrett Jack defensive rebound
35 - 27
5:24
Jarrett Jack makes 18-foot two point shot
35 - 29
4:58
Andris Biedrins shooting foul (Danny Green draws the foul)
35 - 29
4:58
Danny Green makes free throw 1 of 2
36 - 29
4:58
Manu Ginobili enters the game for Matt Bonner
36 - 29
4:58
Kawhi Leonard enters the game for Gary Neal
36 - 29
4:58
Danny Green makes free throw 2 of 2
37 - 29
4:41
Harrison Barnes misses 13-foot jumper
37 - 29
4:39
Andris Biedrins offensive rebound
37 - 29
4:33
Stephen Curry makes 23-foot three pointer (Andris Biedrins assists)
37 - 32
4:16
Tony Parker misses 13-foot jumper
37 - 32
4:15
Andris Biedrins defensive rebound
37 - 32
3:56
Harrison Barnes makes two point shot
37 - 34
3:30
Tony Parker misses 5-foot jumper
37 - 34
3:29
Tim Duncan offensive rebound
37 - 34
3:28
Tim Duncan makes layup
39 - 34
3:11
Stephen Curry makes 3-foot two point shot
39 - 36
2:50
Andris Biedrins shooting foul (Tony Parker draws the foul)
39 - 36
2:50
Warriors Full timeout
39 - 36
2:50
Cory Joseph enters the game for Manu Ginobili
39 - 36
2:50
Andrew Bogut enters the game for Andris Biedrins
39 - 36
2:50
Tony Parker misses free throw 1 of 2
39 - 36
2:50
Spurs offensive team rebound
39 - 36
2:50
Tony Parker makes free throw 2 of 2
40 - 36
2:47
Cory Joseph personal take foul (Jarrett Jack draws the foul)
40 - 36
2:47
David Lee enters the game for Jarrett Jack
40 - 36
2:47
Boris Diaw enters the game for Cory Joseph
40 - 36
2:47
Manu Ginobili enters the game for Tony Parker
40 - 36
2:40
Stephen Curry misses 22-foot jumper
40 - 36
2:38
Manu Ginobili defensive rebound
40 - 36
2:21
Tim Duncan makes 12-foot two point shot (Manu Ginobili assists)
42 - 36
2:08
Stephen Curry misses layup
42 - 36
2:05
Boris Diaw defensive rebound
42 - 36
2:00
Danny Green makes 28-foot three pointer (Manu Ginobili assists)
45 - 36
1:39
Tim Duncan blocks David Lee 's 2-foot shot
45 - 36
1:39
Warriors offensive team rebound
45 - 36
1:37
David Lee misses 16-foot jumper
45 - 36
1:35
Stephen Curry offensive rebound
45 - 36
1:30
Stephen Curry misses 17-foot step back jumpshot
45 - 36
1:29
Manu Ginobili defensive rebound
45 - 36
1:15
Boris Diaw traveling
45 - 36
1:15
Warriors Full timeout
45 - 36
1:15
Jarrett Jack enters the game for Harrison Barnes
45 - 36
1:15
Cory Joseph enters the game for Manu Ginobili
45 - 36
1:00
Jarrett Jack misses 24-foot three point jumper
45 - 36
0:58
David Lee offensive rebound
45 - 36
0:50
Tim Duncan blocks David Lee's jumper
45 - 36
0:49
Tim Duncan defensive rebound
45 - 36
0:46
Kawhi Leonard bad pass
45 - 36
0:46
Manu Ginobili enters the game for Cory Joseph
45 - 36
0:29
Klay Thompson makes 20-foot two point shot (David Lee assists)
45 - 38
0:08
David Lee shooting foul (Tim Duncan draws the foul)
45 - 38
0:08
Tim Duncan makes free throw 1 of 2
46 - 38
0:08
Cory Joseph enters the game for Manu Ginobili
46 - 38
0:08
Tim Duncan makes free throw 2 of 2
47 - 38
0:03
Stephen Curry makes driving layup
47 - 40
0:01
Cory Joseph misses 34-foot three point pullup jump shot
47 - 40
0:00
Spurs offensive team rebound
47 - 40
0:00
End of the 2nd Quarter
47 - 40

time
TEAM
PLAY
SCORE
11:44
Stephen Curry makes 11-foot two point shot (Klay Thompson assists)
47 - 42
11:18
Tim Duncan misses jumper
47 - 42
11:18
Stephen Curry defensive rebound
47 - 42
11:11
Tiago Splitter shooting foul (Andrew Bogut draws the foul)
47 - 42
11:11
Andrew Bogut makes free throw 1 of 2
47 - 43
11:11
Andrew Bogut misses free throw 2 of 2
47 - 43
11:10
Kawhi Leonard defensive rebound
47 - 43
10:48
Tiago Splitter makes two point shot
49 - 43
10:40
Klay Thompson steps out of bounds turnover
49 - 43
10:21
Danny Green misses 19-foot jumper
49 - 43
10:19
Kawhi Leonard offensive rebound
49 - 43
10:17
Kawhi Leonard misses 15-foot two point shot
49 - 43
10:15
Andrew Bogut defensive rebound
49 - 43
10:00
Klay Thompson bad pass (Kawhi Leonard steals)
49 - 43
9:56
Tony Parker misses two point shot
49 - 43
9:55
Warriors defensive team rebound
49 - 43
9:30
Stephen Curry misses 27-foot three point shot
49 - 43
9:30
Tony Parker defensive rebound
49 - 43
9:10
Tony Parker misses 25-foot three point shot
49 - 43
9:08
Andrew Bogut defensive rebound
49 - 43
9:03
Stephen Curry lost ball turnover (Danny Green steals)
49 - 43
8:49
Andris Biedrins shooting foul (Tim Duncan draws the foul)
49 - 43
8:49
Tim Duncan makes free throw 1 of 2
50 - 43
8:49
Tim Duncan makes free throw 2 of 2
51 - 43
8:37
Tony Parker personal foul (Harrison Barnes draws the foul)
51 - 43
8:27
Andrew Bogut bad pass (Kawhi Leonard steals)
51 - 43
8:03
Tim Duncan makes 18-foot two point shot (Tony Parker assists)
53 - 43
7:48
Stephen Curry makes 14-foot two point shot
53 - 45
7:26
Tony Parker misses 20-foot two point jumper
53 - 45
7:26
Andrew Bogut defensive rebound
53 - 45
7:16
Tim Duncan blocks Stephen Curry's jumper
53 - 45
7:16
Tim Duncan defensive rebound
53 - 45
7:13
Harrison Barnes blocks Tony Parker 's 3-foot jumper
53 - 45
7:11
Kawhi Leonard offensive rebound
53 - 45
7:11
Kawhi Leonard makes layup
55 - 45
7:03
Warriors Full timeout
55 - 45
7:03
Cory Joseph enters the game for Tony Parker
55 - 45
7:00
Danny Green shooting foul (Harrison Barnes draws the foul)
55 - 45
7:00
Harrison Barnes makes free throw 1 of 2
55 - 46
7:00
Jarrett Jack enters the game for Klay Thompson
55 - 46
7:00
Harrison Barnes misses free throw 2 of 2
55 - 46
6:58
Danny Green defensive rebound
55 - 46
6:46
Kawhi Leonard misses 18-foot two point jumper
55 - 46
6:45
Andrew Bogut defensive rebound
55 - 46
6:33
Jarrett Jack makes 16-foot two point shot (Stephen Curry assists)
55 - 48
6:16
Manu Ginobili enters the game for Danny Green
55 - 48
6:16
Festus Ezeli enters the game for Andrew Bogut
55 - 48
6:09
Andris Biedrins blocks Manu Ginobili 's 6-foot jumper
55 - 48
6:07
Spurs offensive team rebound
55 - 48
6:05
Tim Duncan misses 14-foot step back jumpshot
55 - 48
6:05
Kawhi Leonard offensive rebound
55 - 48
6:05
Andris Biedrins shooting foul (Kawhi Leonard draws the foul)
55 - 48
6:05
Kawhi Leonard misses free throw 1 of 2
55 - 48
6:05
Spurs offensive team rebound
55 - 48
6:05
Carl Landry enters the game for Andris Biedrins
55 - 48
6:05
Kawhi Leonard makes free throw 2 of 2
56 - 48
5:52
Jarrett Jack misses 17-foot step back jumpshot
56 - 48
5:52
Kawhi Leonard defensive rebound
56 - 48
5:43
Tim Duncan bad pass (Festus Ezeli steals)
56 - 48
5:35
Harrison Barnes misses jumper
56 - 48
5:35
Manu Ginobili defensive rebound
56 - 48
5:16
Tim Duncan makes 12-foot two point shot (Manu Ginobili assists)
58 - 48
5:01
Stephen Curry misses 26-foot three point pullup jump shot
58 - 48
5:00
Manu Ginobili defensive rebound
58 - 48
4:54
Cory Joseph makes driving layup (Manu Ginobili assists)
60 - 48
4:28
Jarrett Jack misses 3-foot jumper
60 - 48
4:28
Tiago Splitter defensive rebound
60 - 48
4:28
Jarrett Jack personal foul (Tiago Splitter draws the foul)
60 - 48
4:28
Boris Diaw enters the game for Tiago Splitter
60 - 48
4:24
Harrison Barnes shooting foul (Cory Joseph draws the foul)
60 - 48
4:24
Cory Joseph makes free throw 1 of 2
61 - 48
4:24
Klay Thompson enters the game for Stephen Curry
61 - 48
4:24
Cory Joseph misses free throw 2 of 2
61 - 48
4:24
Harrison Barnes defensive rebound
61 - 48
4:11
Boris Diaw personal foul (Carl Landry draws the foul)
61 - 48
3:56
Carl Landry misses 9-foot jumper
61 - 48
3:56
Carl Landry offensive rebound
61 - 48
3:54
Carl Landry makes 4-foot two point shot
61 - 50
3:35
Tim Duncan misses jumper
61 - 50
3:33
Carl Landry defensive rebound
61 - 50
3:17
Harrison Barnes misses 12-foot jumper
61 - 50
3:16
Festus Ezeli offensive rebound
61 - 50
3:15
Klay Thompson makes 26-foot three pointer (Festus Ezeli assists)
61 - 53
3:13
Spurs Full timeout
61 - 53
3:00
Carl Landry personal foul (Manu Ginobili draws the foul)
61 - 53
3:00
Manu Ginobili makes free throw 1 of 2
62 - 53
3:00
Tony Parker enters the game for Cory Joseph
62 - 53
3:00
Manu Ginobili makes free throw 2 of 2
63 - 53
2:44
Carl Landry misses 9-foot jumper
63 - 53
2:43
Tim Duncan defensive rebound
63 - 53
2:28
Kawhi Leonard misses 23-foot three point jumper
63 - 53
2:27
Kawhi Leonard offensive rebound
63 - 53
2:25
Kawhi Leonard makes two point shot
65 - 53
2:09
Festus Ezeli misses jumper
65 - 53
2:06
Carl Landry offensive rebound
65 - 53
2:06
Carl Landry makes two point shot
65 - 55
2:06
Boris Diaw shooting foul (Carl Landry draws the foul)
65 - 55
2:06
Carl Landry misses free throw 1 of 1
65 - 55
2:05
Boris Diaw defensive rebound
65 - 55
1:58
Tony Parker possession lost ball turnover
65 - 55
1:47
Carl Landry misses two point jumper
65 - 55
1:46
Boris Diaw defensive rebound
65 - 55
1:27
Manu Ginobili misses 27-foot three point pullup jump shot
65 - 55
1:27
Festus Ezeli defensive rebound
65 - 55
1:15
Jarrett Jack makes two point shot
65 - 57
1:04
Manu Ginobili bad pass (Jarrett Jack steals)
65 - 57
0:57
Boris Diaw shooting foul (Harrison Barnes draws the foul)
65 - 57
0:57
Festus Ezeli misses free throw 1 of 2
65 - 57
0:57
Warriors offensive team rebound
65 - 57
0:57
Tiago Splitter enters the game for Tim Duncan
65 - 57
0:57
Gary Neal enters the game for Kawhi Leonard
65 - 57
0:57
Festus Ezeli misses free throw 2 of 2
65 - 57
0:55
Boris Diaw defensive rebound
65 - 57
0:43
Tony Parker misses 17-foot jumper
65 - 57
0:42
Harrison Barnes defensive rebound
65 - 57
0:39
Tony Parker personal take foul (Festus Ezeli draws the foul)
65 - 57
0:39
Festus Ezeli makes free throw 1 of 2
65 - 58
0:39
Matt Bonner enters the game for Boris Diaw
65 - 58
0:39
Draymond Green enters the game for Carl Landry
65 - 58
0:39
Festus Ezeli makes free throw 2 of 2
65 - 59
0:28
Tony Parker bad pass (Jarrett Jack steals)
65 - 59
0:22
Harrison Barnes misses 28-foot three point jumper
65 - 59
0:21
Spurs defensive team rebound
65 - 59
0:20
Danny Green enters the game for Tony Parker
65 - 59
0:20
Kent Bazemore enters the game for Festus Ezeli
65 - 59
0:04
Kent Bazemore shooting foul (Manu Ginobili draws the foul)
65 - 59
0:04
Manu Ginobili misses free throw 1 of 2
65 - 59
0:04
Spurs offensive team rebound
65 - 59
0:04
Stephen Curry enters the game for Kent Bazemore
65 - 59
0:04
Kawhi Leonard enters the game for Tiago Splitter
65 - 59
0:04
Cory Joseph enters the game for Matt Bonner
65 - 59
0:04
Manu Ginobili makes free throw 2 of 2
66 - 59
0:01
Stephen Curry misses 34-foot three point pullup jump shot
66 - 59
0:00
Warriors offensive team rebound
66 - 59
0:00
End of the 3rd Quarter
66 - 59

time
TEAM
PLAY
SCORE
11:42
Tiago Splitter makes driving layup (Boris Diaw assists)
68 - 59
11:22
Jarrett Jack makes 18-foot two point shot
68 - 61
11:22
Gary Neal shooting foul (Jarrett Jack draws the foul)
68 - 62
11:22
Danny Green enters the game for Gary Neal
68 - 61
11:22
Tony Parker enters the game for Cory Joseph
68 - 61
11:22
Jarrett Jack makes free throw 1 of 1
68 - 62
11:04
Tiago Splitter makes driving layup (Manu Ginobili assists)
70 - 62
10:48
David Lee makes 18-foot two point shot (Draymond Green assists)
70 - 64
10:37
Tiago Splitter lost ball turnover (David Lee steals)
70 - 64
10:30
Draymond Green offensive foul (Tony Parker draws the foul)
70 - 64
10:30
Draymond Green turnover
70 - 64
10:14
Manu Ginobili misses 11-foot two point shot
70 - 64
10:12
David Lee defensive rebound
70 - 64
10:00
Klay Thompson makes 26-foot three pointer (David Lee assists)
70 - 67
9:44
Manu Ginobili makes driving layup (Tiago Splitter assists)
72 - 67
9:32
Draymond Green misses 25-foot three point jumper
72 - 67
9:30
Danny Green defensive rebound
72 - 67
9:23
Klay Thompson personal foul (Boris Diaw draws the foul)
72 - 67
9:23
Spurs Full timeout
72 - 67
9:23
Kawhi Leonard enters the game for Tiago Splitter
72 - 67
9:23
Tim Duncan enters the game for Boris Diaw
72 - 67
9:23
Festus Ezeli enters the game for Draymond Green
72 - 67
9:15
Tim Duncan misses two point shot
72 - 67
9:14
David Lee defensive rebound
72 - 67
9:00
Kawhi Leonard personal foul (David Lee draws the foul)
72 - 67
9:00
Boris Diaw enters the game for Manu Ginobili
72 - 67
8:49
David Lee misses 17-foot jumper
72 - 67
8:48
Boris Diaw defensive rebound
72 - 67
8:29
Kawhi Leonard makes 17-foot two point shot (Tony Parker assists)
74 - 67
8:07
David Lee misses 17-foot jumper
74 - 67
8:06
Kawhi Leonard defensive rebound
74 - 67
7:45
Kawhi Leonard misses 18-foot jumper
74 - 67
7:43
Stephen Curry defensive rebound
74 - 67
7:35
David Lee makes driving layup (Stephen Curry assists)
74 - 69
7:35
Boris Diaw shooting foul (David Lee draws the foul)
74 - 69
7:35
Tiago Splitter enters the game for Boris Diaw
74 - 69
7:35
David Lee makes free throw 1 of 1
74 - 70
7:13
Tony Parker traveling
74 - 70
7:13
Carl Landry enters the game for David Lee
74 - 70
6:58
Klay Thompson misses 18-foot jumper
74 - 70
6:58
Danny Green defensive rebound
74 - 70
6:52
Festus Ezeli personal foul (Tim Duncan draws the foul)
74 - 70
6:47
Danny Green makes 25-foot three pointer (Tony Parker assists)
77 - 70
6:33
Tiago Splitter shooting foul (Carl Landry draws the foul)
77 - 70
6:33
Carl Landry makes free throw 1 of 2
77 - 71
6:33
Carl Landry misses free throw 2 of 2
77 - 71
6:31
Tim Duncan defensive rebound
77 - 71
6:13
Tim Duncan misses 15-foot jumper
77 - 71
6:13
Festus Ezeli defensive rebound
77 - 71
6:05
Jarrett Jack misses 17-foot step back jumpshot
77 - 71
6:03
Spurs defensive team rebound
77 - 71
6:03
Carl Landry loose ball foul (Kawhi Leonard draws the foul)
77 - 71
5:39
Tony Parker misses 20-foot jumper
77 - 71
5:39
Jarrett Jack defensive rebound
77 - 71
5:31
Klay Thompson makes 15-foot two point shot
77 - 73
5:09
Kawhi Leonard misses 26-foot three point pullup jump shot
77 - 73
5:07
Festus Ezeli defensive rebound
77 - 73
4:52
Stephen Curry makes 18-foot two point shot (Carl Landry assists)
77 - 75
4:28
Tim Duncan bad pass
77 - 75
4:28
Official timeout
77 - 75
4:28
Manu Ginobili enters the game for Tim Duncan
77 - 75
4:13
Stephen Curry misses two point jumper
77 - 75
4:13
Warriors offensive team rebound
77 - 75
4:01
Stephen Curry misses 18-foot step back jumpshot
77 - 75
4:00
Kawhi Leonard defensive rebound
77 - 75
3:46
Tony Parker misses 3-foot jumper
77 - 75
3:46
Tiago Splitter offensive rebound
77 - 75
3:46
Stephen Curry personal foul (Tiago Splitter draws the foul)
77 - 75
3:35
Tony Parker makes 22-foot three point jumper (Manu Ginobili assists)
80 - 75
3:15
Klay Thompson misses 18-foot jumper
80 - 75
3:15
Spurs defensive team rebound
80 - 75
3:15
Carl Landry loose ball foul (Kawhi Leonard draws the foul)
80 - 75
3:15
Kawhi Leonard makes free throw 1 of 2
81 - 75
3:15
Kawhi Leonard makes free throw 2 of 2
82 - 75
2:57
Jarrett Jack makes 10-foot two point shot (Stephen Curry assists)
82 - 77
2:31
Tony Parker misses 21-foot jumper
82 - 77
2:30
Carl Landry defensive rebound
82 - 77
2:19
Kawhi Leonard personal foul (Jarrett Jack draws the foul)
82 - 77
2:19
Warriors Full timeout
82 - 77
2:19
Jarrett Jack makes free throw 1 of 2
82 - 78
2:19
Jarrett Jack makes free throw 2 of 2
82 - 79
2:00
Kawhi Leonard makes 23-foot three pointer (Manu Ginobili assists)
85 - 79
1:50
Klay Thompson misses 27-foot three point pullup jump shot
85 - 79
1:49
Warriors offensive team rebound
85 - 79
1:35
Stephen Curry misses 27-foot three point pullup jump shot
85 - 79
1:34
Manu Ginobili defensive rebound
85 - 79
1:15
Tony Parker makes 23-foot three pointer (Manu Ginobili assists)
88 - 79
1:00
Jarrett Jack misses 9-foot jumper
88 - 79
0:59
Carl Landry offensive rebound
88 - 79
0:59
Carl Landry makes two point shot
88 - 81
0:53
Jarrett Jack personal take foul (Tony Parker draws the foul)
88 - 81
0:53
Tony Parker makes free throw 1 of 2
89 - 81
0:53
Boris Diaw enters the game for Tiago Splitter
89 - 81
0:53
Draymond Green enters the game for Festus Ezeli
89 - 81
0:53
Tony Parker makes free throw 2 of 2
90 - 81
0:48
Warriors Full timeout
90 - 81
0:48
Warriors 20 Sec. timeout
90 - 81
0:44
Stephen Curry misses 26-foot three point jumper
90 - 81
0:42
Boris Diaw defensive rebound
90 - 81
0:37
Stephen Curry personal take foul (Tony Parker draws the foul)
92 - 81
0:37
Tony Parker makes free throw 1 of 2
91 - 81
0:37
Kent Bazemore enters the game for Stephen Curry
91 - 81
0:37
Festus Ezeli enters the game for Klay Thompson
91 - 81
0:37
Scott Machado enters the game for Jarrett Jack
91 - 81
0:37
Patty Mills enters the game for Kawhi Leonard
91 - 81
0:37
Gary Neal enters the game for Manu Ginobili
91 - 81
0:37
DeJuan Blair enters the game for Danny Green
91 - 81
0:37
Tony Parker makes free throw 2 of 2
92 - 81
0:35
Tony Parker personal foul (Scott Machado draws the foul)
92 - 81
0:35
Cory Joseph enters the game for Tony Parker
92 - 81
0:35
Matt Bonner enters the game for Boris Diaw
92 - 81
0:35
Scott Machado makes free throw 1 of 2
92 - 82
0:35
Scott Machado misses free throw 2 of 2
92 - 82
0:34
Gary Neal defensive rebound
92 - 82
0:15
Gary Neal makes 15-foot two point shot
94 - 82
0:08
Draymond Green misses 11-foot two point shot
94 - 82
0:07
DeJuan Blair defensive rebound
94 - 82
0:00
End of the 4th Quarter
94 - 82
0:00
End of Game
94 - 82
0:00
End of Game
94 - 82
The Warriors, with Kevin Durant joining the likes of Steph Curry, Klay Thompson and Draymond Green, are rare preseason odds-on favorites to win the NBA championship.

NBA teams are showing off their creativity with giveaways that mix big names, technology and nods to the past.

The NBA will make it a "high priority" to play the 2019 All-Star Game in Charlotte if the state can find a resolution to the controversial HB2 law.
Western Conference Semifinals
SA wins series 4-2
2016-2017 Southwest Standings
2016-2017 Pacific Standings