On the eve of the NBA Finals rematch between the Mavs and Heat, we're taking a look at the bigger picture. How will the 2006 series play a factor? Which franchise needs this championship more? What outcome would be best for the NBA?
On to another Finals edition of 5-on-5:
1. How does Miami's 2006 Finals victory figure into the 2011 storyline?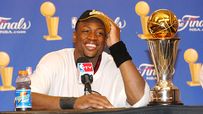 Kevin Arnovitz, Heat Index: Marginally. Only Nowitzki, Terry, Wade and Haslem remain from those 2006 rosters, and the Heat's Goliath identity is entirely different this time around. But for the segment of Mavericks fans who feel that officials personally handed Wade the Larry O'Brien Trophy five years ago, there might be a little more fire under the cauldron.
Jeff Caplan, ESPN Dallas: Hugely. The Mavs were never the same after losing that 2-0 lead. The meltdown came to define the franchise as postseason patsies and Dirk Nowitzki as a player who couldn't lead a team to a championship. Only Nowitzki and Jason Terry remain from '06, but every player on the team has seen the scars.
Mark Haubner, The Painted Area: Miami has such a completely different dynamic that 2006 is irrelevant, so the chief lingering storyline is Dirk Nowitzki's chance for redemption. Dallas was the better team in 2006, but blew the series as Dirk performed below his standards, shooting just 39 percent. Now, he has a chance to cap his brilliant postseason by turning the tables on the Heat.
Rob Peterson, Hardwood Paroxysm: The teams' rosters are different, so in terms of basketball, Miami's 2006 win doesn't mean much in '11. But in terms of narrative, it's big because of how Miami won. The Heat's free throw disparity in Games 4 and 5 was the story. Because of that, the officiating and the free throws attempted stat will be scrutinized from the opening tip.
Ethan Sherwood Strauss, Hoopseak.com: That series feels so long ago -- was it played on peach basket rims?
Sure, Dirk can find "redemption" against a different Miami team. But the victory would be huge mainly because the hated Heatles are bigger than … Jordan?
---
2. What do you take from Dallas' two-game regular-season sweep?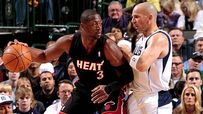 Kevin Arnovitz, Heat Index: About as much as I took from the Bulls' sweep of the Heat in the regular season or the Celtics' 3-1 season series win over the Heat. The Heat and Mavs haven't played since before Christmas, when Carlos Arroyo was the Heat's starting point guard and Caron Butler celebrated the victory with a tweet that read, "Hell of a win!"
Jeff Caplan, ESPN Dallas: Nothing, other than the Heat holding a team meeting after dropping to 9-8 with a loss at Dallas. Those two games were played in November and December. Caron Butler started both games for the Mavs. Udonis Haslem was injured and Mike Miller had just returned for the second game. Carlos Arroyo and Zydrunas Ilgauskas were starters.
Mark Haubner, The Painted Area: Not much, considering both games were played in 2010, Caron Butler and Carlos Arroyo were starters, and Udonis Haslem and Peja Stojakovic were nowhere to be found. Dallas' zone defense was effective at times, though the Heat have more time to prepare now.
Rob Peterson, Hardwood Paroxysm: Nothing, considering the Heat went 1-6 against the Celtics and Bulls during the regular season, then went 8-2 against them in the postseason. The Heat lost to the Mavs in November and in December. For this Heat team, that may as well have been a different decade. The Heat are playing as well as they have since the big three got together.
Ethan Sherwood Strauss, Hoopseak.com: I'll take what I can get: Which is nothing.
---
3. More in need of the 2011 NBA title: Dallas or Miami?


Kevin Arnovitz, Heat Index: Dallas has the narrower window for a title, especially if the new collective bargaining agreement implements a hard(er) cap. Mark Cuban has always been willing to spend what it takes to keep his team in the upper echelon. If a new CBA prohibits him from doing so, the Mavs might have to eventually rebuild the old-fashioned way.
Jeff Caplan, ESPN Dallas: This is easy: Dallas. LeBron James, Dwyane Wade and Chris Bosh are only going to get better. They'll be back. For the 30-something Mavs, this is the best hope, if not the last hope, with this group.
Mark Haubner, The Painted Area: The 2006 result dictates this answer: Miami has one, Dallas doesn't. In the Cuban era, the Mavs have ranked with the Lakers and Spurs as the NBA's very best, yet don't have a title to show for it.
Also, Dirk, J-Kidd and Jet have been chasing this baby for more than a decade, and may never get another opportunity like this.
Rob Peterson, Hardwood Paroxysm: Miami by "… not 5, not 6, not 7 …" but 8 million miles. The Heat proclaimed themselves championship-ready before training camp. You can't make the Finals with all that hype and then fail. If they fall to the Mavs, whom few expected to make the Finals, the Heat's season will rightfully be viewed as a failure.
Ethan Sherwood Strauss, Hoopseak.com: The Heat need this. The burden of proof is on Miami as America cheers for a scruffy underdog. Nobody expected the Mavericks to be here; everything they accomplish is gravy -- delicious, non-filling gravy.
---
4. Would a Dallas or a Miami win be better for the NBA as a whole?

Kevin Arnovitz, Heat Index: Looking at this question cynically, a Dallas win would be better for the NBA because it would deny the Heat a title in their maiden voyage. Initial failure is an essential narrative ingredient to any epic drama, and falling short would mean the Heat and LeBron James return in Season 2 still searching for the elusive ring.
Jeff Caplan, ESPN Dallas: It doesn't really matter, but since the Mavs are perceived as the good guys I suppose they can carry the mantle of, as Rick Carlisle has said, being a "true team." The Heat now have a Yankees quality of attempting to buy a title. Plus, who wouldn't like to see Dirk Nowitzki finally get that first ring?
Mark Haubner, The Painted Area: Tough question. I'm tempted to say Miami because superteams draw so much casual-fan interest. But the Heat's periods of adversity in
2010-11 seemed to draw unprecedented attention, so I'm going to say a championship deferred for Miami is best. Plus, we can all celebrate Dirk, and who wouldn't want to see David Stern hand the trophy to Mark Cuban?
Rob Peterson, Hardwood Paroxysm: While Dirk Nowitzki and Jason Kidd winning their first title would be a great story ("Big D beats Goliath!") and it would give a lot of people warm feelings inside, the Heat winning would be "better" for the sole reason no team earns more scrutiny and attention than Miami. The Heat mean business -- big business -- for the NBA.
Ethan Sherwood Strauss, Hoopseak.com: A Miami win would be best because it would allow for a rational discussion regarding LeBron James and basketball in general. Then we could all move on to rooting against the Thunder for some irrational reason, drawn from a moral code that doesn't exist.
---
5. After Miami celebrated in Dallas in '06, who celebrates where in '11?


Kevin Arnovitz, Heat Index: The Heat will celebrate on their home floor on Tuesday, June 14, at approximately 11:42 p.m. local time in Miami, having won a hard-fought Game 7 over the Mavericks.
Jeff Caplan, ESPN Dallas: Dallas will celebrate in South Beach in Game 7. This postseason the Mavs have slayed all past postseason demons one by one and only the Heat remain. Including three losses at Miami in '06, the Mavs were 2-16 on the road in the postseason entering these playoffs. They enter Game 1 in Miami riding a five-game road winning streak.
Mark Haubner, The Painted Area: Miami will get to reprise its, um, preseason championship celebration right on Biscayne Boulevard by winning in six games. While I'm tempted to take the Heat in five because of superior talent, the Mavs have continually reminded us that their whole is much greater than the sum of the parts, given their exceptional execution and coaching. I don't count 'em out.
Rob Peterson, Hardwood Paroxysm: After the Mavs stun the Heat in Miami in Game 1, leading to "What's wrong with the Heat?" stories, the Heat take the next two. The Mavs tie the series in Game 4 before the Heat take a classic Game 5 in Dallas. The Heat return to Miami with a 3-2 lead and celebrate their NBA title after Game 6.
Ethan Sherwood Strauss, Hoopseak.com: I would go Heat in 5. This pick is informed by all the media coverage about whether Caron Butler can come back.
---


ESPN.com and the TrueHoop Network
Kevin Arnovitz is editor of the Heat Index. Jeff Caplan writes for ESPN Dallas. Mark Haubner, Rob Peterson and Ethan Sherwood Strauss write for the TrueHoop Network.
Follow ESPN's NBA coverage on Twitter | On Facebook