From a miracle in Memphis to a block party in Los Angeles to an unauthorized bump and last year's MVP going down with a season-ending knee injury, the opening weekend of the NBA playoffs was full of major storylines.

Our 5-on-5 crew weighs in on the best and worst of the weekend that was.
1. OK, you're down 24 in the fourth quarter. Now what?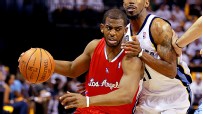 J.A. Adande, ESPN.com: Give the ball to Chris Paul. If you don't have CP3 on your team, just make your best run at it. At the very least, it can set you up for the next game. Now, if you come back from that far, then you must win the game (*Hubie Brown voice*). If the Clippers couldn't hang on after that miraculous comeback, it would have been the most crushing defeat of the playoffs.
Devin Kharpertian, Nets Are Scorching: Run your offensive sets and trust your shooters. Let Paul -- the best point guard and crunch-time manager in the NBA -- work his magic. Get open shots for Nick Young. Ensure Reggie Evans wreaks havoc on opponents. And cut off all lanes to the basket every possession.
Beckley Mason, ESPN.com: Hope the other team stops trying! Credit Eric Bledsoe for turning up the heat defensively. Credit Evans for collecting twice as many fourth-quarter rebounds as the entire Memphis team. Credit Young for going all Reggie Miller from the right corner. Paul deserves a hearty pat on the back, too. But this comeback was possible only because the Grizzlies' effort went into hibernation one quarter too soon.
Marc Stein, ESPN.com: You breathe and exhale. Because you remember that, in the book that tells the story of Donald Sterling's Los Angeles Clippers, this little deficit doesn't crack the top 50 of desperate situations in franchise history. And most of all, you listen to Paul when he begs his way back into the game.
Michael Wallace, Heat Index: Simple. Just turn to your resident Reggie Evans, jump-start a 26-1 rally to win the game, shrug your shoulders, then strut out of the arena like you've done it before. What? You thought this would be as difficult as quantum physics? Evidently, not if you're the Clippers. But don't forget to give Memphis the credit it deserves for that colossal collapse.
---
2. Which win and which loss were most telling?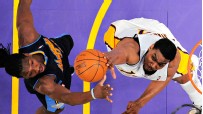 Adande: The Lakers' victory over Denver was the clearest example of a best-case scenario in the playoffs. If the Lakers get as many facets working as they had Sunday, they can live up to the "championship-caliber" phrase they kept tossing around afterward. Boston's loss was alarming, because seeing Ray Allen in a suit reminded you of the Celtics' physical frailty, and watching Rajon Rondo lose his cool made you question their experience edge.
Kharpertian: The Clippers' stunner was the most telling victory -- like the Celtics' beating the Nets in the 2002 playoffs, it's a stunning reminder to Memphis that you don't ever ease up in the playoffs. But New York's loss was the most telling. The Knicks had no answer for LeBron in Game 1 and will need serious adjustments to win even one game.
Mason: If there was any question about Stan Van Gundy's worth, he answered it in Game 1, as his undermanned but inspired Magic outexecuted the Pacers to steal home-court advantage. Meanwhile, the Knicks' loss showed us how much Tyson Chandler means to New York. The flu-stricken center was too weak to protect the rim or punish the Heat on the offensive glass, two things the Knicks will need to make the series interesting.
Stein: I fear that the Grizzlies' L will prove to be the most telling. I know our own Royce Webb was circulating the stat on Twitter on Sunday night about how three teams have previously taken leads of 18 or more into a fourth quarter, blown those leads and still managed to make it all the way to the NBA Finals ... with two of the three teams winning it all. But this was Game 1 of the playoffs for the Griz. At home, no less. I have to believe it will leave a deeper scar. (Honorable mention: Orlando's win in Indy without Dwight Howard tells us a lot about how far away the Pacers are from true title contention after their regular-season success raised the expectations bar so high.)
Wallace: The Clippers' comeback aside, the most telling victory goes to the other L.A. team. The Lakers totally dominated Denver by playing the epitome of team ball and getting a triple-double from Andrew Bynum. It shows that Kobe & Co. still have what it takes to be a strong championship threat. The most telling loss, Grizzlies aside, was the Indiana Pacers'.
---
3. What will you remember most from this past weekend?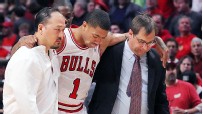 Adande: Derrick Rose's injury. Anything else is subject to change from game to game, but the impact of Rose's injury will last into next season (or even longer).
Kharpertian: Nick Young turning into a legitimate force to be reckoned with on a playoff team. Chris Paul really is magic.
Mason: Rose's injury. To me, the most enduring memory from this first round will be an injured Rose floating three feet off the ground, already protecting his left leg, a slow-motion image of supernatural athleticism and human vulnerability. We'll be talking about his injury not just for this playoff run but also during the Olympics he'll miss and next season as he tries to return.
Stein: How deflated the NBA fan in me was after Rose and Iman Shumpert went down ... and after Rajon Rondo's ridiculous ejection weakened Ray Allen-less Boston even further ... and what a letdown opening weekend was with so many noncompetitive games before the Clips uncorked that epic comeback to undo the most disappointing performance of them all for three-plus quarters.
Wallace: The horrible scream that pierced through AmericanAirlines Arena in Miami as Knicks rookie Iman Shumpert crumpled to the court as he tore up his knee. The fact that Shumpert tore his ACL only an hour or so after news hit that Rose suffered the same injury in the final minute of Chicago's win against Philly overshadowed everything.
---
4. Who needs to step it up?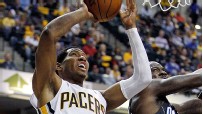 Adande: Someone, anyone from the Indiana Pacers. Danny Granger would be a good place to start. After the injuries to Rose and Shumpert, the Pacers' fourth-quarter performance in Game 1 was the most brutal thing to watch this past weekend. When Memphis collapsed, at least Rudy Gay hit a late, go-ahead jumper. Indy had nothing the final four minutes of the game. Zip-zero.
Kharpertian: Kevin Garnett. The Celtics looked like a joke in the first half against Atlanta, no one more than Garnett, who shot 1-for-9 as Atlanta built a 14-point lead. He finished the game strong, but Josh Smith toyed with him all night, and the Celtics can't keep digging themselves out of holes.
Mason: Ty Lawson. Denver's point guard has the pace to give Los Angeles all sorts of trouble, but only if he'll slow down first. He needs to be patient with screeners and more aggressive pushing the ball upcourt early in the shot clock. Game 1 suggests the Lakers' size will be nearly insurmountable for the Nuggets. Denver's smallest player needs to pick up his play in a big way if the Nuggets are to avoid losing in four or five games.
Stein: Somebody in the East. Anybody. Unless you're fine with watching the Heat sail into the Finals without a push after every single one of their legit conference rivals (except maybe Atlanta, if you count the Hawks) met with some sort of catastrophe in the past 48 hours.
Wallace: Carmelo Anthony and Amare Stoudemire. The Knicks might never need Carmelo and Amare more than right now. With Shumpert out, Baron Davis struggling with back problems and Jeremy Lin not quite ready to return, Melo needs a major breakthrough. Ditto for Stoudemire, who was more bark than bite in Game 1 against Miami with Chandler ailing from the flu.
---
5. Who was your MVP of the weekend?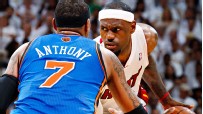 Adande: I'm going to do it NFL-style and have a top offensive player and defensive player. The offensive player is LeBron James, whose 32 points ignited Miami in what felt like the loudest statement of the weekend. While LeBron also played good D against Carmelo, Lakers center Andrew Bynum had a record-tying 10 blocked shots and shut down the lane against a Denver team that led the league in points in the paint.
Kharpertian: LeBron. Yes, Chris Paul's comeback virtuoso was Beethoven-esque. But LeBron dominated New York from tip to buzzer and made mincemeat of Carmelo.
Mason: Josh Smith. Sunday was Smith at his unique best. Sure, he shot some 20-foot head-scratchers, but he also was a 6-foot-9 point forward (and sometimes point center), snagging rebounds and pushing the ball for easy shots in transition, scoring off the dribble when Atlanta's offense stalled and creating shots for his team down the stretch. It also was Smith who recovered the loose ball with 41 seconds left that precipitated Rondo's ejection and likely suspension.
Stein: Haven't even had a chance to mention the Bynum Block Party Weekend yet. Kevin Durant's impossible game winner against Dallas to rewrite a rough shooting night in Saturday's best game was another high point that didn't get enough notice. Can't vote against Chris Paul, though. Evans was a difference-maker in crunch time, too, but CP3 took the wheel like few in this game can.
Wallace: Bynum's triple-double. Smith's massive double-double. Durant's buzzer-beater. A CP3-sparked comeback. All are legit candidates for most valuable performance of the weekend. But what LeBron did to destroy the Knicks on both ends of the court stood out among the rest. James had 32 points and four steals and spearheaded the defense that limited Carmelo to 3-of-15 shooting and four turnovers.

ESPN.com and the TrueHoop Network
J.A. Adande and Marc Stein are senior writers for ESPN.com. Michael Wallace writes for the Heat Index. Beckley Mason contributes to ESPN.com. Devin Kharpertian contributes to the TrueHoop Network.
• Follow the NBA on ESPN on Twitter | On Facebook | On Google+