Thirty games are in the books. What have been the biggest developments? What do we have to look forward to? Time for another playoff edition of 5-on-5:
1. Most pleasant surprise so far?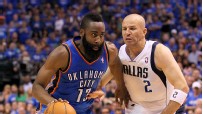 Jared Dubin, Hardwood Paroxysm: James Harden's fourth-quarter takeover (15 points, 3 assists) against the Mavericks in the Thunder's series-clinching Game 4 win was marvelous. Neglected in crunch time for much of the season, Harden put on a show Saturday night and left no doubt that he's ascended to the level of stardom along with teammates Kevin Durant and Russell Westbrook.
Tom Haberstroh, Heat Index: That the Clippers-Grizzlies series is actually close. That's not surprising in and of itself, but it is surprising that it's the only series that hasn't been all but decided. This year's first round has been filled with painfully lopsided series, but the battle playing out between Memphis and Los Angeles has been gritty, star-powered and competitive. At least we got one, right?
Zach Harper, Daily Dime Live: JaVale McGee. He had flashes of effectiveness in the first two games and really broke out as a weapon in Game 3. He isn't a solution to Denver's issue with Andrew Bynum, but he's a very good roadblock at worst right now.
Danny Nowell, Magic Basketball: I have been among the most vocal Glen Davis detractors anywhere in the blogosphere, and yet no player has outperformed my expectations like Big Baby. He's still shown some flaws, of course, but with the Magic sorely lacking star-level talent, Davis has gamely put the team on his rounded shoulders for a surprisingly competitive series.
Amin Vafa, Hardwood Paroxysm: James Harden. After taking a rough blow to the head in the last week of the regular season, we weren't even sure when we'd see him back on the floor. His explosive performance against Dallas in Game 4 not only showed us he's feeling much better, but also that he's going to be thrilling to watch in every OKC series going forward.
---
2. Biggest disappointment so far?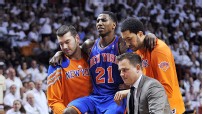 Dubin: The injuries. Iman Shumpert's ACL and lateral meniscus tears cost the Knicks whatever shot they had at making it a tighter series against the Heat. Al Harrington's broken nose was gruesome; Baron Davis' dislocated knee cap even more so. We've yet to see whether Caron Butler's broken hand will have a lasting impact on the Clippers-Grizzlies series and Derrick Rose's ACL tear likely robbed us of a chance to see a rematch of last year's Eastern Conference finals.
Haberstroh: The injuries, no question. Now before we all pretend to be doctors, let's not jump to conclusions that the slew of injuries is a product of the 66-game schedule; we can't prove it either way. What we can prove is that no one wants to see a playoffs with Derrick Rose, Dwight Howard, Paul Pierce, Josh Smith, Ray Allen, Kendrick Perkins, Joakim Noah, Baron Davis and Iman Shumpert all limited or sidelined with ailments. Injuries are a normal consequence of contact sports, but it doesn't make it any less deflating.
Harper: Knees. Rose, Shumpert, Baron. There have been some really bad knee injuries so far and it's not only hurt the overall product of the playoffs but it's also really damaged the careers of three guys. Rose and Shumpert can still come back and regain form through hard work and rehab, but what happens to Baron? Is this how he goes out?
Nowell: Can it be anything other than injuries? With the Bulls hobbled beyond recognition, Baron Davis' patella haunting my dreams and a slew of other anatomical catastrophes, these first-round series have turned into a rather grim war of attrition in some cases.
Vafa: It was clear all season that Dallas wasn't the same team as the one that won the title last year. It was also clear that the Mavs were the underdog in their first-round series. But getting swept? The Mavs now have the distinction of being the third defending champion to get swept in the first round the year after winning the title.
---
3. Major development that's being overlooked?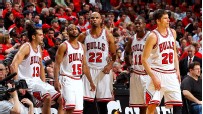 Dubin: While the Bulls' offense has predictably struggled without Rose, their defense has taken an unexpected dip, as well. After leading the NBA in defensive efficiency in the regular season, Chicago is surrendering 102.3 points per 100 possessions to Philadelphia through four playoff games, a full 7.0 points worse than its season-leading average.
Haberstroh: The San Antonio Spurs. Maybe it's the familiar faces. Maybe it's the small market. Maybe it's the disappointment last season. Whatever it is, I still get the feeling that people aren't taking them seriously. Get this: They're riding a 13-game win streak with an average win margin of 18 points. They're playing at another level right now.
Harper: Is the position of center not just watered down but completely unnecessary? We have all of these perimeter-oriented attacks forging on. OKC, the Spurs and Miami look like early favorites and only the Lakers and Grizzlies seem like inside-out teams capable of keeping the importance of the big man active. Boston forging ahead with KG at center makes this league direction a lot smaller.
Nowell: The Spurs are every bit the buzz saw they were in the regular season. The least talked about No. 1 seed in years is making mincemeat of a team that was suggested to have an advantage -- the Millsap/Jefferson/Favors lineup -- that would expose the Spurs' weaknesses. Instead, San Antonio has looked more dominant than any other team in the field so far.
Vafa: Nick Young and JaVale McGee. Ever since they were traded from Washington in March, many Wizards fans have been curious about their fates. How would they progress? Were their talents and attitudes by-products of nature or nurture? With their more-than-respectable performances so far, I think they're moving on quite nicely.
---
4. What are you looking forward to seeing this week?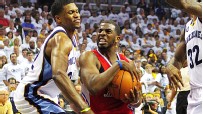 Dubin: How the rest of the Clippers-Grizzlies series plays out. The most hotly contested series thus far, this seems like the only one where the final result is still up in the air. Can Chris Paul pull enough rabbits out of his hat to beat Memphis' aggressive defense? Can the Griz score enough to overcome Lob City's electric attack? Is Vinny Del Negro really going to out-coach Lionel Hollins over seven games?
Haberstroh: The result of the Clippers-Grizzlies series. Game 7, if necessary, is scheduled for Sunday, so it all happens this week. Can Chris Paul continue to craft his magic? Can Zach Randolph or Marc Gasol steal the show in Hollywood? Is Gilbert Arenas or Bobby Simmons going to play in a conference semifinal in 2012?
Harper: We have a lot of series looking like they can end relatively early and I love that. It shows us which down and almost out teams are going to put up a valiant fight to remain alive in the title chase. These moments are huge for playoff survival and momentum into shaping the respective teams for next season.
Nowell: As much as I have enjoyed the Nuggets, with that series more or less in the bag I will be anxious to see whether a Thunder team that has shown serious signs of coming into its own is ready for the slobberknocker that the Lakers and their pair of 7-footers will surely provide.
Vafa: Honestly, I'm looking forward to the winning teams getting some rest before the next round. After battling through or avoiding injuries in the first round, as well as having to deal with the grueling regular-season schedule, if there's one thing these guys deserve, it's some down time.
---
5. What's your bold prediction for this week?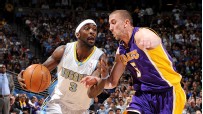 Dubin: I like the Nuggets to get a win in Staples Center and bring the series back home for Game 6. Denver has yet to get a good game from both Ty Lawson and Danilo Gallinari on the same night, something I suspect we'll finally see in Game 5. And then Denver will blow its chance to send the series to seven games when it comes back home.
Haberstroh: My bold prediction? Jeremy Lin will return in Game 6 against the Heat and no one will see it coming! Just kidding, that won't happen; the Heat will win in five.
Harper: Only one series will go seven games in the first round. And it's going to be … the Lakers-Nuggets series. I think we'll see two really awesome TEAM efforts by Denver in Games 5 and 6 before we see Kobe rip the Nuggets' hearts out in Game 7. Either that or Kobe does it in Game 5.
Nowell: Derrick Rose will fly to Transylvania, where doctors too edgy for Germany will fill his knees with adamantium cruciate ligaments, completing his transformation to fanboy-beloved superhero and making uber-ACLs the new rage in orthopedics.
Vafa: I think most people have written Chicago off. Not only are the Sixers playing some of their best ball of the year, but the Bulls have lost two of their core players to injury. However, I think this Bulls team still has plenty of fight left in it. If this series goes to seven games, I predict Chicago wins.


ESPN.com and the TrueHoop Network
Tom Haberstroh writes for ESPN Insider and the Heat Index. Zach Harper is host of Daily Dime Live. Jared Dubin, Danny Nowell, Amin Vafa contribute to the TrueHoop Network.
• Follow the NBA on ESPN on Twitter | On Facebook | On Google+