Down 3-1, the Lakers are on the verge of elimination. How did they get to this point? Can they extend the series? Or are Kevin Durant and the Thunder that good and ready to finish L.A. off in Game 5? Our experts weigh in:
1. Fact or Fiction: The Lakers are blowing this series so far.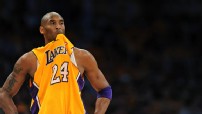 J.A. Adande, ESPN.com: Fiction. First of all it's not their series to blow. The Thunder, as the higher-seeded team, are supposed to win it. Second, Kevin Durant took over two games down the stretch. He is fulfilling his superstar job description. That's been the story of the series.
Israel Gutierrez, ESPN.com: Fiction. "Blowing the series" would imply the Lakers have played below their standards. And truthfully, L.A. has had to play at its best just to stay in these last few games. Feels more like the Thunder are letting the Lakers hang around, and L.A. has failed to steal the series lead.
Andy Kamenetzky, ESPN LA: Fact. It's weird to say, because the Thunder are the better team and that's who's supposed to be ahead. But the Lakers could legitimately be up 3-1 and instead are down 3-1 because of their late-game issues. Then again, OKC had the same opportunities to collapse, but came through. Which illustrates in part why they're the better team in the first place.
Brian Kamenetzky, ESPN LA: Faction. Yes, the Lakers think they blew Games 2 and 4 and obviously had a chance to win both. But OKC thinks it kicked away Game 3. Generally, this is how the playoffs work: close games both teams think they should have won. But ultimately, the Lakers' inability to gain separation with teams combined with the Thunder's explosiveness is one reason Oklahoma City is the better team.
Dave McMenamin, ESPN LA: Fact. It would be one thing if the Lakers were to lose just because the Thunder were the better team -- as the case was in Game 1 -- but in Games 2-4, the Lakers took command of the series by making Oklahoma City play at their pace. Yet as well as their game plan has been implemented, they haven't executed late in games and have only one win instead of three to show for it.
---
2. Fact or Fiction: The Game 4 loss was Pau Gasol's fault.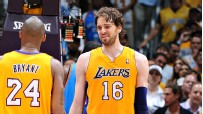 Adande: Fiction. There is wrongness throughout the fourth-quarter box score, including Kobe's eight missed field goals, Steve Blake's 1-for-4, the seven team rebounds that were almost doubled by the Thunder. You can't put this on one play by one guy. And remember, even after Gasol's critical turnover the Lakers still had a chance to tie the score … but Bryant missed a 3-pointer.
Gutierrez: Fact. It has to be someone's fault, so Gasol is the best candidate. Think of it this way: Of L.A.'s big three, Gasol, at 31, is the one who would be considered to be in his prime. Yet he has to be provoked to play aggressively, as if he's either an inexperienced kid or an old man. Must be frustrating for Kobe.
A. Kamenetzky: Fiction. Pau's fingerprints stained the loss, but his aren't the only ones. Kobe Bryant forced some bad shots, and as a team they fell apart on both sides of the ball. Gasol's turnover was a backbreaker and came as a result of a bad decision. But a big lead was blown well before that brain cramp.
B. Kamenetzky: Fiction. Gasol's TO with 33 seconds remaining was a killer, but keep in mind the lead had disappeared for a multitude of reasons, including poor shot selection from Kobe. While unprompted and unnecessary, Bryant's comments at the podium weren't necessarily inaccurate. Gasol didn't play well, but his lack of impact in the fourth wasn't just a problem with Pau himself, but something systemic plaguing the Lakers all year. He simply hasn't fit in well with Mike Brown and the emergence of Andrew Bynum.
McMenamin: Fiction. But it doesn't matter that it wasn't solely Gasol's fault, because Kobe Bryant chose to peg it on Pau, so that's how a lot of Lakers fan will look at it. Despite their two rings together, Bryant has gotten to the point that he doesn't have full faith in Gasol, and that doesn't bode well for the Spaniard's future in Southern California after this season.
---
3. Fact or Fiction: Kevin Durant is the best player in the series.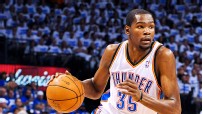 Adande: Fact. He's been the best player in the playoffs, so, yeah. Consistency throughout, greatness when it matters most. He made 52 percent of his shots in his worst-shooting game and hit the game winner twice. You know a guy is playing well when the chief complaint is that he's not looking for his shot enough.
Gutierrez: Fact. When a jump shooter is four games into a series and has yet to shoot below 50 percent, it's almost frightening. Russell Westbrook is trying to match Durant's effectiveness, but it just comes easier to Durant.
A. Kamenetzky: Fact. The scoring alone, particularly in crunch time, might be enough to make the case. But when you factor in the defense, it feels open-and-shut to me. Nobody in this series is playing better on both sides of the ball than The Durantula.
B. Kamenetzky: Fact. He has 27.3 points on 54 percent shooting, plus 8.3 rebounds and three assists. This while being defended by Metta World Peace, who has used his physicality to bother KD in the past. In this series, though, Durant has handily won the battle, whether off screens or off the dribble. More impressive, though, have been his big moments defensively. Durant's steal in Game 4 was key and representative of the work he'd done through all four games. In the battle of the league's two leading scorers, Durant has been the star.
McMenamin: Fiction. Durant was brilliant in Game 4, but to bestow him with the "best" title would be a disservice to Russell Westbrook and James Harden. Each one of their skill sets together is what's giving the Lakers so many problems this series.
---
4. Fact or Fiction: OKC is the team to beat in the West.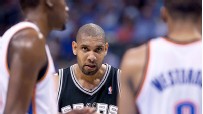 Adande: Fiction. Gotta go with the team that no one has beaten in these playoffs, the Spurs. They match up well with the Thunder and also would have home-court advantage if they played. Could the Thunder beat the Spurs possession-for-possession? Not the way the Spurs looked this weekend.
Gutierrez: Fact: It's probably a coin toss between the Thunder and Spurs, but the slight edge goes to the team with the more unstoppable scorer in Durant and the game-changing rim protector in Serge Ibaka. OKC can match San Antonio's scoring runs, whereas the Clippers and Jazz had no chance.
A. Kamenetzky: Fiction. I haven't verified this with ESPN Stats & Info, but the Spurs are currently riding a 753-game winning streak, right? They're also ridiculously deep, with one helluva Big Three and the NBA's best coach. Maybe the Thunder will be the ones to alter this perception, but for now, the Spurs look unbeatable.
B. Kamenetzky: Fiction. The Spurs haven't lost in 17 years. They were the better team down the stretch of the regular season, have dominated the postseason and will have home-court advantage. OKC has a great chance to win a title this year, but right now San Antonio has to be considered the favorite.
McMenamin: Fiction. Last I checked, San Antonio is still undefeated in the postseason and has the best coach in basketball on their side.
---
5. Fact or Fiction: The Lakers will get this series to Game 6.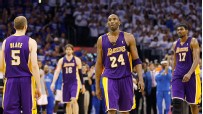 Adande: Fiction. Their only victory came when they took 42 free throws and made 41. They won't be getting those calls in OKC. And James Harden is about due for a scoring outburst. I'm not sure the Thunder are ready to close out on the road. At the moment, it doesn't look like they'll have to.
Gutierrez: Fact. This is just a hunch, but the odds say Durant will have a poor shooting performance at some point, and Westbrook can always lean that way. The difference here could be the Gasol factor. Last time he was called out, he came up big in Game 7. Repeat performance?
A. Kamenetzky: Fiction. The Thunder are the superior squad with every reason to feel confident, while playing in their house with an insanely loud crowd fueling them. The Lakers appear frustrated by an inability to close games and are 1-4 on the road in this postseason. You do the math.
B. Kamenetzky: Fiction. The Thunder seem incredibly motivated to beat the Lakers, not just to move on but for symbolic reasons. Plus, they don't want to keep playing while San Antonio sits on the sidelines. The Lakers, meanwhile, have a championship core that knows when what they have isn't good enough, and I think they now know. It'll be close through most of the game, but I see the Thunder pulling away late and finishing off the series.
McMenamin: Fact. The Lakers could go one of two ways after Bryant callously called out Gasol after Game 4: End their season with a 30-point implosion, which was the way the last two seasons that didn't end with a championship turned out for the Lakers (2008 and 2011), or rally around Bryant's tough love and come out with a sense of purpose (like they did in Game 7 against Denver). I'll take the latter.


ESPN.com and the TrueHoop Network
J.A. Adande and Israel Gutierrez cover the NBA for ESPN.com. Andy Kamenetzky, Brian Kamenetzky and Dave McMenamin cover the Lakers for ESPN Los Angeles.
• Follow the NBA on ESPN on Twitter | On Facebook | On Google+