The L.A. Lakers' season came to another abrupt end on Monday night, as they fell to the Oklahoma City Thunder in five games in the West semifinals. Are big changes ahead for the purple and gold? We turned to six experts to forecast the coming drama in Hollywood.
1. The Lakers' 2011-12 season was _________________.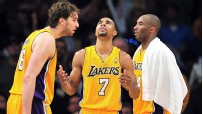 Henry Abbott, ESPN.com: The last chance to believe this roster would win a title. It was also a mixed bag. The two biggest concerns going in were Kobe Bryant's health and Mike Brown's job security. I'd say both turned out very well for L.A. So that's great. The bad news is that this combination of players, already hampered by age and pitted against improving young teams, is not contending, and it's hard to see how it will.
Larry Coon, ESPN.com: Not unexpected. Let's look at the recipe: High expectations from Kobe and the L.A. fans. An insane rush to start this compressed season. The Chris Paul trade that wasn't. Phil Jackson out, Mike Brown in. Lamar Odom's meltdown and subsequent trade. Pau Gasol adjusting to life as a third option. The search for a point guard. Dealing with the effects of age. Absolutely not the makings of a championship season.
Brian Kamenetzky, ESPN LA: Chaotic. New coach, constant roster turnover, little practice time, with some tension thrown in for good measure. There was too much change going on for them to have a realistic shot at a title, especially given the roster deficiencies.
Beckley Mason, ESPN.com: Incoherent. Bringing in Mike Brown was going to be a major culture shock in a normal year. Now couple that with major personnel changes and the marked growth or decline of a few key players in a season with no training camp and little practice time and you get a team that seems to lack a true vision for how it would like to play -- from the front office to the guys on the court.
Darius Soriano, Forum Blue & Gold: A roller coaster. From a new coach to the Chris Paul trade veto to the loss of Derek Fisher and Lamar Odom to the boost of the Ramon Sessions acquisition and all the ups and downs in between, the Lakers took fans on a ride of wild twists and turns. Even for a franchise used to being in the eye of the storm, this year was unlike any other.
David Thorpe, ESPN.com: More Shakespearean comedy than Greek tragedy, but with similar results. It ended with sadness and an upcoming journey for at least one core player.
---
2. Who is most likely to go: Gasol, Bynum or Brown?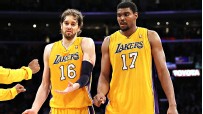 Abbott: I'd make a case for Bryant, because his contract is about to become insane just as he gets older and the salary cap gets harder. Bad combination. Back in reality, my take is that Brown and Bynum are favored by ownership, while everyone from Bryant to fans seems to feel Gasol is the problem.
Coon: Gasol. Brown will be given a chance to develop a successful offense under a normal season schedule, and hopefully one in which a major trade doesn't happen during training camp. Bynum is too important to the Lakers' future to trade -- unless it's for Dwight Howard. After struggling to fit in all season and underperforming down the stretch, Gasol is the logical choice to move.
Kamenetzky: Gasol. He's due almost $40 million over the next two seasons, and with the emergence of Bynum no longer has a role worthy of his talent or salary. Bynum's attitude and maturity issues may have put him back on the block, though, too. He's an easier piece to move, and would likely bring a much higher return.
Mason: Gasol. This season may have eroded Gasol's trade value some, but he's still a top-five center in the NBA capable of anchoring both a strong offense and defense. I think he's still better than Bynum, but he's also half an NBA career older, so he'll likely be moved for shooters who can space the floor better around the Lakers' two post threats.
Soriano: Unfortunately, Gasol. The Lakers tried to trade him before the season and shopped him during it. Kobe is the franchise icon and Bynum is seen as the future, thus Pau is the odd man out.
Thorpe: Today I'd guess Gasol. Perhaps in the coming days we'll learn more about the players losing faith in Brown. But to me, Gasol just basically went through the motions, and it's probably due to his being sick of the circus, and perhaps the ringmaster. I wouldn't be surprised to see him excel somewhere else.
---
3. Fact or Fiction: The Lakers need a major shake-up.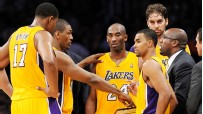 Abbott: Fiction. They could, in theory, get much better by giving the best big duo in the world the ball a ton more. Maybe that way they could contend without big roster changes -- the potent scorers are there and can also protect the paint, rebound and all that. But barring that, they'll need big changes.
Coon: Fact. They nearly pulled off a major shakeup in December before the Chris Paul trade was nixed. The needs are more acute this year -- for a team whose motto is "win or else," a number of players are about to find out what "or else" means. The Lakers know their window is open as long as Bryant is in his prime and will do what it takes to surround him with the right mix of talent for these last few years of the Kobe era.
Kamenetzky: Fact. Consecutive second-round exits show this group isn't going to get it done. With the SuperTax! man looming, they need a new approach.
Mason: Fact, though it will be tough to get fair value for their best assets.
Soriano: Fact. As currently constructed they lack the necessary athleticism and depth to compete in a crowded Western Conference. As a luxury-tax-paying team, the only way to fix these issues is to trade one of their cornerstone players for a package of players that can better support the stars that remain.
Thorpe: Fact. The core is splintered, and the glue has come undone. They were lucky to survive Round 1. The Lakers need more athletes, more scoring from the bench, more quickness and a more united spirit. When Metta World Peace is considered your best defender, it's time to punt.
---
4. Fact or Fiction: The Lakers will be better next season.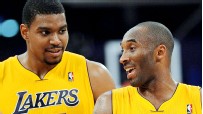 Abbott: Fiction. When age is your enemy, and the cap is about to start punishing you more, this is tough to envision. But Bynum could improve. And the Spurs offer a model for aging gracefully. Maybe switching to an up-tempo style can reduce some wear and tear.
Coon: Fact. This was a transition year for the league, with the new CBA and shortened season. It was a transition year for the Lakers as well, with their retooling only partly completed when the season started on Dec. 25. Lakers GM Mitch Kupchak will try to finish the job he started last year when Jackson left and Brown was hired. With a more compatible mix of players for Brown to work with, the team will be better next season -- as long as Kobe is the same player he was this season and Bynum stays healthy.
Kamenetzky: Fiction. They might be able to tread water, but with limited resources to use in the market, better is unlikely.
Mason: Fiction. At least not relative to the rest of the conference. I don't see this team making any moves involving Gasol that can help them leapfrog the Thunder or Spurs.
Soriano: Fact. Assuming Brown stays, this team will grow and better adapt to its schemes on both sides of the ball. And, if a major trade does occur, the Lakers will have a roster that fits together better with improved results to show for it.
Thorpe: Fiction. Without a major change or two this squad can only get worse. And pulling off that change won't be easy. If they do move, say, Gasol for Josh Smith, they would still need a lot of help with their second unit just to be competitive.
---
5. Fact or Fiction: The Lakers will win another title in the Kobe Bryant era.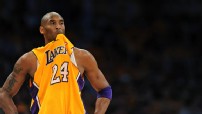 Abbott: Fiction. Of course there's a chance. But I wouldn't bet on it. It's a capped-out team with lots of committed salaries and limited powers to improve.
Coon: Fiction, barring another "rabbit out of the hat" blockbuster from Kupchak. They no longer have the horses to run with a team like Oklahoma City, and while a Gasol deal will likely bring much-needed depth and athleticism, Kupchak simply lacks the assets to put the Lakers back over the top.
Kamenetzky: Fiction, unless the Kobe era stretches past his years as an elite player, and I don't think he will hang around for that. This looks like a reconstruction that could take a couple of years, and the rest of the
West won't wait around.
Mason: Fiction. Unless the Magic will trade Dwight Howard for Bynum, which would make the Lakers the best defense in the NBA and give them a chance to defend the Spurs' and Thunder's pick-and-roll and dribble-drive attacks.
Soriano: Fiction. The teams they'd have to leapfrog to win another ring are younger and have just as much, if not more, star power and elite talent on their rosters. For an aging team built around a still great but slowly declining Kobe, winning another title will prove too difficult.
Thorpe: Fiction. The Thunder will get better. So will Denver. If CP3 stays in L.A., then the Clippers will improve. Dallas is sure to make some key moves. Portland has some interesting pieces, as do Utah and Houston. Memphis will get its role players back next year and that will make a big difference. Oh, and the Spurs could be the defending champs. It's hard to envision an immediate fix for L.A. trumping all of that.


ESPN.com and the TrueHoop Network
Henry Abbott and David Thorpe write for ESPN.com. Larry Coon and Beckley Mason contribute to ESPN.com. Brian Kamenetzky covers the Lakers for ESPN Los Angeles. Darius Soriano contributes to the TrueHoop Network.
• Follow the NBA on ESPN on Twitter | On Facebook | On Google+