Editor's note: Udonis Haslem received a one-game suspension and Dexter Pittman was banned for three games on Wednesday night. Tyler Hansbrough was not suspended. All three players saw their flagrant foul 1 infractions upgraded to a flagrant foul 2 by the league office.
The Heat-Pacers series got ugly in Game 5 with three flagrant fouls currently under review by the league. Who deserves to miss some court time? What to make of Larry Bird calling his team soft? Prepare for some physical play in this edition of 5-on-5:
1. Should Tyler Hansbrough be suspended?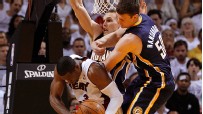 Henry Abbott, ESPN.com: Yes, for a game, because it was mishandled in the game. This needs to be more than a Flagrant 1. Forget that he also got some ball, watch his left arm -- that was violence. Watch his right arm after he hits the ball. Watch his face. Watch the low-five to Lou Amundson afterward. It was never a basketball play, and the league is well within its rights to deal with that now. As the rest of the game would reveal, it should have been a Flagrant 2 to keep the whole thing from escalating.
J.A. Adande, ESPN.com: No. Of the three flagrant fouls, his was the least egregious. Even though you could argue he started the rough stuff, he shouldn't be accountable for what came next.
Kevin Arnovitz, ESPN.com: No. The NBA rulebook states that there should be consideration for "whether or not the player was making a legitimate basketball play" (e.g., whether a player is making a legitimate effort to block a shot). Hansbrough's foul can be classified as a basketball play, even though it was excessive.
Israel Gutierrez, ESPN.com: No. Hansbrough followed through while committing a hard foul, one that looked worse in replay than it did in live action. The fact that it drew blood also made it worse, but it got what it deserved, which was a Flagrant 1 with no further penalty. No one was injured, unless you count a cut to the head an injury, and it wouldn't even be considered a suspension-worthy offense if not for Udonis Haslem's subsequent response.
Marc Stein, ESPN.com: Yes. Hansbrough should get one game. The cynic in me says that there was some intent with his follow-through across Wade's head. But I'm also fairly certain that Hansbrough will not be suspended because judging intent is always tricky.
---
2. Should Udonis Haslem be suspended?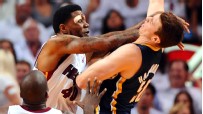 Abbott: Yes, for the same game, just because fair is fair. But let the record show that if the referees had handled the first foul properly with a Flagrant 2, the players never would have taken it upon themselves to bring about rough justice. In a perfect world, Hansbrough never would have been in the game to receive the foul. And, more importantly, it would have been clear the refs still had control of the game, which would have prevented more incidents.
Adande: Yeah, Haslem should miss Game 6. He committed a hard foul on an airborne player, clearly in retaliation, an act that had nothing to do with defending a shot. Missing a potential closeout game for a team that is already thin in the frontcourt is a significant punishment, one that's warranted here.
Arnovitz: Haslem should sit for Game 6. He "wound up" and "followed through," issues the league considers when assessing the severity of the penalty. Haslem undoubtedly earned a huge amount of respect from teammates for retaliating. But being a stand-up guy in the context of the league's macho code shouldn't go without punishment.
Gutierrez: No. Haslem should've been hit with a Flagrant 2 and ejected from Game 5. But that doesn't come with an automatic suspension, and the league shouldn't suspend him now because the referees blew the call. Again, no injuries, no history of dirty play. The league likes to protect its superstars. Haslem was, in that respect, doing the league's work by getting back at Hansbrough.
Stein: Obviously yes. I'd say two games because judging Haslem's foul is way easier than most. It most certainly did not look like a play on the ball. It looked like a clear retaliation foul for his buddy D-Wade. A vicious one. But I suspect (again) that I've guessed high here. Haslem will only get a game in real life.
---
3. Should Dexter Pittman be suspended?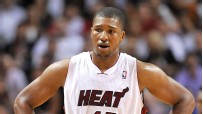 Abbott: Yes, for one game here too. That was a nasty, nasty play.
Adande: Yes, for five games. No excuse for what he did. Wasn't LeBron's stellar Game 4 enough to put Lance Stephenson in his place? And it wasn't as if Stephenson had put hands on LeBron. He mocked him. Get over it, and stop with the dirty, dangerous plays.
Arnovitz: Unquestionably -- probably for two games. As an aside, which team most benefits from a Pittman suspension?
Gutierrez: Absolutely. This wasn't a hard foul. This was a malicious attempt to harm someone, whether by serious injury or simply inflicting pain. There's no place in the game for intentional elbows, much less near the neck and head area. If Artest got seven games, a first-time offender like Pittman should at least get three.
Stein: No less than three games for Pittman. His elbow and clueless post-foul wink captured by the TNT cameras shoved that foul into the same zip code as Metta World Peace's hammer blow on James Harden. But Pittman doesn't have Metta's prior history, so brace for three or four games. I'd have no problem with five games for Pittman, honestly, but we all have a tendency to guess high in these situations.
---
4. Your take on Bird saying the Pacers went soft?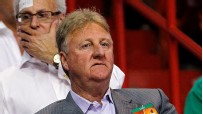 Abbott: I see a team with its back against the wall, and a team executive trying everything he can imagine to get his players as fired up as possible.
Adande: Reminds me of when he called out his Celtic teammates in the 1984 Finals. But this isn't '84. If anyone gets clotheslined there will be serious repercussions, much more than Kevin McHale faced. Bird's team needs to win the next game, not pick fights.
Arnovitz: Bird won the Executive of the Year award but has lurked in the background of the league's serial drama in recent years. It's nice to see him step up as a protagonist. "Soft" is one of those loaded terms that flies without prejudice. In this case, Bird -- a guy who prided himself on fortitude as one of the NBA's greatest junkyard dogs -- made a calculated statement to inspire his team. With the Pacers on the ropes, he has nothing to lose.
Gutierrez: A motivational tactic. Not sure how taking down Dwyane Wade and playing physical basketball throughout is going S-O-F-T. The Pacers got outrebounded by a smaller Heat team, so that may be where he was going with it. Or maybe the Pacers' unwillingness to work the ball in the paint. Either way, he was doing his part to ensure full effort in Game 6. Should be fun from the very start Thursday.
Stein: "Vintage Larry Legend" was my initial reaction. I naturally loved the candor but also truly believe that he was talking about the disappointing manner of Indy's Game 5 surrender -- how the Pacers gave in once Danny Granger went down and appeared to lose belief -- than calling for more hard hits. The reality, though, is that Bird's tone and timing are off here. People are going to take what he said as a call for the Pacers to swing back after the hits Haslem and Pittman laid out. I really don't think that's what he meant, but that's the unfortunate message.
---
5. What happens in Game 6?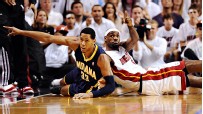 Abbott: History suggests the team up 3-2 will win the series. I'll guess the Heat win in six, because they have dominated the last six quarters and seem to have some things figured out.
Adande: The Pacers win an emotional game in a highly charged environment against a Heat team without Haslem and Pittman.
Arnovitz: More Hibbert, more West and more feistiness from the Pacers on their home court. On Friday morning, I suspect we'll be picking apart late-possession drama, but with the Heat prevailing.
Gutierrez: Wade and LeBron might want to wear a little extra armor Thursday, because one way or another, they're going to feel Indiana's pain. David West's delusion isn't going to help matters either. He'll very likely take some frustrations out on Shane Battier. And if the Heat have a healthy lead at any point, look for Wade and LeBron to take a healthy hit or two. And expect the Pacers to take everything into the paint.
Stein: The Heat will close this thing out in six. They've figured out how to cope without Chris Bosh -- at least in the short term -- and I'm not sold Indy has enough to win a game of this magnitude with Granger presumably hobbled. We really haven't talked enough about the way LeBron has turned it up since Miami went down 2-1. The bar is really higher for him than anyone else since Jordan.


ESPN.com and the TrueHoop Network
Henry Abbott, J.A. Adande, Kevin Arnovitz, Israel Gutierrez and Marc Stein cover the NBA for ESPN.com.
• Follow the NBA on ESPN on Twitter | On Facebook | On Google+