Suspensions have been handed out. Motivational tactics have been deployed. What will we see from the Miami Heat and Indiana Pacers after their eventful Game 5? Here are 25 takes.
1. How do you expect the Pacers to respond in Game 6 after Larry Bird called them "soft" following Game 5?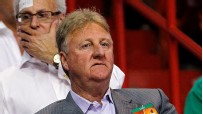 Tom Haberstroh, Heat Index: By exploiting the David West-versus-Shane Battier matchup. To me, this is all about West and his inability to put a dent in Battier. Battier's crafty, but the listed weight difference of 15 pounds might be the biggest lie in sports. The matchup should resemble a bowling ball barreling toward a bowling pin, but the Pacers have been throwing gutter balls instead.
Beckley Mason, ESPN.com: With their backs pressed firmly against elimination and playing in front of a passionate home crowd, the Pacers will give every ounce of effort they can muster. But I don't think this will translate into further gratuitously physical play. The referees will be quick to control the game, and the threat of ejection or suspension is too powerful this late in the series.
Rob Peterson, ESPN.com: After getting shellacked by 33 points in Game 3 of the 1984 Finals, Bird called his teammates "sissies." What happened in Game 4? We got McHale v. Rambis. I don't expect Tyler Hansbrough to clothesline Shane Battier, but I also don't expect the Pacers to shy away from the Heat, especially with 18,000-plus Pacers fans and one Hall of Fame team president expecting them to play tough basketball.
Michael Wallace, Heat Index: Expect the Pacers to be a bit more inspired and energetic in front of their home crowd in Game 6. Of course, that was to be expected, regardless of Bird's provoking his team. Indiana responded well to adversity in Game 2 and has every reason to do so again now.
Brian Windhorst, Heat Index: I expect they'll play with aggression and desperation. Not just because of what Bird said but because it's an elimination game at home. Plus the Heat are shorthanded.
---
2. Fact or Fiction: We'll see two or more flagrant fouls in Game 6.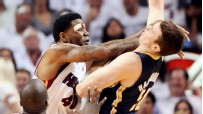 Haberstroh: Fiction. I wouldn't be surprised to see a Pacers player retaliate with a hard foul and then get tossed early. But after that, I can't imagine the teams would risk a key player missing Game 7 or the beginning of the Eastern Conference finals. Game 5 wasn't an elimination game, but too much is at stake now to let emotions take priority.
Mason: Fiction. At least not from the Heat. If the Pacers get desperate, things could escalate in a hurry.
Peterson: Fiction. Expect the refs to try to get things under control early and expect them to call a flagrant at the first sign of chicanery. The officials, the teams and the league can't afford to let this game get overly physical. Do you think anyone wants to see a star suspended for a possible Game 7? If either side is smart, they'll realize the best payback comes in the form of a victory, not a welt on the head.
Wallace: Fiction. Tough, physical play is a part of both of these teams' makeup when healthy. But I don't think either is an intentionally dirty squad of cheap-shot artists. There's too much at stake in Game 6 and potentially Game 7 for any of the key players to risk delivering a line-crossing hard foul. Of course, Lance Stephenson and Juwan Howard can have at it any time.
Windhorst: Fiction. The Heat cannot afford to lose any players. There's also a no-nonsense officiating crew that's been sent in, with Marc Davis, Scott Foster and Ken Mauer. That group will be quick to respond to any borderline play to set the tone.
---
3. Fact or Fiction: The Heat will really miss Udonis Haslem.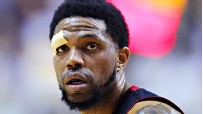 Haberstroh: Fact. Putting aside the toughness and leadership value of Haslem for the moment, if you look at the numbers, you'll see that the Heat have owned the boards with Haslem on the floor in this series. That flips the other way when he's sidelined. Expect the Pacers to pound the boards and recklessly swarm LeBron James and Dwyane Wade in the pick-and-roll.
Mason: Fact. They say when a starter goes down, the problem isn't his backup; it's his backup's backup. With Bosh and now Haslem out, that backup's backup is going to see some real action. Get ready for a flood of "Juwan Howard is old" jokes.
Peterson: Fact. The Heat took their lumps in Games 2 and 3 without Bosh before finding their footing. Now they won't have Haslem, Bosh's backup. Haslem didn't set the world on fire, but he did make the most of his opportunities, going 10-for-12 from the field. Now they're talking about Eddy Curry dressing for Game 6? Oof.
Wallace: Fact. Haslem was coming off consecutive games scoring in double figures and was really starting to assert himself off the bench after barely being involved earlier in the series. With Chris Bosh already out, the Heat are now without their second-most effective post player.
Windhorst: Fact. They're exasperated because of Bosh's injury and because their other two options, Joel Anthony and Ronny Turiaf, are non-threats on offense. Next man up is Juwan Howard, who hasn't played much all year.
---
4. Fact or Fiction: If Danny Granger is hobbled, the Pacers are done.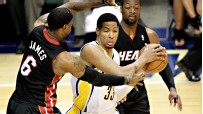 Haberstroh: Fact. The game blew open as soon as Granger limped off the court in Game 5. Remember, the Heat were up by just three points when Granger made his first visit to the locker room, and then the Pacers couldn't score. All in all, the Pacers were destroyed without him, being outscored by 29 points in 28 minutes while he sat out. Who's going to get buckets if Granger can't?
Mason: Fact. If Granger isn't 100 percent, the Pacers might still get something from his shooting, but the real issue is that he's Indiana's primary LeBron James defender. Overmatched though he may be, at least Granger allows Paul George to focus on Dwyane Wade. Missing him would cripple the Pacers' ability to keep James and Wade out of the paint and increase the stress on Hibbert's help defense.
Peterson: Fact. In the last two games, Granger's been known more for his bark than his statistical bite. His lack of production has been part of the reason the Pacers have stumbled in their last two. If he's hobbled and the Heat don't need to account for him when on defense and can attack him when they're on offense, Granger's a liability, not an asset. And if he can't help, the Pacers will be in trouble.
Wallace: Fiction. Although that certainly will be the case if both Granger (ankle) and David West (knee) are out or significantly limited with injuries they sustained in Game 5. One of Indiana's greatest strengths is its depth. The boost of playing at home can help the Pacers deal with one of those catalysts being hobbled, but not both.
Windhorst: Fiction. I wouldn't say done. The Pacers have a balanced team and a balanced starting five. But let's be honest: He's going to be hobbled. He left Game 5 in a walking boot. It's a bad time for their leading scorer to get dinged.
---
5. Fact or Fiction: Miami's Game 5 dominance will carry over.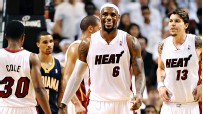 Haberstroh: Fiction. The Pacers crowd, Haslem's absence and Larry Legend's words provide kindling to light a fire under Indiana's, ahem, backsides. Although if the league really wants to punish the Heat, it should require them to play Dexter Pittman for three straight quarters tonight, rather than sitting three straight games. That would make me feel better about the Pacers' chances. Still, this one's going to Game 7.
Mason: Fiction. In the third quarter, the Pacers just rolled over. At one point they were just jogging back and forth as the Heat sprinted up and down the court. I don't expect that to happen at home. However, I do expect James and Wade to continue their tremendous play, which will be enough for the Heat to end Indiana's season.
Peterson: Fiction. Game 6 will be a grind. While the Heat still have the series' two best players, not having Haslem hurts. If Granger and David West are still gimpy from their respective injuries, the Pacers will have trouble scoring. Expect Miami to win a low-scoring, ugly affair.
Wallace: Fiction. The Heat certainly have hit a stride in this series in the past two games, but Udonis Haslem's contributions and Shane Battier's emergence in Game 5 were key factors beyond the dominance of Dwyane Wade and LeBron James. If the Pacers are relatively healthy, I see them standing firm and sending this series back to Miami for a winner-take-all Game 7.
Windhorst: Fiction: (1) the Heat had record shooting, which was somewhat due after their struggles but won't happen again; (2) the Heat's motivation often wanes like a toddler's; (3) road closeout game, enough said.


ESPN.com and the TrueHoop Network
Tom Haberstroh, Michael Wallace and Brian Windhorst cover the Heat for ESPN.com's Heat Index. Beckley Mason and Rob Peterson contribute to ESPN.com.
• Follow the NBA on ESPN on Twitter | On Facebook | On Google+